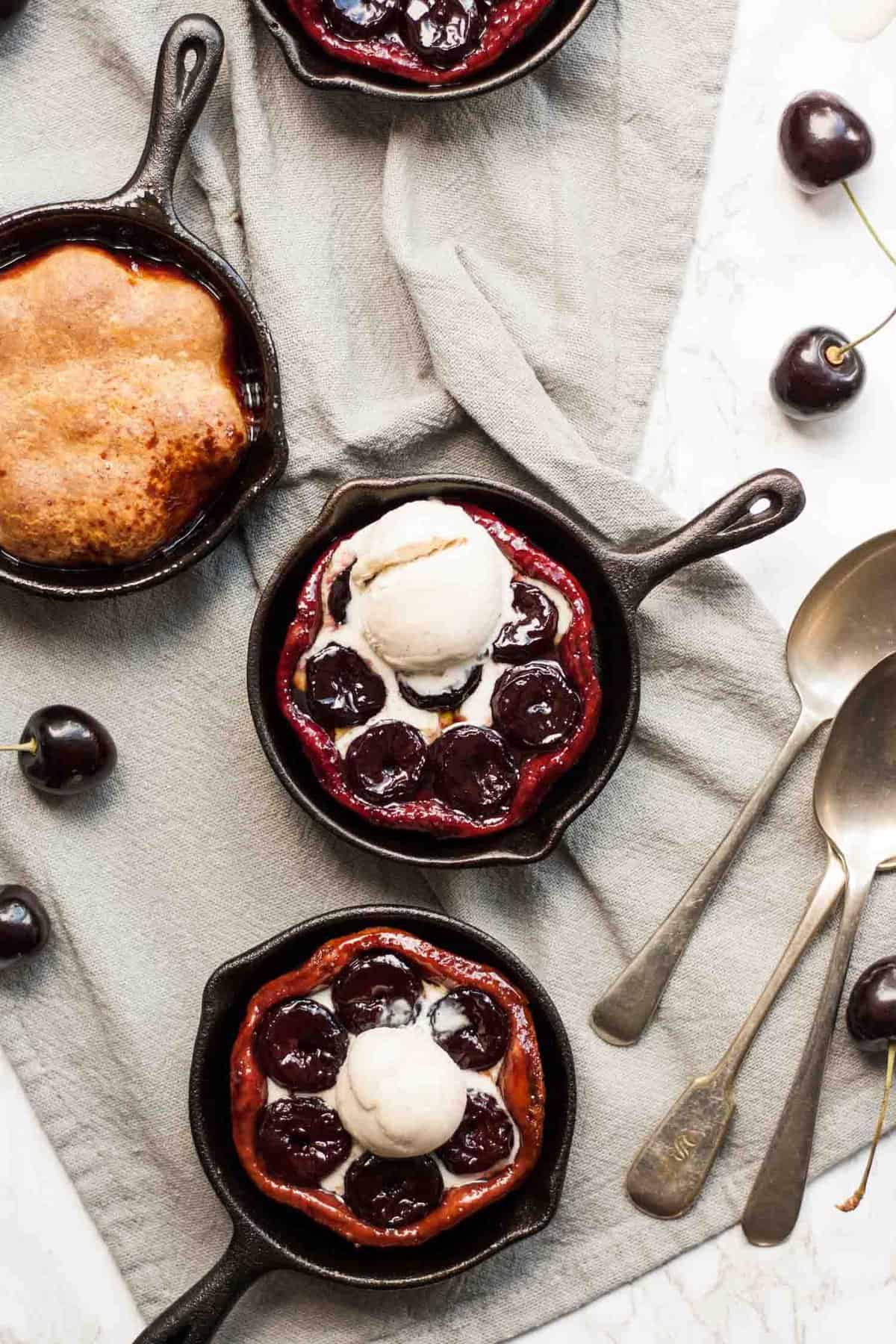 Words cannot describe how good these Mini Cherry Tartes Tatin are. Well, they can, but allow me to be dramatic for a moment.
You're familiar with the traditional apple tarte tatin, right? Perfectly cooked apples, delicious, sticky caramel, incredibly crisp pastry? And have you ever tried to make one? If you have, you'll know that it's a lot of effort and that it's actually pretty tricky to get it right. You need to make sure you pick the right apples, stand over a boiling vat of hot caramel and then try and make sure that the pastry gets thoroughly cooked. And then, you have to try and get the thing out of the pan it's been cooked in. It's certainly not impossible, but it's not exactly the kind of dessert you want to be making after a relaxed dinner with friends. Am I right? Another one to impress is our Rhubarb Galette with Pistachio Frangipane.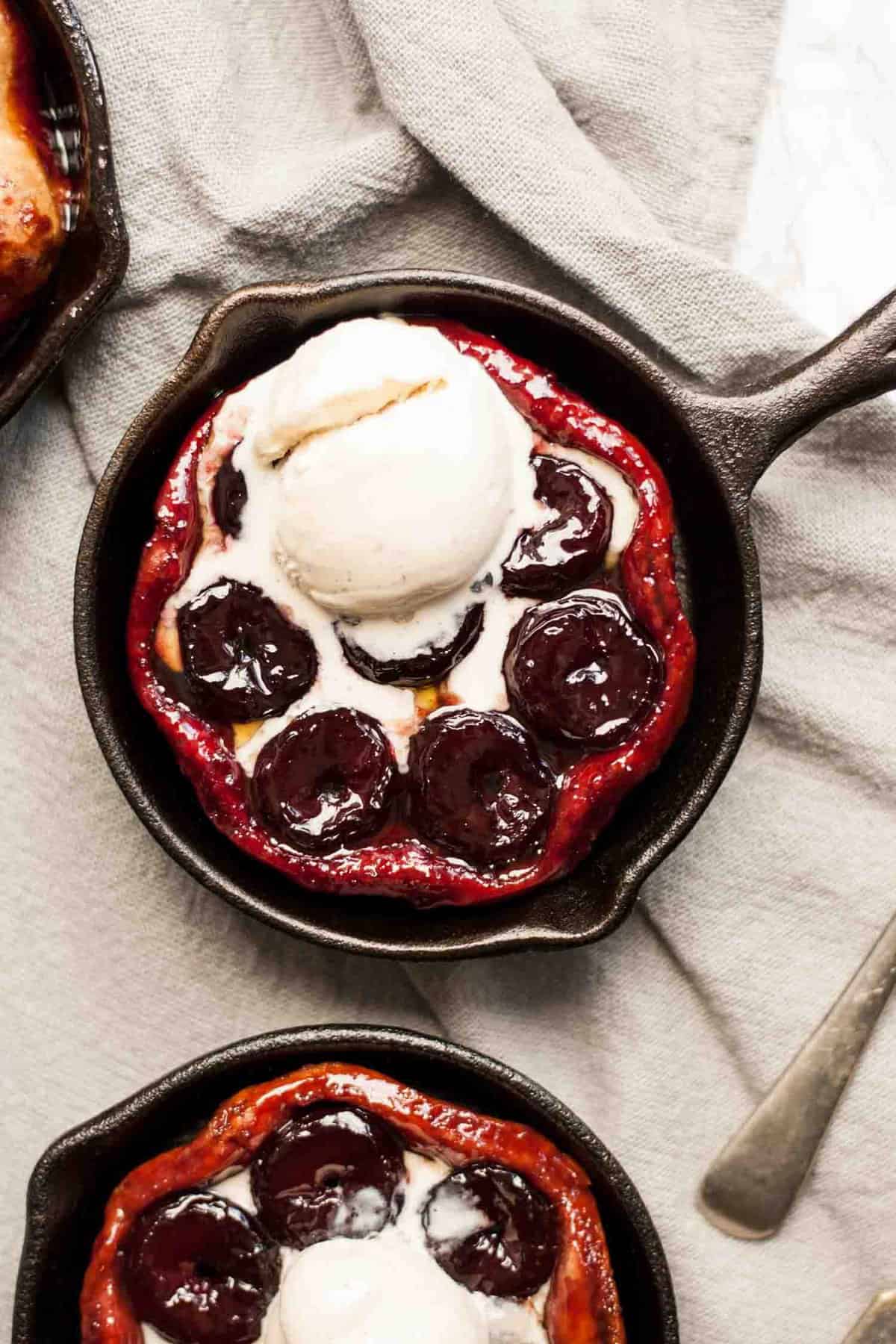 That's where these Mini Cherry Tartes Tatin come in. They're so easy to make it's almost laughable! But the results are just as exquisite as if you'd slaved over a classic tarte tatin and there's an added bonus - they're MINI! Ugh, they're just too cute. I love 'em.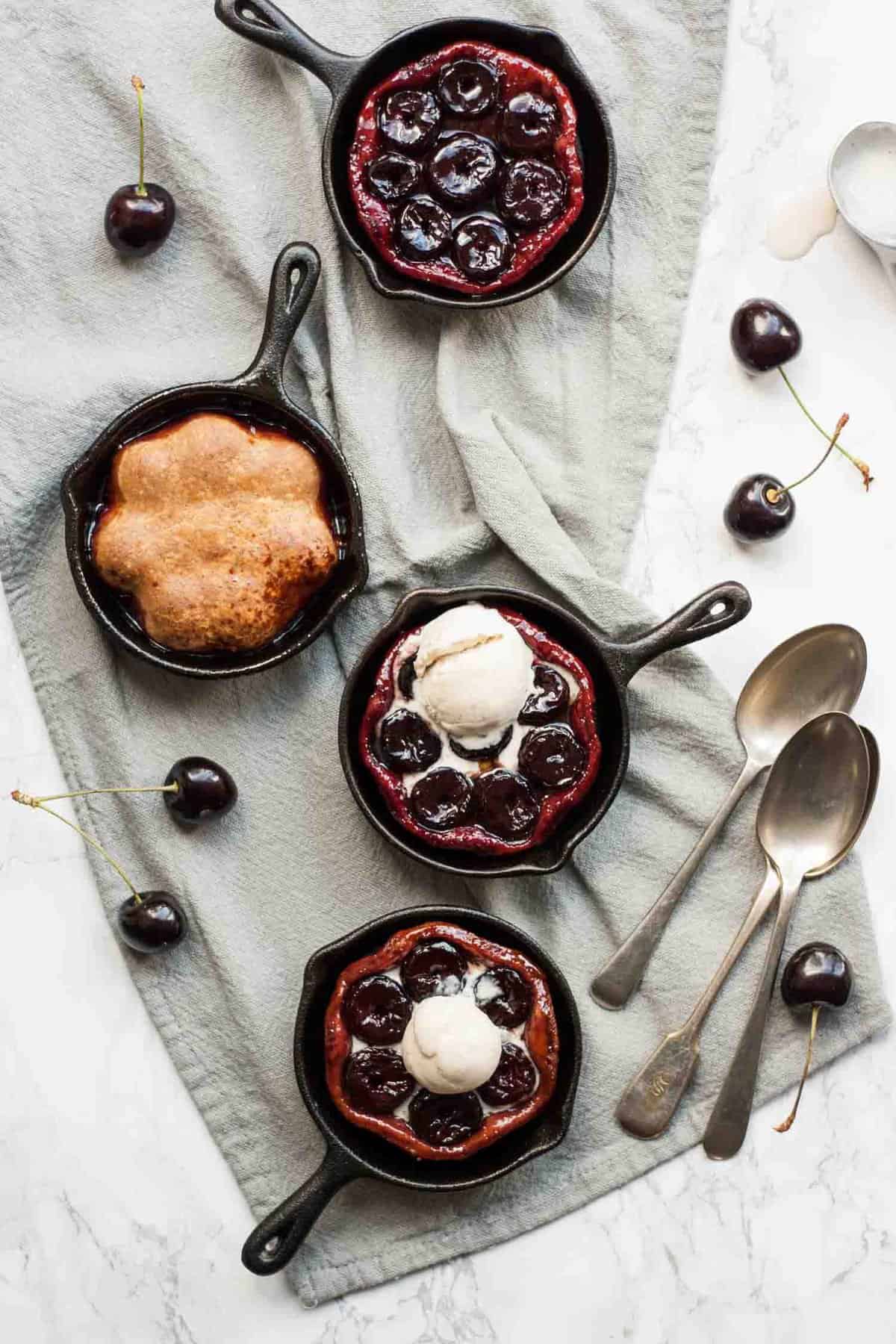 If I had to pick my favourite fruit, I'm 99% sure I'd say cherries. I'm a lover of all things stone fruit but my ultimate favourite would have to be cherries, closely followed by nectarines (no, plums! argh!). I'm by no means an expert on the subject of growing crops, but it feels to me like this year hasn't been the best year for cherries here in the UK. We had a lot of rain in July and they just haven't been as abundant this year as they were last year. That said, I had to make a cherry recipe for the blog! In my mind, it just isn't summer without cherries. And I'm aware I'm posting this in September but it's still summer for me. Plus, you can still get cherries, so no excuse not to make these!
I made these tartes tatin using a typical British sweet variety of cherries, but if you live in the States and happen to be able to get your hands on a tart variety, I bet these would be even better. The contrast between slightly salty, sweet caramel and tart cherries would be to die for! Don't get me wrong though, made with regular cherries these little tarts are like oh-my-god-awesome. Seriously, these are GOOD. You have to make them.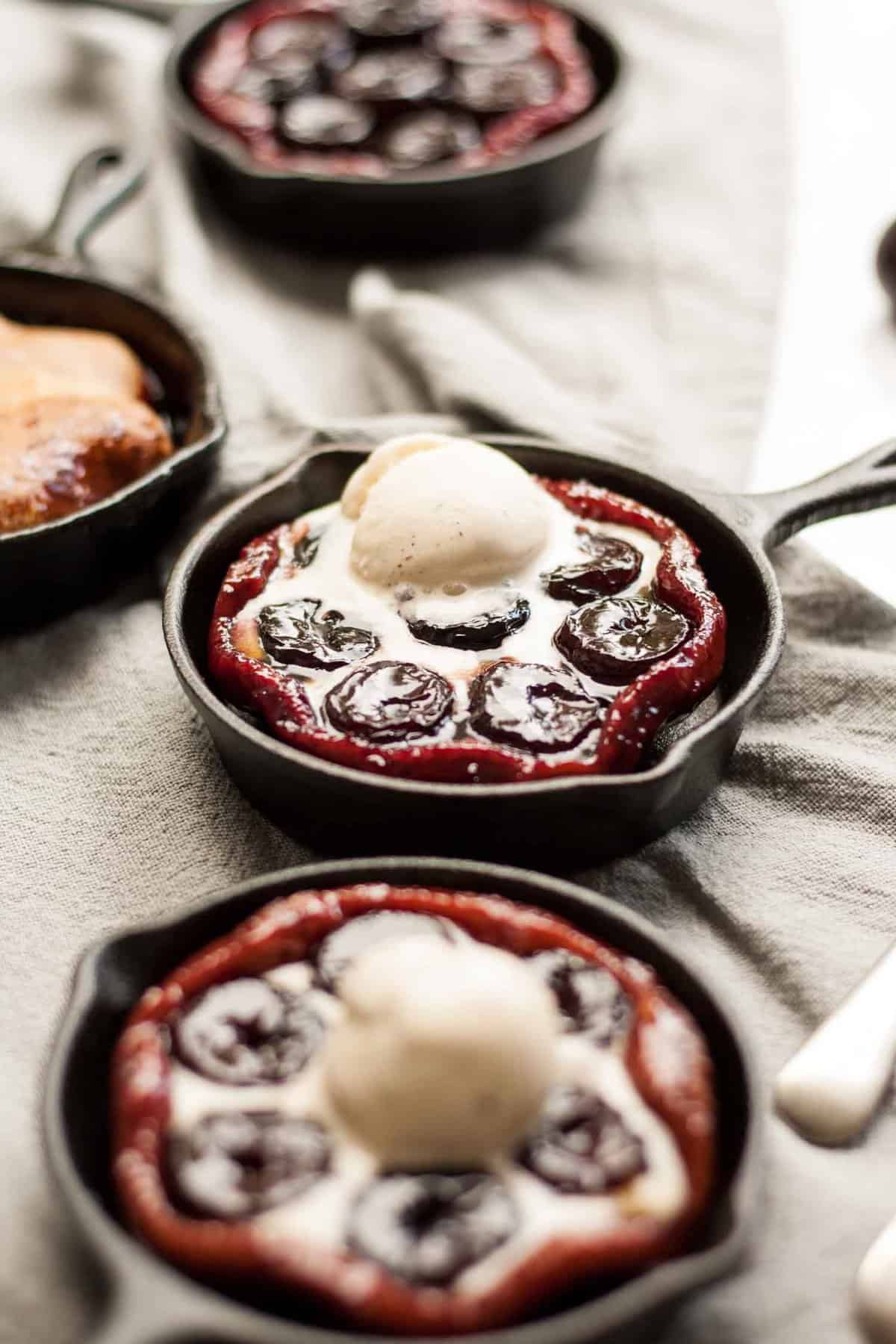 The mini cast iron skillets are totally optional of course. I'm just a sucker for anything cute and well, mini cast iron skillets are like the epitome of cute in my mind. I'm pretty sure you could make these in any little tart dishes or wide ramekins you could find. You're looking for something about 4" in diameter. I reckon you could also make a large version of this in a larger cast iron skillet if you have one! Or even a genuine tarte tatin dish if you have one of those. Basically, you just need to make these! And the dollop of vanilla ice cream is non-optional. It doesn't even have to be vanilla! Think of all the possibilities... Right now I want this with a huge scoop of pistachio ice cream on top. That would be so good!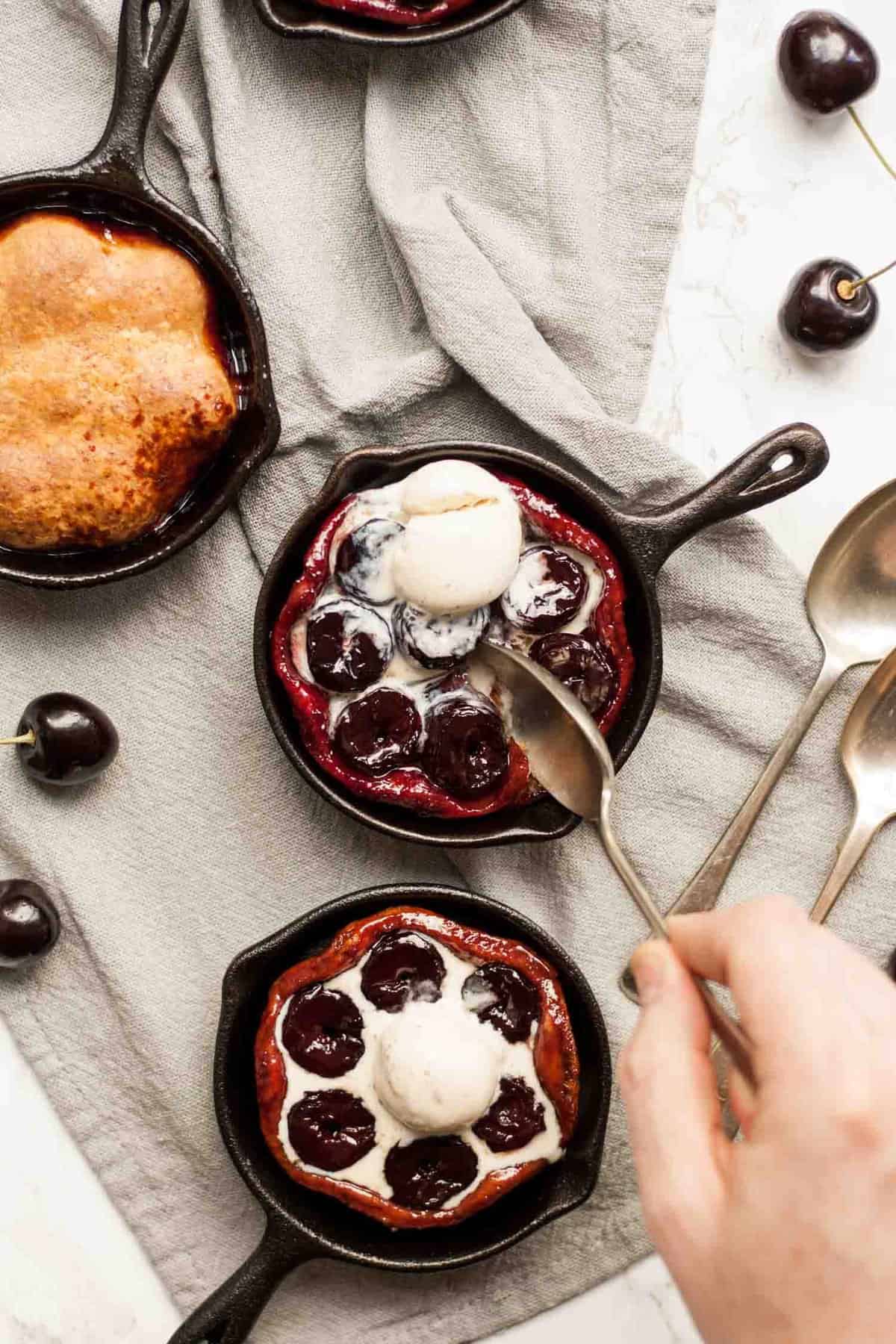 Here's a recap of why you need these in your life:
super crisp, nutty spelt pastry
juicy in-season cherries
the easiest buttery, salty caramel
all rolled into one cute little tarte tatin!
Do I need to say more? Let's do this.
Related recipes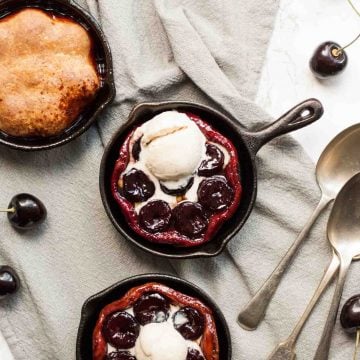 Ingredients
32

cherries

,

or more depending on size of dish/cherries

50

g

soft unsalted butter

50

g

caster sugar
For the pastry
125

g

spelt flour

125

g

plain flour,

(all-purpose)

125

g

cold unsalted butter

,

diced

1

large egg

2

tablespoons

cold water
Instructions
Start by making the pastry. Place the flours into the bowl of the food processor along with a pinch of sea salt. Add the diced butter and pulse a few times until the butter is the size of peas. Add the egg and the cold water and set the processor running just until the dough forms a ball. As soon as it comes together, turn off the processor and tip the dough out onto a floured surface. Gently press the dough into a disc, wrap in cling film and place in the fridge for 20 minutes.

125 g spelt flour,

125 g plain flour,

125 g cold unsalted butter,

1 large egg,

2 tablespoons cold water

Preheat the oven to 200°C (400°F).

In a small bowl, mix together the soft butter and the caster sugar. Add a good pinch of sea salt. Smear this mixture over the base of your mini skillets/ramekins/baking dish.

50 g soft unsalted butter,

50 g caster sugar

Pit the cherries and arrange them over the butter and sugar mixture. I use 8 cherries per mini skillet.

Roll out the pastry to about 3mm (⅛") thick. Cut out rounds of pastry that are slightly larger than the tops of your mini skillets/ramekins. Lay the pastry rounds over the fruit and tuck in the edges using the end of a spoon.

Place the tartes tatin on a baking tray and bake in the preheated oven for 50 minutes or until the pastry is very golden brown and crisp and the caramel is syrupy.

Remove from the oven, carefully turn out and serve with plenty of ice cream.
Notes
I normally do my best to provide measurements in cups/tablespoons where I would use grams but for the sake of accuracy in this recipe I have left out these measurements. There are lots of websites which can convert for you! Although I do fervently recommend investing in a set of digital scales for baking as it makes it so much easier to measure consistently.
I use the food processor to make my pastry in this recipe despite saying in the past that I would rather use my hands. As long as you're careful, this method is actually really handy as it's quicker. Also, this method is great in the summer as it reduces the need to handle the dough when it's warm.
You will have a good deal of pastry left over, but that could only be a good thing! It freezes beautifully, so you can make more tartes tatin at a later date!
Pastry recipe from Richard Bertinet - my go-to for pastry recipes!
I use this cherry pitter to pit my cherries. It makes light work of an otherwise arduous task and ensures that the cherries stay whole which is ideal for this dish. If you don't have one of these, I'd recommend keeping the pits in the cherries rather than cutting them in half. Just warn whoever is eating them!
If you don't have mini cast iron skillets, I'd recommend using something else which is metallic - perhaps mini enamel pie dishes? I haven't tested this recipe in a stoneware ramekin and therefore can't comment on how well the caramel would cook. If you try it, let me know and I can update the method.
Nutrition
Calories:
650
kcal
|
Carbohydrates:
69.9
g
|
Protein:
11.1
g
|
Fat:
37.6
g
|
Saturated Fat:
22.6
g
|
Polyunsaturated Fat:
1.7
g
|
Monounsaturated Fat:
10.8
g
|
Cholesterol:
140.6
mg
|
Sodium:
23.6
mg
|
Potassium:
207.1
mg
|
Fiber:
6.4
g
|
Sugar:
21
g
|
Vitamin A:
321.2
IU
|
Vitamin C:
4.6
mg
|
Calcium:
39
mg
|
Iron:
3
mg
Did you make this recipe?
Leave a comment below with how you got on and don't forget to give the recipe a rating ⭐️⭐️⭐️⭐️⭐️. You can also tag @eatloveeats on Instagram - we love to see your creations!
Note: This post contains affiliate links.