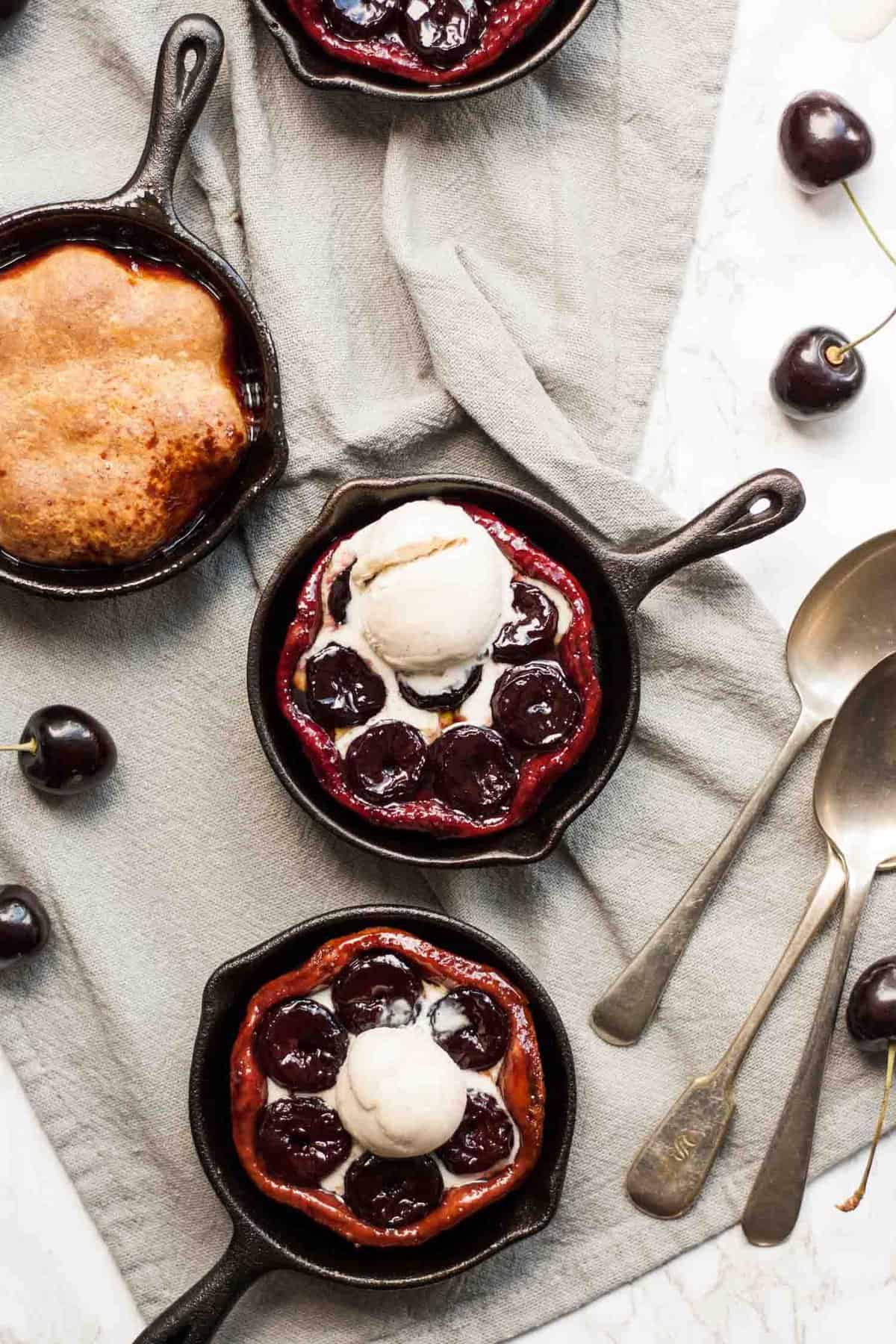 Words cannot describe how good these Mini Cherry Tartes Tatin are. Well, they can, but allow me to be dramatic for a moment.
You're familiar with the traditional apple tarte tatin, right? Perfectly cooked apples, delicious, sticky caramel, incredibly crisp pastry? And have you ever tried to make one? If you have, you'll know that it's a lot of effort and that it's actually pretty tricky to get it right. You need to make sure you pick the right apples, stand over a boiling vat of hot caramel and then try and make sure that the pastry gets thoroughly cooked. And then, you have to try and get the thing out of the pan it's been cooked in. It's certainly not impossible, but it's not exactly the kind of dessert you want to be making after a relaxed dinner with friends. Am I right?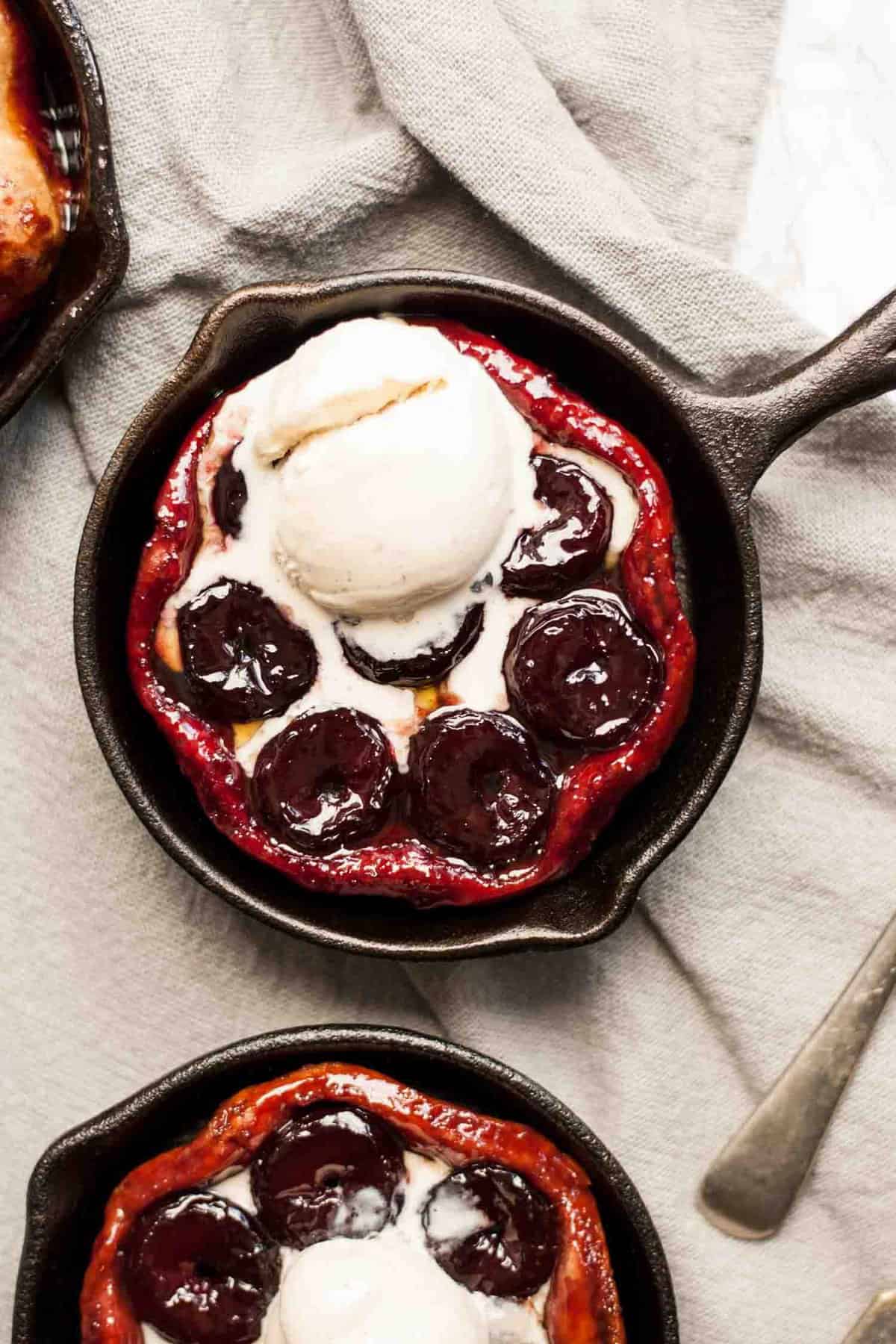 That's where these Mini Cherry Tartes Tatin come in. They're so easy to make it's almost laughable! But the results are just as exquisite as if you'd slaved over a classic tarte tatin and there's an added bonus - they're MINI! Ugh, they're just too cute. I love 'em.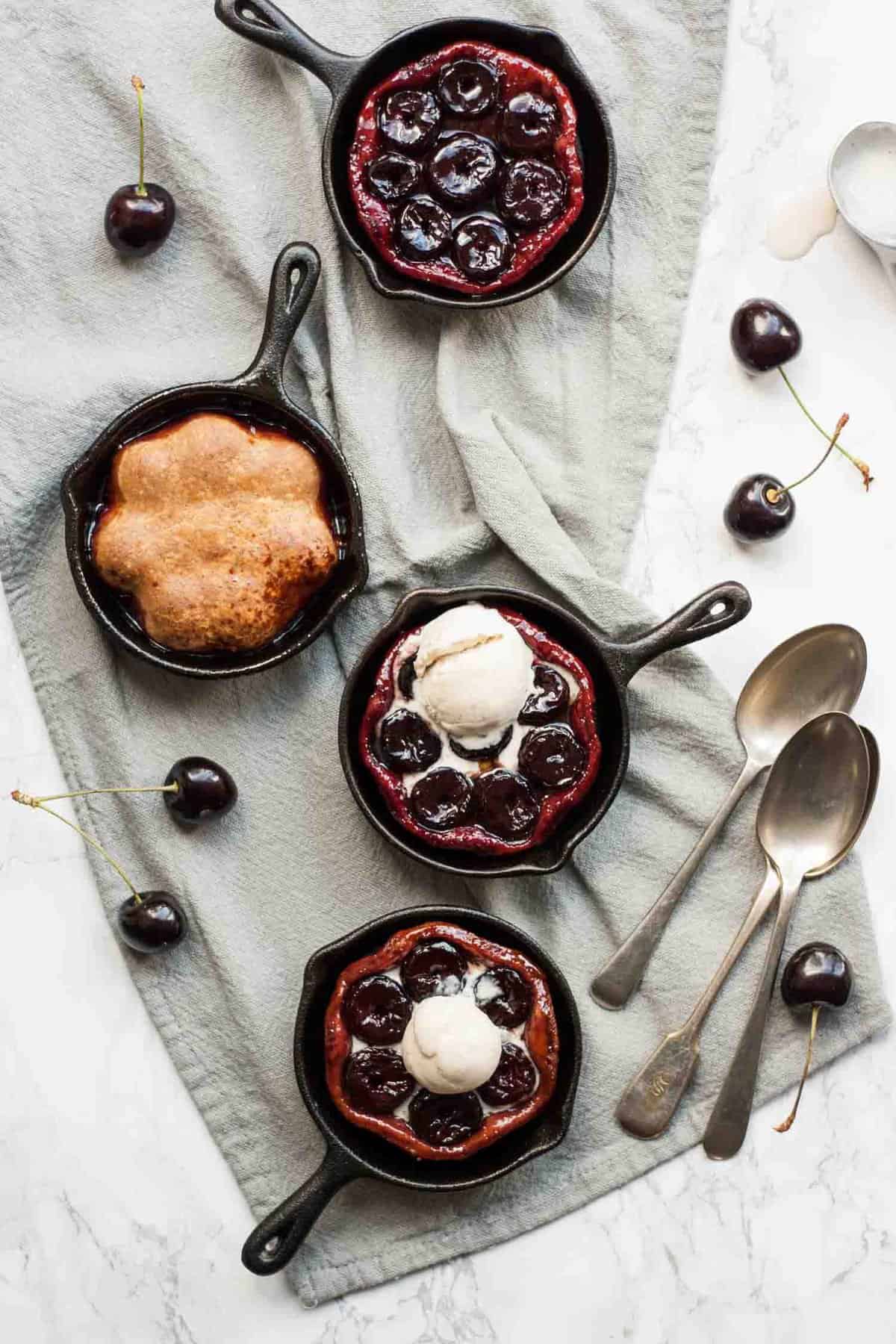 If I had to pick my favourite fruit, I'm 99% sure I'd say cherries. I'm a lover of all things stone fruit but my ultimate favourite would have to be cherries, closely followed by nectarines (no, plums! argh!). I'm by no means an expert on the subject of growing crops, but it feels to me like this year hasn't been the best year for cherries here in the UK. We had a lot of rain in July and they just haven't been as abundant this year as they were last year. That said, I had to make a cherry recipe for the blog! In my mind, it just isn't summer without cherries. And I'm aware I'm posting this in September but it's still summer for me. Plus, you can still get cherries, so no excuse not to make these!
I made these tartes tatin using a typical British sweet variety of cherries, but if you live in the States and happen to be able to get your hands on a tart variety, I bet these would be even better. The contrast between slightly salty, sweet caramel and tart cherries would be to die for! Don't get me wrong though, made with regular cherries these little tarts are like oh-my-god-awesome. Seriously, these are GOOD. You have to make them.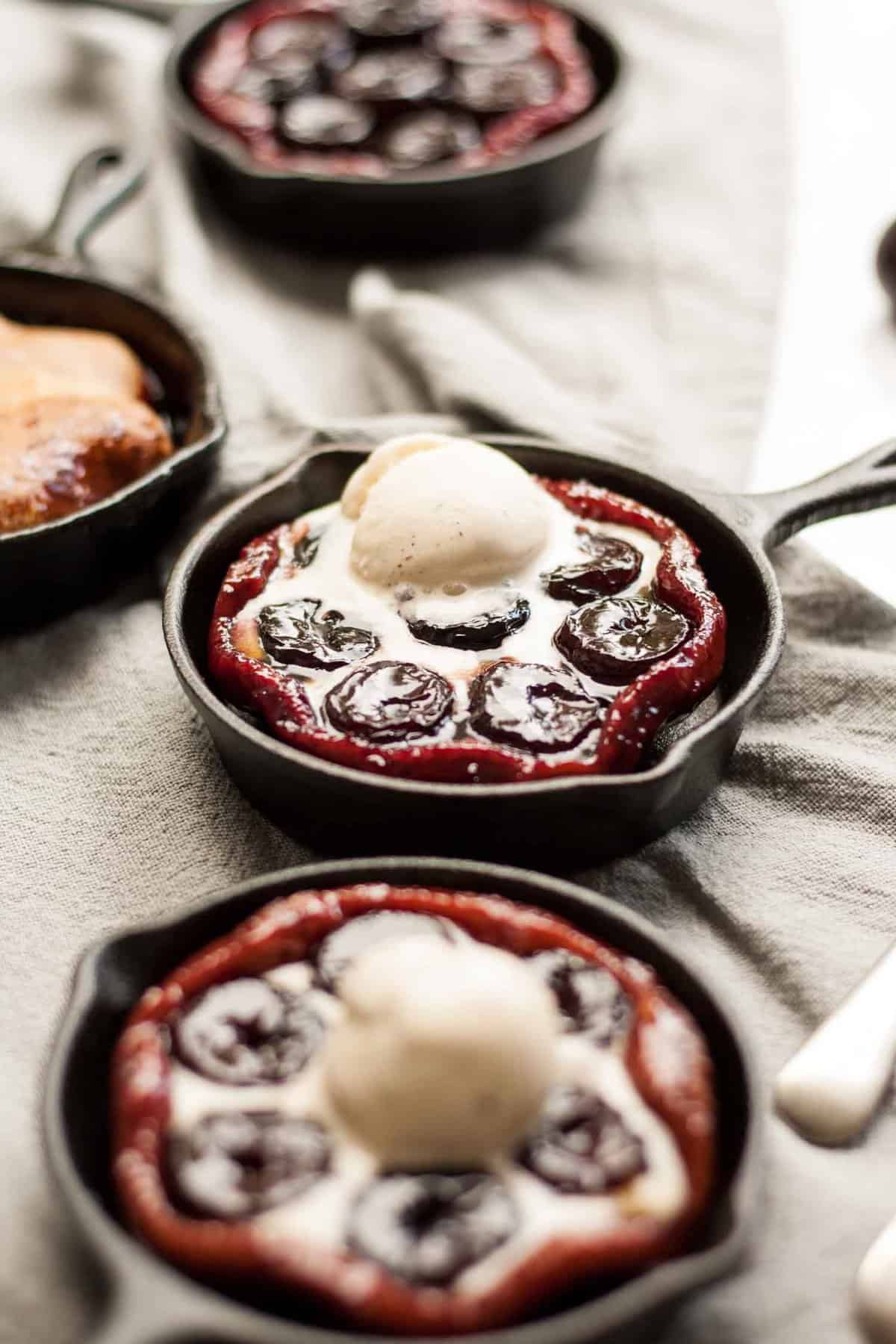 The mini cast iron skillets are totally optional of course. I'm just a sucker for anything cute and well, mini cast iron skillets are like the epitome of cute in my mind. I'm pretty sure you could make these in any little tart dishes or wide ramekins you could find. You're looking for something about 4" in diameter. I reckon you could also make a large version of this in a larger cast iron skillet if you have one! Or even a genuine tarte tatin dish if you have one of those. Basically, you just need to make these! And the dollop of vanilla ice cream is non-optional. It doesn't even have to be vanilla! Think of all the possibilities... Right now I want this with a huge scoop of pistachio ice cream on top. That would be so good!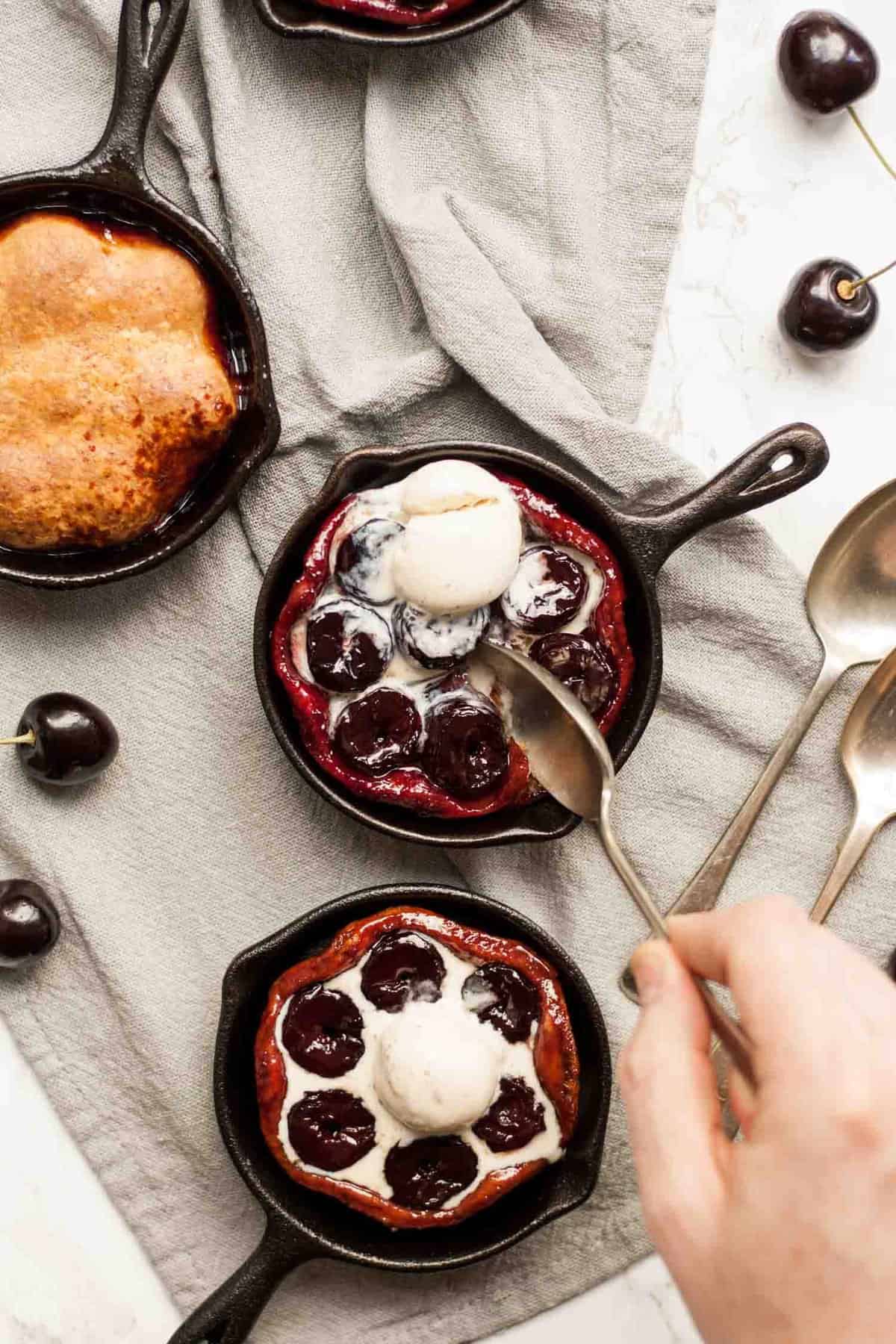 Here's a recap of why you need these in your life:
super crisp, nutty spelt pastry
juicy in-season cherries
the easiest buttery, salty caramel
all rolled into one cute little tarte tatin!
Do I need to say more? Let's do this.
Note: This post contains affiliate links.