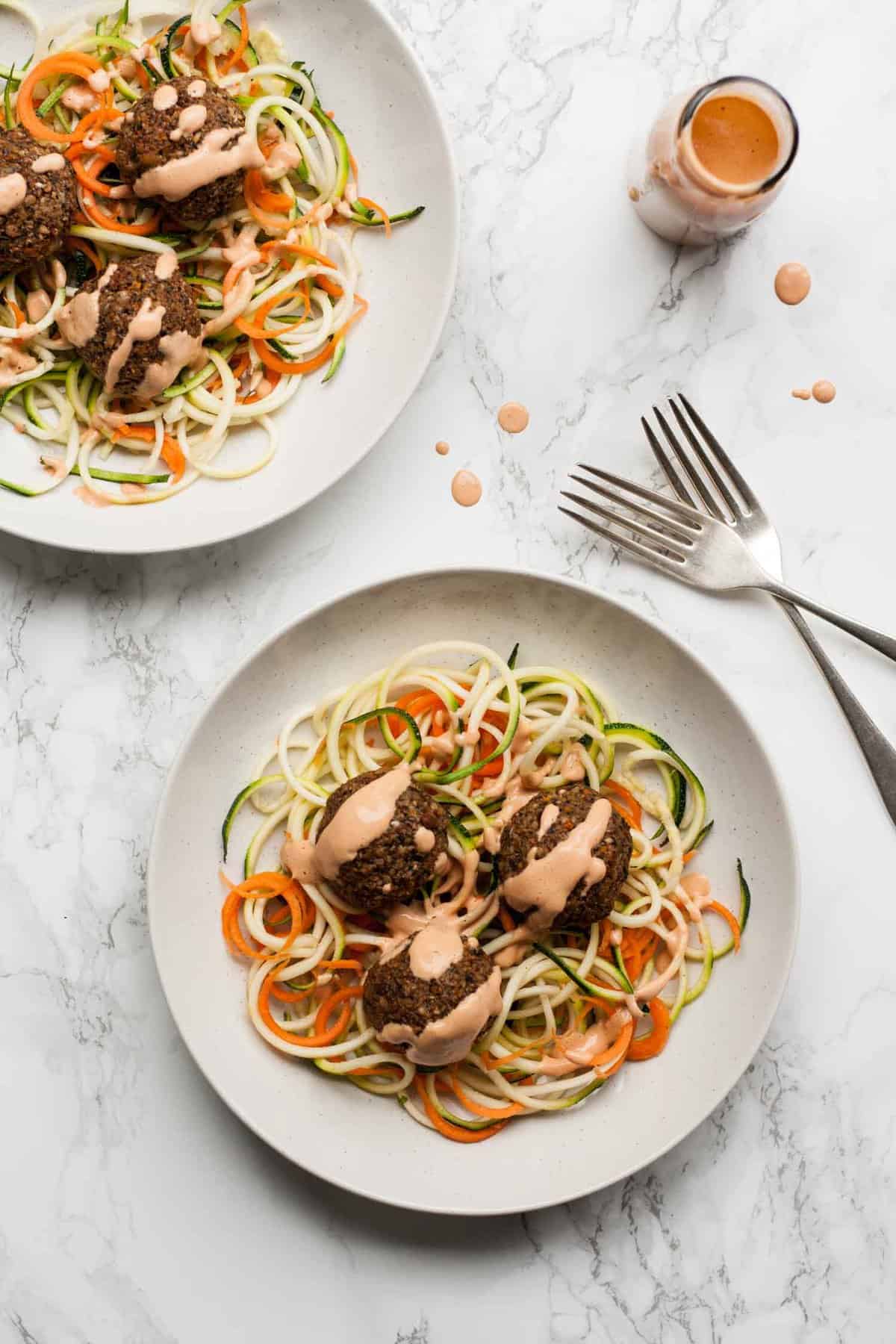 Nutty vegan meatballs! Trust me, you need these in your life. As somebody who is perpetually on the lookout for creative new lunch dishes, these were an absolute godsend. I have a lunch limit - any one lunch dish can be on rotation for a maximum of three days in a row and even then, three is pushing it. Ideally, I'd say two.
Of course, for somebody who takes a packed lunch to work, bulk lunch prep is often a lifesaver. But I get so incredibly bored of incredibly delicious food, simply as a result of eating it for too many days on the trot. I need a good few weeks between recipes before I'm ready to let it pass my lips a second time. And sometimes I forget this rule because something is so delicious I automatically believe that means I'll want to eat it for six days in a row. Note to self: you WILL NOT. I can't be the only one, surely?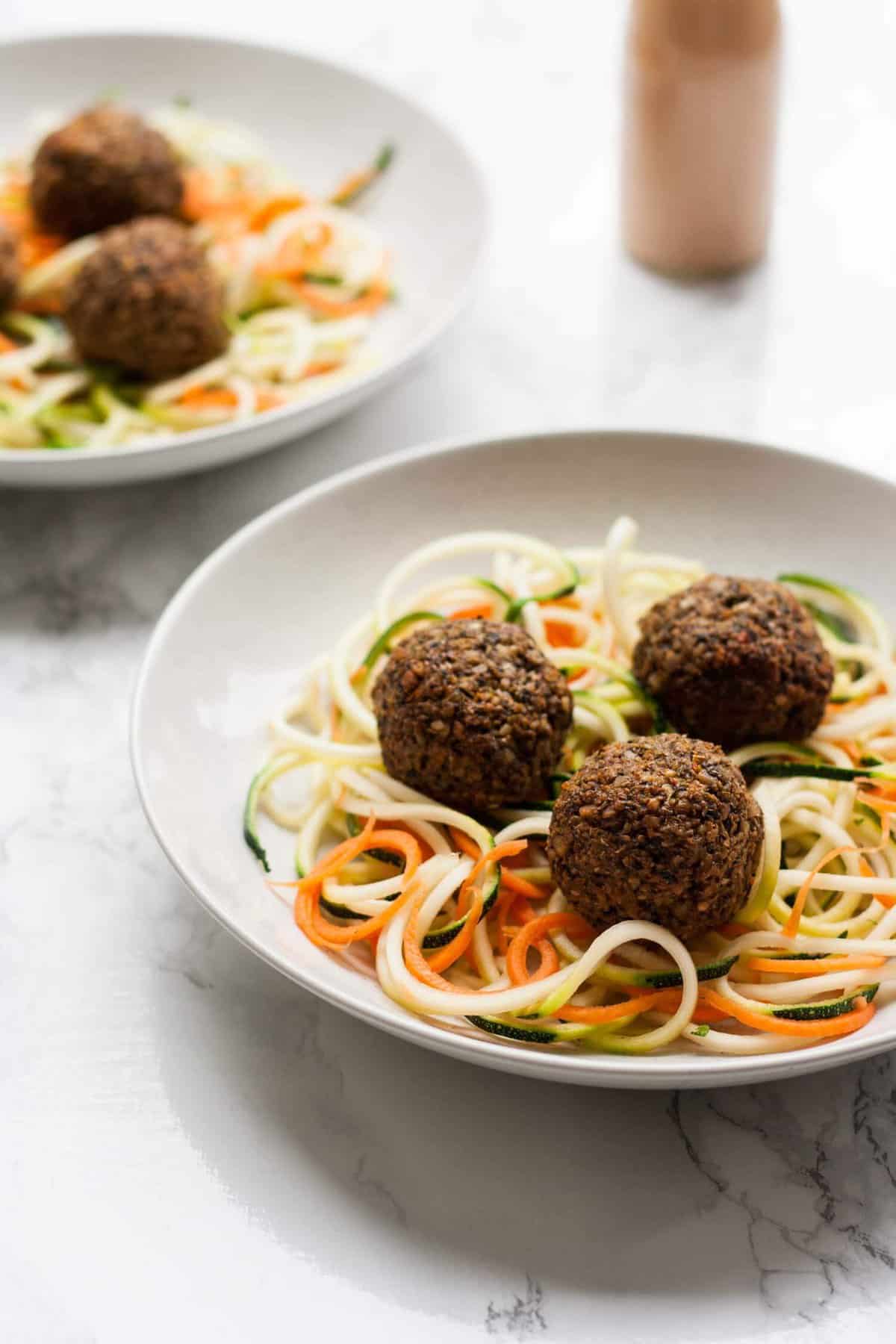 So, good lunch recipes are worth their weight in gold for me. I want them to be fairly light and nourishing, but they have to be satisfying. A limp salad just will not cut it! (Not that you'll ever find such a thing gracing my lunchbox!)
Enter these nutty vegan meatballs, complete with a super creamy sun-dried tomato sauce. There's nothing like a lunchbox filled with plant-powered goodness to get you through the day! I keep referring to these as a lunch dish, but they are also great as an evening meal. It's just that I tend to prefer something a little cosier in the evenings. Although, I haven't tried it yet, but I'd imagine these would be great served hot in a tomato sauce or some other creamy sauce of your choosing.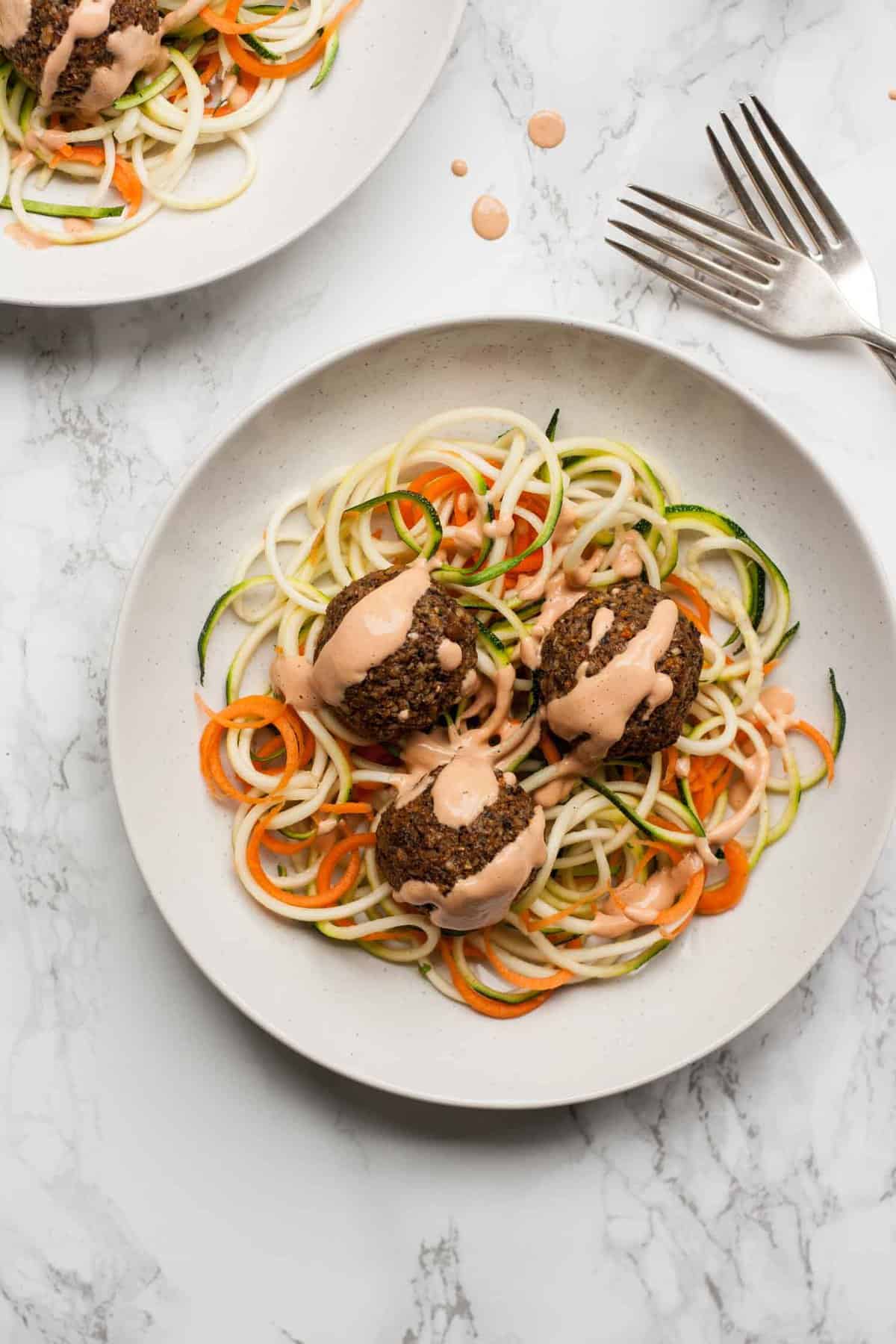 So, I won't lie to you - these vegan meatballs come with a pretty epic ingredient list. But they come together pretty quickly and easily. The only caveat here is that you need a food processor to make them. If you don't, I wouldn't even bother. But if you do - yay! Nutty vegan meatballs are in your future!
These meatballs are based on the concept of a good old nut roast. They're packed to the brim with goodness and most importantly - tons of flavour. And so much texture! We're talking nuts, veggies, mushrooms, herbs and sun-dried tomatoes. And a silky 5-minute vegan sauce to drizzle all over them. Oh, that sauce. It's so rich and creamy you wouldn't believe it! So, are you ready for this?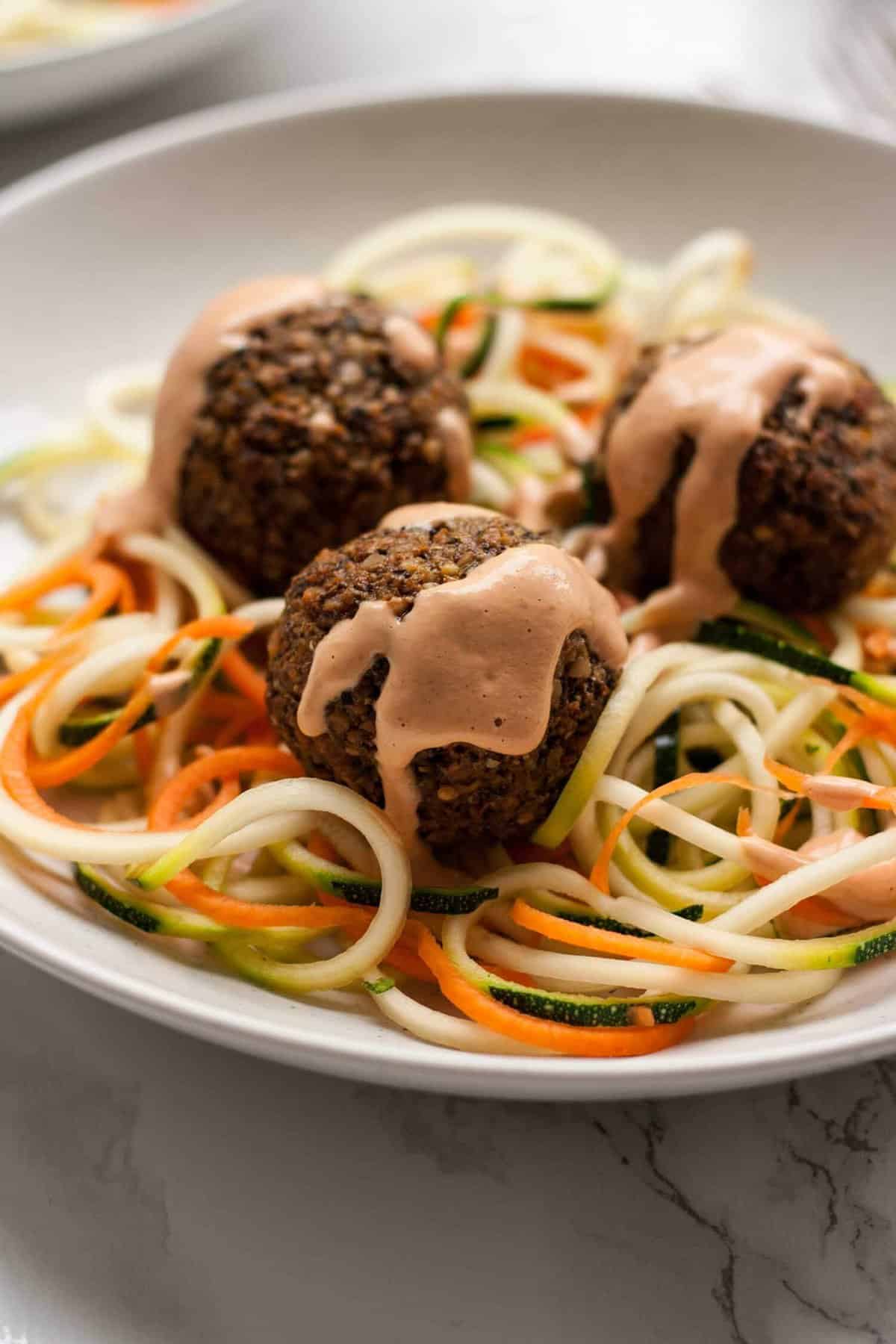 One final thing before we get to the recipe. Err, yeah, I bought a spiralizer. I'm a huge fan of kitchen gadgets. I love 'em. But a gadget only gets a permanent home in my kitchen if it's truly worth it's salt. Maybe I'll talk more about my kitchen armoury in another post - is that something you'd be interested in? Let me know.
But for now - my new spiralizer. Why has it taken me so long to buy one? I'm enamoured! Until purchasing the spiralizer, I was using a julienne peeler or a mandolin to create veggie noodles. That works well enough, but the resulting strips are pretty tough to eat. Not only are they an awkward shape, they're also quite thick and hard. A spiralizer on the other hand, makes veggie noodles that are a dream to eat! For that alone, it's worth it, not to mention the fact that spiralized veggies are just so cute! I love them and I love how they make such a delicious and most importantly, sturdy base for lunchtime salads. I'm converted.