So. It's time for ice cream! I think it's probably always time for ice cream, don't you? I mean, when is ice cream ever unwelcome? Even in the winter months, when it provides the perfect counterpoint for hot, steamy puds, it is most certainly welcome. Oh gosh, I almost can't wait for those cold, pudding-laden days. (I totally can though).
Having said that, I don't make ice cream very often! I know! This absolutely must change. It doesn't help that the ice cream making attachment for my KitchenAid mixer doesn't fit in our freezer. We used to have a big outdoor freezer that was perfect for storing chunky ice cream making bowls, as well as bags of happily foraged summer fruits ready to see us through the winter and plenty of other random stuff. But that old guy passed away a few months ago, leaving us a sticky mess to clear up. Thanks, freezer! So currently, no custard-based ice creams in our house, boo. BUT! Who needs custard-based ice cream when you can have NO CHURN ice cream?! And even better, no churn MOCHA ice cream. Ohh yes. If you love the ease of this ice cream, check out our Passion Fruit Ice Cream version.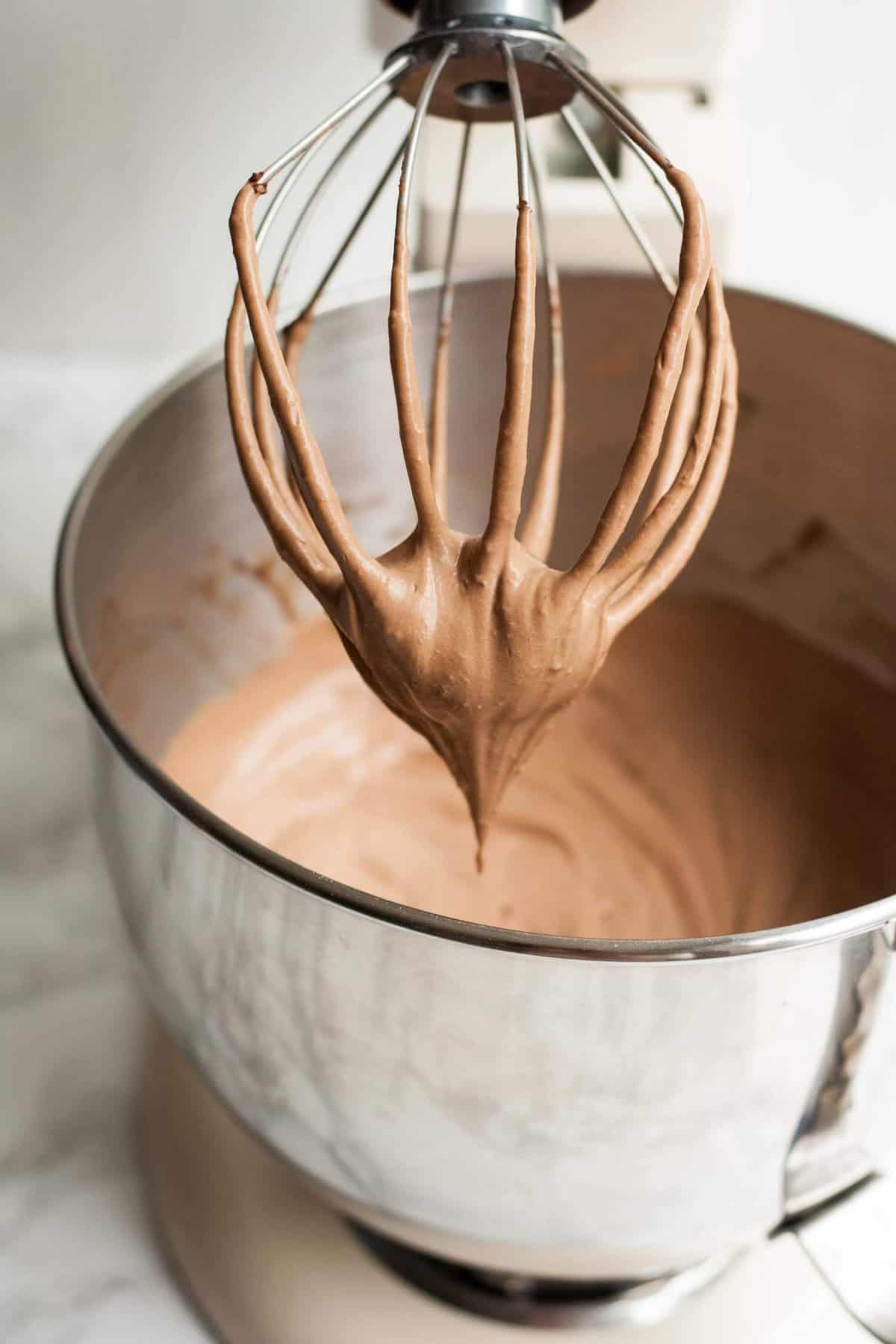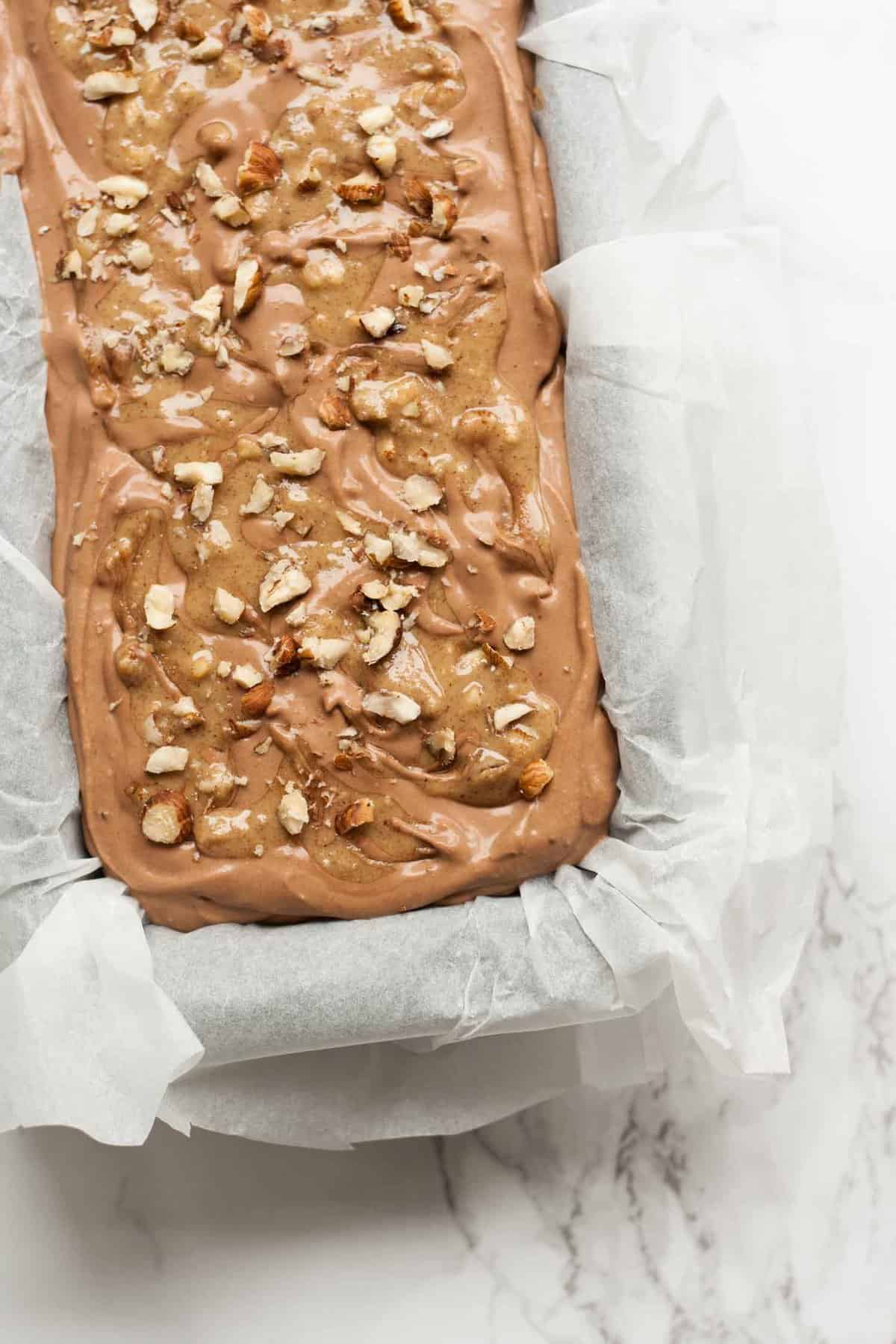 I first came across the wonderful world of no churn ice cream when Nigella Lawson made no churn coffee ice cream on her Nigellissima TV show a few years back. I literally made it the very next day. And it was so good! Of course, no churn ice cream is now all over the internet (not that there's anything wrong with that, you can never have too much!) and so now I'm adding my recipe to the mix.
I have always adored the combination of hazelnut and coffee. It's almost too good! And I wanted to recreate that in no churn ice cream form. But then when I was making it, I dunno, it just had to have cocoa too. It had to be mocha ice cream with hazelnut. I'm so glad I did! This is just too good. As I'm sure you already know (but if you don't, here you go) no churn ice cream has a base of double (heavy) cream and sweetened condensed milk, which is whipped to high heaven to become just the creamiest, most luscious cloud of deliciousness you could ever imagine. You don't even need to freeze it really! But please do, because it's awesome. It's just so so so creamy. I mean, it's mostly just cream, so duh. Disclaimer: This isn't a health food, this is an indulgence. A seriously delicious one at that.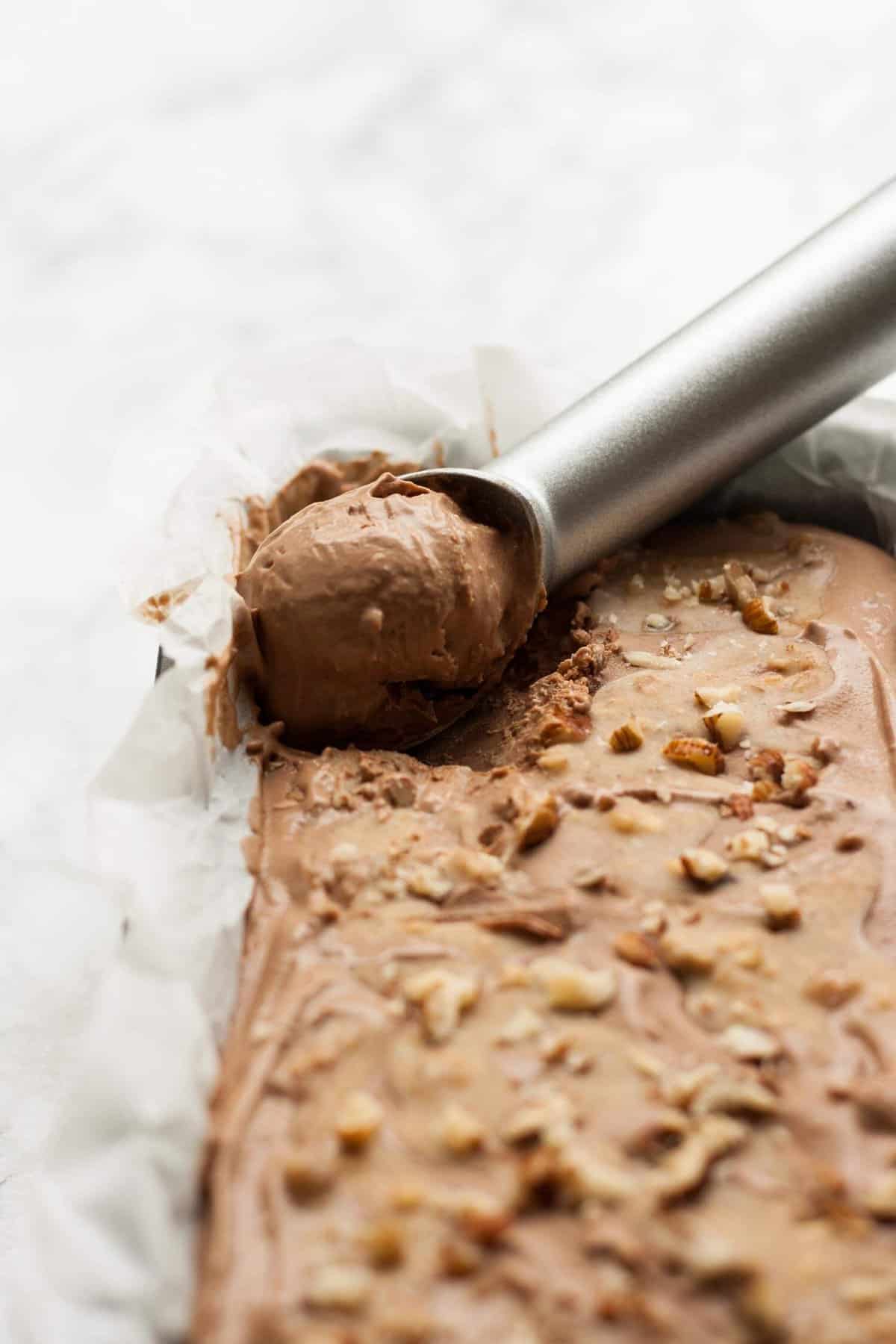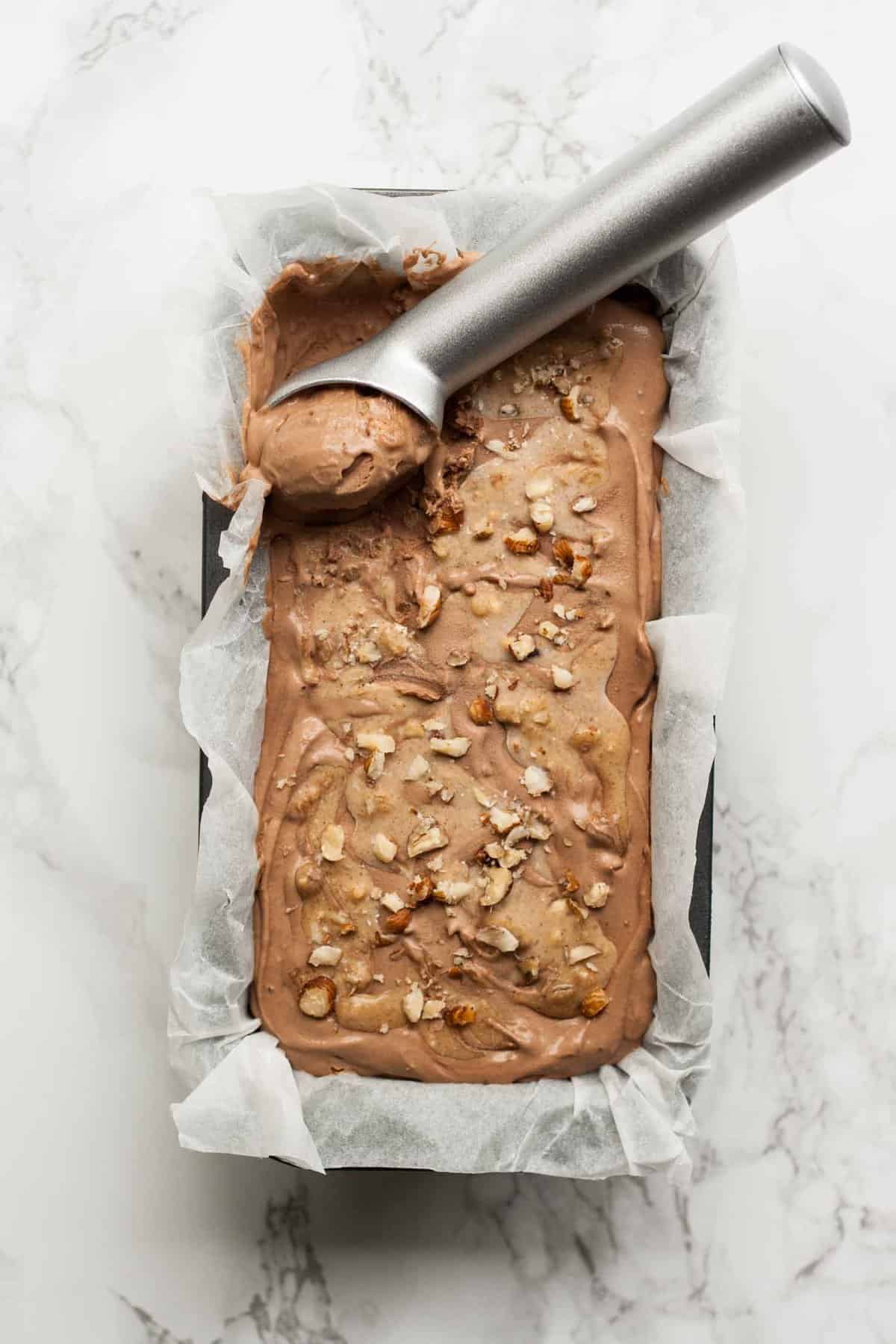 So the mocha flavour is achieved by whipping the cream and condensed milk with instant espresso powder and cocoa powder. Simples. Then, we stir chopped roasted hazelnuts into hazelnut butter and then swirl it right through the ice cream before leaving it to set in the freezer. You could use any nut butter you like, but c'mon! Hazelnut mocha?! Could it get any better?! (The answer is NO.)
I made my own hazelnut butter for this recipe, mainly because I am quite literally OBSESSED with making my own nut butter. I just can't get over it. Also, at least in my neck of the woods, I find that hazelnut butter can be quite pricey to buy by the jar. I find that I can make double for less than it costs to buy one jar by making it myself. Of course, I'll leave that decision up to you! I added a little maple syrup to my hazelnut butter for some extra flavour and a touch of sweetness but that's not essential! If you've never tried hazelnut butter before, I must urge you to. It's seriously rich and has an intense roasted nutty flavour.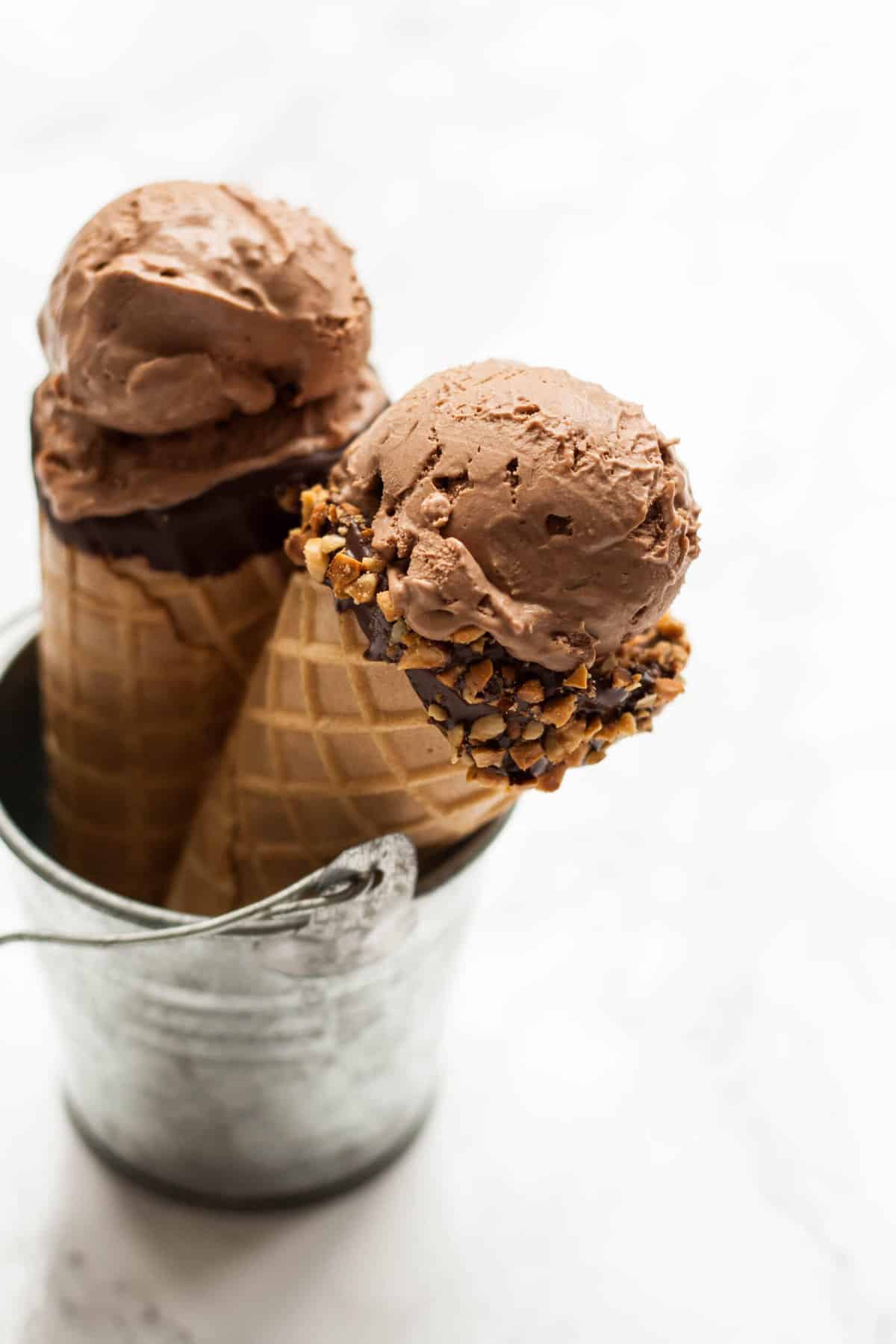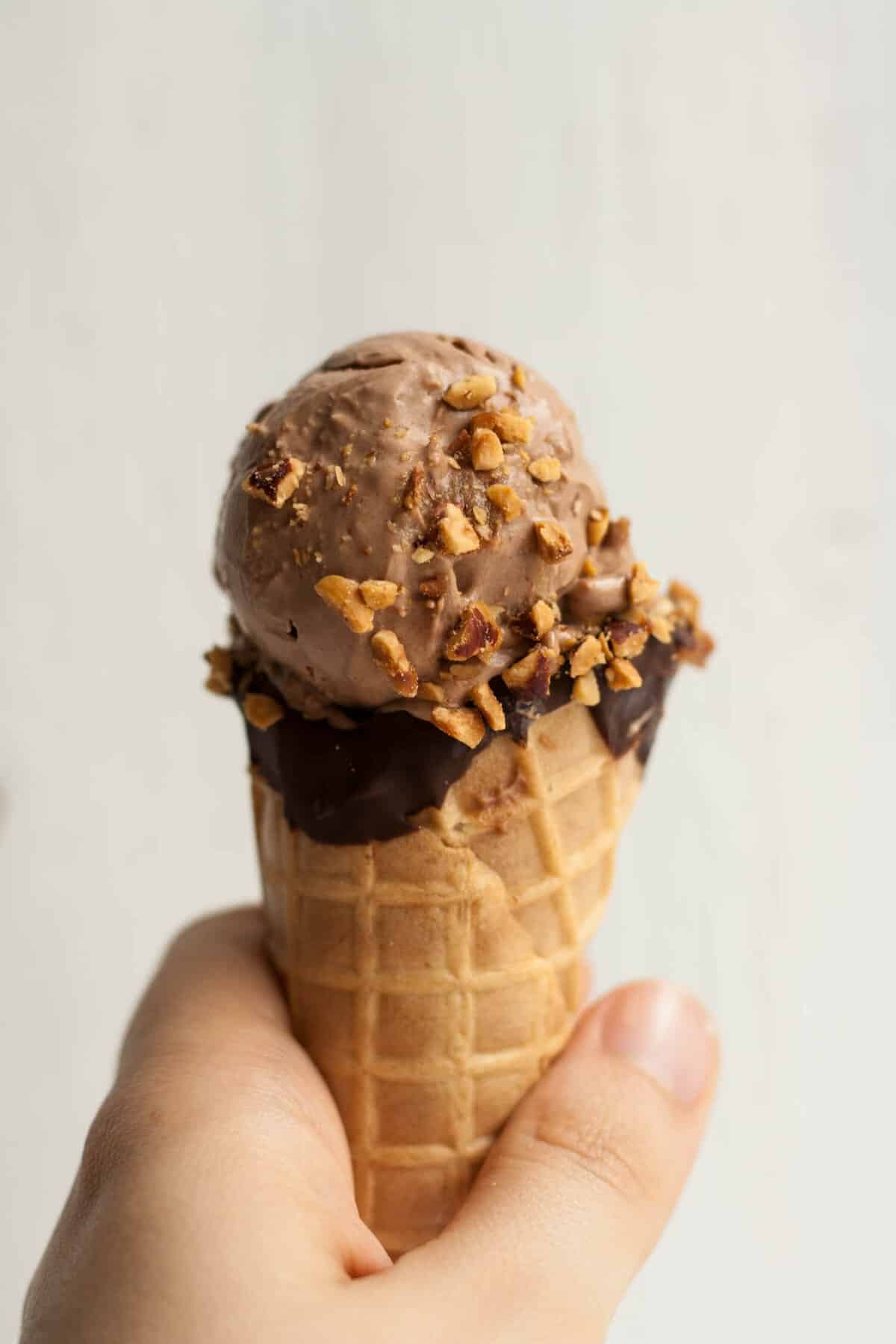 Another disclaimer: this ice cream does set quite hard and so I recommend that you give it a quick microwave before scooping (although of course not if it's in a metal loaf tin!) Or if you're me and you don't own a microwave and you're impatiently waiting to scoop your ice cream in order to take photos of it, you could make the insane choice and put it in the actual oven for a minute or two. Just a couple of options for you there.
Actually, in the original recipe, wise Nigella recommends adding a couple of tablespoons of alcohol to the ice cream mixture when whipping, because of course alcohol doesn't freeze. This is a great plan and I've done it before. However at the time of making this ice cream, the only alcohol available to me was a bottle of sloe gin (I know, I'm basically a grandma) and I really didn't fancy that with the mocha.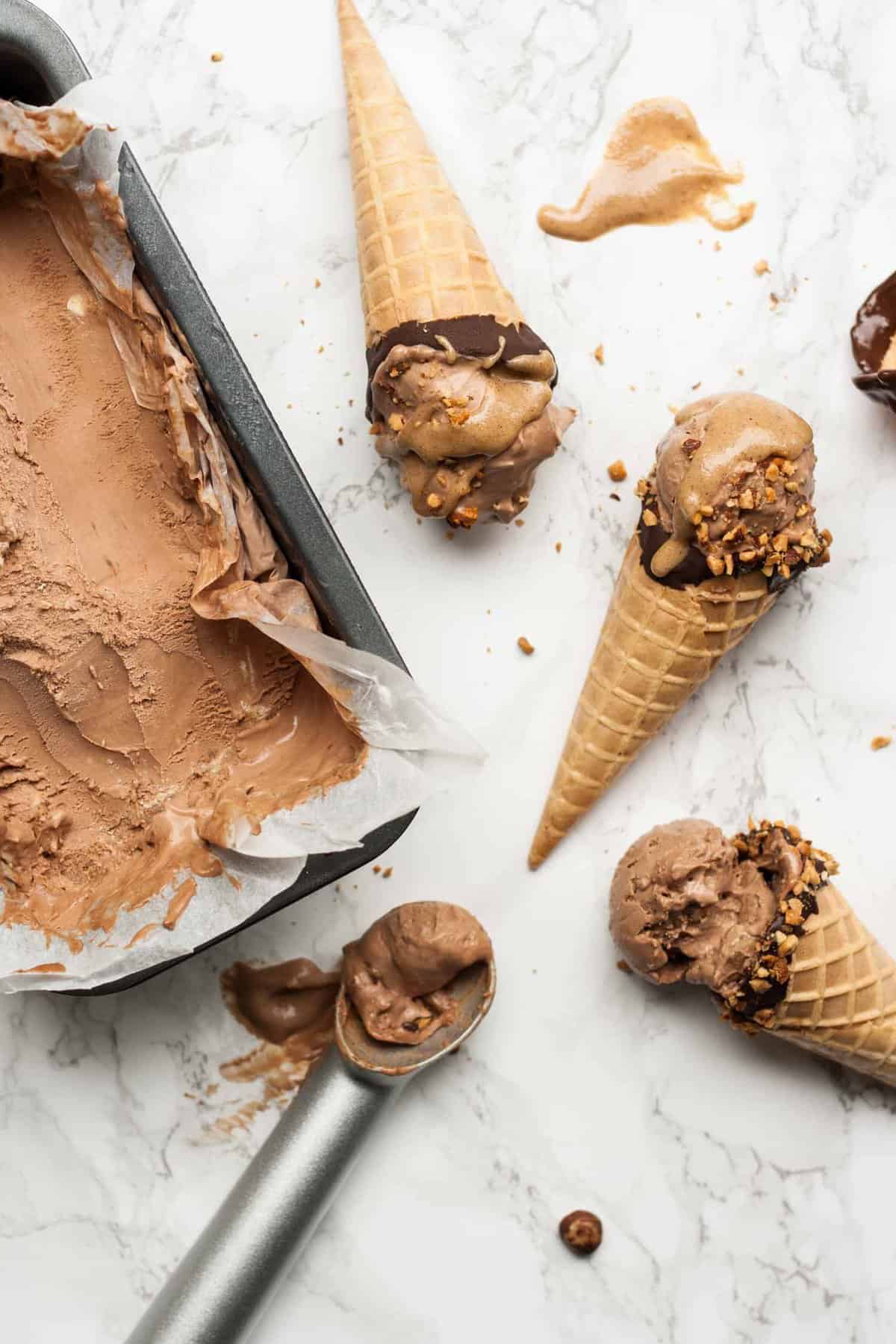 Anyway, enough talking - let's make some no churn mocha ice cream!
Related recipes
📖 Recipe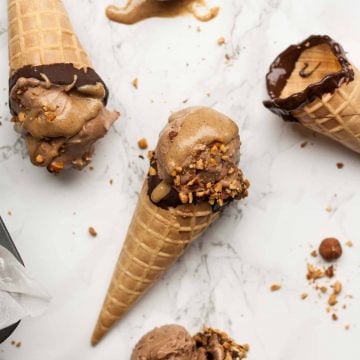 Ingredients
600

ml

double cream

,

(2 ½ cups) heavy cream

1

can sweetened condensed milk

,

(397g)

2

tablespoons

instant espresso powder

¼

cup

cocoa powder

½

cup

hazelnut butter

¼

cup

roasted hazelnuts

,

roughly chopped
Instructions
Place the cream, condensed milk, espresso powder and cocoa powder into the bowl of your

stand mixer

. Using the whisk attachment, whip on medium speed for 2-3 minutes until soft and voluminous - the mixture should stand in soft peaks.

600 ml double cream,

1 can sweetened condensed milk,

2 tablespoons instant espresso powder,

¼ cup cocoa powder

Pour one third of the mixture into a 2 lb loaf tin (or other similarly sized vessel). Mix together the hazelnut butter and the chopped hazelnuts. Dot a third of this mixture over the top of the ice cream and swirl using a skewer.

½ cup hazelnut butter,

¼ cup roasted hazelnuts

Repeat this process twice more, using the remainder of each mixture. Sprinkle a few extra chopped hazelnuts on top, if liked.

Place the tin into the freezer and freeze for 6-8 hours or overnight. Serve in chocolate-dipped waffle cones, sandwiched between chocolate chip cookies or simply eat with a spoon! And don't forget to top with a good dollop of hazelnut butter and some extra chopped hazelnuts.
Notes
If you don't have a stand mixer, you can use a large mixing bowl and an electric hand whisk - it just might take a little longer. I would so recommend the KitchenAid mixer though - it's an absolute workhorse in my house, making everything from ice cream to bread!
Recipe adapted from Nigella Lawson.
Nutrition
Calories:
205
kcal
|
Carbohydrates:
1.8
g
|
Protein:
1.5
g
|
Fat:
21.9
g
|
Saturated Fat:
12.9
g
|
Polyunsaturated Fat:
1
g
|
Monounsaturated Fat:
6.7
g
|
Cholesterol:
58.8
mg
|
Sodium:
9.7
mg
|
Potassium:
72.4
mg
|
Fiber:
0.3
g
|
Sugar:
1
g
|
Vitamin A:
202.7
IU
|
Vitamin C:
0.4
mg
|
Calcium:
26.9
mg
|
Iron:
0.2
mg
Did you make this recipe?
Leave a comment below with how you got on and don't forget to give the recipe a rating ⭐️⭐️⭐️⭐️⭐️. You can also tag @eatloveeats on Instagram - we love to see your creations!
Note: This post contains affiliate links.