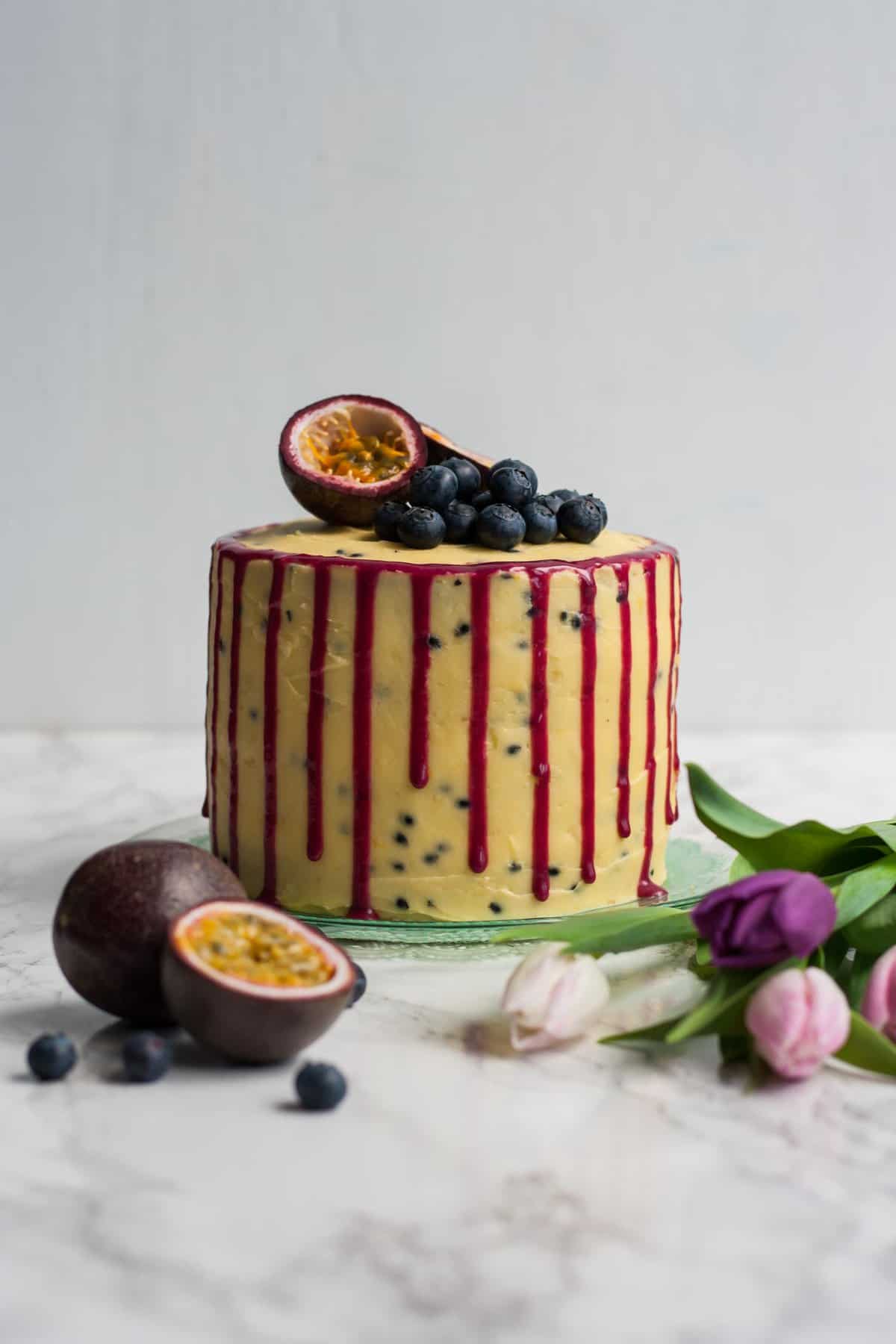 It was high time for another cake around here. The one thing I get asked to make the most here on this blog is more cakes! So I happily obliged. Plus, there's just something so satisfying about making cakes, you know? I wanted to make something cheerful to celebrate the arrival of spring and this Blueberry Passionfruit Layer Cake ticks all the boxes! It's bright, fruity and definitely full of the joy of spring (and summer?! It's certainly felt like summer here this past weekend!).
Passionfruit is one of those flavours that I absolutely love, yet rarely think about using. I've used it once before here on the blog, in this Passionfruit and Elderflower Fizz (which you should definitely make) but it's tropical tang also lends itself really well to a cake. I wanted to try pairing it with blueberry because aside from the stunning colour, it just seemed like a fascinating combination!
And it really worked! Oh, where to start with this Blueberry Passionfruit Layer Cake? I'll start with the blueberry vanilla cake layers. I used a basic sponge cake recipe and stirred in a whole load of fresh blueberries. I also boosted the vanilla extract and the result was heavenly! Despite having berries throughout, the sponge was light and fluffy and in no way dense or soggy! And a bonus of having the fruit in there was that it prevented the cake from going stale too quickly - which is great if it stays around that long! Honestly, it was hard not to gobble these up before I'd even put the frosting on!
Next up, the frosting. I went for a classic buttercream frosting here - which was delicious - although it's arguable that a cream cheese frosting would have been that bit better. I debated between the two and ended up settling on the buttercream. It worked incredibly well and I got rave reviews from my taste testers but it was perhaps a tad too sweet for my palate. I'll let you decide what works for you. I originally intended on straining the pulp from the passionfruit and just using the juice in the frosting, because I wasn't sure how the pips would go down. However, the flavour just wasn't coming through as powerfully as I'd have liked so I went ahead and added all of the pulp. The intensity of flavour was so much better this way and the pips added a pleasing texture, but again, it's completely up to you! I also tinted the frosting slightly with a touch of yellow food colouring to make it extra sunshine-y.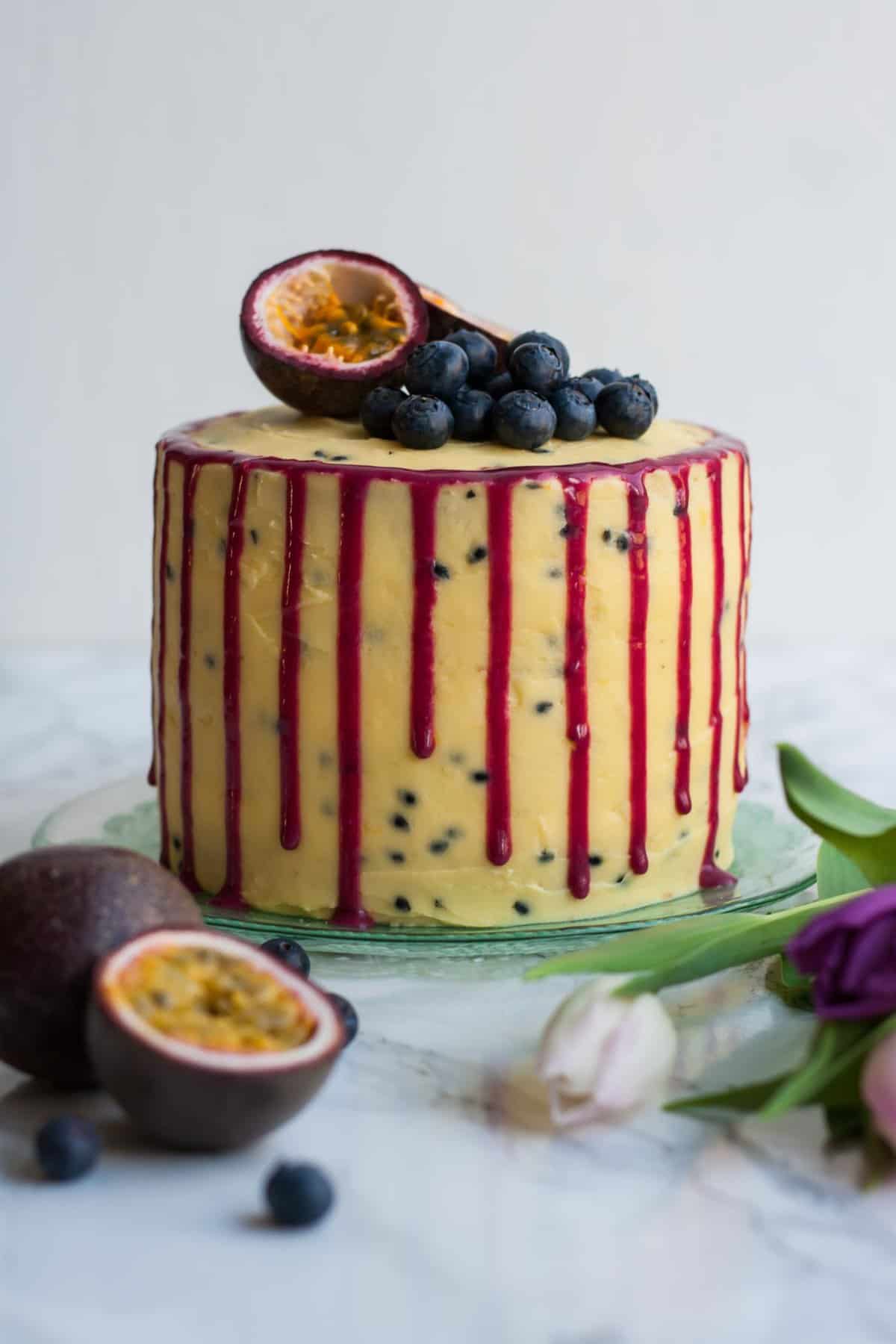 I finished off the cake with a blueberry glaze. I know that the drip effect is best achieved with a chocolate ganache but I chose to try my luck at a simple sugar glaze instead. And it worked out pretty well, I think! You need to take care to ensure you have the right consistency and that you're not over-zealous when pouring it over, but other than that it was pretty easy. I do think that a white chocolate blueberry ganache would have been epic too, though. And you know how hindsight is so wonderful? In retrospect, I wish that I'd have glazed the entire top of the cake, but that idea only came to me as I was looking at the photos. Oh how my perfectionist side twitched at that! But hey, it's good enough. And what's more, the cake tasted amazing! You win some, you lose some, hey? The only other thing that I would have done differently is sandwich the cakes with some blueberry curd or blueberry jam as well as the frosting, but now I'm just nitpicking.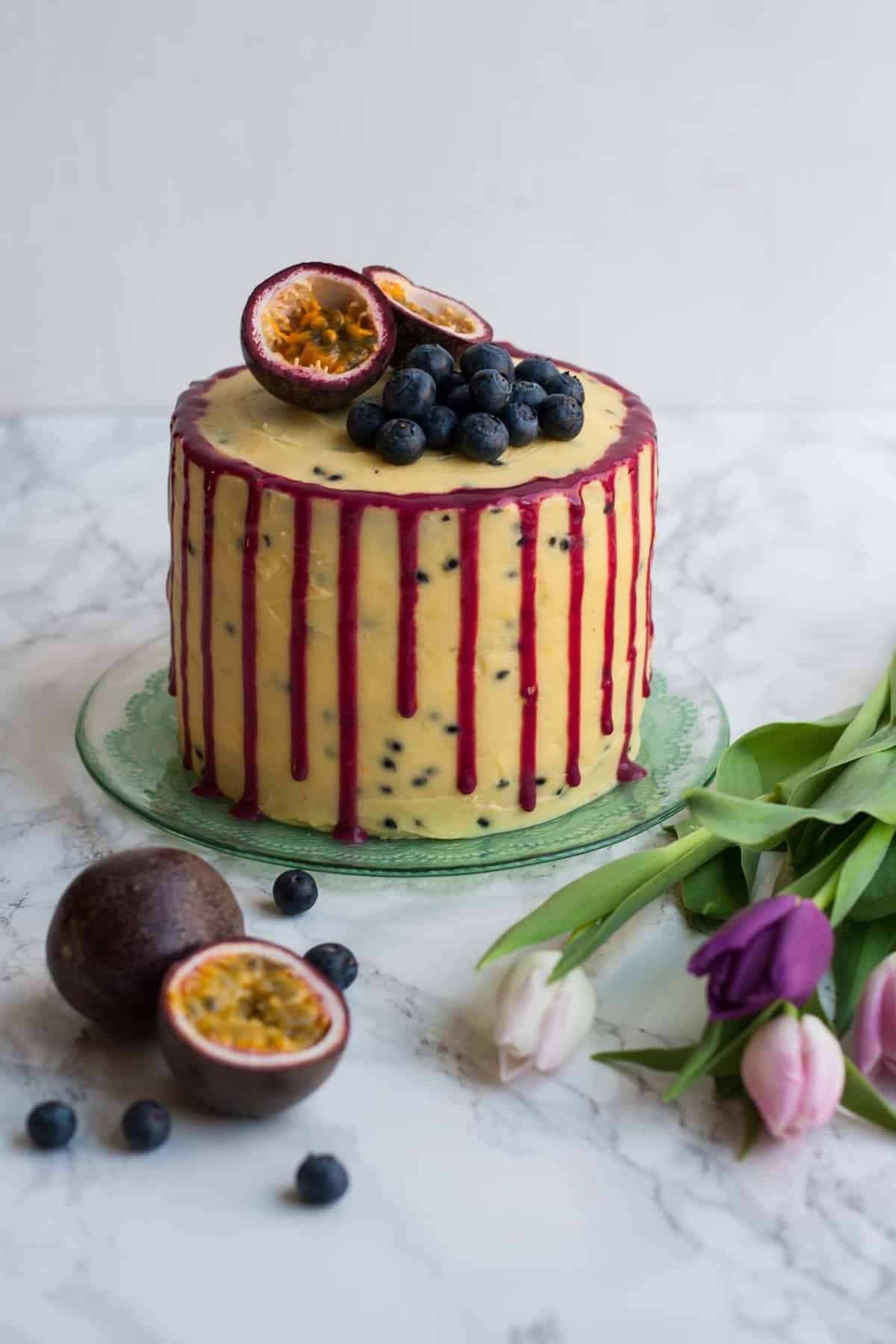 This Blueberry Passionfruit Layer Cake would make the perfect centrepiece for any occasion - Easter is right around the corner so why not serve this up for dessert? I do hope that you'll give it a try and if you make any changes I'd love to hear about them too! Please tag me on Instagram @eatloveeats or using the hashtag #eatloveeats if you make the cake - I absolutely LOVE seeing your creations!
And speaking of Easter, what will you be eating? Do you have a traditional meal you like to eat each year or do you like to mix things up? And most importantly, what are your favourite Easter sweet treats?! Cake? Chocolate? Hot cross buns? I might make something else and post it here if I have time - is there anything you'd like to see? Let me know in the comments!