This passionfruit mocktail is the perfect non alcoholic drink to serve during the festive season. All the flavor and no hangover - and it's super quick and easy to prepare too!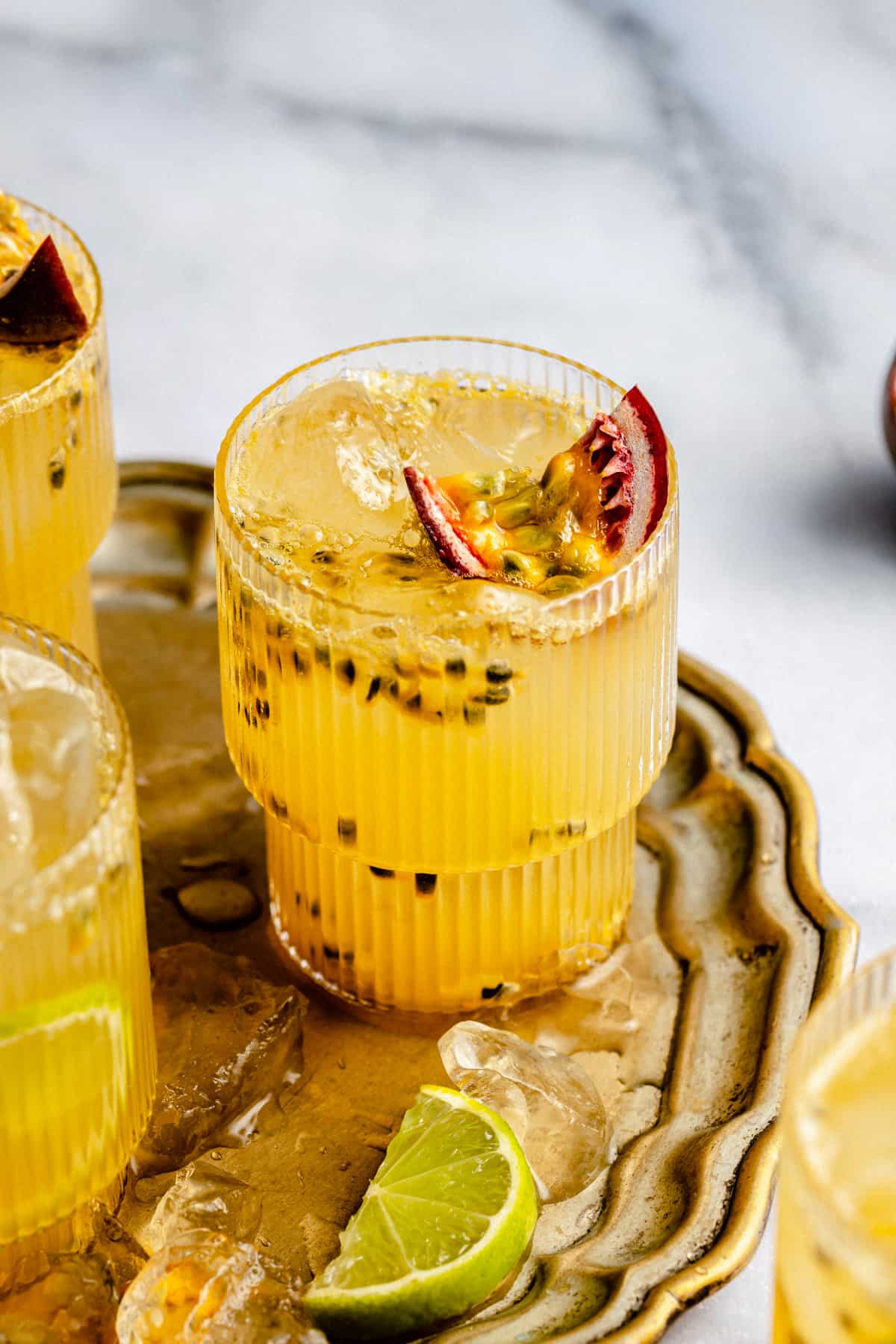 We love thinking up drinks like this passionfruit mocktail as we want to enjoy a nice drink without any after effects. This mocktail is zingy and full of flavor and uses the perfect seasonal ingredient, passionfruit. Our apple and raspberry mocktail is also another hit you need to try for the holiday season.
This mocktail is easy to make and a great way to wake up your taste buds. It's infinitely customizable and if you want to use it as a mixer for a cocktail, it's great for that too!
We know you'll love celebrating during the festive season and appreciate not having a hangover. Leave us a comment and rate the recipe below, you can get to where you need to by following these links.
Jump to:
Why you'll love this recipe
Reasons you need this passionfruit mocktail to sip on during the holidays:
Easy - with only 4 ingredients needed, this mocktail is super easy to throw together last minute.
No hangover - plenty of flavor and no nasty after effects, so you can enjoy the holiday season even more.
Vibrant - passionfruit is super vibrant and flavorful. Some mocktails can be boring but we love how much zing this drink has.
Customizable - this mocktail is easy to customize to your preferences. Even if that is adding back in the alcohol! The juice mix for this will make a perfect base for any cocktail.
Healthy - using solely natural ingredients, this passionfruit mocktail is healthier, a great option if you're driving or avoiding alcohol.
Ingredients
You only need these simple ingredients to make your passionfruit mocktail: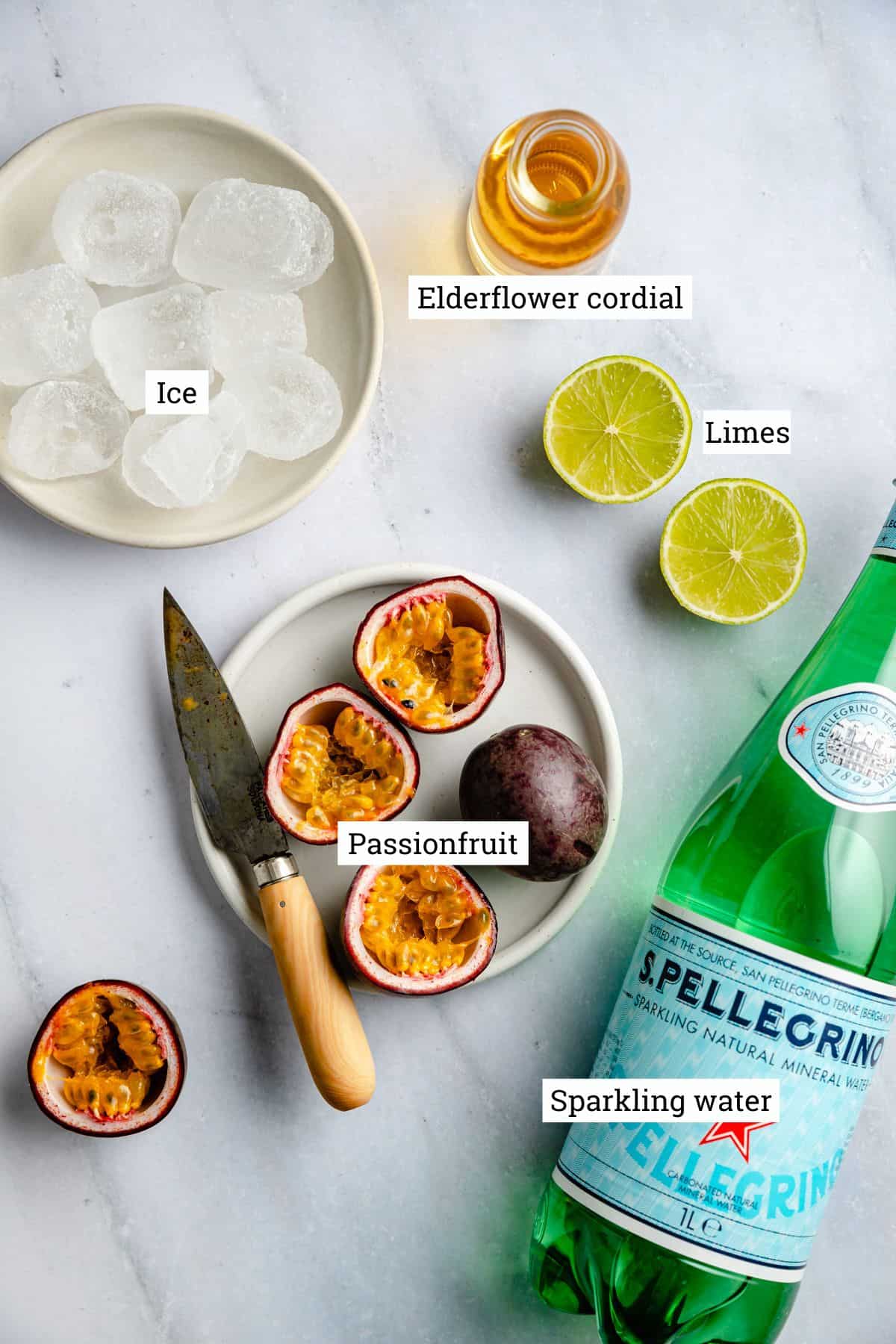 Passionfruit - we use perfectly ripe passionfruit to give a sweet and tangy tropical flavor to the mocktail.
Lime - lime is the best combination with passionfruit in this mocktail, it's also great for decoration in the glasses.
Cordial - we love to use elderflower cordial which adds a floral aroma and taste. You can switch it with others which we suggest in the customizations.
Mixer - you'll need some form of mixer, we add in soda water to give it a bit of fizz but you can use alternatives if you want.
How to make a passionfruit mocktail
Follow these quick and easy steps to create this delicious passionfruit mocktail: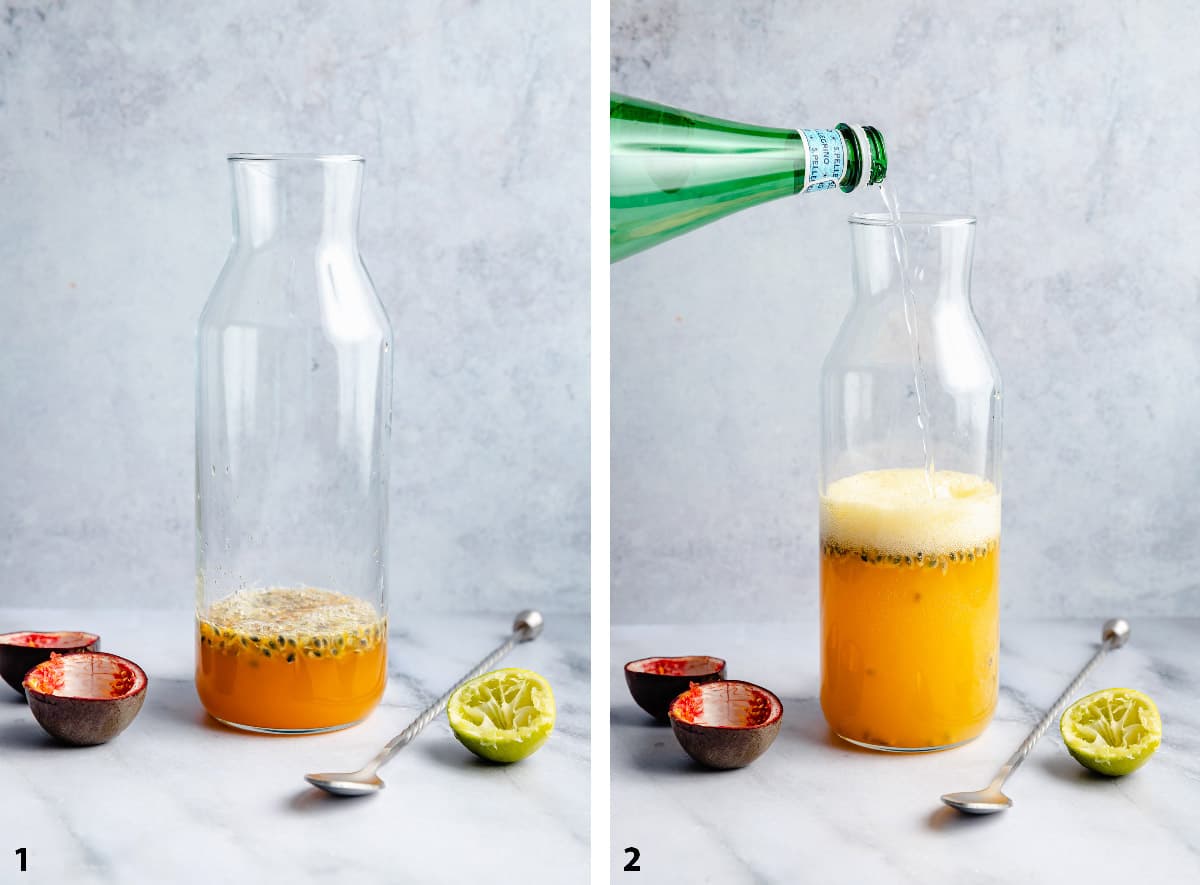 Add the passionfruit pulp, lime juice, elderflower cordial into a carafe or jug.
Pour in soda water and stir together. Serve over ice with extra lime wedges.
Customizations
Here are some suggestions for customizing your passionfruit mocktail as we know you like to mix it up a bit:
Alcohol - If you can't resist making this a cocktail, throw in a few measures of vodka, gin or tequila. Whatever you fancy.
Cordial - we love the combination of elderflower cordial with the passionfruit but if you can't get hold of it you can use a lime, pear or apple cordial instead.
Mixer - if you wish to use a flavored soda water go for it, or you can also use a tonic water instead. You can also use coconut water if you like.
Expert tips
Follow these expert tips to ensure you get the best results and flavor in your passionfruit mocktail.
Sieve - place all the pulp from the passionfruit in a small sieve and rub around with a spoon to extract as much juice as you can. Add the seeds back in to the carafe, or you can leave them out if you like.
Pouring - when you are adding the soda water, pour it down the side of the jug to minimize the excess fizz in the jug.
Make ahead - you can definitely make this mocktail ahead of time, just mix the ingredients together without the soda water and store in the fridge until you are ready.
Leftovers - if you don't manage to finish it all, you can store the passionfruit mocktail in the fridge for up to 2-3 days. However, the fizz will go flat after a short time. We'd recommend adding the sparkling water only when you're ready to drink.
Recipe FAQs
What can I use passionfruit for?

You can make drinks with passionfruit, or add it to desserts, serve it on breakfast yogurts or even toss it through a salad dressing. It has the most delicious tangy, perfumed flavor.
Are mocktails healthy?

Mocktails are safer to drink and better for your body than consuming alcohol. So if you want to lower your consumption during the holidays or are driving, you can have a mocktail instead. Passionfruit mocktails will have a high level of vitamins in them too which is always great for the body.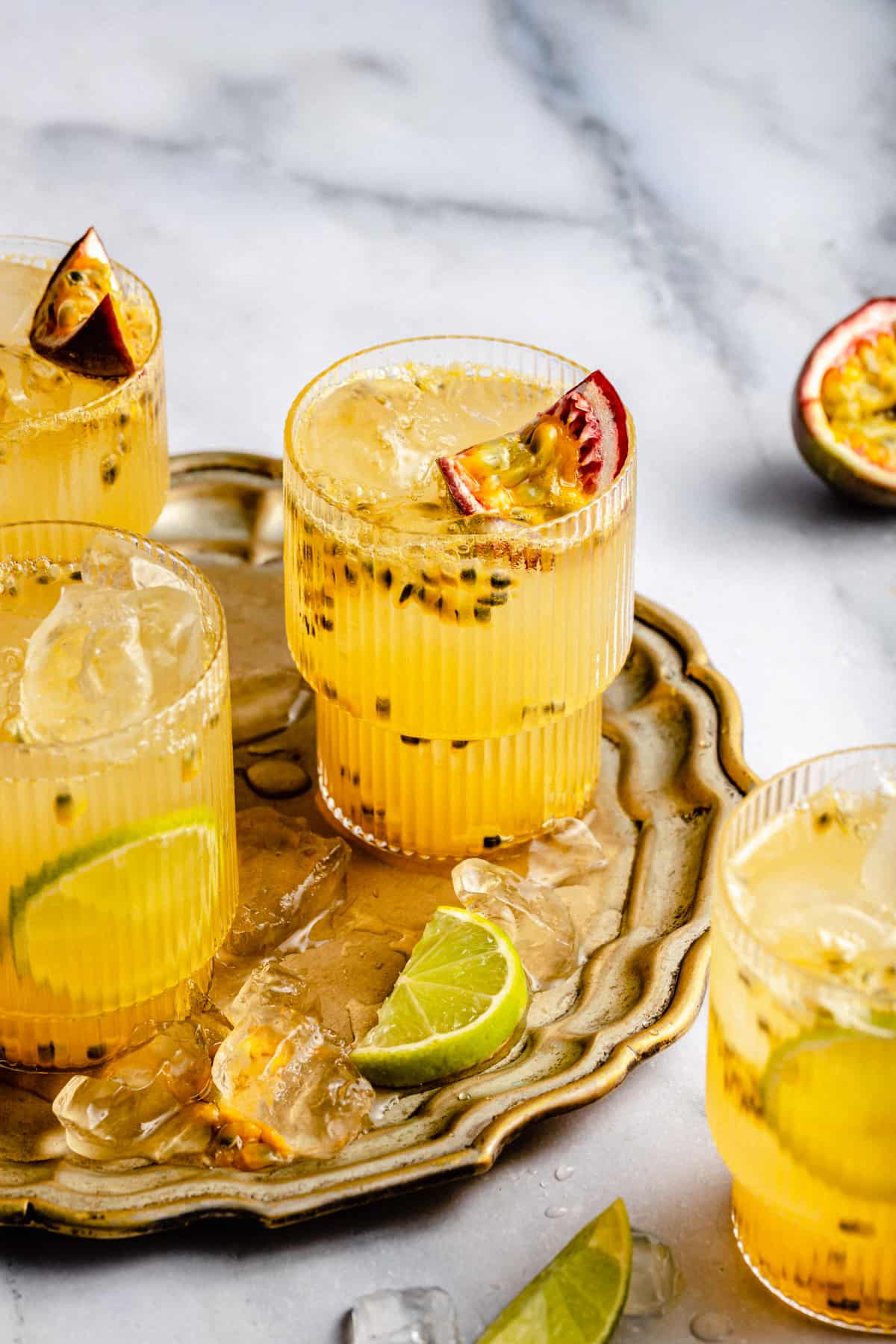 Related recipes
Love this passionfruit mocktail recipe? Then you'll definitely want to check out more of our drinks recipes. Here are some suggestions to get you started:
Love this recipe? Leave us a 5-star ⭐️⭐️⭐️⭐️⭐️ rating in the recipe below and don't forget to leave a review in the comments section underneath the recipe. We love hearing from you!
Why not follow along with us on our social media channels @Instagram @Facebook and @Pinterest and tag us with #eatloveeats when you've tried one of our recipes!
📖 Recipe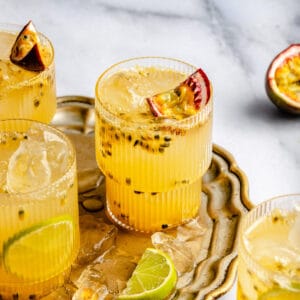 Passionfruit Mocktail
The perfect refreshing passionfruit mocktail - a vibrant drink for any occasion, especially during the best time of the year, the holidays.
Print Recipe
Pin Recipe
⭐️ Rate Recipe
Instructions
Pour the elderflower cordial into a jug. Scoop the seeds and juice from the passionfruit into the jug and add the lime juice. Top up with sparkling water to taste - we made ours up to a litre (4 cups) but you can do more or less according to your preference. Serve over ice and garnish with extra lime and passionfruit wedges.

½ cup elderflower cordial,

3 passionfruit,

1 lime,

sparkling water
Notes
To get extra juice from the passionfruit seeds push them through a sieve to release more into the jug. 
Pour the soda water down the side of the jug to minimize the froth on top of the mocktail.
Nutrition
Calories:
80
kcal
|
Carbohydrates:
22.8
g
|
Protein:
0.6
g
|
Sodium:
6
mg
|
Potassium:
117.9
mg
|
Fiber:
1.6
g
|
Sugar:
17.1
g
|
Vitamin A:
9.9
IU
|
Vitamin C:
22.2
mg
|
Calcium:
12.6
mg
|
Iron:
0.3
mg
Did you make this recipe?
Leave a comment below with how you got on and don't forget to give the recipe a rating ⭐️⭐️⭐️⭐️⭐️. You can also tag @eatloveeats on Instagram - we love to see your creations!