This post contains affiliate links from which we could earn a small commission. Please read our Privacy Policy for more information.
This apple and raspberry mocktail is super refreshing and perfect for any occasion! It's simple to make and full of yummy fresh raspberries. A great option for those who want a special drink but without the alcohol.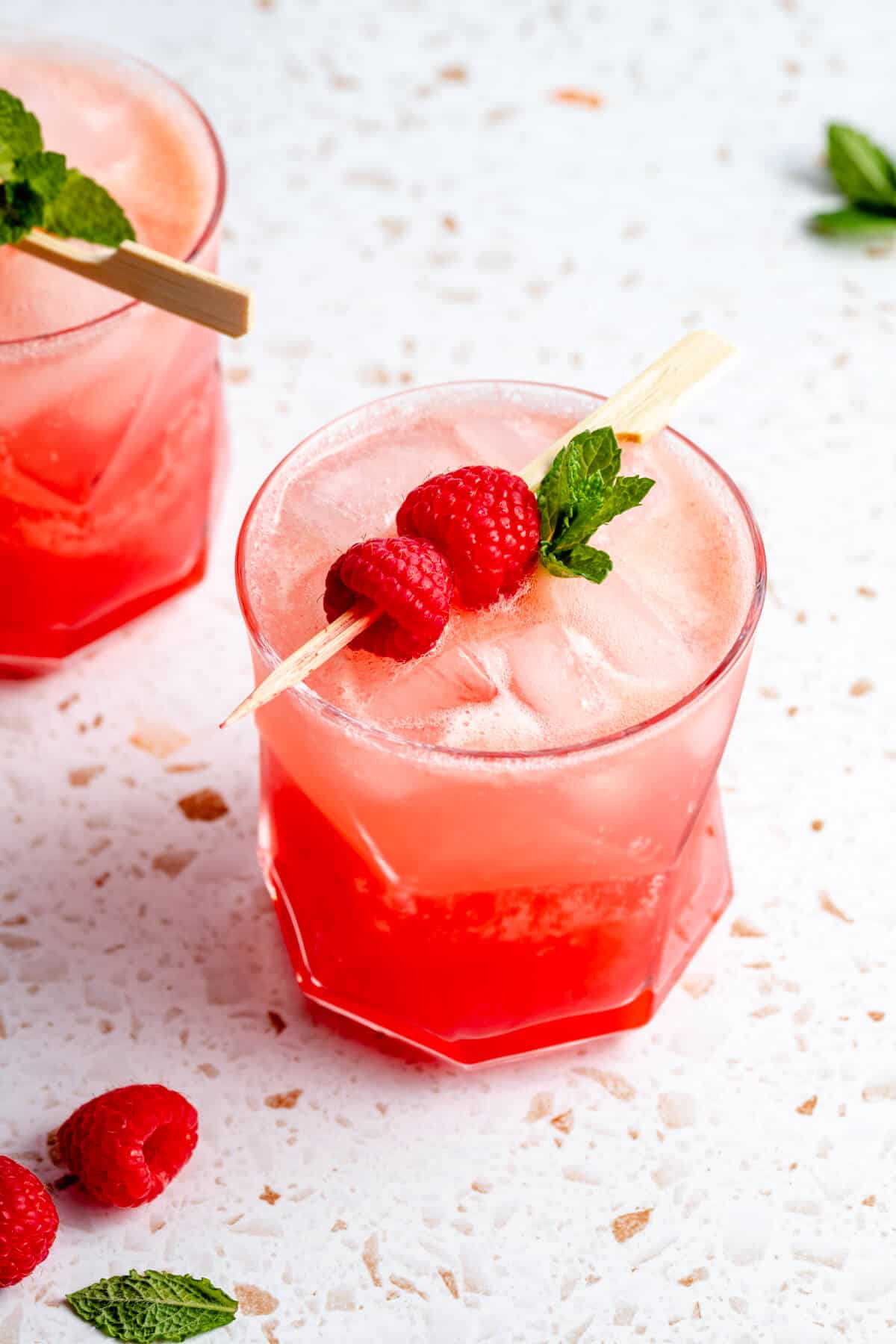 In our home, we've been alcohol free for around 5 years now for various beliefs and reasons and a lot more people these days seem to be doing the same. This recipe was born out of a desire for options to drink that feel a bit more interesting than just a standard soft drink. Something a little extra. We're frequently asked, "why no alcohol?" or "isn't that a bit boring?" And the answer is no, not really, as there are plenty of options if you want to create something for yourself and supermarkets are catching on to the zero alcohol movement that is growing so there are more and more exciting options out there now! Practically every time we go to the supermarket these days there's a new alcohol-free product on the shelves but they don't always taste that great (lots do though)! So, whether you are looking for a non alcoholic option just because or you want something a little different to supplement your drinks repertoire without the after effects of alcohol, this is a recipe for you.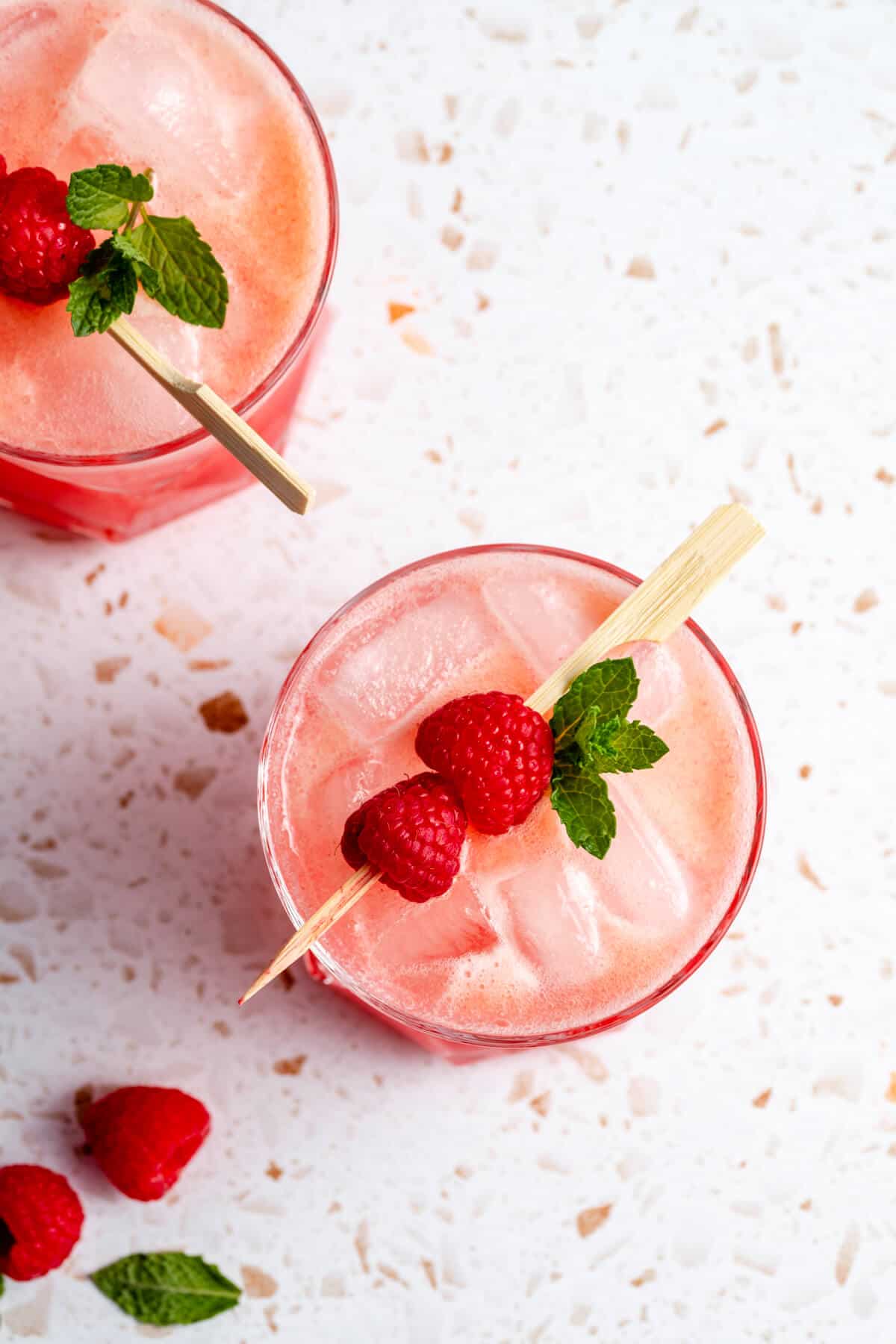 Mocktails are not a new thing, but are gaining popularity as more people are looking at reducing or even eliminating their alcohol consumption. Years ago we used to whip together our own cocktails with friends at gatherings and it was so much fun! We're here to tell you it can be just as fun without the alcohol and they don't have to taste like diluted juice either!
This apple and raspberry mocktail was perfect for sipping whilst having a dip in the pool in the blazing sunshine we had earlier this year (and hope to have more of!) We give you the lowdown on the simple ingredients and equipment you can use to make your own (hint - if you have cocktail making gear, cool! But if not… don't worry, we will give you all the tips on how to make it without!)
Raspberries are perfectly ripe at this time of year - they are a favourite in this house. So why not give this beautiful rose pink raspberry mocktail a go this summer!
What ingredients do I need?
These are the simple ingredients you need to make this sparkling apple and raspberry mocktail: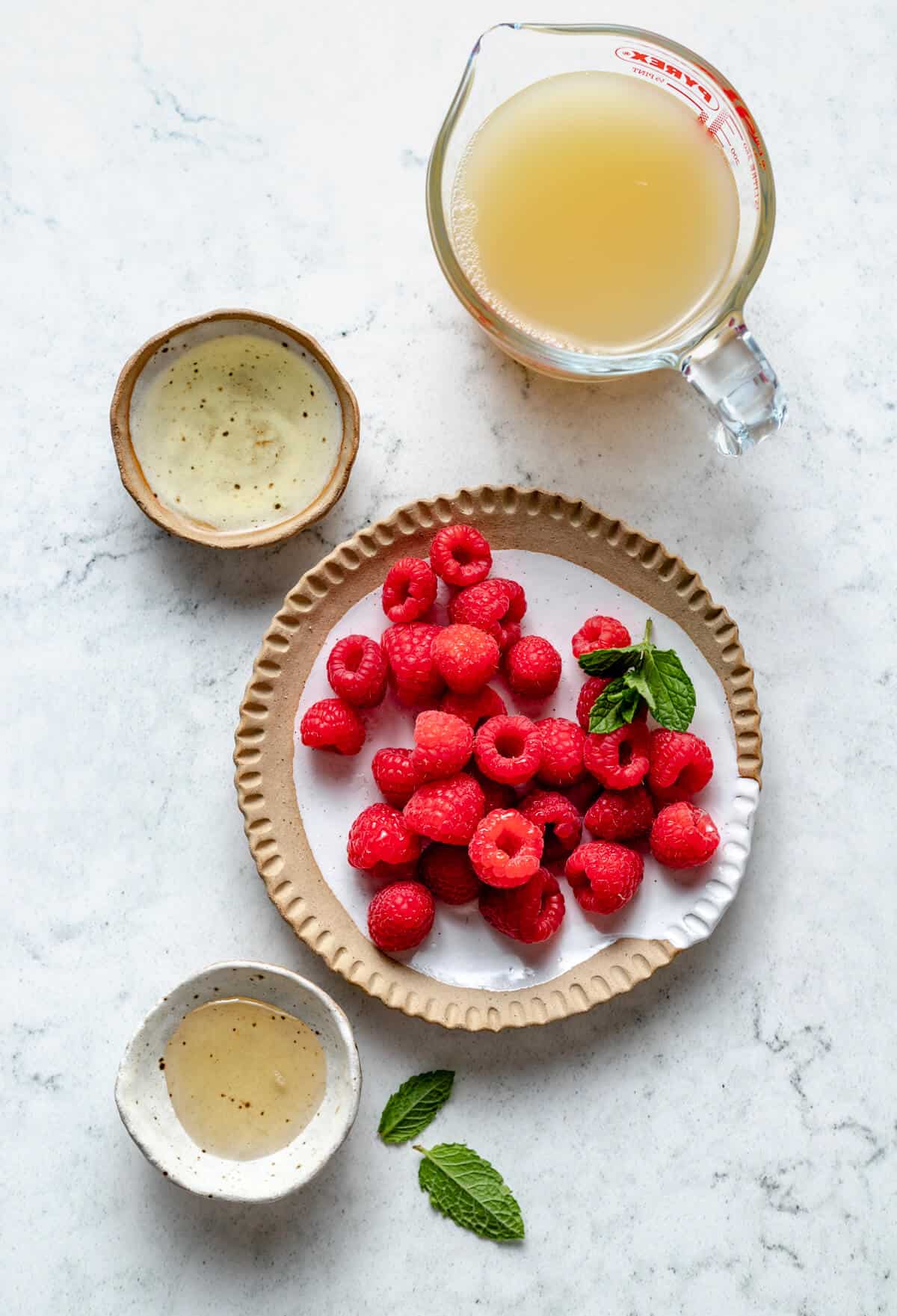 Apple juice - we use cloudy apple juice, or if you can only get hold of clear apple juice that will work fine too!
Fresh raspberries - perfect plump fresh raspberries are best; they should be sweet and slightly tart - the perfect balance.
Agave nectar - adds a slight sweetness that helps balance the flavour profile of the drink - use more or less to achieve your desired sweetness. We use agave as it's fairly neutral in flavour but if you want to substitute honey, use a lightly flavoured one. You can also use simple syrup.
Apple cider vinegar - works in balance with the apple juice and gives the drink acidity and complexity - a little something extra so you don't feel like you're simply drinking fruit juice.
Ice - for a perfectly cool drink.
Soda water - we're using this standard mixer to top up the apple raspberry syrup. If you want to use a lemon soda you can, but it will disrupt the balance of sweetness/acidity.
How to make your raspberry mocktail
Follow these quick and easy steps and you'll be sipping your favourite non alcoholic drink in no time this summer!
Pour 160 ml apple juice into a blending jug with 50g raspberries and 1 tablespoon agave nectar.
Blend the mix until all the raspberries are broken down, this should take about 20-30 seconds.
Here's what the blended raspberry syrup mix will look like.
Strain the mixture through a sieve set over a jug to remove the raspberry seeds if desired. Set aside.
Place a handful of ice into one half of your cocktail shaker, pour over 4 teaspoons of apple cider vinegar and the raspberry apple juice mix. Place the lid on the cocktail shaker and shake until the shaker is almost too cold to hold. See notes in recipe card for instructions on how to make this without a cocktail shaker.
Pour through the cocktail shaker strainer into glasses filled with ice and top up with soda water. Serve immediately.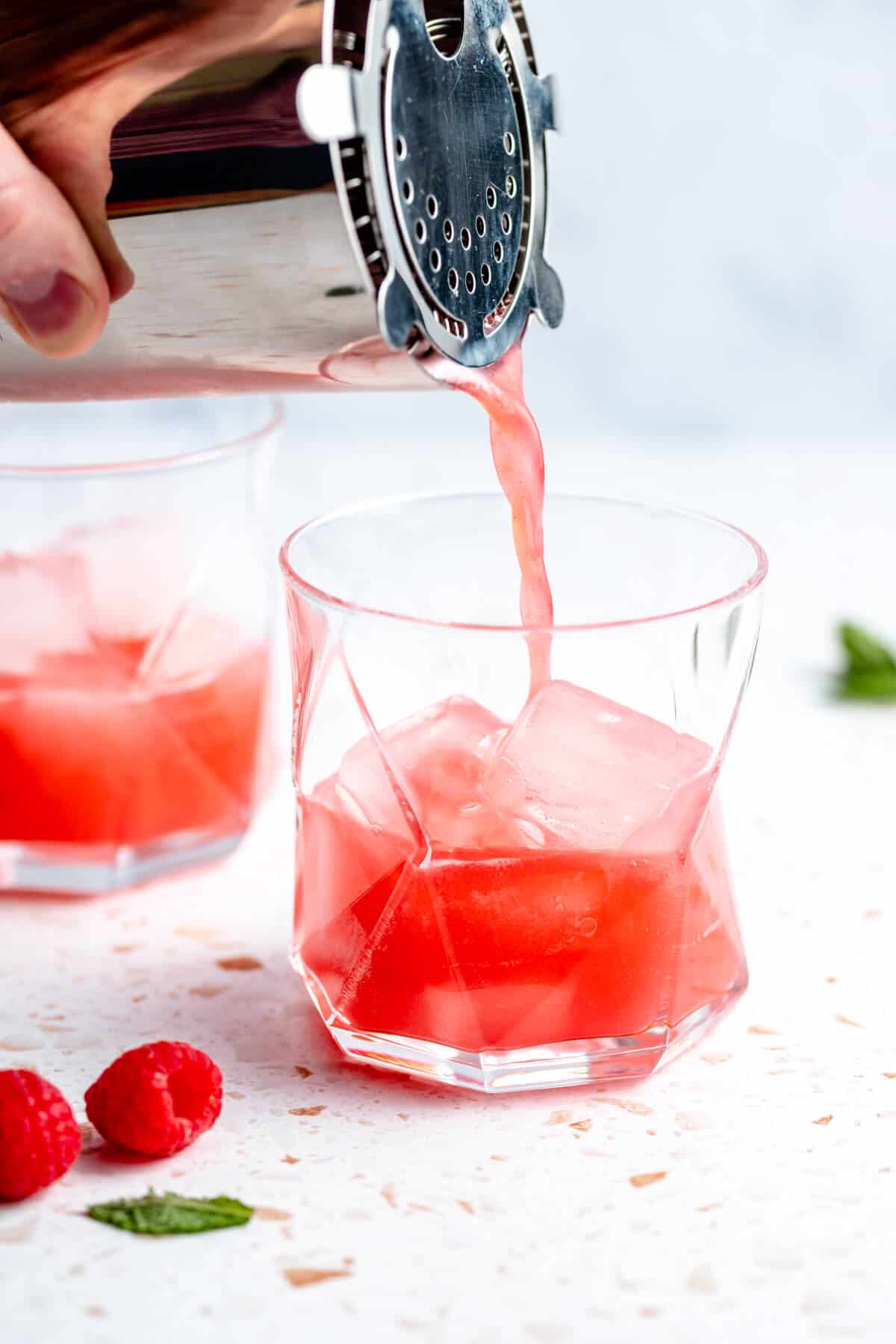 Looking for more drinks recipes?
If you're looking for more refreshing drinks, check these out:
I hope you love this apple and raspberry mocktail as much as we do. If you make it, be sure to leave a comment, rate the recipe and tag me on Instagram! I love to see your creations!