Cast iron chicken thighs with cherries is the perfect one-pan dinner. It's easy to make and perfectly balanced in flavour - and you'll LOVE the extra crispy chicken skin! A great dish to use fresh cherries at the height of the season!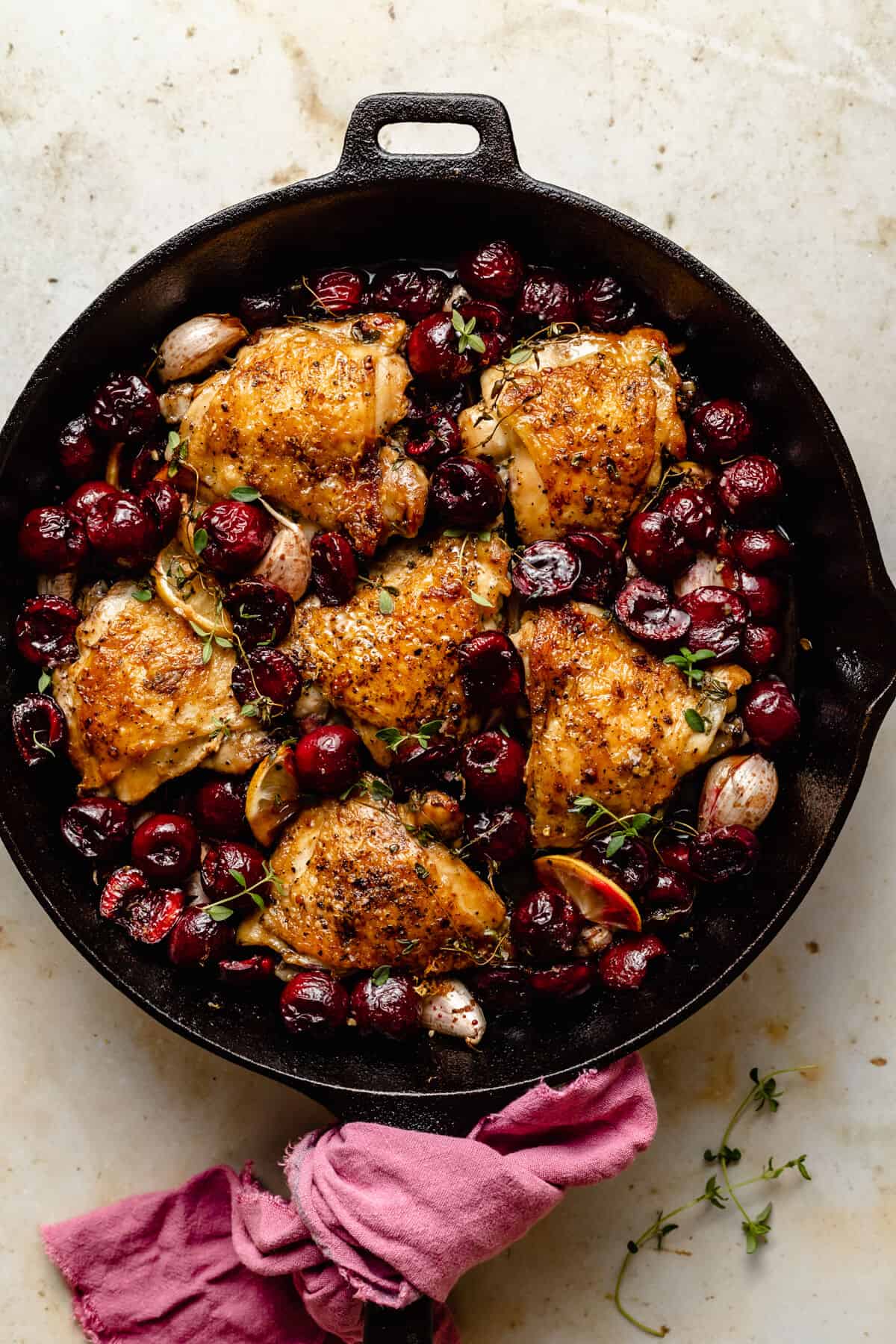 At this time of year, we love cherries - like LOOOOOVE cherries. They are totally the best thing ever and they are the perfect match for this cast iron chicken thighs dinner. Cherries are the ultimate summer fruit. Do you agree? We love having them for breakfast in these Cherry Bakewell Quinoa Breakfast Parfaits, or in desserts like these epic Dark Chocolate Cherry S'mores Bars or this Cherry Almond Polenta Cake which is super popular right now! So, I think it's about time I shared a savoury cherry dish with you. I've actually been making this cast iron chicken thighs recipe for a couple of years now, so I was excited to shoot and write up the recipe!
Growing up, I never mixed sweet and savoury foods together. That was such a no-no in my mind. Anyone else? But ever since I got married, my husband helped open up the world of sweet and savoury (especially fruit and meat) and now I just love it. So this is a celebration of cherries, but paired with the most beautiful, tender chicken thighs with the crispiest skin. Those chicken thighs are partnered with roasted garlic, lemon and thyme all perfectly tied together with a sweet, tangy and savoury sauce that begs to be mopped up with lots of crusty bread. Or maybe you'll skip the bread and just lick your plate... no judgement here!
Cast iron chicken thighs with cherries is such an easy dish to put together and I love that it only uses one pan. I mean, who else hates washing up?! I can't wait for you to make this, so let's get straight to it!
Don't forget to leave us a comment and rating on the recipe below, I love hearing from you and know you'll love it as much as we do!
Jump to: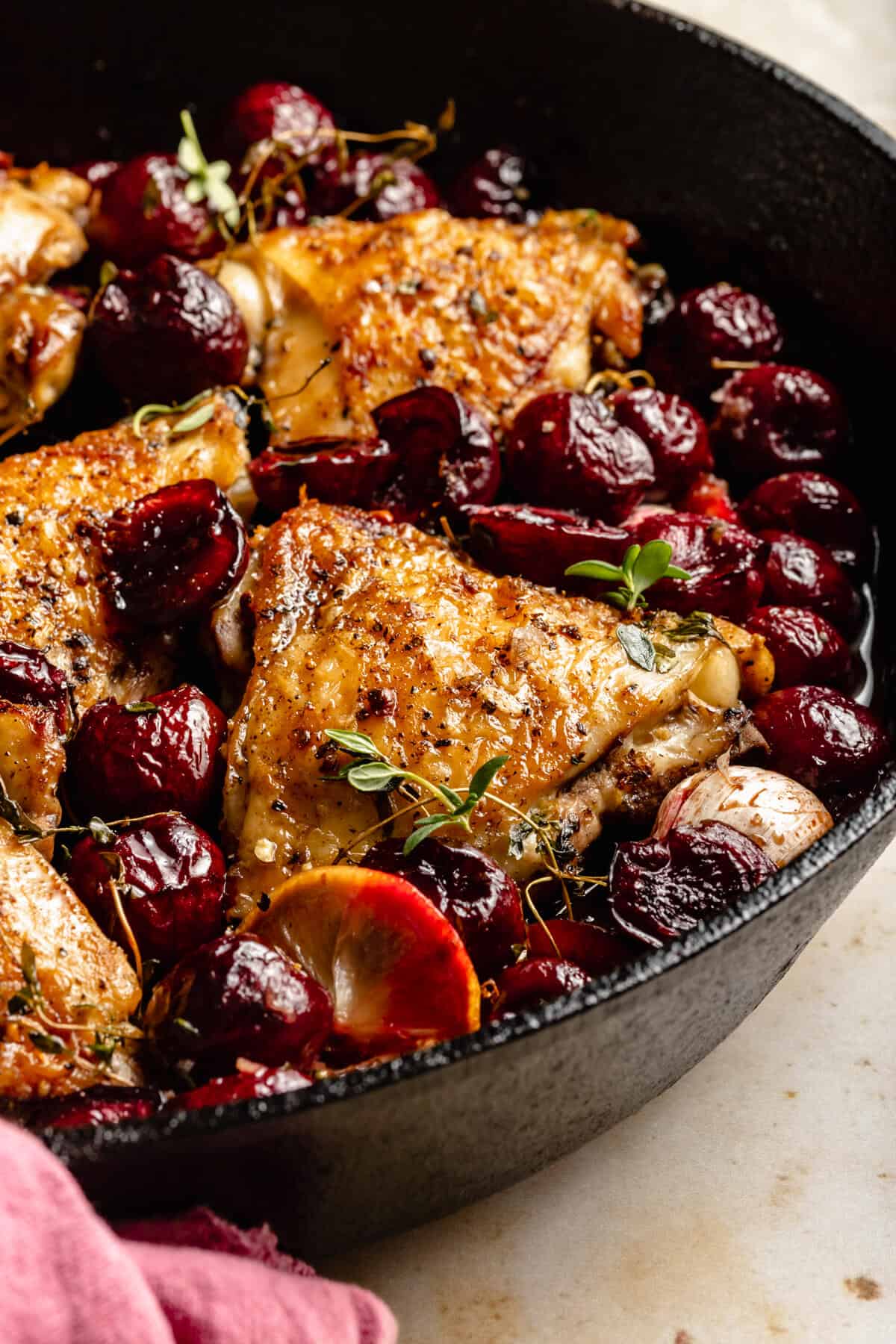 Why you'll love this recipe
If not convinced already, here are some reasons why you need to make these cast iron chicken thighs with cherries:
Crispy - crispy chicken skin is one of those simple pleasures of life, I don't care what anyone says, it just is, perfectly savoury and salty.
Easy - this recipe is so easy to throw together you can even do it for a midweek meal, start it on the stove and finish in the oven... simple throw it together in one pan.
One pan - as said above, no one likes doing the dishes, so why make more of them dirty? This recipe is the perfect use for your heavy duty cast iron skillet.
Leftovers - if not completely devoured by the family or friends, the leftovers make a lovely salad, check out the tips later in the post!
What ingredients do I need?
You only need simple ingredients for these cast iron chicken thighs, I've got all the tips and advice you need for each below: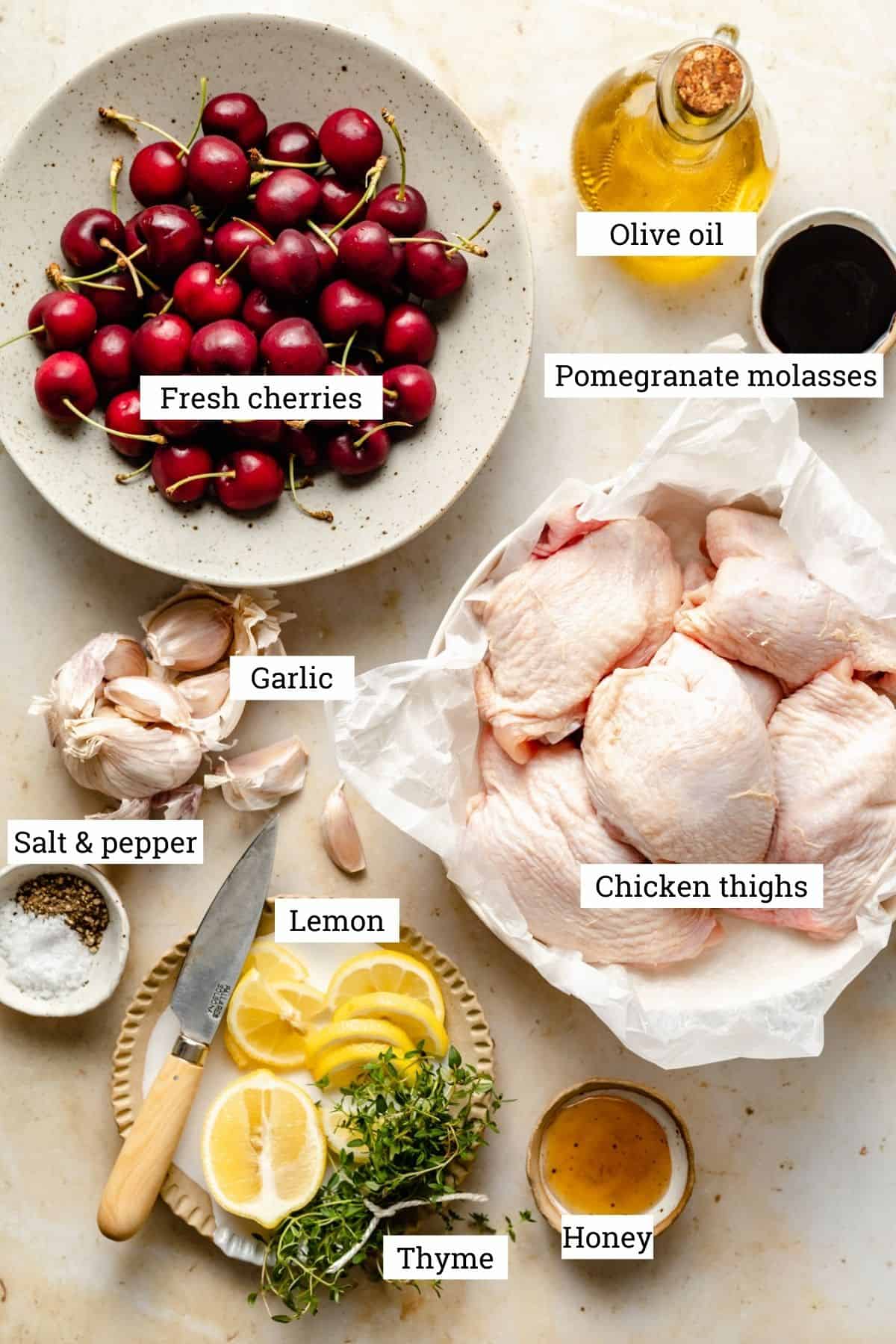 Bone-in, skin-on chicken thighs - get the best quality ones you can find for your budget. I used 6 large chicken thighs which weighed 1 kg (2.2 lbs) before the excess skin was trimmed. If your chicken thighs are slightly larger or smaller, you might need to adjust the cooking time a little.
Olive oil - use standard olive oil rather than extra virgin (which is reserved for dressings) to start off the wonderful browning of the skin.
Garlic - a whole head of garlic seems like a lot but the cloves caramelise in their skins as they roast and taste delicious and sweet. You can squeeze the garlic cloves out of their skins and make any leftover sauce into a dressing with them.
Lemon - brings another dimension of acidity to the dish which pairs wonderfully with cherries. Make sure to use unwaxed, or just scrub them well if you can only find waxed ones.
Fresh thyme - a match made in heaven with chicken, lemons and thyme. If you get a plant from the supermarket and look after it, it will last a long time.
Fresh cherries - the absolute hero of the dish, buy them in season for the best for sweetness and depth of flavour. If they're not in season for you, you can substitute frozen, but I would recommend thawing and draining them before using, otherwise the sauce might be too watery.
Pomegranate molasses - such a wonderful ingredient; sweet and tart at the same time, it an adds another layer of complexity to the dish. If you can get hold of it, use it! We use this pomegranate molasses. If you can't get hold of or don't want to use it, up the honey to 2 tablespoons and add 1 tablespoon of balsamic vinegar instead.
Honey - helps create a glaze and adds sweetness to balance out the acidity and tartness that comes from the lemon and pomegranate molasses.
Salt & pepper - always season well, food is to be enjoyed and salt brings out the flavours from each ingredient so much more!
How to make it
Follow these simple steps to success in making your next favourite cast iron chicken thigh recipe: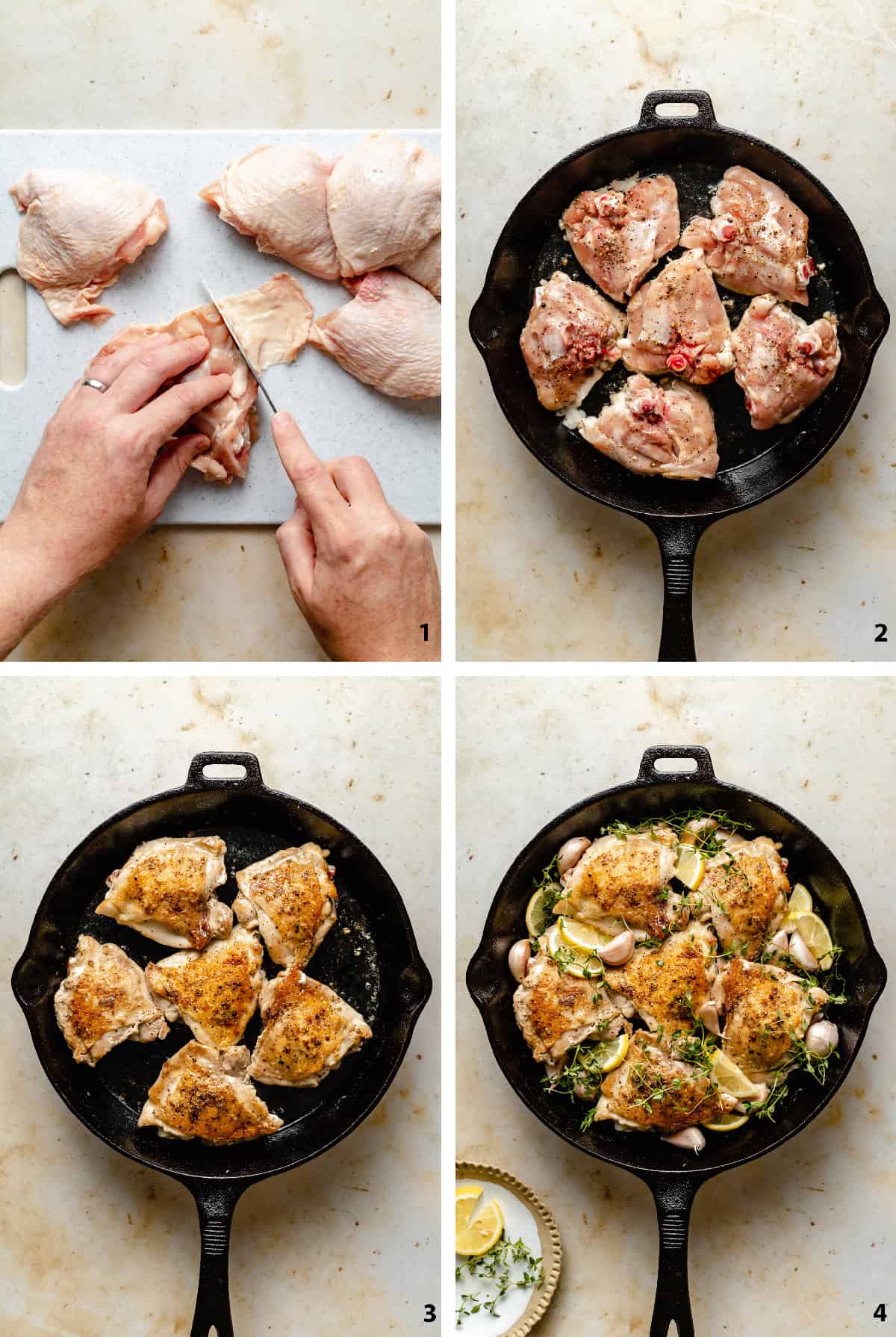 Firstly, tidy up your chicken thighs, removing excess skin and fat if needed. If the skin is folded under the thigh, it will just go soggy in the juices produced whilst cooking.
Season the thighs with salt and pepper and place skin side down in a preheated cast iron skillet with a tablespoon of olive oil. Cook over medium-high heat for 5-7 minutes until golden and crispy. Don't be tempted to move them during this time - let them crisp up really well and turn beautifully golden.
Turn the thighs so that they're skin side up and arrange evenly in the pan.
Place the thyme (toss the sprigs in oil first to prevent burning), garlic cloves and lemon slices in and around the chicken thighs and place in the preheated oven (200C/400F) for 10 minutes.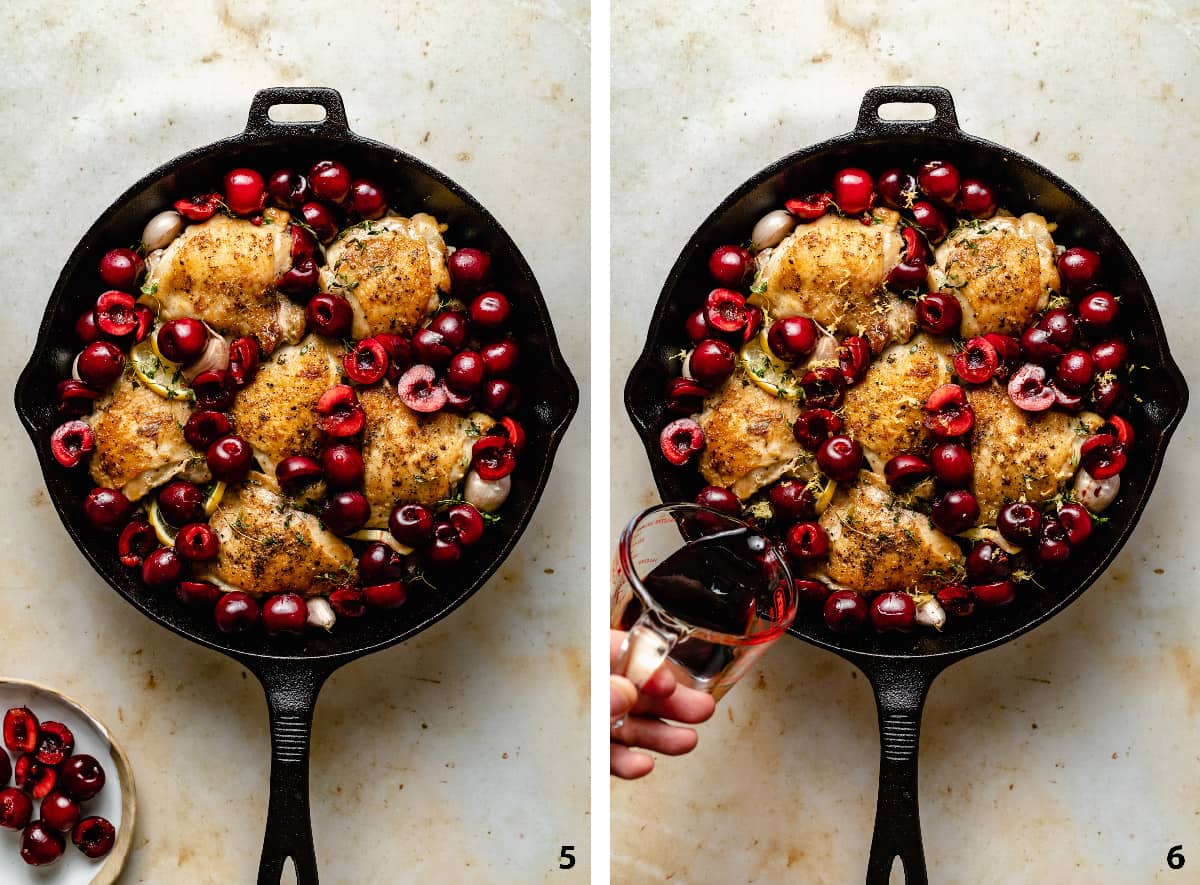 Take the pan from the oven and scatter over the cherries, tucking them in and around the chicken.
Drizzle over the honey and pomegranate molasses and then scatter over the lemon zest. Season the cherries with a sprinkle of salt and pepper and return to the oven for 30 minutes.
These cast iron skillet chicken thighs with cherries are really as simple to make as that. In just a few simple steps, with a few lovely ingredients, soon enough this will be your tasty dinner! I mean, come on, just look at that perfect golden, crispy skin!
Top tips for crispy chicken thighs
Make sure you preheat your cast iron, it should be hot enough so when the oil is put in it will start shimmering.
Ensure the skin is super dry, use a paper kitchen towel if needed to remove excess moisture before seasoning.
Place the thighs skin side down and do not touch or move them. Let the skins get nice and golden after about 5-7 minutes. They will not stick, especially if your cast iron is well seasoned.
Don't pour the pomegranate molasses mixture over the skin whilst roasting them in the oven, just pour it over the cherries.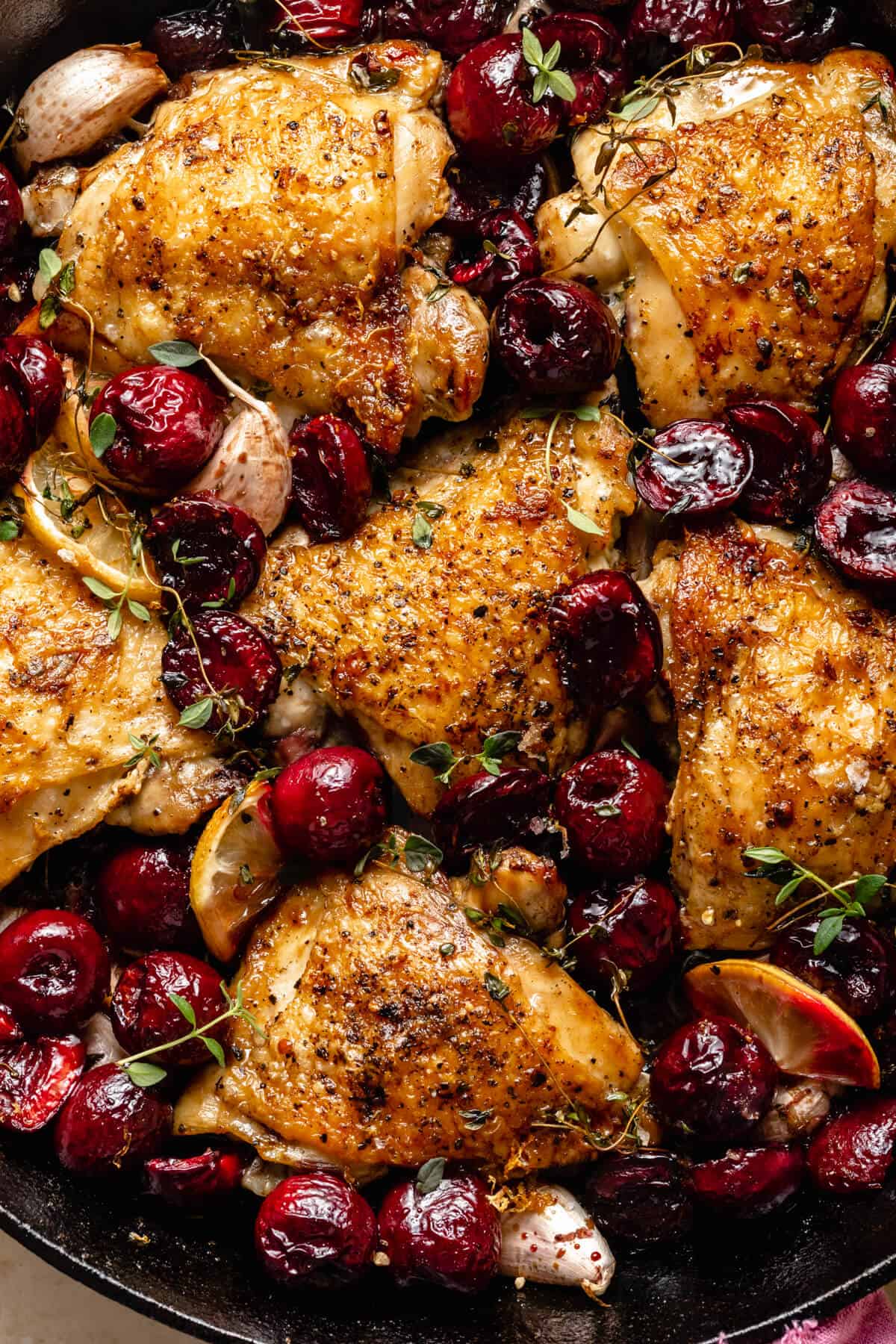 How to store it and what to do with leftovers?
If you're lucky enough to have leftovers of these cast iron chicken thighs (we usually do as there's only two of us at home) here's a bonus mini recipe for you to use them up, always a win as we're all trying to be less wasteful! #loveyourleftovers
Once cooled down, store everything (including all those precious juices!) in an airtight container in the fridge for up to 3 days and then follow these steps for a quick throw together salad:
You'll need:
leftover cast iron chicken thighs with cherries (keep all the juices but discard the lemon slices!)
mixed salad leaves
sliced radishes and mini cucumbers
fresh cherries, pitted and halved
your favourite packet of grains, we love these Glorious Grains from Merchant Gourmet
a few crumbles of feta cheese
some water and salt/pepper as required to adjust seasoning
Peel off the skin from the thighs, you can crisp this back up in a frying pan or under a grill/broiler.
Shred the chicken off the bone and throw in a bowl with salad leaves, sliced radishes and mini cucumbers, fresh cherries, grains and feta.
Make the dressing by putting all the juices, including the caramelised garlic cloves (skin removed) in a blending jug with a splash of water and blend until smooth. Toss with your salad and season to taste. Enjoy your incredible leftover salad!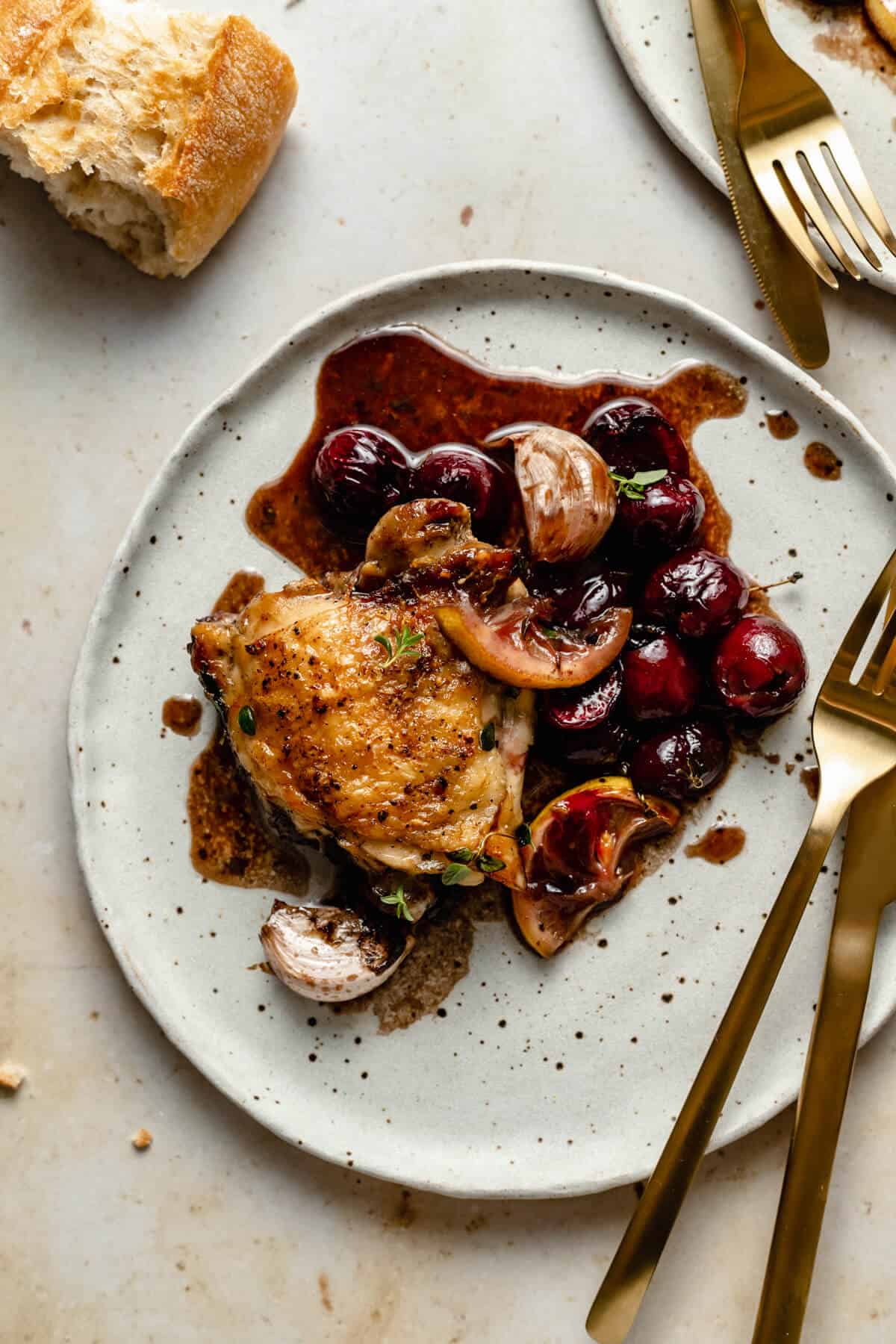 Frequently Asked Questions
How do you keep chicken from sticking to cast iron?
The number one rule is that you need to ensure your cast iron skillet is well seasoned! If it's patchy and has rusty areas you need to spend some time giving it some TLC. Check out this video on how to restore, season and clean your cast iron skillet. Once seasoned correctly, place your skillet on a heat source and preheat over a medium to high heat, until it is hot, then add your oil - don't preheat with the oil as it'll potentially burn. Place your chicken thighs skin side down and don't touch them for a few minutes. If you try to turn them too early, they will potentially stick. 

How do I cook bone in chicken thighs in a pan?
Make sure you pick an appropriate sized skillet for them to fit in with a little space in between; we recommend using a 10 inch cast iron skillet and preheating it over a medium high heat. Swirl a little oil in the pan and place your patted dry seasoned chicken thighs, skin side down and don't move them for about 5-7 minutes. Flip them over and they should be lovely golden brown and crispy. Follow the rest of the recipe to make the cherry dish or if you just want to cook thighs on their own, place the skillet in a preheated oven (200C/400F) for 40 minutes. They will no longer be pink around the bone and read an internal temperature of 165F or 73C.

Why does food stick to my cast iron pan?
A couple of reasons: 
1. Your cast iron pan is incorrectly/poorly seasoned. How to restore, season and clean your cast iron skillet, seasoning builds over time too, don't ruin it with incorrect washing of your skillet or highly acidic foods like tomatoes.
2. Your cast iron pan was not preheated enough, ensure it is preheated so when oil is added it shimmers and spreads easily over the base of the pan, then add your food.
3. Fat, ensure you add some fat to aid heat transfer contact between the food and pan, also fat makes things tasty and it aids polymerisation which in effect is when fat is baked onto the cast irons surface building up the seasoning.
Want more recipes with chicken?
If you haven't had enough of this cast iron skillet chicken thighs recipe then make sure to check out these too!
I hope you love these cast iron chicken thighs with cherries as much as we do. If you make them, be sure to leave a comment, rate the recipe and tag me on Instagram! I love to see your creations!
📖 Recipe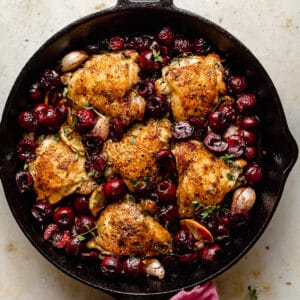 Cast Iron Chicken Thighs with Cherries
Crispy skinned, succulent chicken thighs, surrounded with juicy fresh cherries roasted with lemon, garlic and thyme. Make sure to mop up those juices with some crusty bread!
Print Recipe
Pin Recipe
⭐️ Rate Recipe
Ingredients
2.2

lb

chicken thighs, skin on and bone in

,

1kg, approx 6 thighs

1

tablespoon

olive oil

1

head of garlic

,

separated into cloves, skin on

1

lemon

,

half cut into slices, the other half zested

8-10

fresh thyme sprigs

,

tossed in olive oil

2

cups

fresh cherries

,

(30-40 large cherries, some halved, some whole)

2

tablespoons

pomegranate molasses

1

tablespoon

honey

1 ½

teaspoons

sea salt flakes

½

teaspoon

ground black pepper
Instructions
Preheat your oven to 200C/400F and ensure a rack is in the middle of the oven.

Trim and tidy the chicken thigh skin to remove excess and season with ¾ of the salt and pepper.

2.2 lb chicken thighs, skin on and bone in,

1 ½ teaspoons sea salt flakes,

½ teaspoon ground black pepper

Heat the oil in a cast iron skillet over medium high heat. Place the chicken thighs skin side down and cook for 5-7 minutes until the skin is golden brown.

Flip the chicken thighs over and arrange evenly in the pan.

Scatter with the fresh thyme sprigs (tossed in oil), garlic cloves and the lemon slices, ensuring they are tucked between the thighs. Cook in the preheated oven for 10 minutes.

1 head of garlic,

1 lemon,

8-10 fresh thyme sprigs

After 10 minutes, remove the pan from the oven and place the cherries around the chicken.

Stir together the pomegranate molasses and honey in a small jug and pour over the cherries (take care to avoid the chicken skin or it will burn) and sprinkle with the lemon zest. Sprinkle with the remaining salt and pepper and return to the oven for 30 minutes.

2 tablespoons pomegranate molasses,

1 tablespoon honey

After 30 minutes the chicken will be cooked through (165F/73C internal temperature). The skin should be golden and crispy and the cherry juices bubbling away. Garnish with extra thyme and serve with salad, crusty bread and juices from the pan.
Notes
Make sure to read the notes and tips throughout the post above.
If you don't use flaky sea salt, you will need to use less salt than recommended in the recipe, this is because fine salt will not be the same density as flaked salt and you'll end up over salting the dish.
If you don't have pomegranate molasses use 2 tablespoons of honey and 1 tablespoon of balsamic vinegar and don't pour the liquid over the chicken thigh skin to ensure you have crispy skins.
Be sure to check out the bonus recipe in the post above to use any leftovers if you have any!
Nutrition
Calories:
590
kcal
|
Carbohydrates:
37.2
g
|
Protein:
67.4
g
|
Fat:
18.7
g
|
Saturated Fat:
4.4
g
|
Polyunsaturated Fat:
3.7
g
|
Monounsaturated Fat:
8.3
g
|
Cholesterol:
311.5
mg
|
Sodium:
1108.1
mg
|
Potassium:
1101.3
mg
|
Fiber:
2.6
g
|
Sugar:
25
g
|
Vitamin A:
29.9
IU
|
Vitamin C:
19.9
mg
|
Calcium:
72.3
mg
|
Iron:
3.6
mg
Did you make this recipe?
Leave a comment below with how you got on and don't forget to give the recipe a rating ⭐️⭐️⭐️⭐️⭐️. You can also tag @eatloveeats on Instagram - we love to see your creations!