These Crispy Chicken Tacos with Beetroot & Apple Slaw feature panko-coated chicken and a super simple slaw for a quick and easy weeknight dinner.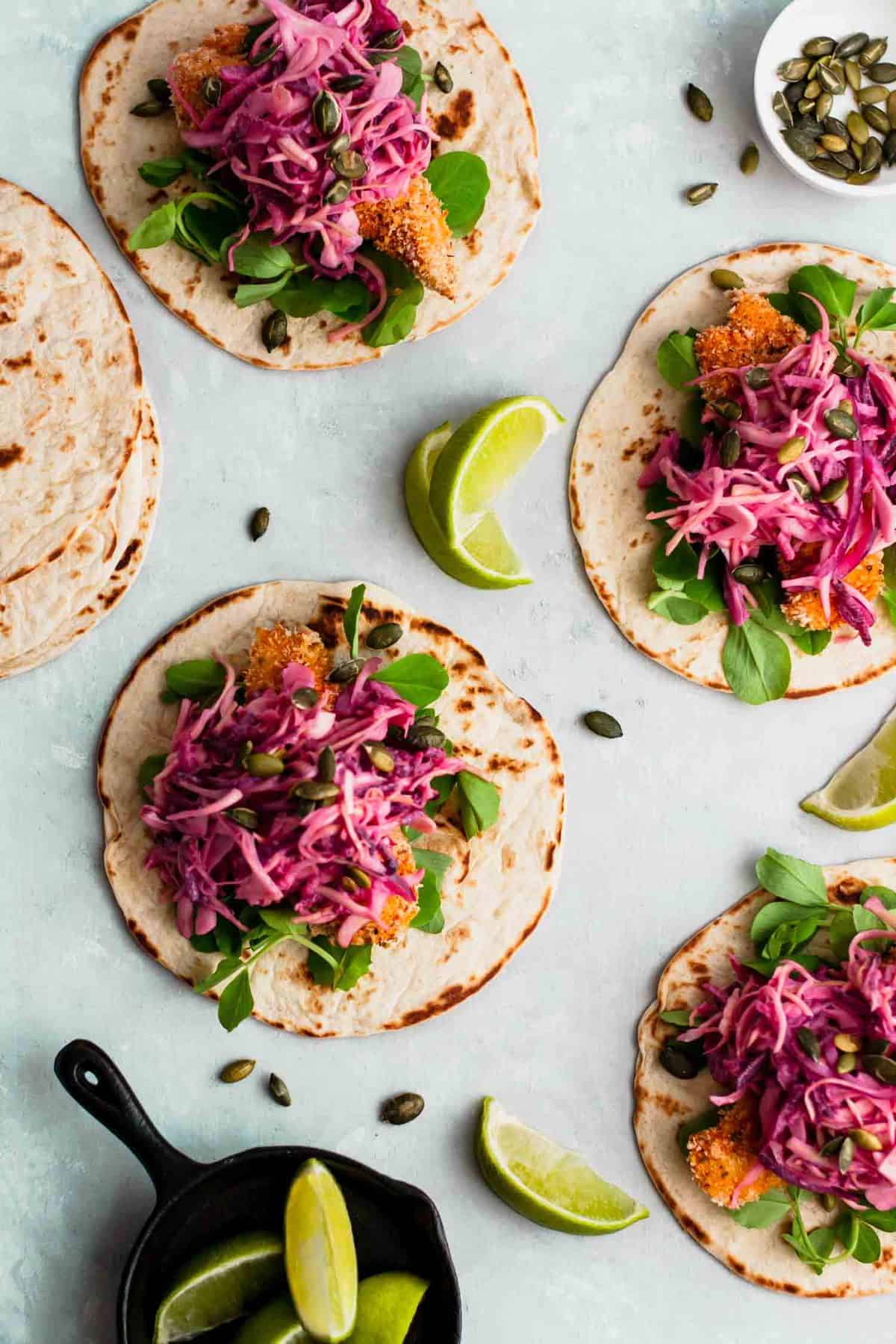 Who's ready for some tacos?! I honestly cannot believe this is the first taco recipe I'm publishing here on the blog! What is wrong with me?! Tacos are one of my favourite things to eat in this world and yet I clearly don't make them often enough. I need to get a grip and start whipping up more tacos! Starting with these Crispy Chicken Tacos with Beetroot & Apple Slaw.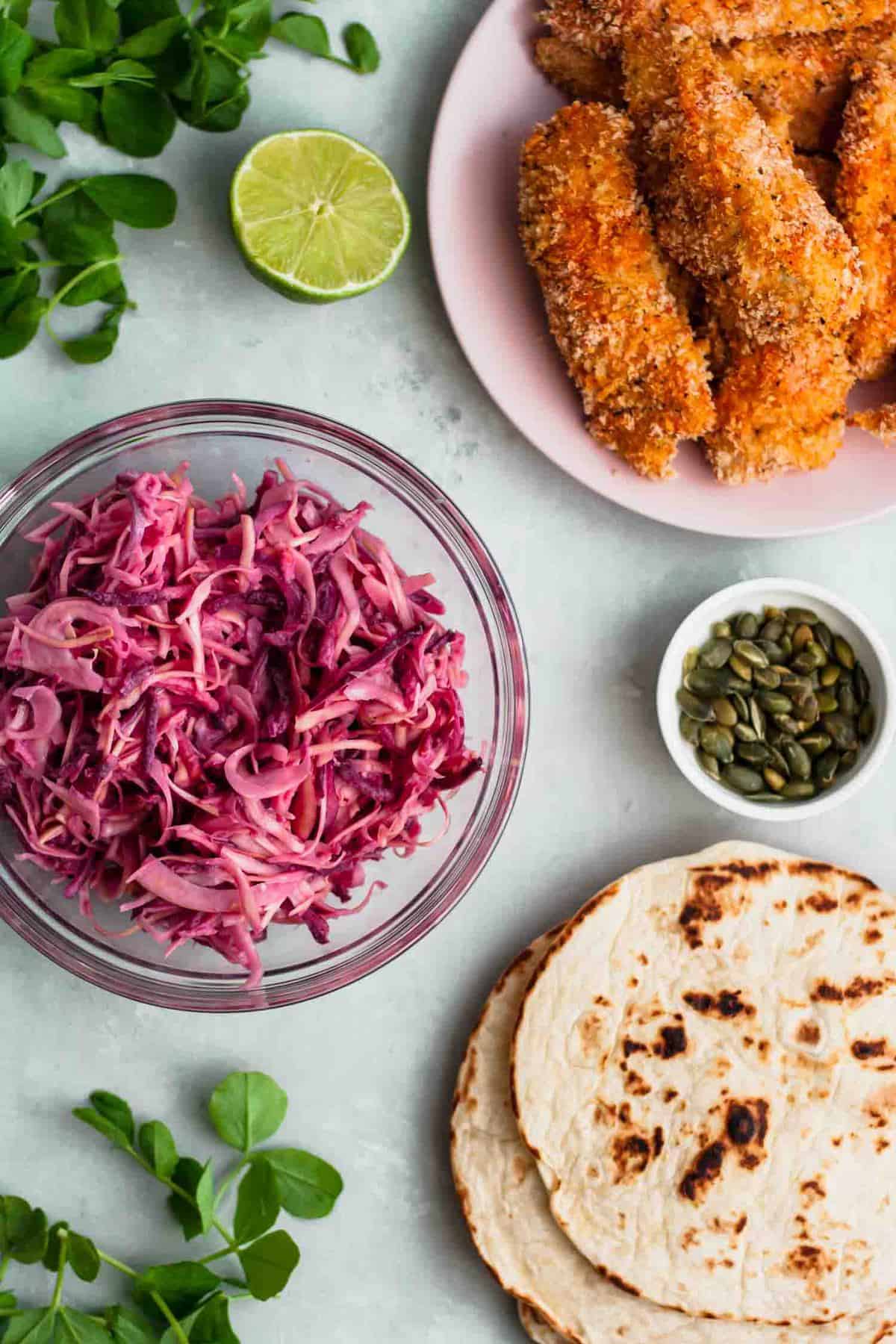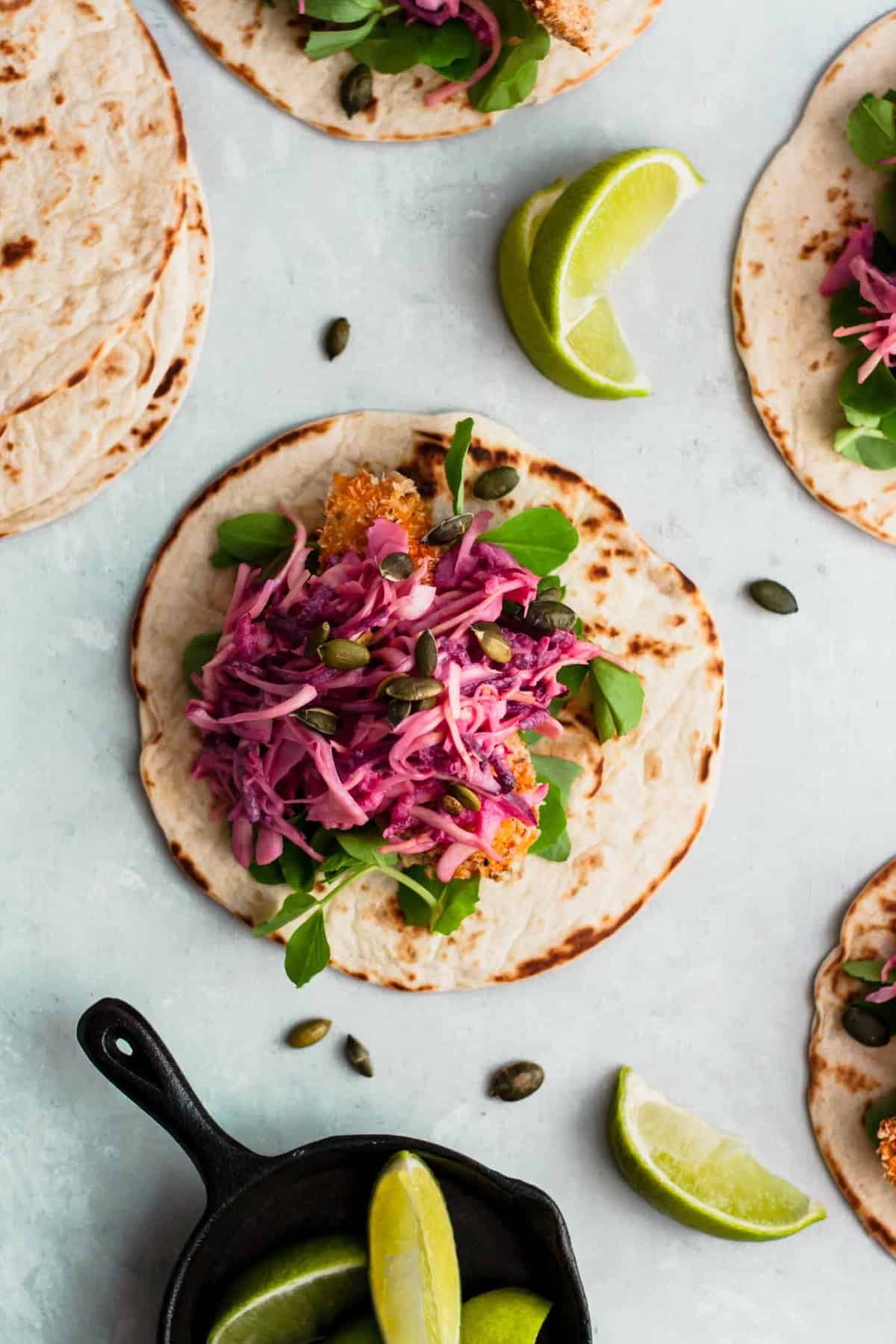 These Crispy Chicken Tacos are the perfect weeknight dinner. They take around 45 minutes to pull together and they're the ideal balance between light and healthy, and comforting and satisfying. Lately I've been investigating new, really simple but incredibly delicious ways to cook chicken. I don't know about you, but certainly I often find myself, even as a food blogger, standing in the kitchen in the evening desperate for food to be served, like, 10 minutes ago. I find that I can very easily become hangry and well, that's no good for anybody. And though we don't eat it everyday, we really enjoy chicken in this house and so having some staple ways of cooking it is mega useful for those hairy, gonna-snap-your-head-off-if-you're-not-careful kind of moments.
If that's you too, I'm sure you'll love these Crispy Chicken Tacos with Beetroot & Apple Slaw. This recipe uses chicken breasts and after a few minutes of preparation, they take merely 15 minutes or so to bake in the oven. I can deal with 15 minutes! Just about...
Plus, when you're dealing with the super-hangries, a little meditative dipping in flour, egg and breadcrumbs can be just what you need to decompress. Or maybe that's just me? Even so, I urge you to try it as it is super simple and we're not talking a lot of dippage here, just 8 pieces of chicken if you're feeding 2-4. Ok let's face it, definitely two if you're hangry. No shame here!
And you don't even have to make the slaw if you don't want to! These would be great straight up with some smashed avocado and some hot sauce or similar. Or quick pickled onions if you have any of those lying around. But I would recommend making the slaw if you have the time or energy - it's just a simple, bright and crunchy thing to dollop on top of your chicken and take it to another level. Just a few yummy veggies tossed in some zingy lime and Greek yoghurt. And I feel inclined to explain the absence of smashed avocado in the photos - it was my intention to include it but as we all know, avocados suck sometimes. Mine was a literal rock when I came to use it. Ah well. But for sure, smashed avo is the way to go with these!