These Vegan Tacos feature refried cannellini beans, plenty of spring veggies and all the toppings!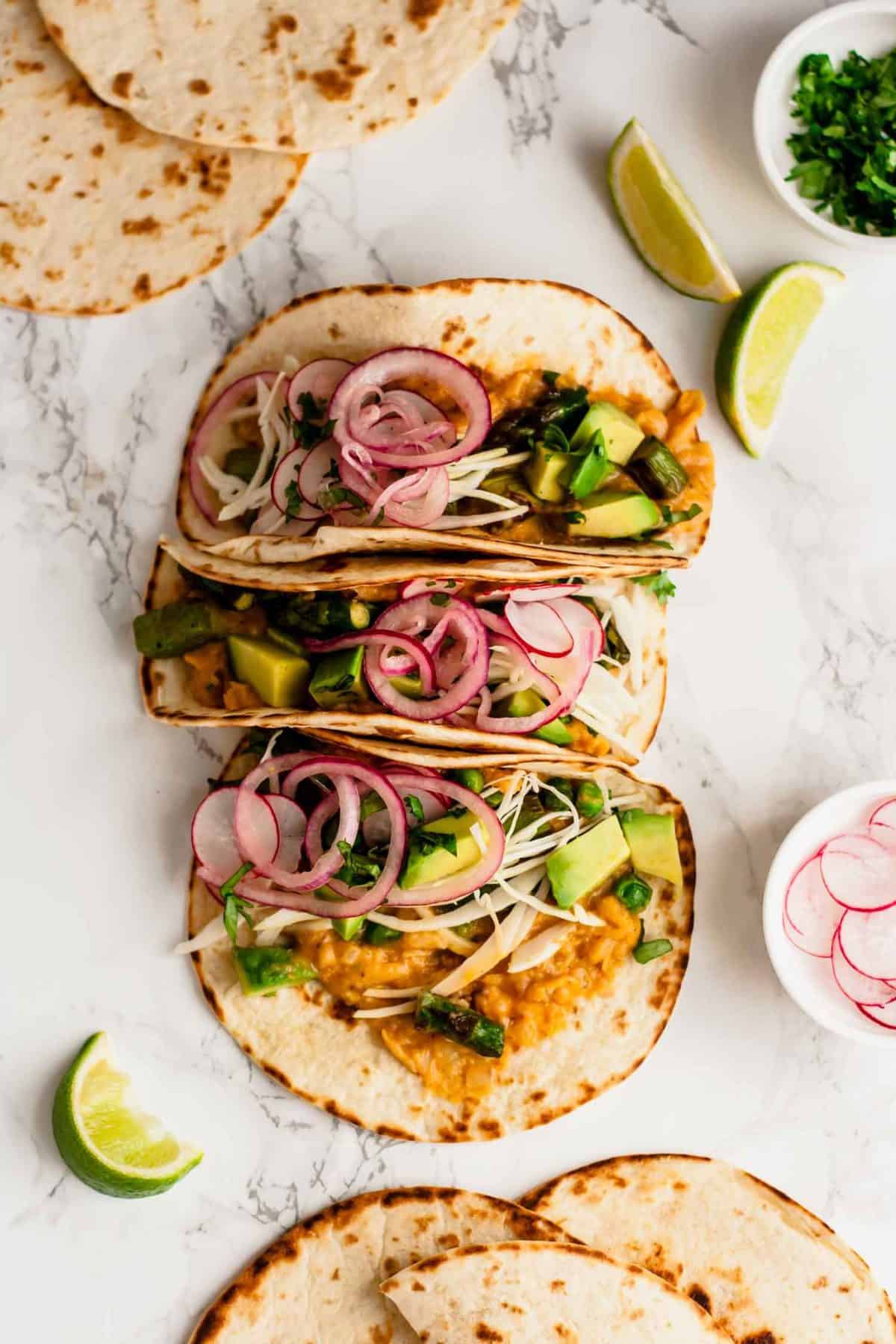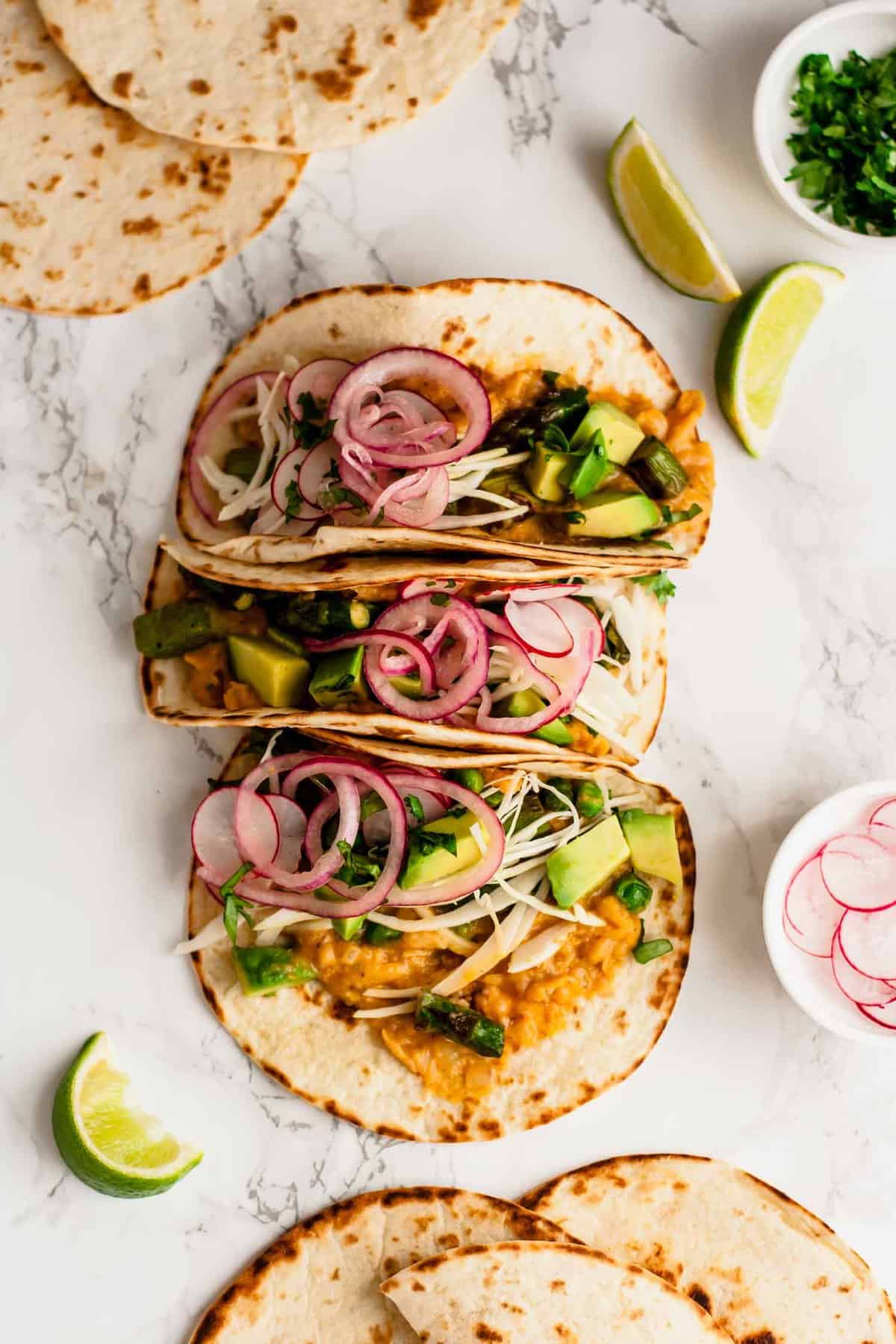 Hands up if you want tacos! See, I told you I needed more taco recipes! And these ones are vegan! As I mentioned in my last post, I'm currently in the middle of a 28 day challenge where I'm eating solely plant-based food (my husband is too!). And as such, all of the recipes I post here in the next few weeks will be vegan. Starting with these Vegan Tacos with Refried Cannellini Beans and Asparagus!
So, how's the challenge going? It's actually really fun! To be perfectly honest, I wasn't worried about it at all before beginning, I was mostly just excited about the possibilities ahead! I find that cutting out such major food groups for a period of time really narrows my focus and opens my mind to new ideas! I especially love finding and using dairy alternatives - there are so many options out there!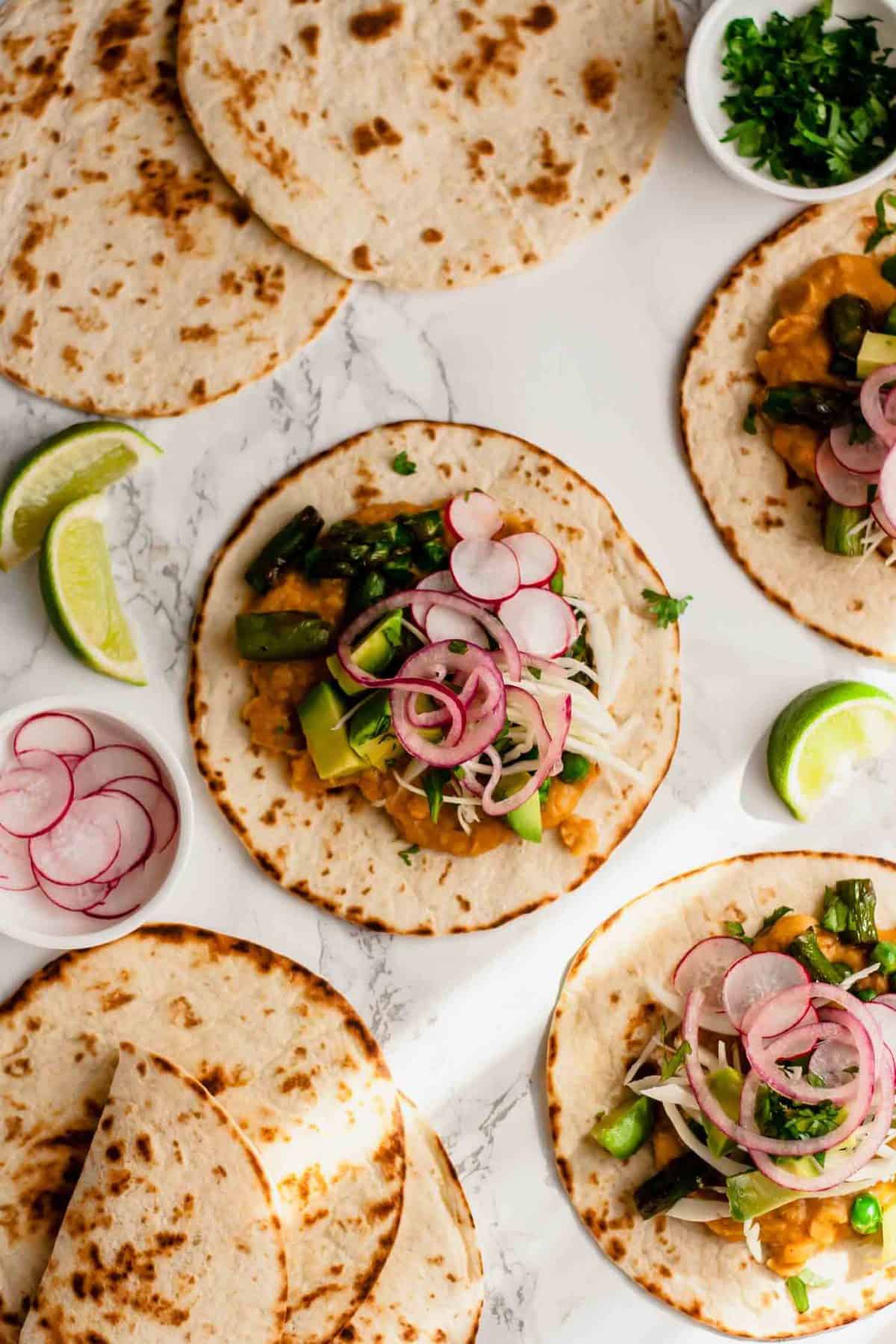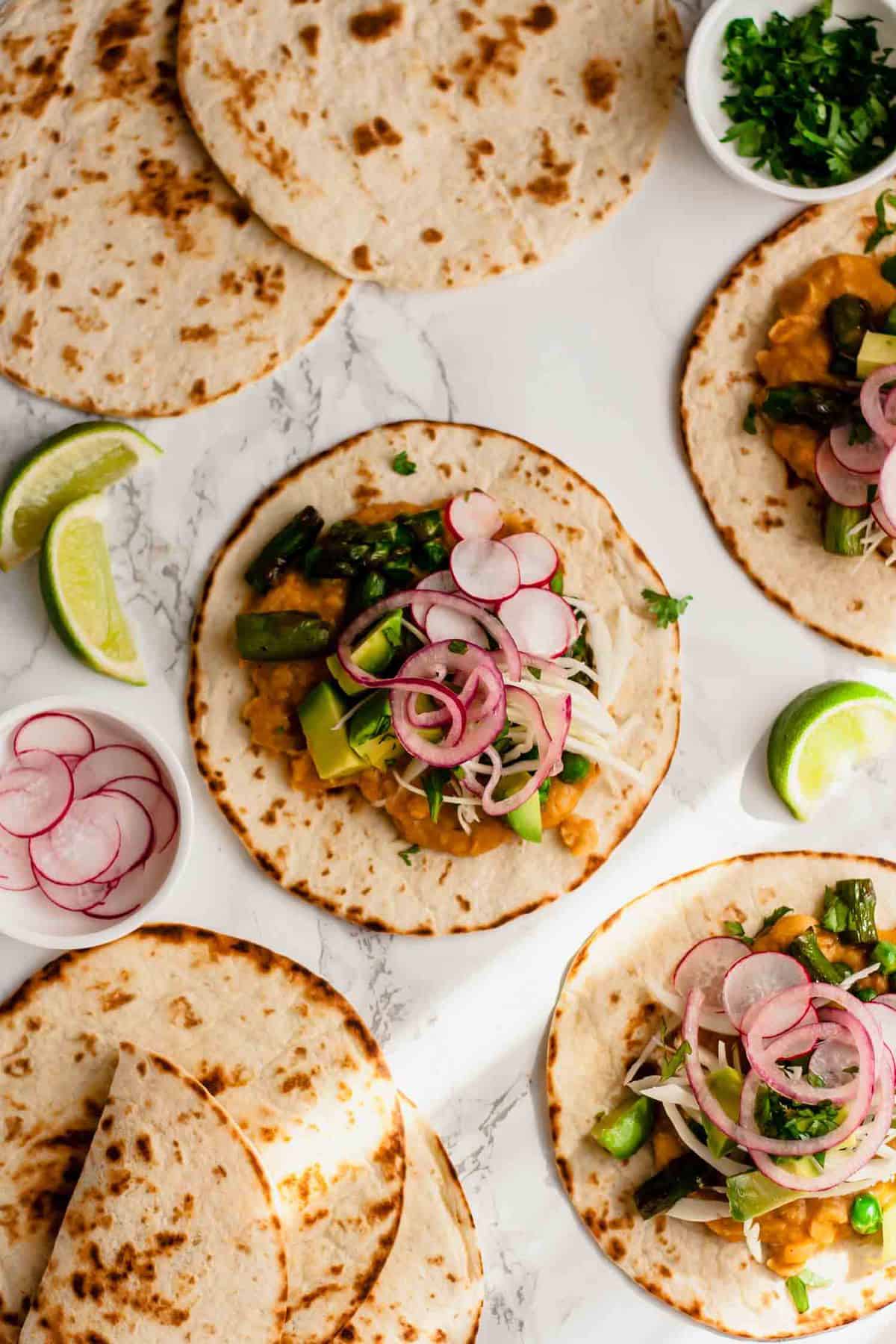 But yes, it's going great so far. We've only had one minor slip up (some unlabelled pitta breads from the freezer which I think contained milk) and one minor meltdown (an inedible slow cooker chilli which led to an impromptu supermarket visit - thank goodness for frozen veggie burgers!). Other than that - all good! The only other thing is I need to up my snacking game and actually include snacks in my meal planning! Am I the only person who fails with that one? Please leave any recommendations for tasty plant-based snacks in the comments, thanks!
The one thing I find myself craving the most is a creamy texture. I adore cheese, yoghurt, etc, so it's no surprise really! One of my favourite meals that I've eaten has been a thai green sweetcorn soup from this book by Alice Hart (affiliate link), which was made creamy by both coconut milk and blended cashews. Heaven!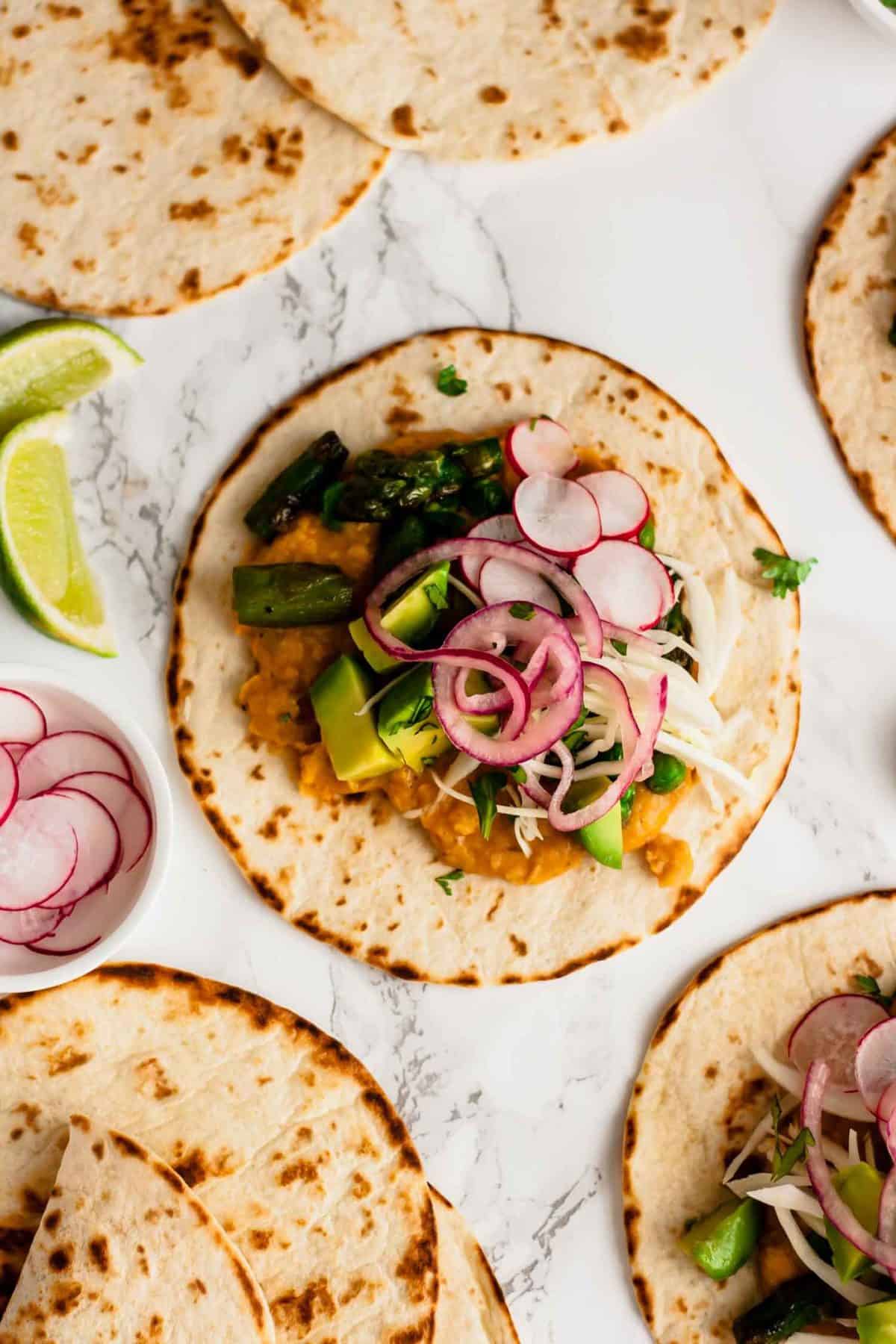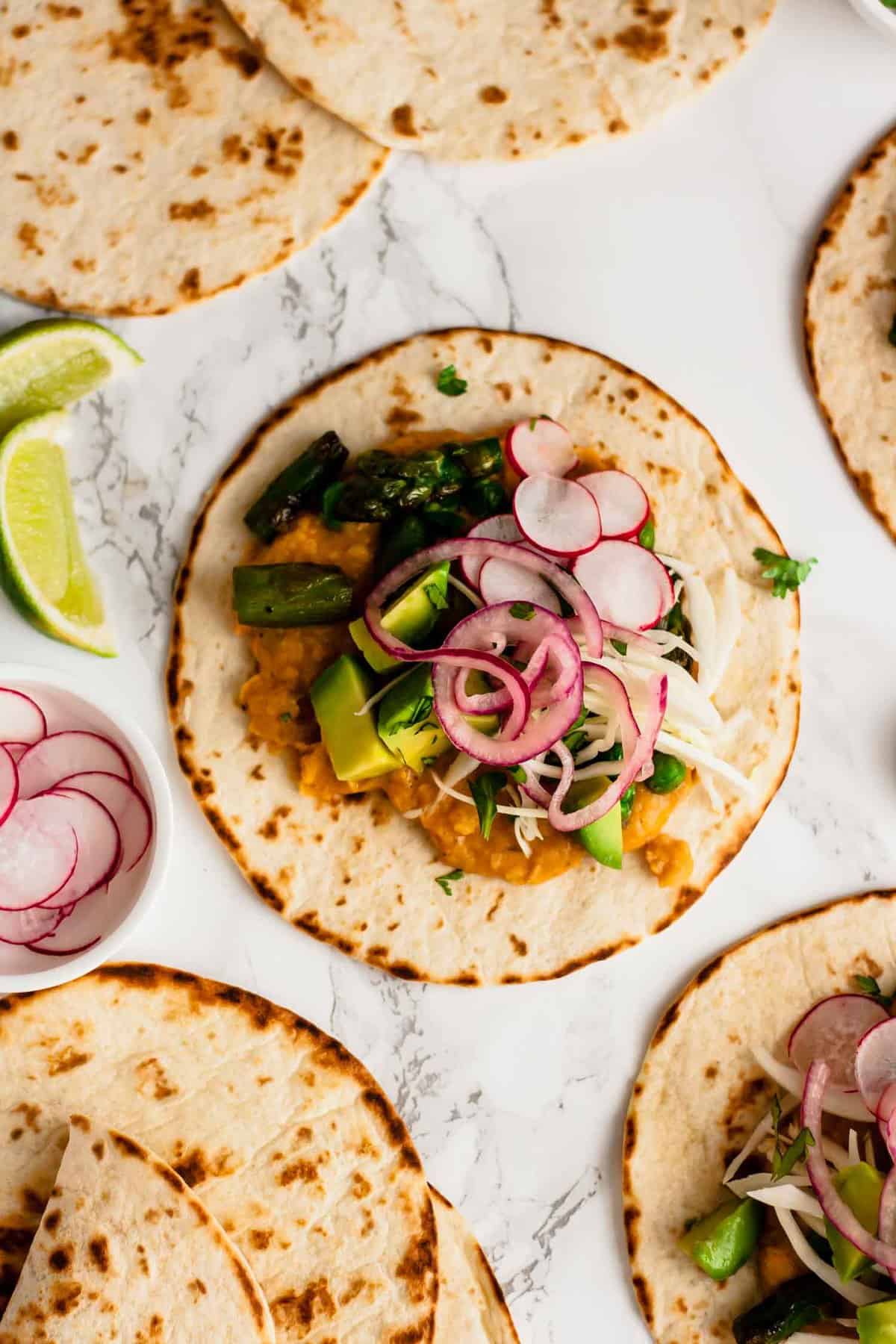 Another way to add a ton of creaminess to your meal is to add refried beans! Or any kind of beans really, but refried beans are just the best, no? Especially when combined with all the taco toppings you can think of!
I adore regular refried beans made with black beans but I wanted these vegan tacos to be super light and springy! Cannellini beans sounded just perfect to me and guess what - they were! These refried beans are so simple to make and they're packed full of flavour. I paired them with some lightly sautéed asparagus and peas and plenty of crunchy and creamy toppings. I'd like to say they're optional but to be frank, none of them are! Especially the pickled red onions, I could eat those by themselves!
I hope you love these vegan tacos as much as I do! If you make them, please leave a comment below or share a picture on Instagram with the hashtag #eatloveeats! I love seeing your creations!