These Caramel Chocolate Bars combine sumptuous salted date caramel, an oaty biscuit base and lots of dark chocolate for a decadent, yet healthier treat.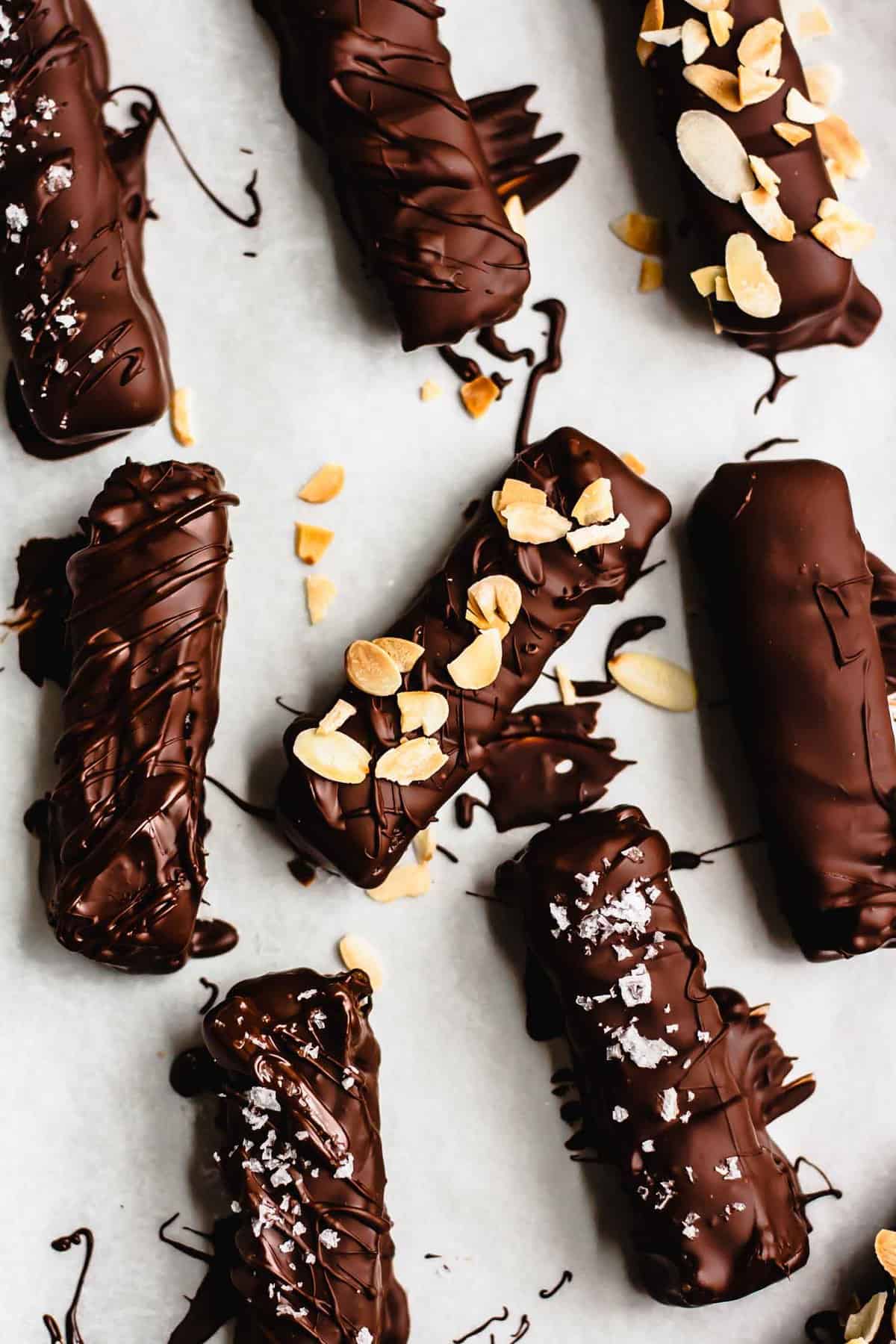 Caramel Chocolate Bars you guys! Oh my gosh, these are so good. I'm so excited to be sharing this recipe with you today! Are you ready?
I've had these bars on my mind for ages and they're finally here! Ever since I made this Healthy Date Granola, I just knew that these bars had to happen. I used this incredible salted date caramel as the base of that granola but I knew it was just too good to use for granola alone! I needed to exalt that caramel to higher status. We're doing that today. Oh yes we are! Get excited.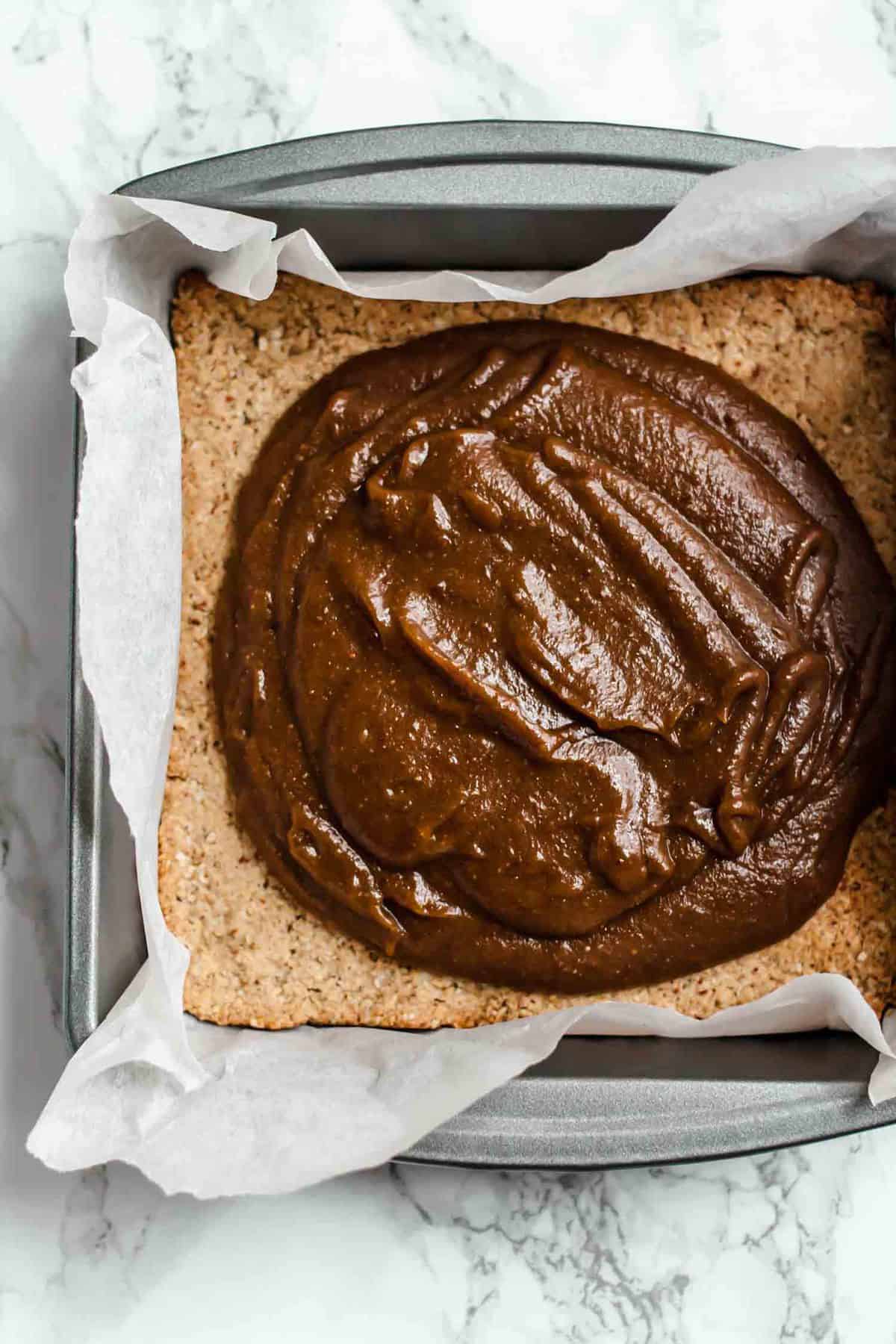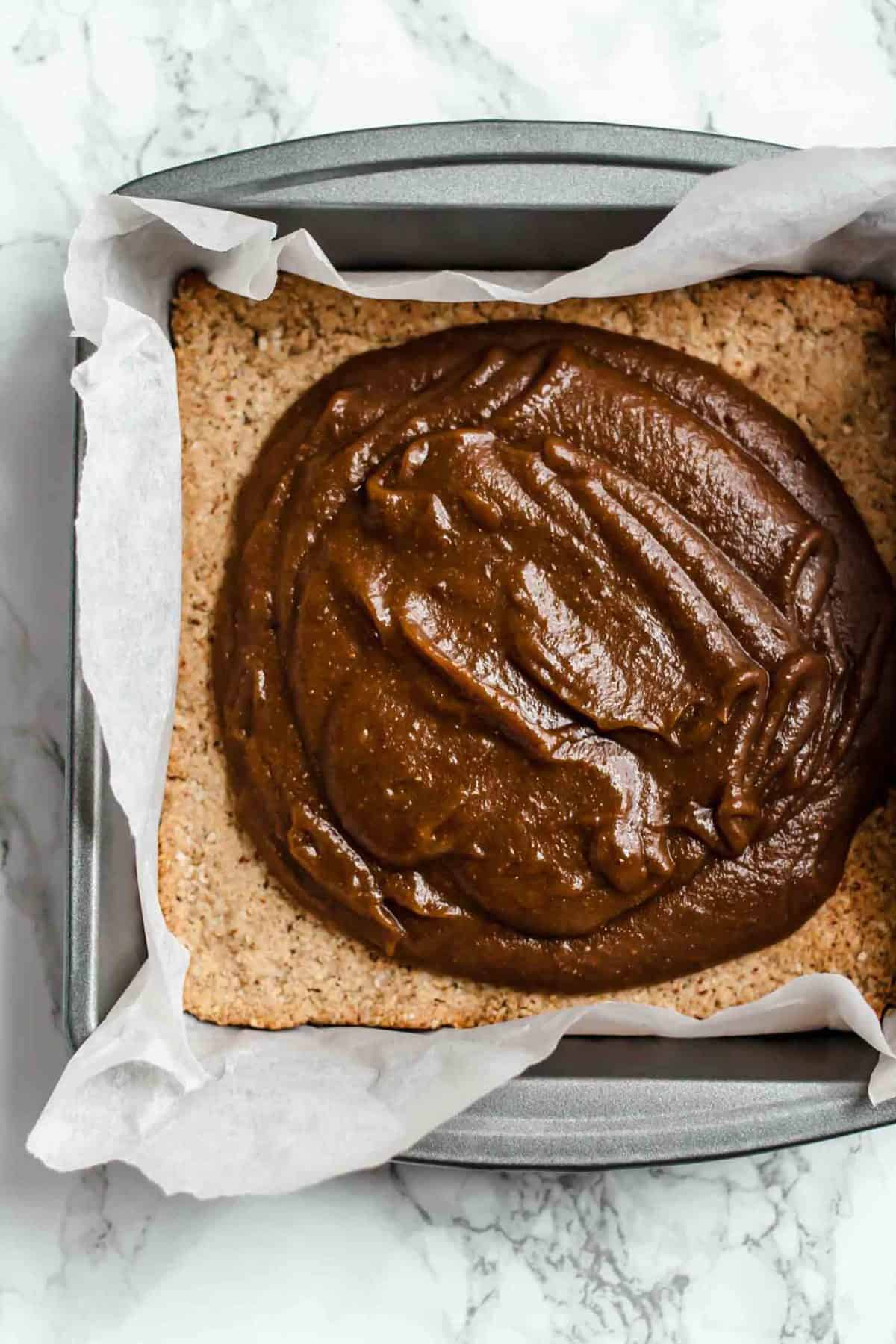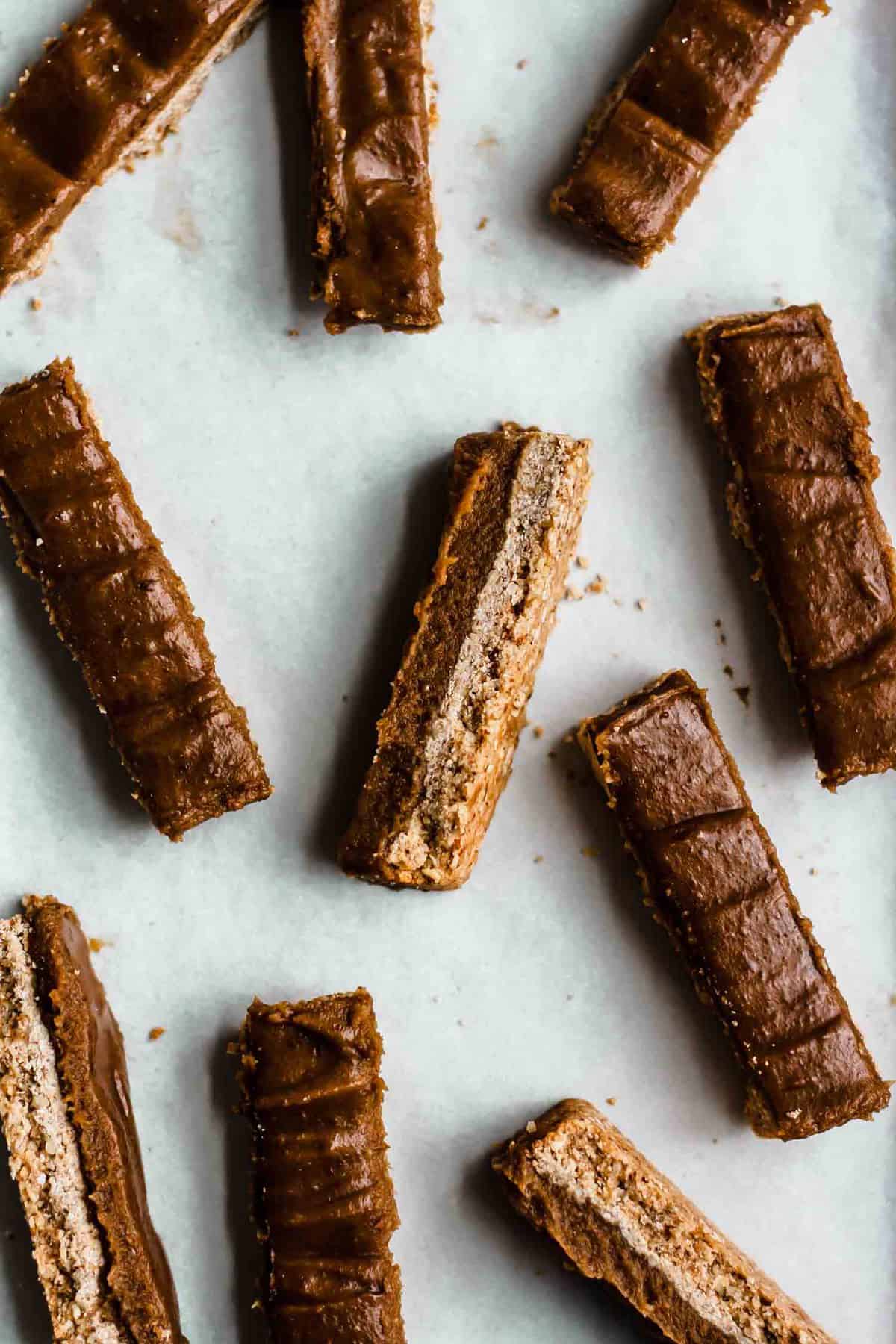 I'm not one to restrict anything from my diet - I eat meat, dairy, gluten, eggs, vegetables, grains, refined sugar - the lot (except blue cheese of course). I believe in a healthy balance. So, I'm definitely not above eating a regular caramel chocolate bar. Or any kind of chocolate bar for that matter. But the thing is, I love food. Like, ADORE it. And I'm endlessly fascinated by all kinds of foods! I love to experiment, hence you'll find all kinds of recipes here on this blog!
So if I can make the most delicious, unctuous salted caramel out of dates, you betcha I'll do it. Especially if it's frankly easier to do than regular caramel most days. Yes, I'm also all for an easy life. And if there's a chance it might be a teensy bit healthier than the regular kind, I'm pretty happy about that too. And while once I'd have argued that the ingredients listed here were too outside the box, I really don't think that's true in 2018. I reckon most people will have most of these things in their cupboard already, ready to whip up these Caramel Chocolate Bars in no time. And if you don't, why not give something new a try? It's like an adventure - and adventure is FUN! Plus, once you've made them once, you'll definitely want to make them again!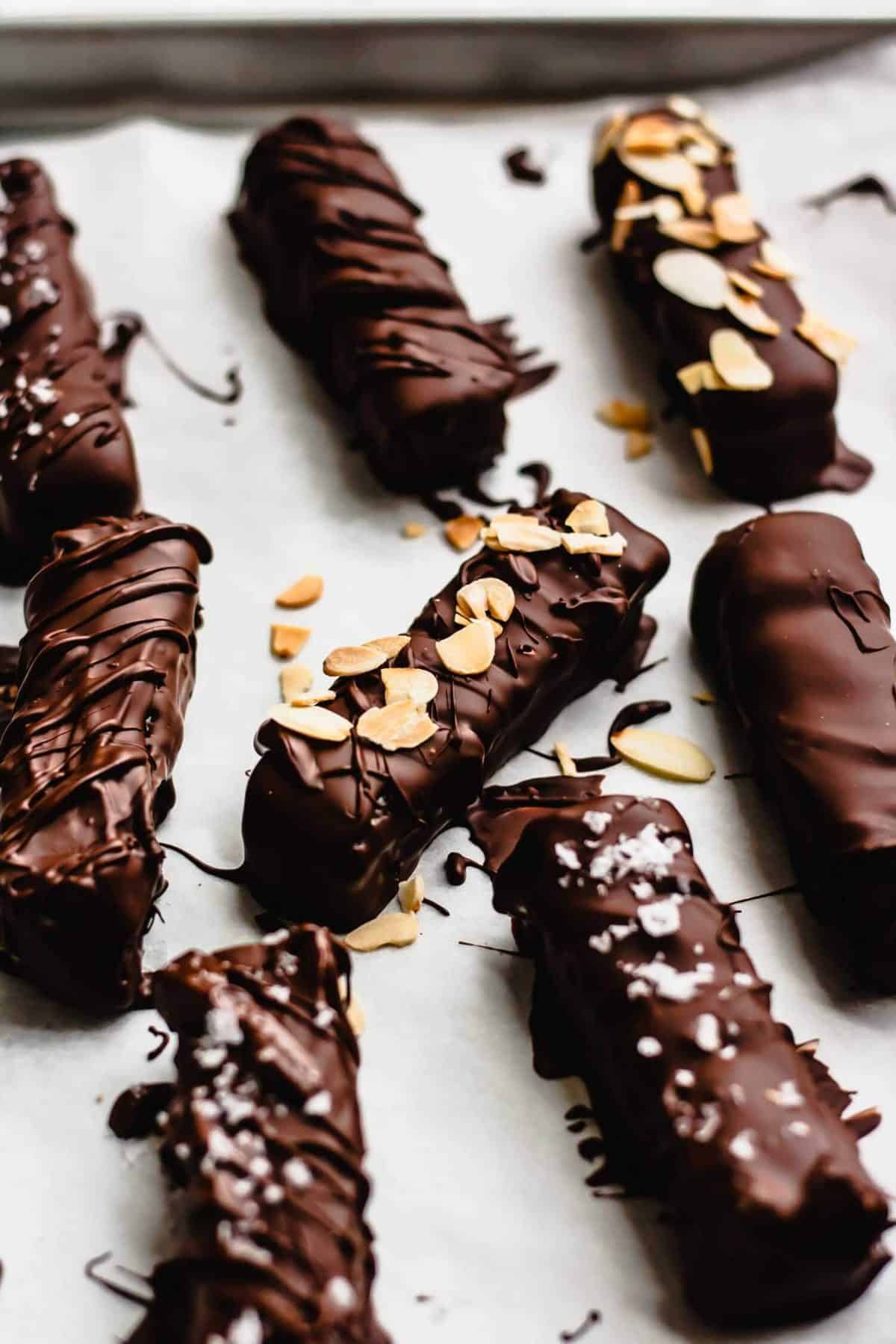 Speaking of dietary choices, all of the above is absolutely true, but starting tomorrow my husband and I are challenging ourselves to eat solely vegan/plant-based food for 28 days! We're honestly so excited about it! For us, it's about stepping out and trying something different for a while but also about supercharging our diet with veggies for a month. I don't know if you can relate but personally, I find that during the winter months I tend to descend into a bit of a comfort food rut - especially as this winter has been particularly long and cold. So I'm using the next month as an opportunity to have a bit of a reset and to eat all the vibrant things! Eee I can't wait!
So, over the next month, all of the recipes posted here will be vegan! If you have any recipe requests or suggestions then please do send them my way! I love hearing from you 🙂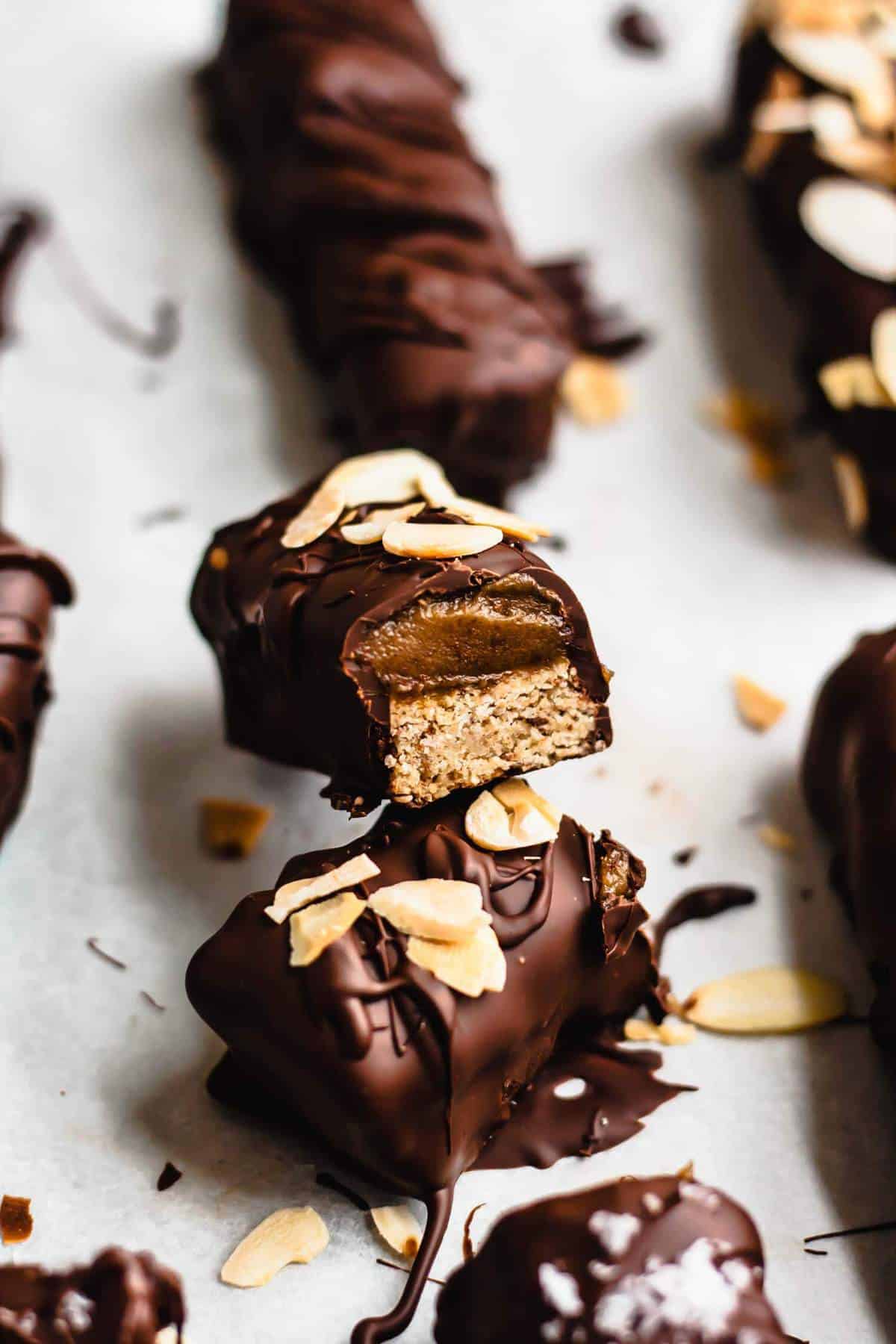 And! I totally didn't plan it this way (I wish I was that on the ball...) but these Caramel Chocolate Bars also happen to be vegan! So I can happily nibble away at the stash of these that is tucked away in my freezer right now. Yay!
Let me tell you more about them. Okay. The biscuit base is adapted from these vegan 7-layer bars from Minimalist Baker. It's made from oats and almonds and provides a tasty, crisp base to contrast the soft caramel on top. The caramel is a mixture of dates, almond butter and coconut oil and this time I blended the dates with almond milk to make the caramel super creamy. You can of course use water if you prefer. The bars are then coated with a thick layer of dark chocolate and topped with any sprinkles you fancy. I always reach for the ones with lots of flaky sea salt on top because I live for that sweet-salty combo!
I seriously hope you make the Caramel Chocolate Bars soon! When you bite through that crackly dark chocolate and reach the soft caramel and then the crunchy biscuit base? Heaven. I'm so excited for you!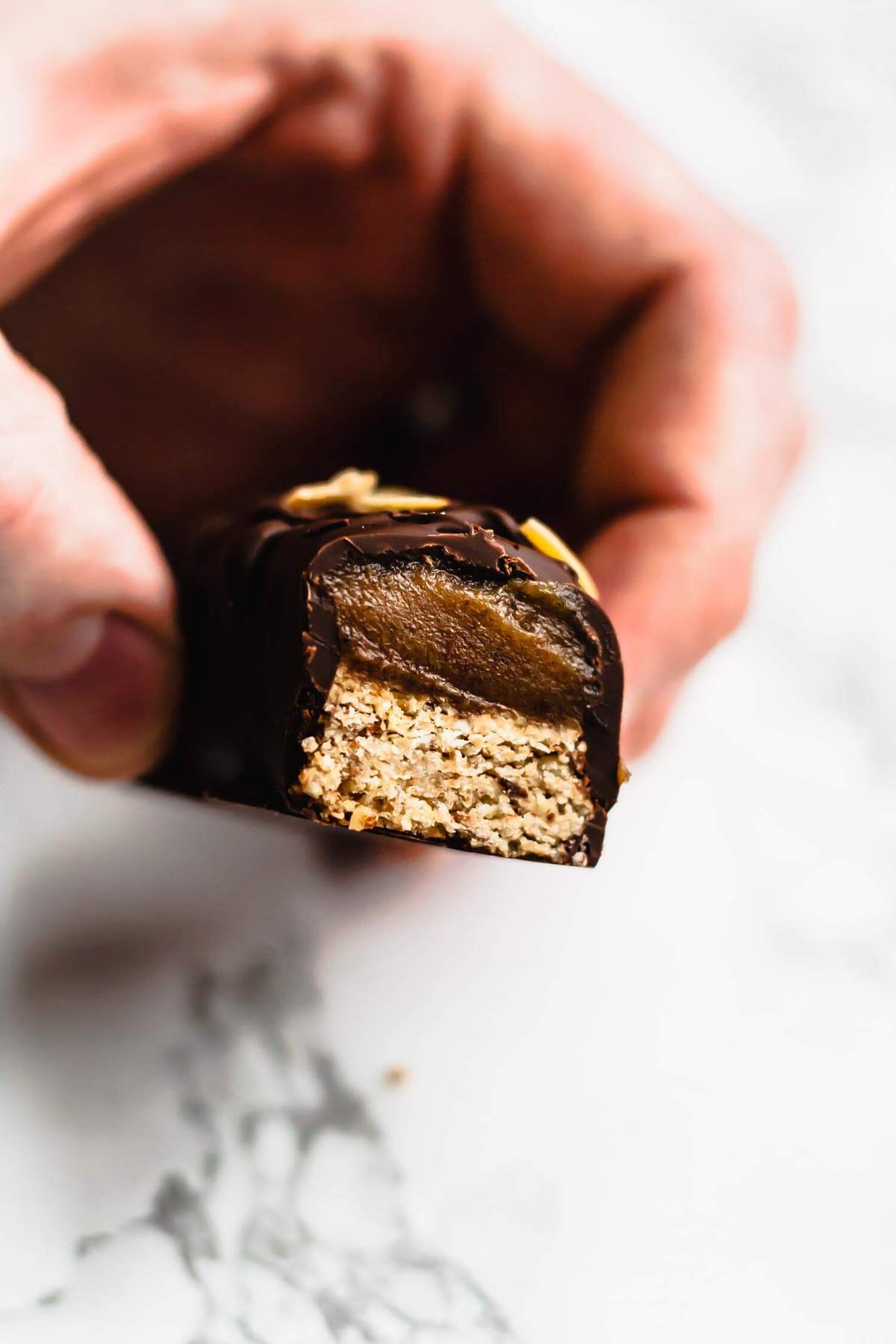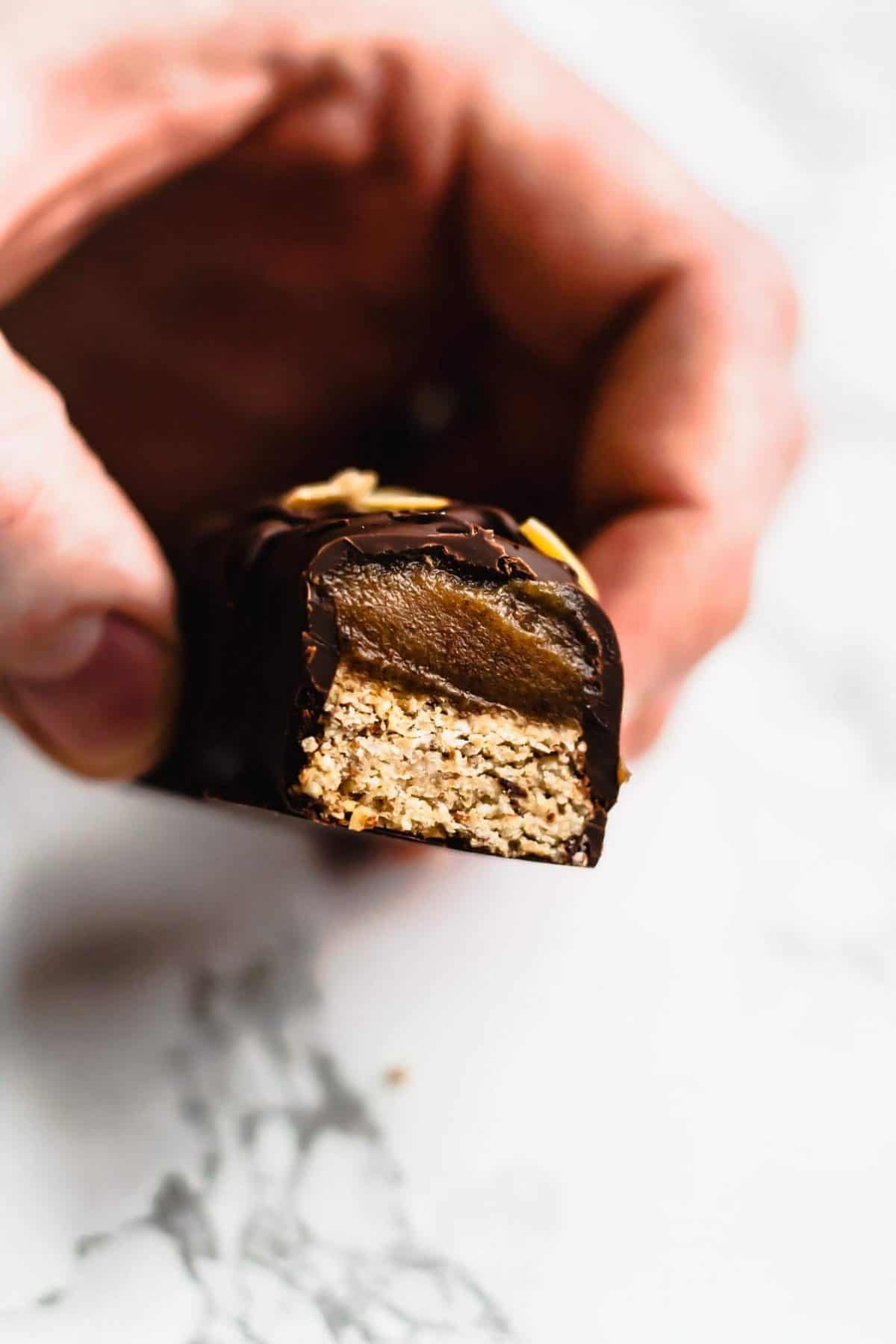 Related recipes
📖 Recipe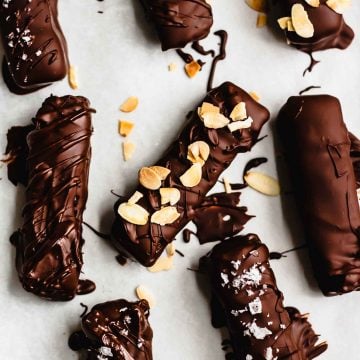 Caramel Chocolate Bars
These vegan caramel chocolate bars are just like a twix; made with a date caramel and coated in a crisp coat of dark chocolate, the perfect snack!
Print Recipe
Pin Recipe
⭐️ Rate Recipe
Ingredients
Date Caramel
1

cup

(200g) medjool dates

,

(10-12 dates)

½

cup

(120ml) unsweetened almond milk or water

¼

cup

(80g) almond butter

¼

cup

(50g) melted coconut oil

1

tablespoon

molasses

1

teaspoon

vanilla extract

1

teaspoon

sea salt,

(or to taste)
To finish
500

g

(18 ounces) dark chocolate

,

(vegan if required)

sea salt flakes and toasted flaked almonds

,

(optional)
Instructions
Biscuit Base
Preheat oven to 180C/350F. Line an 8'x8' baking pan with parchment paper.

In a food processor, blitz the oats and almonds until they form fine crumbs. Add the maple syrup, coconut oil, almond butter and salt and continue to process until combined.


Pour the mixture into the prepared pan and press it out firmly and evenly. Bake for 15-18 minutes until lightly golden and firm to the touch. Leave to cool completely.
Date Caramel
Blend together the medjool dates and almond milk until smooth. I find it easiest to use a stick blender to do this but you could probably use a blender too. Pour this mixture into a mixing bowl.

Add the almond butter, melted coconut oil, molasses, vanilla and sea salt to the bowl and whisk to combine.

Pour the date caramel over the cooled biscuit base and use a spatula to spread it out evenly. Place the pan into the freezer for 2 hours.

Just before the biscuit base/caramel comes out of the freezer, melt the chocolate in a heatproof bowl set over a pan of simmering water. Leave to cool for a few minutes before using.

After 2 hours the caramel will be firm (but it won't be completely hard and frozen). Cut into 16 bars.

Dip each bar into the chocolate to coat fully. Sprinkle with your choice of topping immediately or leave plain if preferred.

Store the bars in the fridge or freezer.
Nutrition
Calories:
381
kcal
|
Carbohydrates:
38.3
g
|
Protein:
5.4
g
|
Fat:
23.5
g
|
Saturated Fat:
12.3
g
|
Polyunsaturated Fat:
1.9
g
|
Monounsaturated Fat:
7.4
g
|
Cholesterol:
1.9
mg
|
Sodium:
373.9
mg
|
Potassium:
490
mg
|
Fiber:
5.4
g
|
Sugar:
25.2
g
|
Vitamin A:
5.5
IU
|
Calcium:
88.2
mg
|
Iron:
2.9
mg
Did you make this recipe?
Leave a comment below with how you got on and don't forget to give the recipe a rating ⭐️⭐️⭐️⭐️⭐️. You can also tag @eatloveeats on Instagram - we love to see your creations!