Here's one more Easter treat for you! As much as hot cross buns will always be my first choice for Easter treats, I know that not everybody has the time, or the desire, to spend half a day making them (though I do urge you to try them as they are incredible!). So with that in mind, I made these Super-Seeded Easter Nests as an alternative - not that it's necessarily a case of one or the other, I must add!
These treats are quick-to-make, super tasty and kid-friendly, with the added bonus of being stuffed full of nutritious seeds. I'm certainly not making a claim that these are healthy - they are made with lots of regular chocolate after all - but I do enjoy a smug feeling knowing that my sweet snack is packed with quinoa and chia seeds. Balance!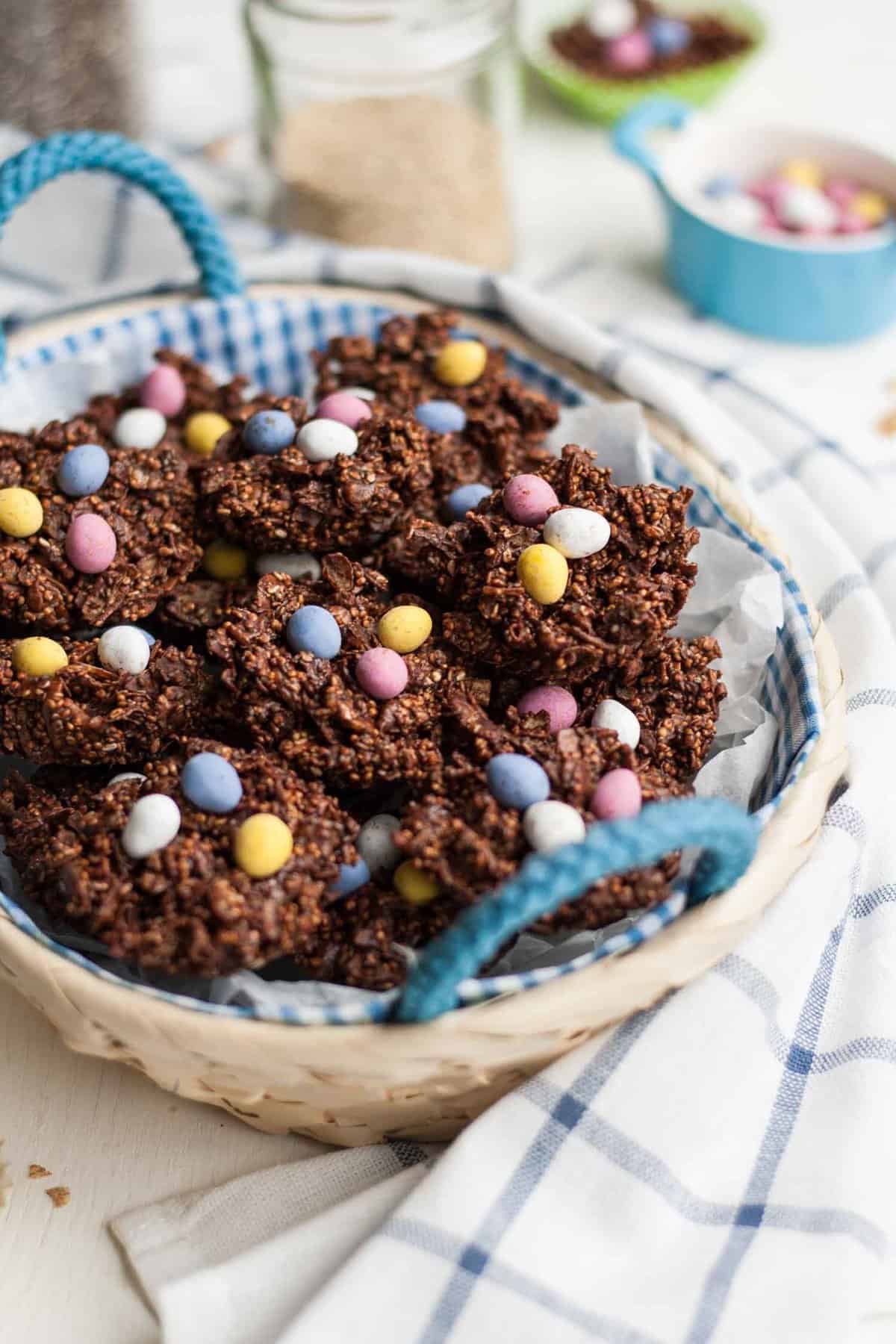 I love Easter. I think for me that it's the joy of the season: the beginning of spring, the fresh and vibrant colours after a grey winter, the arrival of new life... Speaking of new life, we went to visit my brother and his partner at the weekend to meet our baby nephew!
He's our first nephew and so it was super exciting to meet him! My husband and I are both the youngest in our families, so neither of us have spent a lot of time around babies and so this really was a new and incredible experience for us. Oh wow, we just adore him! What a miracle to witness him taking in his surroundings, absorbing all of the sights and sounds - I couldn't believe how attentive he was, even at 7 weeks! Just perfect. And it was beautiful to see my brother as a daddy, a notion I couldn't conceive until I saw it - he is a natural. 🙂
So these Super-Seeded Easter Nests! Traditionally, Easter nests are made of either cornflakes or shredded wheat, bound with a mixture of melted chocolate and golden syrup. I wanted my version to be more texturally exciting, with the crunchy elements being wholesome and nutritious. I also wanted to omit the golden syrup.
The only potentially 'difficult' aspect of this recipe is the toasting of the quinoa but it's actually not difficult at all. This extra step is well worth the 10 minutes it takes to complete, resulting in addictively crunchy and nutty quinoa which adds another dimension to these simple treats.
Added to the quinoa we have: chia seeds, sesame seeds (basically any seeds you like!), flaked almonds and spelt flakes all tossed together with some melted chocolate and topped with cute little chocolate eggs. What could be simpler? I've suggested spelt flakes as the cereal element for these little nests, but walk into any health food store and you'll be greeted with any array of exciting cereals to try. From spelt flakes and quinoa puffs, to amaranth pops, buckwheat and millet puffs and many more. You could get as creative as you like here! My only stipulation would be to look for something that's sugar-free, but of course that's entirely up to you.
Tell me, what will you be eating for Easter brunch/lunch/dinner this year?! Give me some inspiration! I do hope you'll give these yummy crispy nests a go for a simple sweet treat!