This Tiramisu Layer Cake is an ideal indulgent celebration cake for all lovers of coffee, chocolate and of course that delicious Italian classic, tiramisu!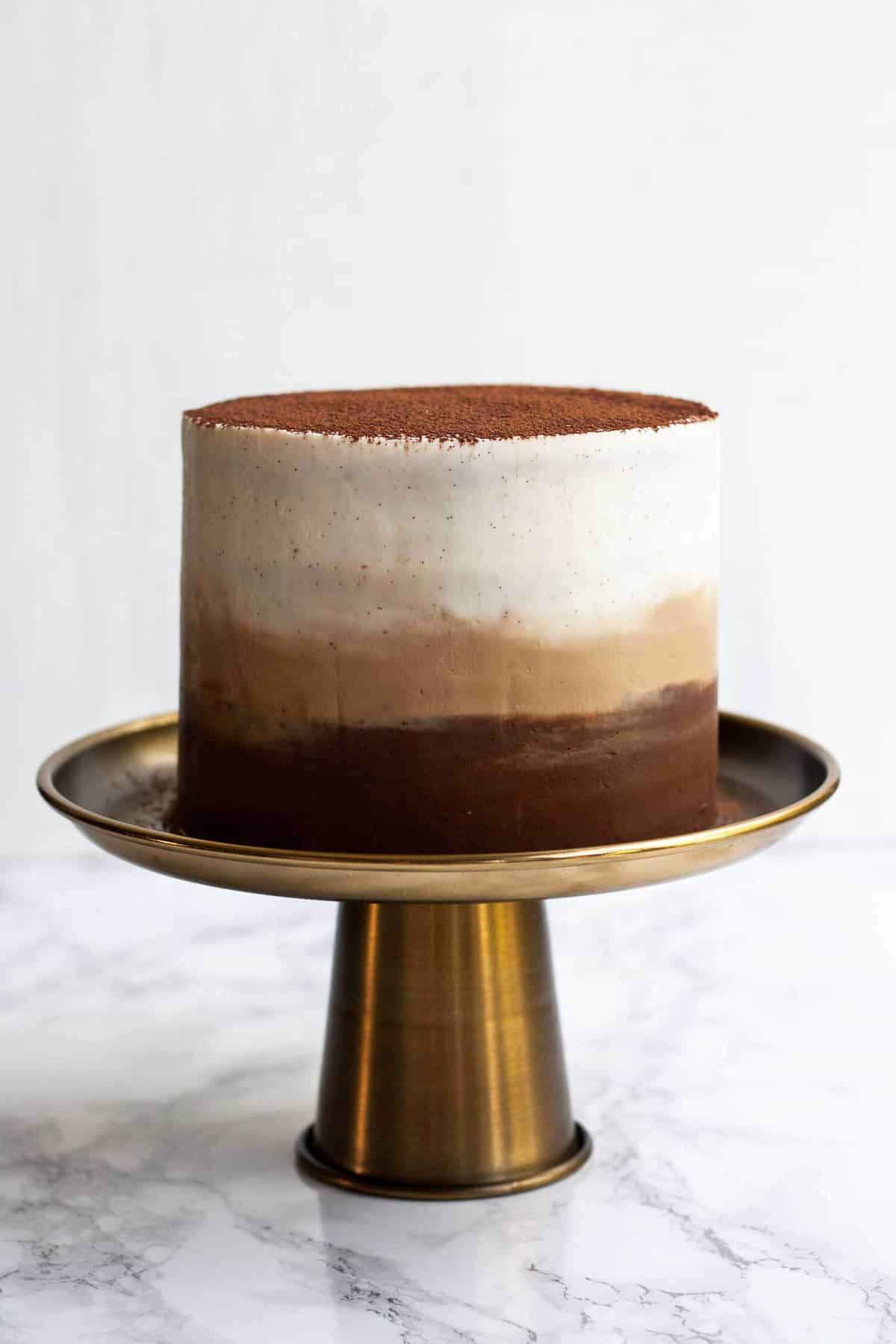 THIS CAKE. Oh, promise me you'll make it? I'm aware it's not immediately evident here on the blog, but I love to bake. I started to bake back when I was a kid, way before I learnt to cook actual meals. Baking is what I did to avoid boredom, my favourite weekend activity growing up in a rural village, far away from my school friends. I loved to get creative in the kitchen, adapting recipes as I saw fit to keep things interesting. And more recently, I fulfilled a dream of mine - to bake my own wedding cake. And it was beautiful, a 6-tier tower of elegant vanilla cupcakes, topped off with a 6 inch chocolate layer cake (with vanilla frosting!) for the chocolate-loving bride and groom. It was simply decorated with white sugar roses, white sprinkles and three pastel roses on top. It was perfect.
Anyway - back to this cake. Tiramisu Layer Cake with Ombre Mascarpone Frosting. This is the cake my dreams are made of. If you were to ask me what my favourite dessert is, chances are my reply would be tiramisu. Now, I'm a dessert lover and there are a lot of desserts I like. My favourites are anything with chocolate, caramel or coffee. Those are my favourite flavours and I'd far sooner pick one of those than a fruit-based dessert (although I love fruit desserts too and you can expect one on the blog soon!) But what would I pick out of all those if I could only pick one? What will I immediately go for if I see it on a menu? It has to be tiramisu. I just love the stuff. If my husband and I find savoiardi biscuits on sale in the supermarket, we're in trouble. We inhale the stuff. Eep.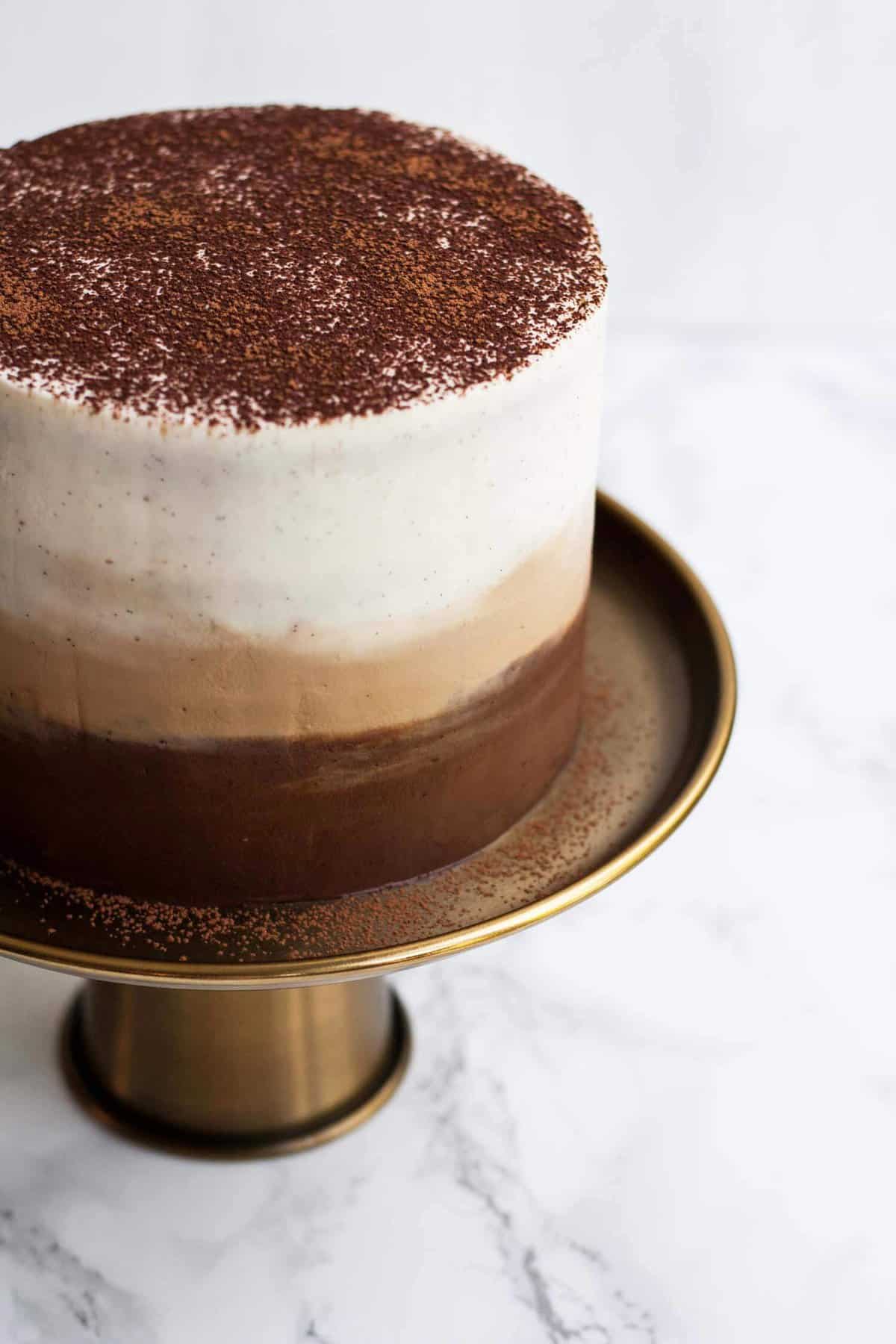 So, it was my birthday last Sunday and I love to bake something special to celebrate. This year, it simply had to be tiramisu in cake form. A tiramisu layer cake. Once the idea had been conceived in my mind, that was it, it had to happen. AND IT DID.
I was keen to make a layer cake with ombre frosting as I've never tried that technique before. It was surprisingly easy and the effect was incredible! Naturally, the cake layers had to be chocolate, coffee and vanilla. I don't actually use vanilla when I make a genuine tiramisu but you can't go wrong really, can you? I made a simple coffee syrup to soak the cake layers but I wished I had made more. As such, the recipe as written calls for twice the volume of syrup that I actually used but I'm absolutely confident it will work just fine for you. Alternatively, if you didn't fancy making a syrup, you could soak the cake layers with a coffee liqueur instead - Kahlua would be perfect!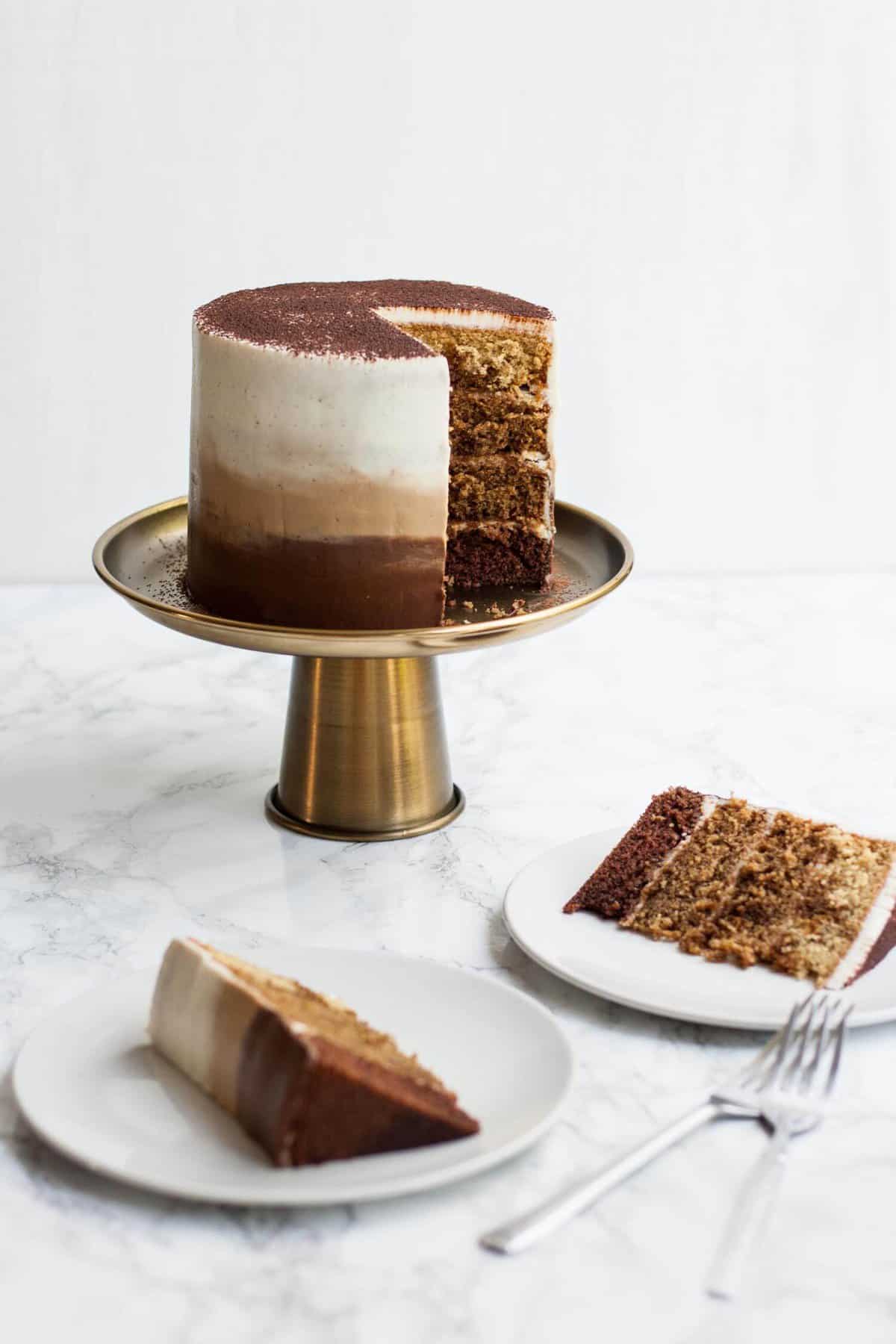 The pièce de résistance, however, is that frosting. Oh my dayz. Now, I'm a buttercream lover but come on, we can't be putting buttercream on a tiramisu cake, can we? It just wouldn't be right! This mascarpone frosting is perfect in so many ways. It's oh so creamy and just subtly sweet - I'm not making health claims here but it was refreshing to make a frosting that wasn't mostly made up of sugar. The other thing? It's super easy to make. Bring your mascarpone up to room temperature and stir your sugar in with a spatula or wooden spoon and you're done. Love it.
The recipe makes a lot of frosting - more than you need - but that's no punishment, let me tell you. It's almost frightening how easy it is to eat! I assure you, you'll find ways to finish it off! Plus, it really is handy to have more than you need so that you can patch up any mistakes you might make when frosting the cake.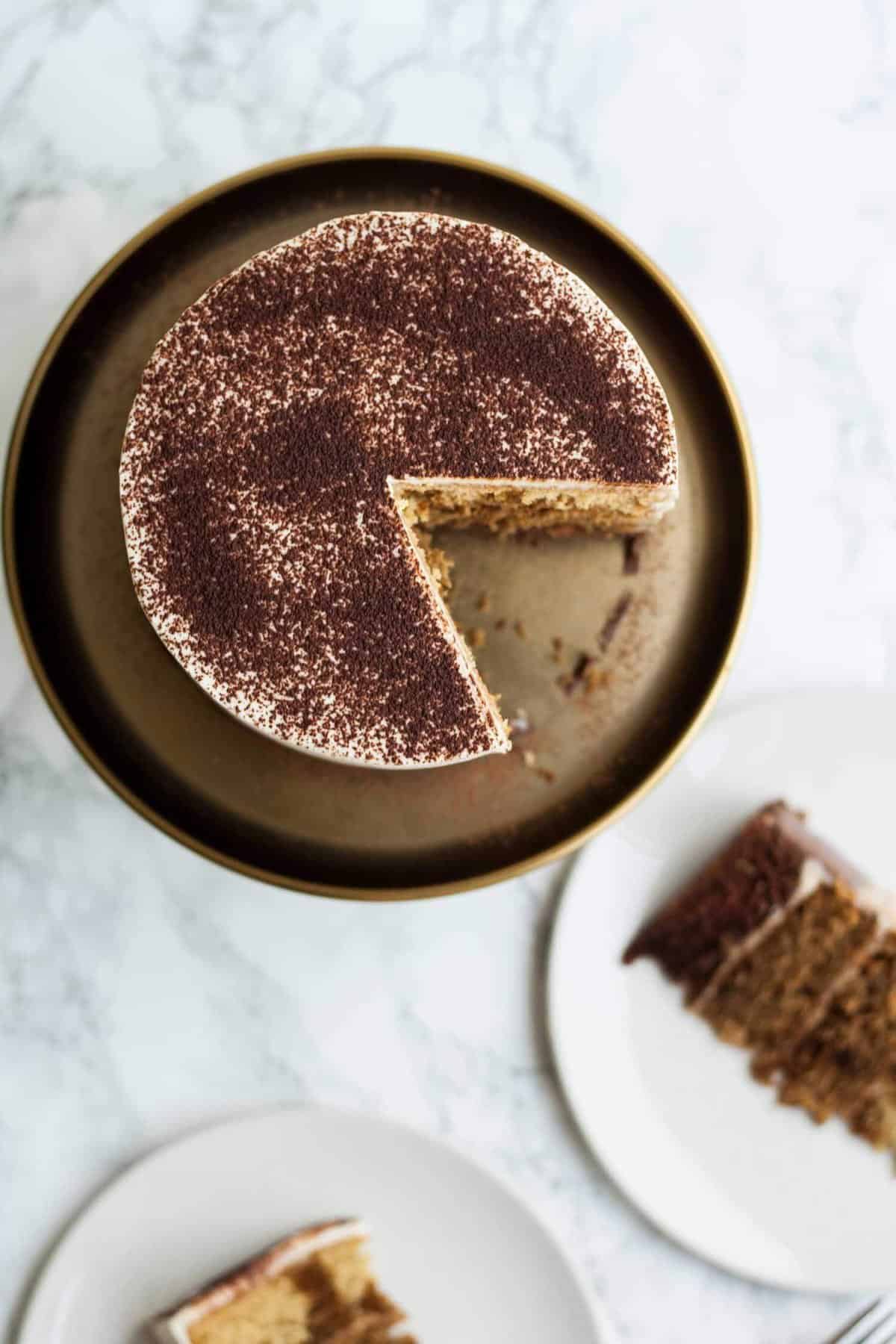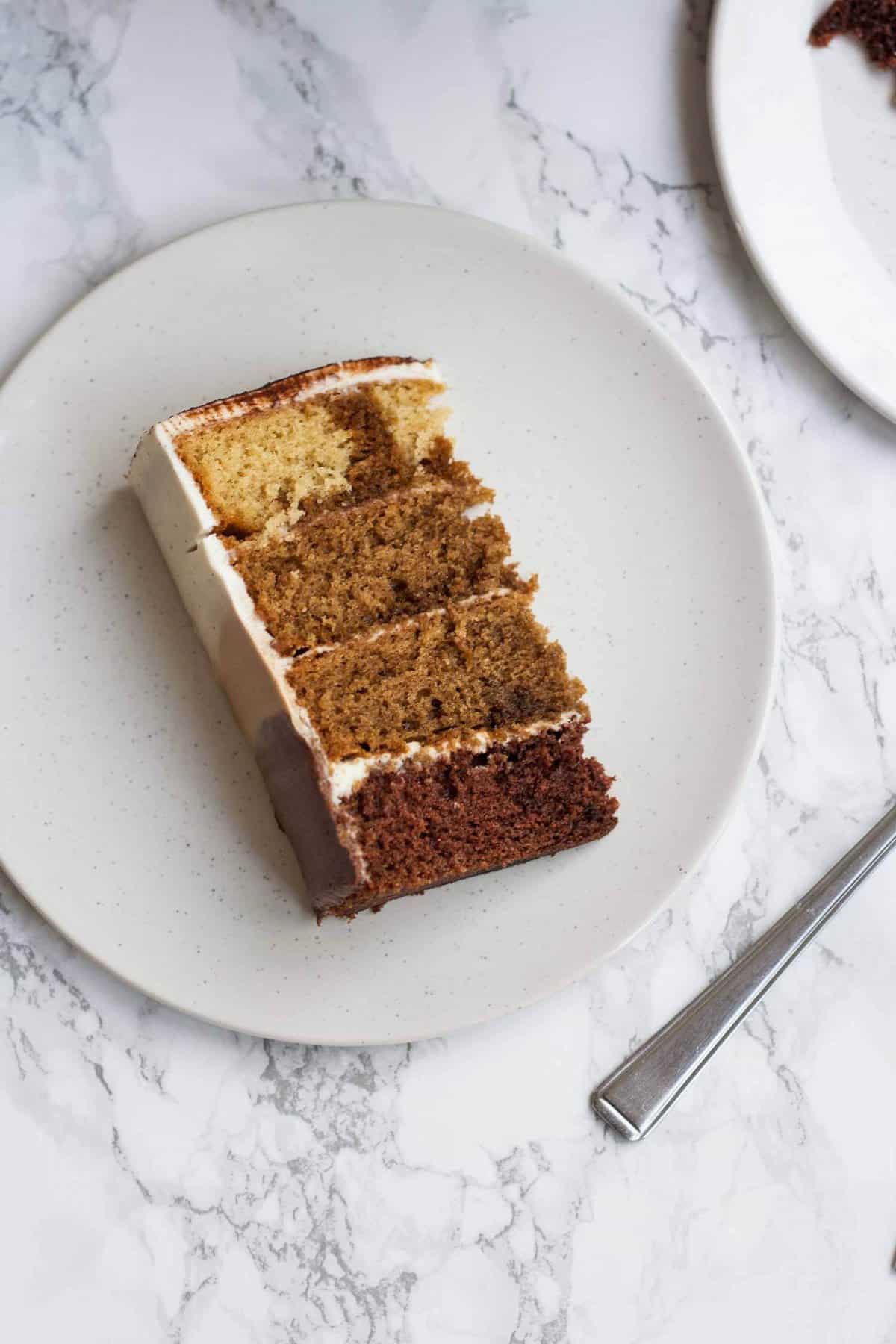 When my husband and I took a bite of this, we just looked at each other and both exclaimed "it tastes just like tiramisu!" It really did. You might ask, why not just eat tiramisu? Erm, because making and devouring a tiramisu layer cake is just so much fun! And just look at it - isn't it gorgeous?! This was one of those serious kitchen pride moments. I love the process of taking an idea, however vague it may be and translating it into something real and beautiful. It's such a rewarding process! I really do hope you'll give this cake a try. It might not be the simplest of cakes but it is truly worth the effort, both in terms of taste and appearance! I just can't get over that ombre effect. *heart eyes emoji*
So, to be clear. This tiramisu cake is made up of four fluffy sponge cake layers - one chocolate, two coffee, one vanilla. Each layer is soaked in rich, sweet coffee syrup and sandwiched with unctuous mascarpone frosting. And then the entire cake is covered in the same mascarpone frosting, in chocolate, coffee and vanilla and dusted generously with cocoa powder. The result? Utter bliss. I couldn't think of a better birthday cake.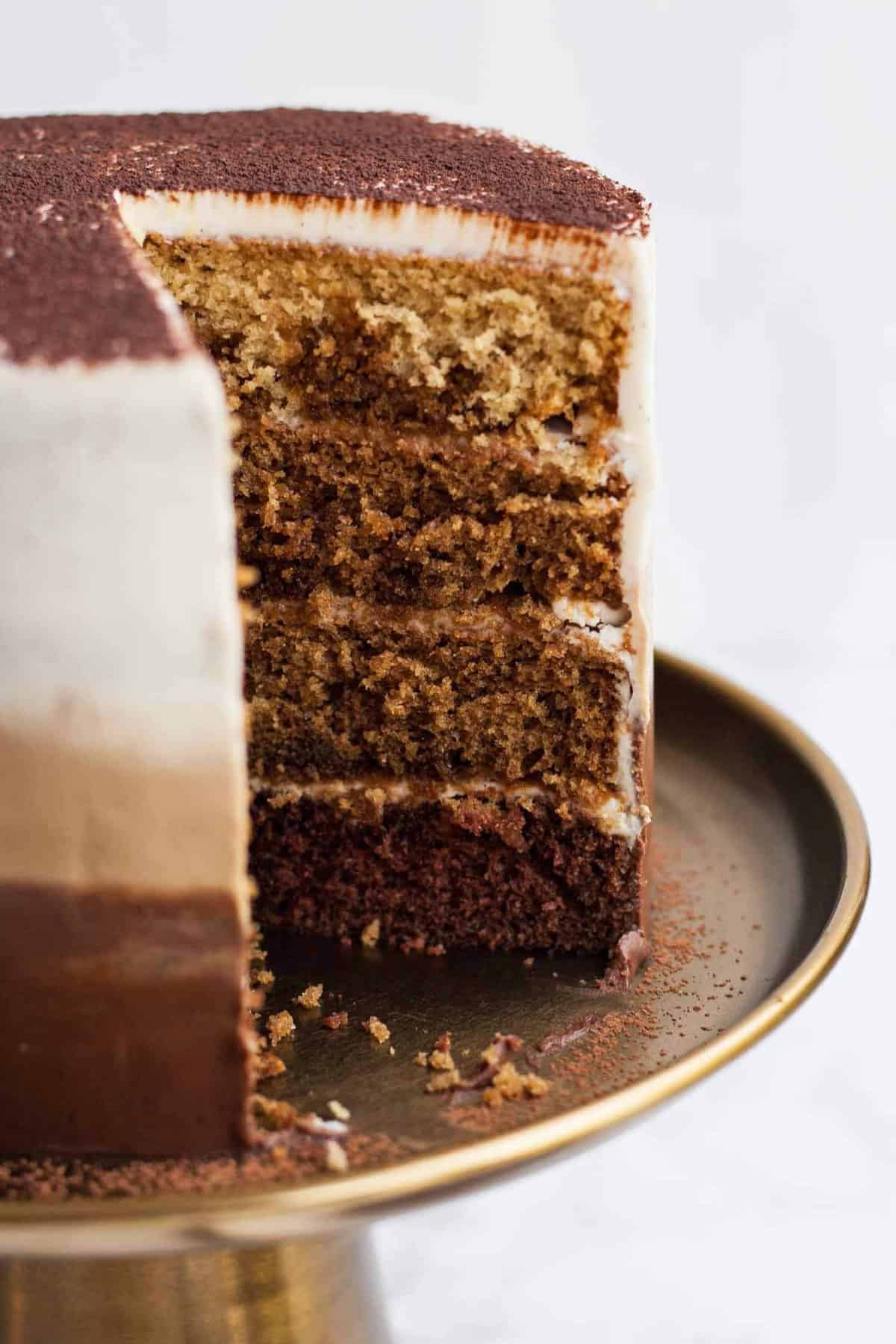 UPDATE: I'm really grateful for Lindsay and Celine who kindly let me know that they had trouble when making the chocolate portion of the frosting. They found that when they added the chocolate to the mascarpone it went runny and gritty. As a result of this, I chose to re-test that part of the recipe to see if I could figure out what was going on.
When I tested the recipe, I made 3 separate batches of the chocolate part of the frosting. For each batch, I let the chocolate cool for a different length of time, to test the effect it would have and to determine which was the best method. I let the first batch of chocolate cool for 1 minute, the second for 5 minutes and the third for 10 minutes. I was not able to recreate the issue that Lindsay and Celine had, but by far and away the best frosting was made when I let the chocolate cool for a minute only. The chocolate was still pretty hot in this instance, but resulted in a glossy, soft and easy-to-work-with frosting. When the chocolate had cooled for 5 and 10 minutes, the frosting still worked well, but took on more of a mousse-like consistency. Adding about a teaspoon of milk returned the frosting to a more glossy consistency, however, so if you were to leave the chocolate to cool for longer than 1 minute, the recipe would still work.
Celine mentioned that she had made the recipe on a hot day and wondered if that had affected the outcome. When I retested this it was on a cool day (about 17°C) but when I first made the cake it was a lot warmer, about mid-twenties. The recipe worked for me both times. The only other thing I would say is to ensure you use good quality ingredients - the chocolate I used was 74% cocoa although I'm sure anything around 70% would be great.
I hope all of this helps and if anyone has any questions about the method (the recipe has been updated accordingly since testing) or any issues please don't hesitate to contact me - I'm very happy to help! 🙂
-
Don't even ask me for a nutrition label - this is a celebration cake!! Indulge!
Note: This post contains affiliate links.