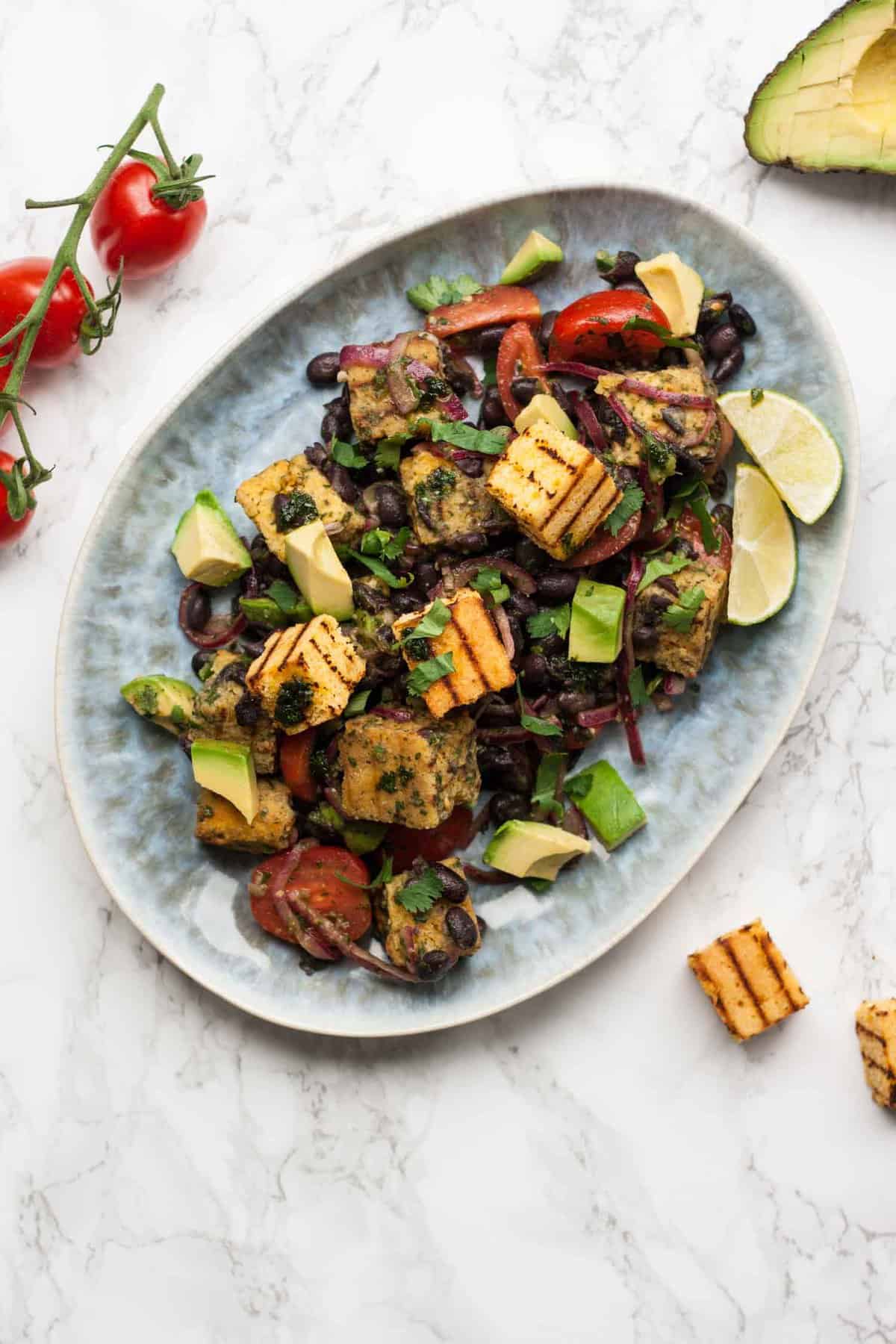 It's seriously starting to feel like summer! Every year, I'm astounded at how much I love this season. I love all the seasons, genuinely, but it's summer that truly has my heart. At this time of year (in England, at least - my sister-in-law has been reporting 48°C/120°F temperatures in Arizona, yikes!) everything is lush and green, there are flowers everywhere and the birds are singing non-stop. Everything just feels alive and I love it. It's been around 24°C/75°F here which is wonderful, though I definitely wouldn't complain if it got a little warmer than that!
One of the things I love most about the summer is eating al fresco. And as much as I love picnics and barbecues, perhaps most of all I simply love to take my regular meals outside. Breakfast and a coffee in the sunshine? Now that is one of life's simple pleasures. In fact, it's arguable that my favourite thing to eat outdoors in the summer is nothing more than the bright orange flesh scooped from a halved Charentais melon on a hot July morning. Perfection.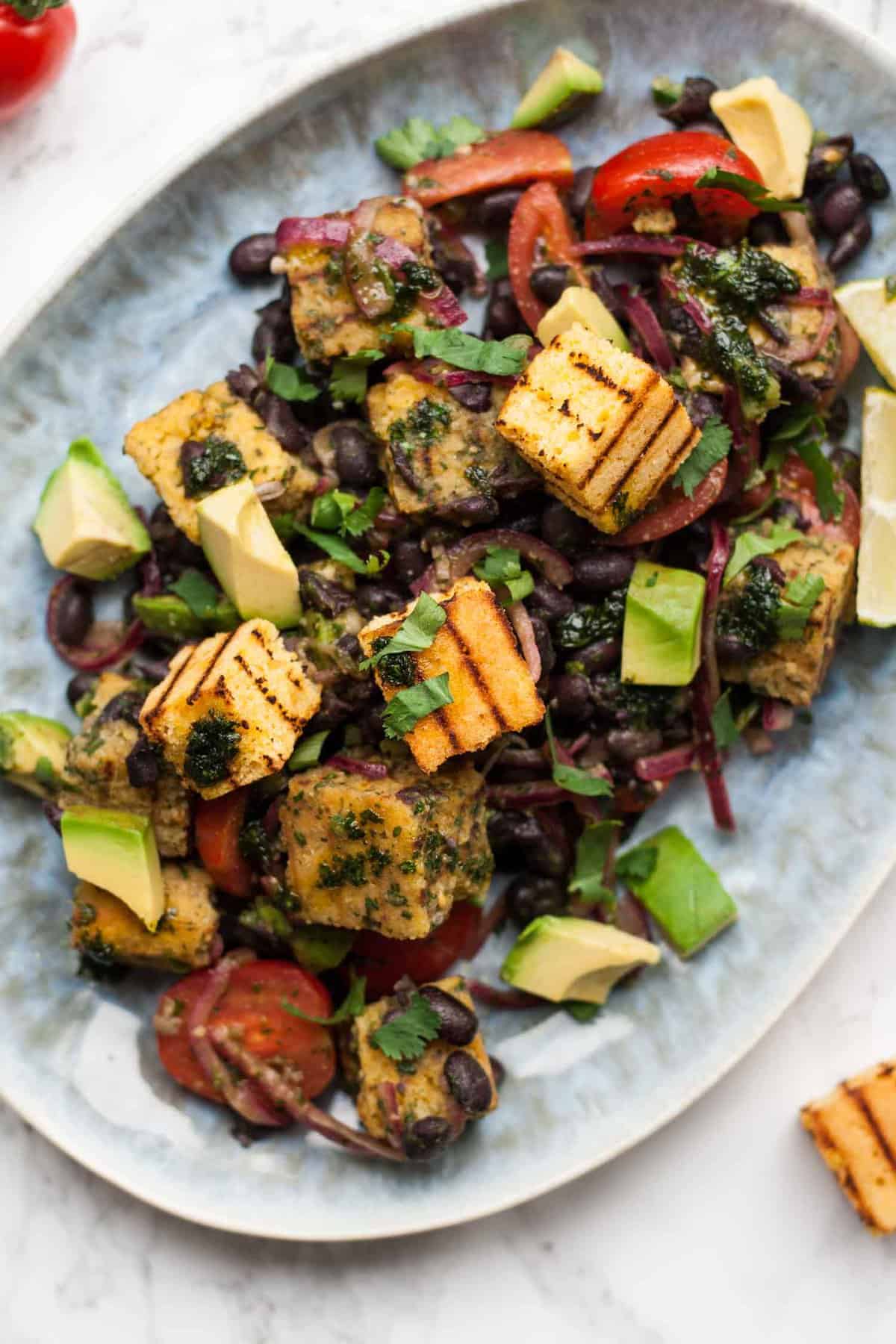 But anyway - back to the current moment as I certainly don't want to wish time away! Current obsession? Mexican Panzanella Salad. I mean, seriously! You have got to make this. I'm willing to bet it's been done before (I mean, hasn't everything?) but I was pretty chuffed by this idea! It came at first from my husband who expressed a desire for 'some kind of avocado panzanella type thing'. Now, let me tell you, this is not what he had in his mind's eye but he assures me it's better!
There's just something so fun about taking a classic recipe and mixing it up a bit. Do we call that fusion food? Ah, who cares. As much as I love the classics, I think I'd go insane if I stuck to those recipes day in and day out - especially as a food blogger. Nope, I'm definitely not what you'd call a purist when it comes to food! Life's too short I say! So as awesome and delicious as traditional Italian panzanella is, I was itching to do a Mexican version. After all, Mexican food is life.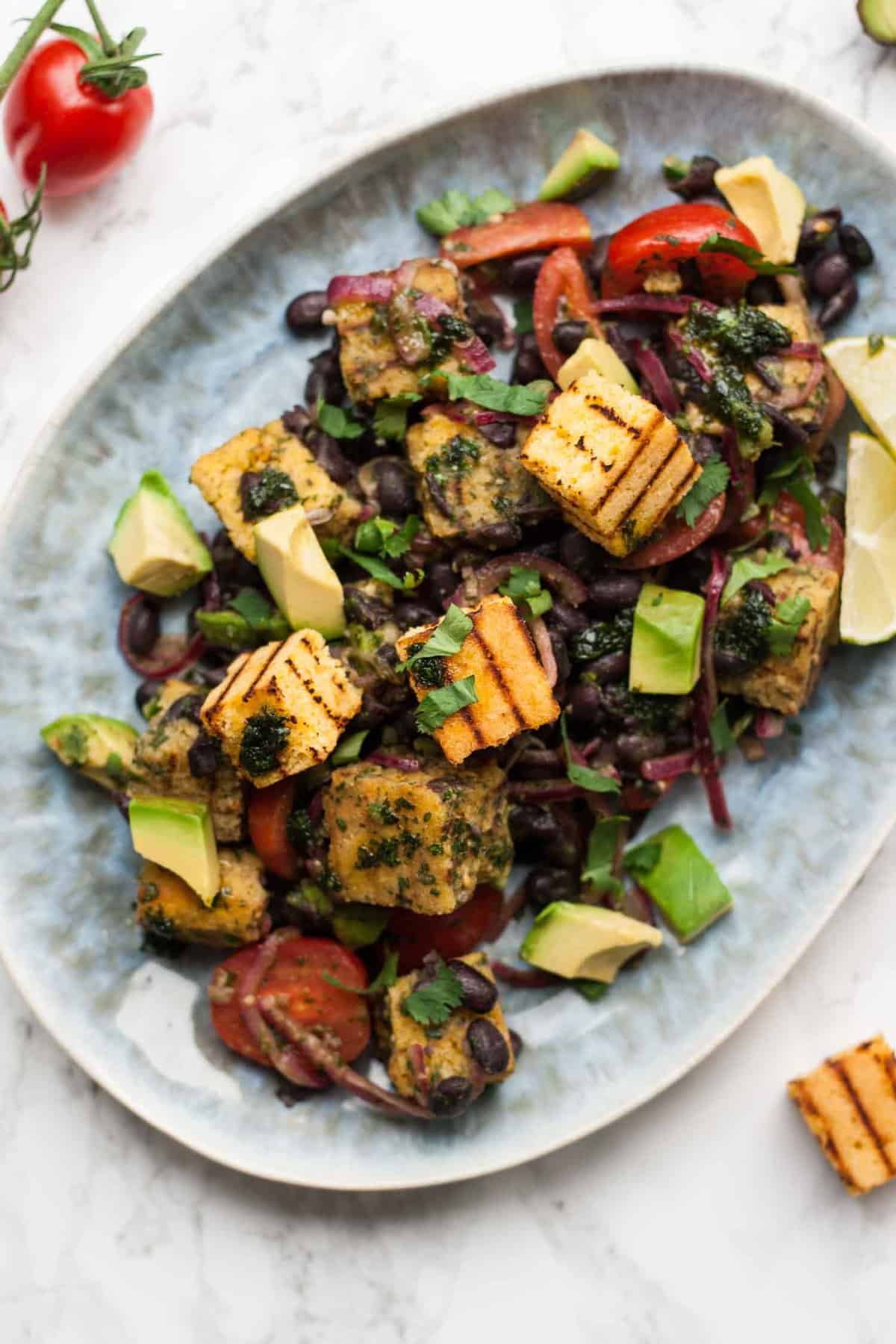 Sourdough just felt so wrong in a Mexican panzanella, so it had to be cornbread. And I apologise in advance - as you know, I'm English and let me tell you, us Brits are not brought up on this kind of food (if only!). I've also never been to Mexico (yet!) and as such, I am at a complete loss as to whether a Mexican would actually eat cornbread, or if that's purely an American thing. Please educate me! So yeah, it's not my intention to offend anybody here! Just rest assured that this tastes really good and that's all that matters to me! (and hey, it's fusion food??)
You'll notice too that I've left the cornbread aspect of the recipe deliberately vague. For the same reasons as above I just would not feel comfortable giving a recipe for cornbread. Feel free to use whichever cornbread recipe you like, or buy some if it's available to buy near you. For anybody who's interested, I used Nigella Lawson's recipe for cornbread from her Feast cookbook, but tweaked the recipe slightly by browning the butter and adding less sugar than specified. It tasted great to me!
The cornbread got a bit of the griddling treatment, mainly because I can't resist those incredible bar marks but also because it enhances the toasty corn flavour. The griddled cornbread is then tossed with black beans, juicy tomatoes, creamy avocado and some super quick pickled onions. Coriander oil, a touch of cumin and a hit of green chilli tie it all together. This Mexican panzanella is quick to make, filling enough for a main meal and tastes incredible. You know me, I don't skimp on flavour and this is no exception!
Note: This post contains affiliate links.