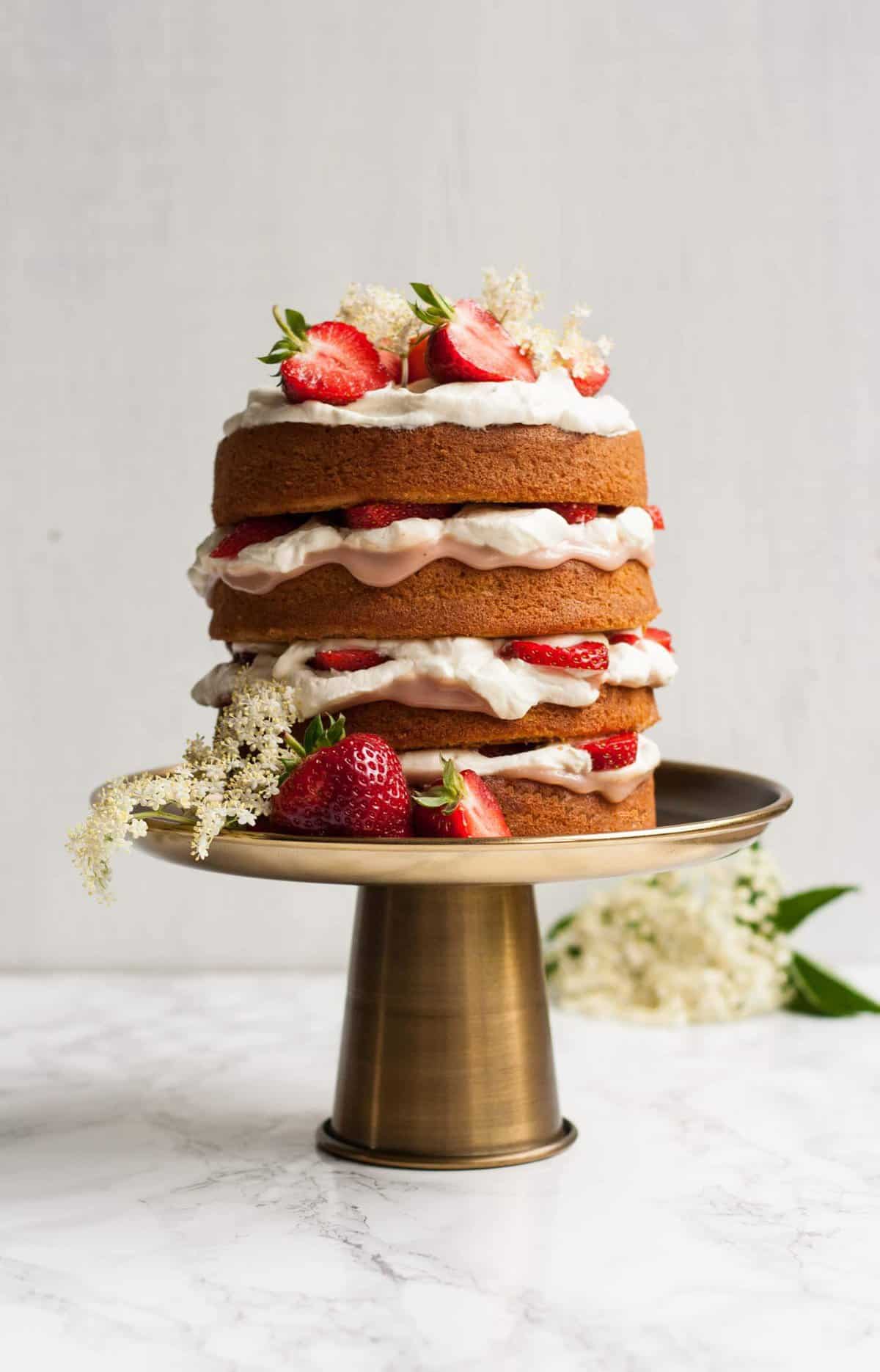 I couldn't help myself, I just had to make another cake. This time, a celebration of the summery fragrance of those frothy elderflower blossoms that are so characteristic of June. If you're lucky, you still have access to these precious flowers. They're still around here, but we've had a ton of rain lately and so they're on their way out. But even if the flowers have disappeared, fear not - you can use bought elderflower cordial. I wanted to imbue a cake with that heavenly floral scent and could think of no better pairing than the pure simplicity of ripe strawberries. This Strawberry and Elderflower Curd Layer Cake is delicately flavoured and perfectly captures the essence of early summer. It sure looks a treat, too! Imagine bringing this out at the end of your summer picnic or barbecue.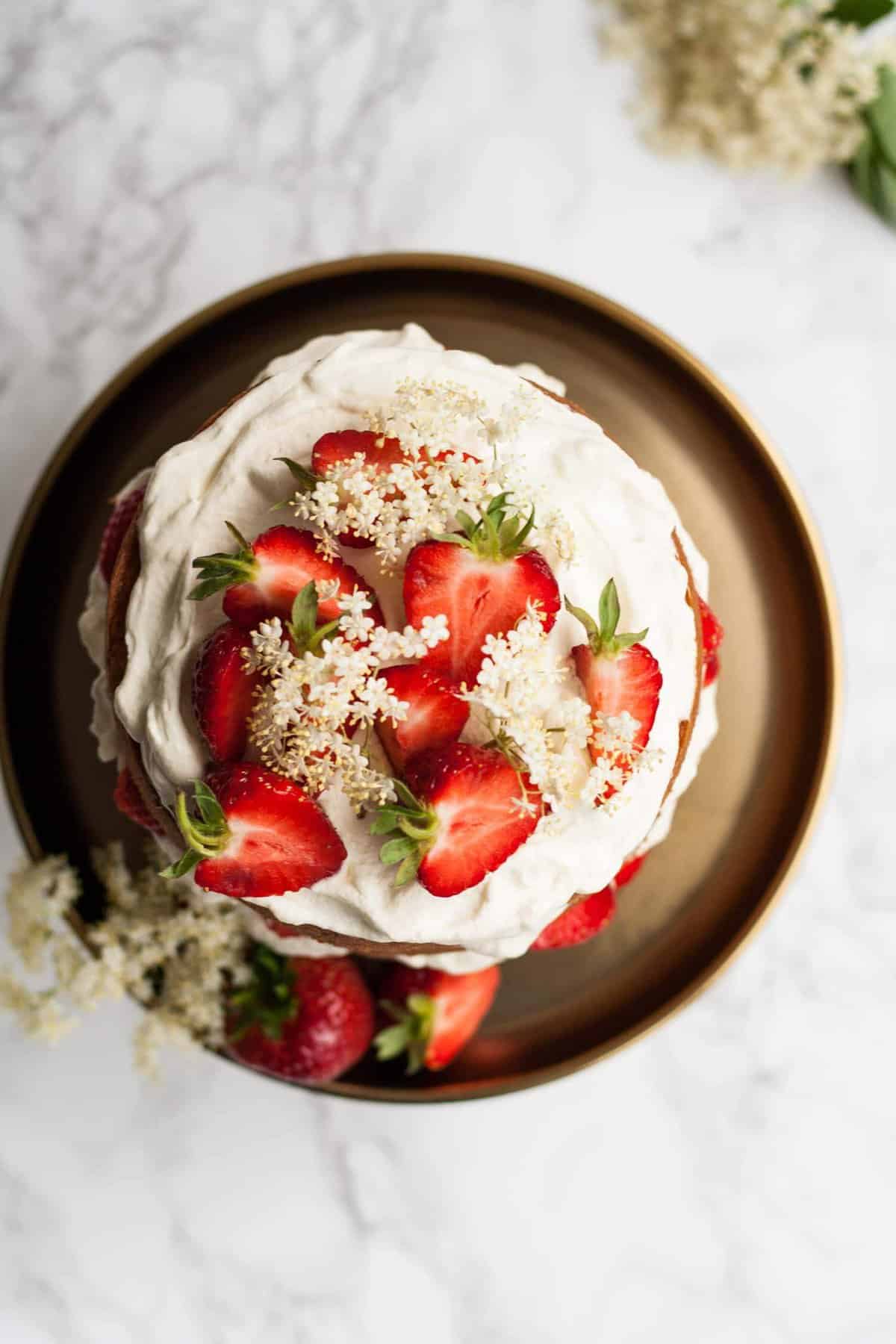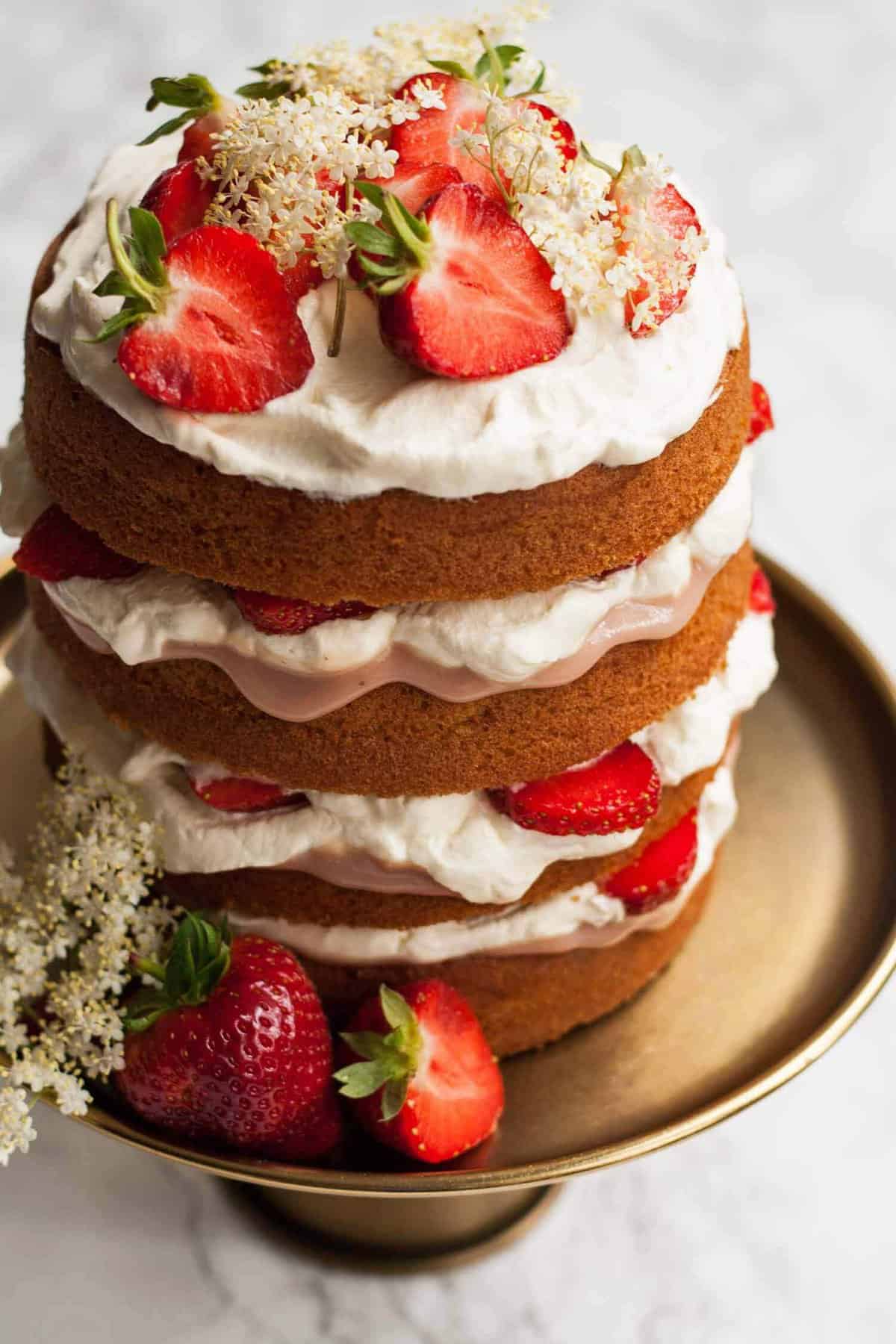 It's hasn't been feeling too summery around here lately though! We've had so much rain over the past two weeks and the sun has been a distant memory. Although as I write, it appears we have been graced with blue skies so I'm hopeful that the weather is changing. My husband and I have some time off work at the moment and we're off for a short break in a couple of days to celebrate our wedding anniversary. I can't believe we've been married a year! The time has flown by. I'm looking forward to spending a few days together in the beautiful English countryside. Perhaps the sun will come out for us! Either way, I'm just excited to enjoy some different scenery and to seek out some delicious food along the way.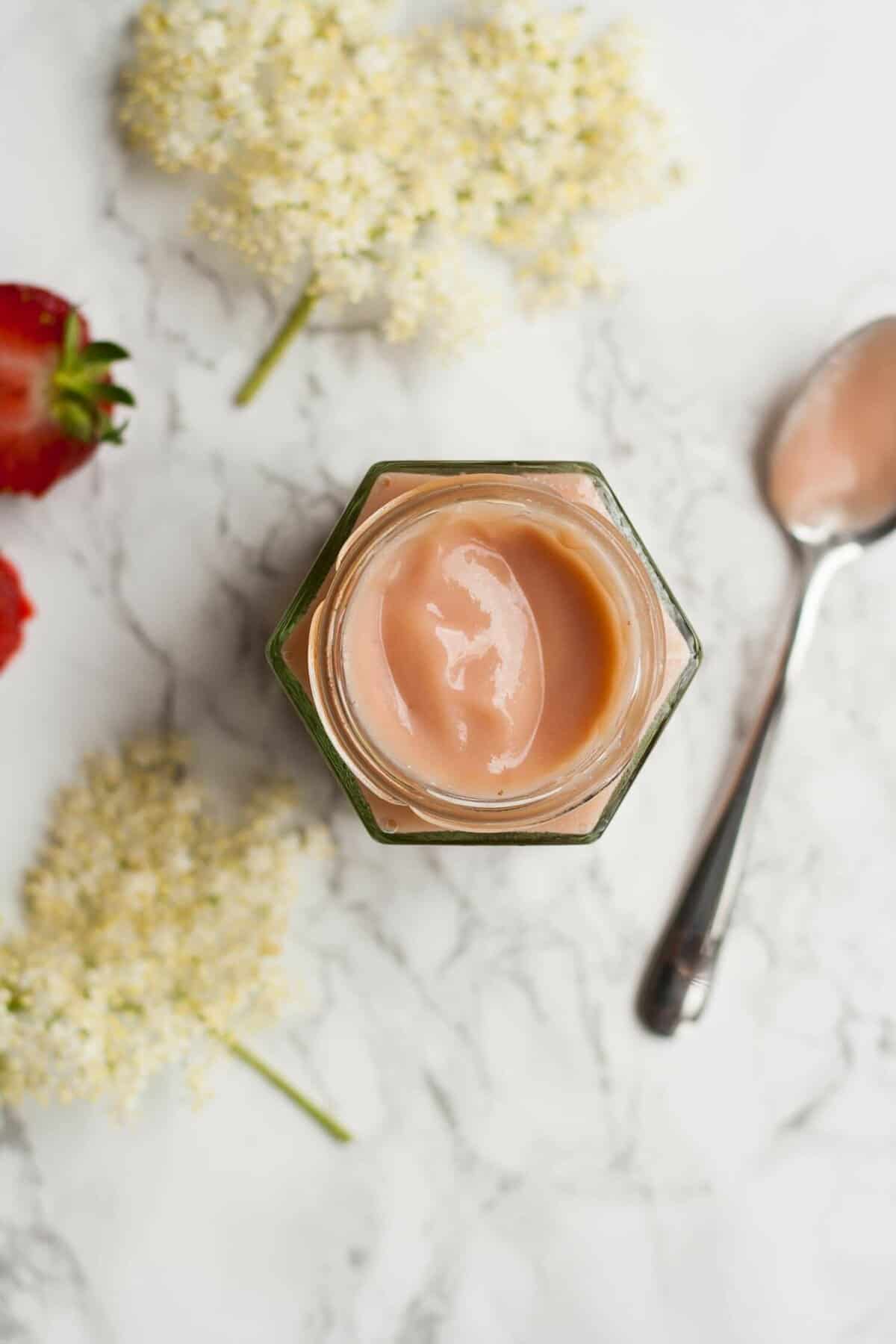 The star of this cake is the strawberry and elderflower curd which is slathered between the layers. I adore making lemon curd but I wanted to make something different and strawberry curd just sounded so delicious! I wondered if I could infuse it with the delicate perfume of elderflower and it actually worked really well! The flavour is subtle, yet undeniable. The recipe makes two jars of curd so you're set for not only this cake, but plenty of summer desserts - this would be perfect on scones, in eton mess, basically anywhere you would use lemon curd!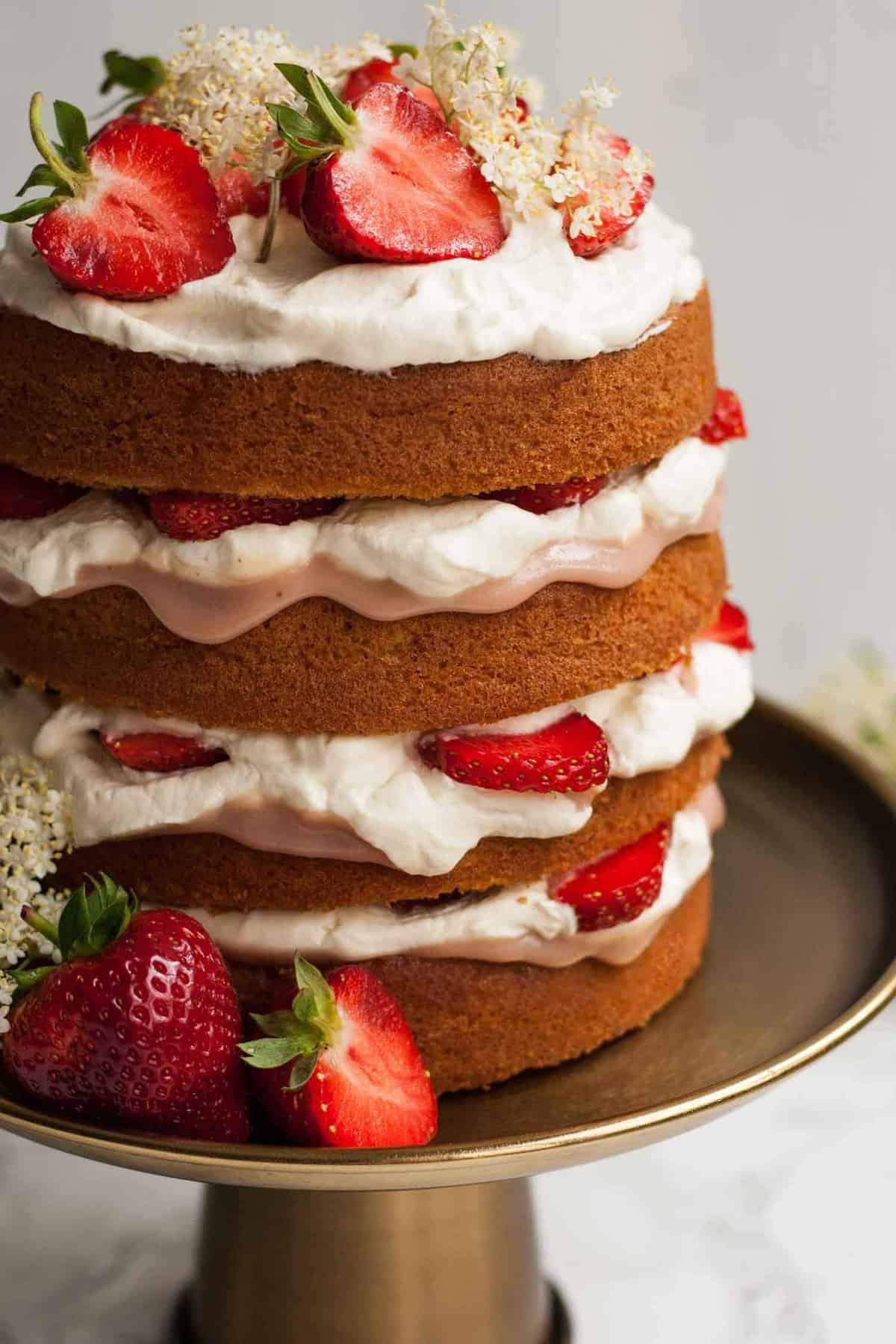 This cake is really easy to make. A simple vanilla sponge is drenched with elderflower cordial and filled with strawberry and elderflower curd, lightly sweetened whipped cream and fresh sliced strawberries. What's not to love? The curd can be made ahead of time and is a lovely relaxing afternoon task - the recipe requires you to strain the curd multiple times as you make it but it's not that much of a hardship and is really worth it for the silky smooth texture which results. However, feel free to skip these steps if you don't have time, the recipe will still work! Go on, give this Strawberry and Elderflower Curd Layer Cake a try and let's see if we can get the sun to shine!