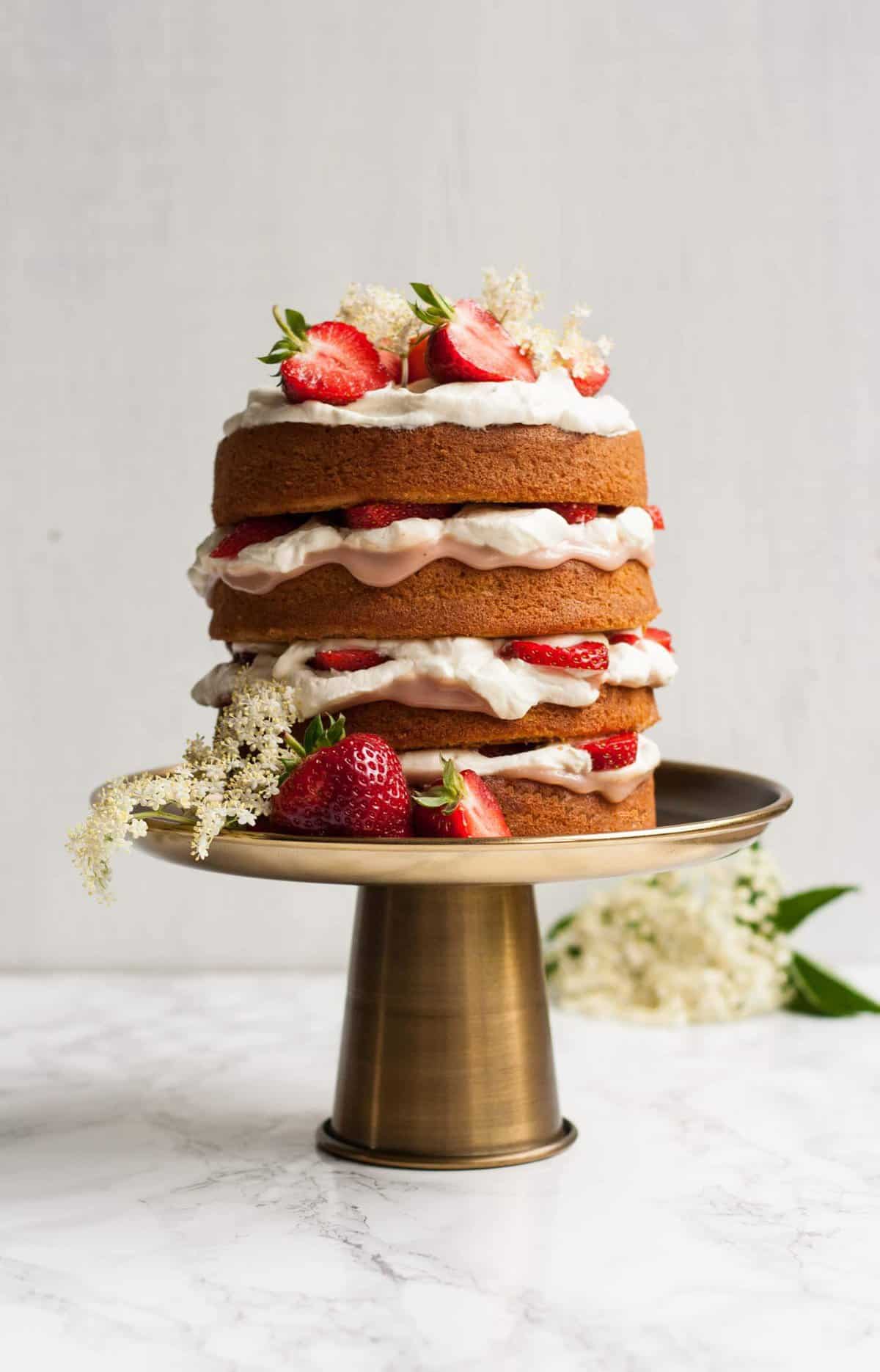 I couldn't help myself, I just had to make another cake. This time, a celebration of the summery fragrance of those frothy elderflower blossoms that are so characteristic of June. If you're lucky, you still have access to these precious flowers. They're still around here, but we've had a ton of rain lately and so they're on their way out. But even if the flowers have disappeared, fear not - you can use bought elderflower cordial. I wanted to imbue a cake with that heavenly floral scent and could think of no better pairing than the pure simplicity of ripe strawberries. This Strawberry and Elderflower Curd Layer Cake is delicately flavoured and perfectly captures the essence of early summer. It sure looks a treat, too! Imagine bringing this out at the end of your summer picnic or barbecue.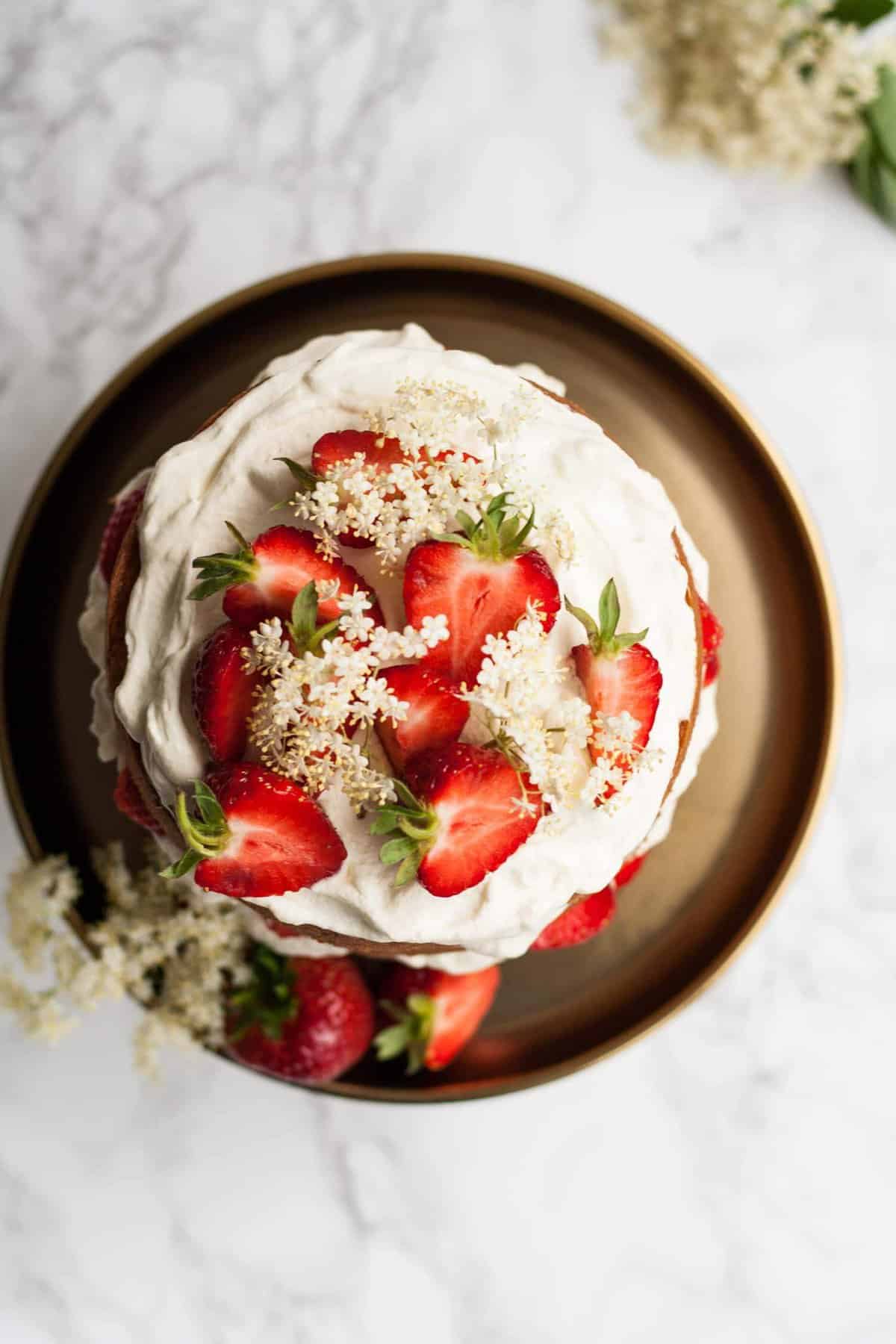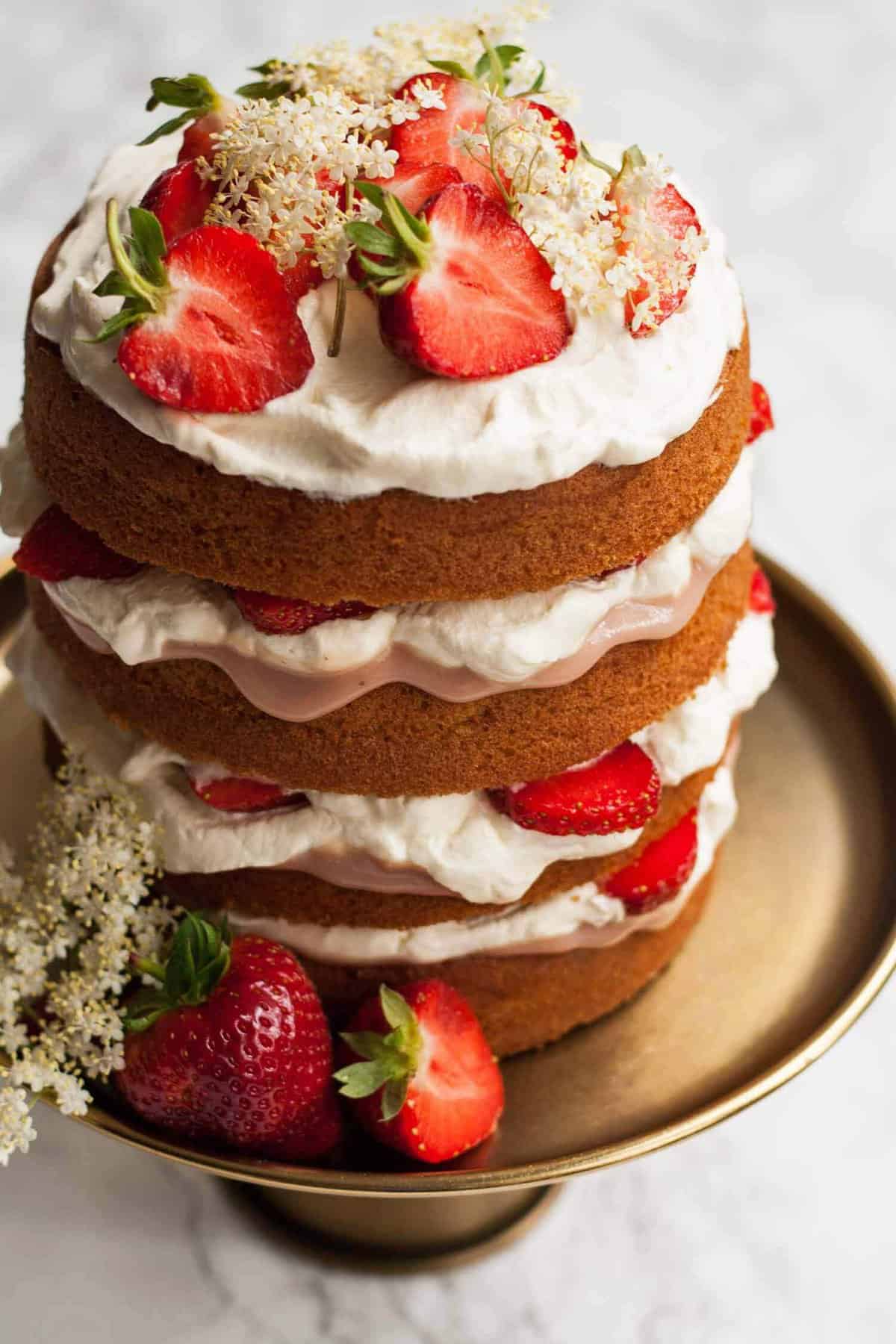 It's hasn't been feeling too summery around here lately though! We've had so much rain over the past two weeks and the sun has been a distant memory. Although as I write, it appears we have been graced with blue skies so I'm hopeful that the weather is changing. My husband and I have some time off work at the moment and we're off for a short break in a couple of days to celebrate our wedding anniversary. I can't believe we've been married a year! The time has flown by. I'm looking forward to spending a few days together in the beautiful English countryside. Perhaps the sun will come out for us! Either way, I'm just excited to enjoy some different scenery and to seek out some delicious food along the way.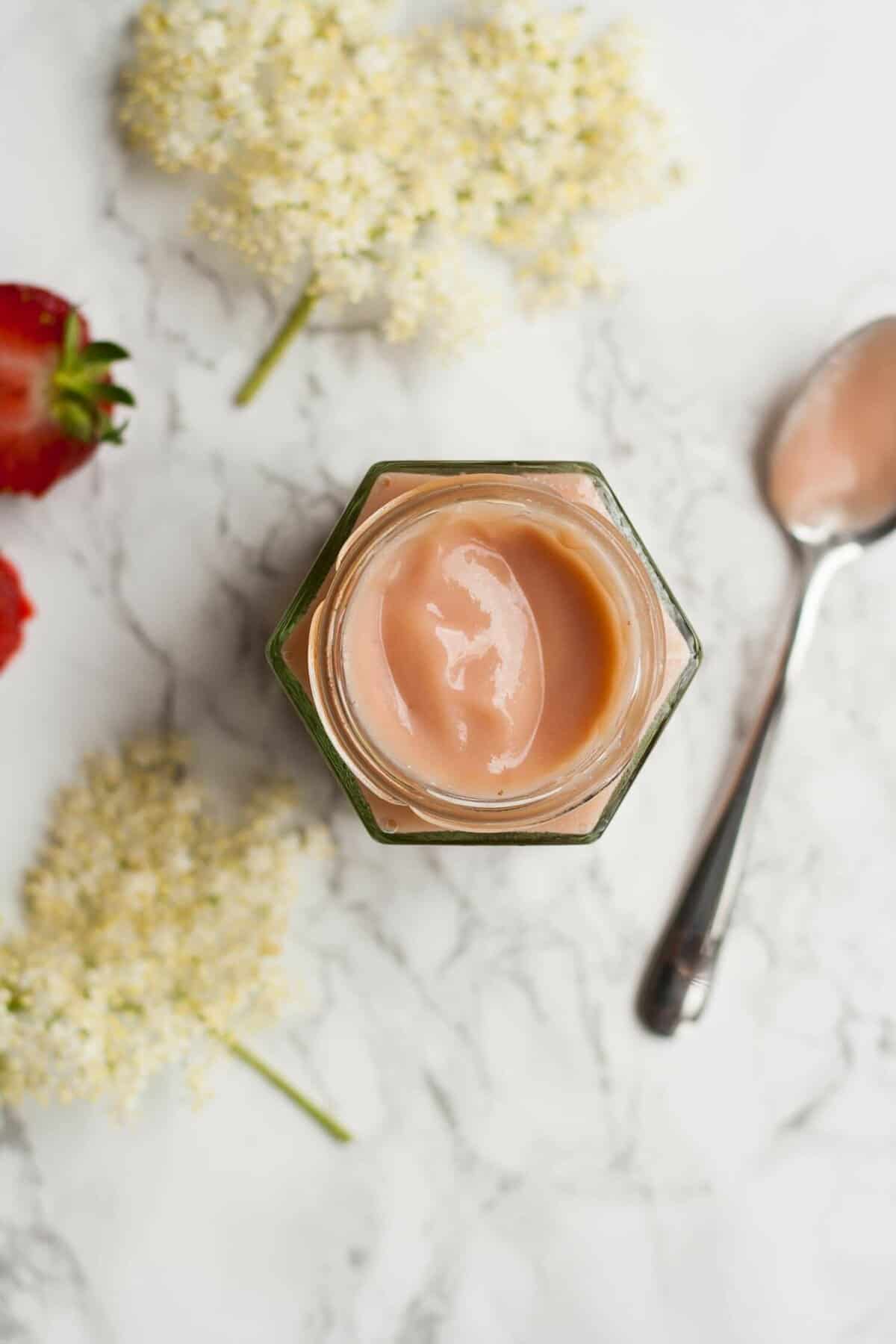 The star of this cake is the strawberry and elderflower curd which is slathered between the layers. I adore making lemon curd but I wanted to make something different and strawberry curd just sounded so delicious! I wondered if I could infuse it with the delicate perfume of elderflower and it actually worked really well! The flavour is subtle, yet undeniable. The recipe makes two jars of curd so you're set for not only this cake, but plenty of summer desserts - this would be perfect on scones, in eton mess, basically anywhere you would use lemon curd!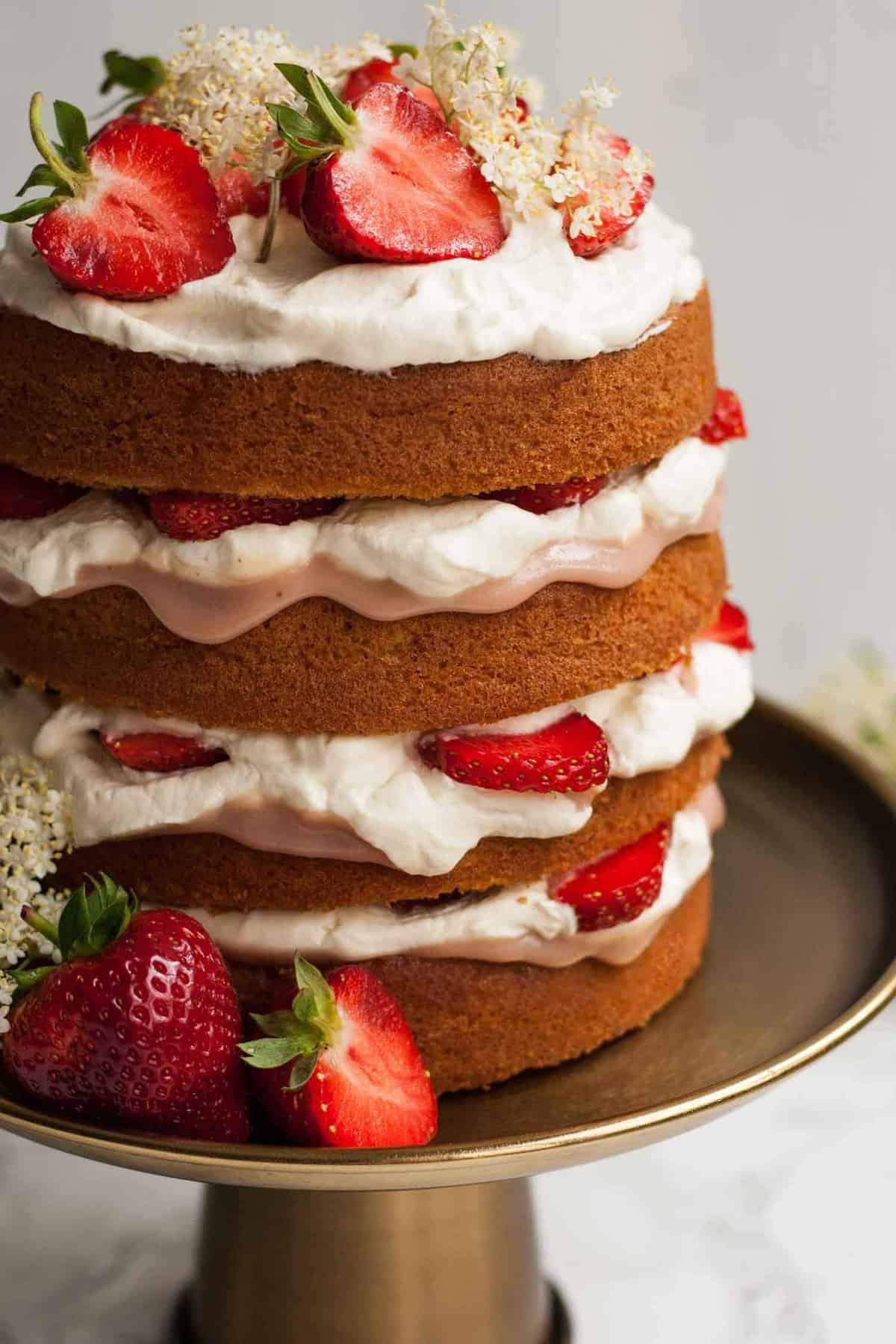 This cake is really easy to make. A simple vanilla sponge is drenched with elderflower cordial and filled with strawberry and elderflower curd, lightly sweetened whipped cream and fresh sliced strawberries. What's not to love? The curd can be made ahead of time and is a lovely relaxing afternoon task - the recipe requires you to strain the curd multiple times as you make it but it's not that much of a hardship and is really worth it for the silky smooth texture which results. However, feel free to skip these steps if you don't have time, the recipe will still work! Go on, give this Strawberry and Elderflower Curd Layer Cake a try and let's see if we can get the sun to shine!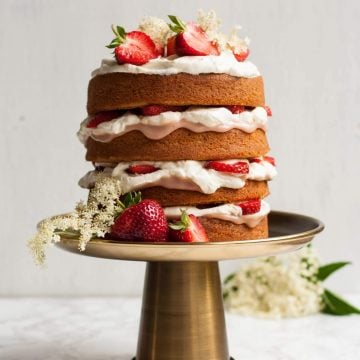 Ingredients
For the strawberry and elderflower curd
250

g

strawberries

,

(2 cups) hulled

200

g

caster sugar,

(scant 1 cup)

zest and juice of 1 lemon

,

(1 teaspoon zest, 3 tablespoons juice)

100

g

unsalted butter

,

(scant ½ cup)

3-4

elderflower heads

4

large eggs
To assemble
60

ml

elderflower cordial,

(¼ cup)

250

ml

double cream

,

(1 cup)

1

tablespoon

icing sugar

6

tablespoons

strawberry and elderflower curd

strawberries

,

to decorate
Instructions
For the strawberry and elderflower curd
Begin by making the curd. Place the strawberries into the bowl of a food processor and blitz until smooth. Strain into a heatproof bowl.

Add the sugar, lemon zest, juice and butter. Set over a pan of simmering water and stir occasionally until the butter has melted. Remove from the heat.

200 g caster sugar,

zest and juice of 1 lemon,

100 g unsalted butter

Shake any unwanted friends from the elderflowers and dunk the heads into the mixture. Leave to infuse for 5 minutes or so. Whilst this is infusing, lightly beat the eggs and strain to remove any lumps.

Remove the elderflowers from the strawberry mixture - you'll have to give them a good squeeze. Strain again to remove any stray flower heads. Whisk in the eggs and return the bowl to the pan of simmering water. Cook over a low heat, whisking frequently, until thickened. This took me about 20 minutes.
For the cake
Preheat oven to 160°C fan/180°C/350°F. Grease and line 2 6" cake tins (4 if you have them). Place the butter into the bowl of a stand mixer (or use a regular bowl and an electric whisk). Add the caster sugar and beat until light and fluffy. Beat in the eggs one by one, adding a spoonful of flour between each one.

225 g unsalted butter,

225 g golden caster sugar,

4 large eggs

Mix in the flour and baking powder until just combined - be careful not to overmix! Finish by mixing in the vanilla extract and milk.

225 g plain flour,

4 teaspoons baking powder,

3 tablespoons milk,

1 teaspoon vanilla extract

Divide half of the mixture between the two tins and bake for 20 minutes or until a cake tester comes out clean. Leave to cool for 5 minutes before removing the cakes from the tins and transferring to a cooling rack. Get the tins ready to bake the next two cakes. Pour in the remaining mixture and bake as above.
To assemble
As the cakes cool, prepare the cream filling. Place the double cream and the sugar into the bowl of your stand mixer (or a regular bowl). Whisk until the cream holds its shape in peaks but is still soft and yielding.

250 ml double cream,

1 tablespoon icing sugar

Once the cakes are cooled, gently prick the tops with a cake tester and drizzle with the elderflower cordial and allow it to soak in.

60 ml elderflower cordial

Place one of the cakes onto a cake stand. Spread with a couple of tablespoons of the strawberry curd but make sure you don't spread it right to the edges - it will spread more when you add the cream. Dollop on some cream and spread it out - go easy, you want the cakes to stand up straight! Repeat until you reach the top layer. Top with cream and decorate with halved strawberries and some elderflower blossoms if you're feeling fancy.

6 tablespoons strawberry and elderflower curd,

strawberries
Notes
The recipe for the cake layers is barely adapted from Primrose Bakery.
Nutrition is estimated based on all of the ingredients above - you will not be using all the curd made in the cake.
Nutrition
Calories:
637
kcal
|
Carbohydrates:
70.6
g
|
Protein:
8.9
g
|
Fat:
37.1
g
|
Saturated Fat:
21.9
g
|
Polyunsaturated Fat:
2.2
g
|
Monounsaturated Fat:
10.8
g
|
Cholesterol:
230.1
mg
|
Sodium:
70.1
mg
|
Potassium:
700.1
mg
|
Fiber:
1.6
g
|
Sugar:
43.8
g
|
Vitamin A:
356.4
IU
|
Vitamin C:
30.4
mg
|
Calcium:
30.4
mg
|
Iron:
2.6
mg
Did you make this recipe?
Leave a comment below with how you got on and don't forget to give the recipe a rating ⭐️⭐️⭐️⭐️⭐️. You can also tag @eatloveeats on Instagram - we love to see your creations!