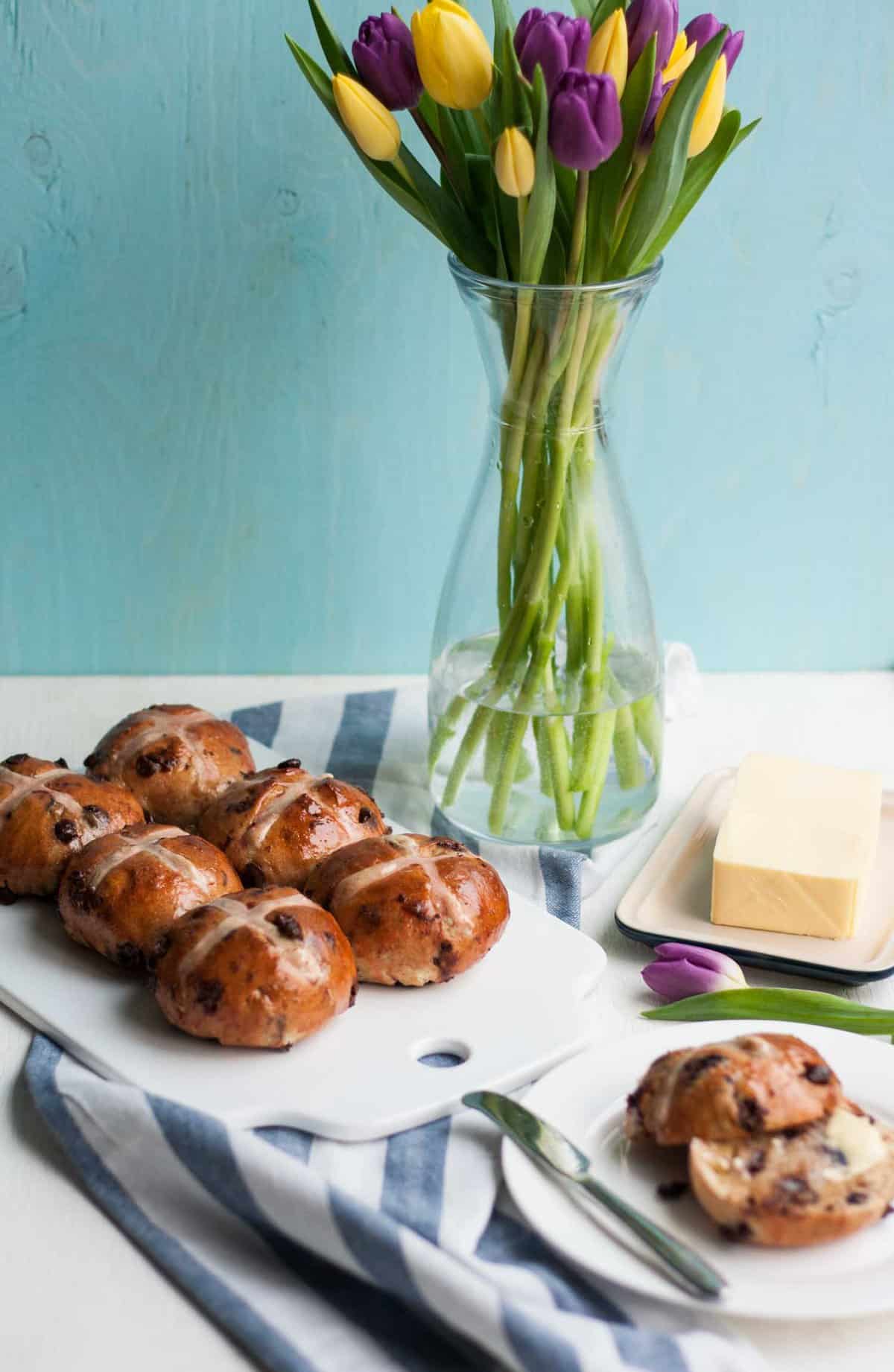 I can't believe Easter is almost upon us! I mean, seriously, where is this year going?! Not that I'm complaining, as Easter means hot cross buns and more specifically, this year, chocolate cherry hot cross buns.
My relationship with hot cross buns wasn't always a happy one. You see, I'm a strong believer that dried fruit has no real place in desserts. Ok, so there are exceptions: sticky toffee pudding - I have come to accept the presence of dates... And my mind has now gone blank, proving my point beautifully. If you dare to add dried fruit to my cookies, brownies, scones, flapjacks... well, just don't do it, ok? I don't know what it is exactly. Perhaps it's because it can temptingly look so much like chocolate chips and then you take a bite and experience a surge of disappoint as you realise that you just bit into a... RAISIN. Eurgh.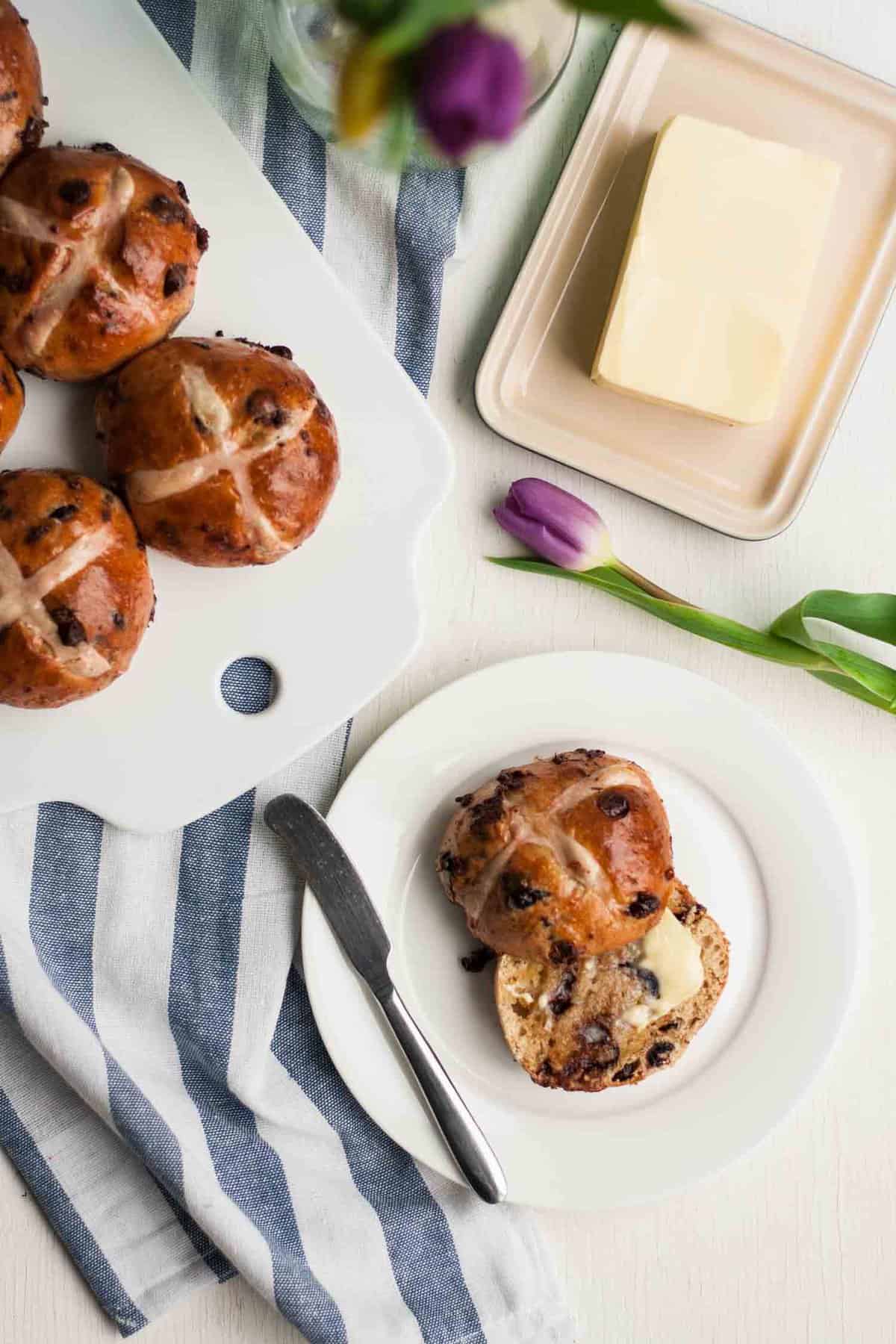 And so it is with hot cross buns. The idea of a piece of spiced bread stuffed full of raisins (and the dreaded mixed peel) was not an appealing one, for years. Until I tried a chocolate hot cross bun, still expecting to hate it because of the spice, yet finding that I not only liked it but I loved it? That was a turning point for me and it became my mission to make some awesome, raisin-free hot cross buns at home. I know that must sound very disappointing to all the traditionalists out there, but hey ho.
Lots of disappointing hot cross buns have been made and it's taken me 2+ years but oh my, I've done it. These hot cross buns are pillowy and soft and full of flavour and gooey chocolate if you eat them whilst they're warm (which is mandatory). Spread with butter of course - salted, in our house, the sweet/salty contrast is irresistible - but unsalted is fantastic too. I've finally made an amazing hot cross bun at home. I got so excited when I pulled these out of the oven!
Now, I know you're probably looking at the title of this post and thinking 'but isn't there dried fruit in this recipe?' and you would be right. Because the one, unfaltering exception to my no-fruit rule is the dried cherry. Cherries are a contender for my favourite fruit anyway, so it's no surprise that I adore them in dried form too. I think it's because they're a little bit tangy and taste amazing alongside chocolate. They more than make up for the lack of raisins and mixed peel, no?
And for somebody who used to be a spiced dessert hater, it's funny because I really went for it on the spice front. If you're going to spice your hot cross buns, you might as well do it properly! The aromatic depth of these buns comes from infusing the milk as well as adding ground spices to the flour - a small extra step but oh so worth it!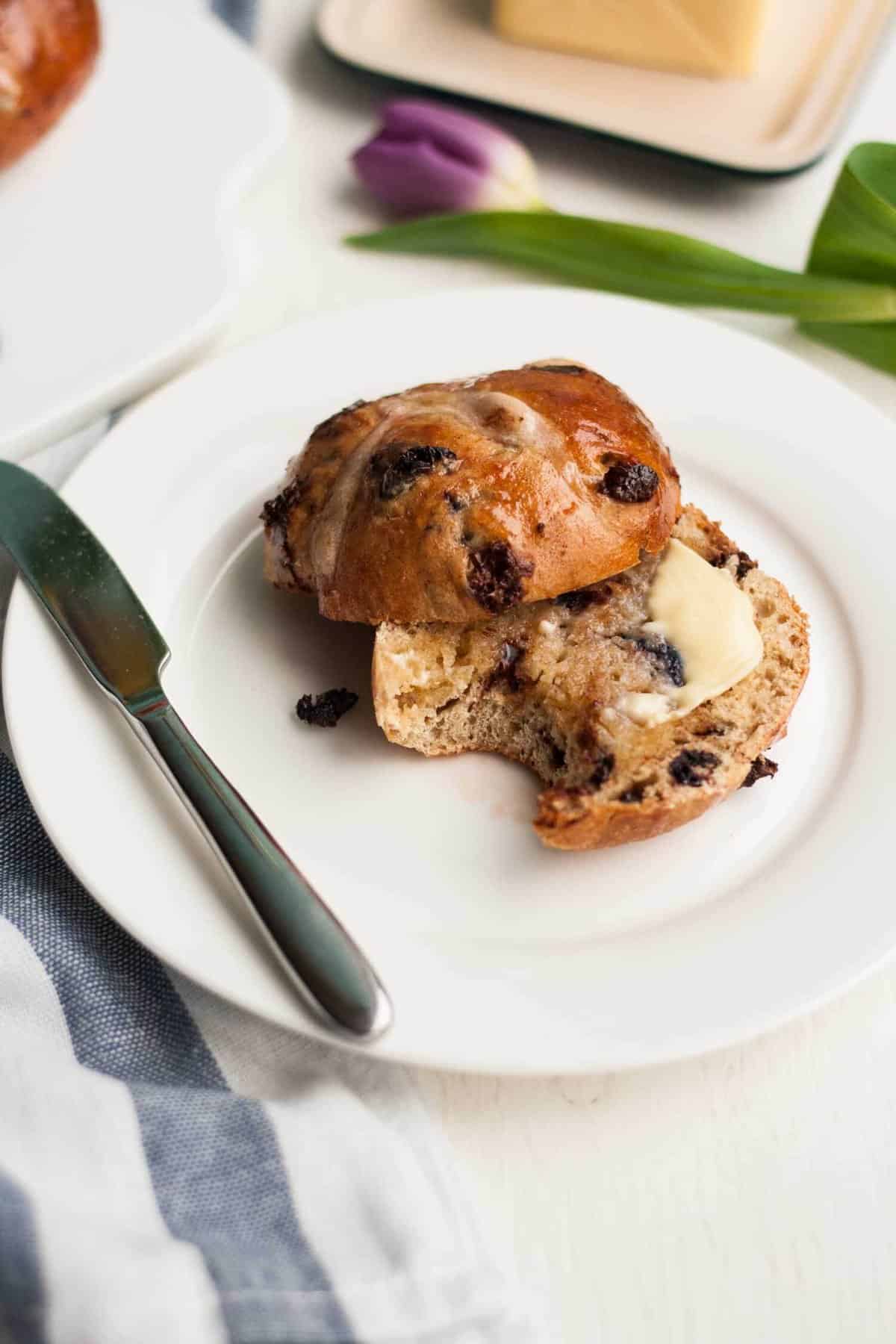 Oh and I know I said that I'd finished with the blood oranges, but as they were still around I managed to sneak them in again here. I'm so not sorry - the sweet pink juice gives a rosy glaze to the buns which I adore. And which tastes amazing, of course. These are just the best hot cross buns ever so give them a try this Easter!