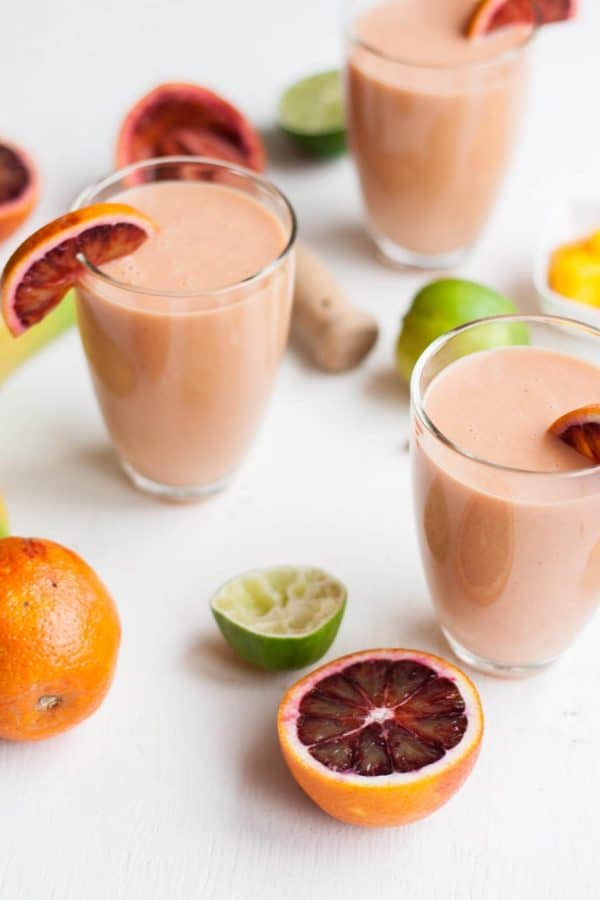 How about one more blood orange recipe? I can't help myself. Blood oranges are just SO good and they're not around for that long so I have to make the most of them! That said, I am seriously looking forward to the arrival of some beautiful spring produce (I can't believe we're already in March!) So today I have a simple blood orange and mango smoothie recipe for you - my final ode to blood oranges, I promise! Well, for this year anyway...
I finally managed to get my hands on some really deep red blood oranges, after a season of bag after bag of regular-orange-looking blood oranges. Purely an aesthetic issue, I must say - the orange ones are just as intensely flavoured as the ruby red ones, perhaps even more so. But I did get pretty excited when my smoothie turned out coral-pink. It's the little things, isn't it?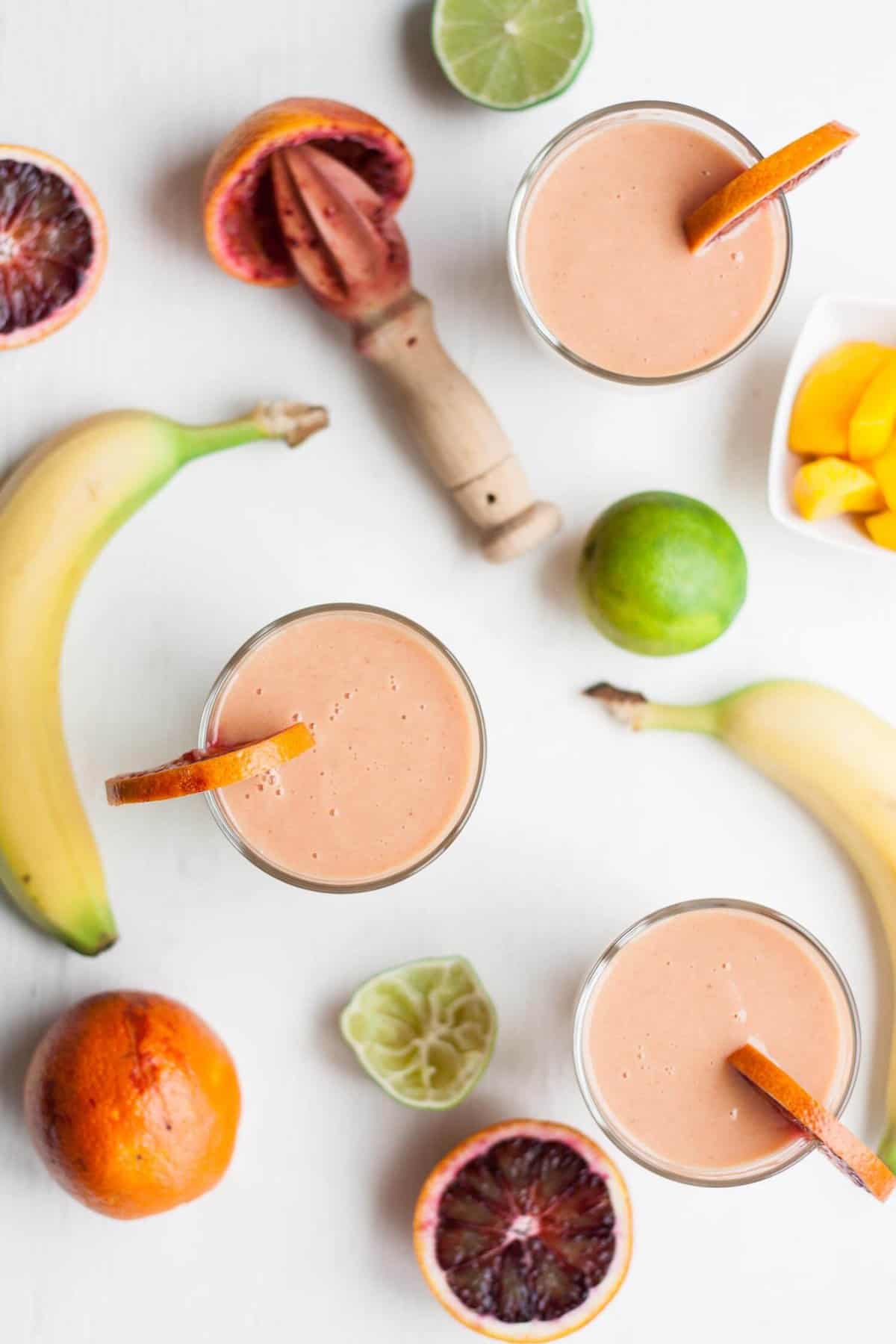 I've grown pretty fond of starting my day with a smoothie, especially when I have to leave the house early in the morning. I find it so satisfying to throw a few ingredients into a blender, pour it into a bottle and go, creating a breakfast that I can savour and enjoy, even at 6.30am. Trust me, I'm a monster if I don't get my breakfast, even at such an early hour.
Speaking of which, it's getting so light in the mornings and evenings now! Generally, the dark mornings and evenings of winter don't really bother me, not like they used to, anyway. Nowadays, I find that I'm a bit (a lot) less than enthusiastic about getting up in the mornings - but as for going to and from work in the dark? That doesn't really bother me. However. As the light returns, I remember how wonderful it is to be woken up by the sun instead of a hideous alarm and I can barely contain my excitement! What with all of those extra hours of beautiful daylight, I'm going to have a field day with my camera!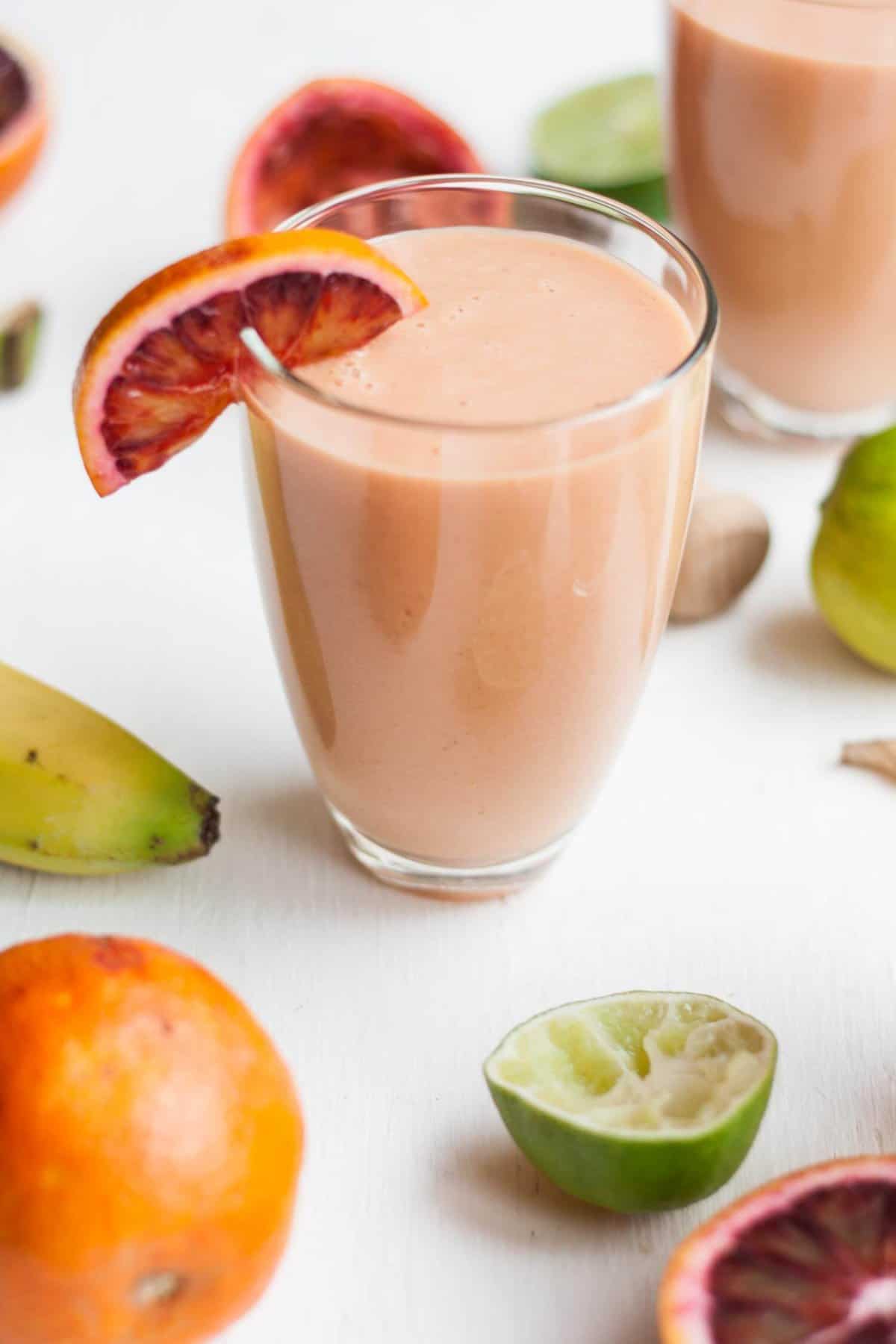 Now, I'm not suggesting that this is a smoothie to work into your weekday rotation - I'd stick to the green smoothies for that. No, this blood orange and mango smoothie is more of a weekend option, the perfect drink to serve alongside your Saturday brunch offering. It's sweet and creamy and tastes like summer, with a little bit of essential tartness from a squeeze of lime. Don't know about you, but as I've said before, I am not a dessert-for-breakfast kind of a girl! You can leave the lime out though, if you prefer and unfiltered apple cider vinegar is a good alternative if you don't have any limes on hand.
More Smoothies
Ingredients
2

blood oranges

,

peeled and chopped

1

banana

,

peeled and chopped

½

cup

mango chunks

,

(75 g)

4

tablespoons

natural or Greek yoghurt

a squeeze of lime juice

,

to taste

¼

cup

water

,

(60 ml)
Instructions
Place all of the ingredients in a blender and blitz until smooth. Enjoy!

2 blood oranges,

1 banana,

½ cup mango chunks,

4 tablespoons natural or Greek yoghurt,

a squeeze of lime juice,

¼ cup water
Notes
Make sure to remove the pith from the blood orange otherwise it'll add bitterness.
Nutrition
Calories:
175
kcal
|
Carbohydrates:
36.9
g
|
Protein:
5.4
g
|
Fat:
2.3
g
|
Saturated Fat:
1
g
|
Polyunsaturated Fat:
0.3
g
|
Monounsaturated Fat:
0.9
g
|
Cholesterol:
4.6
mg
|
Sodium:
14.8
mg
|
Potassium:
573.5
mg
|
Fiber:
5.4
g
|
Sugar:
26.6
g
|
Vitamin A:
39.3
IU
|
Vitamin C:
91.3
mg
|
Calcium:
97.1
mg
|
Iron:
0.4
mg
Did you make this recipe?
Leave a comment below with how you got on and don't forget to give the recipe a rating ⭐️⭐️⭐️⭐️⭐️. You can also tag @eatloveeats on Instagram - we love to see your creations!