Who doesn't love a good cookie from time to time? Sometimes, they're just plain necessary. My favourite type is the good old chocolate chip cookie - and the chips have got to be dark! (or a mixture of dark and white) But I do really enjoy a plain oat cookie from time to time as well, especially when time is of the essence! Here's a simple recipe for White Chocolate and Macadamia Oatmeal Cookies for when you fancy something a little bit different.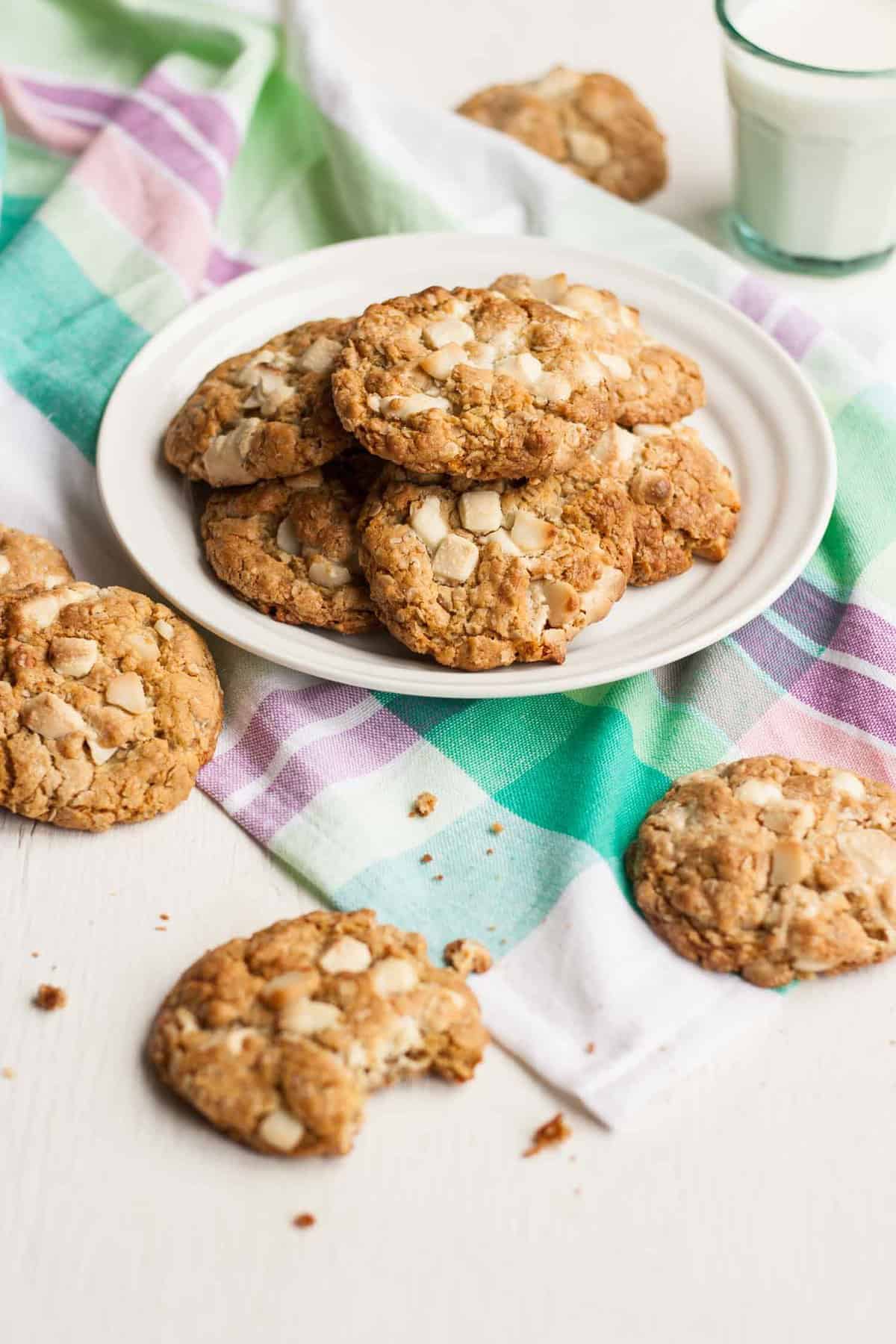 Confession: I have never once in my life eaten a cookie with a glass of milk - never ever. A cup of tea yes, but never milk. So the glass of milk you see in the photo? All for show. Are you giving me the side eye right now? Eep, I'm sorry! Despite this gaping character flaw, I do know what a good cookie tastes like! Honest!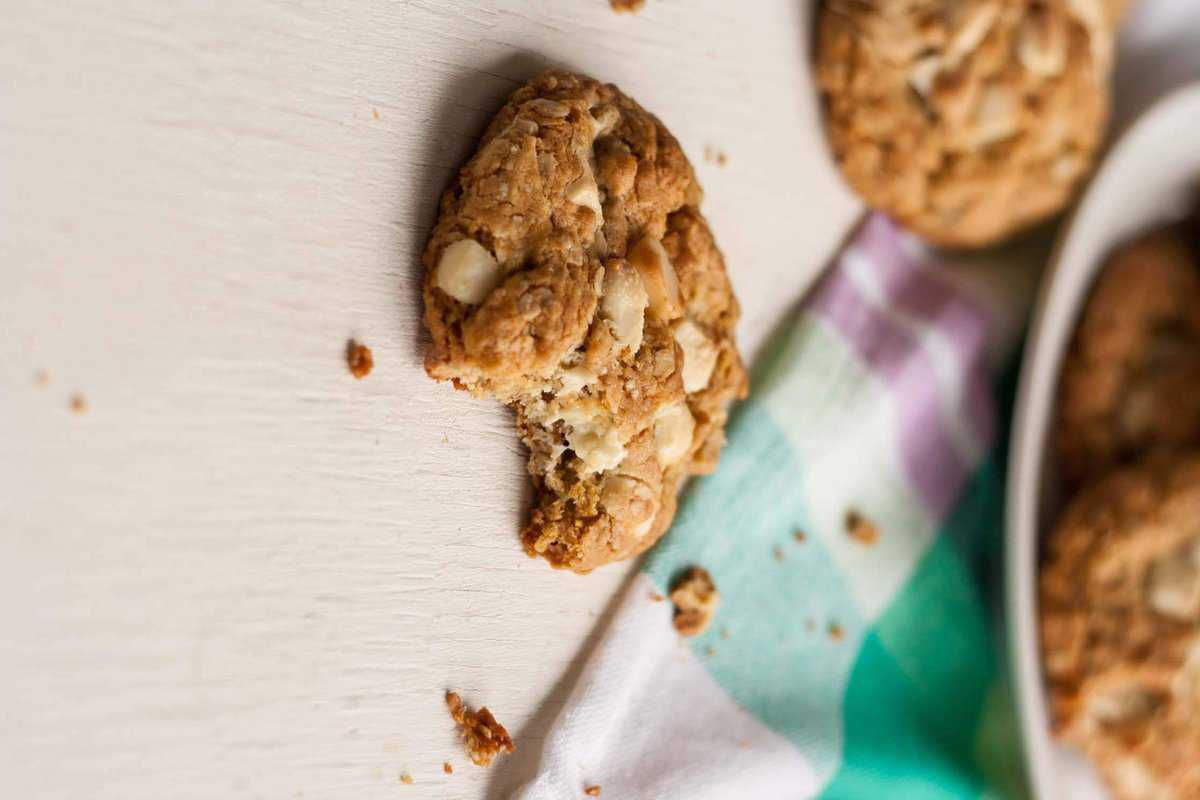 Just a quick aside - Are you guys using Yummly yet? If you don't know what it is, here's a quick overview! Simply put, it's a super powerful recipe organisation website. If you find a delicious recipe anywhere on the web, you can save it in Yummly in your own personal 'recipe box'. From there, you can categorise your recipes (cookie recipes, perhaps?), view similar recipes, view nutritional content and make a shopping list so that you can easily get all the ingredients ready! You can easily 'Yum' recipes from any website by installing the Yummly bookmarklet right in your browser. Or you can click the orange 'Yum' button that you see at the top and bottom and to the right of every post here on Eat Love Eat. Give it a go! Anything that makes life simpler has got to be a good thing! And check out my publisher page to find all of my recipes in one place! Now...back to cookies!
These aren't a healthy cookie, they're just a cookie for cookie's sake. Sometimes you just need a butter-and-sugar-laden chocolatey cookie. Ok, so perhaps 'need' isn't quite the word, but I'm definitely a believer in an occasional indulgence. There's a time and a place for a 'healthified' dessert and there's a time and a place for a White Chocolate and Macadamia Oatmeal Cookie. This week, it's the latter. Oh yes, it has been one of THOSE weeks. You know what I'm talking about, right? Those weeks where your brain feels like it has given up working completely and you keep beating yourself up for your lack of productivity? Yep, that's been me this week. Hence no Wednesday recipe post! Which is ok. And to be honest, I'm still there. And it's ok. It's ok to just have an off week and eat a cookie. Who am I kidding, I've eaten at least seven. Today. Oops!
I know I can't be alone in this BMDS (brain-malfunction-demotivation-syndrome). I'm interested to know how you guys deal with it? Let me know below! I hope to share more about how I deal with this kinda stuff in the future. (Don't worry, it's not "curl up on the sofa stuffing face with cookies.")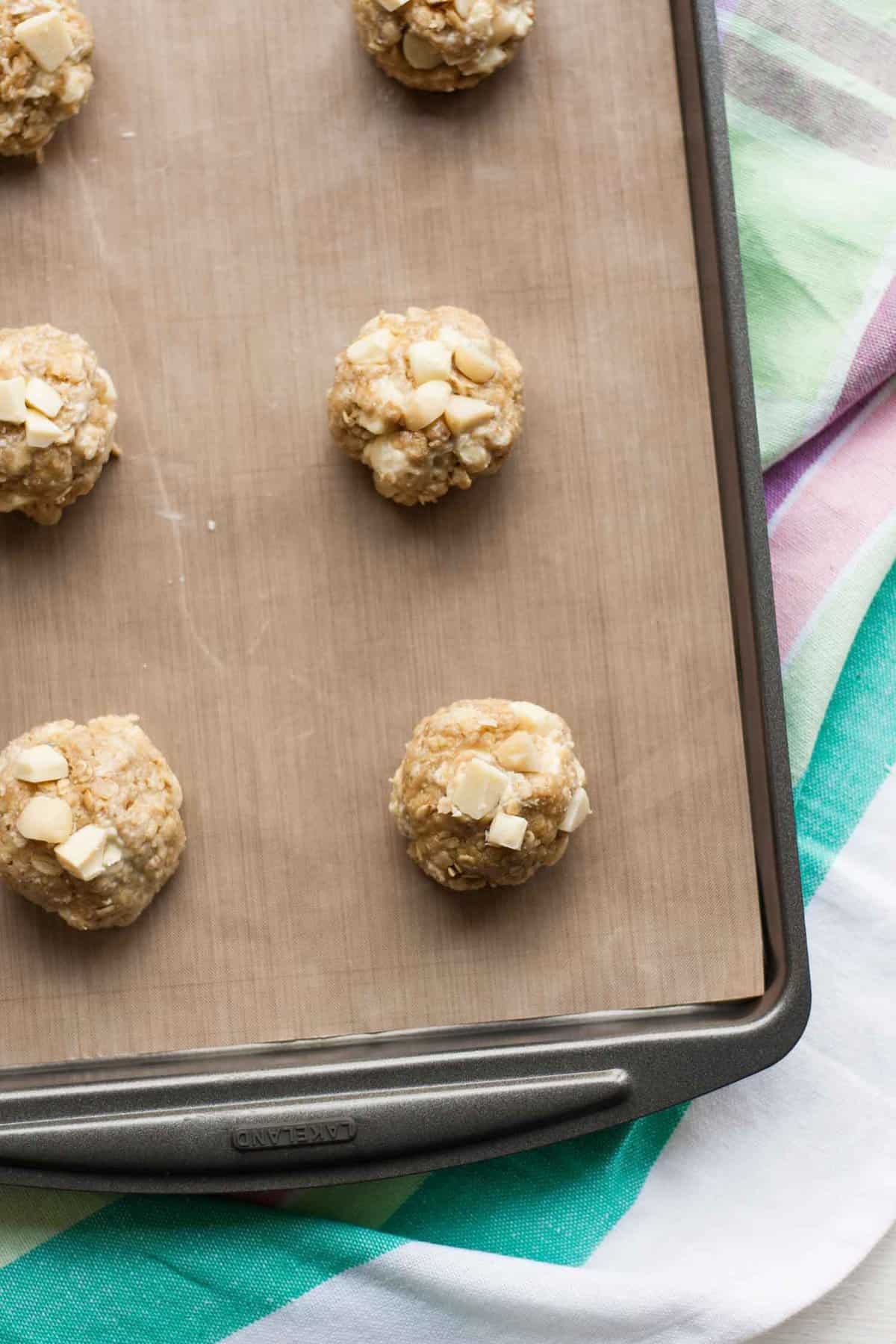 These cookies are sweet but not too sweet (says me, lover of all things dark chocolate) and they're chewy and crunchy and a little bit caramel-y from the golden caster sugar. I would imagine that you could substitute some, if not all, of the caster sugar with soft light brown sugar if you wanted them to be a little bit more caramel-y and chewy. I haven't tested this theory though, so experiment at your own risk. Trust me, even the most seemingly simple baking recipe can go utterly wrong with just the smallest of tweaks. Happily though, these mishaps quite often result in unexpected victories (stay tuned!)
Have a wonderful, ideally cookie-filled, weekend! Why not check out these Easy Chewy Pumpkin Chocolate Chip Cookies too!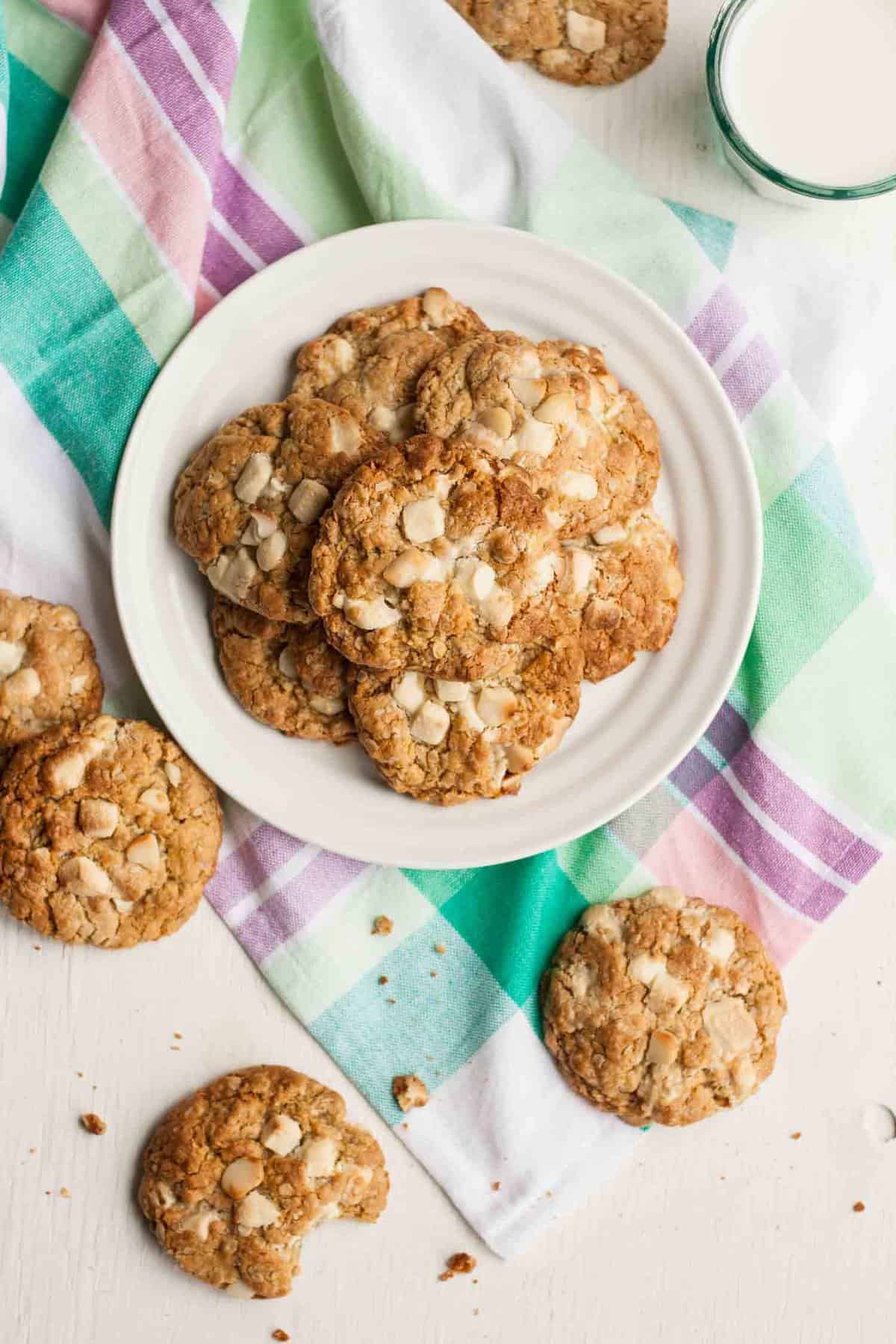 If you make these cookies, snap a photo and tag it with the hashtag #eatloveeats on instagram so that I can see!
Disclaimer: This post contains affiliate links which simply means that if you click on them and make a purchase I make a small commission, allowing me to keep growing my blog and posting awesome, tasty recipes!