This post contains affiliate links from which we could earn a small commission. Please read our Privacy Policy for more information.
These white chocolate gingerbread swirl cookies are super cute with their two-tone cookie dough and are very quick and easy to make. Get your chewy cookie fix right here with these festive swirl cookies packed with white chocolate chips and spiced molasses flavour.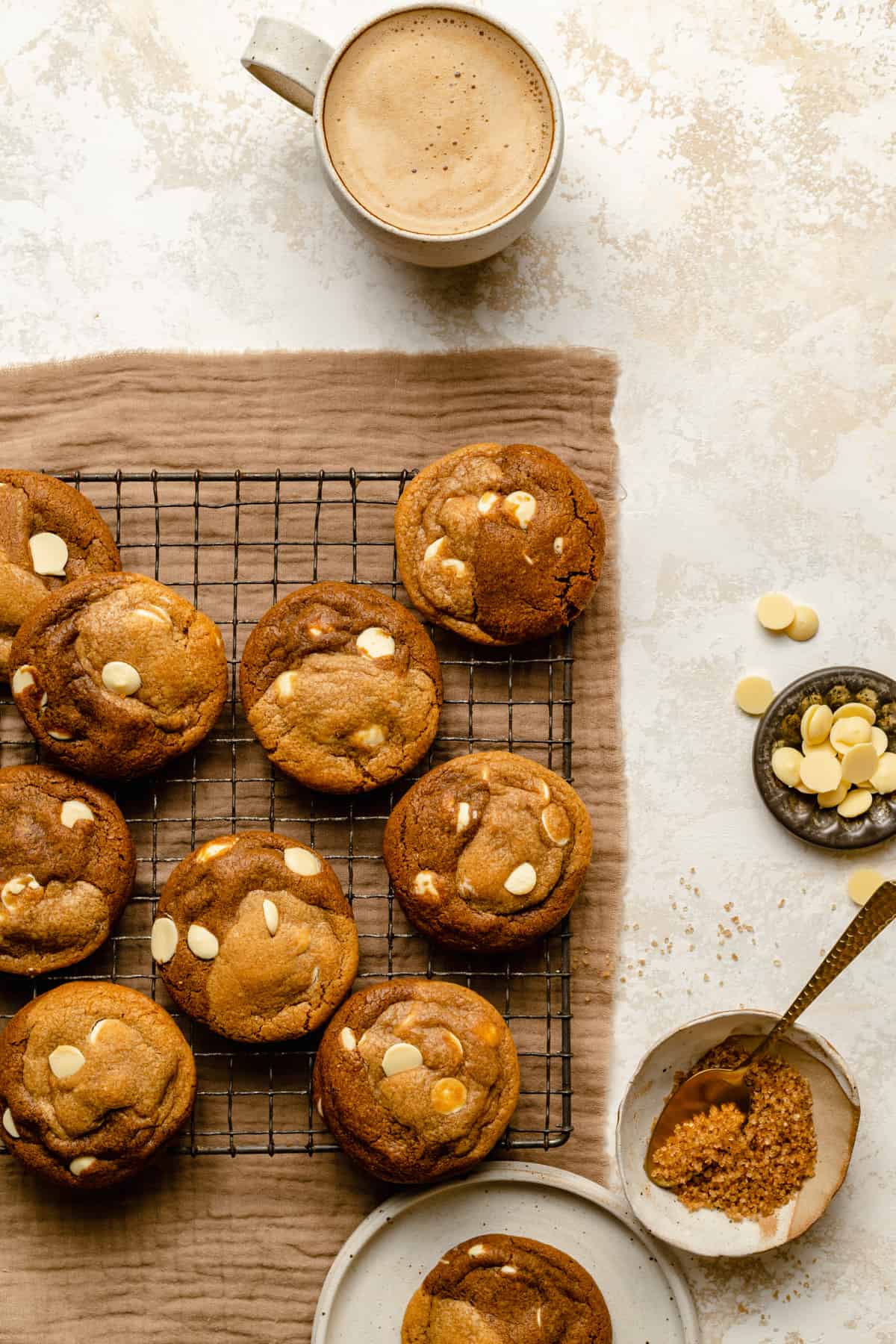 Gingerbread has a special place in my heart at this time of year but not those crispy crunchy gingerbread men cookies. I mean just like these chocolate lebkuchen cookies or Sally's gingerbread fudge! These cookies are actually inspired by that fudge; the swirl and the flavours of these chewy white chocolate gingerbread swirl cookies is exactly like the fudge, but in incredible cookie form!
If you've been following on for any time at all, you'll know we're serious about chewy cookies in our house and these definitely hit the mark. You'll be moulding together two doughs, but don't freak, it's the same dough, just split, making these really simple to throw together. As you bite through these cookies you'll get lovely pools of molten white chocolate which just completes the gingerbread swirl cookie experience. I'm so happy with these cookies and I know you'll love these in the run up to Christmas (or any time of the year!).
Use the links below to get to where you need on this page. I love hearing from you so please leave a comment with how you got on and how much you love these amazing white chocolate gingerbread swirl cookies. Also don't forget to rate the recipe!
Jump to: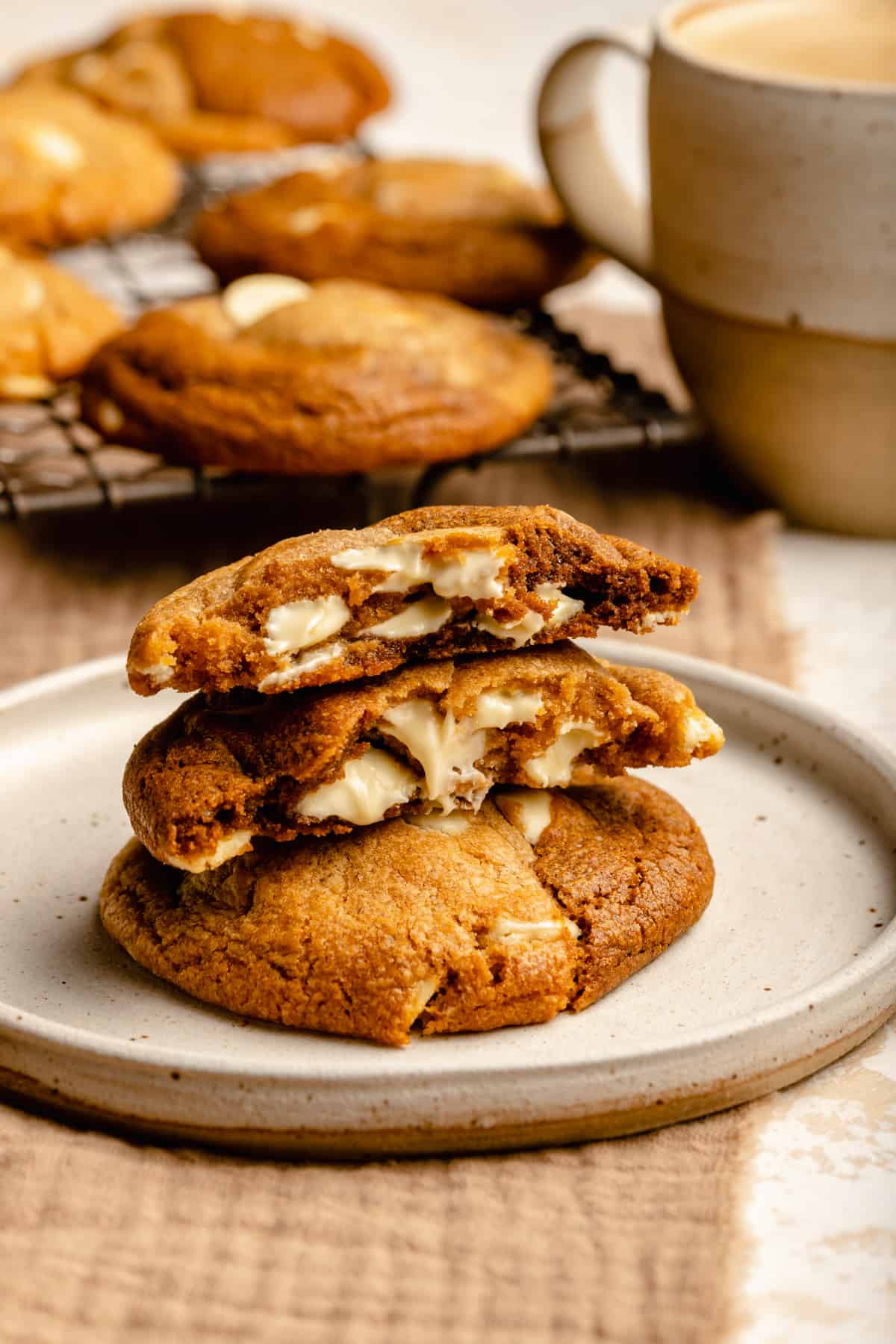 What makes these the best?
These are the reasons you need these white chocolate gingerbread swirl cookies in your life and why they're awesome!
Soft & chewy - Chewy cookies are the ULTIMATE treat, the chef's kiss of all types of cookies and here you get a lovely thick soft gingerbread cookie marbled together with molten white chocolate buttons. What's not to love?!
Easy - These are very straightforward to make, you make one batter and split it to make the gingerbread side. Not two separate recipes!
Kid friendly - The kids will love playing with these and moulding them together to form different swirls. Get everyone involved! It's a special time of year. 
Brown butter - these gingerbread swirl cookies have an underlying nutty flavour that comes from brown butter, making them completely addictive!
White chocolate - you literally cannot go wrong with white chocolate in these cookies. I love using white chocolate buttons which make the most perfect pools of chocolate within the cookie. 
Ingredients
These white chocolate gingerbread swirl cookies have very simple ingredients that are readily available (or use the links below). This is what you'll need: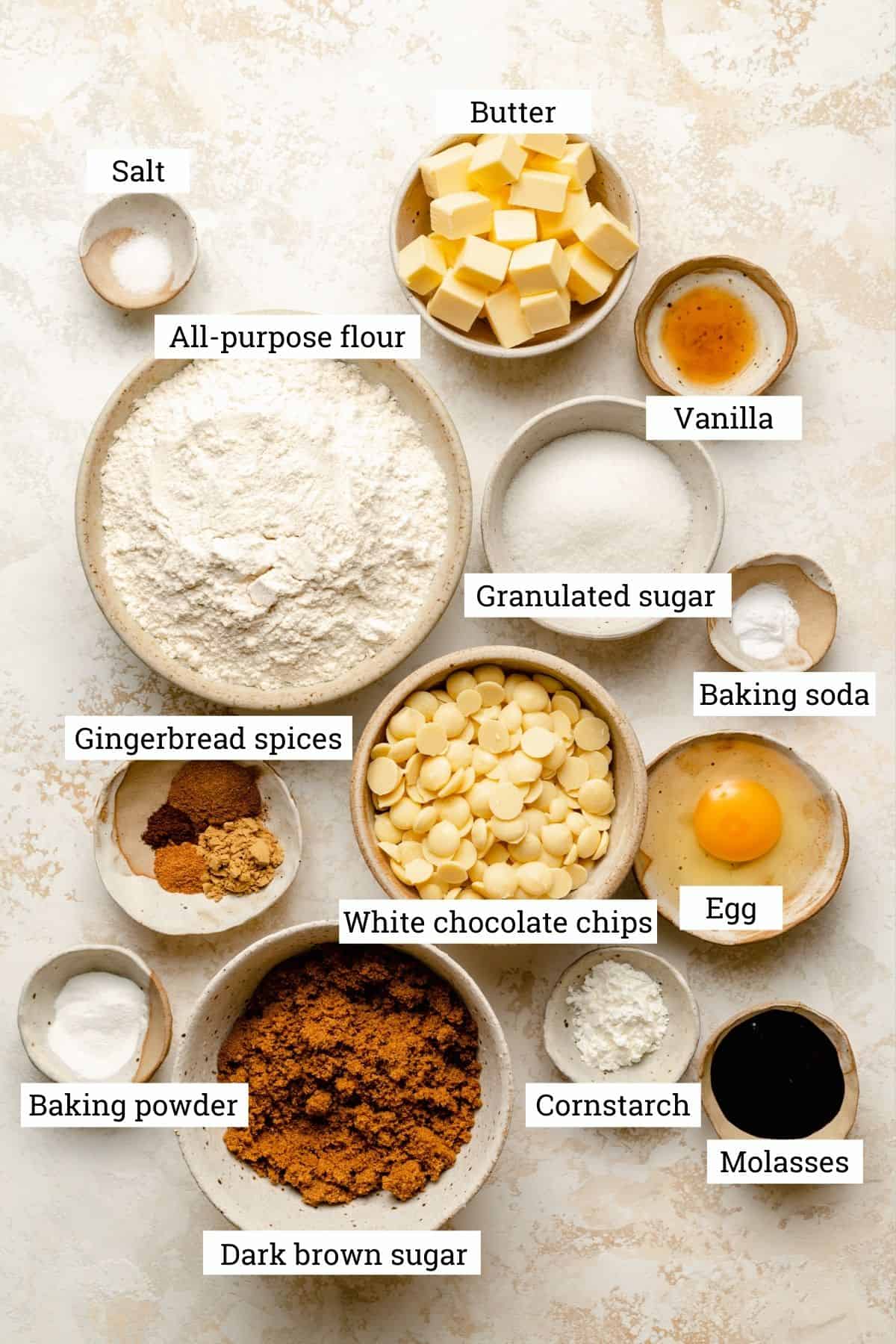 Butter - I find all butter cookies are the most flavoursome so you'll need unsalted butter for these cookies.
Dry ingredients - You'll need standard store cupboard staples such as all purpose (plain) flour, cornstarch (corn flour), baking powder, baking soda and fine sea salt.
Sugar - you'll be using dark brown sugar and granulated sugar. They have different flavours but also they act on the structure of the cookie.
Egg - you'll need an egg, this provides moisture and protein. The moisture aids binding with the starch and proteins in the flour. The protein helps create a chewy cookie.
Extract - you'll need vanilla extract which rounds out the gingerbread flavour nicely in these cookies.
Chocolate - the best way to get chocolate pools is to use these white chocolate buttons or if not just use white chocolate chips or a chopped up white chocolate bar.
Gingerbread add-ins - you'll be adding in molasses and the following spices to create the gingerbread side of the cookies: ground ginger, ground cinnamon, ground nutmeg and ground cloves. You'll also add in a little extra flour to compensate for the extra liquid from the molasses.
Customisations
Here are some recommendations if you wish to customise your cookies:
Spices - I believe this blend is spot on with a lovely headnote of ginger and the other warming spices complimenting nicely. If you have a favourite blend of gingerbread spices that you prefer you can switch it up to your taste. 
Sandwich cookies - you can just bake the cookie dough separately rather than moulded together. You'll just need a 2 tablespoon scoop (medium) for each side and sandwich them together with your favourite spread or buttercream. Or stick to a 1 tablespoon (small) cookie scoop for mini sandwich cookies!
How to make them
These cookies are straightforward to make. Follow these steps to make them: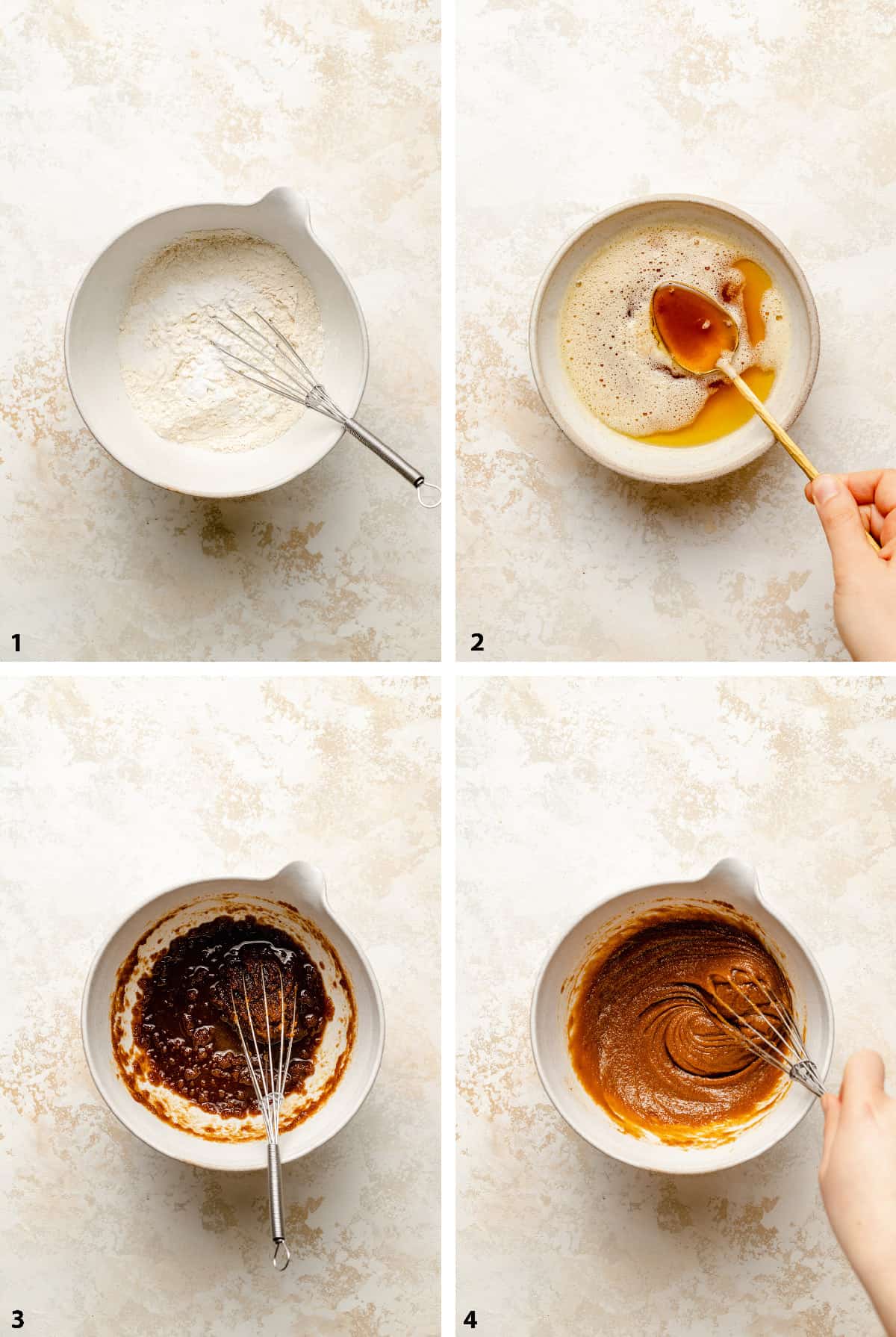 In a medium mixing bowl, combine the all-purpose (plain) flour, cornstarch (cornflour), baking powder, baking soda (bicarbonate of soda) and fine sea salt. Stir together using a whisk, to ensure all the ingredients are evenly distributed.
Brown your butter by constantly whisking the butter in a pan over medium heat until it foams and turns brown, set aside to let cool slightly.
In the bowl of a stand mixer, combine the brown sugars and granulated sugar with the slightly cooled (but still warm) brown butter. Mix on medium speed, just until well combined. (Alternatively use a large mixing bowl and an electric hand mixer).
Add the egg and vanilla to the butter and sugar mixture and continue to mix on medium speed until well combined into a thick caramel mixture.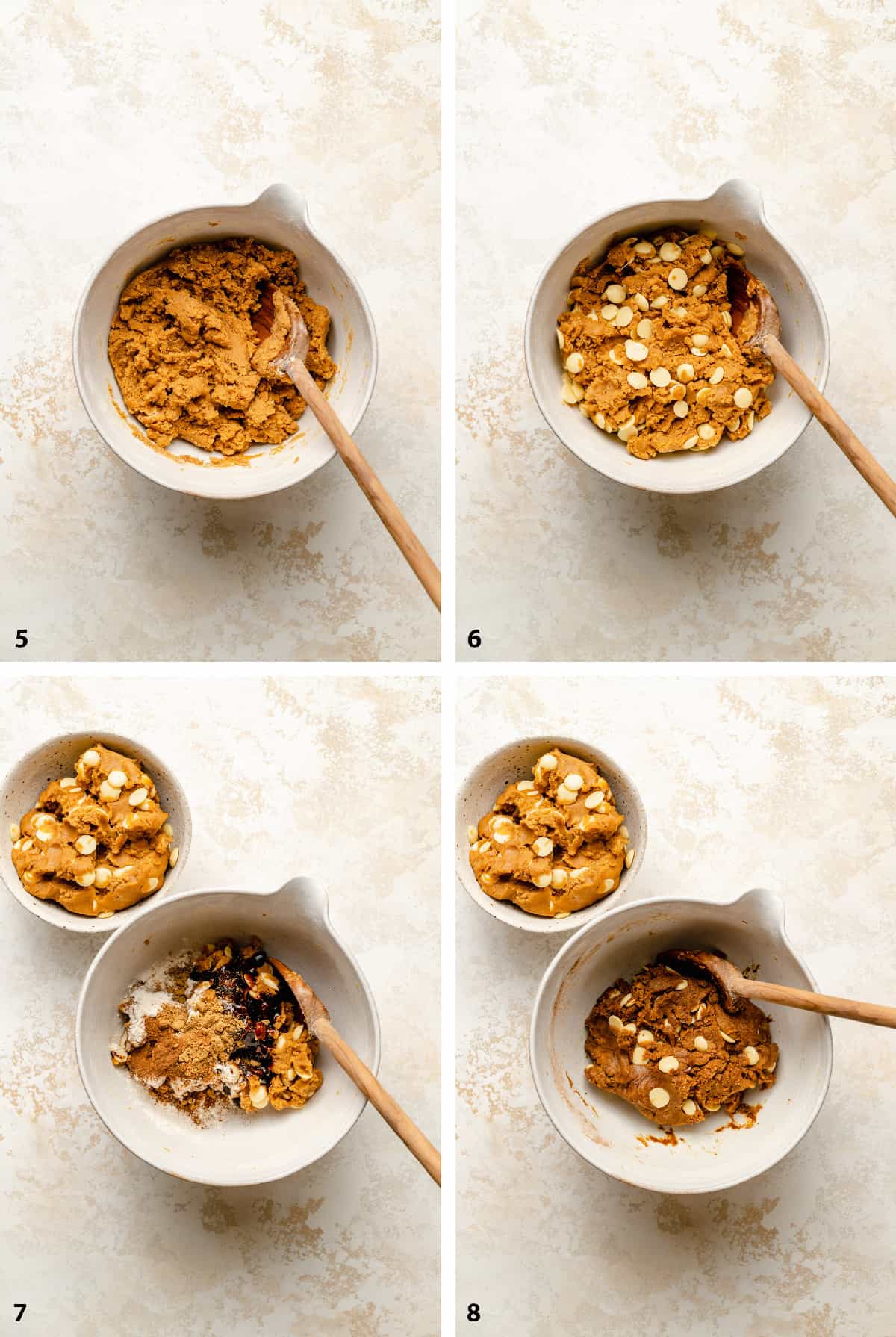 Stir the flour mixture and mix on low speed until no streaks of flour remain.
Add the chocolate chips to the cookie dough. Mix on low speed until evenly distributed throughout the dough.
Divide the dough in half, keeping one half of the dough to one side in a medium mixing bowl. To one half of the dough, add the molasses and the ground spices.
Stir in the gingerbread add-ins well until fully combined to make a nice supple cookie dough.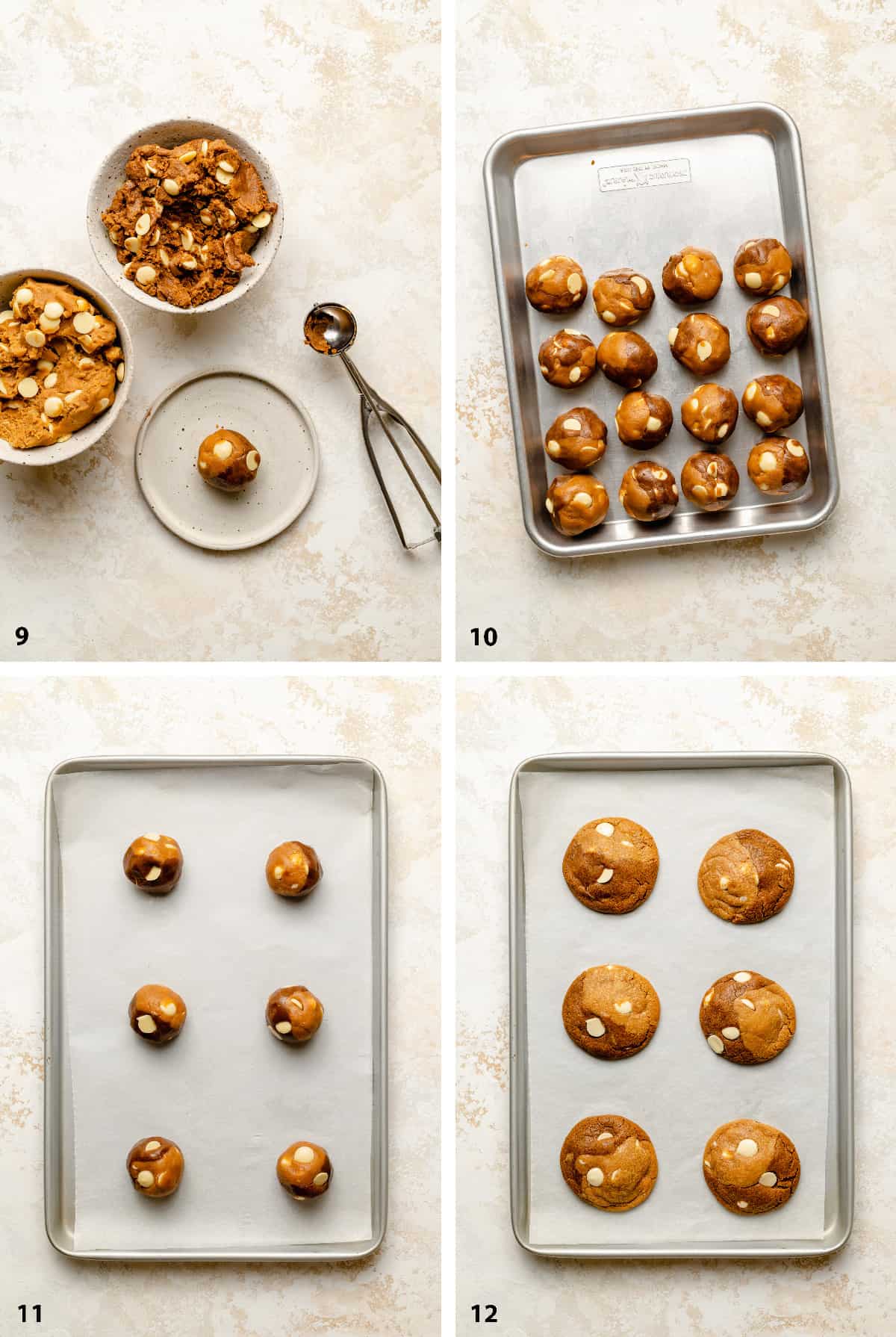 Use a small cookie scoop to scoop the dough into approximately 1 tablespoon-sized balls of each half of the mixture. Press them together and swirl them slightly if you can. 
Roll into balls and place on the prepared baking tray. You can freeze them like this if you want to store them longer term.
Place 6-8 cookie dough balls on a lined baking sheet.
Bake in the preheated oven for 8-10 minutes (mine are perfect after 9 minutes in a fan-assisted/convection oven) until lightly golden at the edges. They should still feel soft and underbaked in the centre – that's what you want! They'll continue to bake as they cool. 
Recipe tips
Here are some tips that will help you out.
Accuracy - I will always provide cup measurements for baking recipes, but categorically this is the most inaccurate measurement you can use in baking. Sure, it's helpful for ratios, but everyone will spoon, level, scoop and measure their flour differently. For consistent results every time I highly recommend investing in a set of digital scales which will be the most accurate way for baking. Baking is a science after all and accuracy is needed. 
Splitting the dough - I highly recommend splitting the dough slightly unevenly, the non-gingerbread side being about 20-25g more in weight than the side you will be mixing in the extra add-ins into. This is so you won't have a leftover little bit of the gingerbread side as the add-ins make up the difference.  
Molasses - this recipe calls for the addition of molasses to make the gingerbread half of the dough. In doing this, we add more moisture to the dough and it will spread further so don't forget to add in the 2 tablespoons of extra all-purpose flour to counteract this. You can just use blackstrap or treacle, but these can be more bitter than standard molasses.
Brown butter - using the brown butter when it is still really hot will make the sugar/brown butter mix split. This is no issue as it comes back together later when adding in the eggs. I do however recommend letting it cool for 10-15 minutes before adding in to the sugar. When whipping cooler brown butter with the sugar the mix actually blends together and combines fully before even adding any eggs in. It also means you can add your egg in to the mix and it won't curdle or cook as it might if the butter is still too hot.
Freeze - These cookies freeze well. Either freeze the cookie dough balls before baking on a baking sheet then place them in a freezer bag that you can dip into whenever you want one. You can also freeze them post baking and store them for up to 3 months in the freezer. I recommend letting the frozen cookie dough defrost for a little bit at room temperature before baking, otherwise the cookies won't spread as much (but will still be delicious!)
FAQs
How to store them?

These cookies store well for 2-3 days in an airtight container at room temperature. I recommend, though, just baking what you need at the time and freezing the remaining cookie dough for when you want a fresh warm cookie.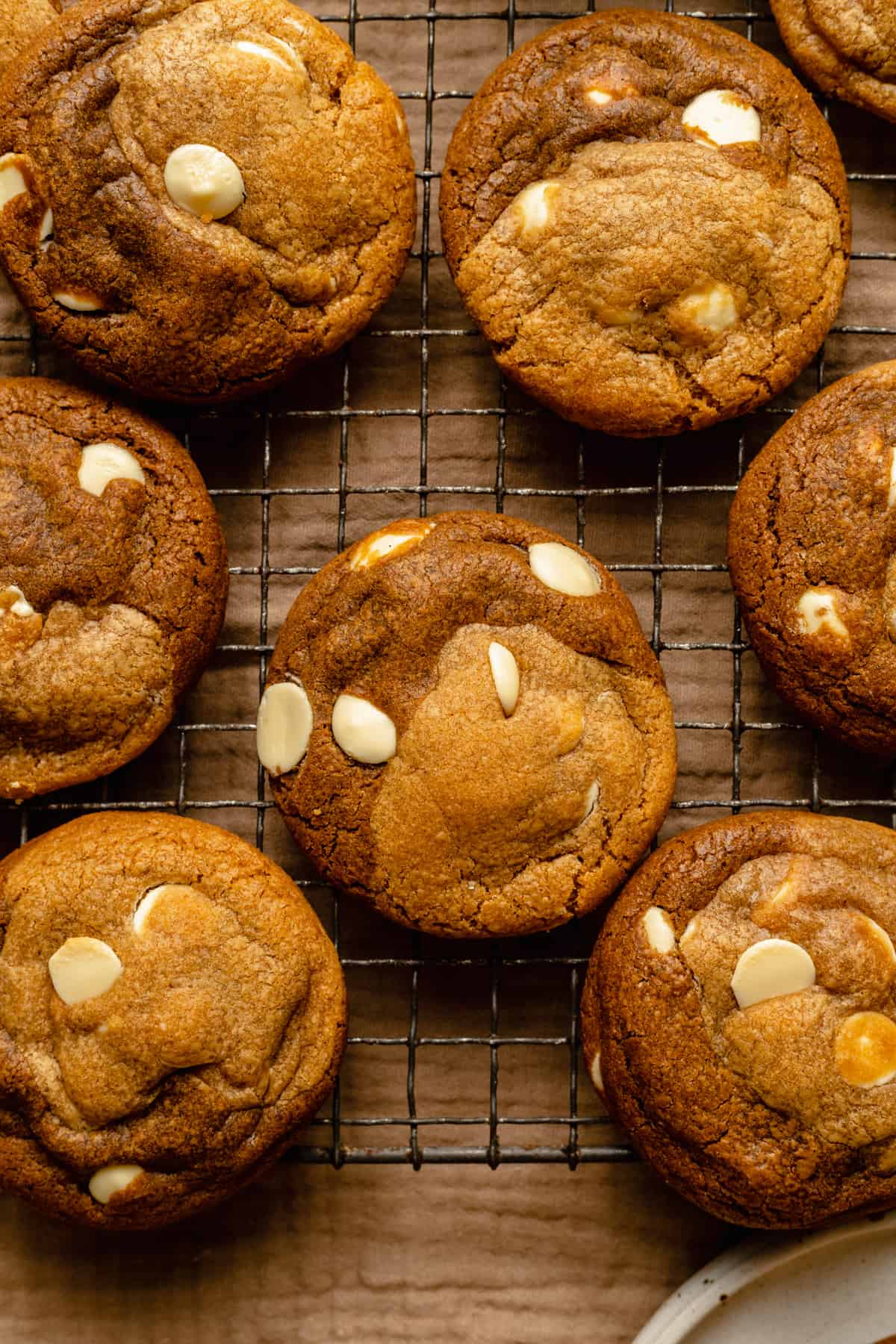 More cookies to enjoy!
I hope you love these white chocolate gingerbread swirl cookies as much as we do. If you make them, be sure to leave a comment, rate the recipe and tag me on Instagram! I love to see your creations!