This the BEST and only rocky road recipe you'll need, it's absolutely perfect for Christmas. Loaded with dark and white chocolate, ginger nuts, mini marshmallows and a few festive add-ins, these make the perfect edible gift for the festive period!
This Christmas Road Road recipe has been brought back to life from the archives for you to enjoy again. The post has had a refresh of photography, details in the recipe and now includes step-by-step process photos. It was originally posted on Eat Love Eat on 23rd December 2019. I've left one of the old photos at the bottom of the post to show the difference.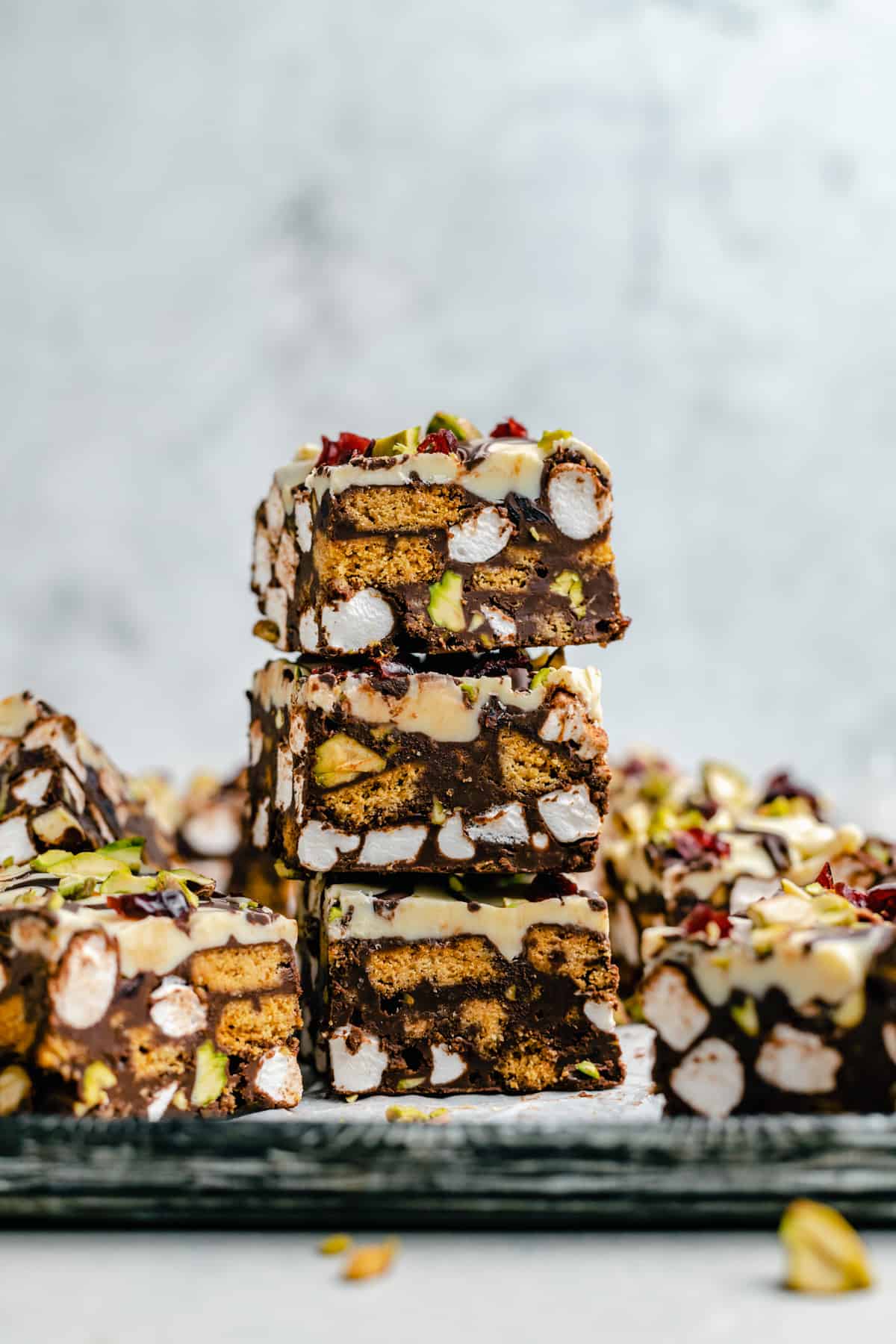 One of the best parts of Christmas for me is making homemade treats. You'll find me baking up a storm with all the cookies and best tasty snacks I can think of in the lead up to Christmas and this Christmas Rocky Road is definitely one of the best. My personal favourites are to make fudge (Sally's gingerbread swirl fudge is insanely good!) chocolate dipped Lebkuchen or my white chocolate nutmeg truffles.
If you thought rocky road couldn't be improved upon, think again! This is so quick and easy to make, you'll be enjoying the perfect sweet treat this Christmas before you know it. Just imagine the festive flavours of chocolate orange, dotted with ginger nut biscuits, pistachios, cranberries and marshmallows. The orange zest really does make it so festive!
My friends and family all rave about this rocky road recipe. I know you'll love it too especially this Christmas, be sure to leave a comment and a rating below when you make it!
Jump to: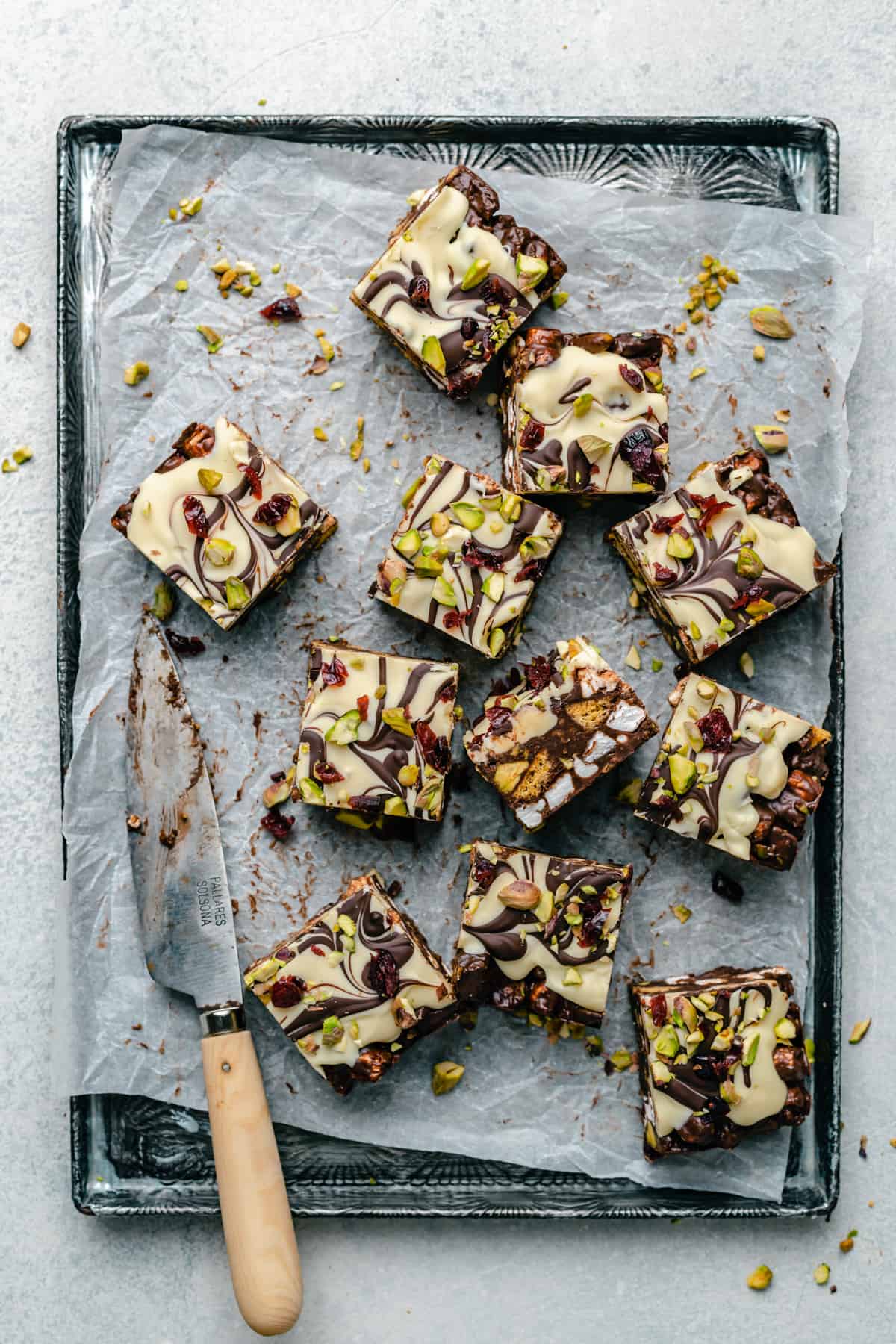 What makes these the best?
It's often been disputed where rocky road came from and from a bit of research... Australia seems to be where it dates back furthest in records. Us Brits have a version of it called tiffin, but the marshmallows were introduced by the Australians and Americans. Well, whoever lays claim to it, this is my version and I think it is the best (based on others' feedback too). These are some of the reasons I think my recipe is the best!
Easy - it's so quick and easy to whip together and such simple ingredients. (Check out the variations in the post below!)
Kid friendly - Want to keep your kids occupied? This recipe is great for getting the kids involved.
Dark and white chocolate - The best of both worlds, you know dark chocolate is good for you right? Well, you definitely need to balance that out with a good helping of white chocolate! Ha!
Chocolate orange - I mean, what two flavour combinations are more perfect than this?
Edible gift - These store well, so make the perfect edible gift to share with your loved ones.
Ingredients
You only need simple and easily accessible ingredients for this rocky road recipe, here's what you'll need: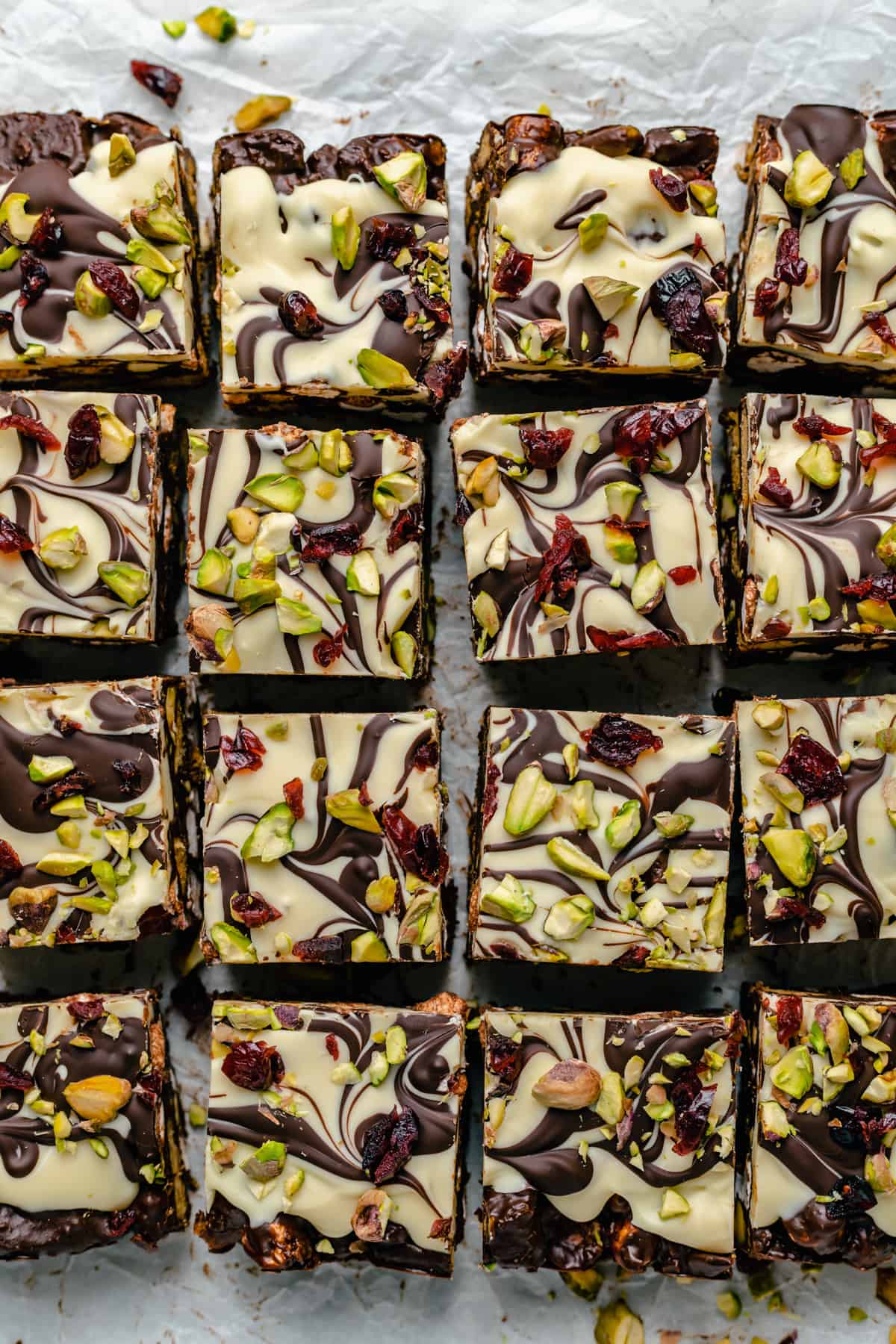 Chocolate - I recommend using a good quality dark chocolate (60-70%) this way you'll get a nice smooth flavour. You'll also need white chocolate to top the no bake slices.
Butter - you'll need some salted butter; the salt will enhance the flavour of these. You could use unsalted butter but chocolate definitely benefits from being seasoned.
Golden syrup - Golden syrup along with the butter makes the chocolate fudgy rather than setting rock hard, you could substitute for corn syrup or honey.
Mix-ins - You'll need mini marshmallows, dried cranberries, ginger nuts/snaps and pistachios for a bit of crunch and don't forget the orange zest!
Customisations
This Christmas rocky road recipe totally lends itself to adaptations and here are some of the best recommendations just for you!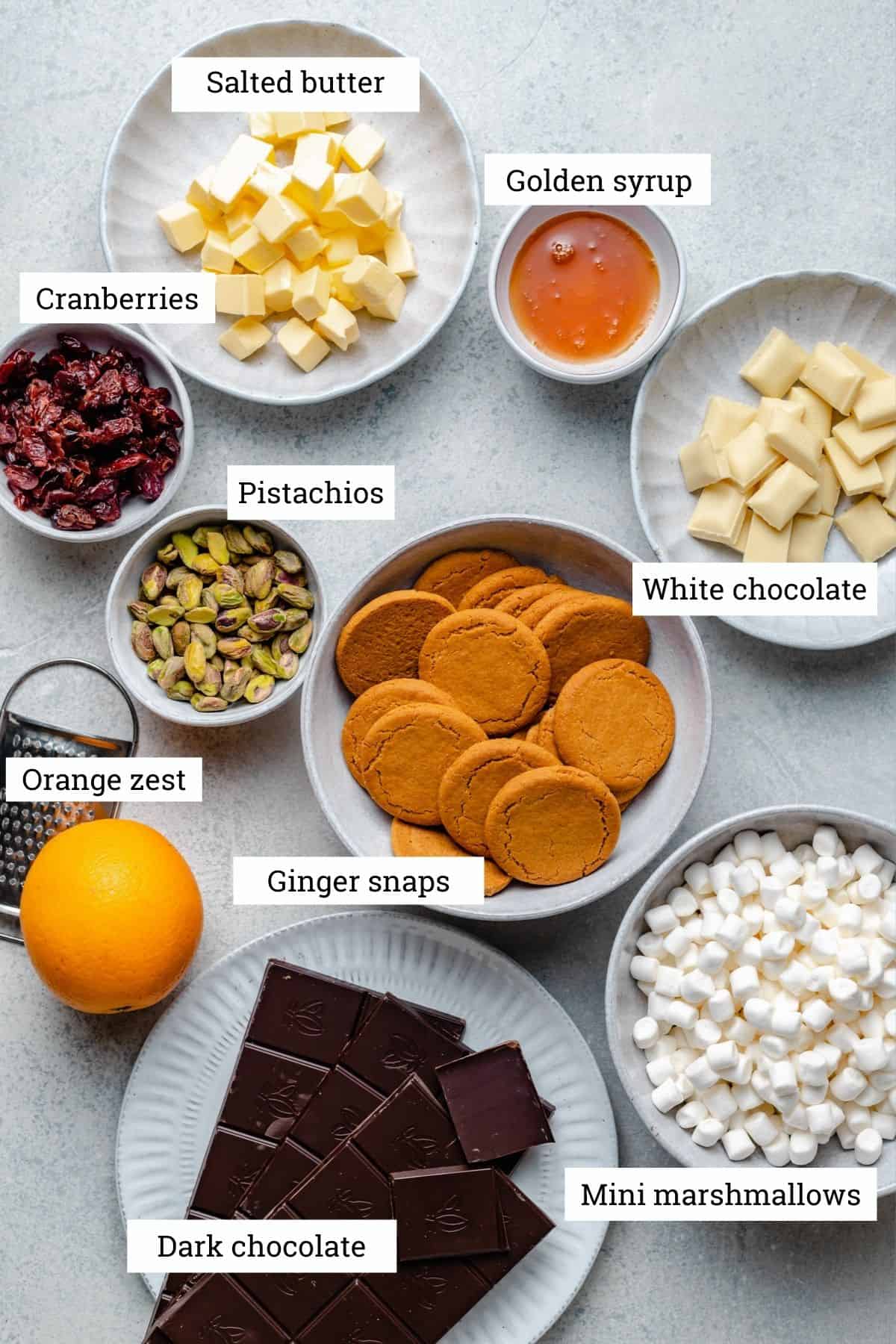 Make them vegan - this is so simple to make vegan, just ensure your chocolate is all dairy free, use vegan marshmallows and a vegan alternative for the butter. Simple! All should be direct substitutions.
Gluten free - the only things you need to switch out in these will be to ensure your chocolate and ginger nuts/snaps are gluten free friendly. Despite chocolate not containing gluten per se, unfortunately it's place of production is not necessarily guaranteed to be gluten free.
Change the fruit - traditional Australian rocky road would usually contain glace cherries and the British version contains any dried fruit, usually raisins for tiffin style. I highly recommend dried cherries or dried apricots. I don't personally like glace cherries, but feel free to use them instead.
Change the crunch - The crunch in rocky road is usually from biscuits and/or nuts. I love pistachios; you could switch these out with walnuts, hazelnuts or pecans. I'd also recommend switching out the crunchy biscuits for something such as digestive biscuits, malted milks, graham crackers or even shortbread! Go crazy!
Change the chocolate - I love the mix of dark and white chocolate in this. You could make these completely white chocolate or milk chocolate - it may be a bit too sweet though. Use whichever chocolate fits your taste. You can also throw in a handful of maltesers!
How to make rocky road
These are so quick to make. Here's how: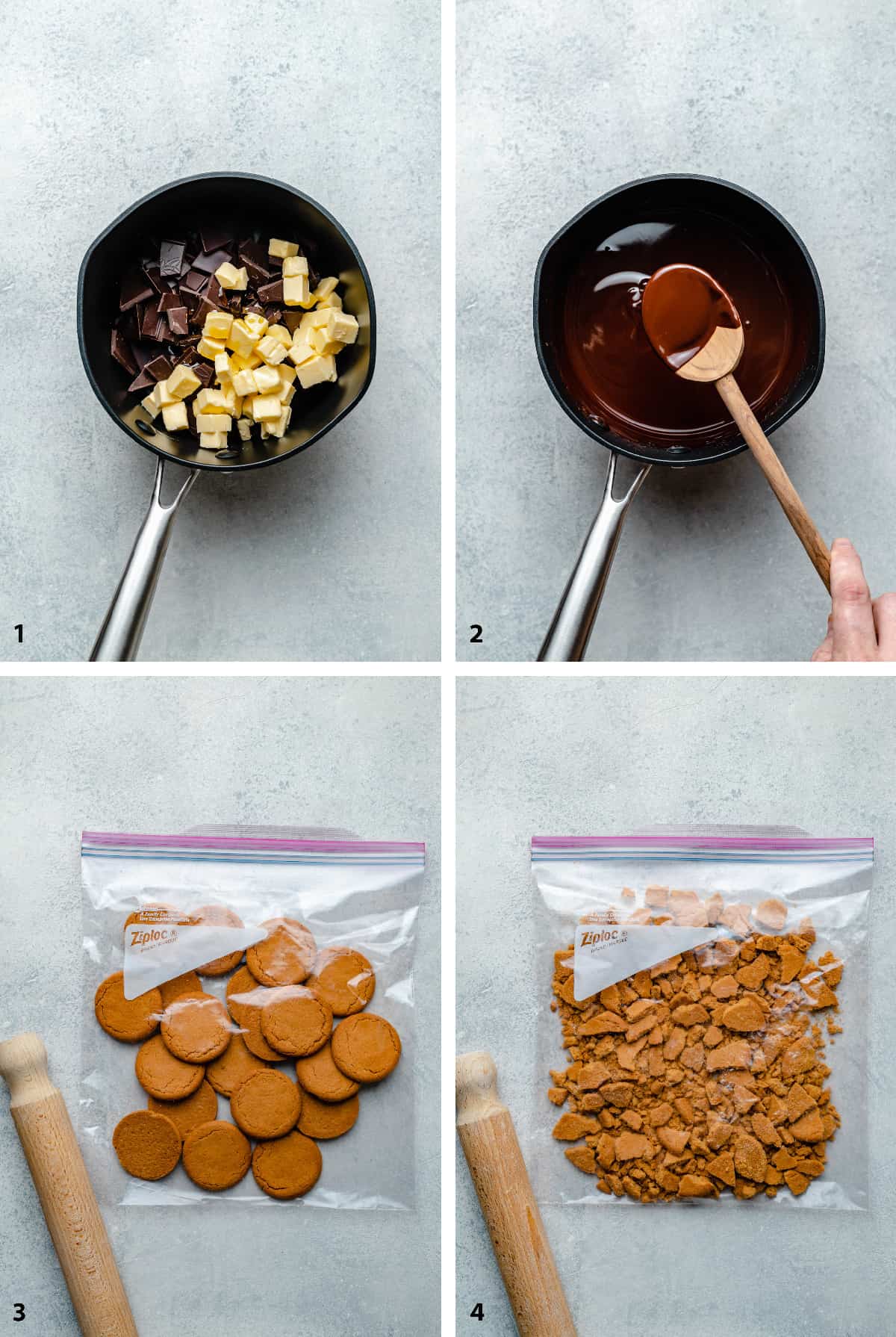 Add the dark chocolate, butter and golden syrup to a heavy based saucepan.
Gently melt the dark chocolate, butter and golden syrup over a low heat. We don't want high heat, just gently warm. It'll take about 5 minutes.
Place all the ginger nuts in a large ziploc freezer bag and get yourself a rolling pin and make sure the bag is sealed.
Bash the biscuits into chunks, we're looking for some dust but also some medium to large pieces.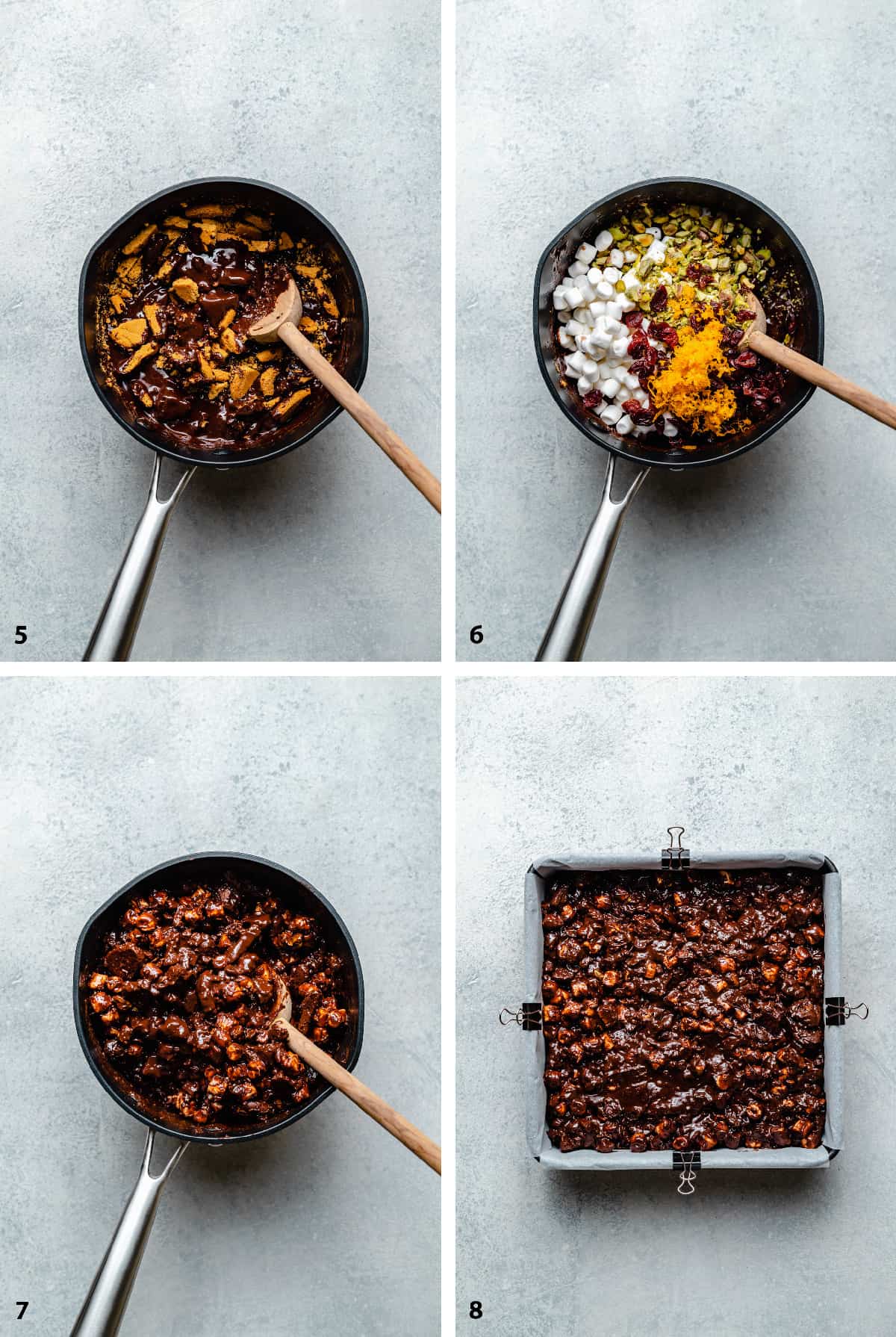 Add the broken biscuits to the melted chocolate in the pan and stir with a wooden spoon until completely coated.
Ensuring your chocolate is only warm and not hot, add the mini marshmallows, dried cranberries, chopped pistachios and orange zest to the pan.
Stir gently together until all completely coated in the chocolate mix.
Pour the rocky road mix into a prepared parchment-lined 8 x 8 inch baking tin. Spread out so the top is even and level. Place in the fridge for at least four hours.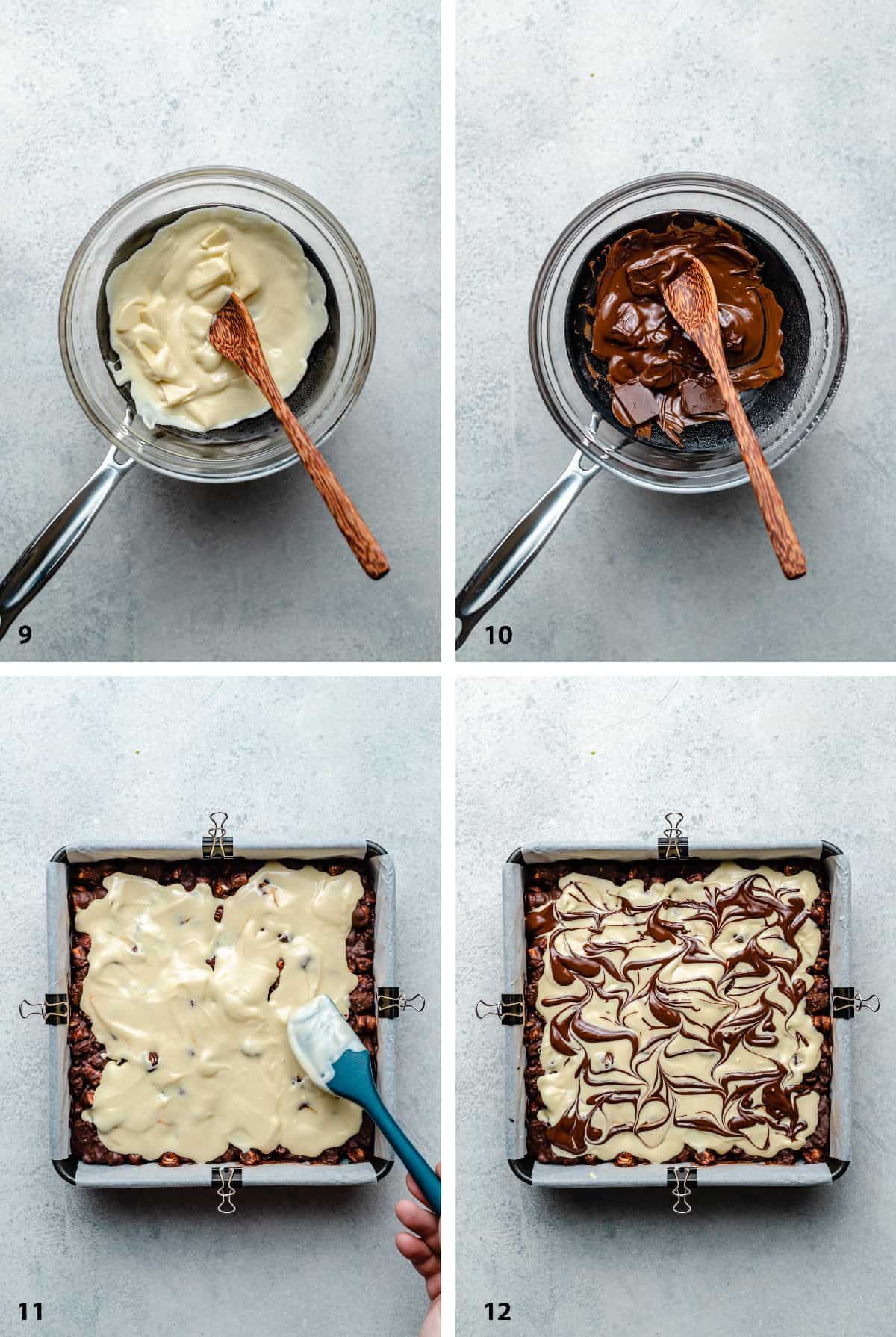 Prepare the toppings by melting the white chocolate in a heatproof bowl over gently simmering water in a small pan.
Melt the dark chocolate for the topping in a bain marie (heatproof bowl over gently simmering water in a saucepan).
Let the white chocolate cool slightly, and drizzle it over the top of the set rocky road in the baking tin, gently spread out over the top with a spatula. (be careful it may still cause the base layer to melt a bit).
Drizzle the dark chocolate in one direction across the top of the white chocolate topping and use a cocktail stick to swirl the dark chocolate throughout the topping. Place back into the fridge until set.
Recipe tips
Here are some tips and tricks to guarantee you complete success in your creations!
Low heat - the main chocolate mix should only be melted over a low heat. It's unusual to heat chocolate over direct heat due to the risk of burning easily. If you stir often with the butter and golden syrup, they will help protect the chocolate from burning. You can also remove the pan from the heat just before everything is fully melted as the residual heat will ensure everything melts perfectly without burning.
Marshmallows - ensure your chocolate mix is just warm before adding the marshmallows. If it is too hot it will melt the marshmallows, this isn't a major issue as it's still tasty you just won't get the distinct individual dots of marshmallow throughout the rocky road.
Microwave - you can use the microwave instead of a bain marie to melt the chocolate for the toppings, just do it in 30 second bursts and stir between each burst.
FAQs
The best way to melt chocolate

You can do this two ways: 

Bain marie - This is essentially a saucepan with a ½ an inch of water in the bottom, gently simmering away with a heat proof bowl over the top of the pan (just don't let the bowl touch the water!) This method is the safest way to melt chocolate gently as you can control the temperature easily. 

Microwave - Melting chocolate in the microwave is very easy, just place the chocolate in a microwave safe bowl and heat in the microwave in 30 second increments until the chocolate is melted. 
Can you freeze rocky road?

Absolutely, rocky road freezes well. Just store in an airtight container with layers of parchment paper between each layer, they will store in the freezer for up to 3 months. Defrost in the fridge before eating. 
How to store it

These slices are best stored in an airtight container with parchment paper between the layers of rocky road in the fridge for 2-3 weeks.
Is rocky road gluten free?

Not traditionally, but definitely check out the suggestions above to make sure you can also enjoy these great festive treats!
Other festive recipes
I hope you love this Christmas rocky road! If you make it, be sure to leave a comment, rate the recipe and tag me on Instagram! I love to see your creations!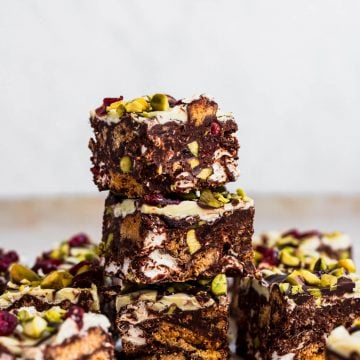 Christmas Rocky Road
Super simple Christmas rocky road that you can whip up in no time. Loaded with dark and white chocolate, ginger nuts, mini marshmallows and a few festive add-ins, these make the perfect edible gift for the festive period!
Print Recipe
Pin Recipe
⭐️ Rate Recipe
Instructions
Line a 8x8 baking pan with greaseproof or parchment paper and set aside.

Place the chocolate, butter and golden syrup into a medium heavy-based saucepan. Heat over a low heat, stirring frequently, until fully melted. Take care not to overheat this - it should only be warm, not hot. I usually remove the pan from the heat before everything is melted and let it continue to melt in the residual heat.

10 ounces dark chocolate (60-70% cocoa solids),

½ cup salted butter,

3 tablespoons golden syrup

Place the ginger nuts into a large freezer bag and bash them with a rolling pin until you have a chunky rubble - ensure you have some large pieces as well as crumbs.

7 ounces ginger nuts/ginger snaps

Stir the ginger nuts into the just warm chocolate mixture, followed by the mini marshmallows, dried cranberries, chopped pistachios and orange zest. Mix well.

2 cups mini marshmallows,

½ cup dried cranberries,

⅓ cup chopped pistachios,

zest of 1 orange

Pour the rocky road mixture into the prepared pan and place in the fridge whilst you get the topping ready.

Place the white chocolate into a small heatproof bowl and place over a pan of simmering water. Stir occasionally until melted.

In another small bowl, place the dark chocolate and set over a pan of simmering water. Stir occasionally until melted.

Remove the rocky road from the fridge. Pour the white chocolate over the top and working quickly with a spatula, spread it out over the top of the rocky road. You might get a few streaks of dark chocolate showing through but don't worry as you're going to pour more dark chocolate on top.

Drizzle the dark chocolate in lines going in one direction over the top of the white chocolate. Run a toothpick/cocktail stick through the dark chocolate in the opposite direction to your lines to swirl the dark chocolate into the white.

Sprinkle a few extra dried cranberries and chopped pistachios over the top. Place in the fridge to set for at least 4 hours.

When set, grab the edges of the parchment paper and pull the rocky road out of the baking pan. Cut into 16-25 squares and enjoy!
Notes
If you don't like dark chocolate, feel free to use semi-sweet instead. Milk chocolate is not recommended by itself but you could try mixing it with some dark chocolate.
Get creative and vary your add-ins for your own unique version of rocky road!
Ensure you don't overheat the chocolate mixture - you don't want to burn the chocolate or get it so hot that you melt the marshmallows. 
Nutrition
Calories:
345
kcal
|
Carbohydrates:
40.2
g
|
Protein:
3.2
g
|
Fat:
19.9
g
|
Saturated Fat:
10.8
g
|
Polyunsaturated Fat:
1.2
g
|
Monounsaturated Fat:
6.1
g
|
Cholesterol:
19.2
mg
|
Sodium:
76
mg
|
Potassium:
218.3
mg
|
Fiber:
2.3
g
|
Sugar:
29.5
g
|
Vitamin A:
51.1
IU
|
Vitamin C:
0.7
mg
|
Calcium:
51.1
mg
|
Iron:
3
mg
Did you make this recipe?
Leave a comment below with how you got on and don't forget to give the recipe a rating ⭐️⭐️⭐️⭐️⭐️. You can also tag @eatloveeats on Instagram - we love to see your creations!