This post contains affiliate links from which we could earn a small commission. Please read our Privacy Policy for more information.
These chocolate lebkuchen cookies are made with warming spices and dipped in chocolate to make them an extra special treat during the festive holiday season. They only take 10 minutes to bake and store well for the perfect edible gift.
This Chocolate Lebkuchen recipe has been brought to life from the archives and given an update to include new photography, information, process steps and tips and tricks. It was originally posted 17th December 2016, I've left one of the older images below the recipe card so you can see the difference.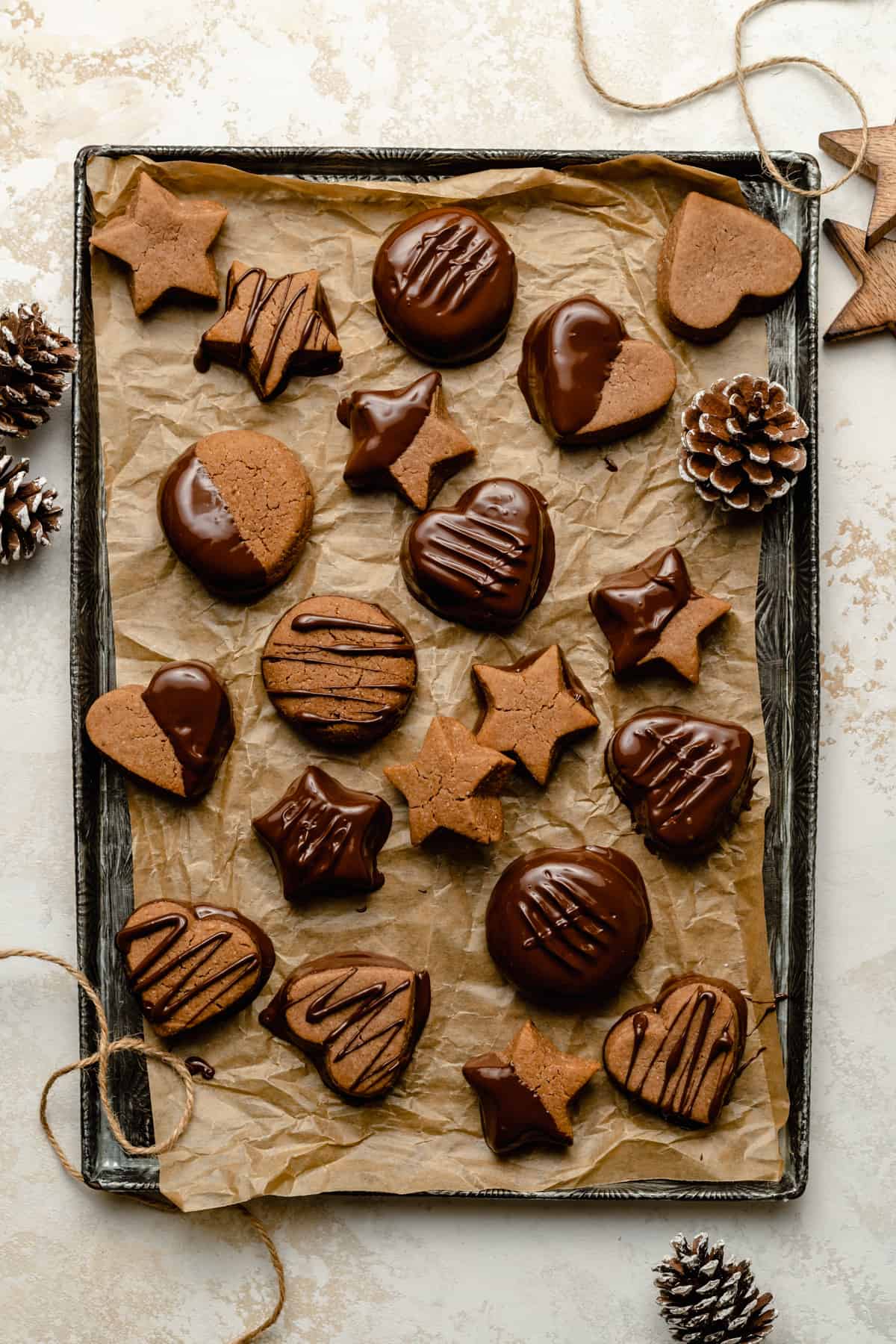 These chocolate lebkuchen cookies are one of my favourite Christmas treats. They're full of warming spices and flavours that just make you feel all festive. I love anything simple and these are just that. Although I have no German heritage, I still very much enjoy the festive cookies that you can get at the Christmas markets. You can get these cookies almost anywhere now, but they are so simple to make.
By no means am I claiming these to be authentic, the spices are different and I like them with plenty of ginger amongst all the other warming spices. I love that these lebkuchen are able to be cut out and made into various shapes adding to those festive feels. You can make multiple batches as they store well and can be a lovely edible gift to give at this time of the year. If you want another treat or edible gift try these White Chocolate Nutmeg Truffles that are so moreish!
I know you'll love these lebkuchen cookies just as much as we and all our friends do at this time of year. Don't forget to leave a comment and a rating after making them, we love hearing from you.
Jump to: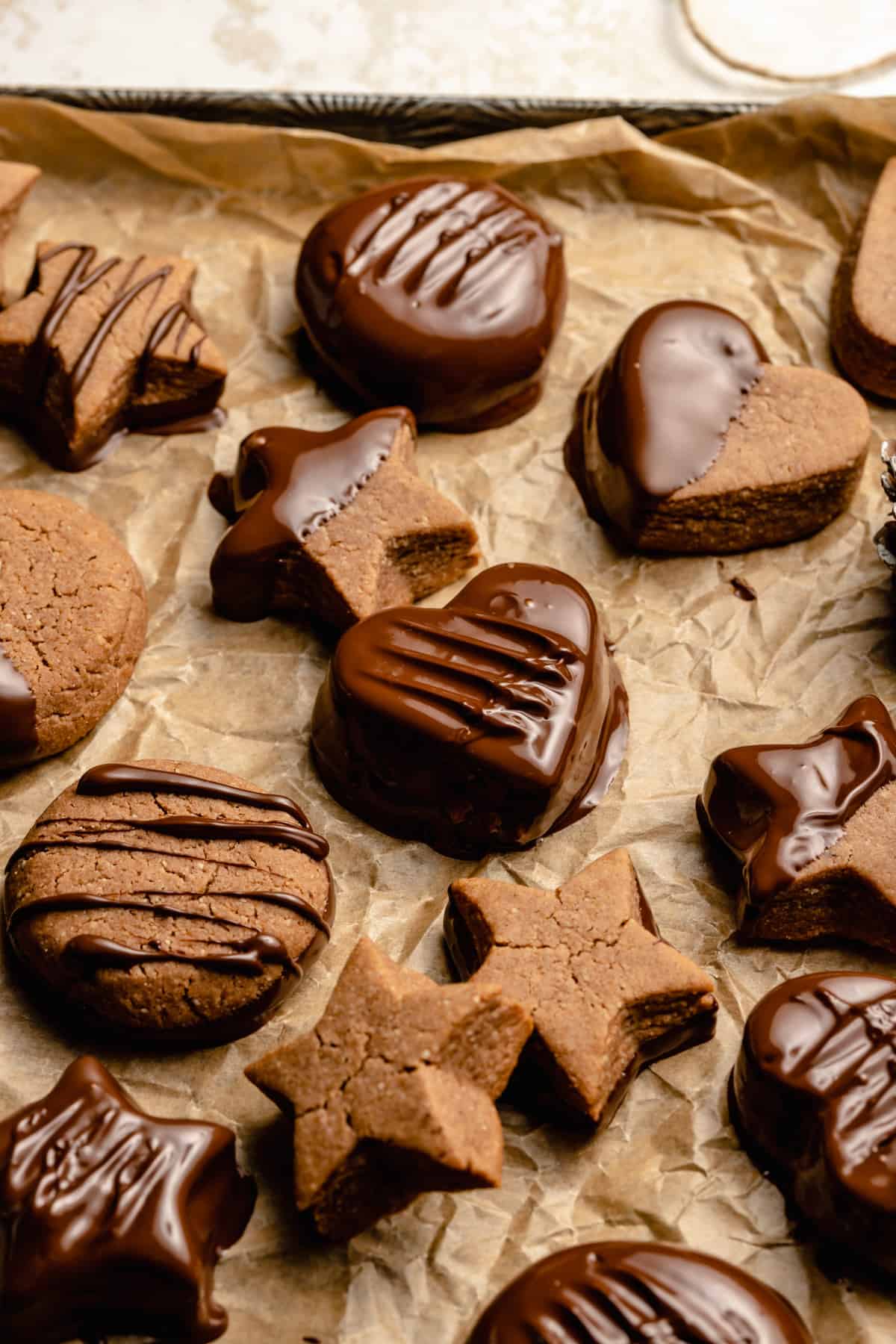 What are Lebkuchen?
Lebkuchen (pronounced leyb-koo-kun) is a honey sweetened German cookie usually full of spices and coated in either a sugar coating/glaze or thin chocolate. There are many different variations with varying levels of spices and differing ingredients, some contain nuts or dried fruit and most commonly come in a round shape. They are very similar to gingerbread, but not quite. If you want a different kind of gingerbread try this amazing Pumpkin Gingerbread with Brown Butter Caramel Glaze!
You'll love this festive recipe where you can make any shapes you like and its a great relaxing activity. Baking these will fill your kitchen with the aroma of warming spices in the lead up to Christmas.
What makes these the best?
These Chocolate Lebkuchen are the best because they're....
Easy - this recipe is so easy, using a few simple ingredients you'll have a cookie dough to roll out and bake up in no time. The dough is really satisfying and tactile as well.
Kid friendly - you can get the kids involved doing a production line of the whole process. A Christmas activity for the whole family, they'll also like making a mess with the molten chocolate and creating different shapes.
Chocolate dipped - these cookies have a touch of cocoa powder in the dough, but most importantly they are dipped and coated in glossy dark chocolate! Who doesn't love chocolate?!
Super Tasty - the flavours in these lebkuchen are so moreish you'll keep going back for more. The spices are just so warming, perfect to have alongside a festive warm drink like this Easy Peppermint Hot Chocolate.
Better aged - these cookies are amazing. Often you have cookies that you need to eat immediately or don't keep very well. Well these are the opposite, they get BETTER the longer they are kept (within reason). They get softer and chewier too.
Edible gift - they make the perfect edible gift to give to your friends and loved ones at this special time of year. Just bag them up and throw a ribbon around them and you're sorted. Another incredible edible gift is this Easy Christmas Rocky Road, totally divine!
Ingredients
The ingredients you need for these chocolate Lebkuchen are very simple and easily accessible. Here's what you need: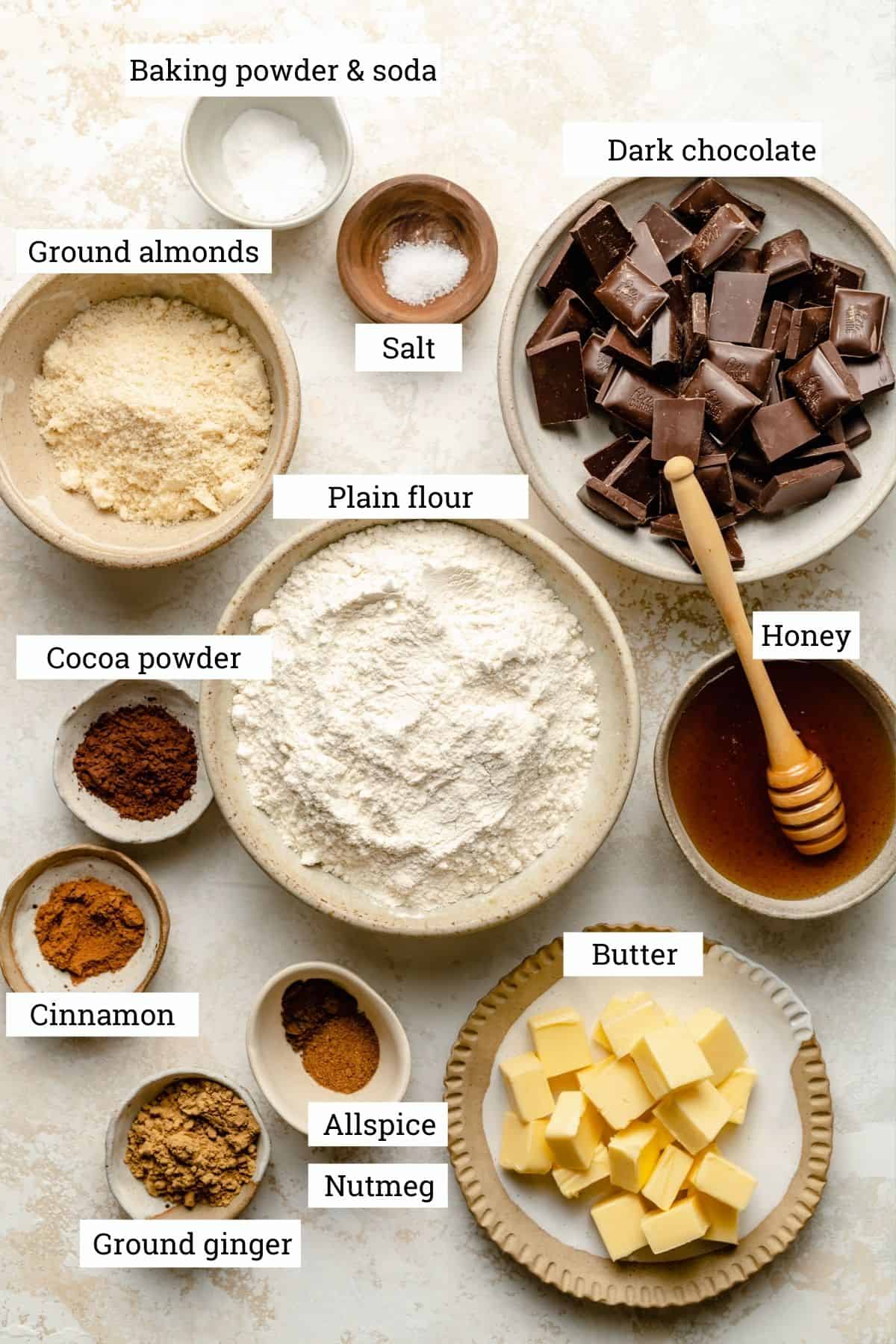 Honey - Honey is a beautiful sweetener and flavourful ingredient in Lebkuchen. Use your favourite one.
Butter - you'll need butter, I use unsalted as I like to season my baking with the addition of salt and you also know how much is going in.
All purpose flour - you'll need all purpose (plain) flour for these Lebkuchen cookies
Almond flour - I love using almond flour and in these cookies it adds a lovely nuttiness and texture to the cookies.
Spices - you'll need the following: ground ginger, cinnamon, nutmeg, allspice and salt. In addition to these you'll need cocoa powder, baking powder and baking soda leavening agents.
Chocolate - you'll need dark chocolate to melt and dip these Lebkuchen cookies in. I use 60-70% but you can use whatever you like.
Customisations
You can definitely customise your chocolate lebkuchen cookies, here are some recommendations:
Change up the chocolate - I love these coated in dark chocolate, but they would work perfectly well with milk or white chocolate, they'd just be a little sweeter.
Use a sugar glaze - instead of coating these in chocolate you could create a thin glaze by mixing 100g powdered sugar with lemon juice and a pinch of salt to get a drippy consistency, so you can easily brush it over the cookies and let it set.
Mix-ins - add some finely chopped nuts such as almonds or hazelnuts. You can also add some dried fruit if you like but would recommend small dice as these cookies are smallish. Instead of dried fruit you can use candied fruit too.
Spices - the spice mix I used was heavier on the ginger which gives them a nice kick, but if you prefer less ginger you can do that. You can also change the quantities or add in other spices such as aniseed, coriander or cardamom.
Decorations - you can also roll these a bit thinner and poke a hole in them before they bake to hang them up as decorative cookies you can tuck into as a snack here and there. Just be aware they will soften over time.
How to make them
These chocolate lebkuchen cookies are really simple to put together follow these steps to success: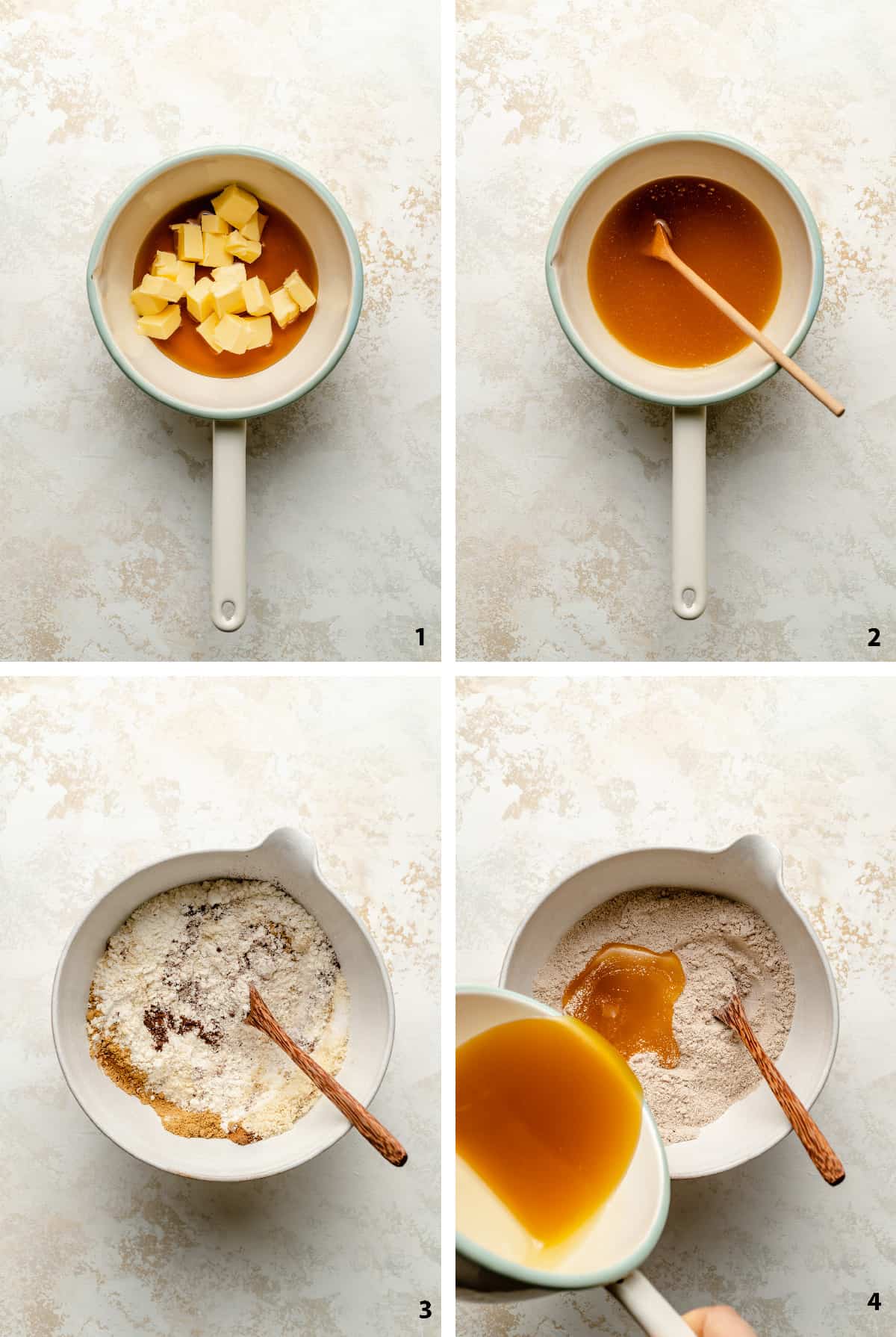 Add the honey and butter to a small saucepan over a medium-low heat to melt the butter.
Whisk together the melted butter and honey and it will combine. Leave to cool for 10-15 minutes.
Mix the almond flour, flour, cocoa powder, spices and raising agents together in a medium bowl.
Pour in the cooled melted honey and butter mixture to the dry ingredients.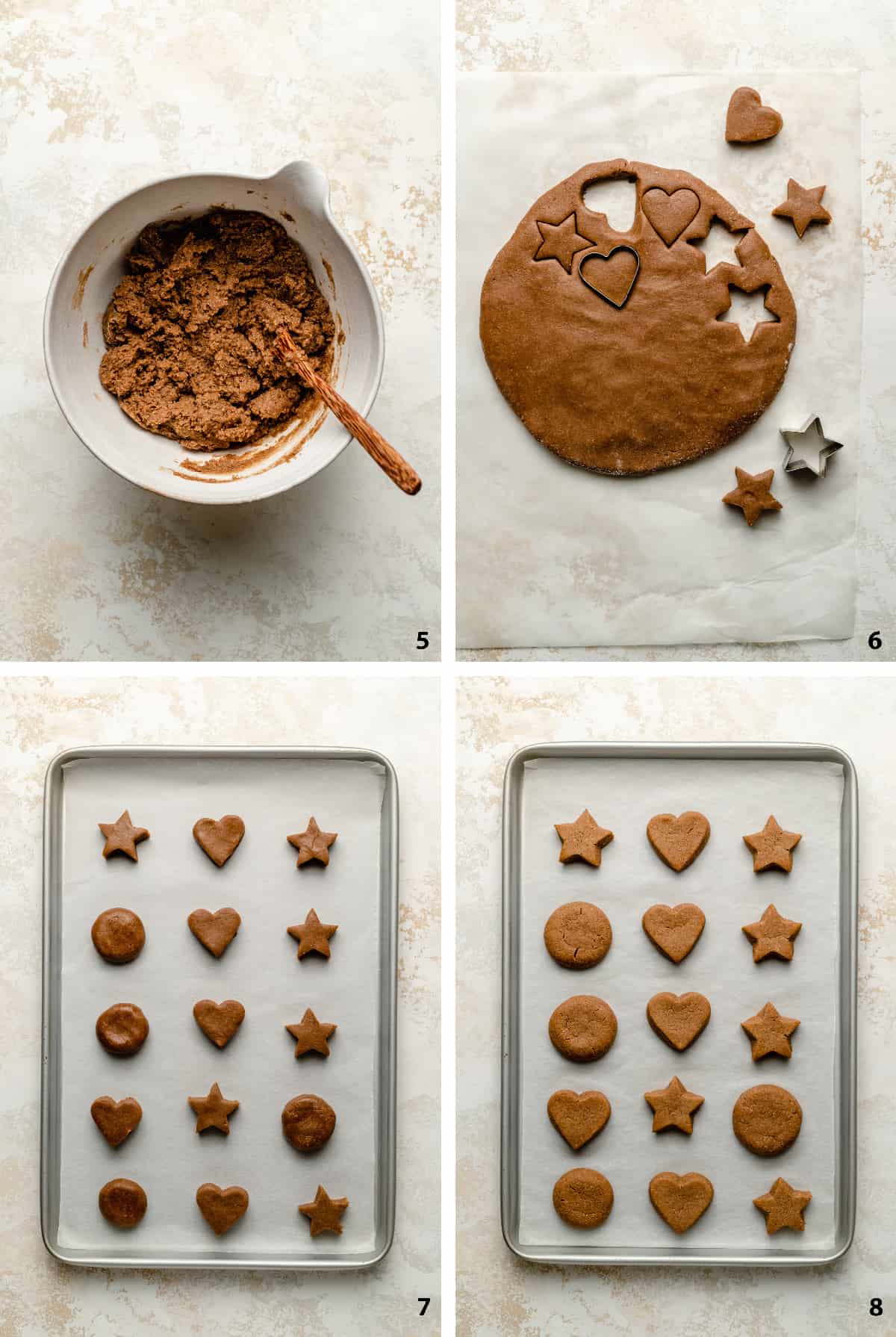 Stir to combine into a stiff dough. It should be smooth and not sticky.
Roll the dough out on parchment paper or a lightly floured surface to a ½ inch thickness. Use a cookie cutter to cut out your lebkuchen cookies.
Place your cookies on a parchment lined baking sheet.
Bake at 320F/160C electric, 285F/140C fan assisted oven for 8-10 minutes or until golden. Leave them to cool on a wire rack.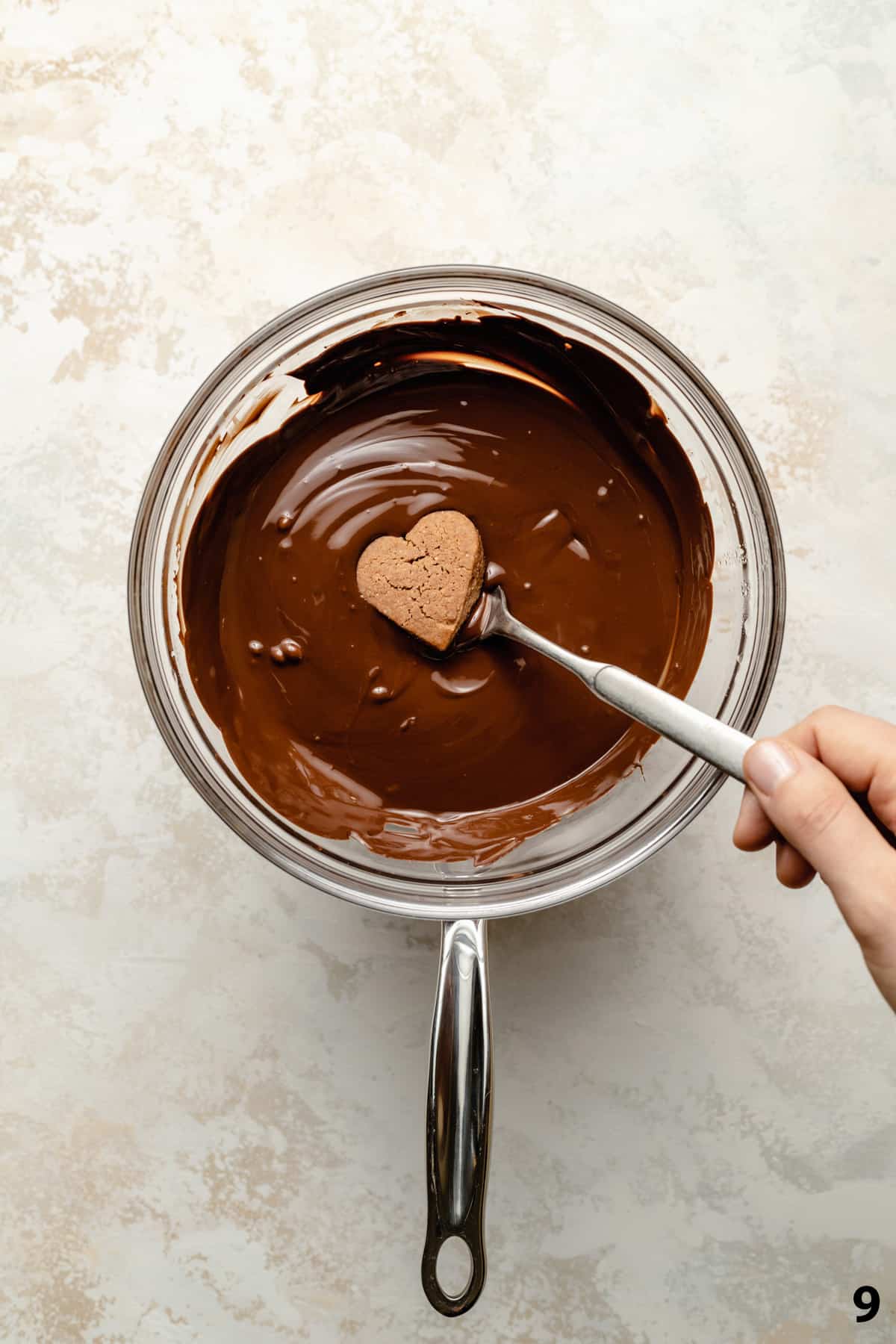 9. Once the lebkuchen have cooled you can dip them one by one into molten chocolate on a fork, let the excess drip off and place on a lined baking sheet to set.
Recipe tips
Here are some tips that will guarantee you success:
Low heat - Melt the butter and honey together over a low heat you'll save time in needing to cool it for longer, it needs to be room temperature before mixing into the dry as if it is too hot the heat will activate the baking powder.
Make ahead - I highly recommend making these ahead of time for when you want them as they get better with age.
Apple trick - store the lebkuchen in an airtight container with layers of parchment between them. Place half an apple cut side up in the container with the lebkuchen and leave it for 3-4 days. Doing this provides a little moisture in the container which helps them soften and become that well known lebkuchen texture.
Reroll the dough - using cookie cutters leaves you with offcuts of dough, just reform it and roll it out again no need to waste anything at all.
Cookie cutters - I used cookie cutters measuring 2 inches (4cm) across, if you make larger cookies just be prepared to bake them for longer.
FAQs
Can I freeze lebkuchen?

Yes! Store in an air tight container and freeze for up to 3 months. Defrost before you eat.
Can I make these ahead of time?

Yes! In fact, I recommend to do this, they make great edible gifts and store well at room temperature for 2-3 weeks.
More cookies for you...
I hope you love these chocolate lebkuchen cookies! If you make them, be sure to leave a comment, rate the recipe and tag me #eatloveeats on Instagram! I love to see your creations!