This post contains affiliate links from which we could earn a small commission. Please read our Privacy Policy for more information.
These are the best chewy pumpkin chocolate chip cookies you'll make. So easy to whip together and the perfect texture - there are no cakey cookies here! You'll have everything you need here to ensure success in the quest for the perfect chewy pumpkin cookie!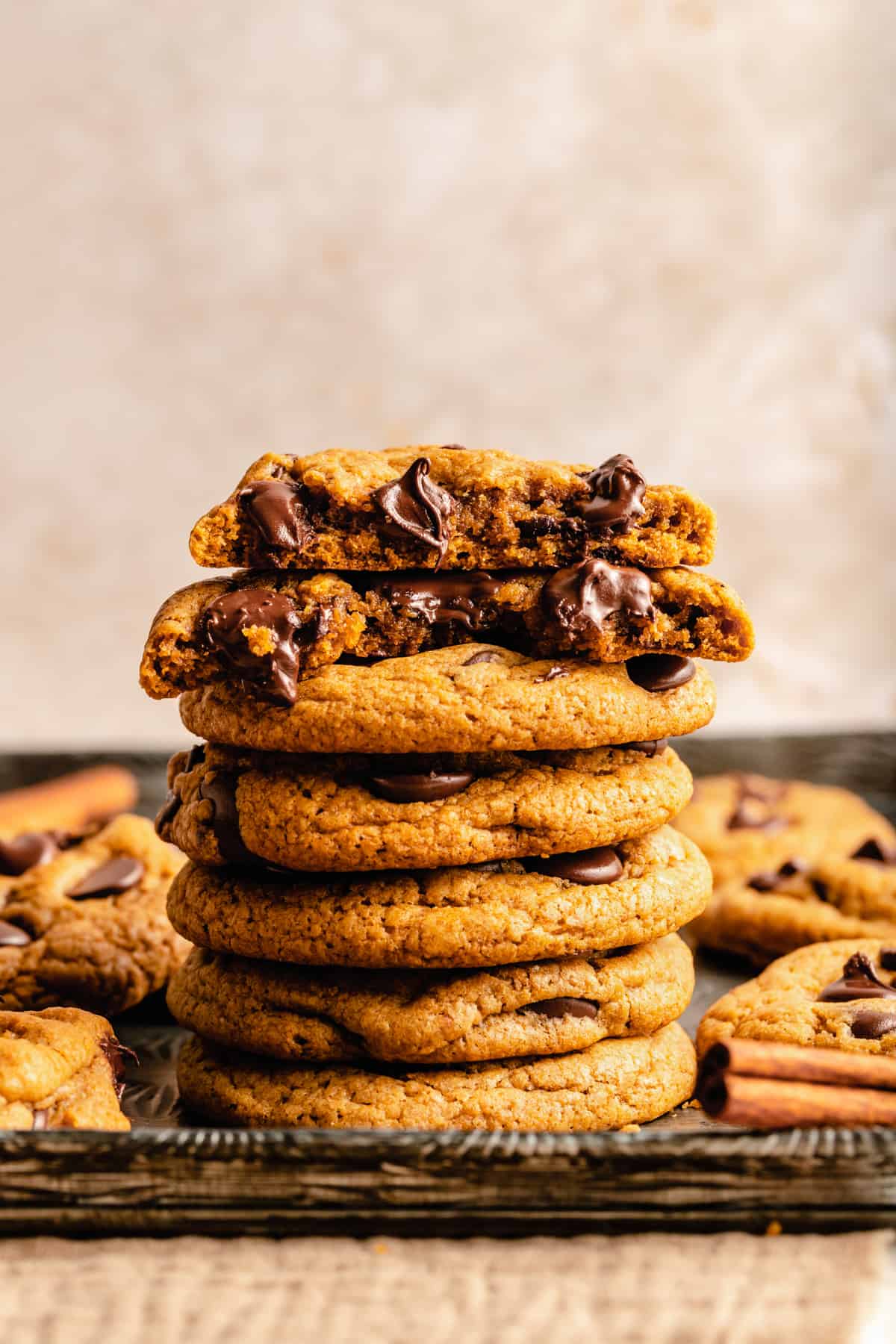 These cookies came to life from the depths of my fridge when I had some leftover pumpkin purée and I just really wanted a chewy chocolate chip cookie. I know there are loads of recipes out there for this BUT I'm here to tell you mine are particularly special! This recipe is adapted from my popcorn chocolate chip cookie recipe, which you also need to try! But these pumpkin cookies are totally perfect for fall. I love using pumpkin spices at this time of year, they're just so warming and comforting. And if you're looking for other uses for your pumpkin purée and spices, try this pumpkin gingerbread loaf recipe out - it's so moist!
As I promised, you won't find any cakey cookies here. I know you'll absolutely rave over these chewy pumpkin chocolate chip cookies, so leave a comment telling me how much you love them and don't forget to give us a rating too. Let's get to it then, I'll provide you with the most trustworthy and researched foolproof recipe for consistent results!
Jump to: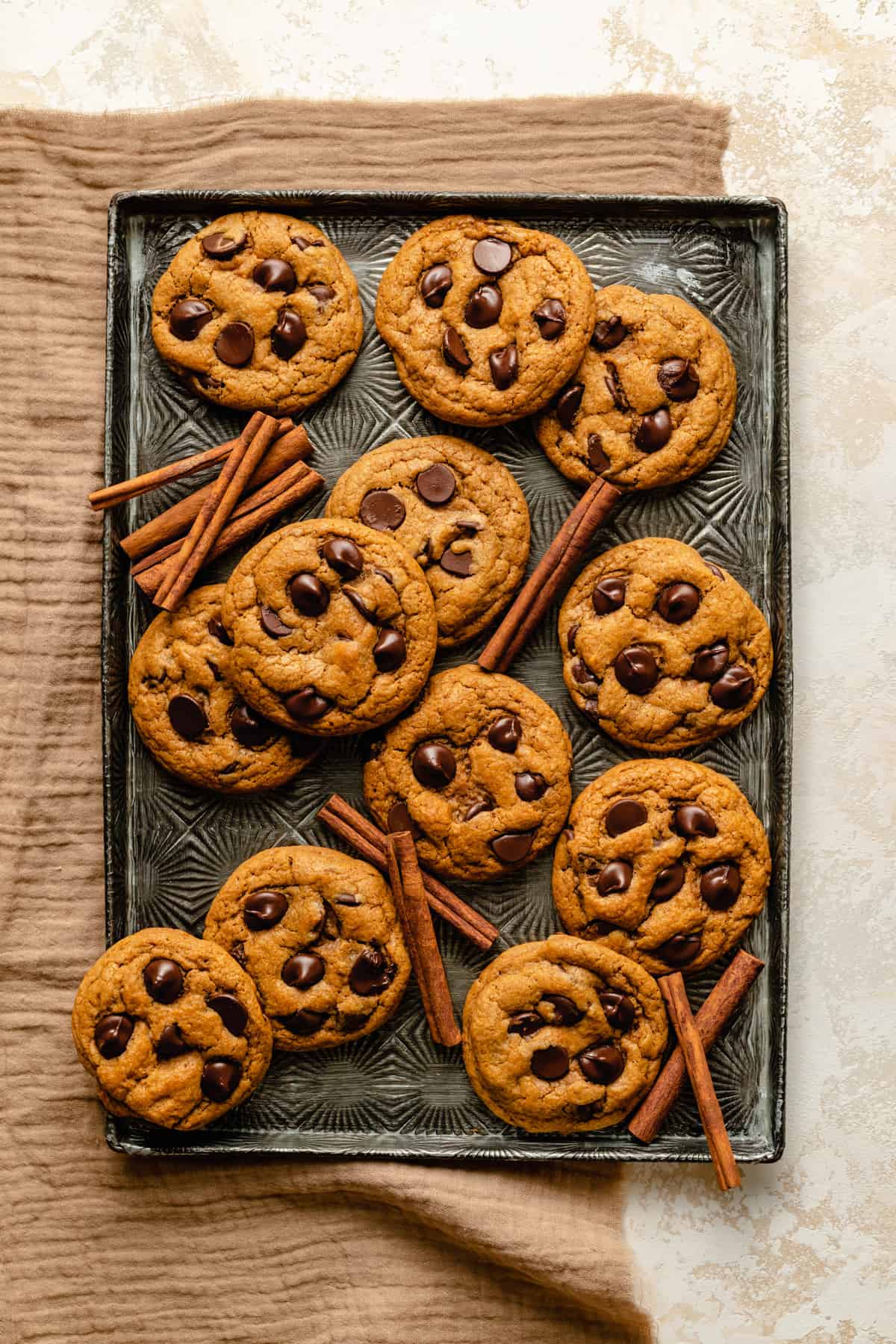 What ingredients do I need?
For this easy chewy pumpkin chocolate chip recipe you only need simple ingredients which are readily available at any supermarket - recommended substitutions are included in the tips below too:
Fat - I use unsalted butter and will often recommend this in baking as you then have control of how much salt to add.
Flour - For these cookies I use a blend of all-purpose (plain) flour with the addition of cornstarch (cornflour) - the cornstarch helps make a thick chewy cookie.
Raising agents - You'll need to use both baking powder and baking soda (bicarbonate of soda) if you want a nice soft, chewy texture from your cookies.
Fall spices - You'll need pumpkin spice or pumpkin pie spices - if you want to make up your own blend check out my ratio in the post below. You'll also use a little fine sea salt which enhances the flavour of everything.
Sugar - You'll need light and dark brown sugar along with granulated sugar. All of the different sugars will have different effects on the texture and structure of your pumpkin chocolate chip cookie (see FAQs below). Most importantly the brown sugars add lots of yummy caramel flavour.
Pumpkin - You can't have a pumpkin cookie without pumpkin! I highly recommend using Libby's pumpkin puree. I find this to be the most consistent in texture and not overly watery. If you use homemade - see the tips below and be sure to follow them!
Egg - You'll only need the egg yolk, as using the whole egg will produce a cakey cookie. As we all need to be more mindful of food waste, don't waste the egg white. You can whip up a batch of Coconut Tahini Pistachio Granola using the leftover white!
Vanilla extract - use the best quality vanilla extract you can get for your budget, your cookies will thank you so much!
Chocolate chips - I use semi sweet chocolate chips, you can use chocolate chunks if you prefer.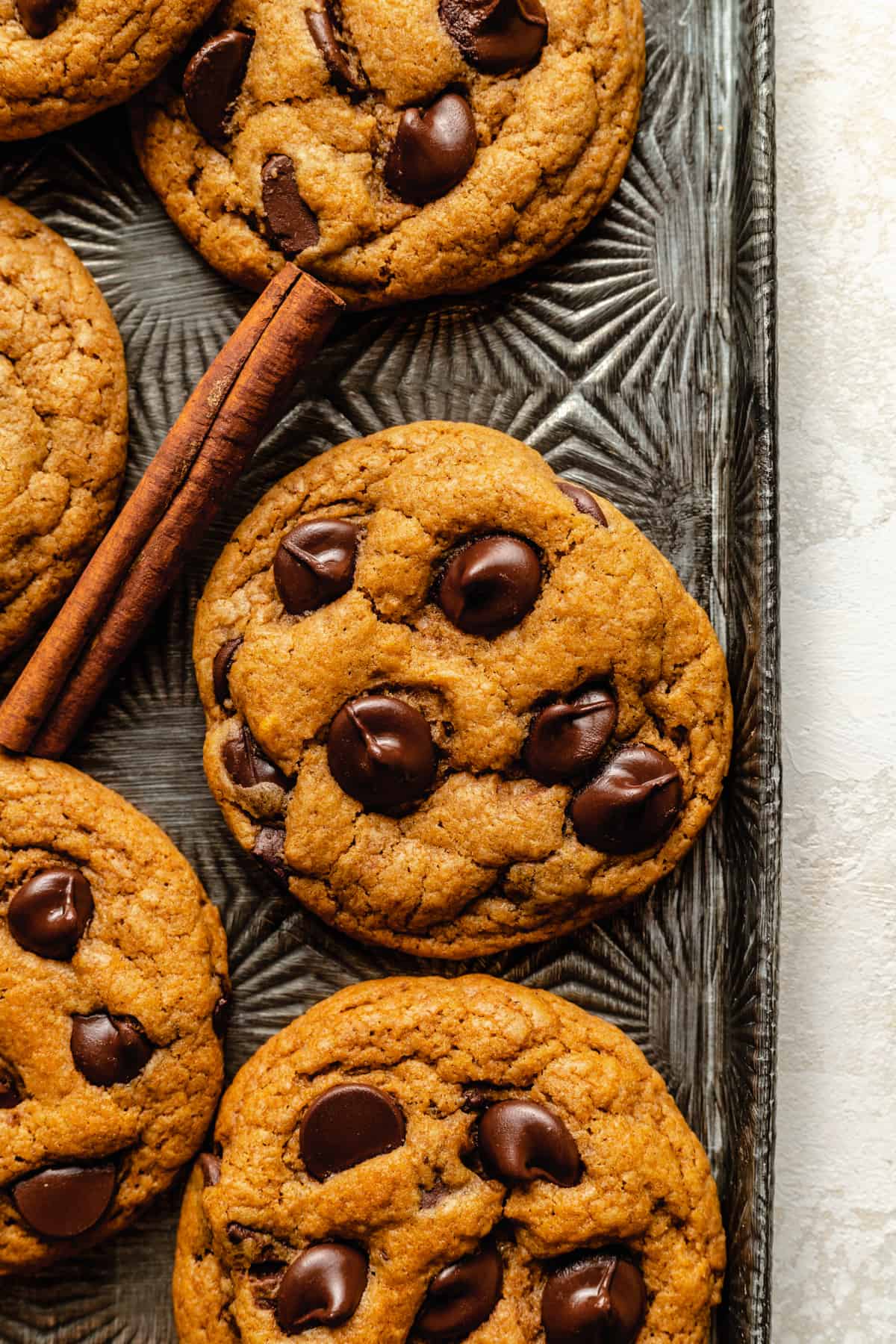 What makes these the best pumpkin chocolate chip cookies?
Accuracy! - Weighing your ingredients provides consistent results. Every. Single. Time. We all like consistent and reliable recipes don't we? Every other recipe out there gives you measurement in cups - which I will always provide as they are very helpful but unfortunately they are notoriously inaccurate. BUT I want you to know the best secret of any successful bake. Accuracy.
If you find yourself frustrated that a recipe doesn't turn out right/how the writer has shown it, get yourself some digital scales and follow the recipe below to complete SUCCESS for THE best chewy pumpkin chocolate chip cookies. These cookies are raved about by all my friends, most importantly - American friends who grew up on pumpkin cookies! They tell me these are the best they've ever had.
There's a place for a cakey cookie but it isn't here in this post, so do yourself and your friends a favour and get some digital scales! You also have less washing up by using one bowl rather than loads of cups!
Chewiness - I mean what can I say - cookies have just got to be chewy. I love a chewy cookie especially when they're still slightly warm from the oven. If you follow the recipe to a tee you'll have your new favourite baking treats this fall. Several factors contribute to the chewiness of these cookies, including using an egg yolk instead of a whole egg.
Freezer stash - I know I am not the only one who does this, but you can't ride through life without a freezer stash of frozen cookie dough. Perfect to make ahead and ready to provide you with delicious chewy pumpkin chocolate chip cookies at a moment's notice. I say it's a win win! See the tips below for freezing.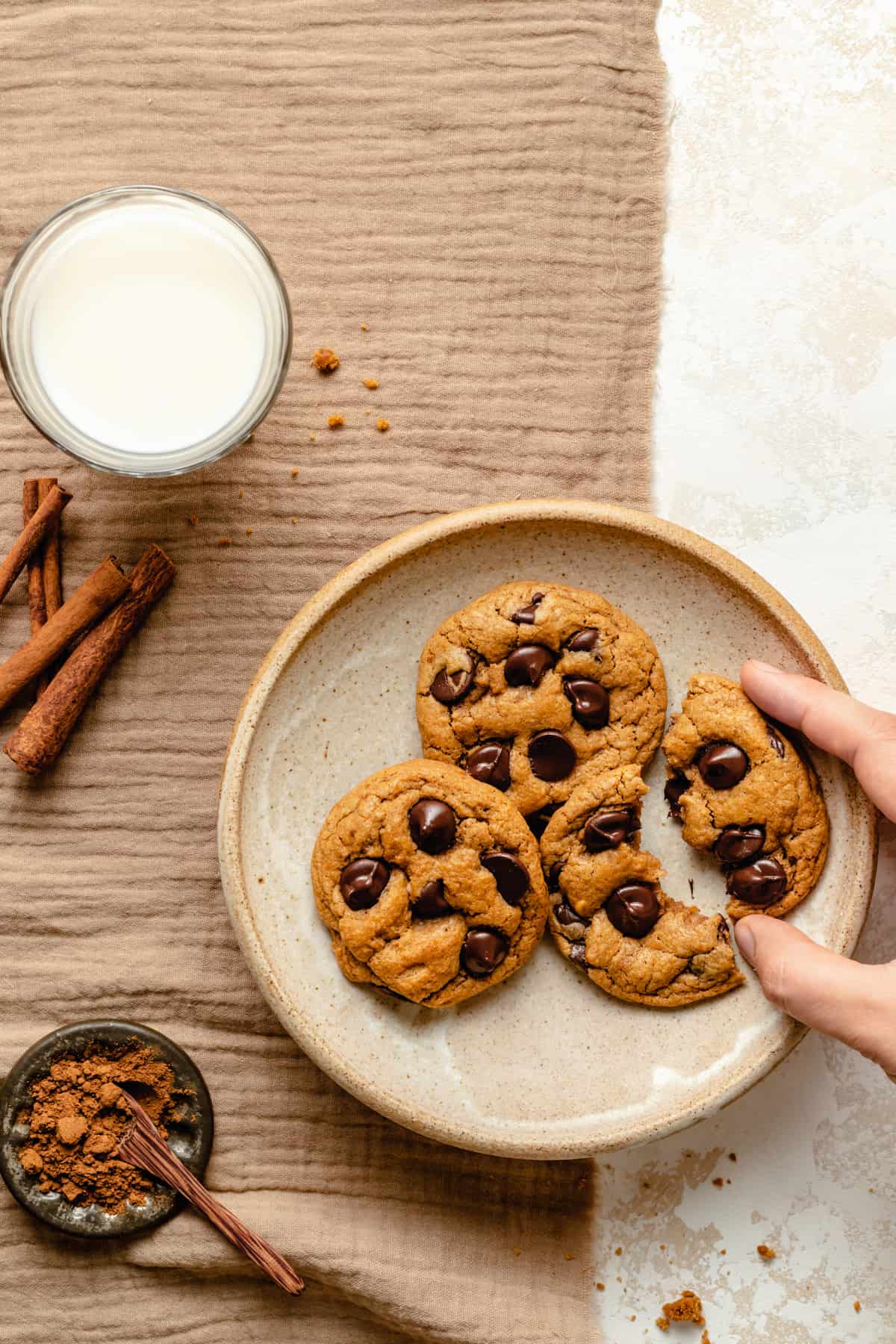 What makes these cookies so easy?
No faffing, no chill! - I've got this recipe down so it's no frill or faff. Meaning you get your cookies even faster! You don't have to chill this cookie dough at all unlike many other recipes out there, which is why they're also easier and quicker. Whip it together and bake!
Melted butter - Forgotten to take your butter out of the fridge to get it to room temperature so it will cream easily? No need to worry! This recipe uses melted butter and you don't have to wait very long for it to cool before using either! Easy peasy!
Simplicity - you literally just need to mix dry and wet ingredients together! That's it. Nothing easier than that! If you want to you can technically only use one bowl too.
How to make pumpkin spice mix
Pumpkin spice is very simple to put together and is made up of 5 spices - these can vary depending on the brand and also vary in quantity but here is a basic ratio for you that you can use in all your fall baking recipes. Personalise your blend to you by mixing up the ratio if you like it a bit different.
This is the ratio I use: 4 : 1 : 1 : ½ : ½
4 teaspoons - ground cinnamon
1 teaspoon - ground ginger
1 teaspoon - ground nutmeg
½ teaspoon - ground allspice
½ teaspoon - ground cloves
You can scale this pumpkin spice mix up to make a larger batch, just make sure to store it in an airtight container. I recommend starting with smaller batches as ground spices can get old and lose their flavour after a while if you don't end up using them all.
How to make these chewy pumpkin cookies
These soft and chewy cookies take no time to whip together and this easy step by step guide will lead you to the consistent success you can always expect from a recipe here: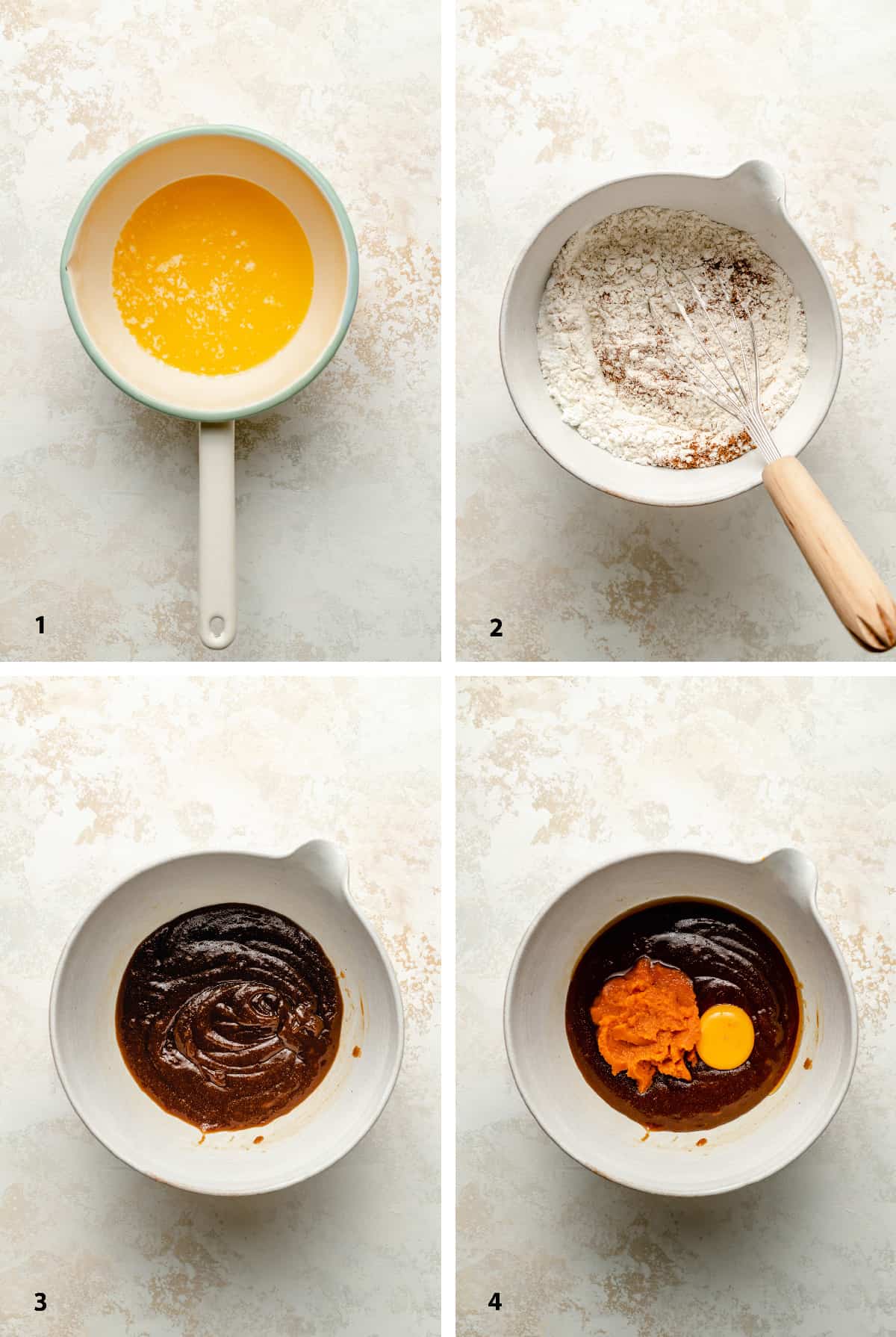 Melt the butter in a small saucepan. Set aside to cool for a few minutes whilst you prepare the rest of the ingredients. (don't let it cool too much!)
In a medium mixing bowl, combine the all-purpose (plain) flour, cornstarch (cornflour), baking powder, baking soda (bicarbonate of soda), pumpkin spice and fine sea salt. Stir together using a whisk, to ensure all the ingredients are evenly distributed.
In the bowl of a stand mixer, combine the brown sugars and granulated sugar with the slightly cooled (but still warm) melted butter. Mix on medium speed, just until well combined. (Alternatively use a large mixing bowl and an electric hand mixer).
Add the pumpkin puree, egg yolk and vanilla to the butter and sugar mixture.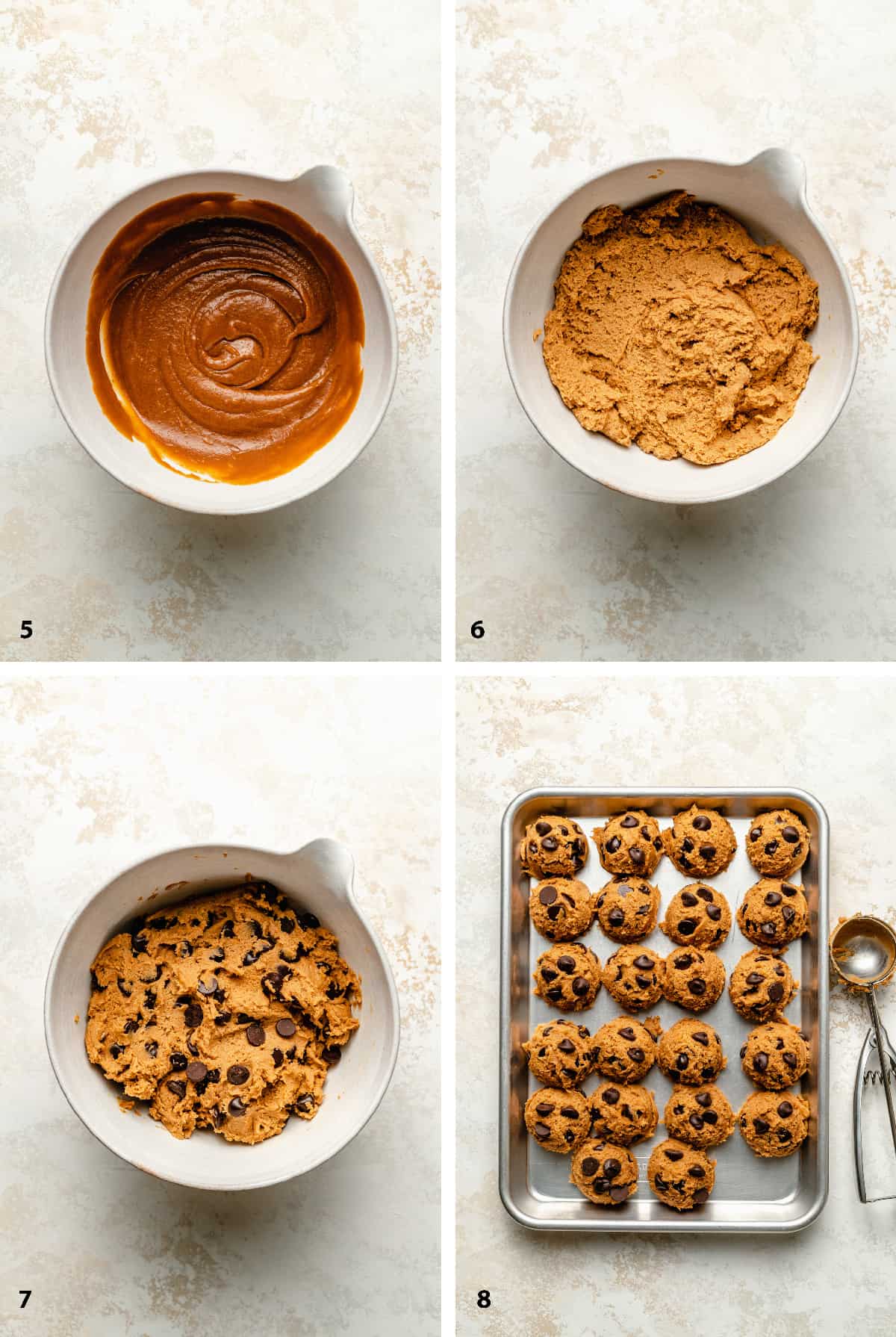 Mix the egg and pumpkin puree in on a medium speed until well combined and you get a smooth caramel-like mixture.
Add the flour mixture and mix on low speed until no streaks of flour remain and you have a nice pumpkin-coloured cookie dough.
Add the chocolate chips to the cookie dough. Mix on low speed until evenly distributed throughout the dough.
Using a medium cookie scoop, scoop and roll the dough into approximately 2 tablespoon-sized balls (you should get 22-24 cookies from this mixture) and place on the prepared baking tray.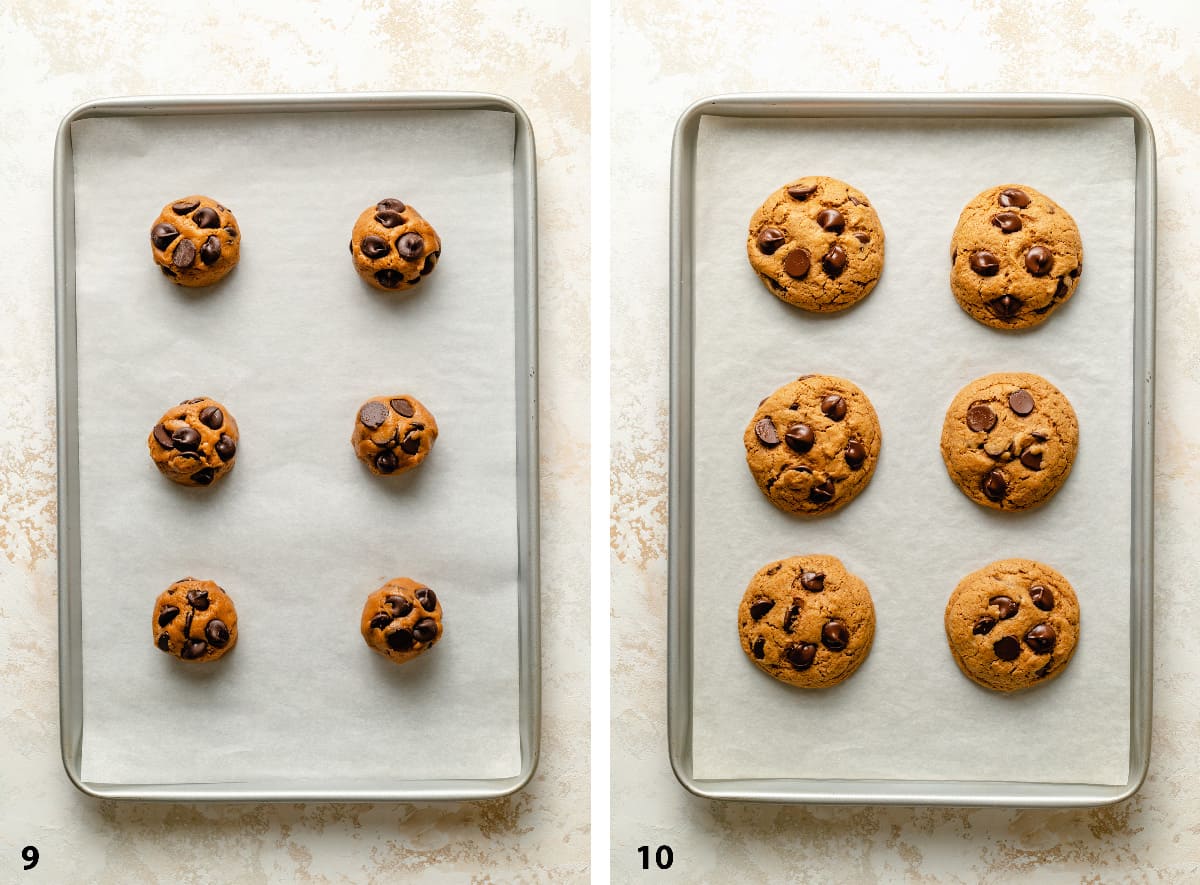 You should bake 6-8 cookies on a tray at a time with 2-3 inches space between them.
Bake in the preheated oven for 8-10 minutes until lightly golden at the edges. They should still feel soft and undercooked in the centre – that's what you want! They'll continue to bake as they cool. Leave them on the tray for 5-10 minutes before transferring to a cooling rack.
Tips and tricks to absolutely guarantee you success!
Follow these tips to ensure you get the best results for chewy pumpkin cookies:
Tip #1 - make sure your melted butter is still warm as it will help dissolve the sugar; this also helps with the final texture and structure of the cookie.
Tip #2 - If you've got a wetter pumpkin purée or are using homemade pumpkin purée, make sure you blot the excess visible moisture off with a kitchen towel or place a kitchen towel in a sieve and put your puree on top to let it drain for 10 minutes.
Tip #3 - make sure you don't leave your cookie dough uncovered between baking for too long as it'll dry out. Use some cling film to cover the cookie dough whilst waiting to bake them. If they dry out a bit - just roll the cookie dough ball to warm it up between your hands before baking - otherwise they will not get the smooth feel and look you are after.
Tip #4 - to get a smooth topped cookie, roll them into balls from the scoop. It isn't essential - it depends on how rustic you want them to look.
Tip #5 - overcooking cookies is an offence in our home, ha! I'm often surprised the dough even makes it to the oven! Underbaking is best. 8-10 minutes is plenty enough to bake the cookie, mine are perfect after 8-9 minutes in a fan-assisted/convection oven. The longer you bake the less chewy and more dry the cookie will become.
Want to change it up?
I recommend these alternative mix-ins to change it up a bit:
Use white chocolate chips instead of semi sweet chocolate chips.
Use some chopped walnuts or almonds to add a little crunch.
Use some dried cranberries to make pumpkin cranberry chocolate chip cookies.
Oooooo, now just thinking of it I think I'm going to have to whip up some pumpkin white chocolate chip cookies now! Yum.
How to store the cookies after baking
I'd recommend storing your chewy pumpkin chocolate chip cookies in an airtight container and they will keep just fine for up to 3 days as long as they were slightly underbaked. I personally don't think they will last that long though and they'll definitely be at their best on the first day. These cookies are good for freezing too - once baked, allow to cool and place in a freezer bag and freeze for up to three months. You can defrost in 5-10 minutes at room temperature and eat cold or you can reheat them in the oven which I like to do as the chocolate chips go molten again. For me, fresh cookies are always best so if you don't think you'll eat the whole batch, I recommend freezing using the instructions below.
How to freeze cookie dough
Once you've whipped your cookie dough together, using a medium cookie scoop, scoop out the dough and place it on a parchment lined quarter baking sheet. You can then place this tray directly in the freezer for 2-3 hours. Once frozen, remove the tray from the freezer and place the uncooked dough balls in a freezer bag. These cookies will keep for up to 3 months in the freezer and are a great way to have a stash to bake up with no effort in the kitchen!
How to cook from frozen
There are two ways to bake the frozen cookie dough:
Place the desired number of frozen cookie dough balls onto a lined baking sheet and place in a preheated oven at 180C/350F for 8-10 minutes (you may need to increase it by a few minutes to get it baked just right, it depends on your oven). You may find that the cookies don't spread as much when baked straight from frozen but they'll still be delicious.
Get the frozen cookie dough balls out of the freezer and place on a lined baking sheet for 10 minutes. Then preheat the oven to 180C/350F for 10-15 minutes and bake the cookies for 8-10 minutes. They'll spread a bit more using this method.
Enjoy your soft pumpkin chocolate chip cookies! They are to die for!
FAQs
What is the secret to making chewy cookies?
The secret to making chewy cookies involves multiple factors in this recipe:

1. For this recipe I use warm melted butter to partially dissolve the sugar in the process of making the dough. This does two things, it helps the cookie spread on baking and the melted butter in general makes the cookie softer and chewier once baked. 

2.The blend of sugars in this recipe (molasses that are in the brown sugars) leads to a chewier caramel flavoured cookie. The addition of granulated sugar helps the cookie spread the perfect amount whilst baking - it does this as the sugar melts whilst being baked. No need for cookie cutters to round off your cookies!

3. We're only using an egg yolk in this recipe, instead of the whole egg. The protein in the egg yolk helps to make the cookies fudgy and chewy whereas the relatively watery whites would cause them to become more cakey.

4. Cornstarch - the use of cornstarch makes for a softer thicker cookie and it also helps with the absorption of some of the moisture from the pumpkin puree.

5. Raising agents - The mix of baking powder and soda will give lift and help the cookie spread. I personally believe that it helps the texture to have the correct level of raising agents.

6. No chill - Chilling dough in this recipe will mean the middle of the cookie will not get warm enough before being overbaked (if other recipes recommend it, I'm sure there will be a reason). Being chilled, the dough will not spread as much either. This dough is soft yet manageable to scoop (without the risk of breaking your scoop with the dough out of the fridge).
Why are my cookies not spreading out?
This will be because of one of two reasons; either the dough is too dry from not enough liquid (which won't happen in this recipe - melted butter, dissolved sugar and pumpkin puree all help avoid this) or too much flour which will only happen if you scoop your cup into your flour to measure it out. The other reason would be that the dough is too cold. This is more likely to happen if you cook the dough from frozen if following the guides above.

Also - the best way to avoid these issues and mistakes is to follow the accuracy rule - using digital scales to create the best cookie. It'll be the best decision you make for baking in the kitchen!
Why are my cookies flat and thin?

Usually the dough is too wet either from melted butter or a form of liquid sugar, such as maple syrup (which isn't the case in this recipe). But this could also come from excess liquid in your pumpkin puree. It could also be down to using too little flour - which if you use digital scales you would avoid the risk of having these inconsistencies in your results.
Want more fall desserts?
I hope you love these soft and chewy pumpkin chocolate chip cookies as much as we do. If you make them, be sure to leave a comment, rate the recipe and tag me on Instagram! I love to see your creations!