These popcorn chocolate chip cookies are loaded with dark chocolate chunks and lots of sweet and salty popcorn. They're chewy, gooey and downright delicious!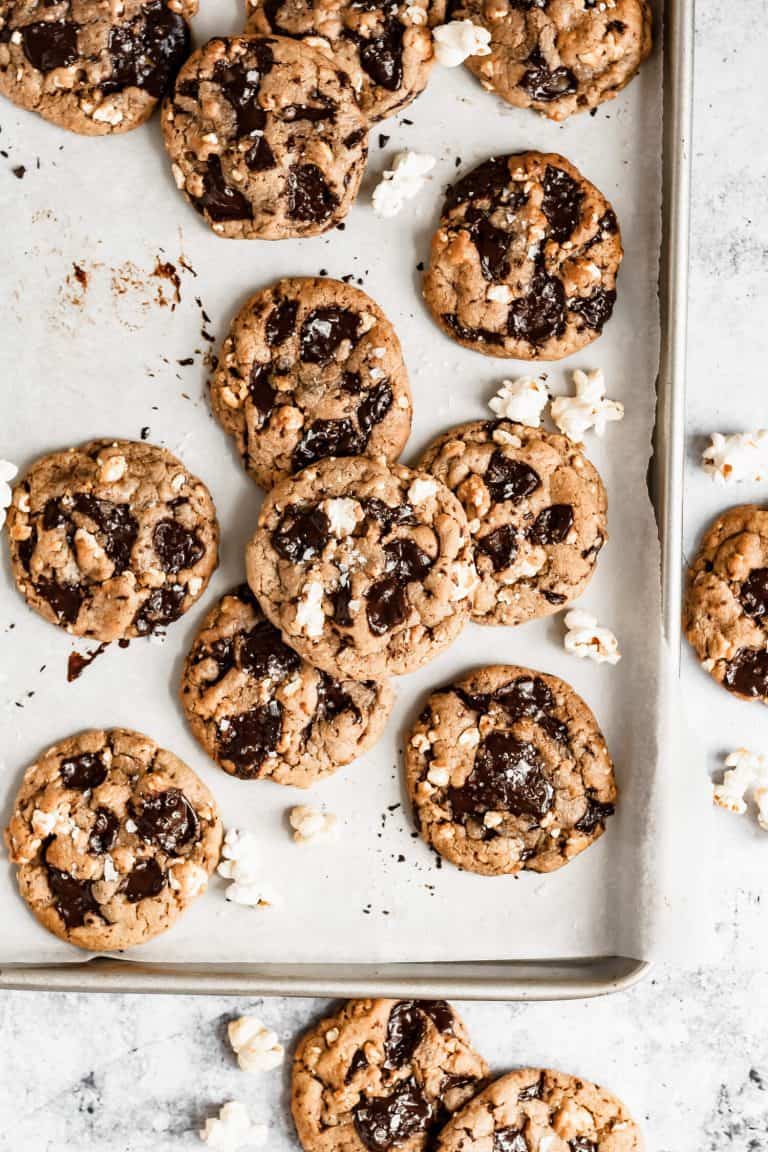 When is any moment not improved with a cookie? I can't think of one and that's all the justification I need to bring you these popcorn chocolate chip cookies right now. We all love chocolate chip cookies don't we? Well, imagine stuffing your cookie dough with popcorn! The result? Insanely chewy and addictive cookies full of toasty popcorn flavour. Think oatmeal chocolate chip cookies, but with popcorn instead of oats! Love pumpkin too? Check out these Easy Chewy Pumpkin Chocolate Chip Cookies, just totally delicious!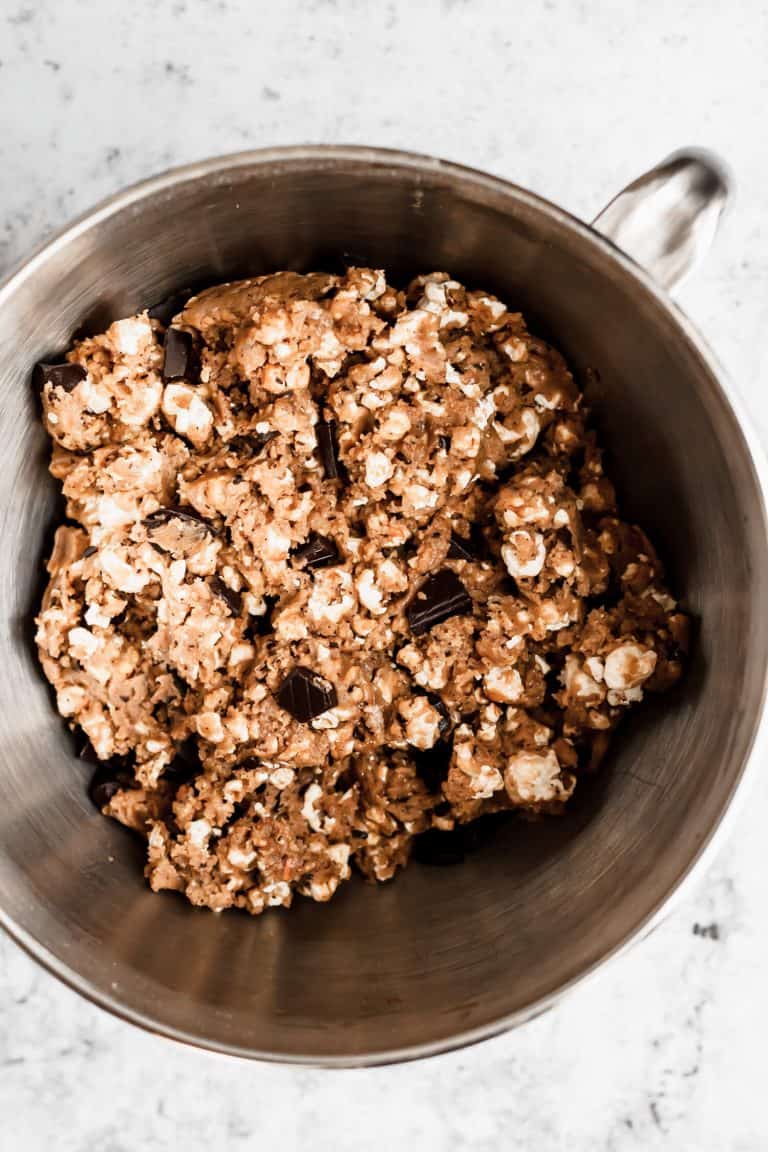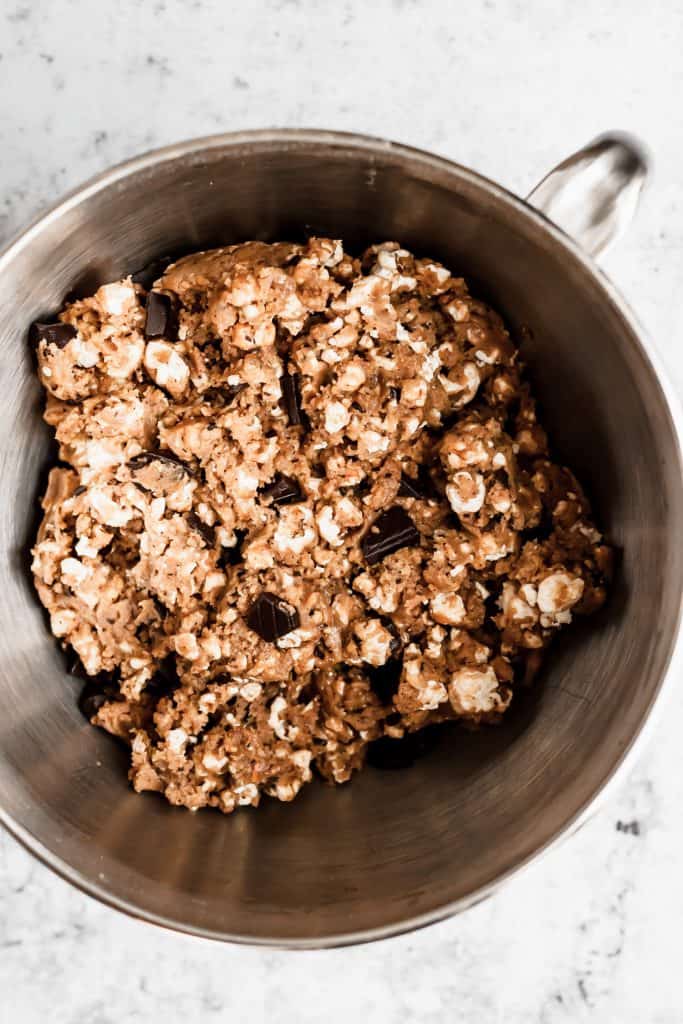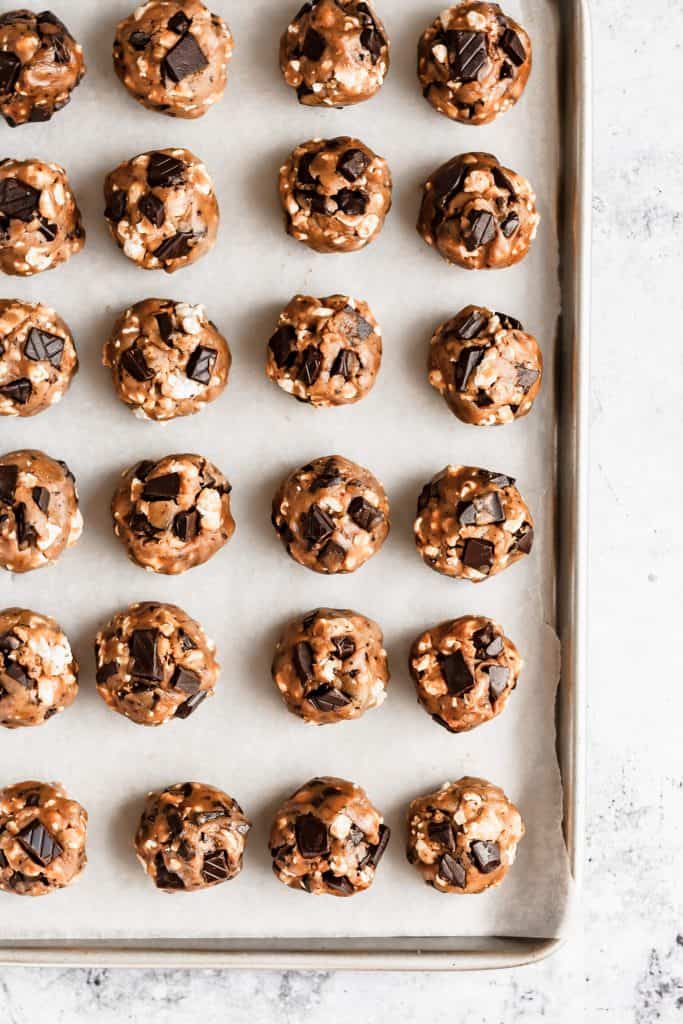 How to make popcorn chocolate chip cookies
It's so quick and easy to whip up a batch of these popcorn chocolate chip cookies as we're using melted butter (a must in any good chocolate chip cookie!) along with the usual suspects and a good measure of sweet and salty popcorn for fun! Here's how:
Start by melting your butter. By using melted butter, these cookies come together quickly and easily. And there's no need to worry about whether or not you've remembered to get your butter out of the fridge - bonus!
Whisk together your dry ingredients in a medium mixing bowl. This way, you'll ensure that all of your raising agents are evenly distributed throughout the flour and you'll have everything ready to go.
Next, you're going to mix your melted butter with the sugars until well combined. The easiest way to do this is using a stand mixer but if you don't have one, you could use an ordinary mixing bowl and an electric hand mixer.
This recipe uses a mixture of sugars: granulated, light brown and dark brown. Using a mixture of granulated sugar and soft brown sugar is necessary to create the right texture for these cookies, but the light and dark brown sugars are interchangeable - I like to use some dark brown sugar for the rich, toffee-like flavour it lends the cookie dough - but if you prefer you can use all light (or all dark).
Next, add the egg and the vanilla extract to your butter and sugar mixture. Turn the mixer onto medium speed and let it mix until well combined. You don't want to overmix - 30 seconds to 1 minute is plenty.
Pour in the flour mixture you prepared earlier and mix on low speed until just combined and you can no longer see any pockets of flour.
Now the fun part! It's time for your add-ins. Add your dark chocolate chunks and popcorn to the bowl and mix on gentle speed until everything is well-dispersed in the cookie dough. Experiment by using different flavour popcorn - I used sweet and salty popcorn here but imagine how good toffee popcorn would be!
Roll the cookie dough into balls. There's no need to chill this dough before using but you can if you wish. Grab about 2 tablespoon-size lumps of cookie dough and roll into balls. You will get 24 cookies from this amount of mixture.
At this point you can either bake the cookies (on a lined sheet pan, 6-8 at a time) in an oven preheated to 180C/350F for 8-10 minutes until the cookies are just lightly golden. They should be gooey and soft in the centre and they'll firm up as they cool. Sprinkle with lots of flaky sea salt for that sweet and salty vibe!
Alternatively, freeze the dough balls on the sheet pan. Once frozen, transfer them to a container or freezer bag and keep on hand for when those emergency cookie cravings hit! Bake as directed, adding an extra minute or two to the baking time.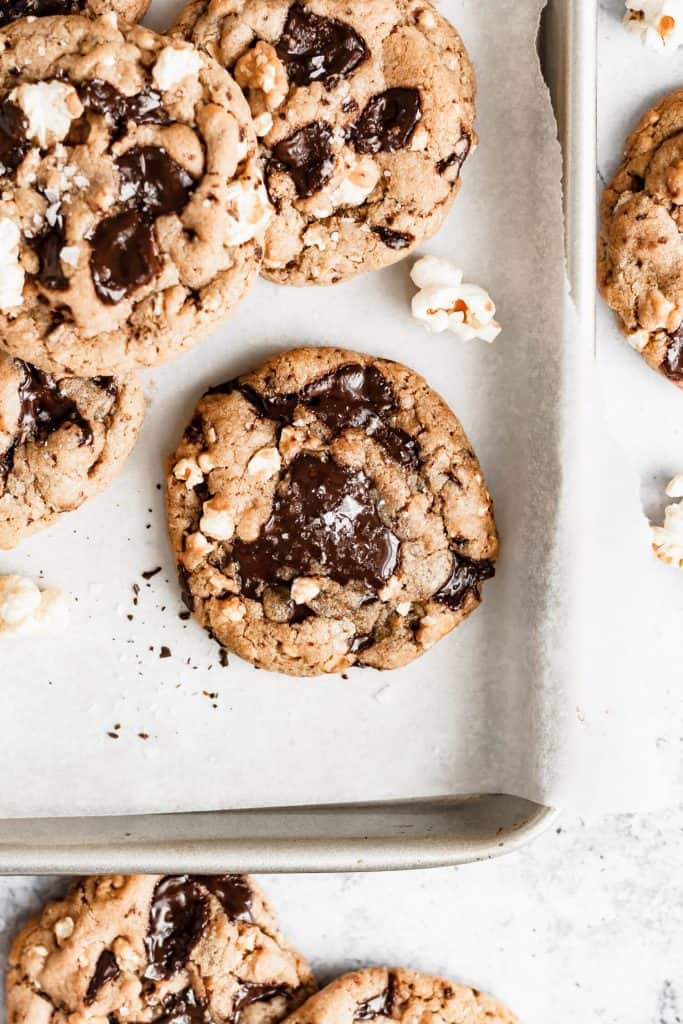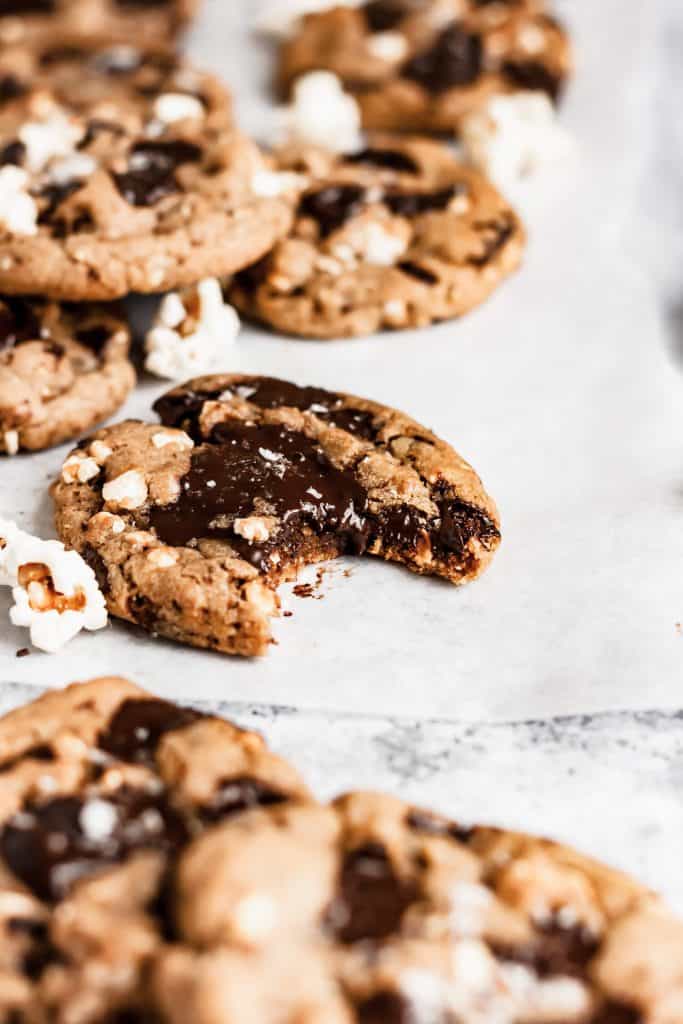 I hope you enjoy making these cookies! And if you're looking for more cookie inspo, be sure to check out my white chocolate macadamia oatmeal cookies and these Biscoff White Chocolate Chip Oatmeal Cookies!