This post contains affiliate links from which we could earn a small commission. Please read our Privacy Policy for more information.
These nutella oatmeal peanut butter chip cookies are super chewy, gooey and so easy you can make them in under 20 minutes! They have a texture that is reminiscent of a brownie crossed with an oatmeal cookie, absolute perfection!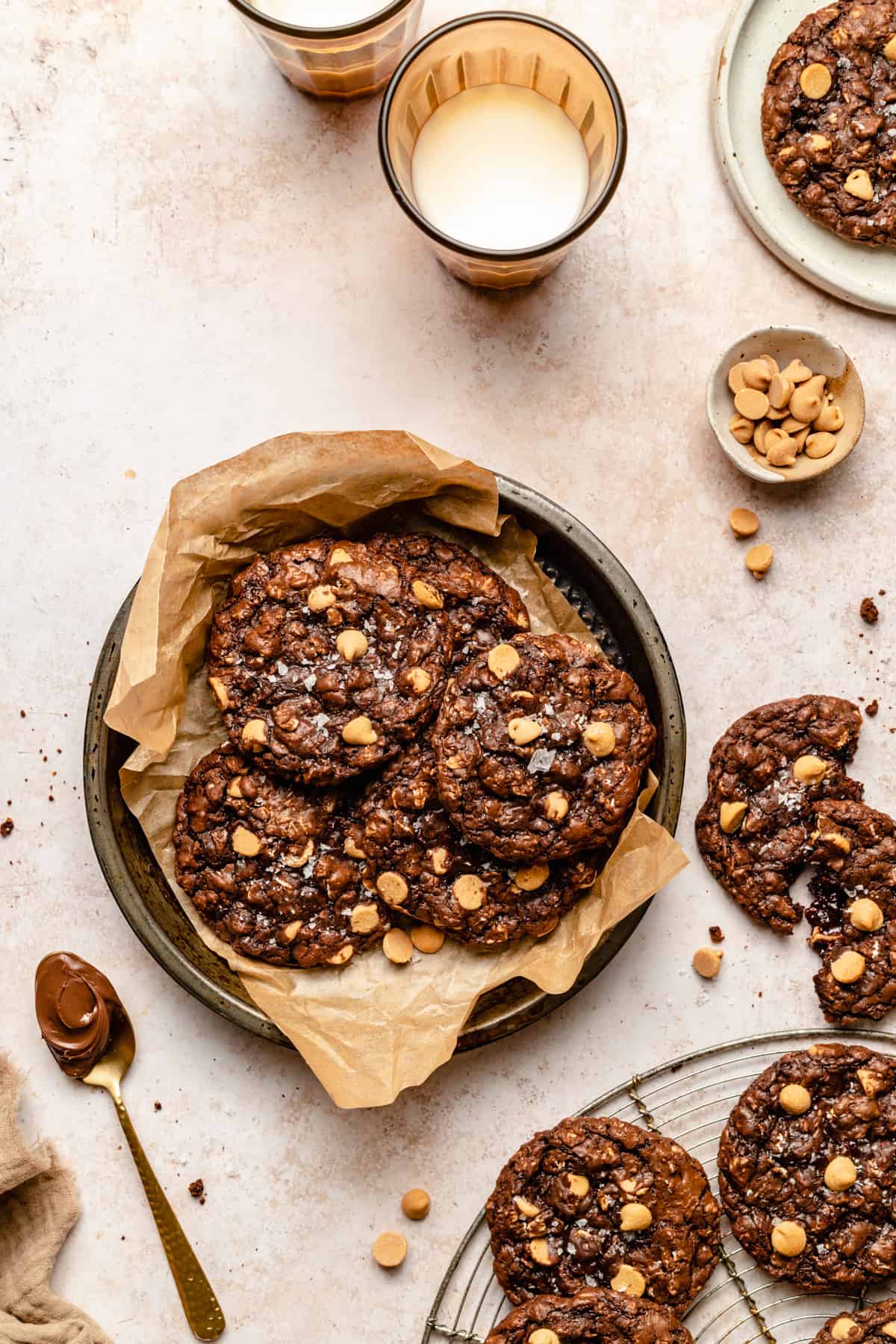 We loved these Biscoff White Chocolate Oatmeal Cookies so much we had to make a new version ready for the Christmas season. These nutella oatmeal peanut butter chip cookies are perfectly gooey and extra chewy and are SO easy to make. And being made with oats… they're almost healthy! HA! These cookies are the love child of an oatmeal cookie and the gooiest brownie. They are the perfect texture and have the crackly outside that is unmistakably like a brownie.
There are a few flavours I love to use in baking, especially at this time of year: one is mint, like these double chocolate chip mint cookies and the other is peanut butter like these nutella oatmeal peanut butter chip cookies. Let me know your favourite cookie flavours during the festive season in the comments section!
I love hearing from you so please leave a comment with how you got on and how much you love these amazing nutella peanut butter chip cookies. Also don't forget to rate the recipe!
Jump to: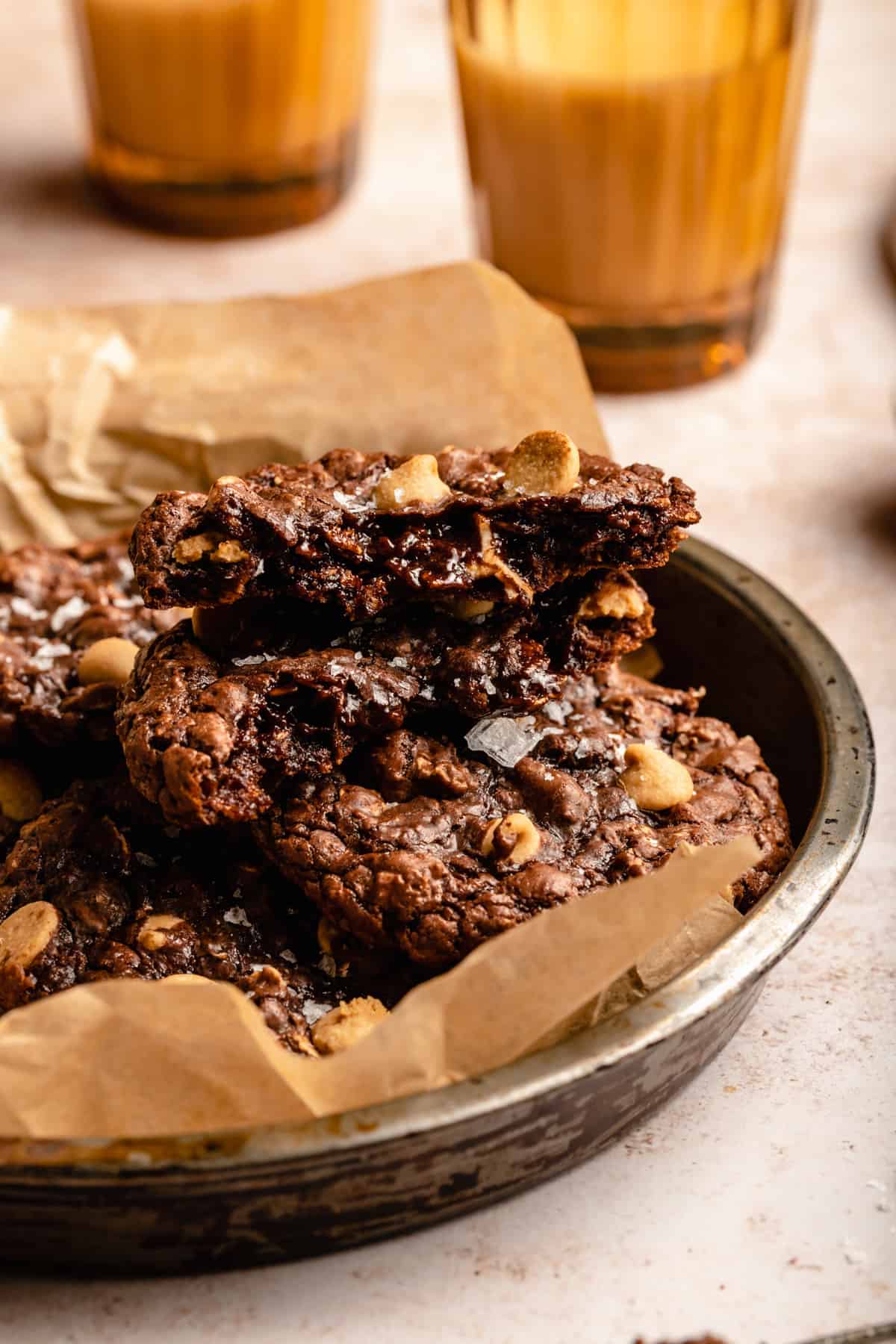 What makes these the best?
These are the reasons you need these nutella oatmeal peanut butter chip cookies in your life and why they're awesome!
Brownie - These cookies are the best of both worlds, a chewy and gooey cookie with all the chocolatey goodness of brownies.
Old fashioned rolled oats - I find old fashioned rolled oats are the best and chewiest oats for these kind of cookies. The jumbo sized oat flakes give the cookie a great texture.
Nutella - Nutella forms the main base of these cookies and gives them all the yummy hazelnut praline notes that are extra special at this time of year.
Quick & easy - Cookies that can be whipped together in under 10 minutes and finished and baked in another 10 minutes are a Christmas miracle!
Addictive - These are perfect to chow down on and enjoy whilst watching movies during Christmas time. You will keep going back for more, I promise!
Ingredients
These nutella oatmeal peanut butter chip cookies have very simple ingredients that are readily available. This is what you'll need: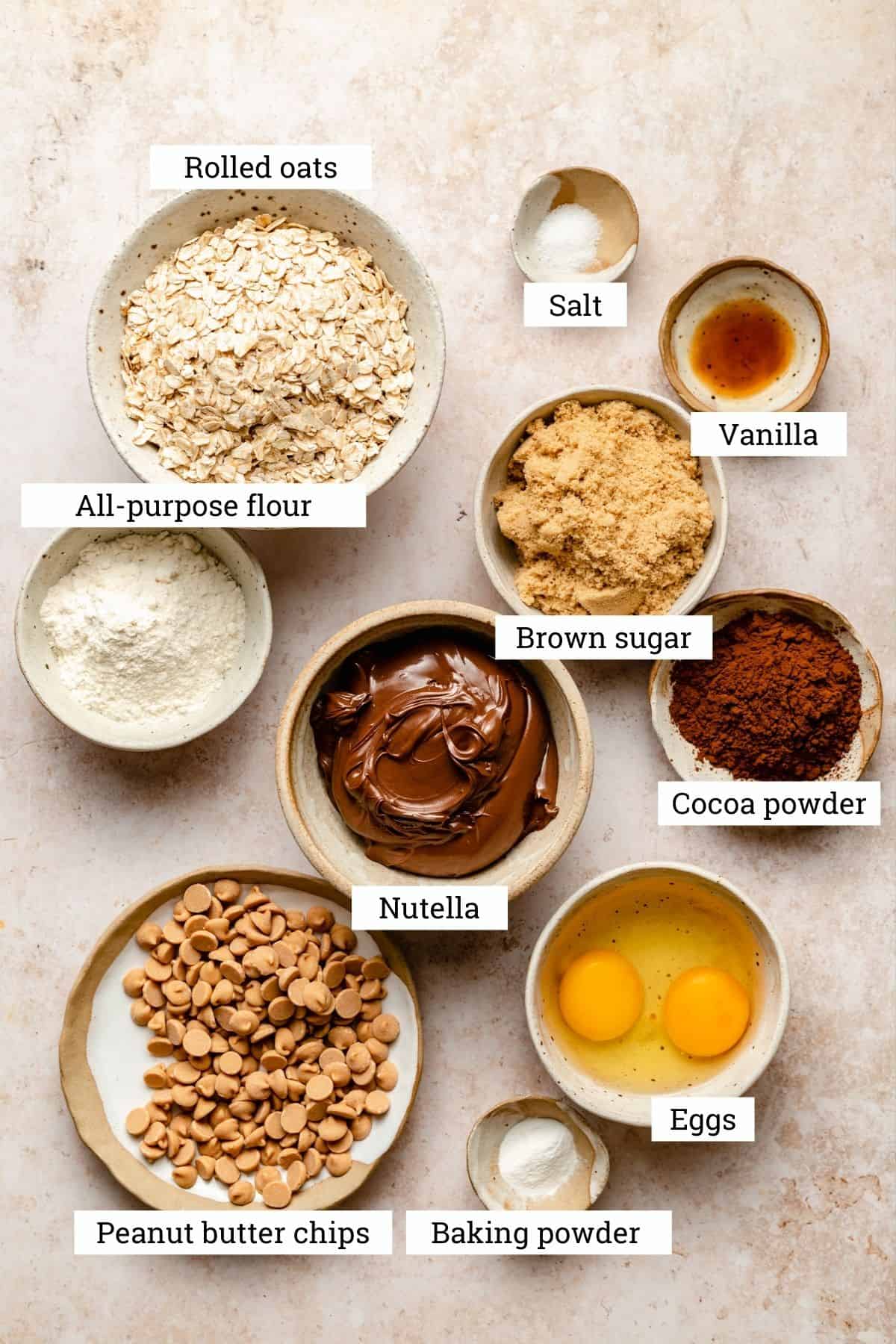 Chocolate hazelnut spread - this nutella chocolate spread doubles up as a flavour enhancement and the essential fat component of the cookie.
Sugar - you'll need additional sweetener in these cookies in the form of soft light brown sugar.
Eggs - you'll be using eggs, US large or UK medium eggs are all you need.
Dry ingredients - the dry ingredients you'll need are all purpose (plain) flour, cocoa powder for extra chocolateyness and old fashioned rolled oats.
Baking essentials - you'll need some store cupboard staples of vanilla extract, baking powder and fine sea salt to enhance everything.
Mix-ins - these are made super special with peanut butter chips, you can use white chocolate chips instead if you prefer, but I highly recommend the peanut butter chips.
Customisations
If you don't have some of the ingredients here are some recommendations for substitutions or customisations:
Chocolate chips - Instead of peanut butter chips, switch out with your favourite chocolate chips, the recipe will work just as well. I quite like white chocolate chips in these cookies!
Marshmallows - Make these cookies s'mores-esque by throwing in some mini marshmallows to the mix to make them even more gooey!
Nuts - love nuts? Roughly chop some hazelnuts or walnuts and add them to the cookie batter. A great way to add a lovely crunch!
Chocolate spread - I wouldn't recommend substituting the nutella for anything else. Peanut butter will not work in the quantities required in this recipe. I would also highly recommend using proper nutella instead of a supermarket brand - the cookies won't turn out quite as well due to the varying ingredients.
How to make them
These cookies are so easy to whip up you will be snacking on them in no time. Follow these steps to make them:
In a large mixing bowl, stir together the chocolate hazelnut spread, brown sugar, eggs and vanilla extract until smooth and combined.
Add the oats, flour, cocoa powder, baking powder and salt to the chocolate mixture.
Stir to mix all the dry ingredients into the wet until it's nearly combined.
Add the peanut butter chips to the bowl, reserving a few to top the cookies before baking.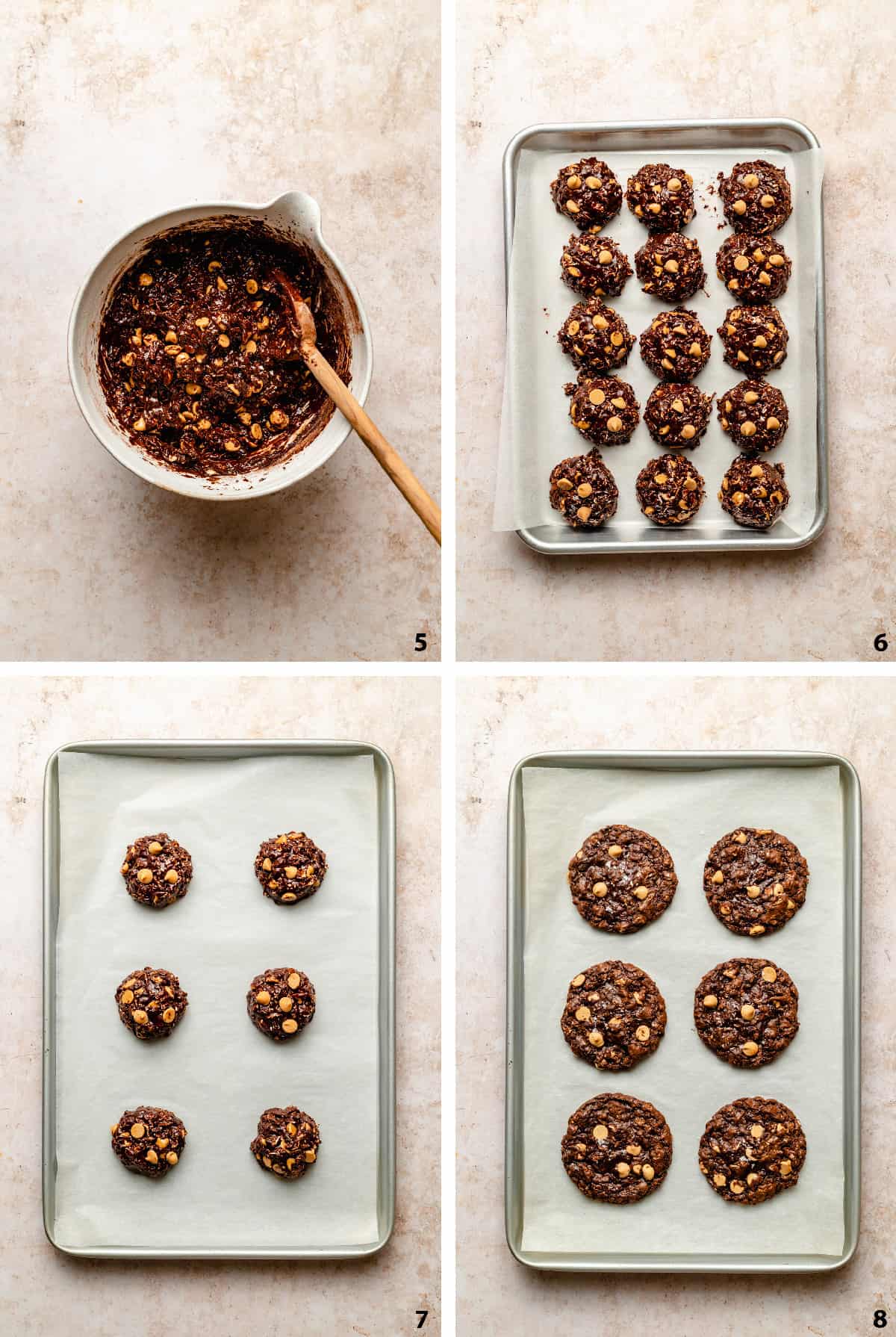 Stir the peanut butter chips into the nutella oatmeal cookie batter mixture until evenly distributed, the cookie dough will be fairly sticky.
Using a medium cookie scoop (2 tablespoons), scoop out the dough onto a tray.
Place about 6-7 cookie balls on to the prepared baking sheet with 1-2 inches in between them.
Bake in the preheated oven for 10-12 minutes or until set on the edges but still slightly gooey in the middle. Mine are perfect in 10 minutes.
Recipe tips
Follow these tips for the best peanut butter chip cookie results.
Cooling - Leave to cool on the baking sheet for 10 minutes - they'll continue to set on the baking sheet and will be perfectly gooey and fudgy in the middle, always slightly underbake for this reason. Transfer to a wire rack to cool completely.
No chill - this peanut butter chip cookie batter is made to not require any refrigeration or chilling before baking, giving you tasty gooey cookies a lot faster. No faffing around at all.
Make ahead - you can make this recipe ahead of time if you wish, I recommend storing the scooped dough balls in an airtight container as leaving them open to the air will allow them to dry out. If they dry out they will not spread enough and be a lot thicker.
Freeze - You can freeze the raw dough balls on a baking sheet lined with parchment paper at step 6 above. Once frozen you can then place them into a freezer suitable container for up to 3 months in the freezer. Defrost on the counter for 10 minutes before baking, though they will likely not spread as far if still very cold.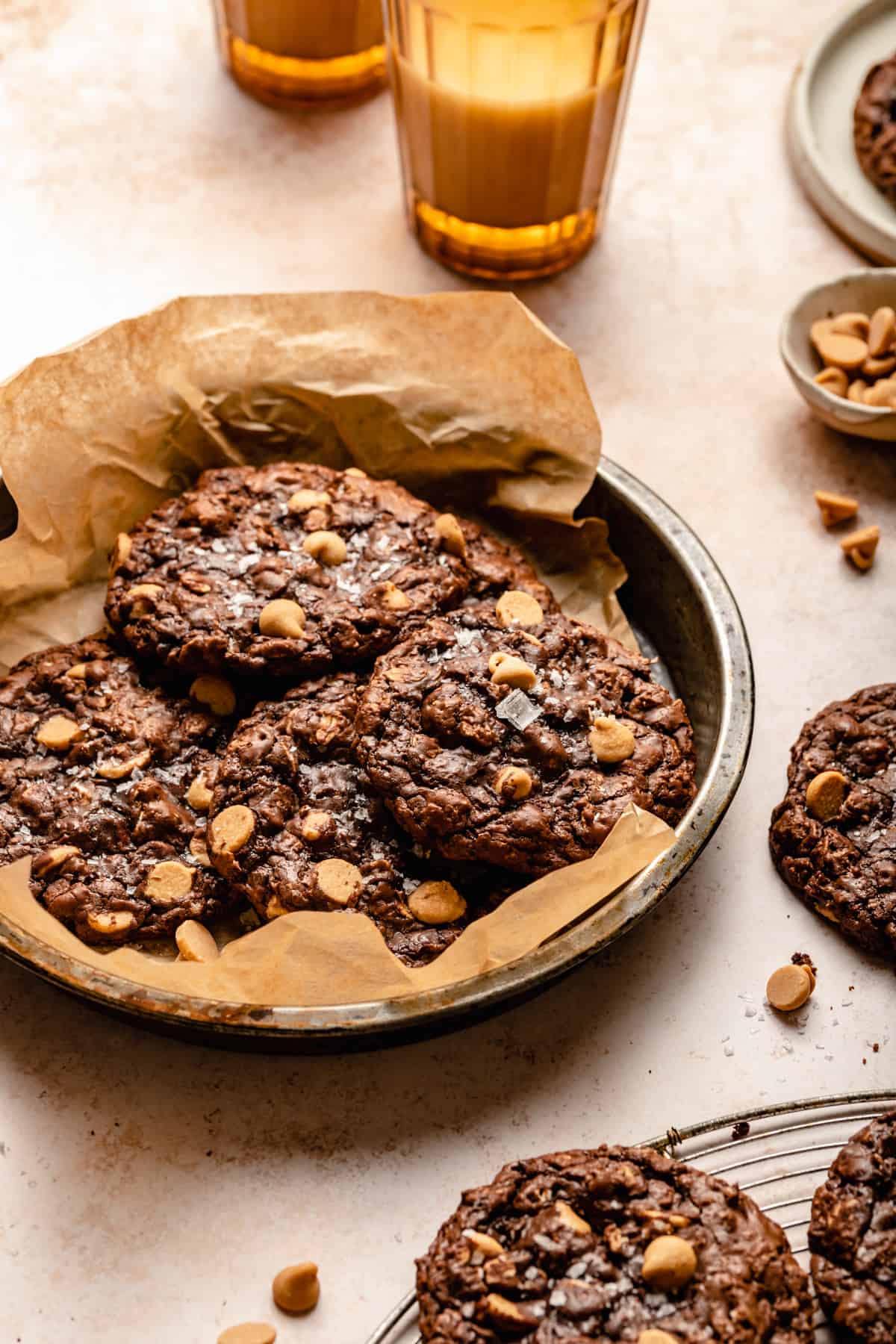 FAQs
How to store them?

These baked cookies store well for 2-3 days in an airtight container at room temperature. I recommend just baking what you need at the time and freezing the remaining cookie dough for when you want a fresh warm cookie. You can freeze them as in the tips above or you can freeze them once baked. They taste amazing still cold from the freezer!
More cookie recipes...
I hope you love these nutella oatmeal peanut butter chip cookies as much as we do. If you make them, be sure to leave a comment, rate the recipe and tag #eatloveeats on Instagram! I love to see your creations!