This post contains affiliate links from which we could earn a small commission. Please read our Privacy Policy for more information.
This is an easy and delicious alcohol free mulled wine to sip, enjoy and warm up with during the festive holiday season. It makes the perfect addition to your non alcoholic drink repertoire. Ideal for anyone who wants to enjoy mulled wine without the alcohol!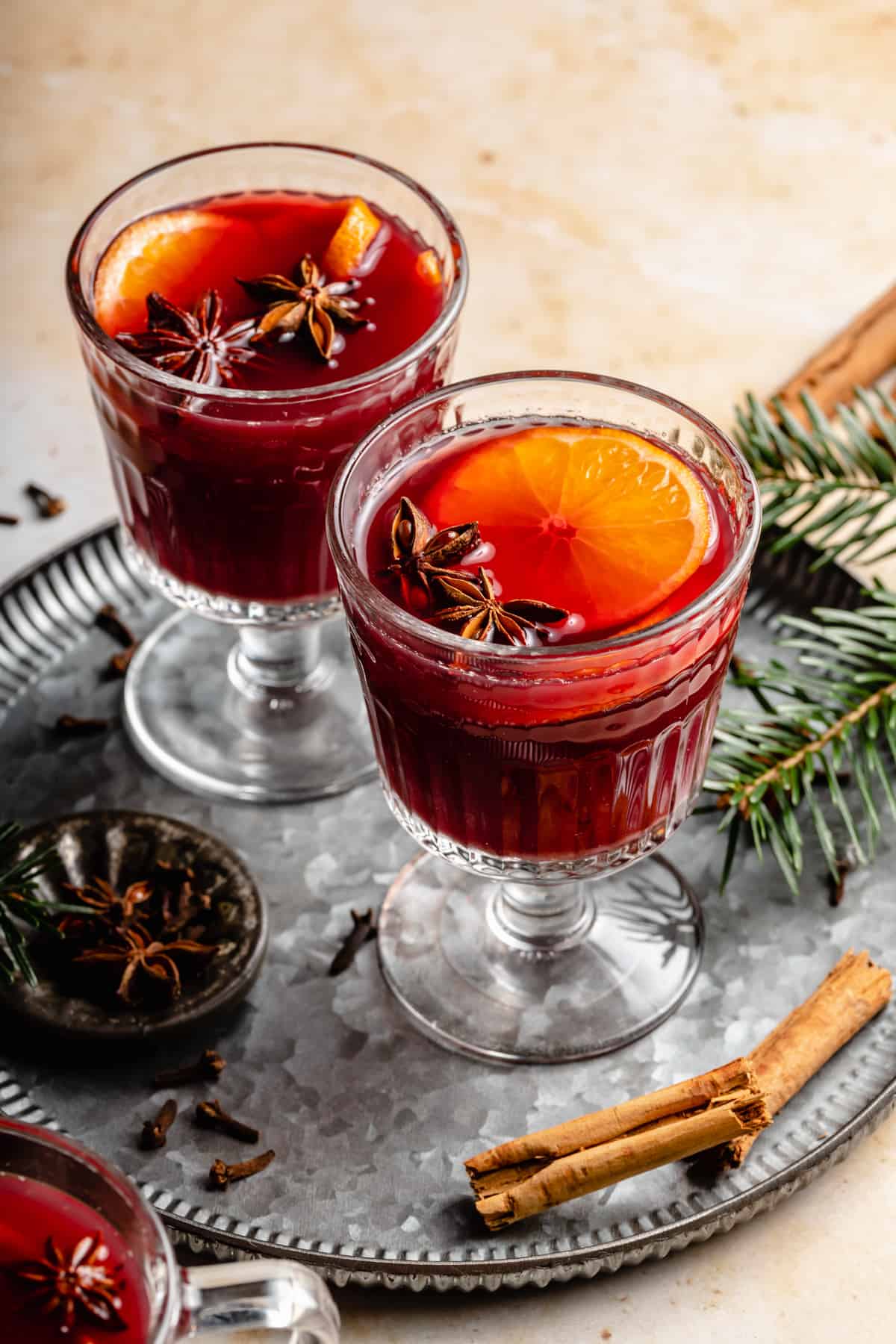 To me there's not much more of a festive drink to enjoy during winter and especially at Christmas than this non alcoholic mulled wine. This festive drink is perfectly balanced and has been created to completely mimic the flavours and natural "burn" you would get from a traditional alcoholic version with absolutely zero alcohol in sight. My husband has tested this thoroughly and I know and believe it's the best.
You'll get all the benefits and joy out of drinking this lovely warming spiced drink without any of the downsides of the alcohol. Win-win! It's super easy to throw together and has readily available ingredients too. Being alcohol free mulled wine, this is totally suitable for the whole family if they want to join in the festive fun too. If you're looking for another non alcoholic drink, why not check out this Apple and Raspberry Mocktail.
Jump to where you need to on the page with the links below. I love hearing from you so please leave a comment with how you got on and how much you love this warming mulled wine... also don't forget to rate the recipe!
Jump to: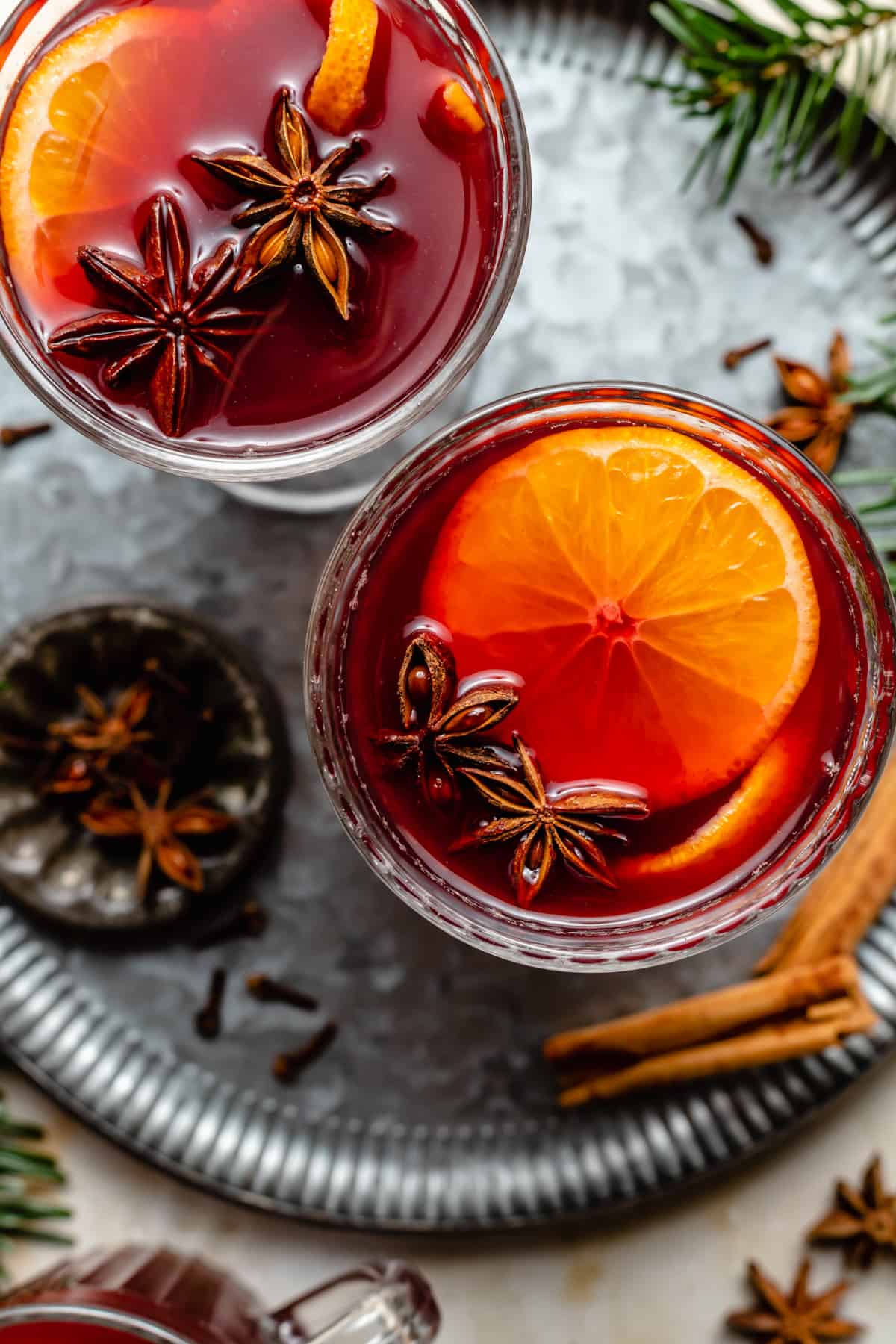 What makes this the best?
These are the reasons you need this non alcoholic mulled wine to enjoy this holiday season!
Warming - It's served hot! And not only that, it has a lovely selection of spices that warm the soul as you drink it.
Easy - This is barely even a recipe to be honest, it's a... throw it in a pan and heat it kinda thing. Anyone can do this. BUT you need to have this recipe as it is SO good. Balance is key!
Taste - we've tested this many times to ensure we've got the taste right. To mimic an alcoholic beverage (and actually make it taste impressive) is quite challenging, the most difficult part to mimic being the mouthfeel and the little bit of "burn" you get from the alcohol. We've fixed that and this will be the closest thing you can get to alcohol without it being alcohol. You'll get all the depth and complexity you need from this non alcoholic mulled wine. Trust me!
Kid friendly - get all the family involved, the kids will love this drink. It's quite special to enjoy a cup of this lovely non alcoholic mulled wine whilst sitting in front of a roaring fire.
Ingredients
This non alcoholic mulled wine has very simple ingredients that are readily available. This is what you'll need: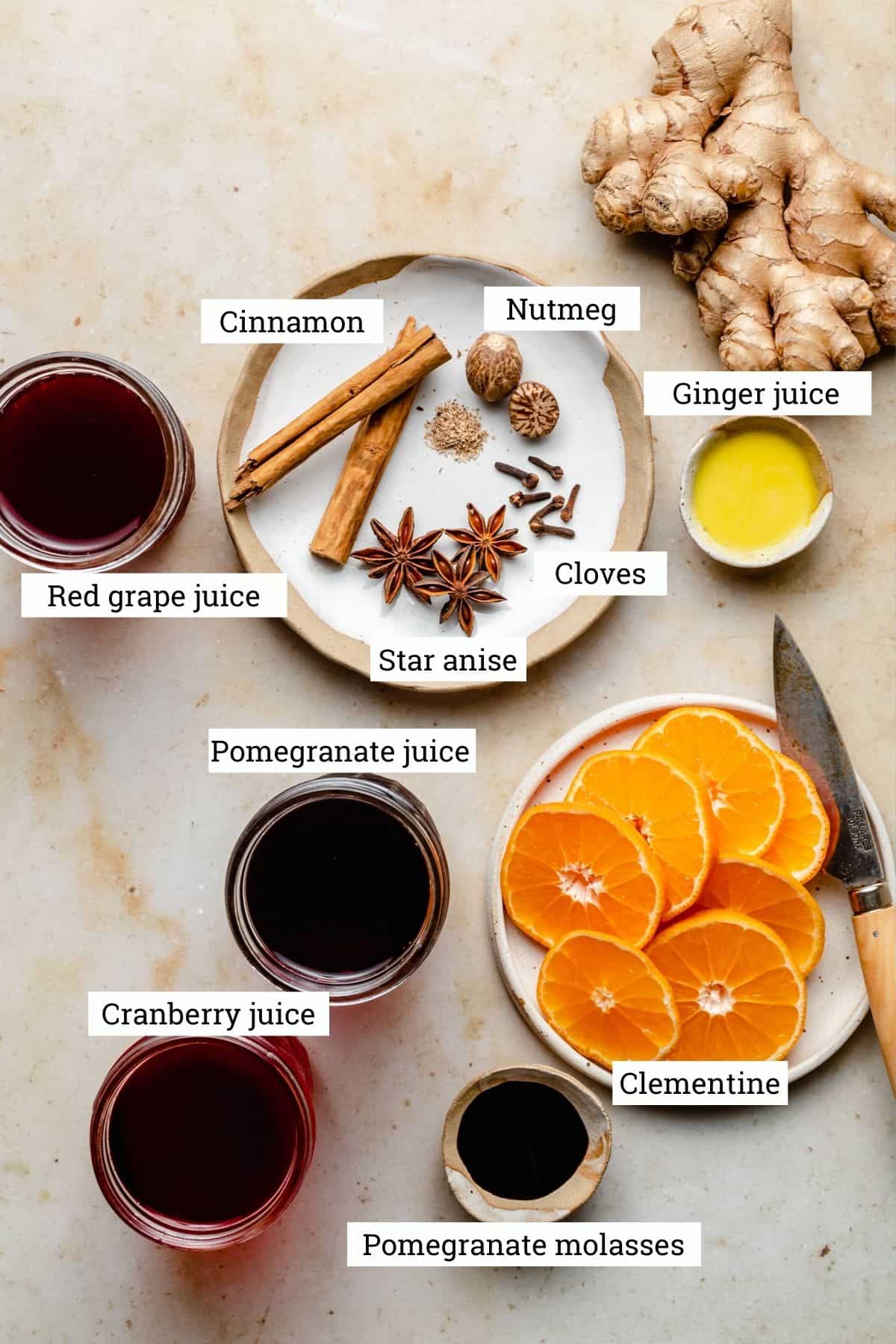 Juice - Instead of red wine, you'll be using a blend of pomegranate, grape and cranberry juice. These juices were picked as they each add their own characteristics to the flavour profile and will bring more complexity than simply using single juices as in other recipes. It wouldn't be the same with just one or two of the juices on their own. The addition of grape juice also means you don't need to add any sugar as it is a lot sweeter than the other two juices.
Pomegranate molasses - remember when I said about getting the right balance and flavour? This ingredient is KEY to that. Wine has a complex depth of flavour and pomegranate molasses adds this back in. It's definitely worth sourcing this ingredient - a good supermarket will have it or use the link to get it online!
Clementines - what could make this drink more Christmassy than clementines? They add sweetness but also the citrusy essential oils from the skin as it steeps.
Ginger juice - this is the second key to getting the correct flavour profile of this alcohol free mulled wine. It adds the natural "burn" to the drink whilst contributing a lovely flavour with the rest of the spices. Slices of ginger won't do the same thing.
Whole spices - Mulled wine isn't mulled without spices. You'll need star anise, cinnamon sticks, cloves and nutmeg.
How to make this drink
This non alcoholic mulled wine is so simple to throw together, you will kicking back and sipping it in front of the tv or a good wood fire in no time. Follow these steps to make it: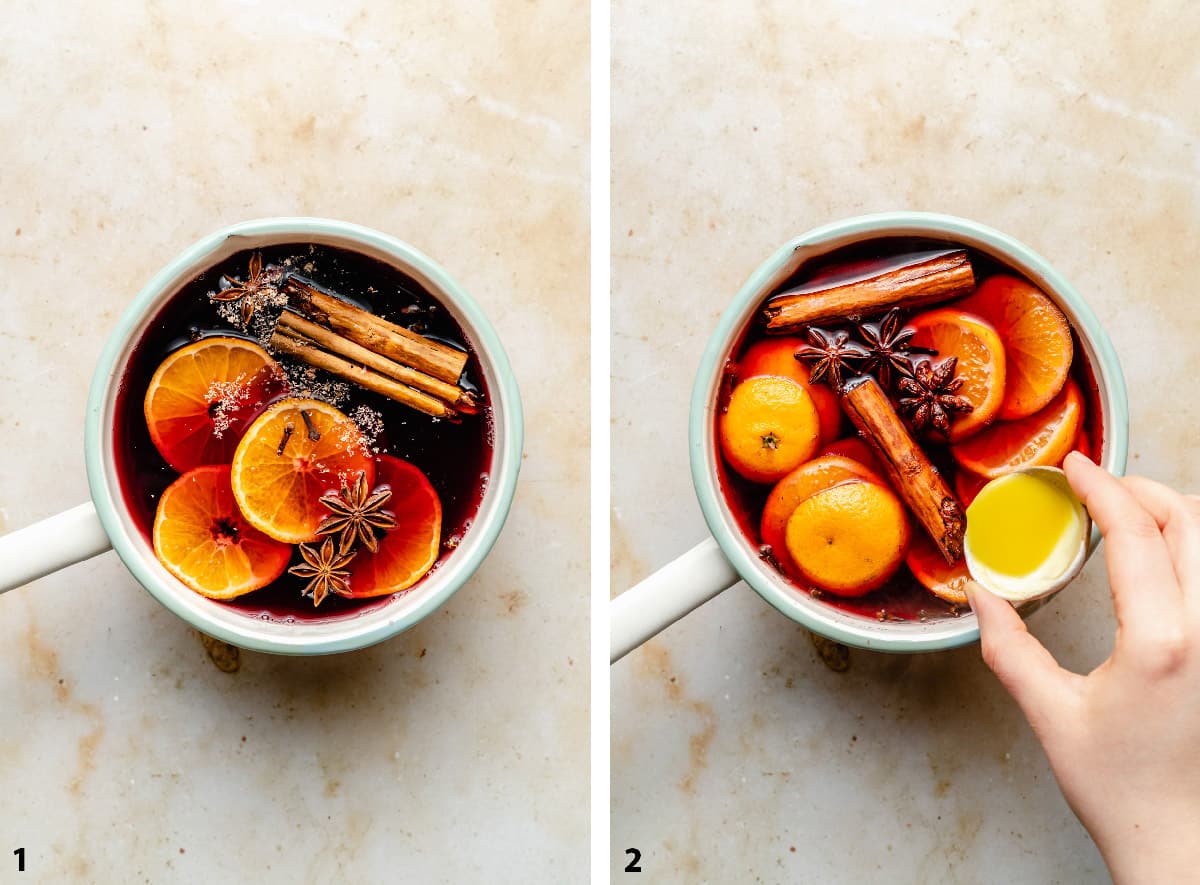 Place all the juices (except the ginger juice), pomegranate molasses, sliced clementines and whole spices into a medium saucepan and bring to a simmer over a medium heat. Turn down to low and steep for 20 minutes.
Once steeped and smelling aromatic, pour in the ginger juice and stir it together. Pour into mugs and serve immediately.
Recipe tips
Here are some tips that will make this recipe a success for you.
Ginger juice - ginger juice sounds hard to come by but I promise you it isn't. No fancy equipment or presses are needed. Just finely grate 2-3 inch chunk of peeled ginger and gather the gratings, then squeeze it very hard through a sieve or muslin. It'll release a potent yellow ginger juice that is perfect for this mulled wine.
You may think that just adding a slice of ginger will be fine… well, you can do that if you prefer but it won't be the same. This will ensure you get that little bite that makes this recipe the best! Also, the key to the ginger juice is adding it just before serving! No need to cook it out at all. This is very important otherwise the flavours will dull over time and cooking.
Pomegranate molasses - If you don't have access to pomegranate molasses, you can try adding a touch of brown sugar and a splash of lemon juice. This will not replace the depth or complexity of flavour that you would get from the molasses though so I would highly recommend sourcing this even if from online. It lasts a long time and you can also use it in this Cast Iron Chicken Thighs with Cherries recipe.
Scaling up - On scaling this recipe I would recommend increasing the pomegranate molasses but keeping the whole spices the same and just make sure it is steeped for long enough to ensure the flavour is there. For example if you double the recipe, double the molasses, but keep the spices the same.
Serving to kids - be sure to strain out the whole spices for the kids. You might also want to add the ginger juice after you've served up their mugs.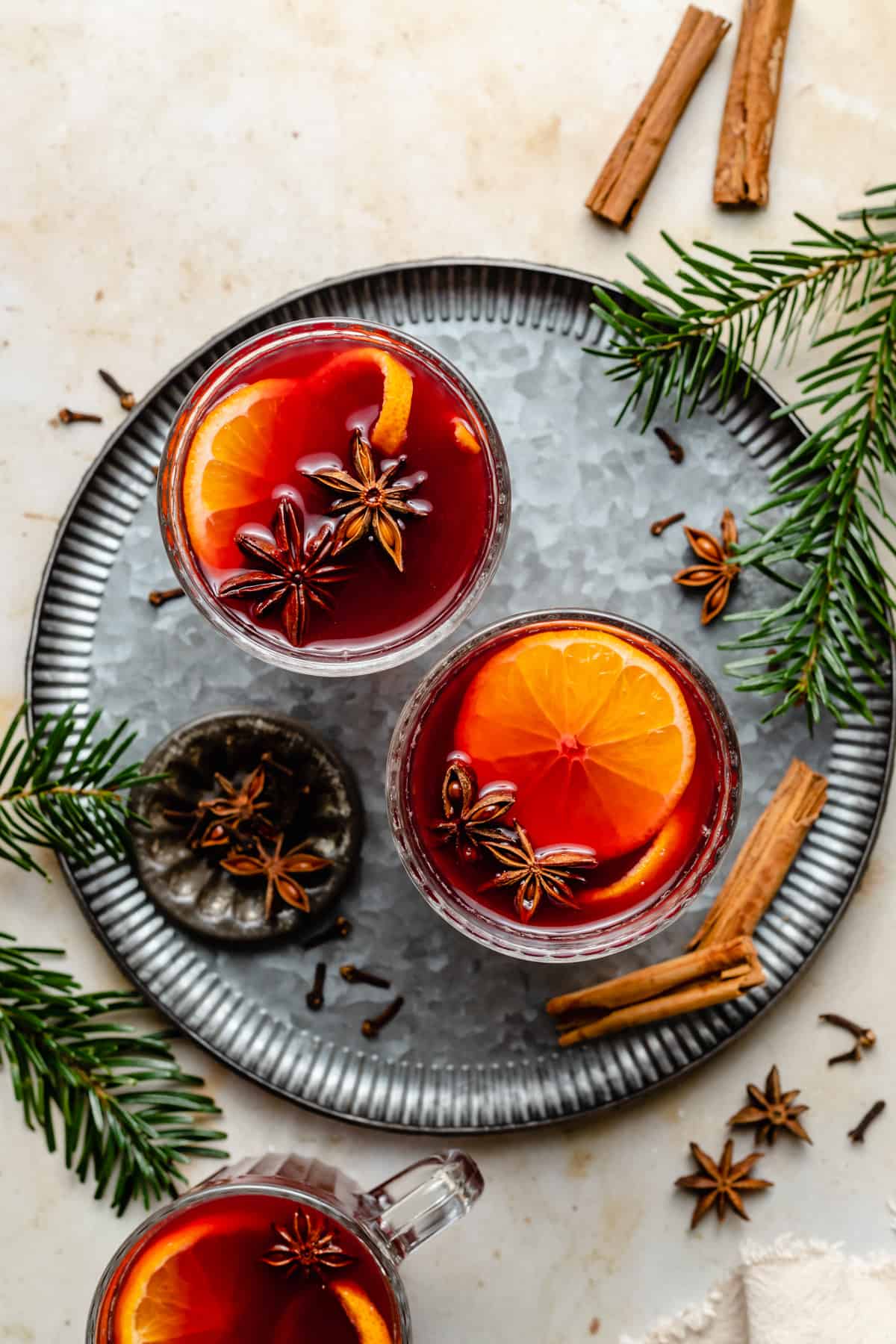 FAQs
How to store it?

If you have made too much or want to store it for later I recommend steeping it as per the recipe, then straining the spices out. Keep in a jug with a lid in the fridge for up to 3-4 days. Be sure to add the ginger juice after you reheat. It is fine if you have already added and reheated it, it just won't have the same sharpness. 
Can I make non alcoholic mulled wine in a slow cooker?

Yes you can. If you want to be completely hands free, just add all the ingredients minus the ginger juice into the slow cooker and cook it on low for 1-2 hours. I find that it is just about right at 1.5 hours.
More festive recipes for you...
I hope you love this non alcoholic mulled wine as much as we do. If you make it, be sure to leave a comment, rate the recipe and tag me on Instagram! I love to see your creations!