This rhubarb galette with pistachio frangipane is the perfect spring time dessert. Simpler to make than it looks and an impressive dessert to serve, especially at Easter.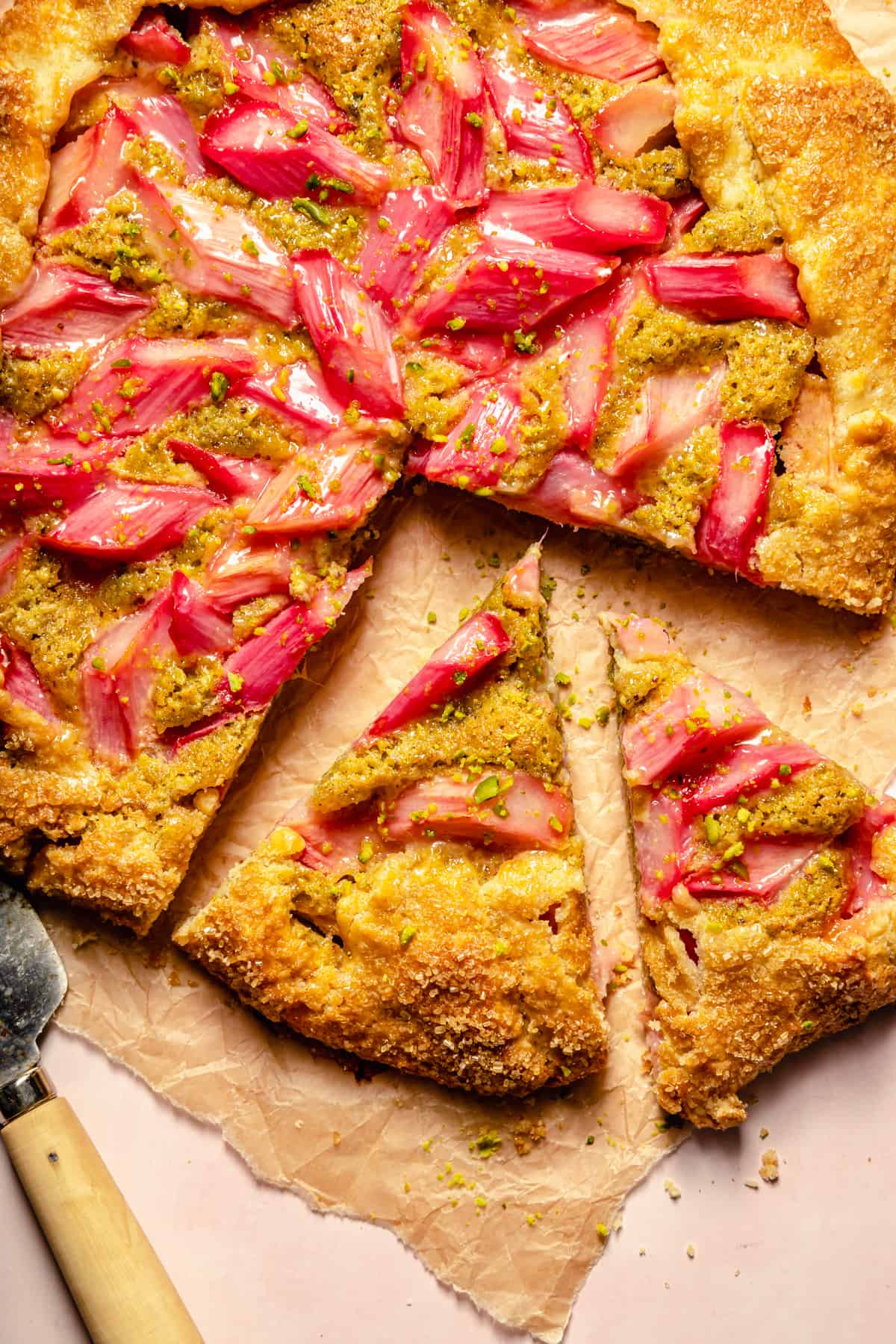 This time of year is the best time to make rhubarb galette with fresh and vibrant pink rhubarb. We love to use seasonal vegetables whenever we can, the tart and zingy flavor is unmatched in anything else. Galettes are a perfect platform for many creative ingredients, we even make a zucchini one, they're so versatile.
What could go better than a pop of green with the stunning pink of the rhubarb? Pistachio frangipane is layered underneath the filling of this rhubarb galette, giving it even more substance and robust flavors. Don't forget to serve it with ice cream!
We know you'll love making and devouring this rhubarb galette so don't forget to leave us a comment and rate the recipe. Be sure to use the links below to get to where you want.
Jump to:
⭐ Why you'll love this recipe
Here are some reasons why you need this rhubarb galette recipe in your life:
Seasonal - make the most of the beautiful stems of seasonal rhubarb. It's vibrant, tangy and full of nutrients!
Spring flavors - quintessentially a flavor that is steeped in the freshness of spring. You can't go wrong with this delicious rhubarb dessert.
Show stopper - it's stunning! Show off for any event, whether that's Mother's Day or Easter, you can share this show stopper rhubarb galette with your friends and family.
Simple - the rhubarb galette recipe is very simple and easy to follow. Nothing better than following our step by step photo guide to ensure complete success every time.
Make ahead - you can prepare this dessert ahead of time, it can be eaten hot or cold and even reheated.
📋 Ingredients
You only need simple ingredients for this rhubarb galette recipe, this is what you'll need:
Rhubarb - if you live in the UK and can get hold of early forced Yorkshire rhubarb this has a wonderful color and subtle tartness. Whatever you get, you can still create a stunning dessert.
Pistachio - underneath the rhubarb is a bed of beautiful green pistachio franigpane, it's super easy to make and adds a great flavor to the galette too.
Almond flour - our galette pastry is tried, tested and works perfectly. It contains some almond flour which gives it a great texture too.
Demerara sugar - for some extra crunch on the rhubarb galette we sprinkle demerara sugar on the crust, it's a simple addition but really adds to the final dessert.
📖 Customizations
We know you love to mix things up with customizations and substitutions so here are some of our recommendations for rhubarb galette recipe:
Fillings - change up the fruit if you like. Or try out our cherry galette.
Frangipane - instead of pistachio frangipane you could make some almond frangipane or use a bed of almond flour underneath the rhubarb.
Flavorings - add some almond or pistachio extract or try some orange zest in the rhubarb mixture.
Dairy free - we haven't tested it for this rhubarb galette but you should be able to substitute the butter in the pastry with a dairy free version.
🔪 How to make rhubarb galette
Follow these simple step by step guides to success for this rhubarb galette with pistachio frangipane recipe:
Making the pastry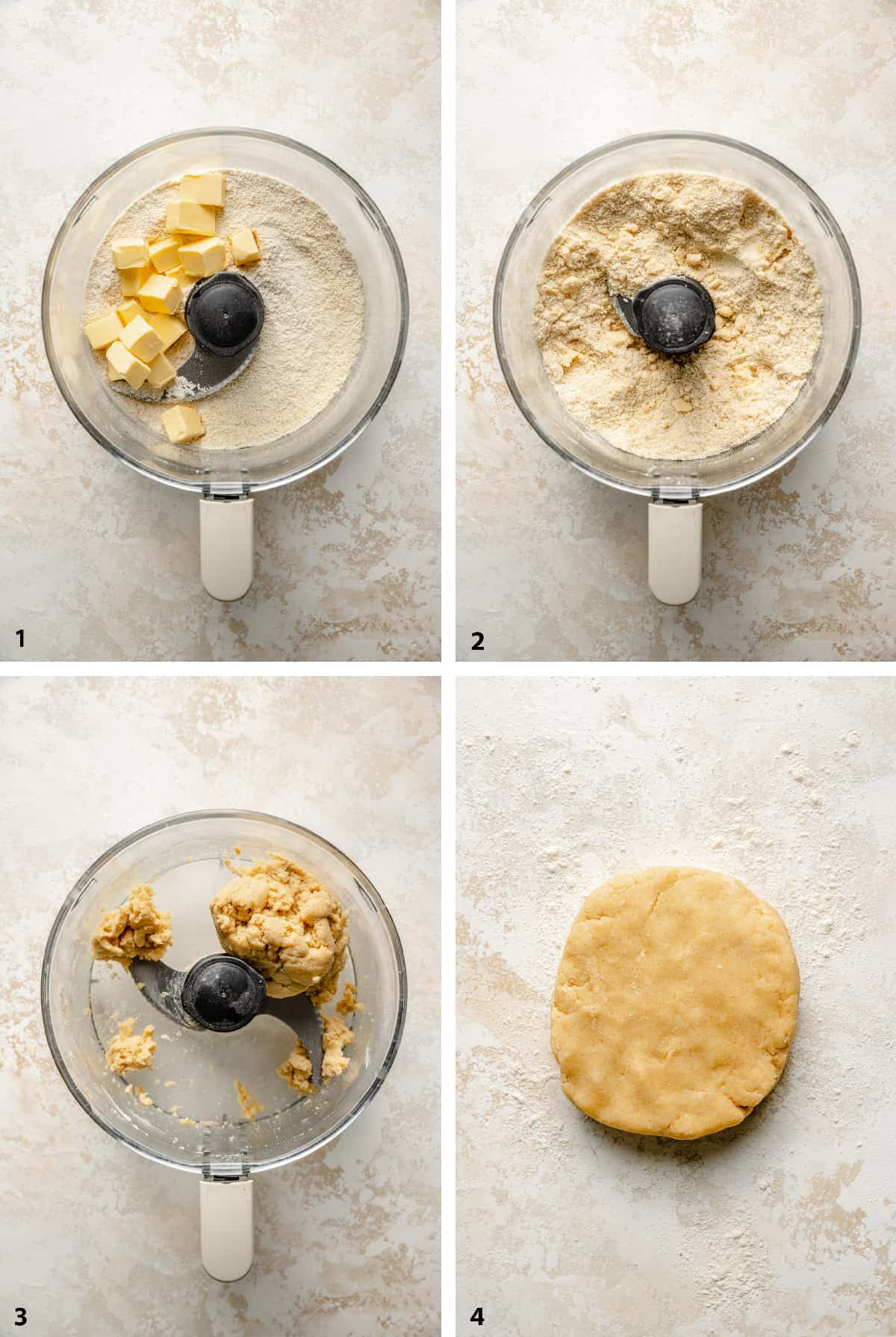 Add the all purpose flour, almond flour, sugar, salt and very cold diced butter into the processor bowl.
Pulse until the butter resembles a crumbly texture the size of peas.
Add 3 tablespoons of ice cold water and pulse until the mixture comes together as a ball. Add a touch more water if needed.
Tip the pastry onto a lightly floured surface and form into a disk. Wrap in cling film and chill in the fridge for 30 minutes to 1 hour.
Making pistachio frangipane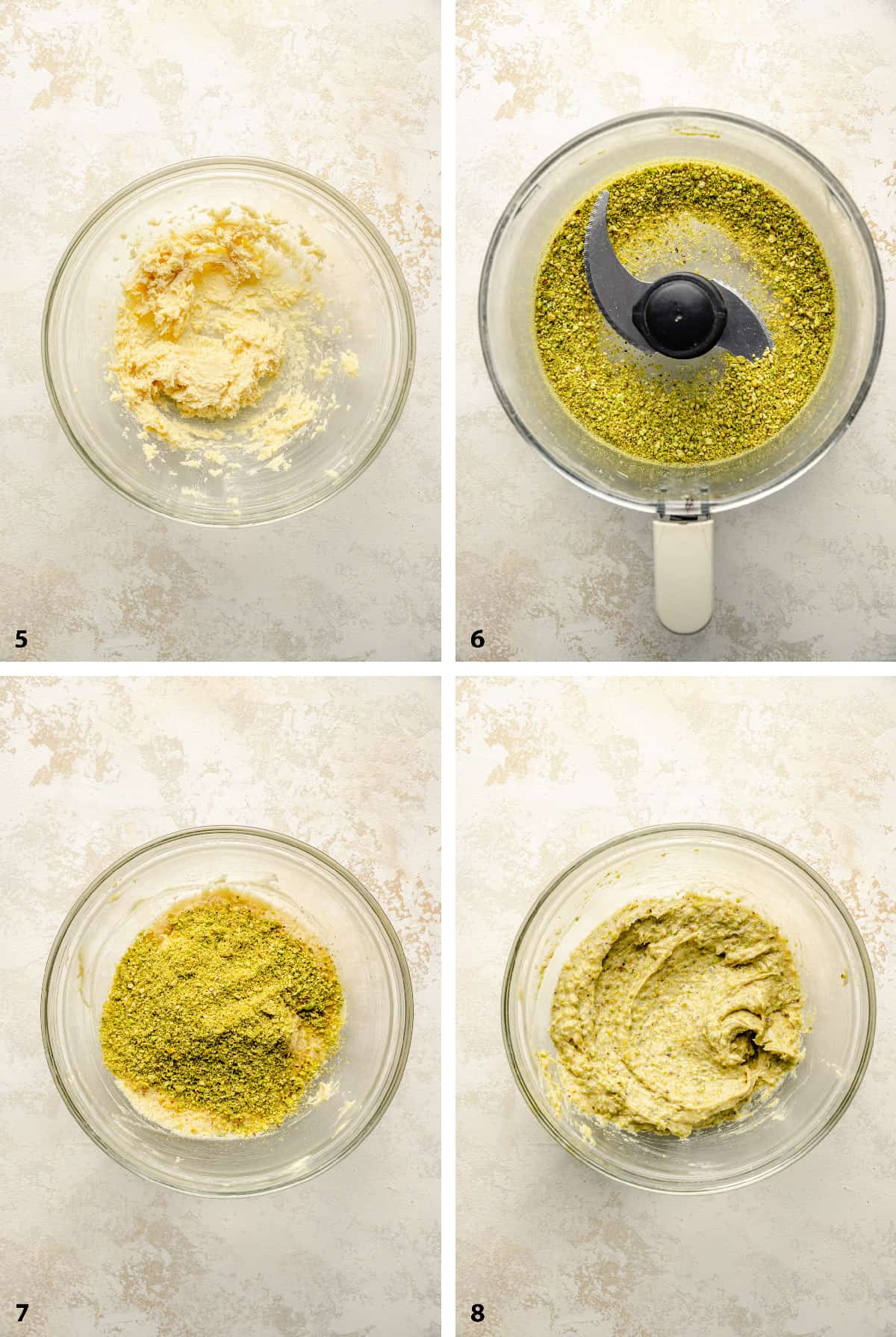 Cream the softened butter together with the sugar until light and fluffy.
Blitz the pistachios into a fine uniform mixture in a food processor.
Beat the egg into the butter and sugar mixture along with the extracts and the flour. Add the ground pistachios.
Stir everything together until combined and creamy. Set aside.
Making the rhubarb filling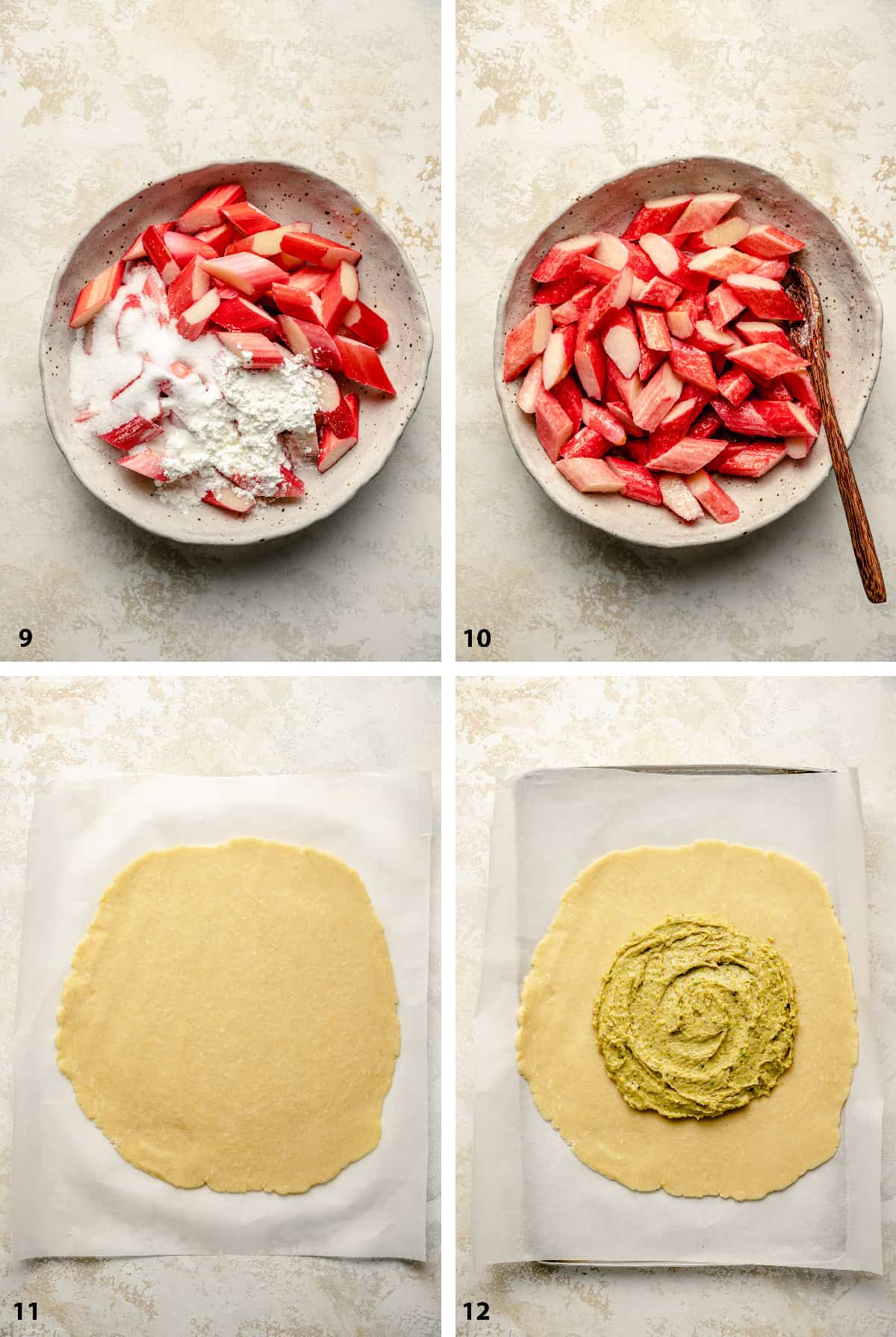 Add the 1 inch pieces of rhubarb into a bowl along with the sugar, cornstarch, extracts and lemon juice.
Mix together until combined and the rhubarb is coated in the mixture.
Roll the pastry into a circle (as best you can) to ⅛" thick and 11" across on some lightly floured parchment paper.
Transfer to a baking sheet and spread over the frangipane mixture leaving a few inches of space at the edges.
Assembling the galette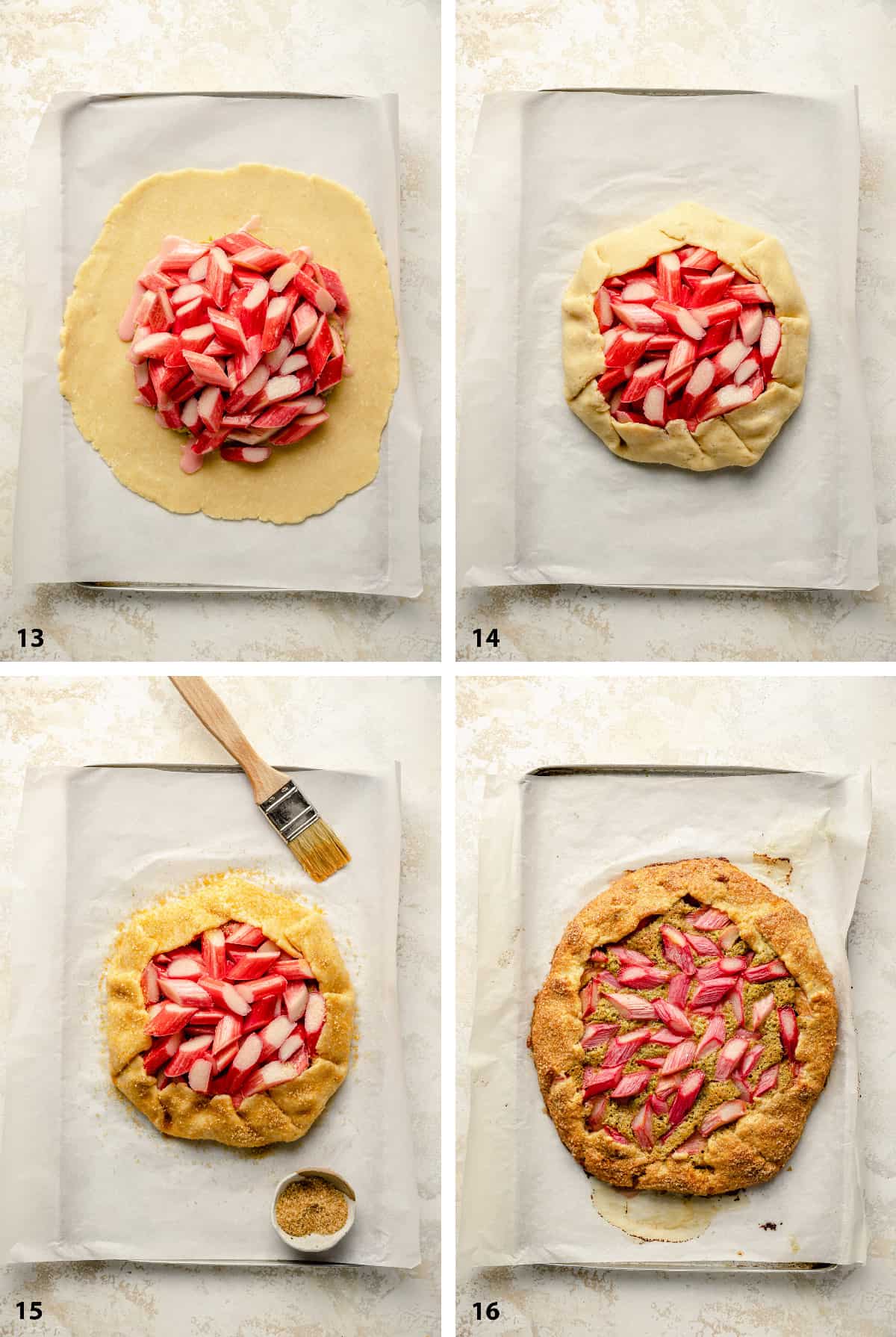 Place the rhubarb filling on top of the pistachio frangipane and gently press it into it.
Fold in the edges of the pastry to cover the edge of the rhubarb filling.
Brush the edges of the galette pastry with egg wash and sprinkle with demerara sugar.
Bake in a preheated oven at 190°C/375°F for 40-50 minutes until the rhubarb galette is set and the pastry is golden brown on the edges. Cool for 10 minutes before serving.
👩‍🍳 Expert tips
Make sure to read and follow these expert tips to ensure complete success with this rhubarb galette recipe:
Chill time - make your fridge your best friend. Pastry bakes best when chilled and not over worked. If it gets a bit too soft during rolling, just chill it for a bit before moving onto the next stage.
Juices - rhubarb will naturally produce juices on baking, the recipe is designed to ensure there aren't too many juices. If there are, the pastry will potentially spill over and leak everywhere. It's still edible, just not as pretty.
Frangipane - frangipane expands when baking. When piling the rhubarb mixture on top of it, gently press it into the frangipane, it will expand and spread some but also come up between the gaps in the rhubarb. This is normal.
Rhubarb - the recipe is best used with forced rhubarb in the early season. If using summer rhubarb which is thicker and more tart you may need a bit more sugar. If adding more sugar add a touch more cornstarch too.
💭 Recipe FAQs
What is the difference between a galette and a tart?

Galettes are made free form and baked on a parchment lined baking sheet. The pastry edges are folded inwards to enclose the edges and hold the filling in the centre. Tarts, on the other hand, are made in a pastry tin and the edges are in line with the edge of the tart rather than being folded in.
How do I prevent my galette pastry getting soggy?

A couple of different ways. You can do it by adding an absorbent base inside the galette under the main filling like the almond flour in our cherry galette. Or simply brush the centre of the pastry with egg white to seal the pastry. Be aware even this will only work so much. If you add too much liquid it will end up soggy. It's all about balance.
How to eat a galette

Galettes, whether savory or sweet, can be eaten hot or cold. They're usually served cut simply into slices as you would a pizza. This rhubarb galette would go well with cream, ice cream or custard.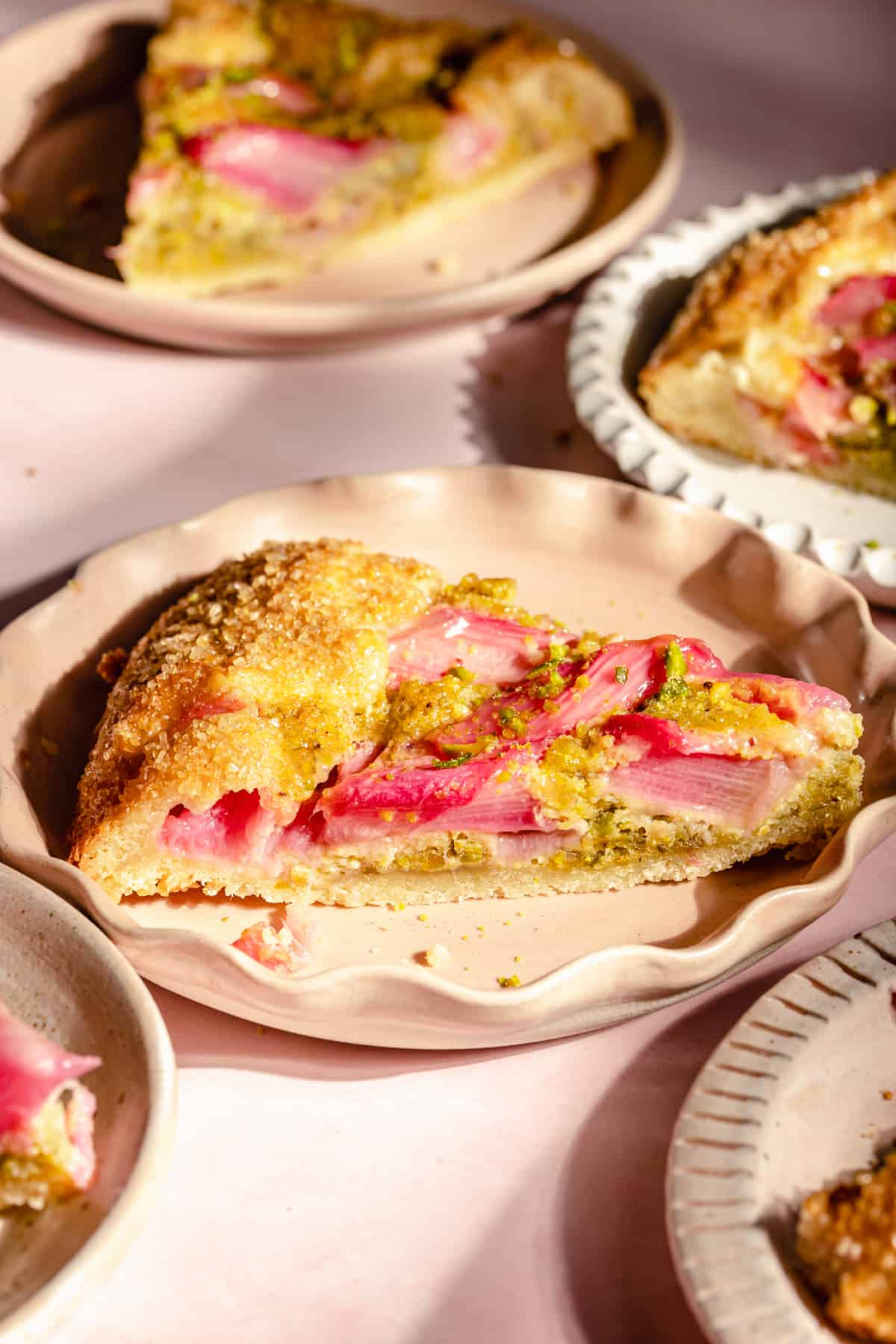 🥧 Related recipes
Love this rhubarb galette recipe? Then you may want more of our dessert recipes. Here are some suggestions to get you started:
Love this recipe? Leave us a 5-star ⭐️⭐️⭐️⭐️⭐️ rating in the recipe below and don't forget to leave a review in the comments section underneath the recipe. We love hearing from you!
Why not follow along with us on our social media channels @Instagram @Facebook and @Pinterest and tag us with #eatloveeats when you've tried one of our recipes!
📖 Recipe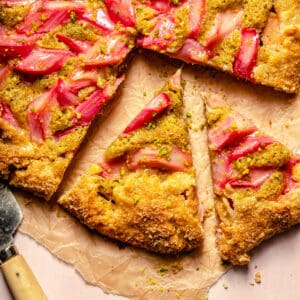 Rhubarb Galette with Pistachio Frangipane
Sweet and tangy, this rhubarb galette packed with juicy seasonal produce and pistachio frangipane is the best spring time dessert you'll make!
Print Recipe
Pin Recipe
⭐️ Rate Recipe
Instructions
To make the pastry
Place the flour, almond flour, sugar and salt into the bowl of a food processor and pulse briefly to mix. Add the cold butter to the processor. Pulse until the butter resembles small peas in the flour.

1 ¼ cups all purpose flour,

½ cup almond flour,

2 tablespoons granulated sugar,

½ teaspoon kosher salt,

½ cup cold unsalted butter, diced

Pour in 3 tablespoons of ice cold water and continue to pulse until a ball of dough forms, adding a little more water if necessary. Tip the dough out onto a floured surface and pat gently to form a disc. Wrap in cling film and refrigerate for 30 minutes to an hour.

3-4 tablespoons ice cold water
To make the pistachio frangipane
In a medium bowl beat together the softened butter and the sugar until light and fluffy. Beat in the egg, vanilla and almond extract along with a tablespoon of flour. Beat in the remaining flour until the mixture is smooth. Blitz the pistachios in a food processor until they look like breadcrumbs. Stir into the butter and egg mixture. Chill in the fridge until ready to use.

¼ cup softened butter,

¼ cup + 1 tablespoon superfine sugar,

1 egg,

½ teaspoon vanilla extract,

½ teaspoon almond extract,

3 tablespoons all purpose flour,

½ cup shelled pistachios
To make the rhubarb filling
Once you're ready to make the galette, preheat your oven to 190°C/375°F. In a large bowl, combine the rhubarb filling ingredients.

4 cups forced rhubarb,

¼ cup granulated sugar,

2 tablespoons corn starch,

2 teaspoons lemon juice,

1 teaspoon vanilla extract,

½ teaspoon almond extract,

⅛ teaspoon fine sea salt

Remove the pastry dough from the fridge and place it onto a large piece of lightly floured parchment paper. Using a rolling pin, roll the dough into a large round, about ⅛" thick and 11" across. Don't worry about making a perfect circle, that's the beauty of a galette! Transfer the parchment paper and dough to a baking sheet and refrigerate for 10-15 minutes if it has softened quite a bit.
Assembling the rhubarb galette
Spread the pistachio frangipane evenly across the pastry, leaving a border of a couple of inches around the edges. Spoon the rhubarb mixture on top of the frangipane (if there's a lot of liquid don't add it all in but some is fine) before carefully folding the edges of the dough over to enclose the edges of the fruit. Press the filling down gently into the frangipane.

Brush the dough edges with the beaten egg and sprinkle with the demerara sugar. Place in the fridge to firm up again if the dough feels soft.

1 egg,

2 tablespoons demerara sugar

Bake the galette in the preheated oven for 40-50 minutes (ours took 50) until the pastry is golden brown and the frangipane has set. The galette will spread and the frangipane will rise up between the rhubarb pieces. Leave to cool for 10 minutes before slicing and serving with a scoop of vanilla (or pistachio!) ice cream.
Notes
Start by adding less than the full amount of water to the pastry - you can always add more.
If your pastry starts to become soft, either after rolling or once you've added the fruit, put it back in the fridge until it firms up again. It's absolutely worth being patient with this so that your galette bakes up perfectly!
Nutrition
Calories:
441
kcal
|
Carbohydrates:
47
g
|
Protein:
8
g
|
Fat:
26
g
|
Saturated Fat:
12
g
|
Polyunsaturated Fat:
2
g
|
Monounsaturated Fat:
7
g
|
Cholesterol:
87
mg
|
Sodium:
251
mg
|
Potassium:
302
mg
|
Fiber:
3
g
|
Sugar:
23
g
|
Vitamin A:
673
IU
|
Vitamin C:
6
mg
|
Calcium:
91
mg
|
Iron:
2
mg
Did you make this recipe?
Leave a comment below with how you got on and don't forget to give the recipe a rating ⭐️⭐️⭐️⭐️⭐️. You can also tag @eatloveeats on Instagram - we love to see your creations!