These Rhubarb Pistachio Frangipane Galettes combine crisp pastry, pistachio frangipane and rhubarb for a delicious sweet treat.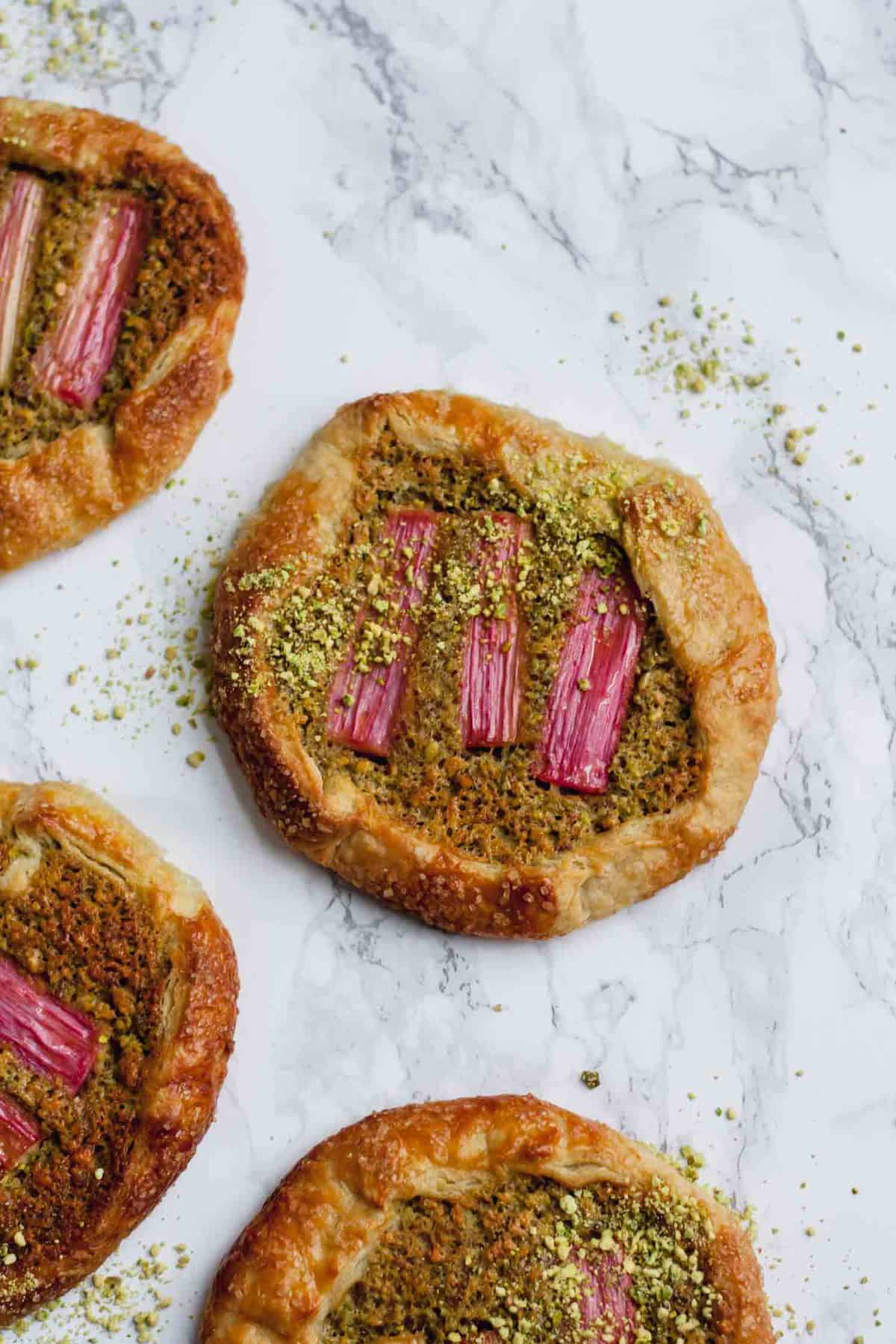 Let me just say, these Rhubarb Pistachio Frangipane Galettes were a labour of love. An extremely tasty labour of love.
Sometimes, when developing recipes, it seems as though no matter how much effort you put in, some force tries really hard to prevent you from succeeding. Or maybe it's not so much to prevent you from succeeding but to get you to learn an important lesson. Either way, these Rhubarb Pistachio Frangipane Galettes nearly didn't make it. Which would have been a shame, since they are so downright delicious! But it's ok - they did!
This is such a simple recipe, but aren't those often the best? I've had it in my head to make another galette for a while now (I made a savoury one last time) and whilst it would technically have been easier to make this in a tart tin, I just had to have my way with the galette! Not that I'm stubborn at all... But just so that you know, you could definitely make this recipe in tart/tartlets format if you wished to.
So yes, the reason I had trouble with this recipe is that I was so determined to make it in galette form! Initially, I tried making a large galette, but twice it ended up oozing and becoming a misshapen blob. I must say though, once it had escaped the bounds of the pastry, it did end up cooking just fine, it just didn't keep its round shape. It decided to venture further! So it was completely edible each time (rest assured, my freezer is full of galette!). However, in the interest of saving everyone's sanity (especially mine!) I decided to make mini galettes. Which are so much cuter than one big galette, don't you think? Another key is to make sure your pastry and frangipane are well chilled and to chill the galettes before putting them in the oven. They do still spread a little but that's no bad thing as it reveals the tasty frangipane.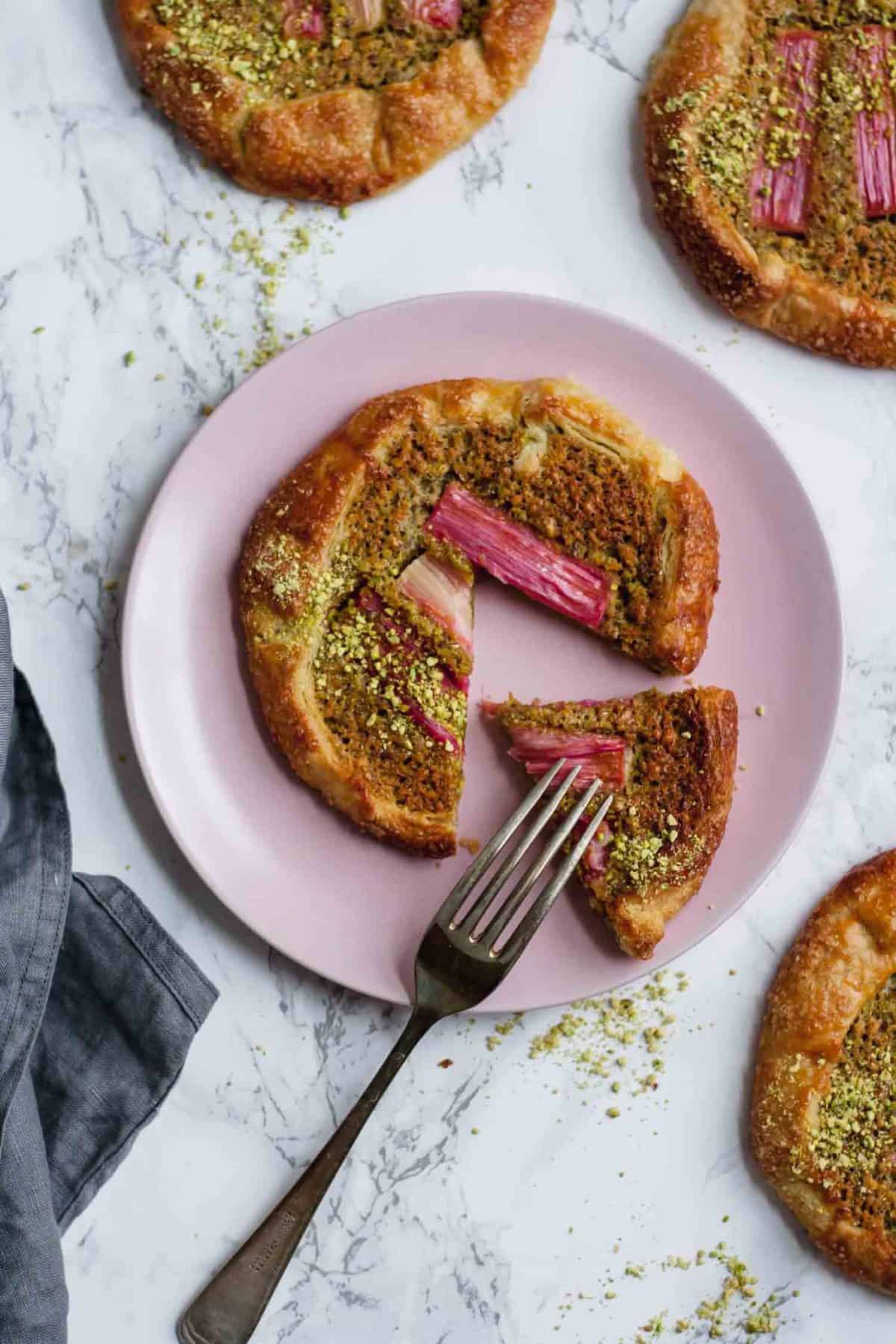 Let's talk about the frangipane! I've made pistachio frangipane here on the blog before. That time, I made little tartlets filled with cherry jam which were such a treat! I knew I needed to make it again and that it would be incredible paired with some pink forced rhubarb (you can use regular rhubarb when it's in season it just won't look quite as pretty!). It worked so well - crisp, buttery pastry, creamy, nutty pistachio frangipane and tart rhubarb - what's not to like?! I can eat the frangipane straight from the bowl, it tastes that good!
Oh and one final note - don't forget the ice cream like I did! Shocking.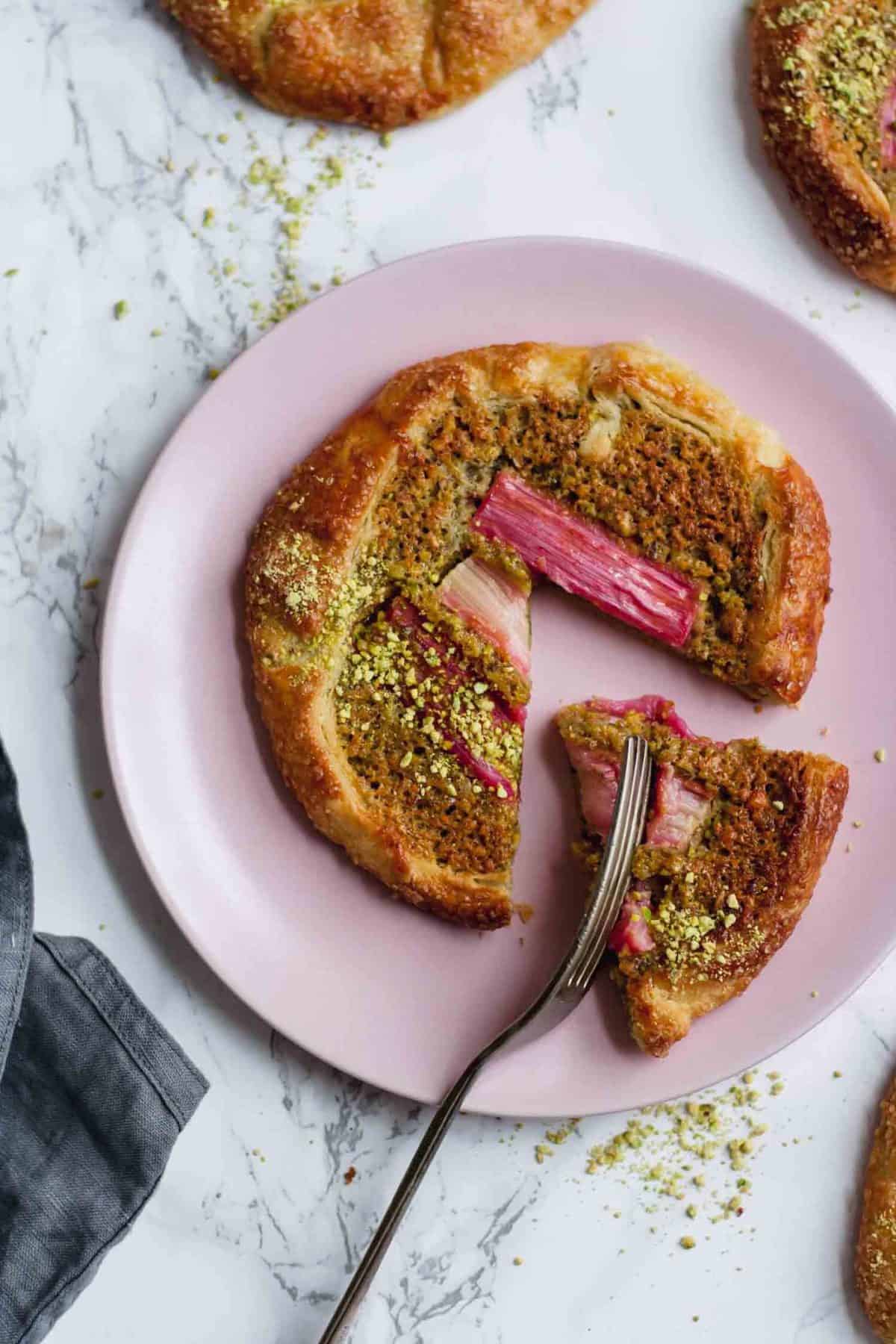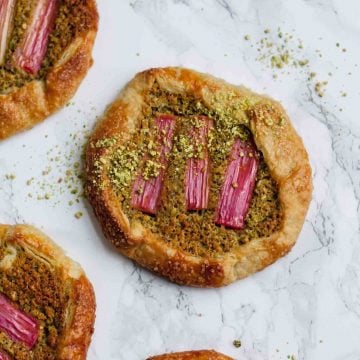 Ingredients
200

g

(1 ½ cups) plain flour

115

g

(½ cup) butter

,

cold

50

g

(¼ cup) caster sugar

4-5

tablespoons

milk

150

g

forced rhubarb

2

teaspoons

maple syrup or honey

1

egg

,

for brushing

demerara sugar,

for sprinkling
Pistachio Frangipane
60

g

(¼ cup) butter

,

softened

60

g

(¼ cup + 1 tablespoon) caster sugar

1

egg

½

teaspoon

vanilla extract

3

tablespoons

plain flour

60

g

(½ cup) shelled pistachios
Instructions
To make the pastry, place the flour into a large bowl. Cut the cold butter into small pieces and add them to the bowl. Gently rub the butter into the flour until pea-sized pieces remain.

Stir in the sugar. Add the milk and use your hands to bring together to form a soft, but not sticky, dough.

Gently knead the pastry a couple of times until it is smooth (don't over do this). Flatten the pastry into a disc and wrap in cling film. Place in the fridge for at least an hour.
Pistachio Frangipane
Beat together the butter and the sugar until light and fluffy. I find it easiest to use a stand mixer but a bowl and a wooden spoon works well too.

Beat in the egg and vanilla along with a tablespoon of flour. Beat in the remaining flour until the mixture is smooth.

Blitz the pistachios in a food processor until they look like breadcrumbs. Stir into the butter and egg mixture. Chill in the fridge until ready to use.
Assembly
Preheat oven to 190C/375F.

Cut the pastry into four pieces. Roll out on a floured surface until the pastry is a couple of millimetres thick. Spoon 3 tablespoons of frangipane into the centre of the pastry and gently spread out using the back of a spoon so that it's about 10 centimetres wide.

Cut the rhubarb into short lengths, not quite as wide as the frangipane. Toss in the maple syrup and lay on top of the frangipane. Trim the edges of the pastry so that you have a neatish border of a few centimetres around the frangipane. Fold the pastry in and press it down to seal the edges. Repeat for the rest of the pastry. Place on a lined baking sheet. Chill for at least 30 minutes if possible.

Brush the edges of the pastry with beaten egg. Sprinkle with demerara sugar and place in the oven. Bake for about 25 minutes until the edges of the pastry are golden brown and crisp and the frangipane is set. Serve warm with ice cream.
Nutrition
Calories:
771
kcal
|
Carbohydrates:
80.1
g
|
Protein:
13.2
g
|
Fat:
45.3
g
|
Saturated Fat:
23.9
g
|
Polyunsaturated Fat:
4.2
g
|
Monounsaturated Fat:
14.7
g
|
Cholesterol:
187.4
mg
|
Sodium:
50.5
mg
|
Potassium:
398.8
mg
|
Fiber:
3.8
g
|
Sugar:
32.6
g
|
Vitamin A:
345.3
IU
|
Vitamin C:
3.8
mg
|
Calcium:
103.3
mg
|
Iron:
3.7
mg
Did you make this recipe?
Leave a comment below with how you got on and don't forget to give the recipe a rating ⭐️⭐️⭐️⭐️⭐️. You can also tag @eatloveeats on Instagram - we love to see your creations!