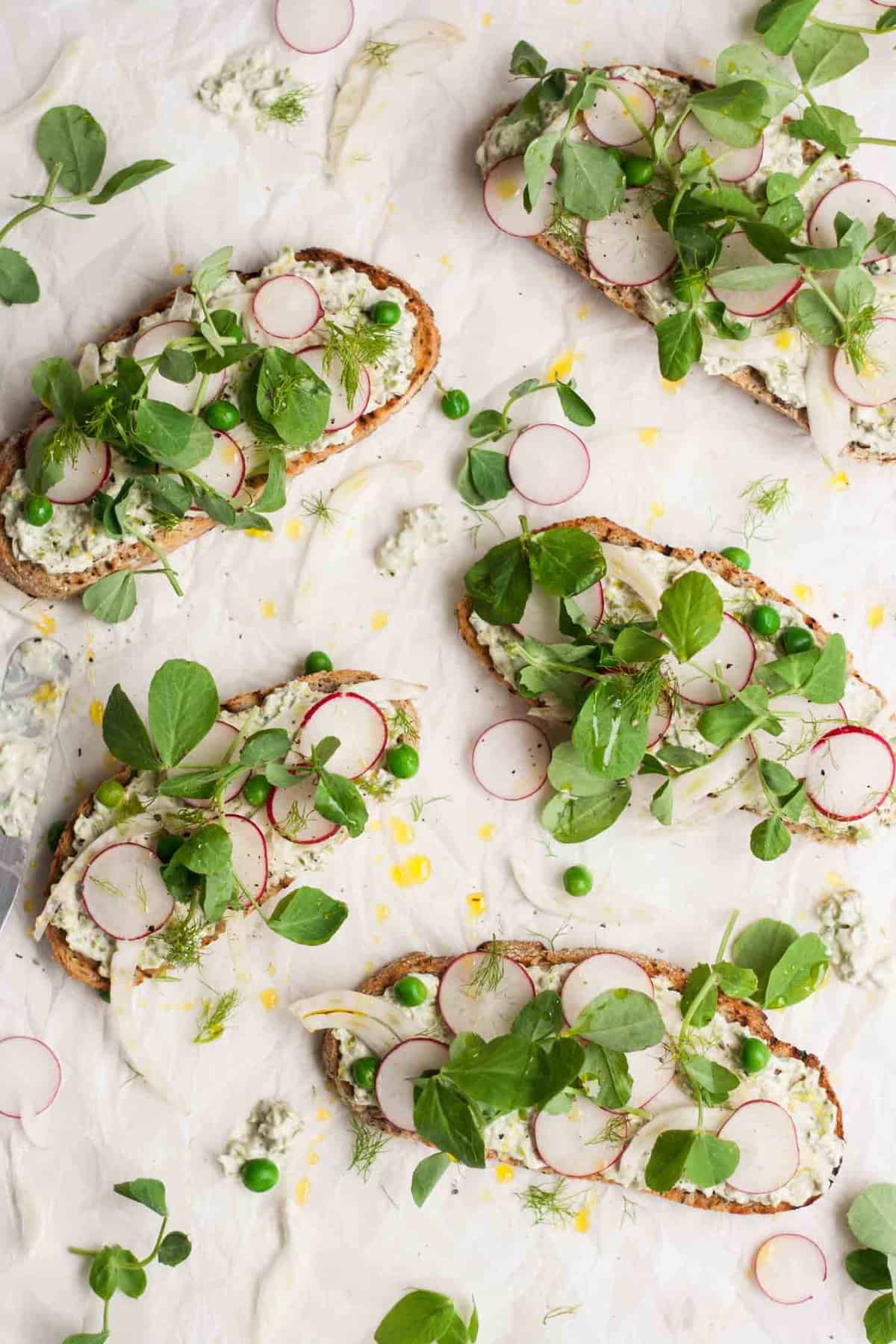 Well, hi there! How are you doing this week? I've got something lovely and light and fresh and simple for you today. Because not everything has to have bells and whistles, does it? Nope, these Pea, Radish and Fennel Tartines are super simple, can be whipped up in five minutes flat and make an ideal light lunch or appetiser.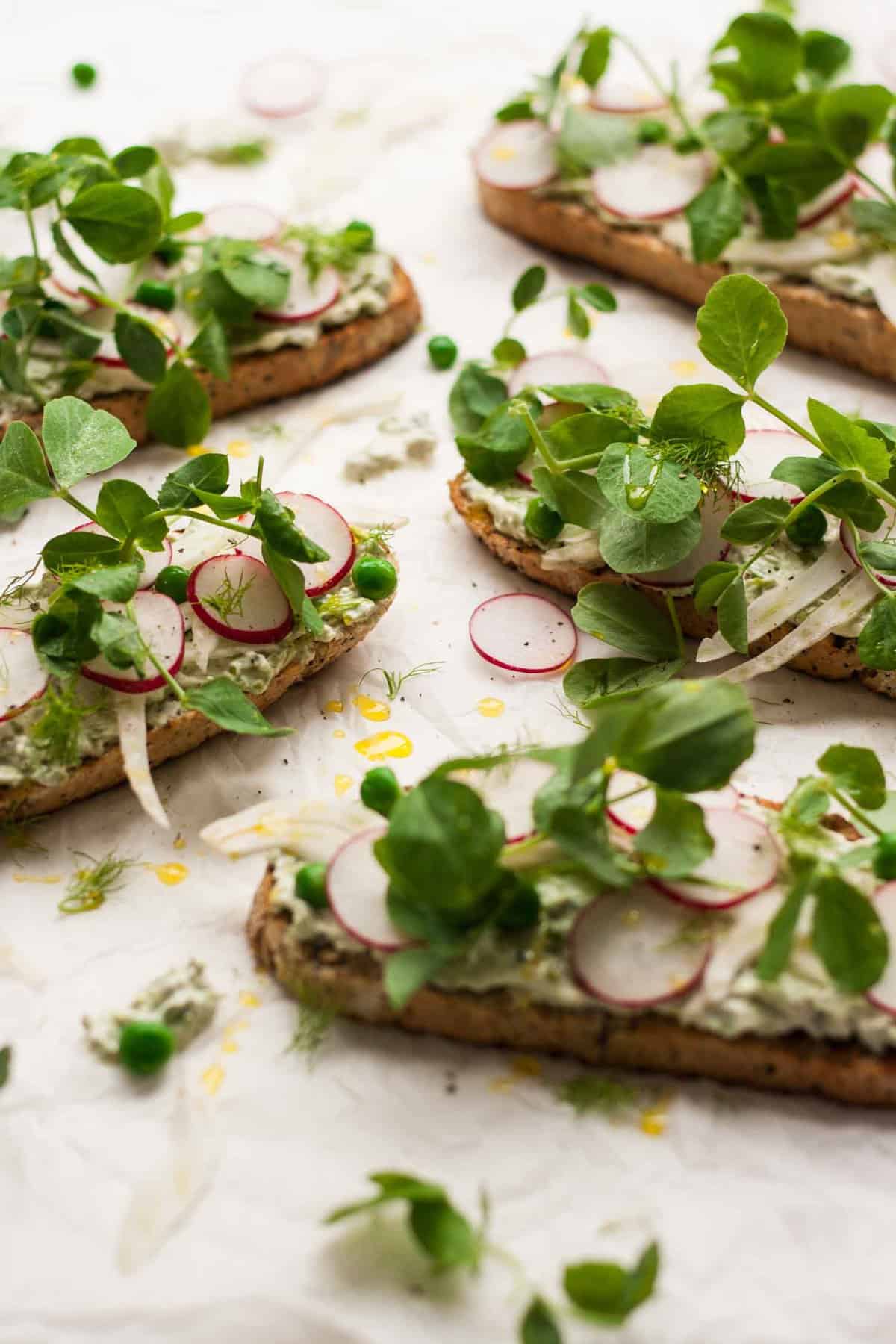 Don't you just love the way the light trickles gently over these tartines? I feel like I can never quite do nature's beauty the justice it deserves. I mean, I'm in no way a professional photographer, a fact which troubles me every day. There's a quote by Ira Glass, I'm sure you've probably heard it before. He talks about 'the gap' between your taste and the actual work you create and how you constantly feel disappointed with what you're putting out. Oh, I so get that. So much. I feel like my work is never good enough. And whilst it's definitely a good thing to have ambition and to keep working towards that, it's also vital to remember what's really true - that the work I'm creating is good enough. See how I changed the emphasis there? It's enough. I'm enough. It's where I am right now and trust me, there is nowhere I really wanna be other than now. There's nowhere else I can be. And I can but practice. And enjoy every single second because that's what life's about. Enjoying the journey. So what if my images aren't as sharp as I would like them to be, the light not captured as perfectly. Tomorrow I can do just that little bit better. And the next day, even better than that.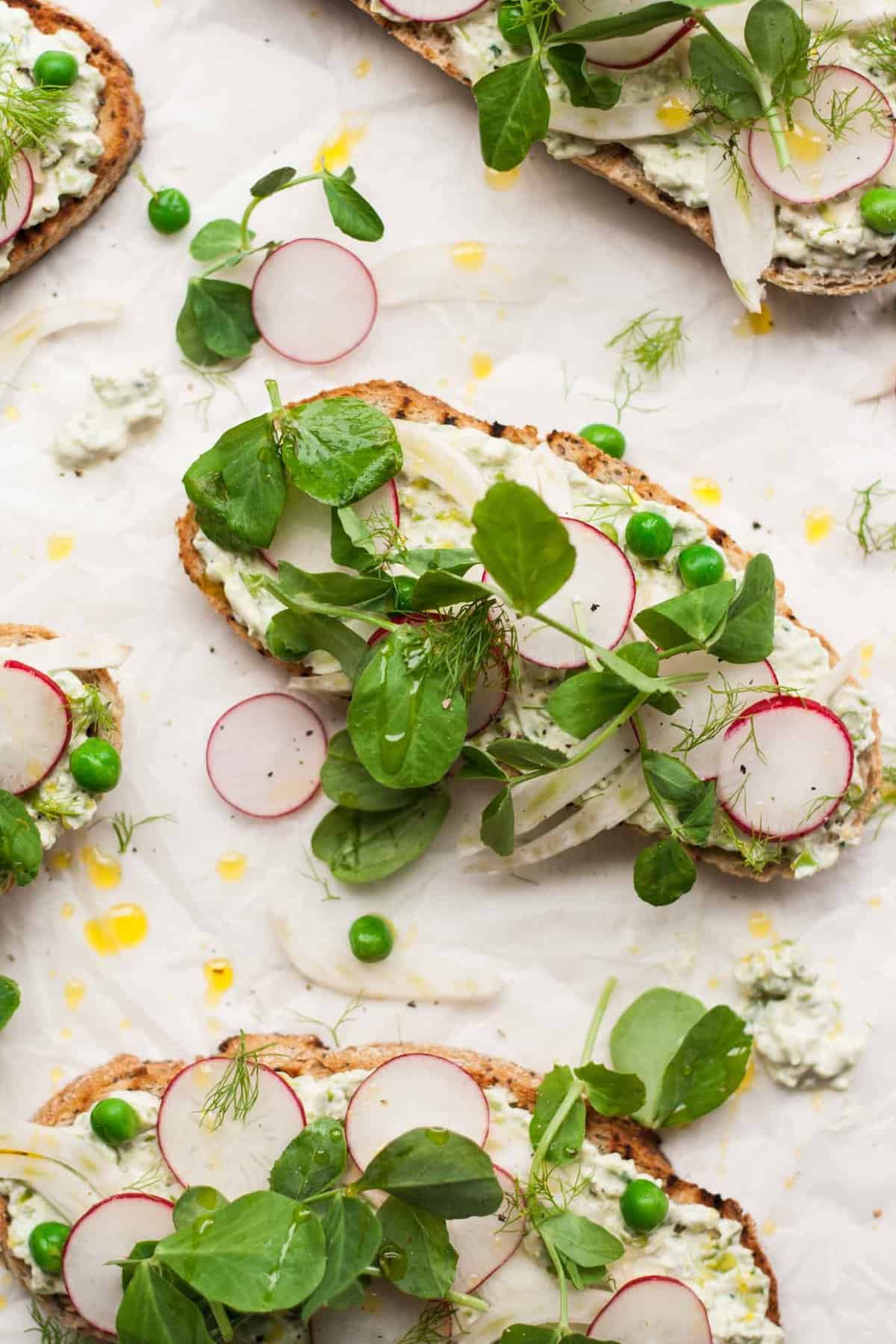 I'm listening to an audiobook right now called Big Magic. It's written (and read) by Elizabeth Gilbert, the author of Eat Pray Love. Maybe you've read it before. If you haven't, I sincerely recommend that you do. In the book, she talks about how to go about your creative endeavours without the influence of fear.
It's beautiful. I've found it to be an incredibly relaxing listen. As a little fish in a big pond full of some exceptionally talented creators, it can be very easy to slip into the mindset that my work is insignificant, or less than. It can be easy to believe the lies that my work will never be anything but insignificant. Although in fact, to many, it really never will. And that's ok!
But listening to Elizabeth's gentle words allows me to take the pressure off myself. To put down the stick I've been beating myself with and create just for me. To just calmly enjoy the flow. Oh, that feeling sure beats the constant struggle of trying to meet the impossibly high standards I set for myself. By like, a million miles. There's just nothing to gain from living life that way. But hey, I'm a crazy flawed human being and my mind goes there sometimes (a lot of times). But I really do get to choose whether I'm going to continue to add fuel to the fire of that thought, or if I'm going to tell it where it can go. The more times I can tell it go away, the happier I will be, for sure.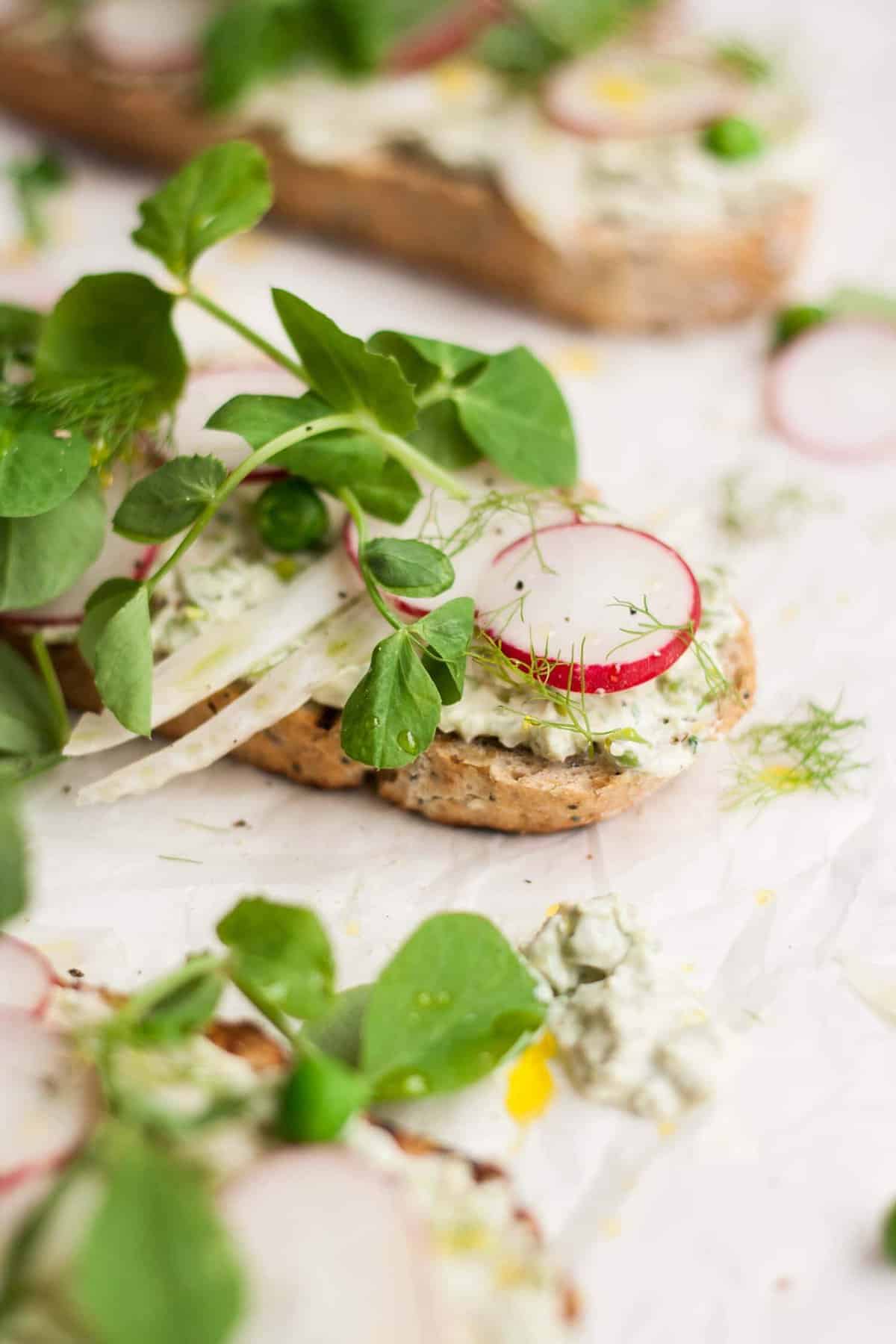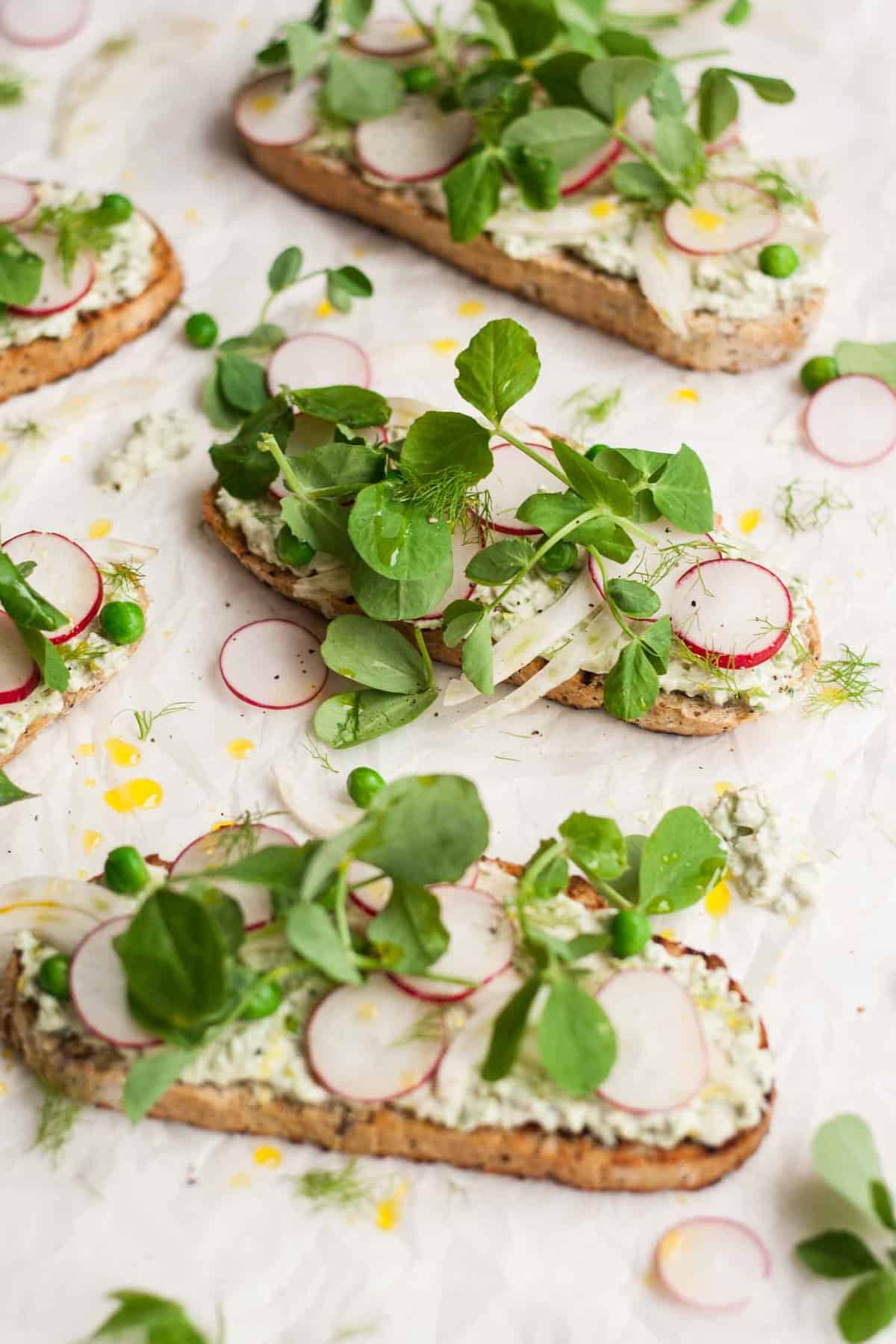 And so, that brings me back to these Pea, Radish and Fennel Tartines. They require just a few ingredients and just the tiniest amount of cooking (if you can even call grilling some bread 'cooking'). Sweet peas and intensely green pea shoots, peppery radishes and herbal fennel, all tied together with creamy soft cheese. The delicate flavours of these few spring vegetables are allowed to shine through, creating a bright and simple dish that is most certainly good enough.
If you make these pea, radish and fennel tartines, snap a photo and tag it with the hashtag #eatloveeats on instagram so that I can see!
Disclaimer: This post contains affiliate links which simply means that if you click on them and make a purchase I make a small commission, allowing me to keep growing my blog and posting awesome, tasty recipes!