Well, hello there! It's good to be back. And I'm back with an awesome appetizer/lunch idea for you in the shape of this Cantaloupe, Lime and Halloumi Salad. I don't know about you, but one of the highlights of summer in my house is cantaloupe melons. I know you can get them all year around, but you know, it's just not right to be eating cantaloupes in January! For a start they taste of essentially nothing at that time of year. Plus, who really craves melons in the dead of winter? Not me, that's for sure. One of the magical things about food for me is how you get something different every month of the year and it's always perfectly on point for that time. The melon cravings kick in for me in July. With a vengeance!
Specifically, I love to splash out and buy Charentais melons. They're technically cantaloupes, but they are so much more special than that (and about twice the price - totally worth it). One sniff and I'm transported to a French market. Their scent and flavour are more intense than a cantaloupe and well, the more flavour the better, right? They're just perfect for this simple summer salad. And speaking of summer, it's finally reached the UK, hooray! This Cantaloupe, Lime and Halloumi Salad is the perfect way to celebrate!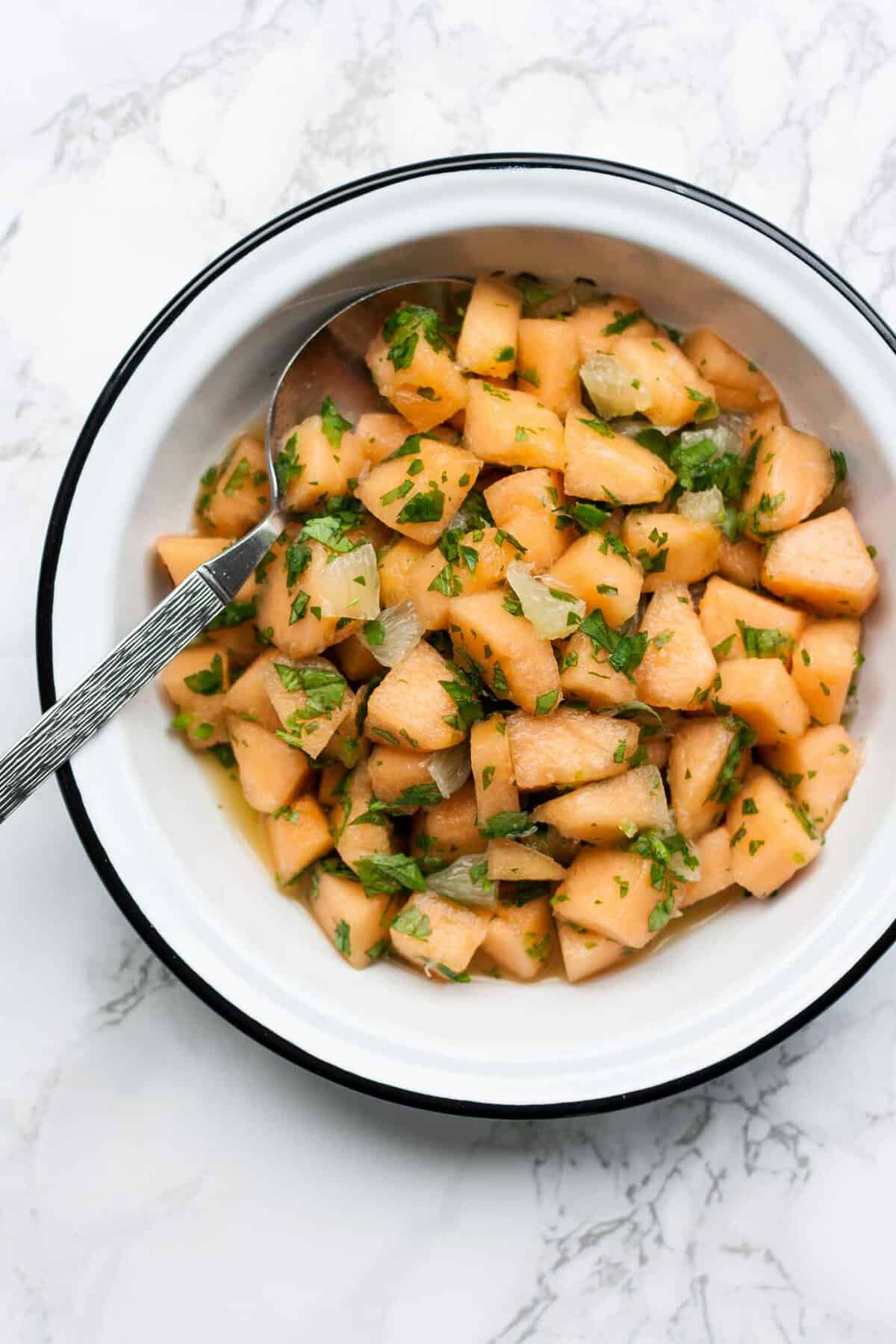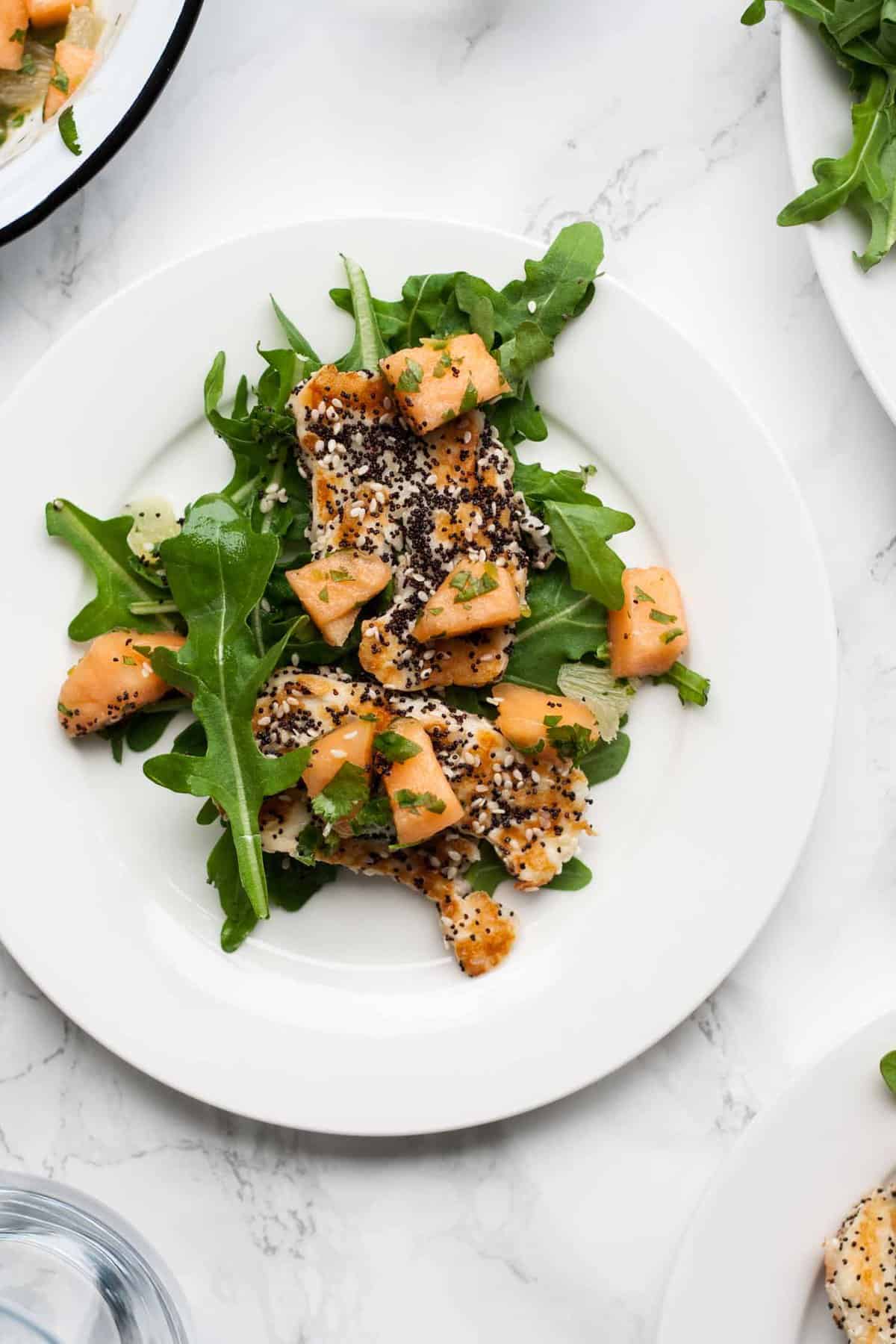 It really is good to be back, you know! Over the past two weeks I've taken a little break from blogging. I was feeling completely out of the flow and I needed to get back in again before I wrote another word on here. I'm sure I'm not the only blogger to experience this from time to time! The key my getting back on track here was ridding myself of shame around it. Trust me, I felt plenty to begin with. But if you really think about it, what is the purpose of shame? It's a learned behaviour, born from the belief that we're not worthy. And really, it serves to keep us feeling helpless. Trapped. Incapable. It's all lies! Why would we choose to continue to give life to those kinds of feelings? Well, like I said, it's what we were taught to do. But we can make a different choice. And do you know what feels better than shame, helplessness and guilt? Feeling worthy. So I've spent the past couple of weeks reconnecting to that feeling. I relieved myself of the (self-induced) pressure to write here, interacted only minimally with social media and relaxed. No shame (mostly - I'm human and certainly not perfect!). And today I'm back, the words are flowing and I'm truly happy to be here. In fact, I'm incredibly grateful for this little corner of the internet where I get to share myself with you and create! And, even though I've not been posting here for a while, I've still been cooking and photographing so more delicious recipes are on their way!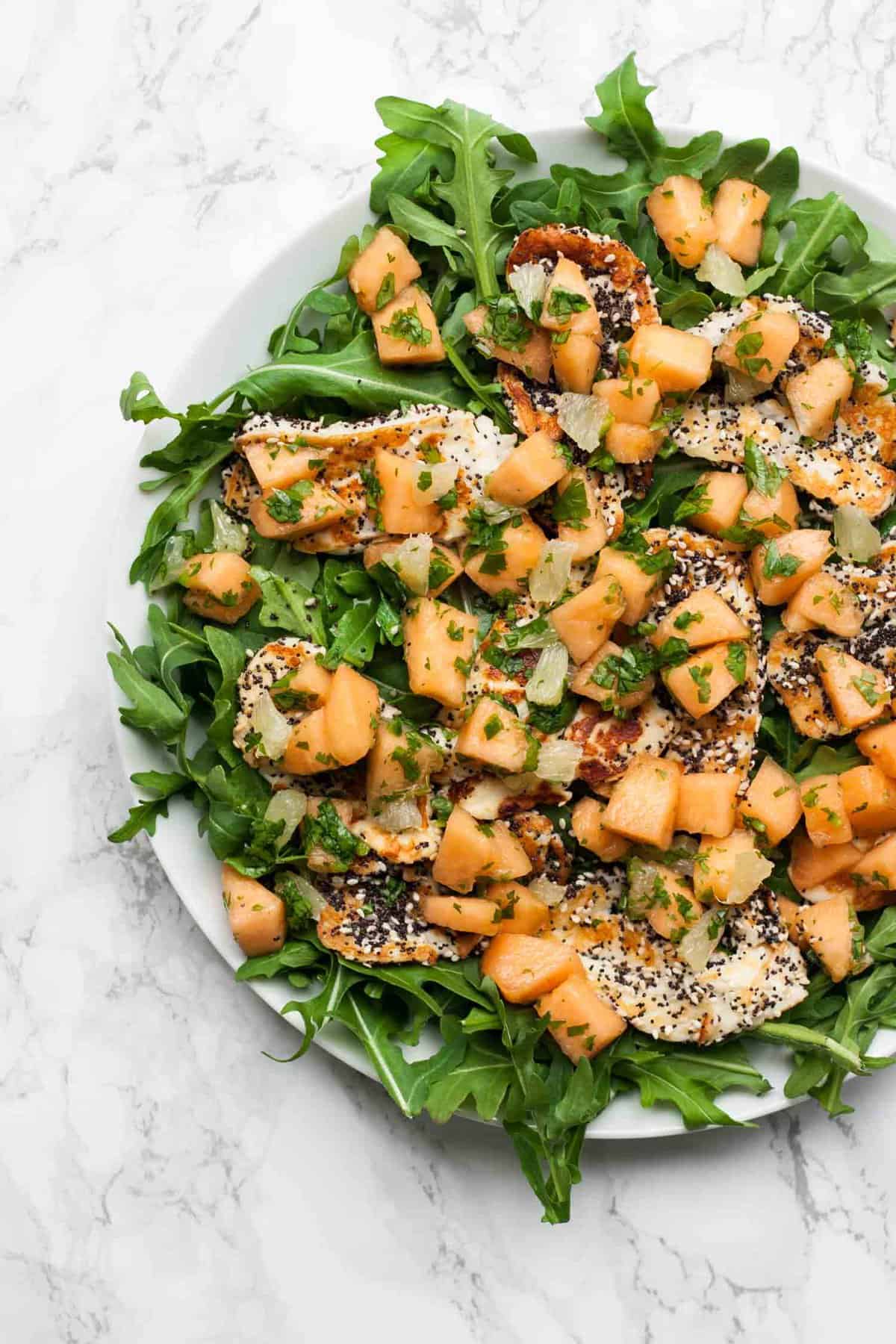 Anyway. This Cantaloupe, Lime and Halloumi Salad is perfect for summer. It takes minutes to put together and is absolutely delicious to eat. You know me, I can't get enough of halloumi! I've treated it slightly differently here and coated it in seeds for some crunch and extra nutty flavour. I got the idea to do this from Anna Jones' excellent cookbook A Modern Way to Cook. If you have never laid your hands on this book, I sincerely recommend that you do! It's full of creative, modern vegetarian food and you'll honestly want to cook everything in it!
Back to the salad. Seed-encrusted halloumi lies atop a bed of rocket, whose pepperiness perfectly compliments everything here and ties it all together. And on top of that, we're spooning a kicking cantaloupe salsa. This isn't any old salsa! Nope, it's a real flavour punch and the great thing is that it's seriously easy to make and requires just 4 ingredients. Cantaloupe, lime, jalapeño chilli (or chilli of your choice) and coriander. What makes it different? We're using lime as an actual ingredient here - peeled and chopped. Trust me, the acidic pop of the lime combined with the sweet melon, spicy jalapeño, grassy coriander, peppery rocket and salty halloumi works so well. It's addictive! You've simply got to try it. Got to.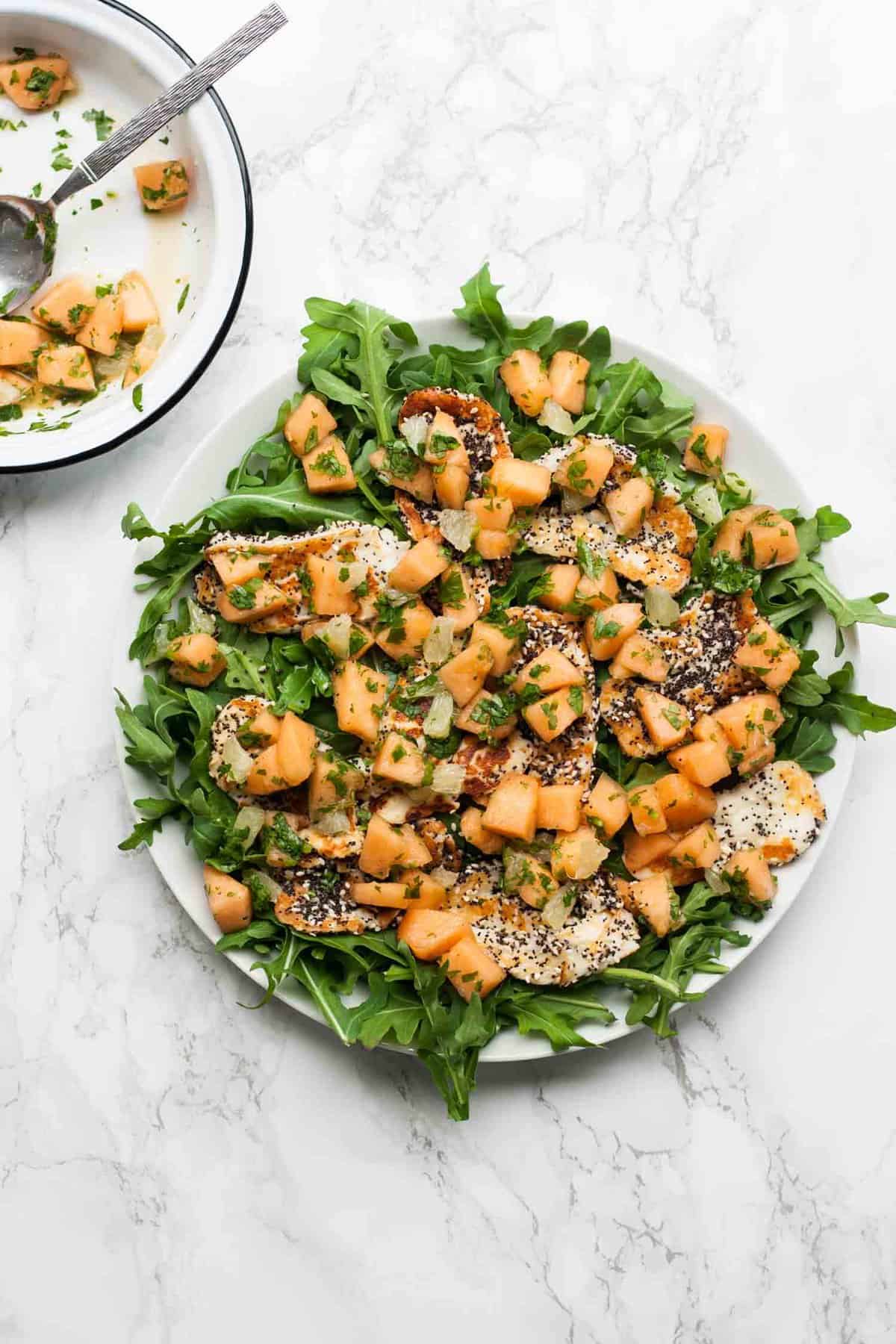 Related recipes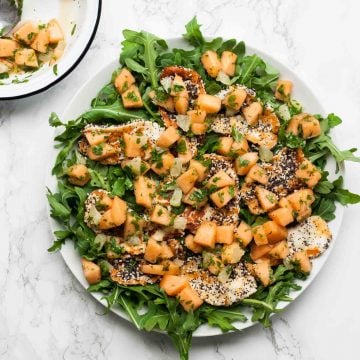 Ingredients
½

Charentais or regular cantaloupe melon

,

about 2 cups chopped

1

lime

½-1

jalapeño

leaves

small bunch of coriander

1

block of halloumi cheese

1

tablespoon

sesame seeds

1

tablespoon

poppy seeds

2

leaves

large handfuls rocket
Instructions
Make the salsa. Chop the melon into ½" dice and place into a small mixing bowl. Cut each end from the lime and stand it on it's end. Using a sharp knife, carefully slice the skin and pith from the lime, taking care not to cut away too much flesh. Ideally, you want to remove the segments from their membranes and chop them up. Do this by holding the lime in your hand and carefully slicing along the membrane at each side of the segment so that the flesh comes away. If you don't want to do this, you can chop the whole fruit but be warned, it will be a little chewier this way and there will be a slight bitterness. But it's up to you. Add to the melon.

½ Charentais or regular cantaloupe melon,

1 lime

De-seed and finely chop the jalapeño. Depending on the heat of your chilli and how hot you like your food, add as much as you like to the salsa. My jalapeños were pretty hot so I only used half. Chop the coriander and add that too. Stir and set aside. There is no need to add any salt.

½-1 jalapeño,

leaves small bunch of coriander

Slice the halloumi and dry fry over a medium heat until browned. Once the first side has browned, flip over and scatter the seeds over the top. Once browned all over, flip the halloumi to ensure it's well coated.

1 block of halloumi cheese,

1 tablespoon sesame seeds,

1 tablespoon poppy seeds

Place the rocket leaves onto a large plate or platter. Top with the seedy halloumi and spoon the salsa over the top. Serve immediately.

2 leaves large handfuls rocket
Nutrition
Calories:
392
kcal
|
Carbohydrates:
20.5
g
|
Protein:
21.1
g
|
Fat:
26.6
g
|
Saturated Fat:
16.1
g
|
Polyunsaturated Fat:
1.6
g
|
Monounsaturated Fat:
0.8
g
|
Cholesterol:
65.2
mg
|
Sodium:
944.1
mg
|
Potassium:
558.1
mg
|
Fiber:
3
g
|
Sugar:
12.8
g
|
Vitamin A:
257.8
IU
|
Vitamin C:
93.3
mg
|
Calcium:
950.4
mg
|
Iron:
1.2
mg
Did you make this recipe?
Leave a comment below with how you got on and don't forget to give the recipe a rating ⭐️⭐️⭐️⭐️⭐️. You can also tag @eatloveeats on Instagram - we love to see your creations!
Note: This post contains affiliate links.