This watermelon basil salad is a lovely refreshing option to serve in summer. Juicy sweet watermelon is combined with salty chewy grilled halloumi and seasoned with basil and a light dressing. It only takes minutes to prepare!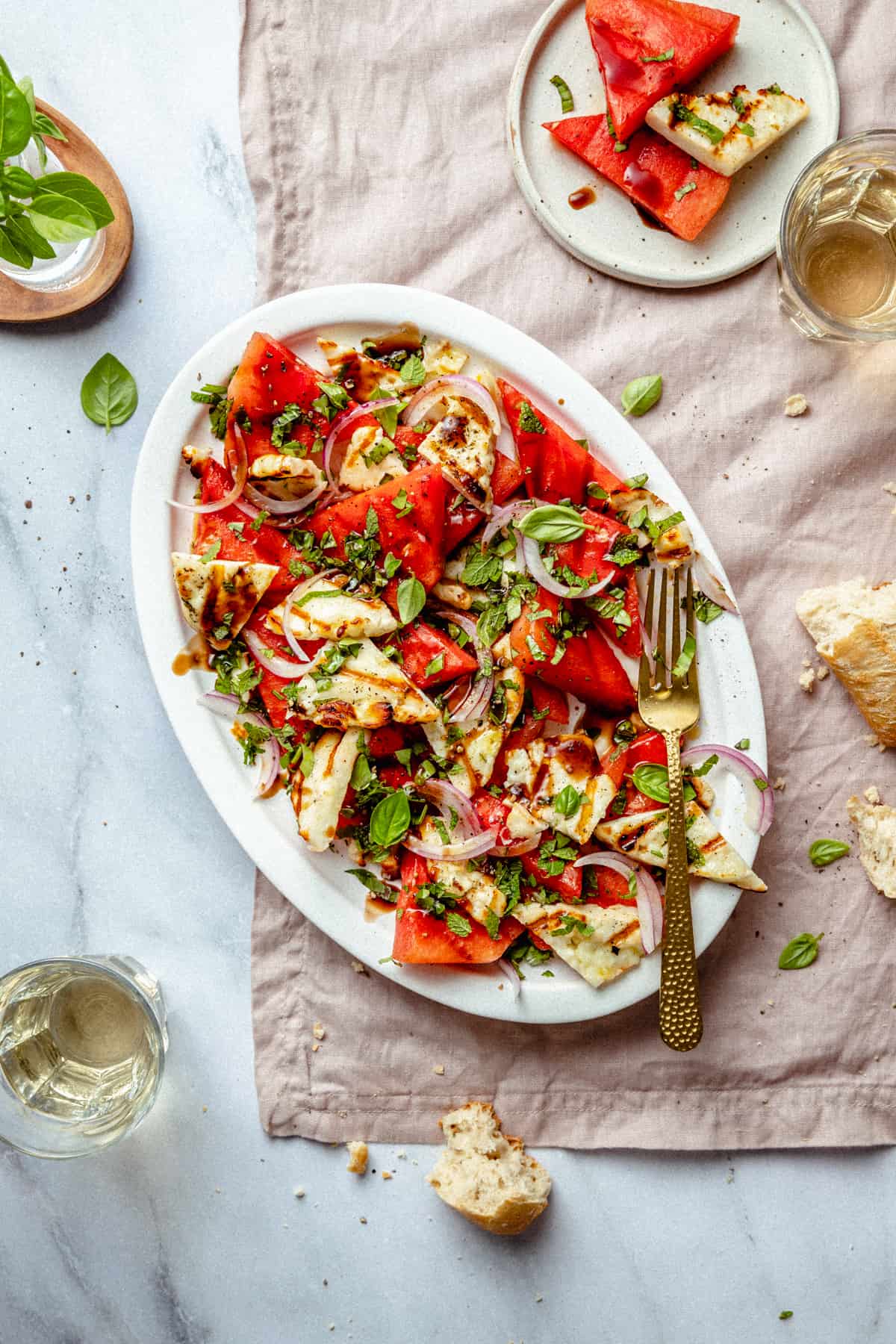 This watermelon basil salad is THE answer in scorching heat to cool you down with minimal effort. It's super flavourful and will give you all the nutrients and hydration you need when it's hot. It's so simple, it's barely even a recipe. We love watermelon in the summer, especially when you nail getting a juicy sweet one.
We've kept this very simple to let the flavours jump up and kiss you on the face. You really can't go wrong with the fresh and vibrant herbs that lifts the otherwise simple salad to another level. You'll also want to check out our Nectarine Salad or this Beetroot Avocado Feta Salad as they are both delish! Or why not give this Strawberry Walnut Salad a go?
We know you'll love this watermelon basil salad with halloumi, especially as it's so quick! Don't forget to leave us a comment and rate the recipe below. You can find what you need using these links.
Jump to:
Why you'll love this recipe
Here are some reasons why you need this watermelon basil salad recipe in your life:
Easy - this salad is barely even a recipe, a few simple ingredients simply prepared and you have a lovely delicious salad to tuck into!
Flavour - we grill our watermelon and halloumi as the charred flavour works so well with the basil and balsamic glaze. Very moreish!
Refreshing - when it's hot, this is the salad you need. It's super hydrating and delicious when you get the sweetest juiciest watermelon.
Nutritious - just think about all those vitamins and minerals and salts you'll be getting back eating this watermelon basil salad. Yum!
Quick - did we mention this is super quick to prepare? It'll take under 20 minutes from start to finish.
Ingredients
You only need simple ingredients for this watermelon basil salad, this is what you'll need: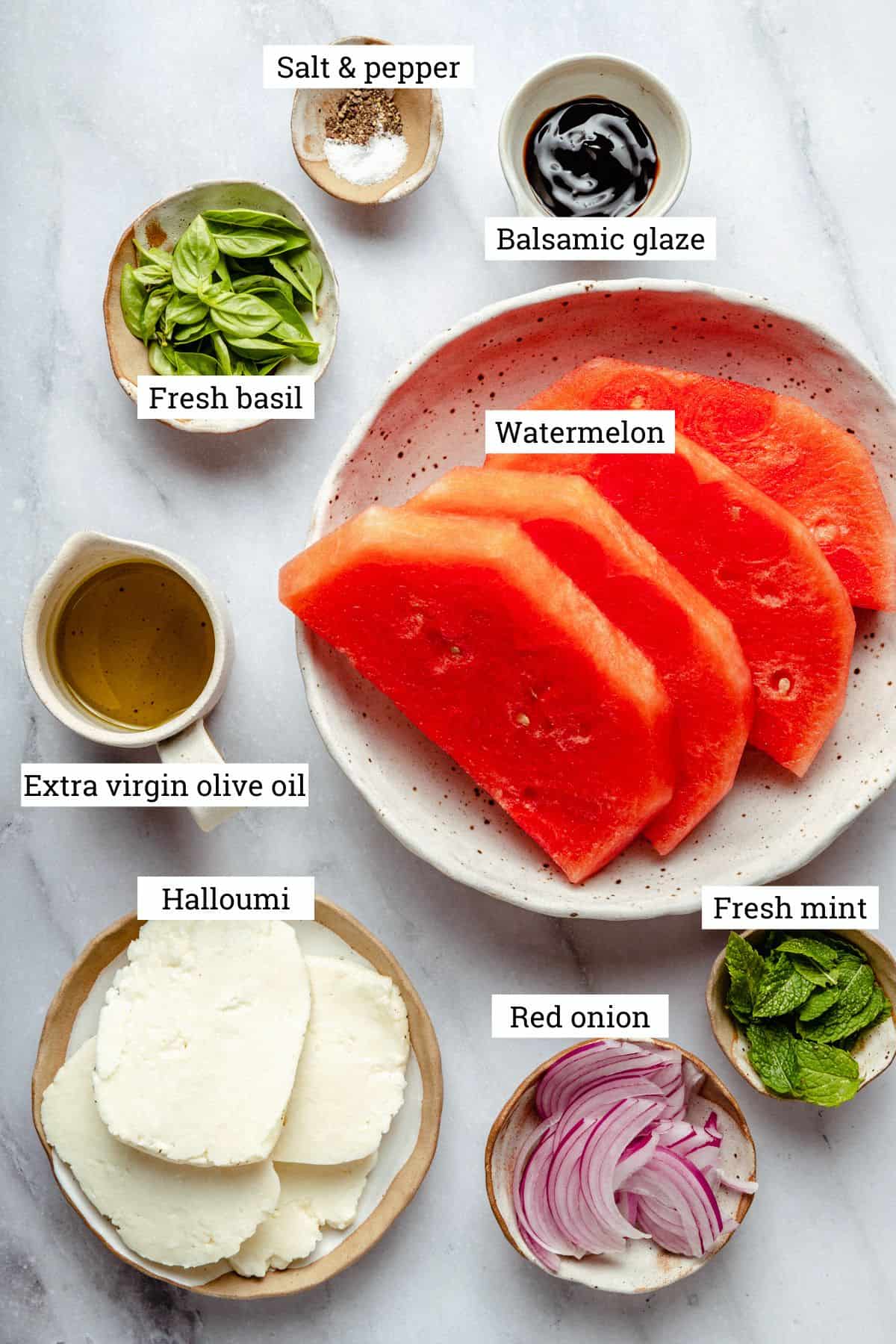 Watermelon - summertime is watermelon time. We want a heavy, juicy, sweet melon, it makes all the difference to this salad. Make sure it has a sun spot!
Halloumi - the salty tanginess of this super squeaky cheese is the perfect match for the sweetness of the watermelon. We love to use an authentic Cypriot halloumi. Make sure its halloumi cheese, not halloumi "style" cheese.
Basil - a key flavour of this salad is basil, as long as it is nice and fresh you can't go wrong with it. Cut it last minute as it has a tendency to bruise and oxidise once cut.
Balsamic glaze - the glaze is a thicker more drizzle-able liquid. It's sour, sweet, and tangy. We use balsamic glaze by Odysea. You can use any good quality balsamic vinegar here.
Customisations
We know you love to mix things up with customisations and substitutions so here are some of our recommendations for this watermelon basil salad:
Feta - feel free to switch the halloumi cheese out with feta if you wish. We probably wouldn't grill the feta though.
Charcuterie - if you wish to make this salad even more substantial, wave some wafer thin slices of charcuterie amongst the melon and halloumi. We recommend bresaola, coppa or your favourite thinly sliced salami such as milano or finocchiona.
Herbs - this salad can take a lot of fresh herbs and we recommend piling on loads of them. We like to use mint along with the basil, but you could also add in some oregano or chives.
Greens - if you wish you could also serve on a bed of green salad leaves, we'd recommend using rocket or lambs lettuce.
How to make watermelon basil salad
Follow these simple step by step guides to success for this watermelon basil salad: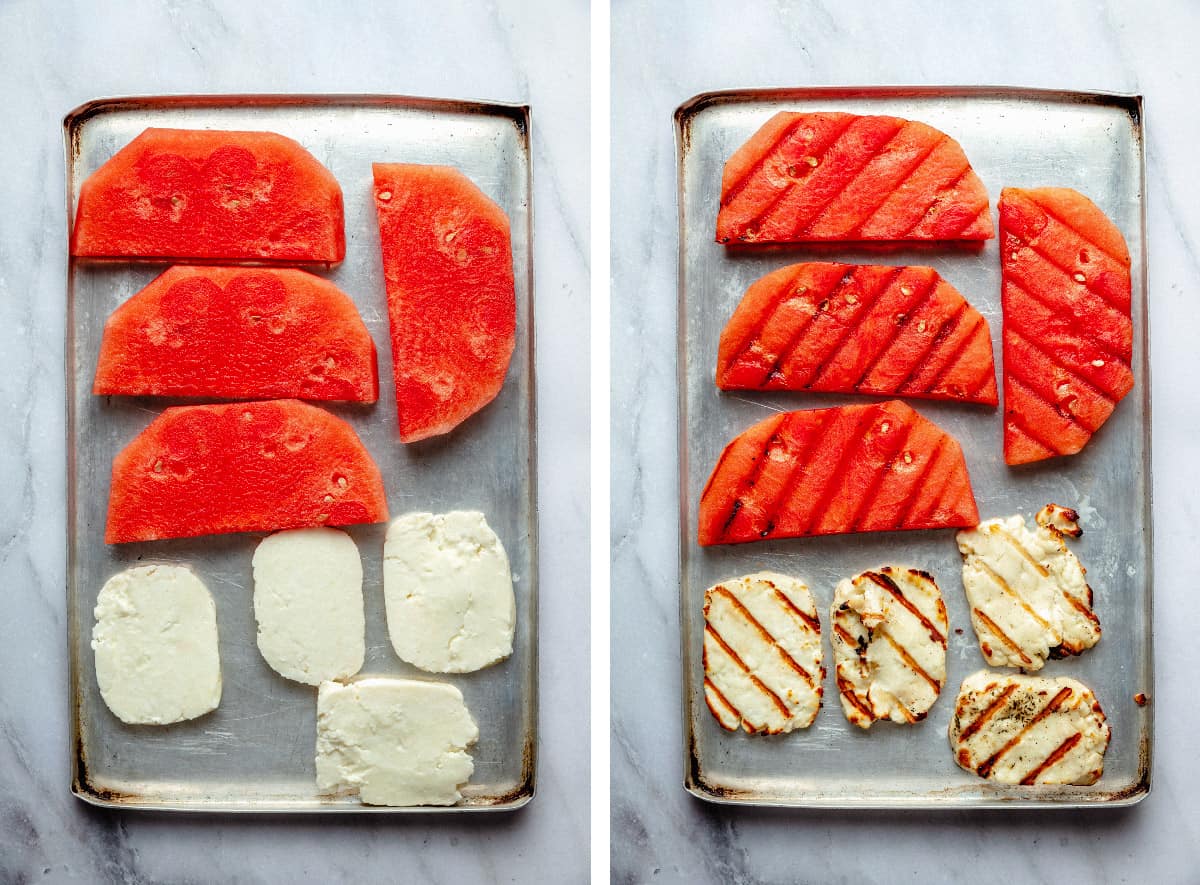 Peel the watermelon with a knife. Cut in half down the length of it. Taking one half, cut 4 slices about ½ -¾ inch thick. Place the halloumi block on its side to cut ¼ inch thick slices being careful not to break the slices.
Preheat the grill for 5-10 minutes whilst preparing the above. Lightly oil the grill grates with a paper towel doused in oil. Place the watermelon and halloumi on the grill and close the lid. Grill for 2-3 minutes until grill marks appear, flip, and cook for another 2-3 minutes. Remove and assemble the salad, serve immediately.
Expert tips
Make sure to read and follow these expert tips to ensure complete success with this watermelon basil salad:
Halloumi - cut the halloumi with a sharp knife pressing down. Don't saw at it, it will break the block. Pat the halloumi dry with some paper towel before putting on the lightly oiled grill grate.
Watermelon - picking a watermelon can be a challenge. You need to ensure the melon has a lighter sun spot and that it is heavy and dense. With a quick pat of your hand you'll hear a dense, not hollow sound. The sun spot means it has ripened in the field.
Oil the grill - use a folded paper towel, dipped in oil to lightly oil the grill grates when they are hot. Not too much as it will cause a fire, but a light coating will help the food not stick.
Serving - serve the salad immediately, it's lovely warm and another reason for this is if you let the halloumi cool it will firm up and go hard.
What to serve with it
You can serve this watermelon basil salad with a myriad of options, here are some suggestions:
Crusty bread - with the dressing and juices from the melon you'll have plenty to mop up.
Grilled meats - serve it up as a side dish to your favourite BBQ dishes, like these Smoky Pineapple Chicken Kabobs.
Salad - grab a handful of salad greens to go with this to bulk it out even more, it will easily serve four as a side dish.
Recipe FAQs
How long will watermelon salad last in the fridge?

If you were to serve this salad without the halloumi we'd recommend that it could keep in the fridge for 3 to 4 days. If you serve as suggested, it is best served warm on the day it is made.
What goes with watermelon salad?

Halloumi! Along with this squeaky cheese you could also perfectly match the salad with some lovely grilled chicken, pork or beef steak. We would also recommend serving with some wafer thin charcuterie, like slices of salami, coppa or bresaola.
Related recipes
Love this watermelon basil salad recipe? Then you may want more of our salad recipes - here are some suggestions to get you started:
Love this recipe? Leave us a 5-star ⭐️⭐️⭐️⭐️⭐️ rating in the recipe below and don't forget to leave a review in the comments section underneath the recipe. We love hearing from you!
Why not follow along with us on our social media channels @Instagram @Facebook and @Pinterest and tag us with #eatloveeats when you've tried one of our recipes!
📖 Recipe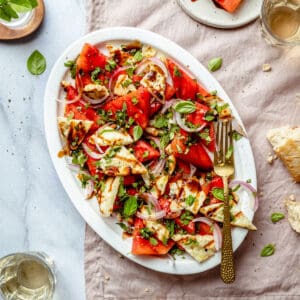 Watermelon Basil Salad
A grilled watermelon basil salad with halloumi to waken up your taste buds during the summer months. Super quick and very refreshing!
Print Recipe
Pin Recipe
⭐️ Rate Recipe
Ingredients
Serving suggestions
crusty bread

assorted charcuterie
Instructions
Preheat the grill to 200C/400F for 10 minutes. Whilst the grill heats, remove the skin from the watermelon and cut in half lengthwise. Cut one side into half moons about ½ -¾ inch thick. Set aside 4 slices.

Place the halloumi block on its side and cut into 4 slabs so you have 4 smaller rectangles about ¼ inch thick, the same perimeter size as the original block.

Lightly oil the grill grate with an oiled kitchen paper held with some tongs. Place the watermelon and halloumi on the grill and close the lid. Grill for 2-3 minutes until you see some grill marks. Then flip and cook for another 2-3 minutes with the lid closed. Remove from the grill and cut into random sized pieces and arrange on a platter. (We usually season the watermelon with a touch of kosher salt).

Sprinkle with the chopped herbs and red onion and drizzle over the balsamic glaze and olive oil. Season with salt and pepper. Serve immediately with some warm crusty bread.

30 g basil,

30 g mint,

1 tablespoon extra virgin olive oil,

⅛ teaspoon kosher salt,

⅛ teaspoon freshly ground black pepper,

1 tablespoon balsamic glaze,

¼ red onion,

crusty bread,

assorted charcuterie
Notes
This salad would serve two as a main or 4 as a side dish. Nutrition doesn't include serving suggestions such as bread or charcuterie.
Preheat the grill to ensure the best grill marks.
Serve immediately as a warm salad.
Serve with warm crusty bread to mop up the juices.
Nutrition
Serving:
1
portion
|
Calories:
649
kcal
|
Carbohydrates:
23.3
g
|
Protein:
34
g
|
Fat:
47.8
g
|
Saturated Fat:
27.9
g
|
Polyunsaturated Fat:
1
g
|
Monounsaturated Fat:
5.1
g
|
Cholesterol:
111.2
mg
|
Sodium:
1650
mg
|
Potassium:
424.8
mg
|
Fiber:
2.5
g
|
Sugar:
17.4
g
|
Vitamin A:
140.1
IU
|
Vitamin C:
26
mg
|
Calcium:
1530.9
mg
|
Iron:
3
mg
Did you make this recipe?
Leave a comment below with how you got on and don't forget to give the recipe a rating ⭐️⭐️⭐️⭐️⭐️. You can also tag @eatloveeats on Instagram - we love to see your creations!