This nectarine salad can be made in 20 minutes and is totally packed with flavour! Perfect for the season and combined with tasty crispy pita chips, roasted pistachios and a zingy jalapeño lime dressing.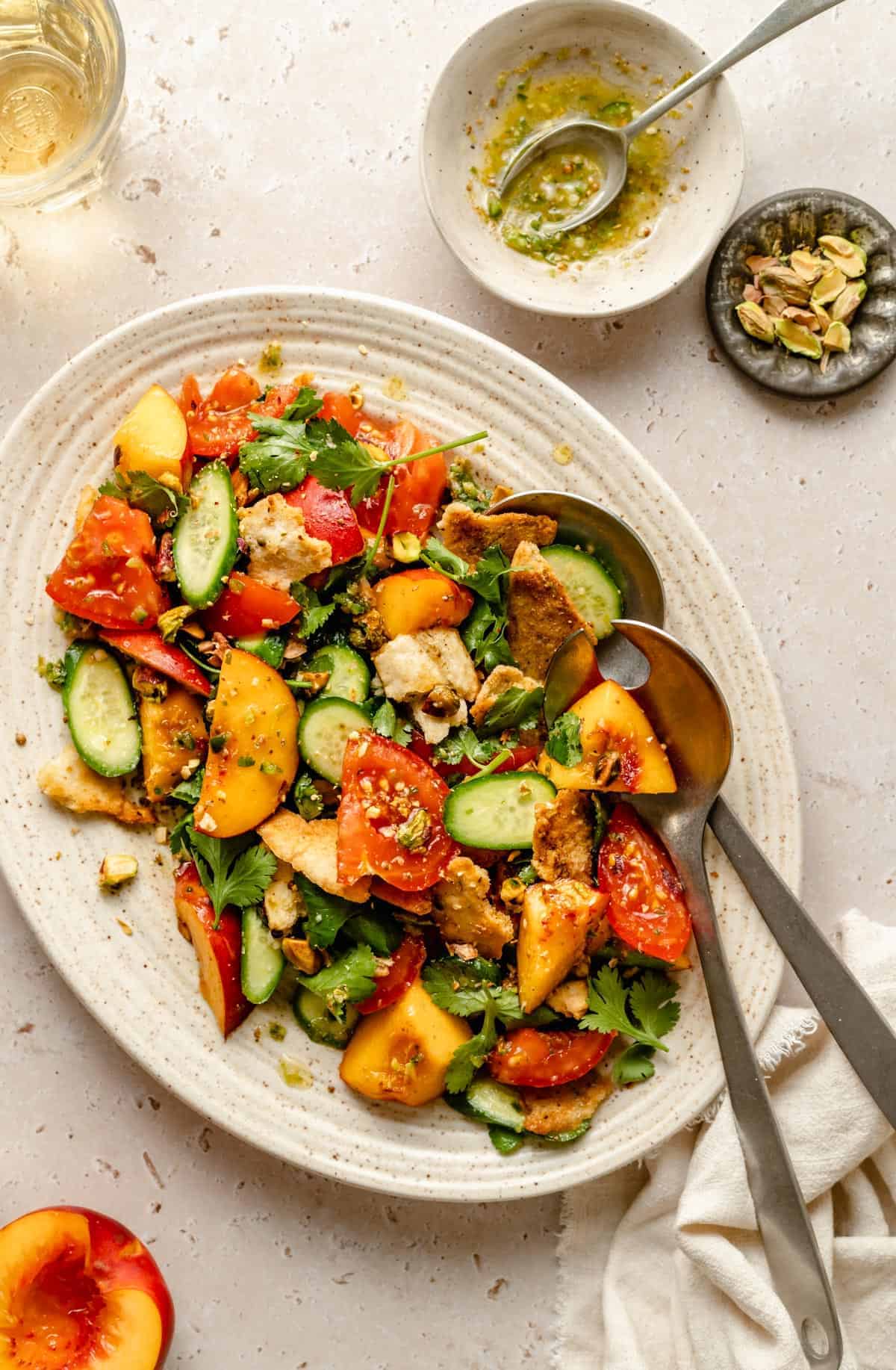 One of our favourite things to eat in the summer is fresh and vibrant food and this nectarine salad really fits the bill! Are you looking for the perfect accompaniment to some grilled or BBQ food or a light refreshing lunch? This salad with nectarines has tomatoes, cucumbers and other tasty flavour bombs inside and is definitely going to impress friends and family when you whip it together in under 20 minutes. Try it with these smoky pineapple chicken kabobs or grilled chicken or meat of choice with this pineapple jalapeño marinade.
This vibrant nectarine salad has the perfect balance of sweet, salty, acid and heat, with the addition of crunch from the crispy pita, cucumber and pistachios. Every mouthful is a celebration of flavour and you'll feel like Remy from Ratatouille enjoying combining flavours, too cute! Love flavour like this? Definitely check out our Strawberry Walnut Salad.
We know you'll love this nectarine salad as a great addition to your summer recipes. And this simply delicious version is sure to please. Make sure to leave a comment for us below when you give the recipe a go and leave a rating!
Jump to:
Why you'll love this salad
If you need any more reasons to love this nectarine salad here you go:
Easy - we love easy meals and this salad with nectarines is super simple and quick to make.
Quick - the only involved bit of this salad is toasting some pita chips in the oven, but if you want to save even more time, you can use store bought!
Flavour - the flavour that comes from such a simple dressing is unbelievable, but it truly is zingy and fresh with jalapeńo and coriander. Yum!
Healthy - coming in at under 500 calories a portion and packed with loads of nutritional ingredients, this is definitely a great healthy option.
Cooling - this nectarine salad makes use of lots of cooling fruits and veggies, perfect for when you want something light and refreshing during the heat of summer.
Ingredients
You only need a few simple store cupboard staples and some fresh ingredients to make this nectarine salad. Here is what you need: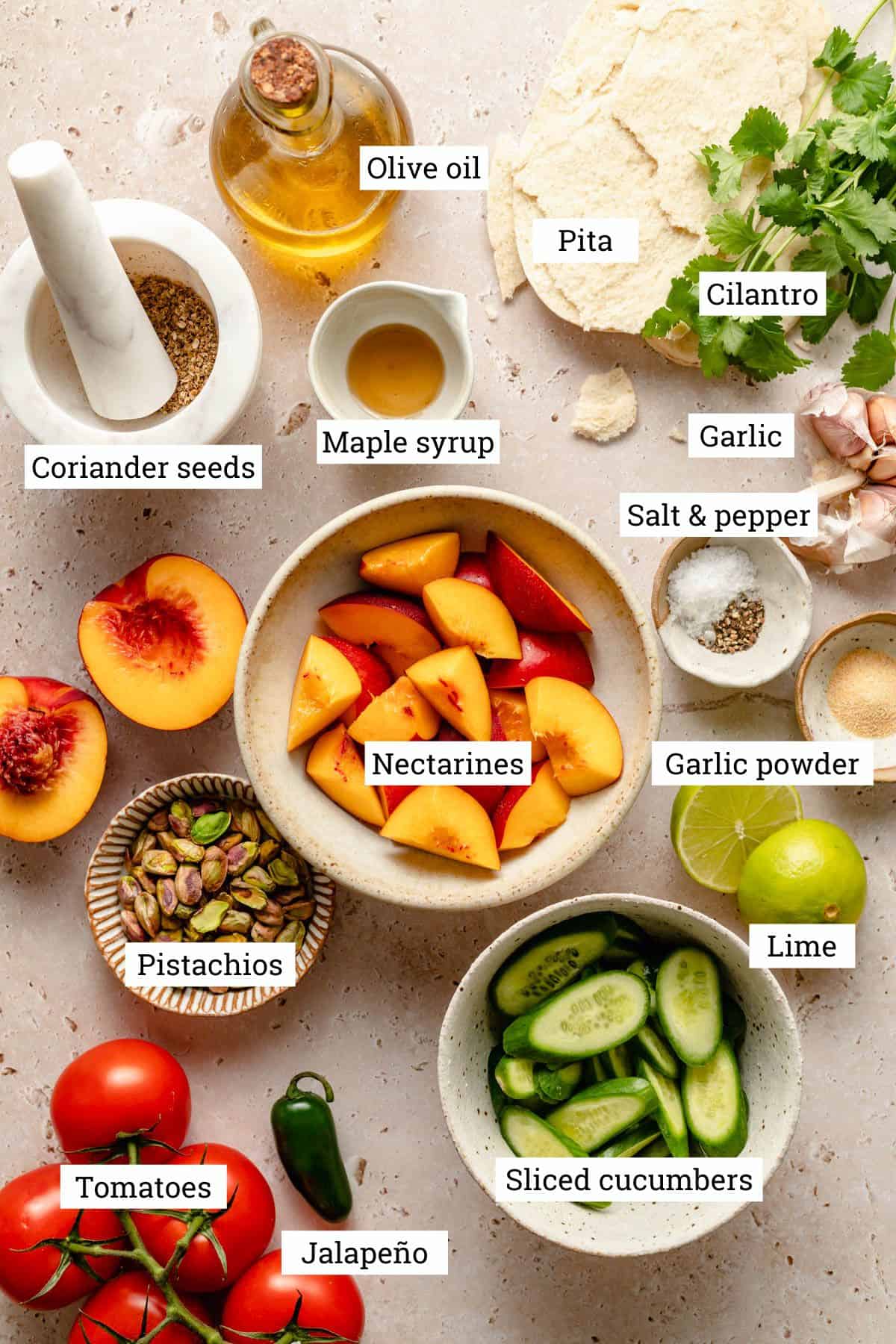 Pita - You'll need a few white pita. We tried this recipe with wholemeal ones too and it worked just fine so just use what you have or prefer.
Spices and seasoning - everything tasty starts with seasoning properly; we used flaked maldon sea salt and freshly ground black pepper. You'll also need some garlic powder and coriander seeds. We like to toast the seeds to release more flavour when they are cracked in the pestle and mortar.
Nectarines - the pinnacle and feature ingredient in this salad. Make sure you get some nice plump and ripe ones - if you fancy you can switch them out with peaches, plums or cherries.
Pistachios - adding the perfect little nuttiness to this salad, pistachios work amazingly well with the fruit and dressing.
Tomatoes - we used some beautiful heritage tomatoes from Isle of Wight tomatoes, but whatever you can get is just fine, cherry tomatoes or plum tomatoes. The tastier, the better!
Customisations & variations
We all love to mix it up with different ingredients, here are some suggestions to customise this nectarine salad:
More protein - if you want more protein here, create a chicken nectarine salad with some leftover shredded chicken. This salad would also work very well with grilled halloumi or shrimp/prawns.
Green leaves - this nectarine salad has loads going for it already but if you want to throw in some arugula or watercress it would make a nice addition to this meal.
Burrata - if you'd like to go all out with this meal, split open a burrata over the top and dig in with additional crispy pita chips.
Fruit - we're massive fans of nectarines, hence this nectarine salad. But if you want to use peaches instead, they will also be delicious. Any stone fruit will be great.
How to make this nectarine salad
This healthy nectarine salad is so quick and simple to put together, you'll be in flavour town heaven in no time! Now you have all your ingredients, follow these easy steps to make it:
Crispy pita chips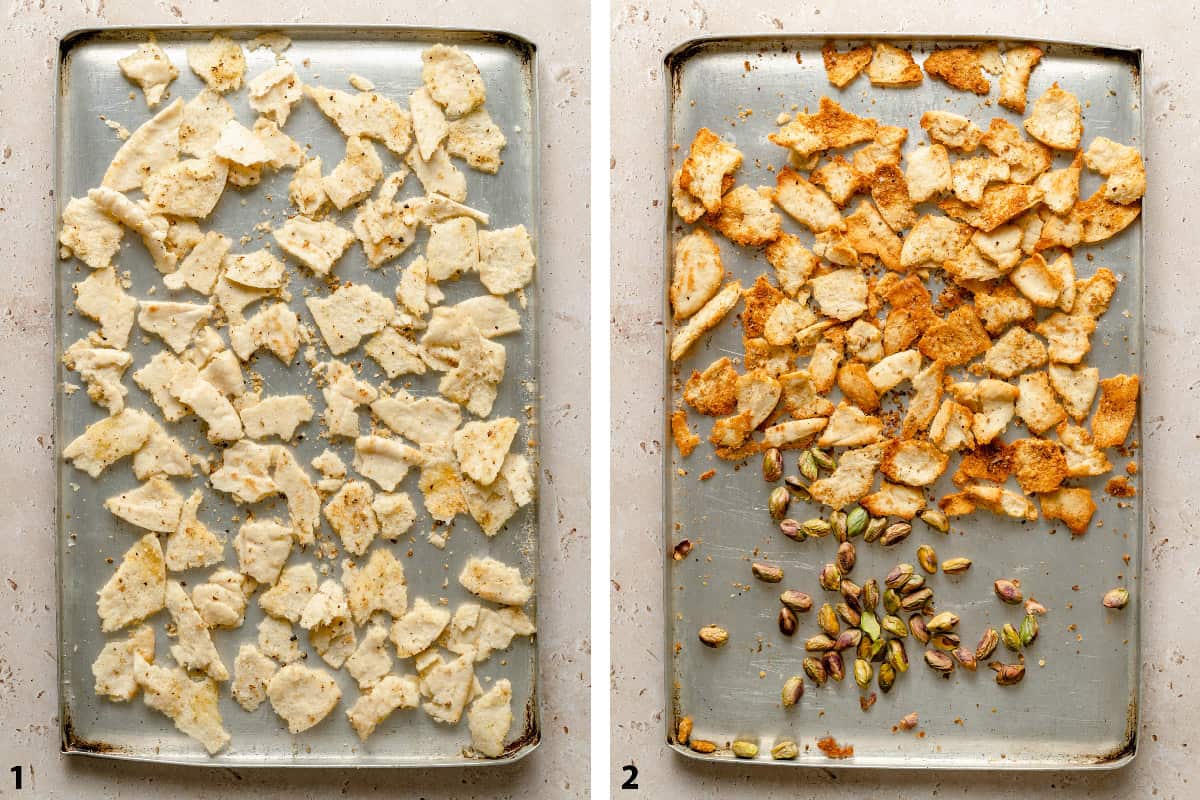 Using a knife, split the pita in half along its edge to create four flat halves. Tear the four halves in to bite size pieces, place on a tray and pour over 1 tablespoon of olive oil. Sprinkle over the salt, pepper, cracked toasted coriander seeds and garlic powder and toss together until coated nicely.
Bake in a preheated oven at 190C/375F for 10 minutes. Remove from the oven and toss the pitta chips, then place the pistachio nuts to one side of the tray and bake for another 2-4 minutes until the chips are golden brown. Remove from the oven and cool. Roughly chop the pistachio nuts.
Jalapeño lime dressing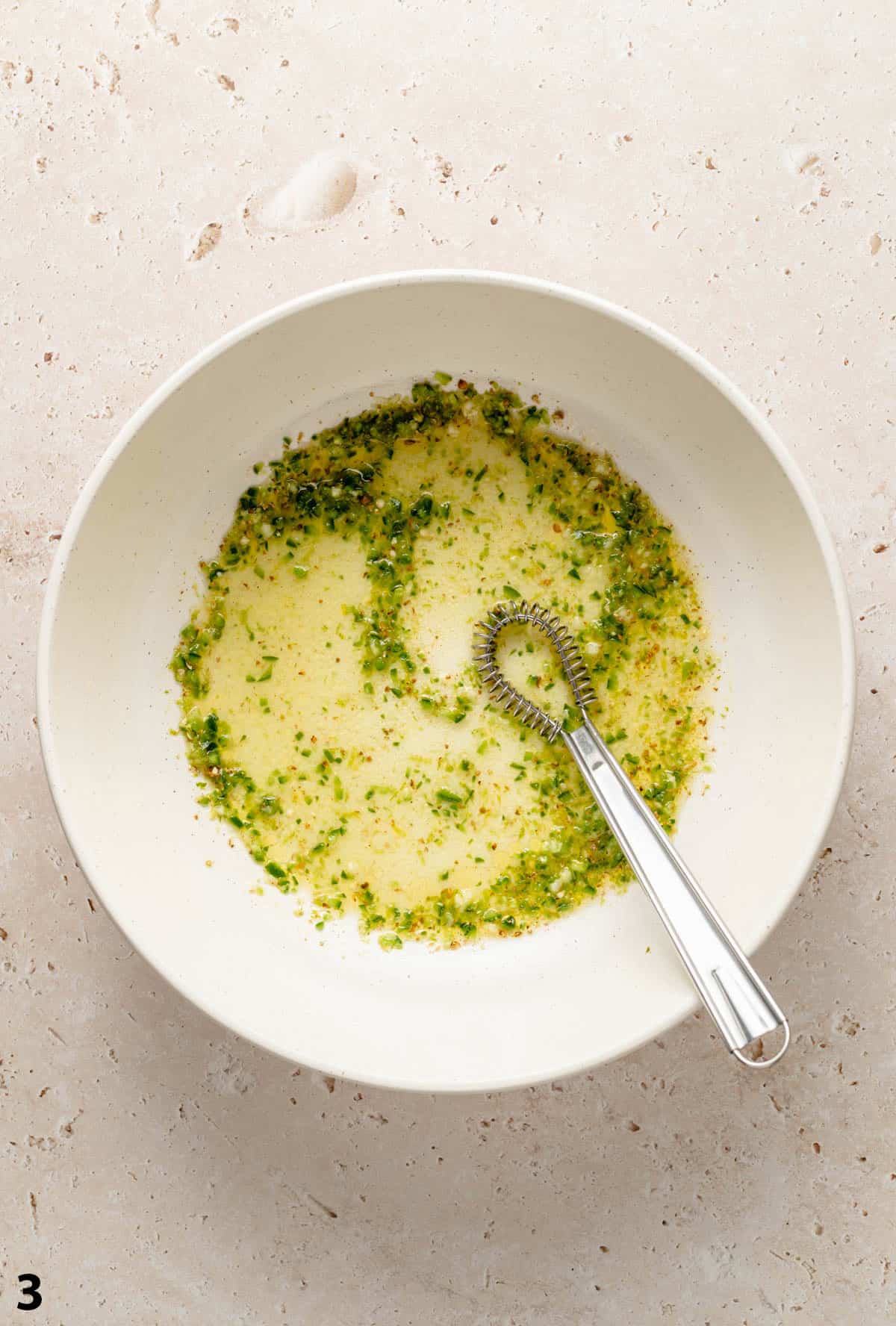 3. Put all the dressing ingredients into a large bowl: extra virgin olive oil, lime juice, lime zest, maple syrup, garlic, coriander seeds, jalapeño and salt. Whisk together, taste and adjust for seasoning then set aside.
Salad assembly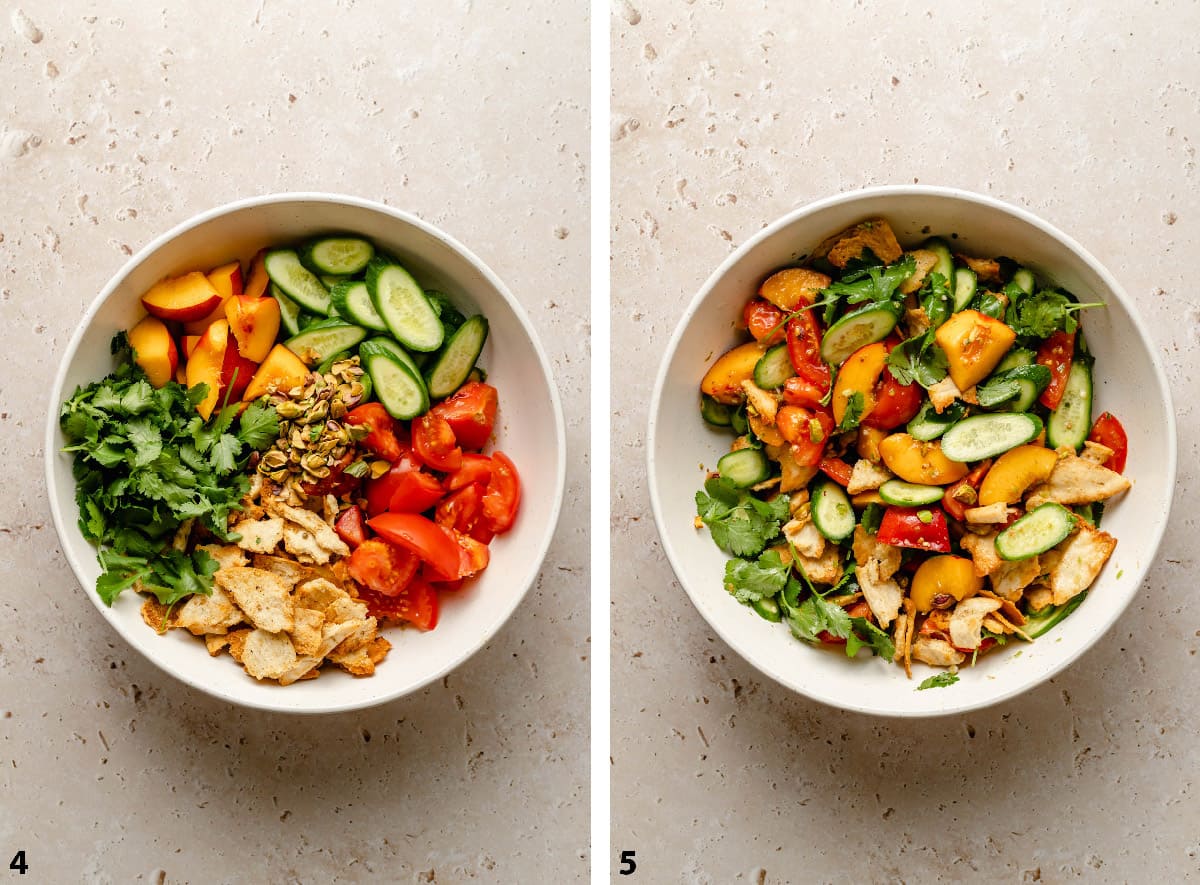 4. Place your nectarines, tomatoes, chopped pistachio nuts, pitta chips, cucumbers and coriander leaves/cilantro on top of the dressing in the large bowl.
5. Gently toss the nectarine salad together with some spoons until coated in the dressing. Serve immediately.
Recipe tips
Follow these simple tips to ensure you have success when making this nectarine salad:
Toasted seeds - we highly recommend taking a few minutes to toast your coriander seeds in a dry pan before crushing them, it will help them release the most flavour.
Pita chips - the pita chips made in this recipe are flavoured to complement the salad dressing. If you live in a hot climate and don't want to use the oven, just buy a bag of pita chips to throw in.
Jalapeño - be sure to check the heat of your jalapeño. If you like it hot, keep the seeds in or even add in a second chilli, if not, remove the seeds, or use half the chilli.
Fruit - if your fruit is very ripe, just gently toss the nectarine salad together with your hands to avoid bruising them.
Recipe FAQs
Should nectarines be refrigerated?

Nectarines can be stored at either room or fridge temperature. If they are particularly ripe, you can slow down this process by storing them in the refrigerator. To get the most out of the flavour, remove them from the fridge and bring to room temperature before consuming.
Can I make this salad ahead?

Yes, prepare the components of the salad separately and store until ready to combine. Dress and add the chopped cilantro just before serving. We recommend bringing the nectarines and tomatoes to room temperature before serving if stored in the fridge.
How to store this salad?
Like prepping ahead, prepare all the ingredients individually and store in separate containers until needed. We would not recommend storing this once made as the dressing will make the pita chips go soggy.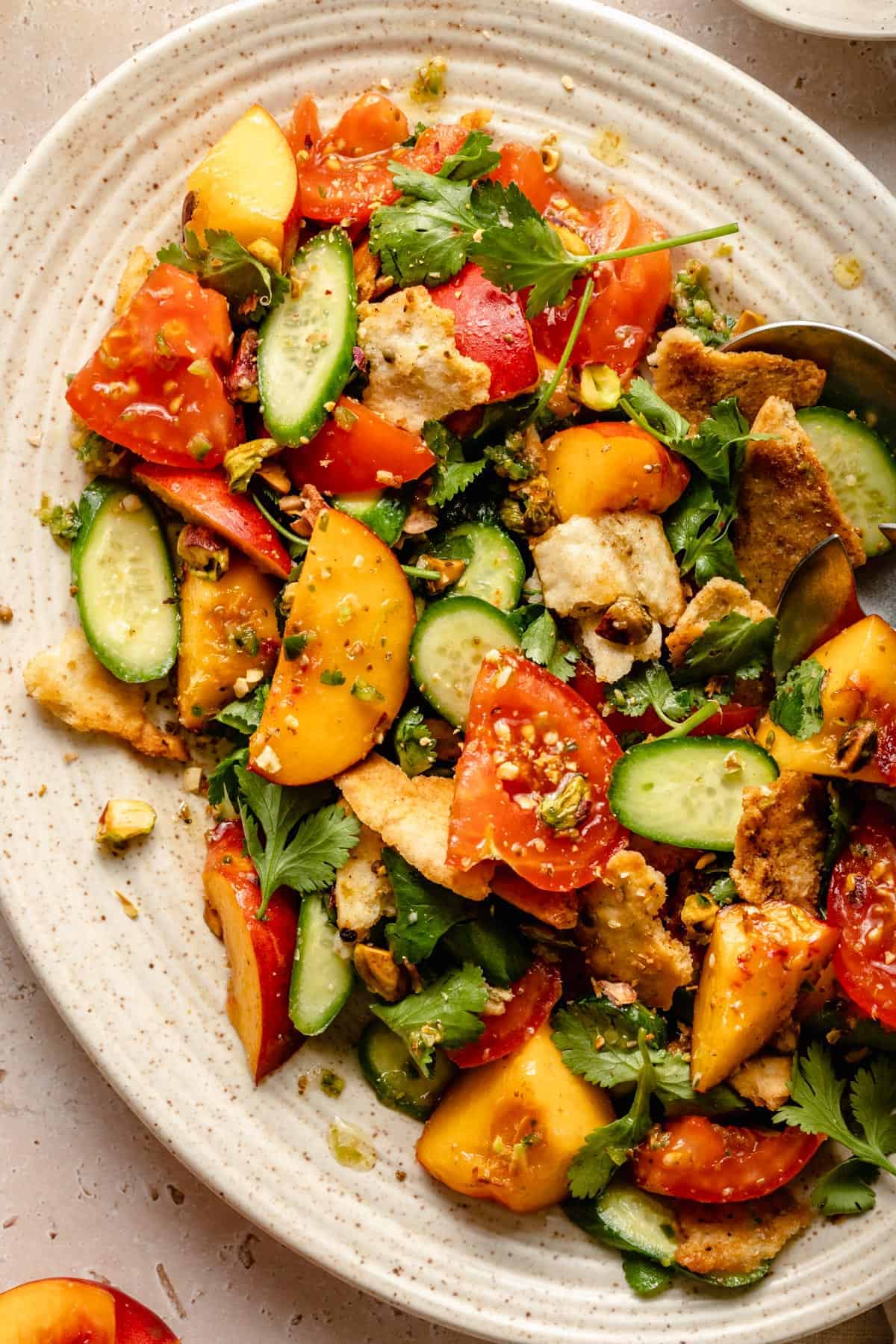 Related recipes
Love this nectarine salad as much as us? You'll want to check out our other salad recipes, here are some suggestions to get you started:
Love this recipe? Leave us a 5-star ⭐️⭐️⭐️⭐️⭐️ rating in the recipe below and don't forget to leave a review in the comments section underneath the recipe. We love hearing from you!
Why not follow along with us on our social media channels @Instagram @Facebook and @Pinterest and tag us with #eatloveeats when you've tried one of our recipes!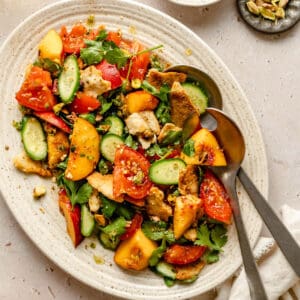 Nectarine Salad with Jalapeño Lime Dressing
This nectarine salad is so fresh and vibrant with the ripe nectarines and tomatoes, matched perfectly with a jalapeño and lime dressing.
Print Recipe
Pin Recipe
⭐️ Rate Recipe
Ingredients
For the salad
2

large

nectarines

,

cut into 1" chunks

¼

cup

pistachios,

shelled

4

mini cucumbers, cut diagonally ¼ inch thick

,

150g

2

large tomatoes

,

chopped into chunks

¼

cup

cilantro leaf

,

small handful
Instructions
For the pitta chips:
Preheat oven to 190C/375F, split open the pitta and tear into bite size pieces and spread out on a sheet pan. Toss with the oil, garlic powder, crushed toasted coriander seeds, salt and pepper.

2 pita,

1 tablespoon extra virgin olive oil,

½ teaspoon garlic powder,

1 teaspoon coriander seeds,

½ teaspoon maldon sea salt flakes,

¼ teaspoon pepper

Bake the pitta chips for 10 minutes. After 10 minutes, give them a toss and add the pistachio nuts to the tray and bake for another few minutes. Remove from the oven and set aside to cool; they should be nice and golden brown. Remove the pistachios to a chopping board to cool.
For the dressing:
Place all the ingredients into a large mixing bowl and stir together to dissolve the salt, taste and adjust for seasoning if needed. The dressing needs to be well seasoned as the flavour will be dampened when it is tossed with the salad.

1 tablespoon extra virgin olive oil,

2 tablespoons lime juice,

½ lime zest,

½ teaspoon maple syrup,

1 small garlic clove,

½ teaspoon coriander seeds,

1 jalapeño,

½ teaspoon maldon salt flakes
To prepare the salad:
Roughly chop the roasted pistachio nuts and place them in the bowl with the dressing along with the baked pitta chips, cucumber, nectarine, tomatoes and cilantro.

2 large nectarines,

4 mini cucumbers, cut diagonally ¼ inch thick,

2 large tomatoes,

¼ cup cilantro leaf

Gently toss together to coat the salad. Serve immediately either as a main or side.
Notes
If you have very ripe nectarines that are maybe a little softer, just be careful when tossing the salad. If you are looking to store it for later use or next day, I wouldn't recommend an extremely ripe nectarine for that. I would suggest eating on the day of making.
For the toasted coriander seeds, place 1 ½ teaspoons of seeds in a small skillet set over a medium heat and toast until fragrant (1-2 minutes). Remove to cool slightly in a pestle and mortar and bash them to fairly ground, but not too fine. If you don't have a pestle and mortar just bash the seeds with the bottom of a small saucepan.
The serving size is for a main course for an adult. If using as a side, you can get away with splitting it between four.
Test your jalapeño for heat, if its very hot, you can remove the membrane and seeds before finely dicing it, but if you like a bit of heat and more zing, just use the whole thing seeds and all.
Nutrition
Calories:
497
kcal
|
Carbohydrates:
69.1
g
|
Protein:
13.4
g
|
Fat:
23.1
g
|
Saturated Fat:
3.1
g
|
Polyunsaturated Fat:
4.5
g
|
Monounsaturated Fat:
14
g
|
Sodium:
1032.2
mg
|
Potassium:
1089.4
mg
|
Fiber:
11
g
|
Sugar:
20.8
g
|
Vitamin A:
82.2
IU
|
Vitamin C:
98.4
mg
|
Calcium:
116.3
mg
|
Iron:
5.2
mg
Did you make this recipe?
Leave a comment below with how you got on and don't forget to give the recipe a rating ⭐️⭐️⭐️⭐️⭐️. You can also tag @eatloveeats on Instagram - we love to see your creations!