Flavour town is where these gochujang noodles come from. These are full of life and just leave you wanting more! A great option for a quick and easy dinner to put together in the week when you are busy. The spicy Korean style noodles are served with a quick pickle that elevates the dish to another level.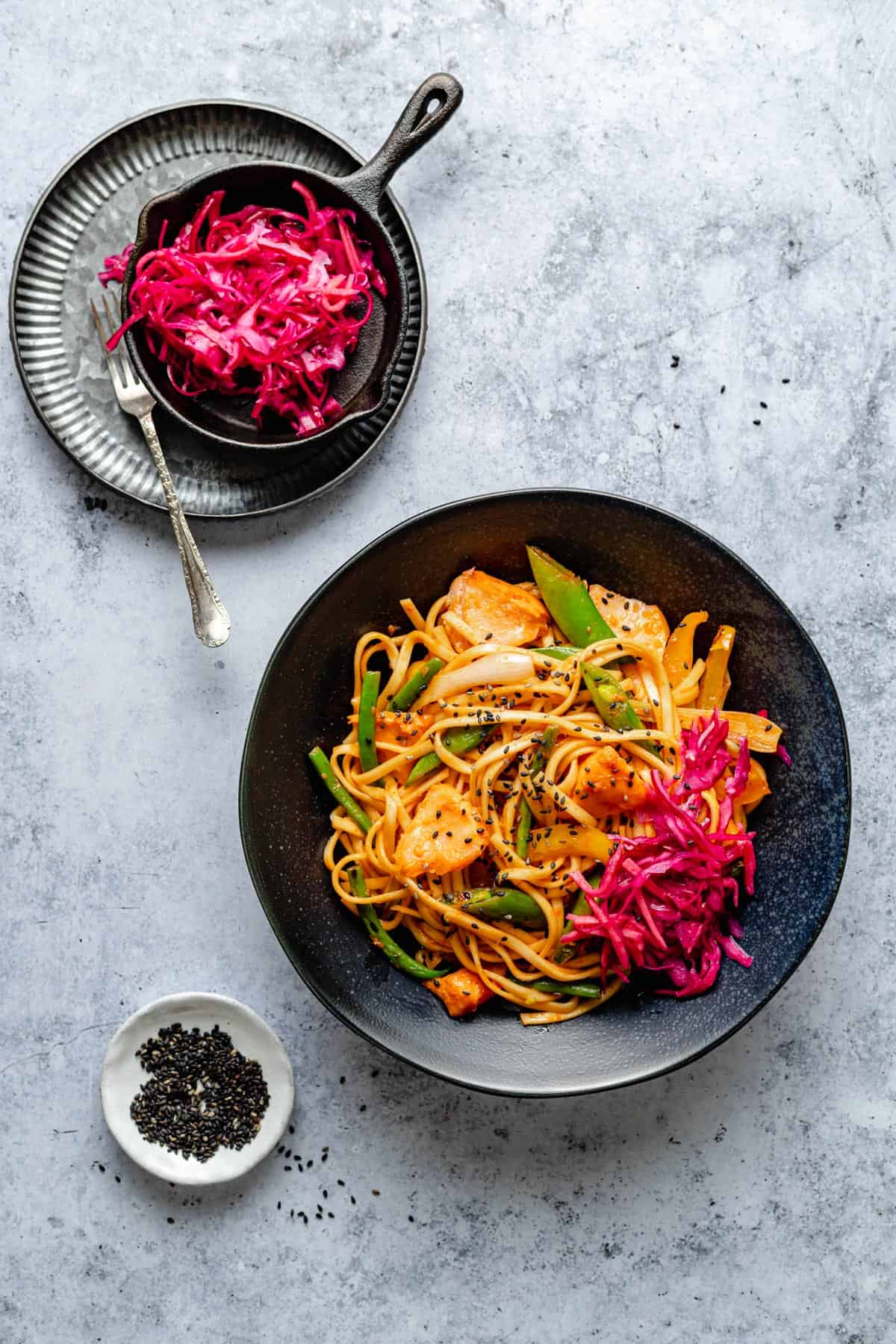 I love a steaming bowl of noodles for a weeknight meal as I'm sure most of us do! I hope you'll love these as much as we do. These gochujang noodles with salmon are just insanely tasty. Like, let's wake those taste buds up and give them a roller coaster ride of satisfaction kind of tasty!
As you may know, we love a bit of spice in this house, but simple dishes even more. It's so easy for life to get so busy isn't it? We've got you sorted with all the tips and tricks you need to make this delicious noodle recipe.
So what is gochujang?
In this dish you get a lovely savoury, sweet and spicy flavour from the gochujang paste, which is a Korean fermented red pepper paste. The paste is made from gochugaru (red chilli powder), glutinous rice, fermented soy beans and salt. It is used in a variety of Korean dishes, including Bulgogi and Bibimbap. It tastes amazing. That's all you need to know.
You could call this a Korean gochujang noodle recipe but this dish is not authentically Korean, we're just celebrating one of the world's most wonderful and flavourful ingredients and hope you can enjoy it with us. The salmon and veggies work perfectly together with the seasonings and definitely don't forget to add the quick pickle, my husband tells me it's not optional 😉
I used to be very sensitive when it came to spicy things, but I've now become accustomed to a good kick of heat. Although not as much as my husband! We've given an option for those who are less tolerant of heat in the recipe below where you can still enjoy the flavours of the fermented chilli paste, gochujang.
I'm certain you are going to love the flavours here, I mean just look at it? 😍 Don't forget to leave some love in the comments letting us know how you get on and give the recipe a rating! We love hearing back from you! ❤️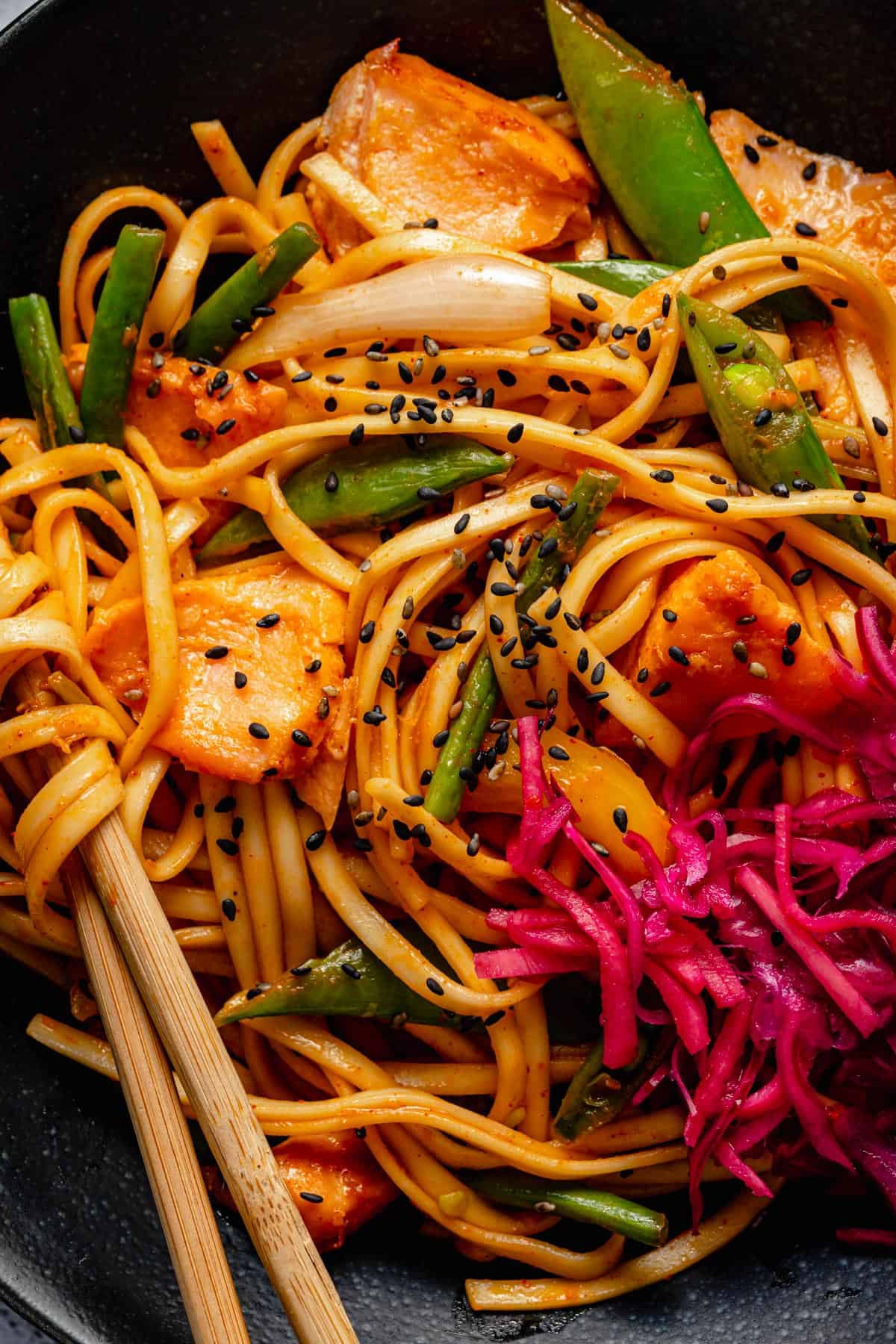 What ingredients do I need?
Let's get you prepared for some mega flavour. The ingredients are very simple but depending on your local stores and general location you may have to purchase some online. This is what you'll need: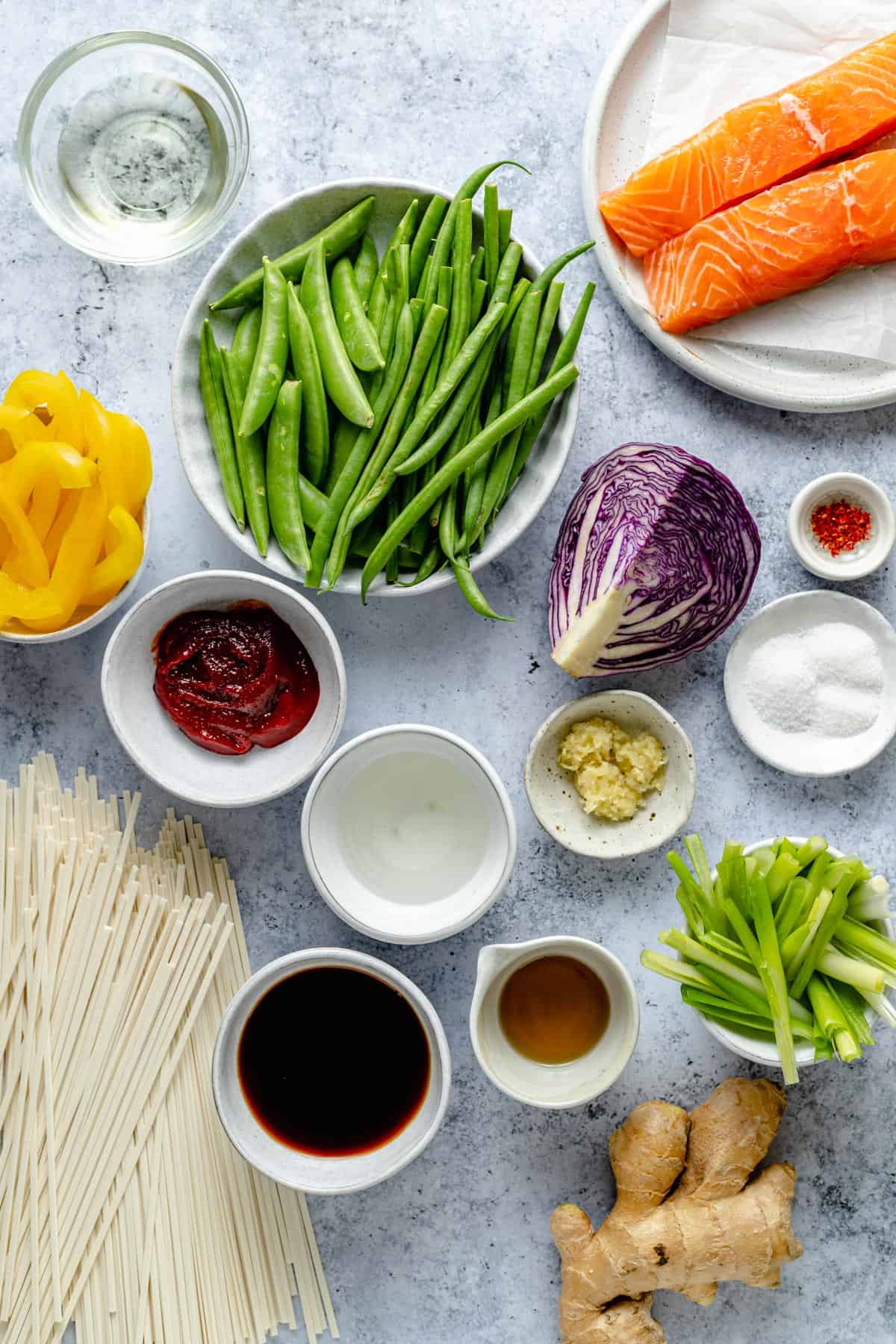 Gochujang - This is the central flavour of the dish and makes up part of the sauce. I know you all love substitutions but in this case, nothing else will do. No, really. Nothing.
You can find this red pepper paste in your local Asian supermarket. Gochujang has become more available in most supermarkets nowadays (admittedly of varying quality) but if you can't find it, I suggest buying it online. We use this gochujang. Definitely go out of your way to buy it. You will not regret it and also it lasts a very long time!
Soy sauce - essential to pretty much any stir fry, adding to the complexity of flavour as well. You can use reduced salt soy sauce if you wish. We have tried with both, but recommend the standard, light soy sauce.
Rice wine vinegar - Perfect addition of acidity to the dish, you can find this in most supermarkets. Rice wine vinegar does taste different to other vinegars, it is used in both the sauce and the pickle.
Sesame oil - this is not used for cooking, it is a seasoning and adds a roasted sesame flavour. It is in the sauce and the sauce is added at the end of the cooking process.
Aromatics - You'll need fresh ginger and garlic which are quintessential in most stir fries; you'll also use the fresh ginger in the pickle, which makes a great topping to this gochujang noodle recipe.
Veggies - You'll need red cabbage for the pickle and some bell pepper, green beans, sugar snap peas and spring onion for the stir fry mix.
Protein - You'll need some salmon. This oily fish is a great source of protein and omega 3 fats and it really lends itself to being slathered in the stir fry sauce here. It's pretty special. You can substitute different proteins and there are some suggestions below.
Noodles - I recommend using some form of ramen noodle from your local Asian supermarket. We use shandong style noodles and would suggest using straight noodles. If you cannot find the one we use, soba noodles should work just fine.
Vegetable oil - High smoke point, perfect for a stir fry.
Your questions answered...
Want to customise the gochujang noodles?
You love a substitution so I will make some suggestions, but please do NOT substitute the gochujang paste. It is not up for discussion. You will just not get the flavour that I have been talking about. Here's some other suggestions:

Change up the veggies - use what you have. I'd suggest trying crunchy vegetables, such as shaved carrot, tenderstem broccoli or some zucchini, as they only get stir fried for a short time, they will still have a nice bite.

Change up the protein - we love this dish with salmon as it works so well, but if you are not fond of it, you can switch it to shrimp, chicken or tofu if you want to make it solely plant based. (If you want to ensure this dish is vegan, just check the ingredients on your Gochujang paste to ensure its suitable as brands vary on ingredients.) 

Change up the pickle - So, I suggest keeping the liquid pickle mix the same, but you can change up the veg you pickle. Try some matchstick carrots or some radish. Just ensure they are sliced thinly on a mandolin or with decent knife work you should be ok. 
Can I tone down the heat?
This recipe was created by my husband and he loves spicy food. In the original recipe he used three heaped tablespoons of gochujang paste. 😂 For the normal person this may blow your head off! I mean, even he was sweating!

So we have got the recipe down to a good level of heat for those who like spicy things (two flat tablespoons) BUT, if you can't handle much heat at all I'd recommend reducing it down by half. Or purchase a milder version of gochujang. 
How do I make these noodles?
Stir fries should be simple and I believe I have kept it as simple as I can. I would recommend reading through all the tips and notes above and make sure you have everything prepared before you start as things move quickly when you start cooking. Follow these easy steps to flavour town and your gochujang stir fry!
Place all the sauce ingredients into a bowl.
Whisk together until combined.
Reserve until later.
Place the rice wine vinegar, water, sugar and salt into a bowl and whisk together until the sugar and salt have dissolved.
Slice your cabbage very thinly on a mandolin or try your best to get as thin as possible with a knife. Slice your fresh ginger into thin matchsticks.
Place your cabbage and ginger in the pickle liquid and stir with a fork. Add a pinch of gochugaru chilli flakes if desired. Set aside until later (it will be ready in about 10 minutes but can sit for longer if needed.)
Place your salmon on a baking sheet lined with parchment paper. Smear a spoonful of the stir fry sauce over each fillet and rub in.
Bake in a preheated oven at 200C/400F for 9-10 minutes. I find 9 minutes perfect, but it depends on the thickness of your salmon fillet. (if using chicken or tofu I'd suggest doing the same to marinade them in strips or cubes and then stir fry them in the wok until they are cooked through, then remove from the wok then follow on from step 10.)
Remove from the oven, set aside and flake to toss through the stir fry later.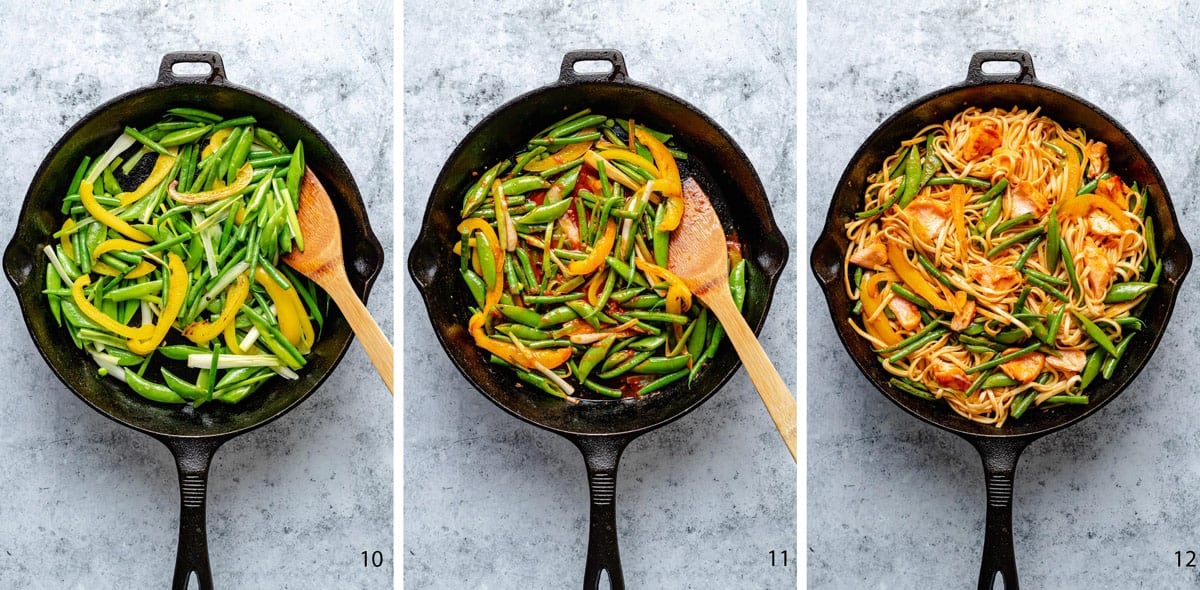 Heat a wok or skillet over a medium high heat and then add the oil. Stir fry all the veggies for 4-5 minutes until slightly softened, but they still have a bit of a bite. Whilst doing this, you'll be cooking your noodles in a separate pan of salted water following the package instructions.
Add the gochujang sauce and stir fry for another minute. Add the noodles and stir together. If you feel like you need to loosen the sauce, just add a splash of noodle water.
Toss through the salmon and serve immediately topped with the pickle.
I've got leftovers, how can I store/reheat them?
Leftovers are a wonderful thing. Especially when you are busy or tired and can't be bothered to cook. I'd recommend storing these in an air tight container for up to 3-4 days; they can be split up into smaller containers for lunch boxes in the coming days.

You can reheat them or eat them cold, either way they are very tasty! If you are choosing to reheat them. I'd suggest either a microwave for 60-90 seconds on high until piping hot in the middle. Or in a frying pan over a medium heat until hot. If you are doing the latter you may need a small splash of water to just get things going. 
I hope you love these gochujang noodles with salmon as much as we do. If you make it, be sure to leave a comment, rate the recipe and tag me on Instagram! I love to see your creations!
If you like this, check these recipes out too...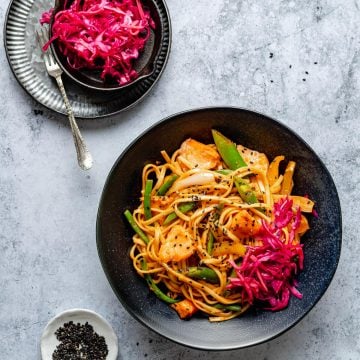 Gochujang Noodles with Salmon
These flavoursome gochujang noodles are packed with veggies and salmon coated in a sweet and savoury sauce and finished with a quick pickle.
Print Recipe
Pin Recipe
⭐️ Rate Recipe
Ingredients
For pickled cabbage
1

cup

shredded red cabbage

½ - 1

inch

ginger

,

sliced into thin matchsticks

⅓

cup

rice wine vinegar

⅓

cup

water

½

teaspoon

salt

½

teaspoon

sugar

pinch

of gochugaru,

(optional)
For the stir fry
1-2

tablespoons

vegetable oil

½

yellow bell pepper

,

cut into strips

100

g

fine green beans

,

cut in half

100

g

sugar snap peas

,

cut in half diagonally

4

spring onions

,

cut into 3 inch pieces and then in half lengthwise

2

salmon fillets

,

skin on (~240g)

200

g

shandong ramen noodles

,

cooked and drained, or soba noodles
Instructions
Preheat the oven to 200C/400F.
To make the sauce
Mix all the sauce ingredients together in a little bowl (see notes if you want to tone down the heat.)

2 tablespoons gochujang,

3 tablespoons soy sauce,

2 tablespoons rice wine vinegar,

2 teaspoon sesame oil,

1 inch fresh ginger,

2 garlic cloves
To make the pickle
Slice your red cabbage very thinly on a mandolin. You can use a food processor or a knife too, just get it as fine as you can. The finer it is, the quicker the pickle works! Slice your ginger into fine matchsticks.

1 cup shredded red cabbage,

½ - 1 inch ginger

Add the vinegar, water, sugar and salt to a small dish and whisk together to dissolve completely.

⅓ cup rice wine vinegar,

⅓ cup water,

½ teaspoon salt,

½ teaspoon sugar

Add the cabbage and ginger mix and stir together with the gochugaru flakes, if using.

Set aside for the rest of the cooking of the time, 10-20 minutes is fine if it's sliced finely enough.
To make the stir fry
Spread a spoonful of the reserved gochujang sauce over each salmon fillet and rub over the top, don't worry about the skin as it'll be peeled off and discarded later. Place in the preheated oven and bake for 9-10 minutes until perfectly cooked; you want moist, blushing salmon so please don't over cook it! Flake the salmon and remove it from the skin, set aside.

Meanwhile prep the veg and place a pan of salted water on to boil the noodles, these only take 4 minutes for shandong noodles (follow your packet instructions). Heat the wok or a large frying pan with vegetable oil, and stir fry the veg for 4-5 minutes, until starting to soften slightly.

½ yellow bell pepper,

100 g fine green beans,

100 g sugar snap peas,

4 spring onions,

200 g shandong ramen noodles

Add all of the rest of the spicy sauce mix and cook for 1 minute. Add the noodles and stir through, you can add a splash of the noodle water to loosen the sauce if needed. Gently toss the salmon through the noodles and serve immediately topped with the pickled cabbage!
Notes
If you like it a little less spicy, use half the amount of gochugang, but this totally depends on how you handle heat. I would say the dish as written is medium spicy.

If using chicken or tofu as a substitute I'd suggest marinating them in strips or cubes with some of the stir fry sauce and then frying them in the wok until cooked. Then remove from the pan and set aside while you stir fry the vegetables. The reason we don't do this with the salmon is because it will break up. You could easily pan fry rather than bake the salmon though and just set aside until needed
If you can't get hold of

shandong noodles

, use soba noodles or whatever noodles you have on hand instead.
Nutrition
Calories:
518
kcal
|
Carbohydrates:
74.4
g
|
Protein:
33.8
g
|
Fat:
13.5
g
|
Saturated Fat:
5.8
g
|
Polyunsaturated Fat:
2.6
g
|
Monounsaturated Fat:
3
g
|
Cholesterol:
40.8
mg
|
Sodium:
1637.9
mg
|
Potassium:
1635.3
mg
|
Fiber:
6.5
g
|
Sugar:
9.5
g
|
Vitamin A:
172.4
IU
|
Vitamin C:
130.8
mg
|
Calcium:
179.8
mg
|
Iron:
6
mg
Did you make this recipe?
Leave a comment below with how you got on and don't forget to give the recipe a rating ⭐️⭐️⭐️⭐️⭐️. You can also tag @eatloveeats on Instagram - we love to see your creations!