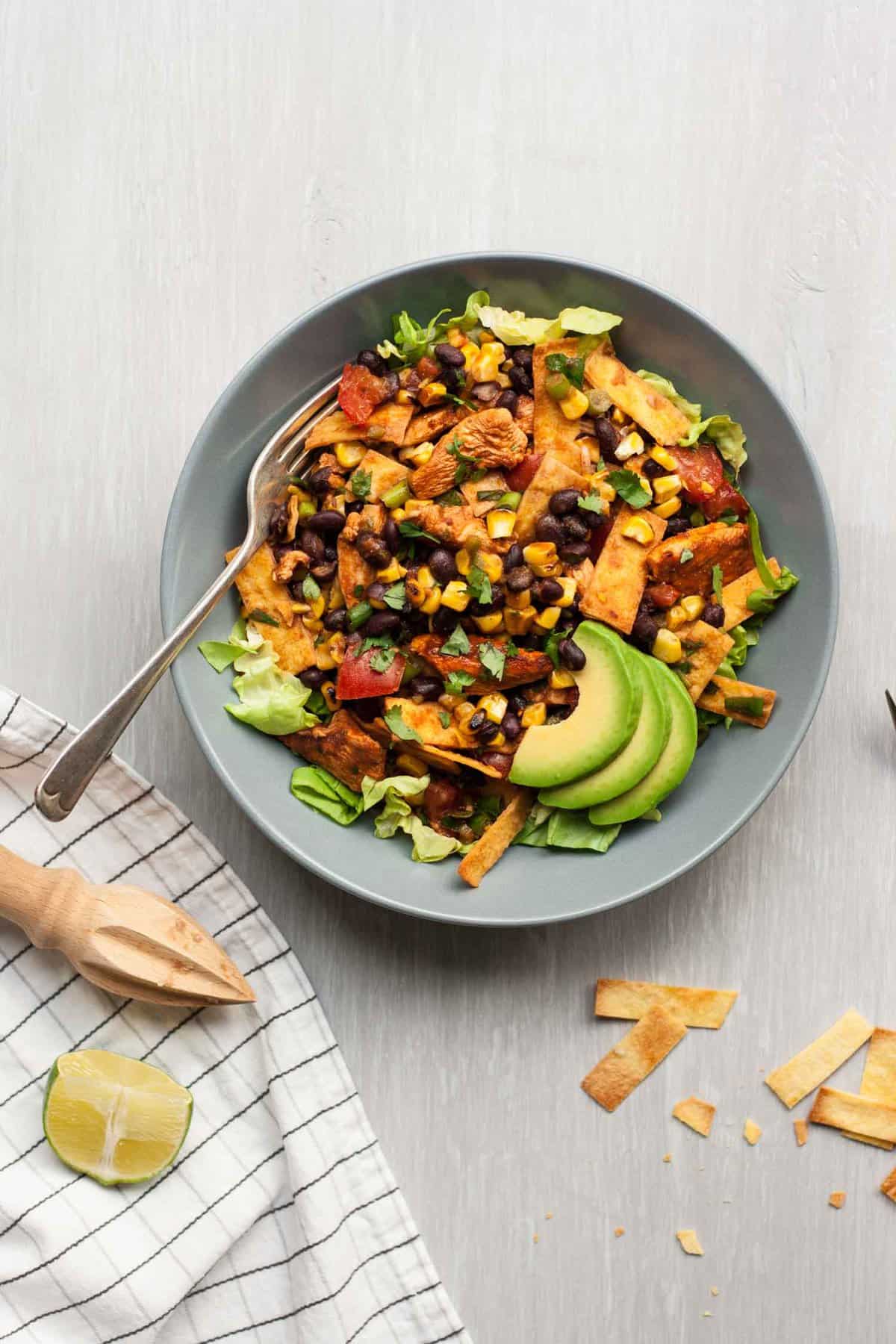 Are you ready to be slapped with flavour? I'm sorry, that sounds terribly obnoxious of me, doesn't it? But it's true! This Chicken Tostada Salad is an absolute flavour bomb! And it's SO easy to make. You're gonna love it.
Mexican food is truly my favourite. I didn't grow up eating it and it wasn't until I started to cook for myself that I started to learn about it's wonders. It makes me laugh now, because I'm a major chilli head, but I used to be so intolerant of spice!
I remember when my husband once made me a curry (a seriously delicious Indonesian dried beef curry, if you're wondering) and made me cry because it was too spicy. I just couldn't take any chilli heat and I used to make him scrape out all the seeds and only put a tiny bit into our food. Ohh, how things have changed! I didn't ever imagine myself uttering the words 'it needs more chilli!' but trust me, that's far more likely to be the words you hear coming from my kitchen these days! Love love LOVE chillies. What is your favourite kind?! I'd love to know.
This chicken tostada salad is on the tame side in terms of chilli heat because even though I love chillies, I'm not one for chilli violence. No, you have to know when to stop and I always go for flavour over a taste bud battering. I NEED to be able to taste my food! But I can certainly handle some heat these days. Yum.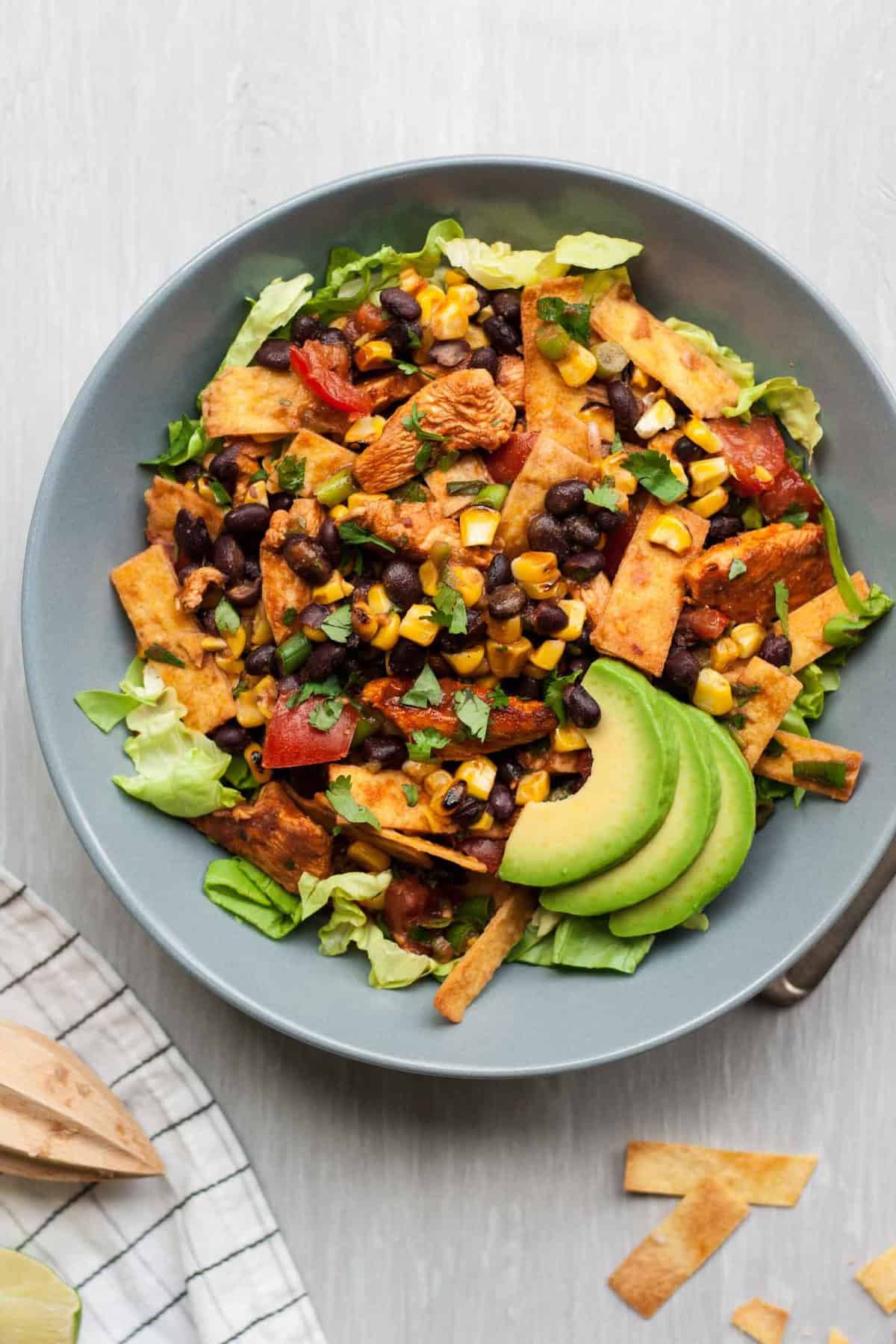 Now, onto details. I know that a tostada salad normally takes the form of a crispy tortilla topped with loads of delicious Mexican fixings. I'm fully aware of this. But I've had this idea in my head for ages - a tostada salad that wouldn't be served atop a tortilla, but would instead be laden with crispy tortilla strips. This might be an actual legitimate dish with an entirely different name but I'm blissfully unaware of it and as such, this will remain a chicken tostada salad for now. An exceedingly delicious one at that. Humour me. And, hey, I'm happy to be wrong! If you know something I don't, then please, educate me. There is no such thing as too much food knowledge in my book.
So here we have all the usual suspects - black beans, sweetcorn, tomatoes, avocado - all the good stuff. They're all brought together with a delicious double-duty dressing/marinade which is full of tangy lime and smoky heat. It's addictive stuff. All of this gets mixed up with juicy chicken and crispy tortilla strips and served on top of a good pile of crunchy lettuce to make for a perfect light dinner (or lunch!). So much flavour and so much texture!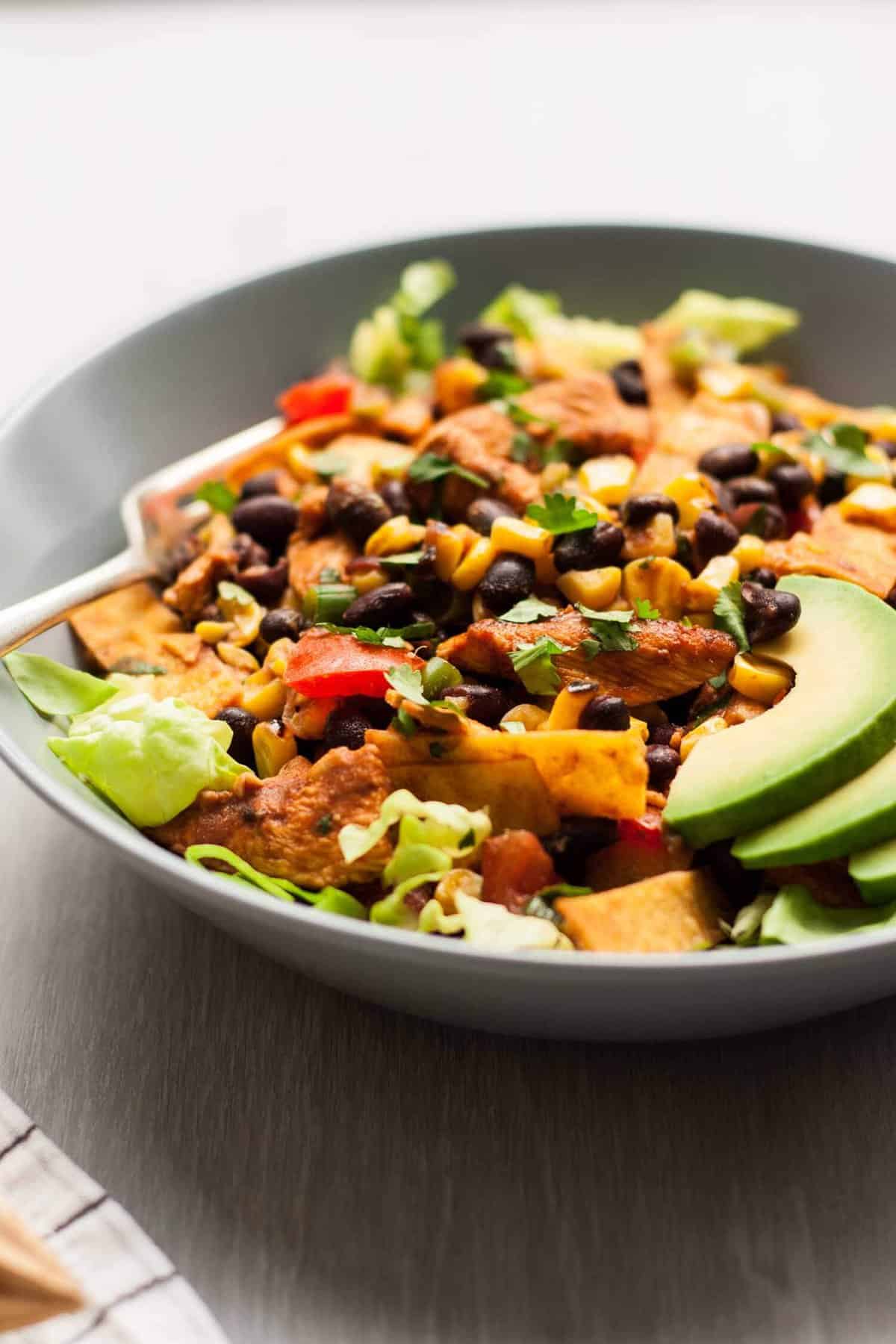 This salad is like one final wave goodbye to summer. And really, it's fine, because we still have tons of awesome produce to make use of in September. It's ok. It's allowed. And then I promise we'll move onto some more seasonally appropriate food, being as it's now apparently autumn already?! What are you craving this autumn? Are there any recipes you'd like to see here on the blog? Let me know!