This post contains affiliate links from which we could earn a small commission. Please read our Privacy Policy for more information.
This fall grain salad is packed full of goodness with roasted butternut squash, grains and plenty of tasty mix-ins and dressed with a lovely spicy dressing. It's simple to make and perfect for preparing lunches ahead for the week.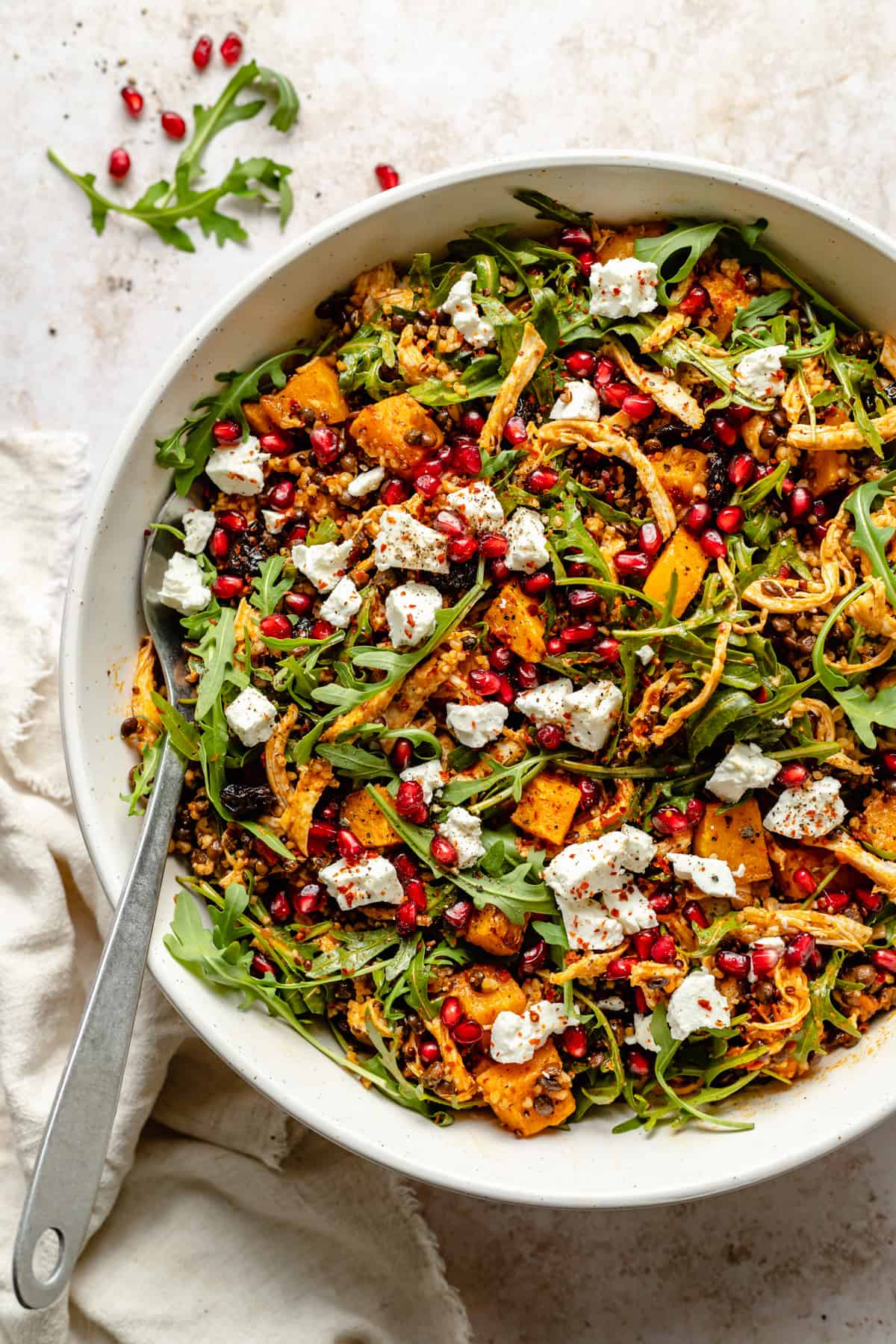 Well, I've got a treat for you today with this salad! I suck at preparing lunches for the week and often when I'm busy it's easy to just nibble stuff as I'm working or not really eat anything particularly nutritious. I have the BEST solution for this which will fit in your meal prep for the week. This fall grain salad is absolutely delicious! Packed with protein and fibre which will fill you up and stop those tummy grumbles throughout the day.
I love salads in summer but to be honest they don't always do it for me in the colder months, unless they're like this one! It's got roasted butternut squash, mixed grains, lentils, arugula and shredded chicken all mixed with a tasty harissa dressing. You need this fall grain salad in your life; you won't regret it! If you love this salad, you'll also want to check out my Sweet Potato Kale Salad with Maple Mustard Dressing and this Baked Spicy Turkey Meatballs with Roasted Cauliflower.
I love hearing from you so please leave a comment with how you got on and how much you love this salad and also don't forget to rate the recipe.
Jump to: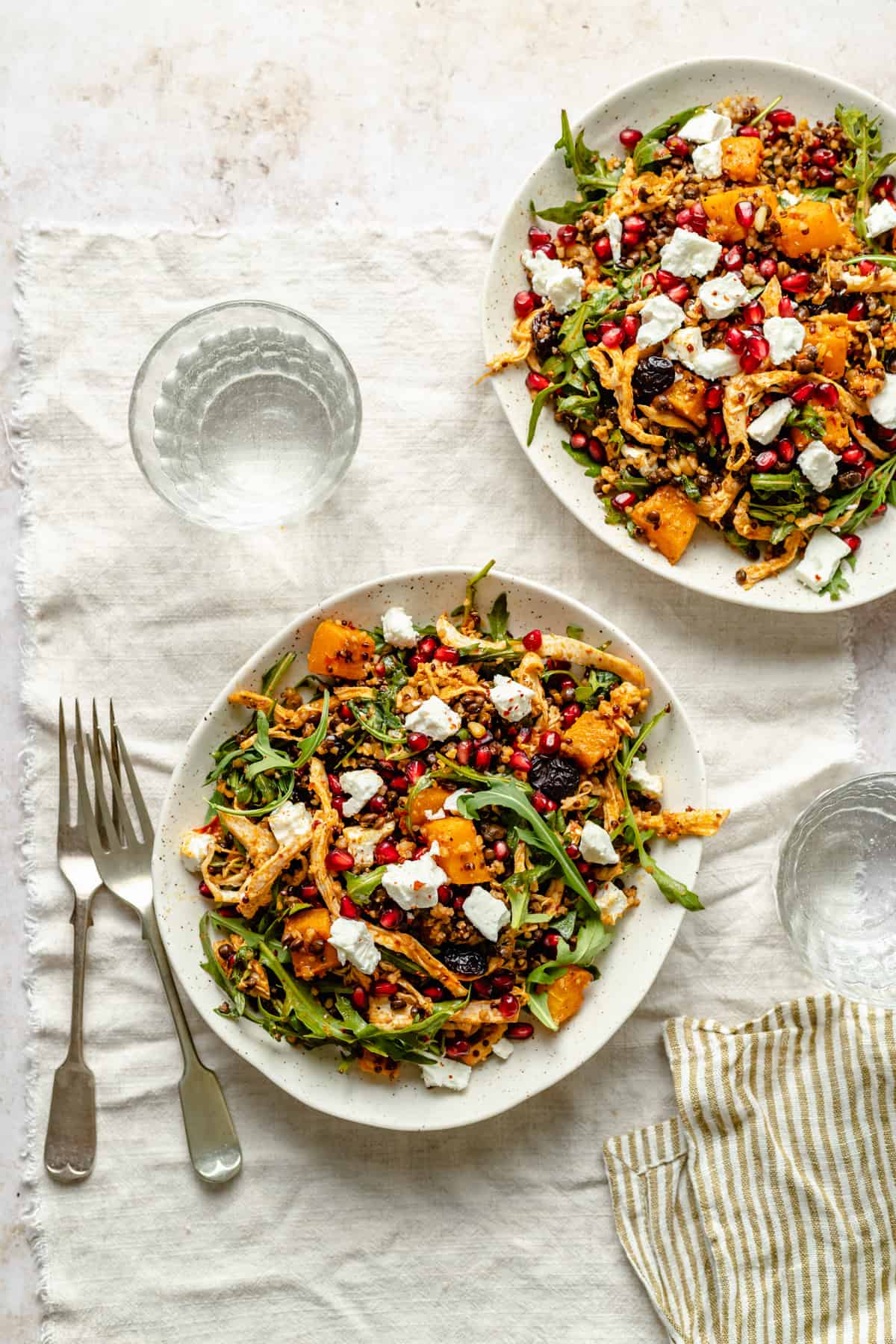 What makes this the best salad?
These are the reasons you need this fall grain salad in your life and why it's awesome!
Warming - you can enjoy this salad with the roasted squash still warm from the oven and mixed with all the other delicious add ins and spicy dressing it makes for a nice comforting grain salad.
Filling - for me there's nothing worse than feeling unsatisfied after you've eaten a meal. This salad is packed with protein and fibre which guarantees to make you feel full.
Easy - Besides prepping a few vegetables, this salad is very simple to put together, especially if you use some pre-packed cooked grains, which make it so much easier to make.
Full on flavour - we're all about flavour in our house. If it's not packed with flavour, it doesn't often make the cut. This salad has been seasoned perfectly and dressed with a gorgeous spiced harissa dressing that works perfectly with all the ingredients.
Seasonal - we're using seasonal ingredients such as butternut squash and pomegranates which are just perfect in this fall salad.

Ingredients
This fall grain salad has very simple ingredients that are readily available. I've also included some customisations and substitutions later in the post. This is what you'll need:
For the fall grain salad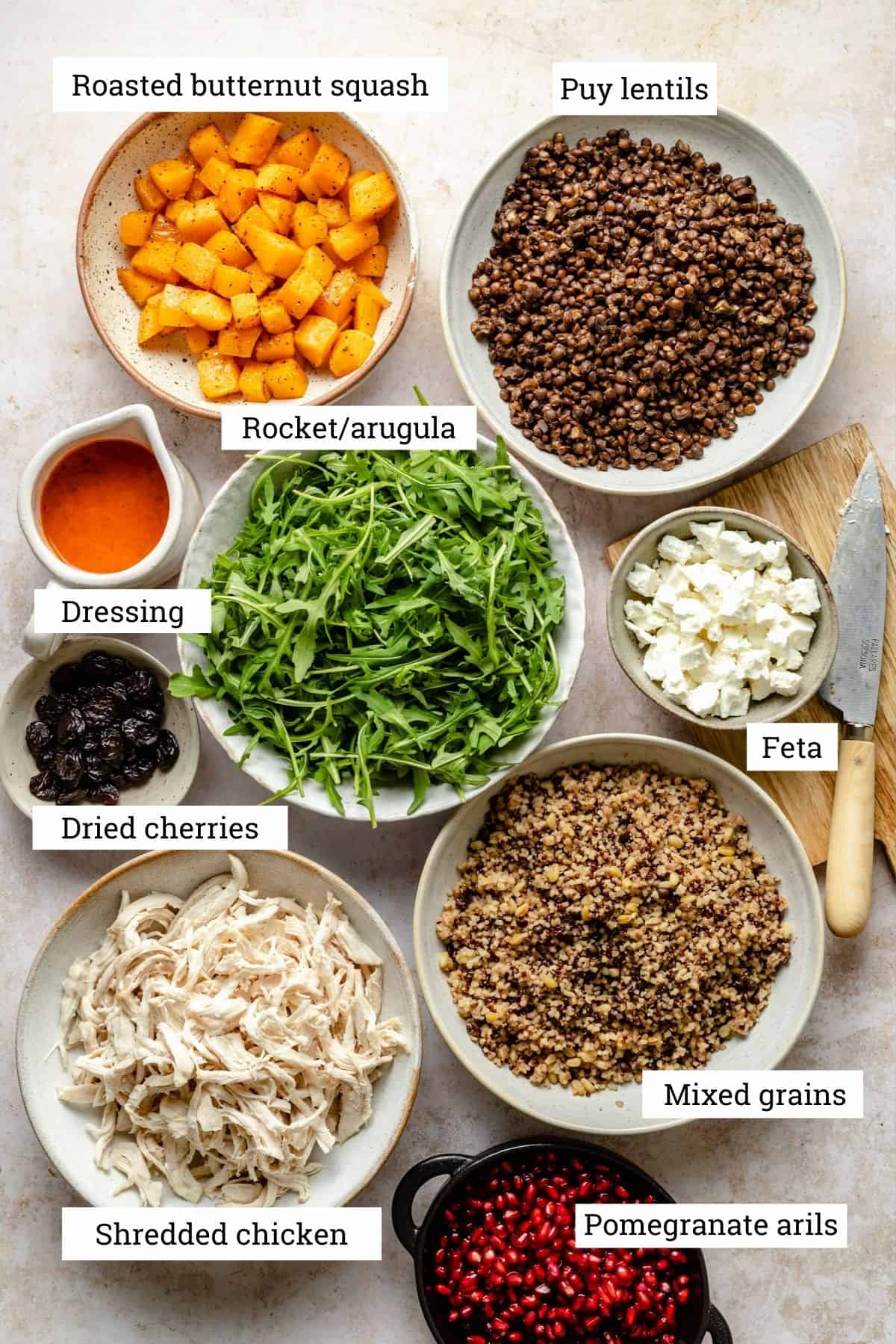 Butternut squash - You'll need a butternut squash, perfectly in season at this time of year; you could also use a different squash or pumpkin or even sweet potato. Just remember some squashes/pumpkins are sweeter than others.
Grains - I used pre prepared cooked mixed grains. It makes this salad easier to prepare, but if you cook your own that's great too. You can use a grain of choice, such as farro, freekeh, quinoa, bulgur wheat or giant couscous.
Lentils - I also use pre prepared cooked Puy lentils for ease in this recipe but you can substitute for green or brown lentils instead if you prefer.
Chicken - this is a great way to use up leftover roasted chicken. I used shredded breast meat - alternatively you could buy it pre-cooked from the store or roast some chicken breasts.
Salad leaves - I love the peppery flavour of the arugula (rocket) leaves, but you could also use lambs lettuce or another green salad leaf.
Mix-ins - you'll need pomegranate arils (if getting them from a whole pomegranate see tips below), dried sour (tart) cherries for that pop of sourness and some crumbled feta cheese to round it all off.
Store cupboard - You'll need some olive oil, salt and black pepper to season and roast the butternut squash.
For the harissa dressing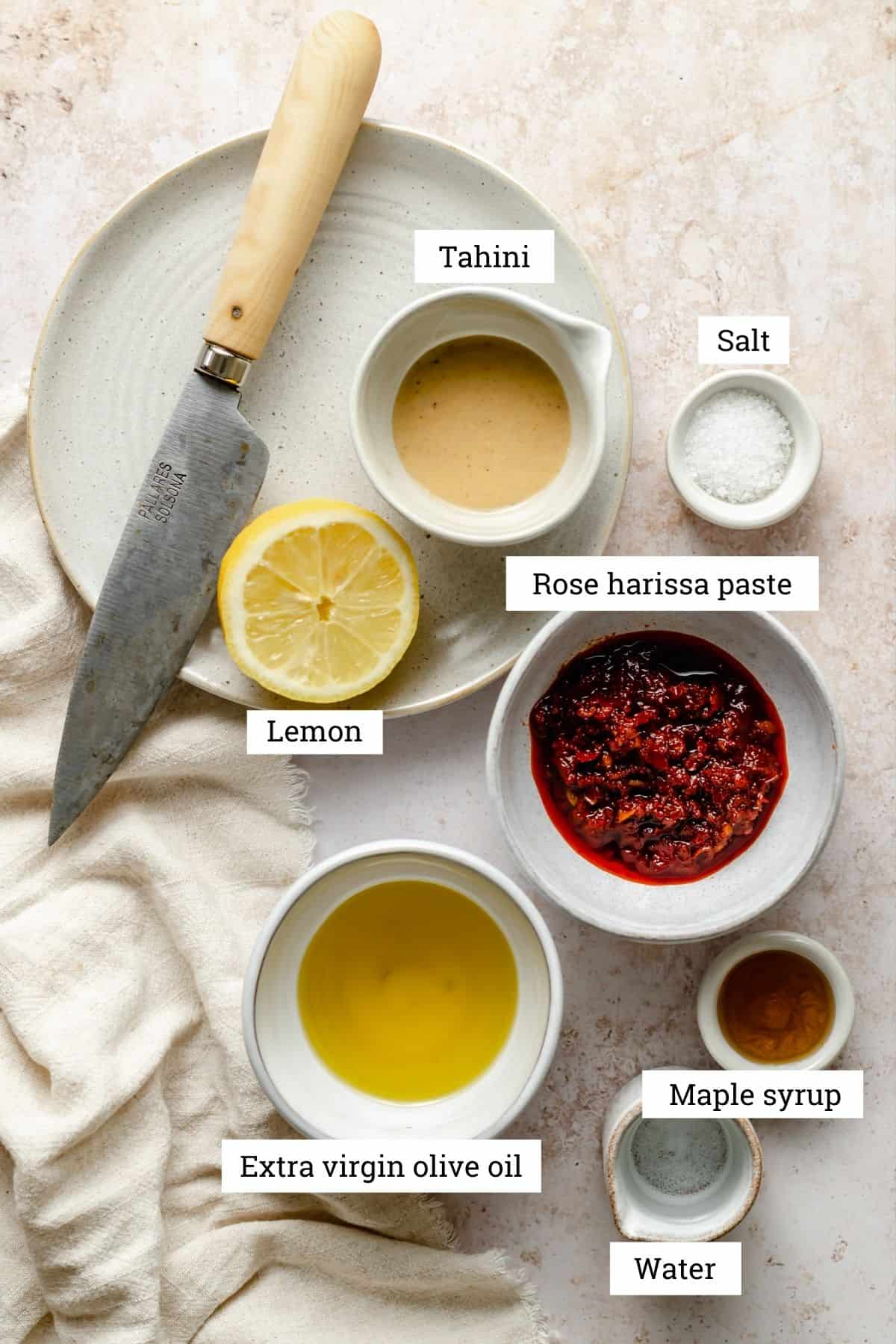 Harissa - I love harissa, it's a North African chilli paste, made with chillies, spices and other seasonings. I used rose harissa paste.
Tahini - you'll need tahini which adds a lovely creamy nuttiness to the salad dressing. You could leave it out if you don't have it.
Sweetness - I use a bit of maple syrup to balance out the dressing, but feel free to use honey or regular sugar.
Acidity - all dressings are a balance between salty, acid, heat and fat, you'll need some fresh lemon juice for a pop of freshness here.
Essentials - you'll need some extra virgin olive oil and salt to season the dressing. You may also need to thin the dressing out with a little water.
Customisations
This salad lends itself to customisation or substitutions. Here are some recommendations:
Change the veg - I've made this salad with roasted broccoli and cauliflower, or you can use any vegetable that you like to roast. I'd also recommend sweet potatoes or carrots.
No harissa? - If you don't have harissa or aren't a fan of it don't worry, you can use other chilli pastes such as sambal oelek or chipotle paste instead. Both will work well for direct substitution with the rest of the flavour combinations in the salad.
Different meat - This salad would be amazing with some grilled flank steak sliced thinly and tossed throughout the grain salad. I recommend sticking to grass fed beef or regeneratively farmed beef if you can make it work in your budget.
Go vegan - This salad is easily made vegan, just substitute chickpeas for the chicken and omit the feta cheese or use a vegan friendly version, but as I'm yet to find anything similar to feta I couldn't personally recommend one.
How to make it
This grain salad is so simple to throw together you'll have your lunches prepared for the week in no time. Follow these steps to make it: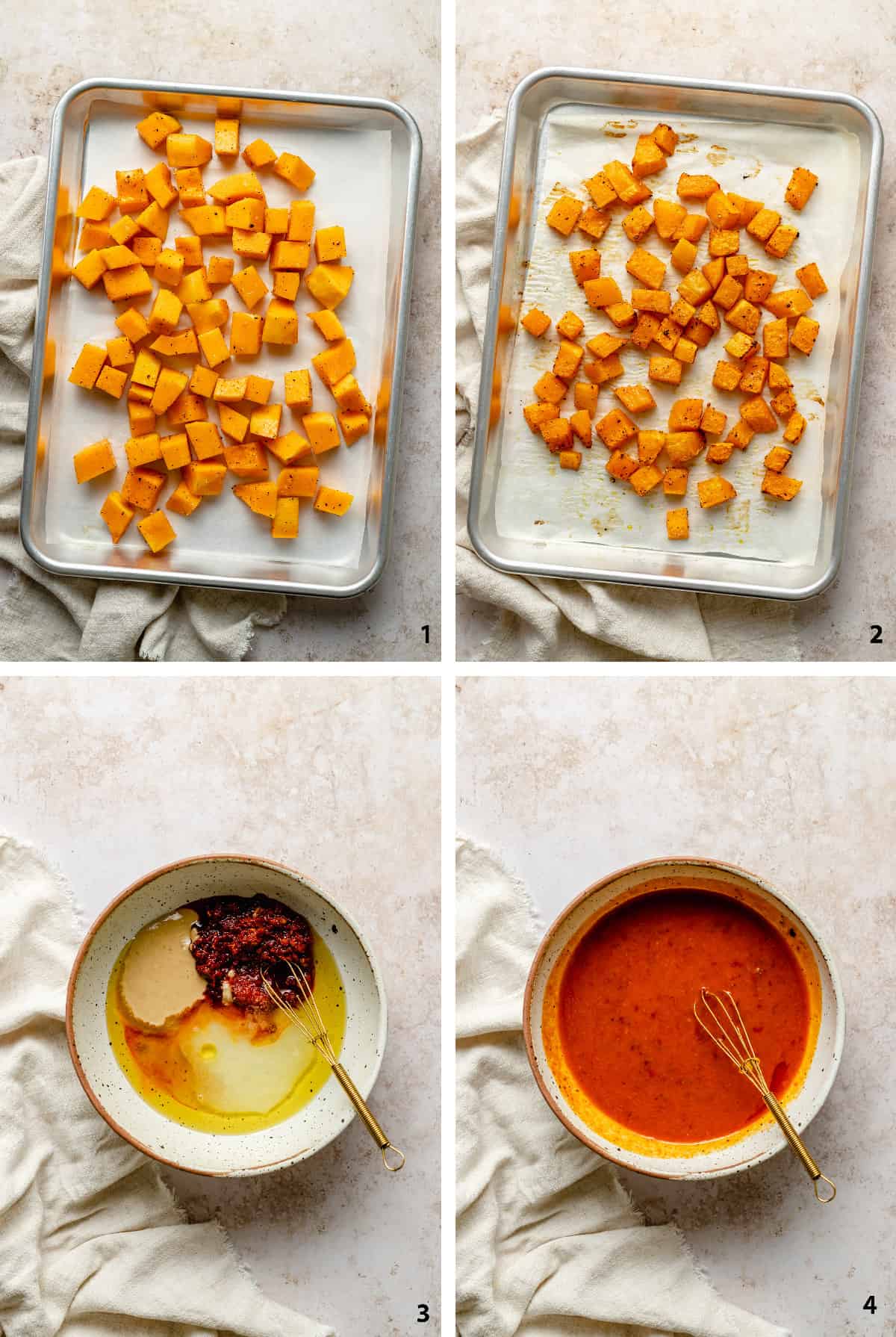 Preheat the oven to 200C/400F. Line a baking sheet with parchment and place the butternut squash cubes on top. Drizzle with olive oil and sprinkle with salt and pepper. Toss to coat.
Bake for 30 minutes, tossing them halfway through until they are tender and golden at the edges.
Add all the dressing ingredients into a small bowl.
Whisk together until fully combined and taste for seasoning.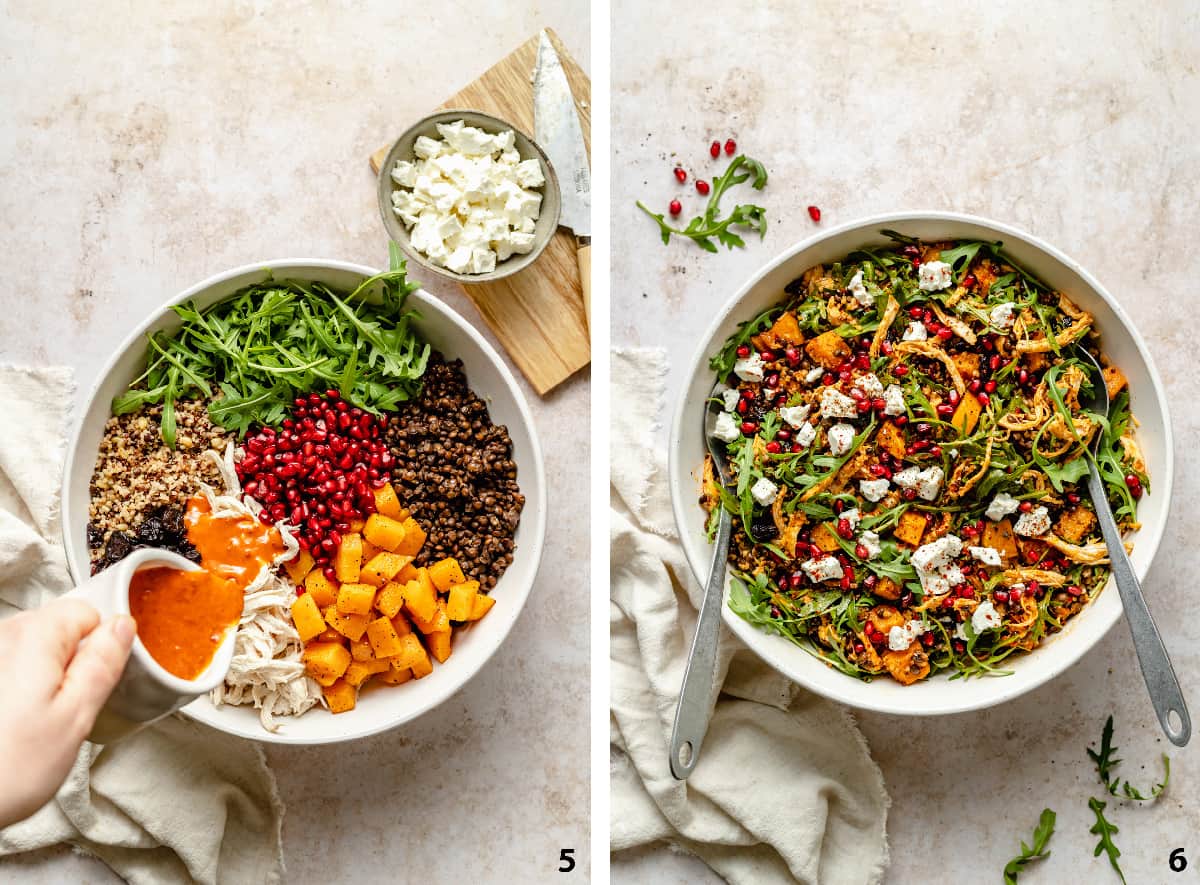 Place all of the grains, lentils, salad leaves, chicken, squash and mix-ins into a large bowl. Pour over the dressing.
Toss all the salad together with the dressing until everything is evenly dressed and serve!
Recipe tips
Here are some tips that will make this recipe quick and easy for you.
Precooked grains - there is no shame or guilt in using pre cooked grains in this recipe. Life is busy so we'll take a win here. I used mixed grains and lentils for this salad, but use your favourite pre cooked grains for your convenience.
Organisation - prepare the squash first and whilst it's roasting, prepare everything else. This means you aren't duplicating prep time so that the salad will be prepared in the time it takes to roast the squash.
Preparation of pomegranate - Preparing a pomegranate can be done two ways.
Cut in half across the equator of the pomegranate, hold a half flat side facing down in one hand with your fingers spread and use a wooden spoon to bash the back end of the fruit into a bowl, the arils will fly out. (it can get messy this way, wear and apron)
Peel the skin off the pomegranate in wedges and break up the centre of the fruit in a bowl of water, the white membranes will float to the top and the arils will sink.
If you don't want to do that and your store sells pots of pomegranate arils, use those instead!
How to serve it
Here are some ways to serve this delicious grain salad:
Warm - you can microwave your grains to warm them through along with keeping the roasted vegetables warm. Toss all throughout the rest of the salad ingredients and add the cheese last. Enjoy!
With crusty bread - This salad is lovely with a slice of buttered crusty bread on the side. Bread is life!
Packed lunch - This salad lasts really well in the fridge, the flavour doesn't disappear either, so box it up into portions and take it to work for lunch during the week.
FAQs
How to store it

This salad keeps well for your lunches throughout the week. Stored in an airtight container in the fridge, the salad will keep for 3-4 days. I would recommend adding the arugula leaves in when you are about to eat it as they will wilt in the dressing if left for too long.
Want more tasty fall recipes?
I hope you love this fall grain salad as much as we do. If you make it, be sure to leave a comment, rate the recipe and tag #eatloveeats on Instagram! I love to see your creations!