This post contains affiliate links from which we could earn a small commission. Please read our Privacy Policy for more information.
Baked spicy turkey meatballs with roasted cauliflower makes for the perfect sheet pan dinner. It's so simple to throw together and packed full of flavour from warming spices and harissa paste. Serve with fresh greens or over fluffy couscous for a delicious dinner the whole family will love!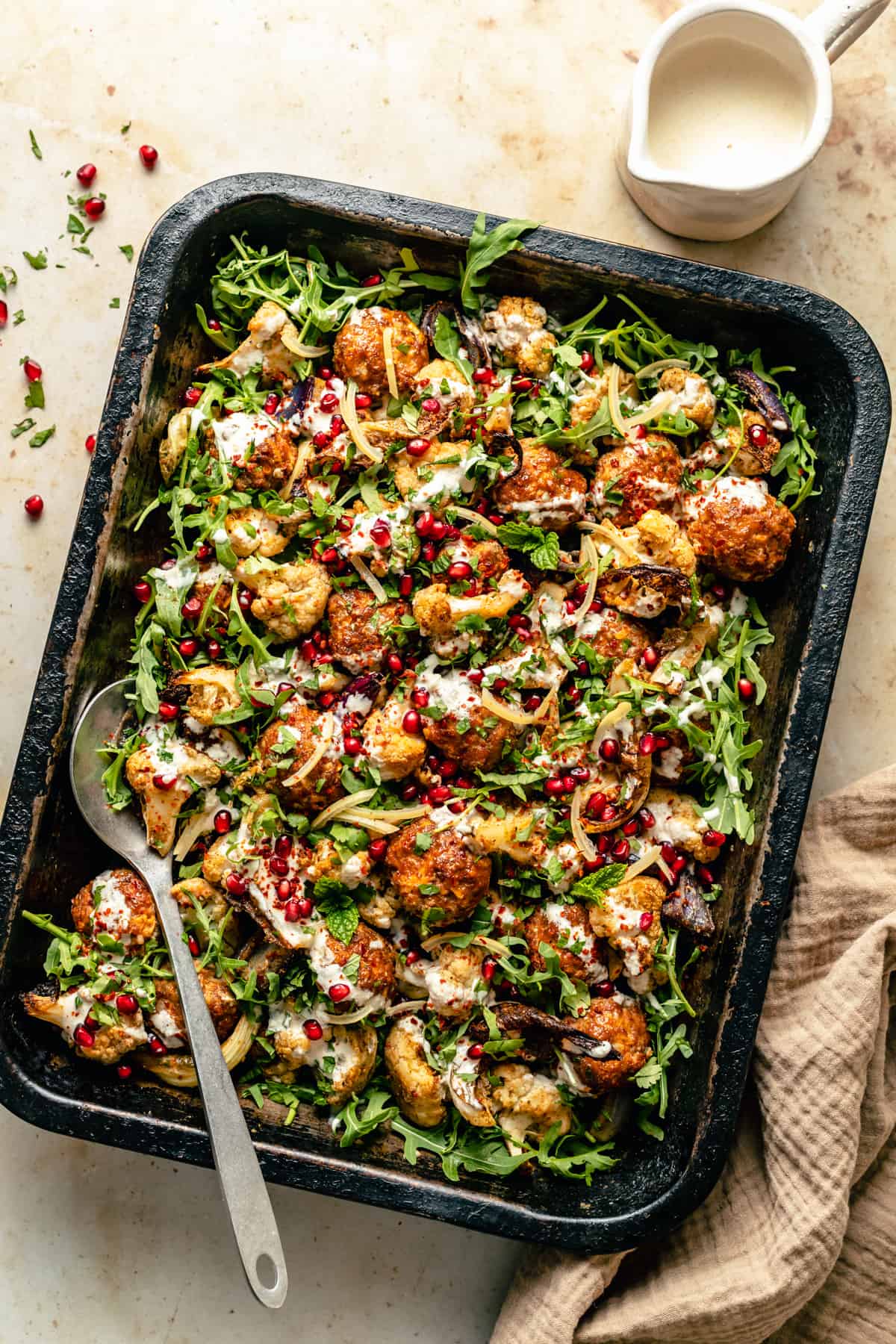 I don't know about you, but for me, making a meal that can be thrown on a baking sheet and roasted in the oven is perfect. It's simple, quick to prepare and that's just what this time of year requires, especially as the days are getting shorter and darker. These spicy turkey meatballs are healthy and seasoned with North African harissa paste which adds a lovely flavour; by spicy I mean spiced, to me, these aren't overly hot. If you love harissa, make sure to check out this Wholesome Fall Grain Salad too!
This recipe is full of Moroccan spices which give it such a great flavour. We definitely want to feel satisfied, don't we? I don't often have meatballs due to having a bad experience some years ago with some bought in ones. But these are a great way to enjoy turkey meatballs whilst also knowing what is going into them, plus you can adjust the spicing to your taste! They're also a lighter option as they're made from turkey.
I'm sure you'll love these baked spicy turkey meatballs along with the roasted cauliflower as a warming autumn dish. Let me know how you get on in the comments and don't forget to leave a rating, I love hearing from you!
Let's get to it! Use the links below to jump to where you want on this page.
Jump to: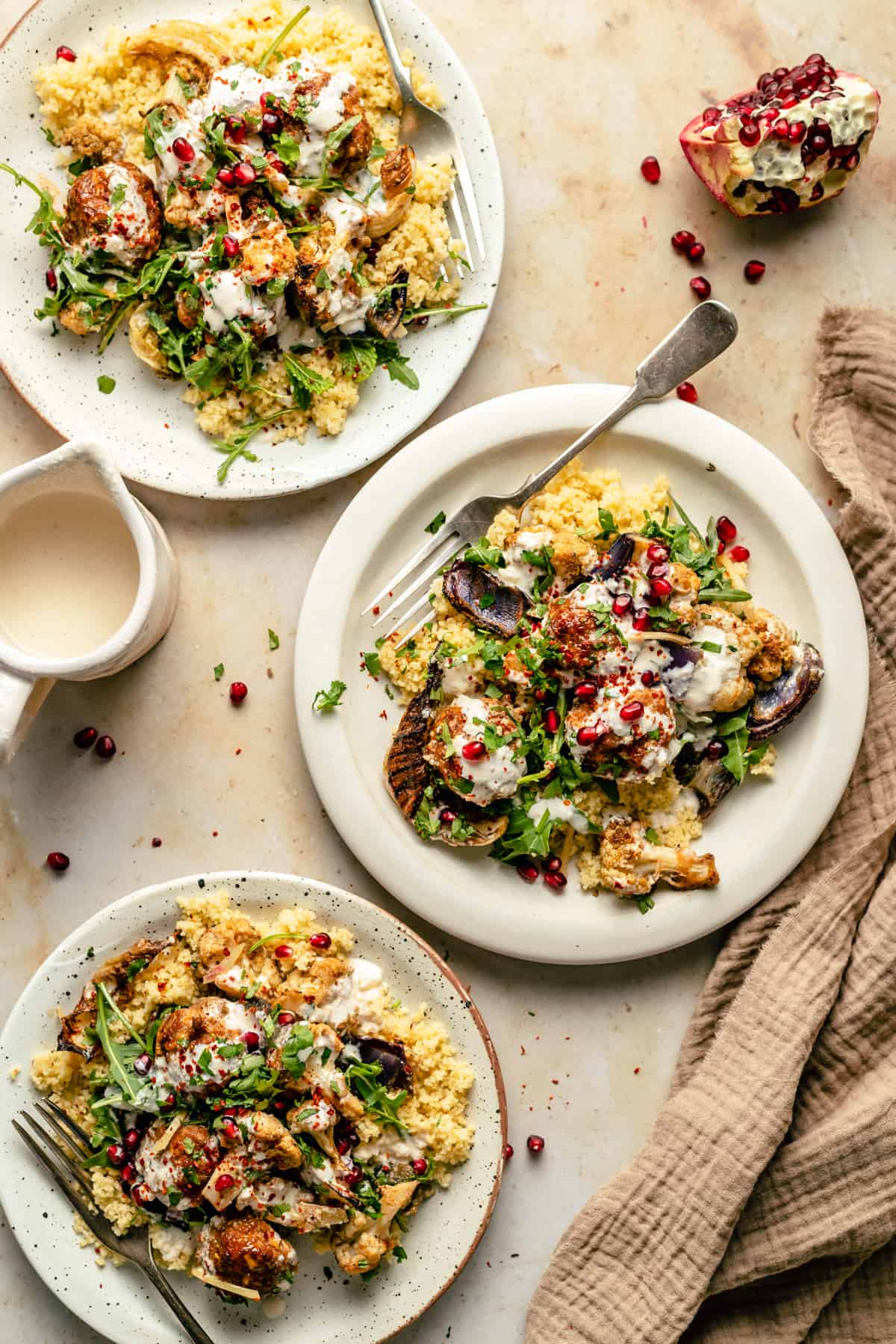 What makes these so good?
These baked turkey meatballs are so good and this is why:
Quick & easy - these turkey meatballs are so quick and easy to throw together. It's as simple as throwing the cauliflower in a pan with some red onion and spices and whilst that's roasting, mixing together the meatballs ready to bake too.
One pan - who else hates washing up? Definitely me! Using as few pans as possible is always a mission of mine. These baked turkey meatballs are made on one sheet pan. Job done.
Flavour - we've got lots of delicious warming spices and rose harissa paste going on in these meatballs which means this dish is packed full of flavour. No bland meatballs here!
High protein - the meatballs are made from ground turkey mince, so you've got plenty of lean protein in these. One portion contains 24.4 grams of protein leaving you feeling satisfied for longer.
Ingredients
You only need very simple ingredients for these baked spicy turkey meatballs with roasted cauliflower. We've got substitutions and alternatives further down the post; it looks like a lot of spices but it's totally worth it! This is what you'll need:
For the roasted cauliflower
Cauliflower - you'll be using the florets as well as the tender leaves in this recipe. The leaves are pretty but are also just as delicious. Plus, using the cauliflower leaves helps reduce food waste!
Onion - you'll need a red onion which adds some colour and gives the roasted vegetables a nice rounded flavour.
Greens - this dish is great served with spinach or arugula (rocket) leaves for an extra dose of greens and some freshness.
Olive oil - to help all the flavours meld together and stick to the cauliflower you'll use a little olive oil.
Spices - this whole recipe is Moroccan-influenced. You'll need the following spices: ground cumin, coriander, garlic powder, aleppo pepper, kosher salt and pepper. Aleppo pepper is also often known as pul biber.
Garnish - I highly recommend garnishing with some pomegranate arils and some freshly chopped herbs such as cilantro (coriander) and mint.
For the baked spicy turkey meatballs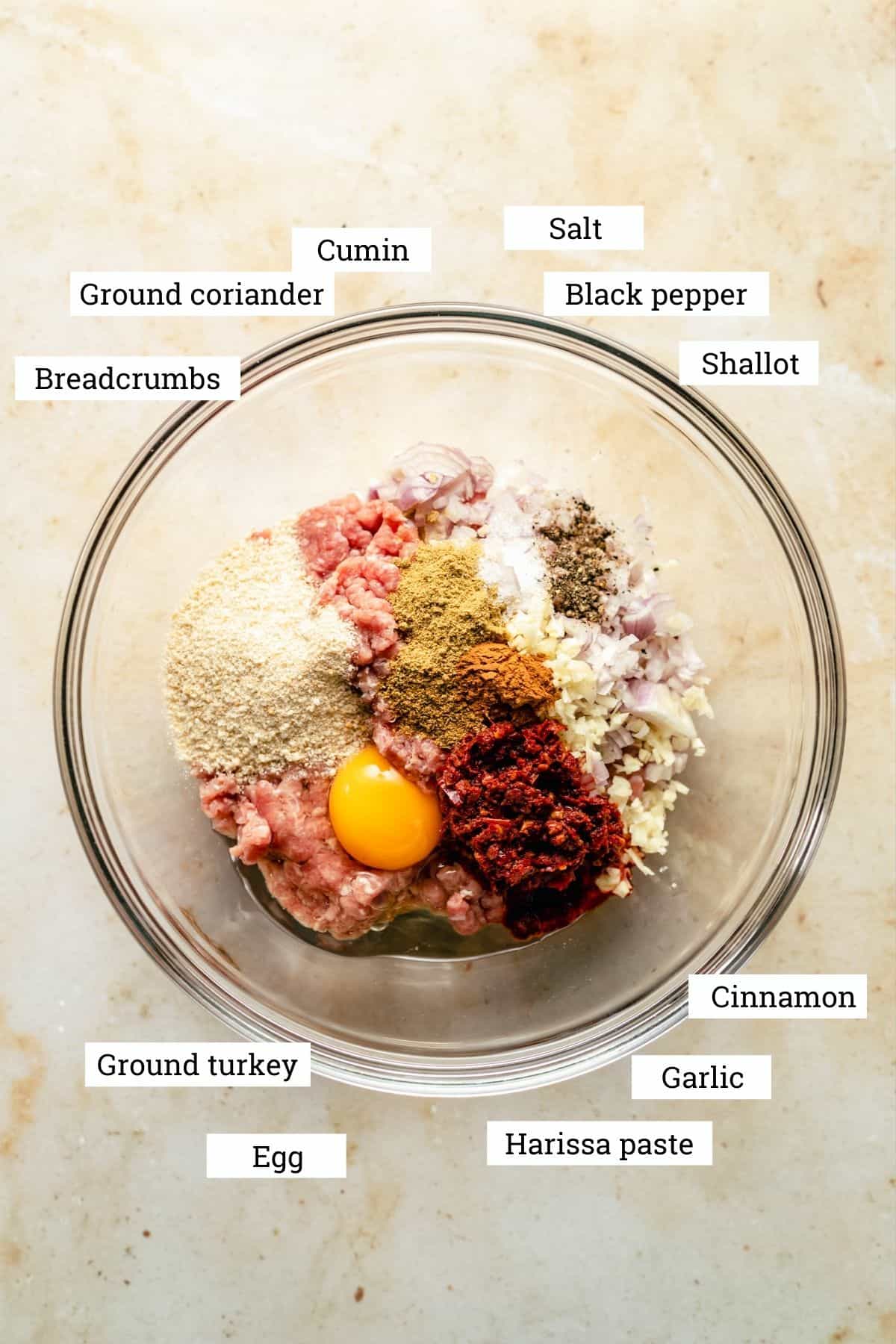 Ground turkey - you can use ground turkey breast but I prefer to use turkey thigh as it has more flavour. You could also use ground chicken or lamb. The nutritional value will differ depending on what you use.
Aromatics - You'll need some shallot, I use banana (echalion) shallots a lot, but use whatever you have. Onion would work well too. You'll also need some fresh garlic.
Egg - one part of the binding factor for the baked turkey meatballs, it also helps hold in the moisture.
Breadcrumbs - I use these to aid binding but they also absorb the fat that's rendered in the meatball to help them be more moist. I like to use fine breadcrumbs for the best texture but you could use panko if preferred.
Harissa - you'll need harissa, I use a rose harissa by Belazu, it's beautifully flavoured and definitely the best harissa I've come across.
Spices - mimicking the flavours in the cauliflower you'll be using ground cumin, ground coriander, ground cinnamon, kosher salt and black pepper to season your turkey meatballs.
For the sauce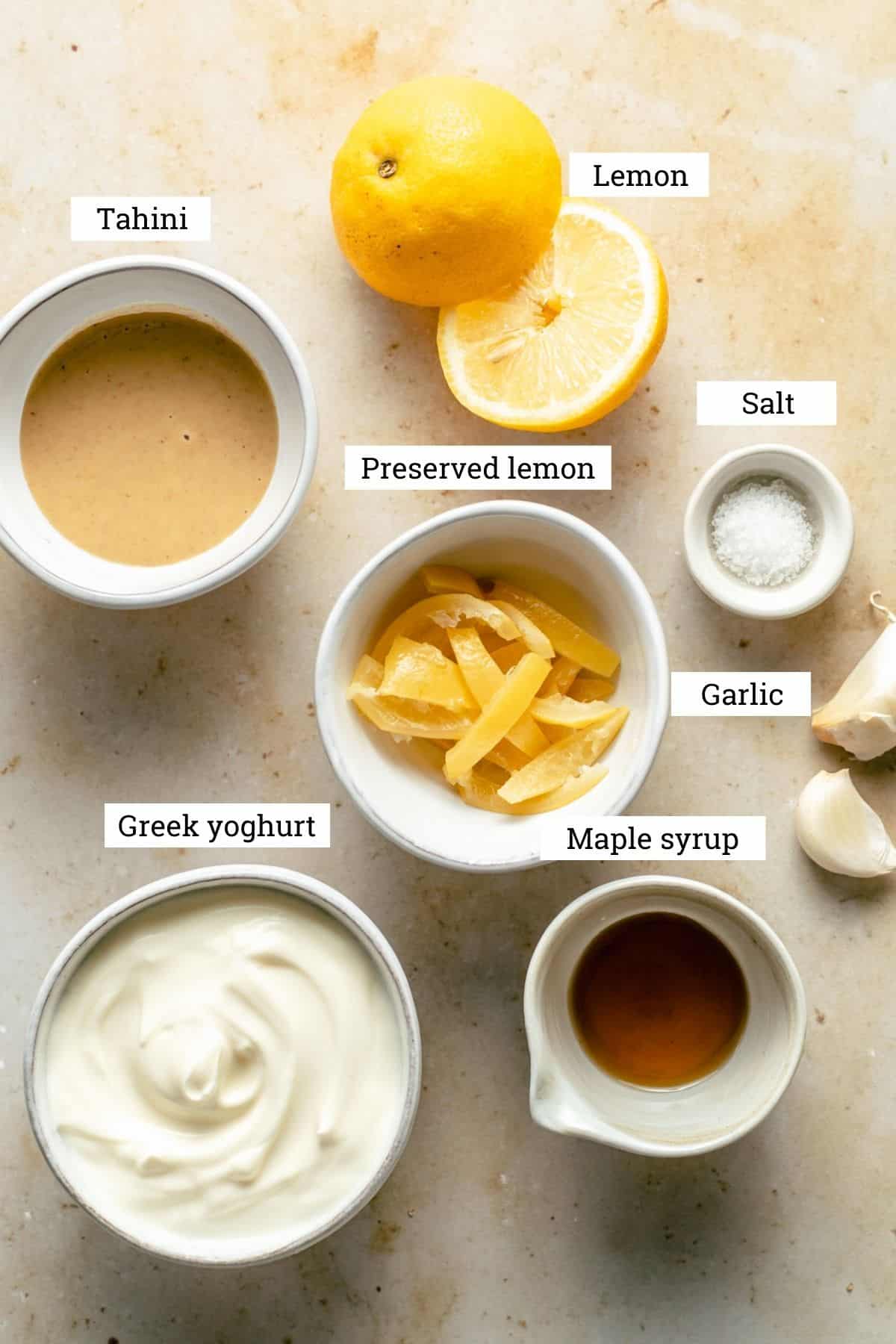 Greek yoghurt - the base of this sauce is beautifully creamy thick greek yoghurt, you can switch out with natural yoghurt if that's what you have.
Tahini - you'll need tahini for this sauce which adds a wonderful nuttiness and even more creaminess.
Lemon - this sauce contains two types of lemon: lemon juice, but also preserved lemon, which adds a different flavour and saltiness to the dressing. If you can't get hold of preserved lemon just use a little lemon zest and a bit more salt; although this won't taste the same, it will work well as a substitute.
Garlic - you'll need some fresh garlic cloves. These can make the sauce a little "hot" in a garlic hot kind of way, so if you want to use a little less, that's up to you.
Maple syrup - you'll need a little maple syrup to balance the dressing flavours and round everything out. You can also use honey if you prefer.
Customisations/substitutions
Here are some recommendations for customisations and substitutions:
Meat - Change out the meat: you can use ground beef, lamb, chicken or even pork if you want. I would recommend sticking to lamb, or chicken for the flavour profile in this dish though.
Vegetables - this recipe is very versatile so switch out the veggies and mix it up. I recommend using broccoli, carrots, swede (rutabaga), butternut squash, sweet potatoes or brussels sprouts, or a mix of all the above. Use what you have or prefer.
Cook in a sauce - the other option is to leave the roasted vegetables and just bake the turkey meatballs on their own and toss them in a marinara sauce and serve. These baked turkey meatballs would work so well in a tomato sauce, especially with an extra hit of harissa!
Gluten free - this baked turkey meatball recipe is so easy to make gluten free, you can switch out the breadcrumbs with gluten free breadcrumbs, oat flour or almond flour.
Spicing - you can change up the spices of the meatballs to your liking, I think the flavour is spot on if you make the whole dish as it was intended but if you want to change things up go for it!
How to make them
These baked turkey meatballs are very straightforward to make. Follow these steps to make them: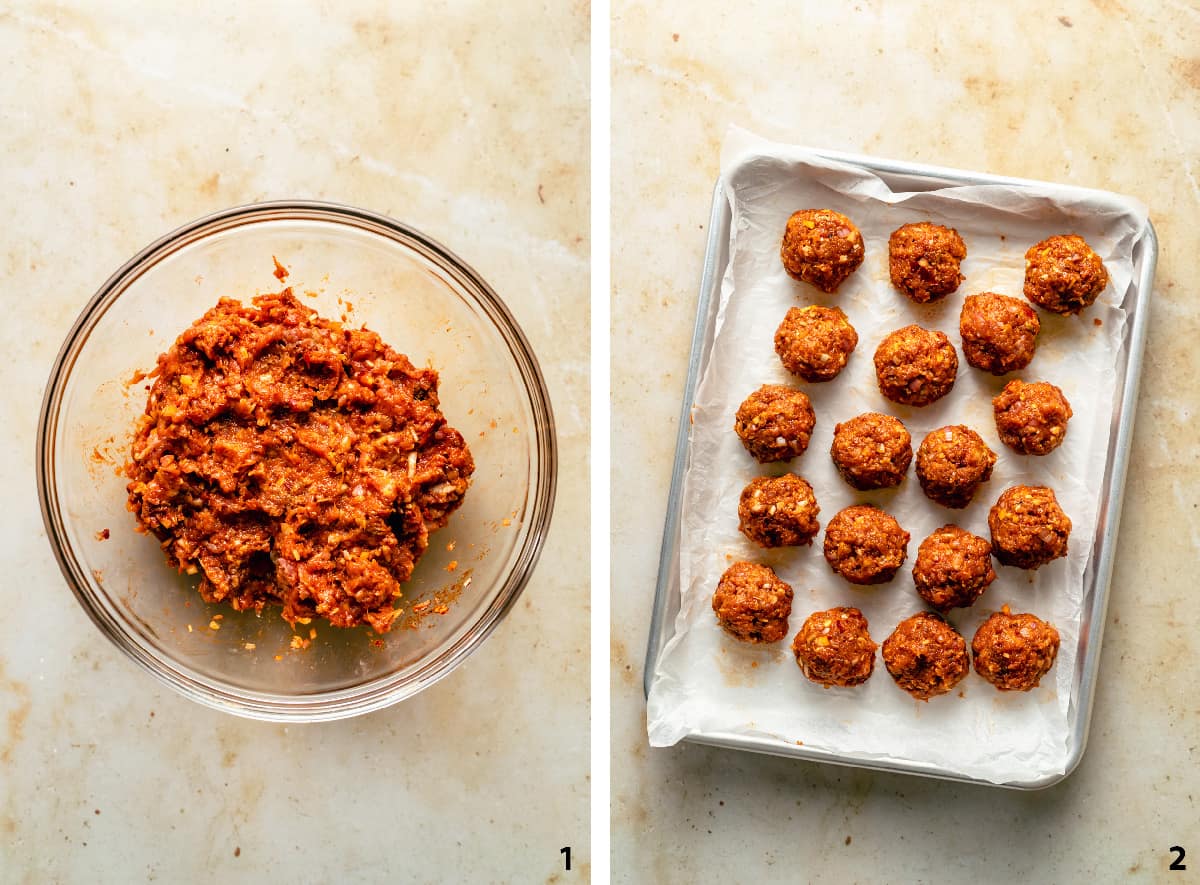 Put all the meatball ingredients in a large mixing bowl and mix with your hand or a spoon until just combined. Don't overwork the mixture.
Scoop and roll out the turkey meatball mix into 18 golf sized balls, set aside to let the flavours meld until ready to bake.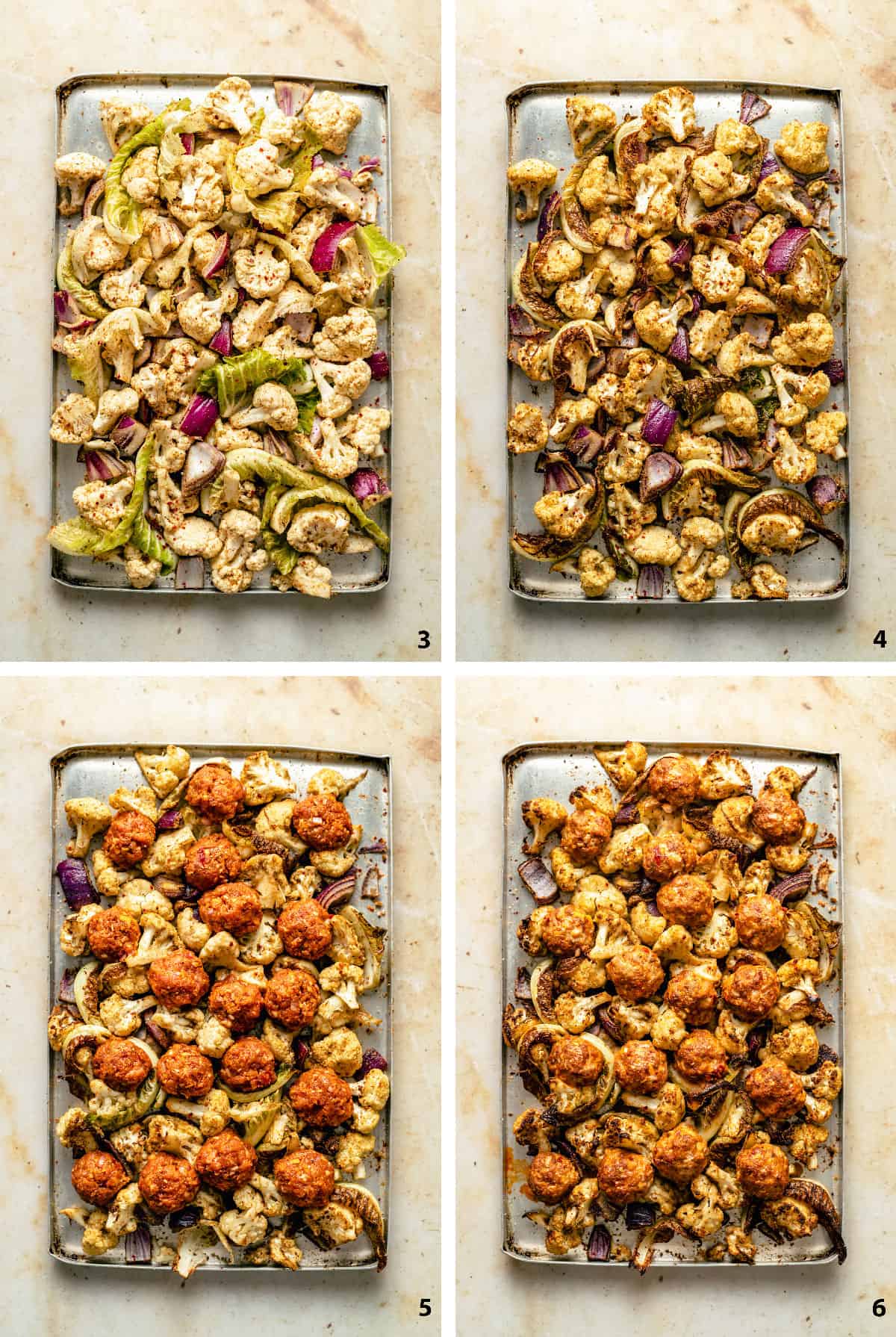 Toss the cauliflower florets and tender leaves and red onion in the olive oil. Sprinkle over the cumin, coriander, garlic powder, aleppo pepper, salt and pepper.
Roast in a preheated oven at 200C/400F for 15 minutes until golden and starting to crisp at the edges.
Remove the baking sheet from the oven and place the meatballs in and around the roasted cauliflower leaving enough space between each of them.
Bake the turkey meatballs for another 20 minutes until they are cooked through, internal temperature of 74C/165F.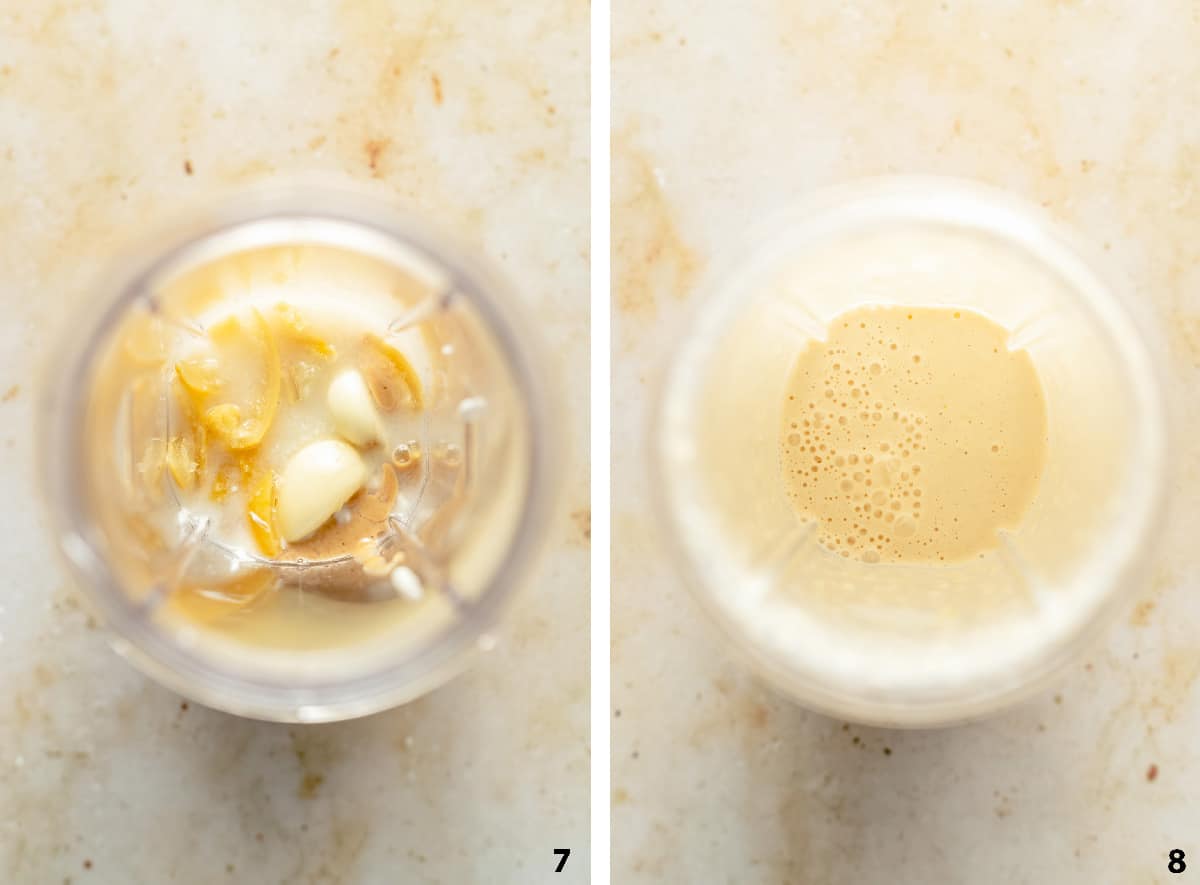 Add the yoghurt, tahini, garlic, lemon juice, preserved lemon, maple syrup, salt and water into a blender jug.
Blitz until creamy and smooth, about 60-90 seconds.
Recipe tips
Here are some tips that will make this recipe the most successful. It looks like there are a lot of ingredients but it's mostly just spices in each part of the recipe. It really is so simple.
Making turkey meatballs - I find using a medium cookie scoop the most efficient and effective way to measure out the meatball mix, it measures about 2 tablespoons of mix which you can just roll into a ball. To avoid the mix sticking to your hands you can rub your hands together with a little oil to help them roll easier.
Florets - make sure you cut your cauliflower into medium to small chunks to ensure it gets cooked through during the roasting time. It also allows more surface area for the spices to adhere to.
Preserved lemon - Preserved lemons add a delicious bright salty lemon flavour to this dish. I find the centre of the preserved lemons to be really bitter. I recommend scooping out and discarding the flesh and pips and using only the outer skin, chop roughly and add to the blender. If you aren't a fan of preserved lemons or don't want to use them just omit and replace with a little bit of lemon zest.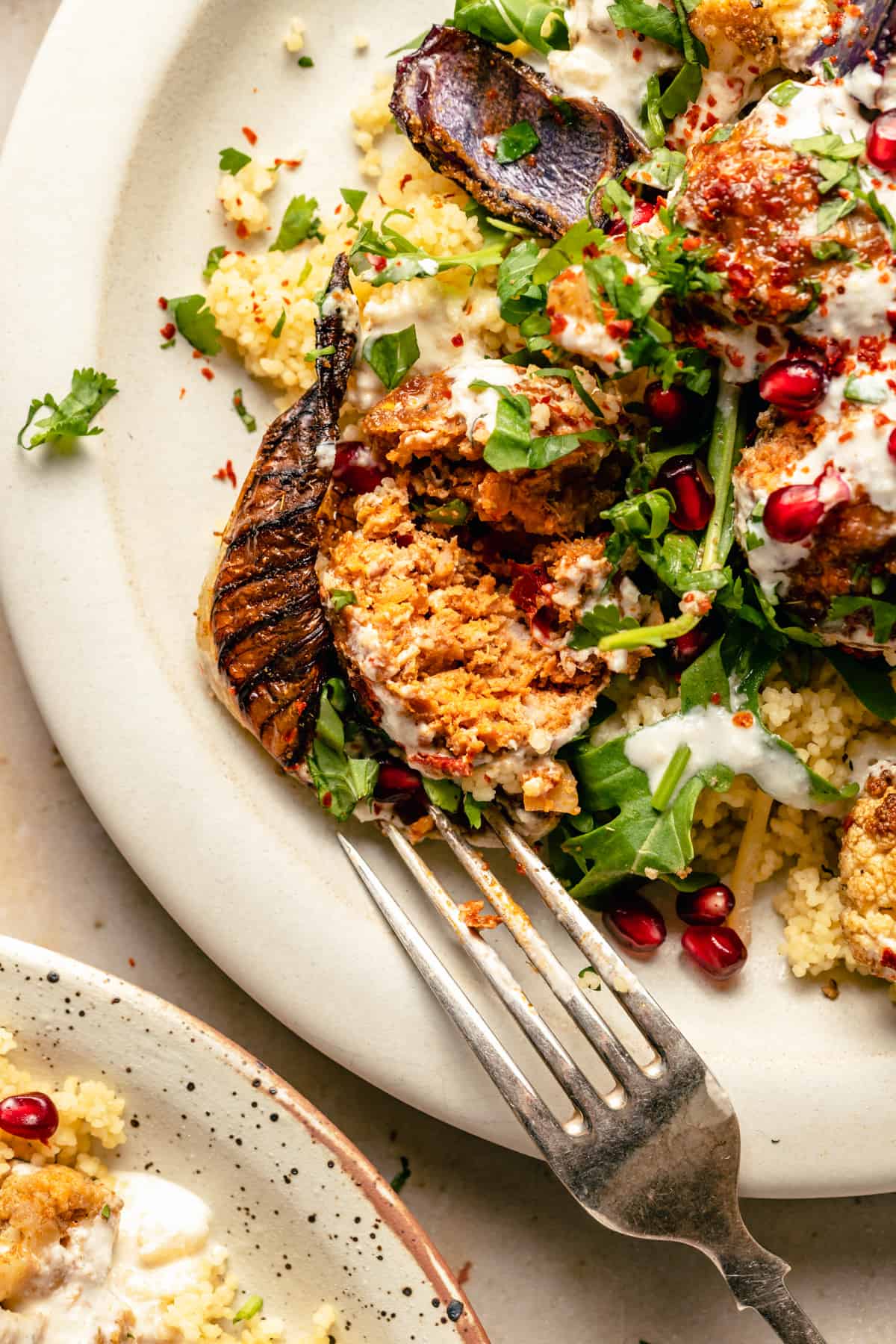 How to prepare these ahead of time?
You can prepare these turkey meatballs ahead of time by making the mix and rolling them out into balls and leaving them on a tray covered in clingfilm in a fridge for up to 2 days in advance. The flavours will meld together even more during this time.
What to serve with them?
This baked spicy turkey meatball dish is great served with fresh salad greens such as spinach or arugula (rocket). I would also recommend sprinkling pomegranate arils and freshly chopped coriander(cilantro) and mint leaves over the top with the dressing.
Alternatively, you could serve this with couscous or your favourite grain, to make this a more substantial meal.
FAQs
How to store these turkey meatballs?

The baked turkey meatballs will store well in an airtight container in the fridge for 3-4 days. You can either enjoy them cold in a salad lunch box or you can reheat them until piping hot in the middle. 
Can I freeze turkey meatballs?

Yes! You can either freeze them one of two ways.

1. Freeze them before baking by placing the raw rolled out turkey meatballs on a baking sheet lined with parchment paper and freeze them until they are solid. Place them in an airtight container or freezer bag. When you want to use them, defrost fully in the fridge and then bake for 20 minutes at 200C/400F.

2. Freeze them post-baking, let them cool completely and freeze in the same way as above. Defrost fully before reheating or eating cold. 
Are turkey meatballs healthy?

Absolutely! Being made of ground turkey they are a great source of lean protein that contributes to a healthy diet. They also contain a variety of vitamins and minerals and also usually (depending on the type of turkey mince you get) contain less saturated fat than beef does. 
More healthy meals...
I hope you love these baked spicy turkey meatballs as much as we do. If you make them, be sure to leave a comment, rate the recipe and tag #eatloveeats onInstagram! I love to see your creations!