This post contains affiliate links from which we could earn a small commission. Please read our Privacy Policy for more information.
These are THE best crispy rosemary roasted potatoes, perfectly crunchy on the outside and fluffy and light in the middle. They are straightforward to make and have the best crispy polenta or cornmeal rosemary seasoning. The ultimate crispy roasted potatoes for your favourite roast dinner.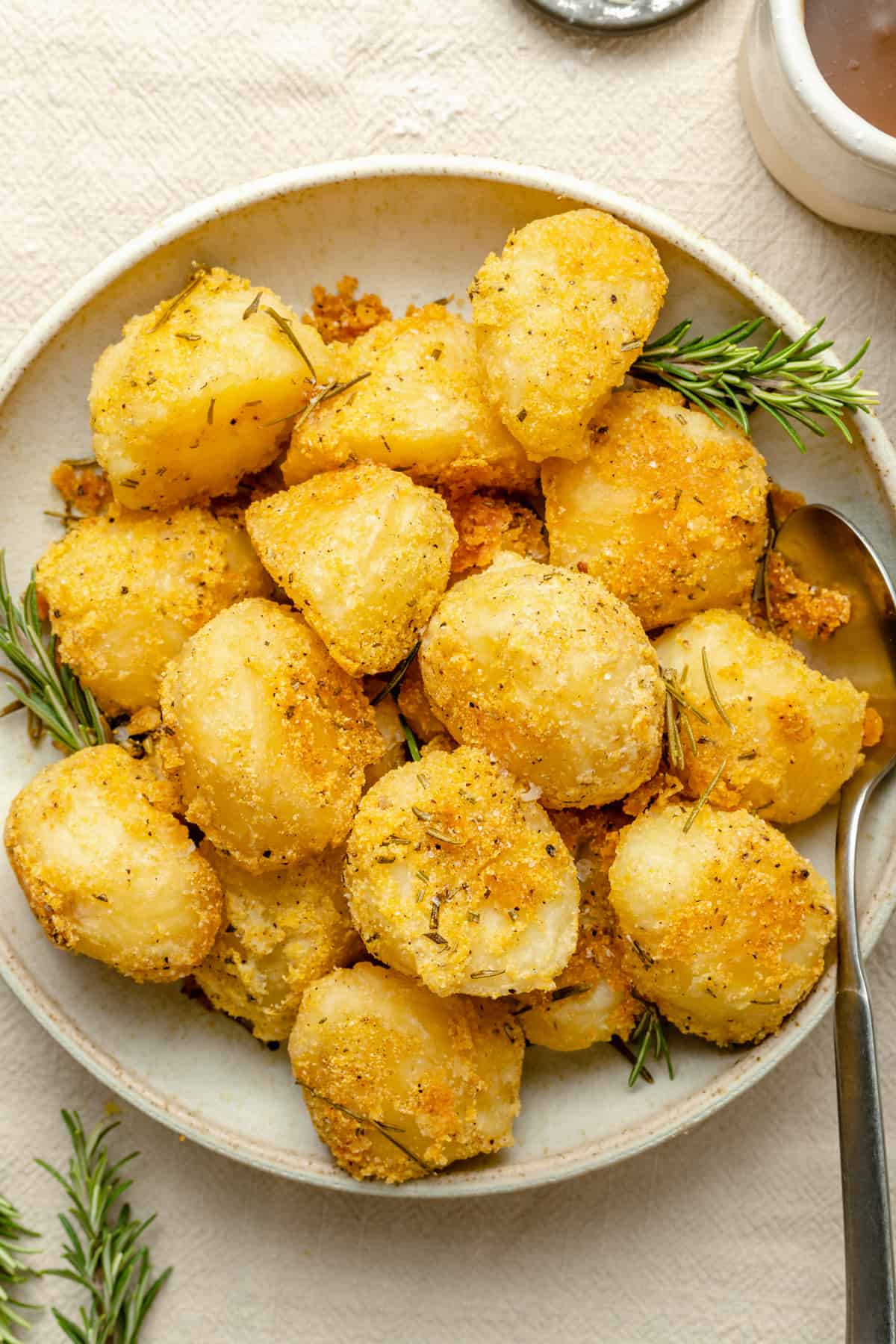 You've got to have roasted potatoes on the side of a roast dinner, whether that's vegetarian or a full on spread for the turkey centrepiece at Thanksgiving or Christmas. But not just any tatties, you need these super crispy roasted potatoes that have an incredible rosemary polenta/cornmeal crust that is just to die for. This is the king of all side dishes for accompanying your favourite roast dinner. It's simply a must. We go through all the ins and outs and secrets to creating the perfect rosemary roasted potatoes so be sure to check out those tips and use the links to get to where you want to go below.
You'll definitely want to serve these rosemary roasted potatoes alongside the perfect roast chicken (or your other favourite roast meat) and these incredible caramelized brussels sprouts with bacon and maple syrup. Oh and don't forget this Roasted Hasselback Butternut Squash with Bacon Brown Butter too! Be sure to make a delicious feast for your friends and family for the festive holidays with all these tasty treats! 
I love hearing from you so please leave a comment with how you got on and how much you love these incredible crispy roasted potatoes. Also don't forget to rate the recipe!
Jump to:
What makes these the best?
These are the reasons you need these crispy roasted potatoes in your life:
Simple - uses simple ingredients and once you understand the secrets to the perfect crispy roasties you'll never make any other roasted potatoes ever again.
MEGA crispy - have I mentioned how crispy these are? We're talking so crispy, people can hear the crunch down the street as you take a bite. HA! On a serious note they are deliciously crispy and not just that, fluffy on the inside which to me and my family makes the perfect roasted potato.
Full on flavour - Seasoning properly and using fat that adds flavour makes a HUGE difference. We'll share how to get the best flavour out of these.
Ingredients
You only need very simple ingredients that are readily available for these ultimate rosemary roasted potatoes. This is what you'll need: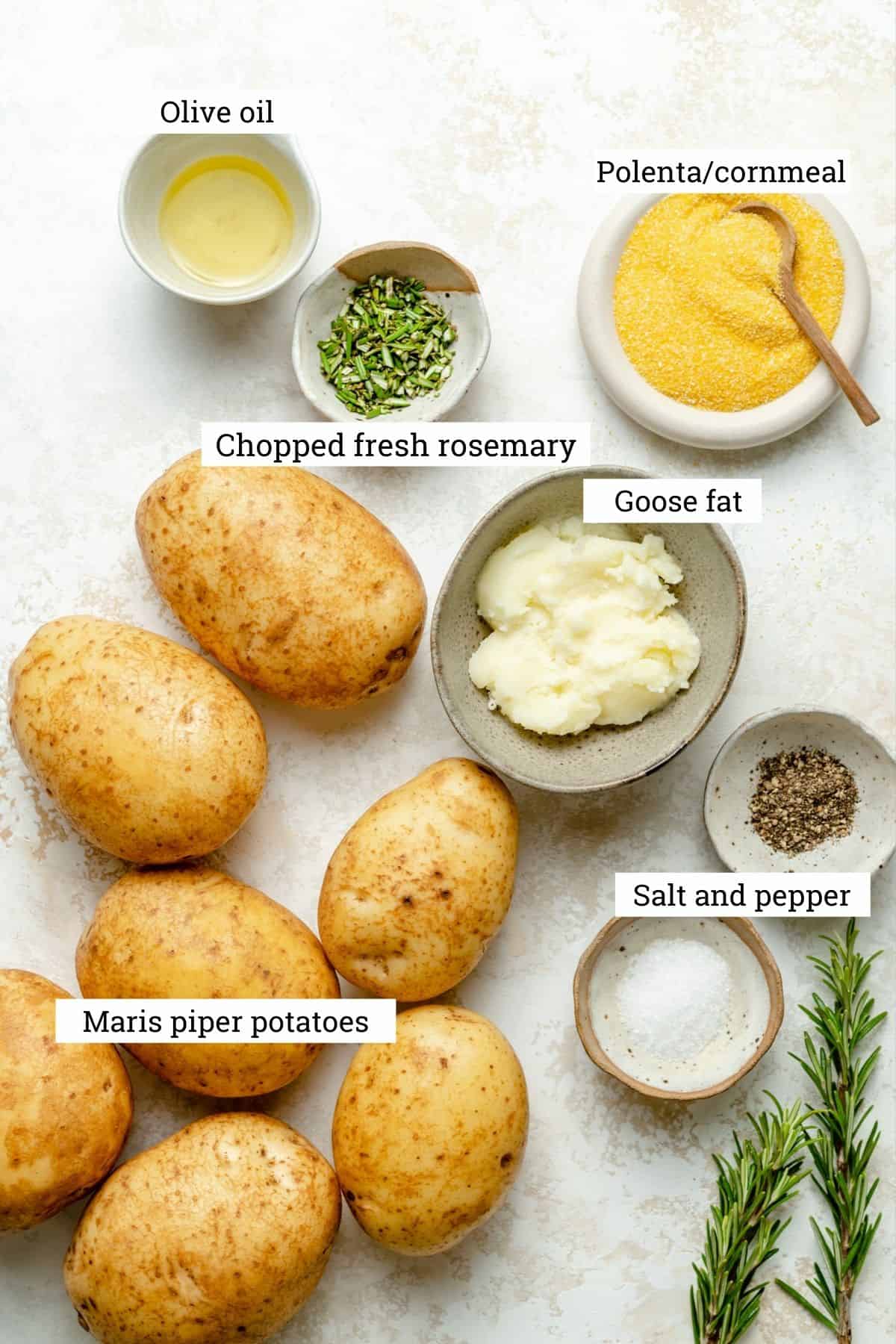 Potatoes - well, this is the most obvious and important ingredient, but you need the RIGHT potato. I highly recommend using Maris Piper or King Edward in the UK and in the US, Russet or Yukon Gold.
Fat - I highly recommend using goose or duck fat for a special roast potato but it is possible to use different fats too. Check out the section on fats below. You'll also need some olive oil or just a little extra of the main cooking fat used.
Crunch - Don't get me wrong you can definitely have a good crispy potato without polenta/cornmeal but this just takes it to the next level.
Seasoning - You'll need rosemary, salt and pepper to ensure you get the best flavoured rosemary roasted potatoes to impress your family and friends.
Customisations/substitutions
Here are some recommendations for customisations and substitutions:
Polenta/cornmeal - If you are needing to substitute the polenta/cornmeal, you could use semolina instead. You can also omit this coating completely and just rough up the potatoes in the saucepan/colander, toss with salt, pepper and rosemary and pour them into hot fat and roast them as per the instructions below. You'll still get a crispy roasted potato... but I definitely believe it's worth taking to the next level with the polenta/cornmeal mix.
Herbs - switch out the rosemary with another hard herb such a sage or thyme although I do feel rosemary is the best fit for these. You could even add in a little paprika or garlic powder into the mix if you like.
Fat - I find the best results come from goose or duck fat, but if you are vegan you can use vegetable fat or oil, olive oil, rapeseed oil, or sunflower oil in it's place. I don't recommend coconut oil at all.
How to par-boil potatoes?
Often people think that par-boiling potatoes from cold water and bringing them up to the boil is the best way, but I disagree and here's why.
Placing your prepared potatoes in cold water and then bringing them to the boil cooks them slowly into the centre of the potato and would actually make the perfect boiled potato for other purposes. We don't want a potato cooked more in the centre for roasting, the final bit of that is for the oven. It's all about the trick of getting these potatoes roughed up and fluffy. The risk of over-cooking them from cold water is too high for this.
Instead, you need to place your prepared potatoes in a pan, then pour over boiling water from the kettle, season with salt and return to the boil. You want to boil the potatoes for 8-10 minutes until a knife point can penetrate to about ¼ inch into the potato. The outside should be easily fluffed but you want them still firm in the centre. This way your potatoes won't break up completely when roughing them up. Drain the potatoes and leave them to steam dry for 3-4 minutes and they will be ready to be roughed up.
Temperature
Getting the temperature of the oven right is essential to creating a perfect crispy rosemary roasted potato. We've done the testing so you don't have to. There are two ways to cook them:
180C/350F
Most of the time people are roasting the potatoes whilst their joint of meat or other centerpiece is roasting too. You can do this but just take into consideration that most roasts are being cooked at a lower temperature than crispy roasted potatoes would be best at. So you will need to roast the potatoes for longer to get the same level of crispyness. At 180C/350F you'll need to roast these for 70-75 minutes. Also make sure your potatoes are higher up in the oven if you can.
200C/400F
If you are privileged enough to have a secondary oven to do a different temperature you can do the potatoes at a higher temperature in there. Or if you are just wanting a tray of rosemary roasted potatoes as a side dish, I recommend roasting them at 200C/400F in the centre of the oven for 55-65 minutes. Sometimes this is easier to do whilst, say for example a turkey is resting on the side and the oven is free to roast your potatoes.
Difference in fats
Animal fats - by far the most flavoursome and offer an incredible crunch for these rosemary roasted potatoes. I recommend using goose fat, duck fat, beef dripping (in the UK this comes as a block but is just rendered beef tallow). I've not tried pork lard but imagine it would have the same effect as well. I find goose, duck and beef to be the most flavoursome and personally think they make the most crispy roasted potatoes.
Oil - Roasting in oil is definitely a good option. Olive oil, rapeseed oil, avocado oil, sunflower oil or standard vegetable oil (rapeseed oil that's not cold pressed) all are going to work well. If you are looking for a slightly lower saturated fat version these work perfectly. Also, using oil makes these suitable for those who don't want to use animal based products. I find them not as flavoursome or as crispy though, but still crispy enough.
Coconut oil - Personally I do not recommend using coconut oil, there are plenty of better oils out there. The reason for this is because it makes the roasted potatoes taste awful (even if you get virgin coconut oil). The other most important reason is that it made up of 92% saturated fat. Now compare this to goose fat which is about 22-29% saturated fat, or rapeseed oil which is 6-8% saturated fat. If you don't want to use animal fats, just do yourself a favour and use any oil other than coconut.
How to make them
These crispy roasted potatoes are very straightforward to make. Follow these steps to make them: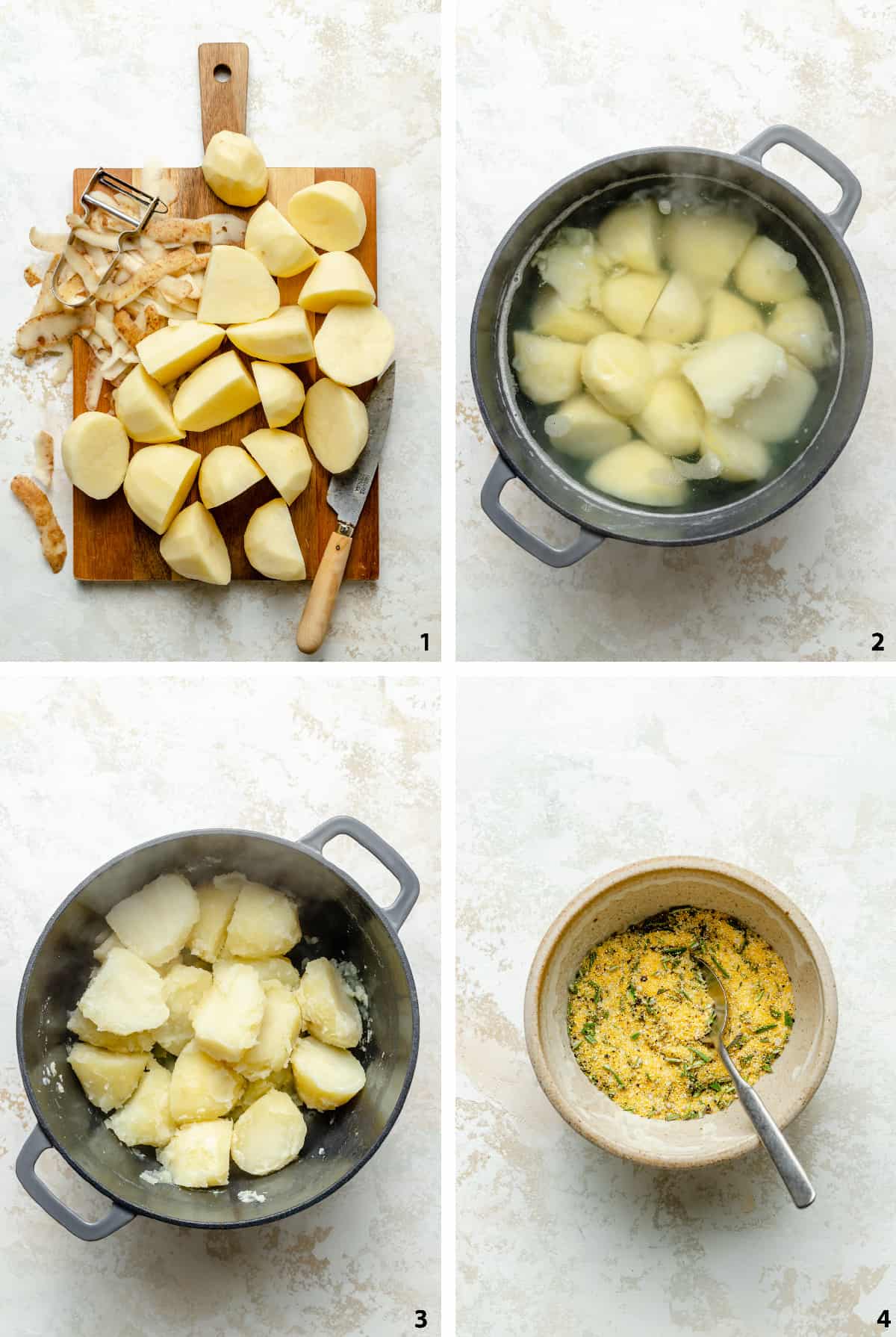 Preheat the oven to 200C/400F. Place the goose fat in a large roasting tin and place it in the oven to heat up. Whilst it's heating up, peel the potatoes and chop into 3 inch chunks; depending on the size of your potato this may be cut twice or just in half.
Add your prepared potatoes to a large saucepan and cover with freshly boiled water from the kettle. Season the water with salt. Parboil these potatoes for 8-12 minutes until a knife penetrates about ¼ inch into the potato. They will still be firm in the centre.
Drain the potatoes and leave to steam for 3-4 minutes until dried of excess water. Rough up the potatoes by shaking them gently in the pan. The surface will start to fluff up. This is exactly what we want.
Whilst they are steaming dry, mix together the polenta/cornmeal, chopped fresh rosemary, salt and pepper in a small bowl.
In a large bowl dress the roughed up potatoes with olive oil and the polenta rosemary seasoning and gently coat the potatoes with the mix.
Pour the polenta coated potatoes into the preheated roasting pan with the hot fat. It should sizzle immediately, so be careful as it may spit.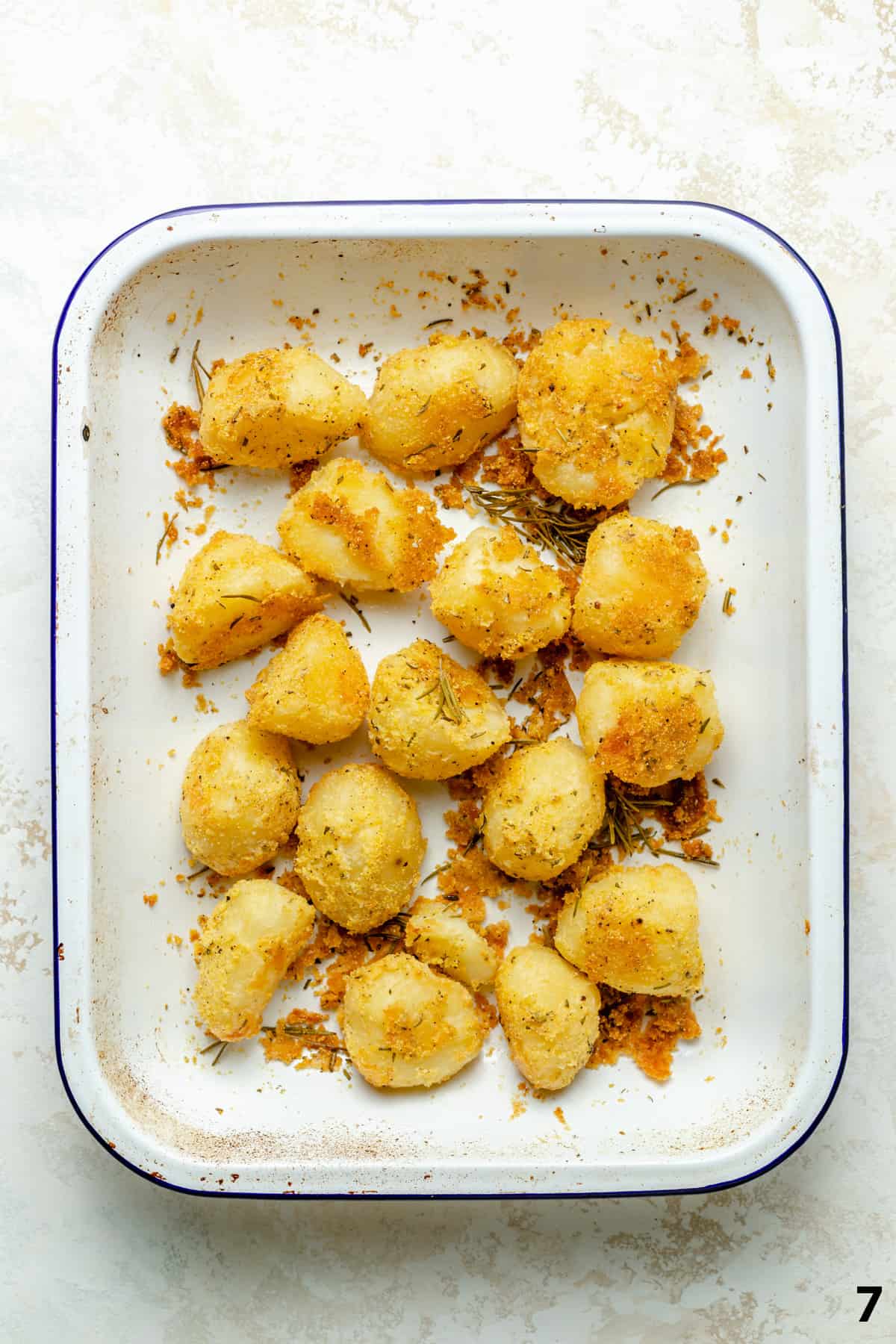 Roast in the oven for between 55-75 minutes depending on the temperature you are roasting at. (55-65 minutes for 200C/400F or 65-75 minutes for 180C/350F). Turn the potatoes and baste with fat in the bottom of the pan every 25-30 minutes until they are golden and super crispy!
Recipe tips
Here are some tips that will make this recipe the most successful.
Par-boiling - Don't overcook your potatoes, you want to fluff the outsides and the potatoes to still hold their shape. The fluffy exterior will give extra surface area to the potato as well as the polenta mix and will give you a super crispy roasted potato. I've found that a knife going into the potato by ¼ inch should be enough.
Roughing - You can either do this in the colander that you drain your potatoes through, or in the saucepan with the lid on and shake them up a bit. The KEY is to steam them dry in the pan or colander for 3-4 minutes before shaking them otherwise you'll get a mess without them actually fluffing up that well.
Pre-heating the fat - Taking the time to put your tray in the oven with the fat to preheat is definitely a must, it gives the potatoes the best start and chance of getting nice and crispy. If it's not hot enough they will sit and boil and absorb the fat and become greasy.
FAQs
Why won't my roast potatoes go crispy?

The temperature is key here. You need it hot enough to get the potatoes off to a good start. 200C/400F is best if not roasting anything else at the same time. Too hot and the potatoes will brown too quickly before they're fully cooked through.

Bear in mind a few things:

1. If you are roasting some meat or something else at the same time, more moisture will be within the oven and will slow or prevent the potatoes from going crispy. If you are roasting something else at the same time make sure the potatoes are at the top of the oven and use a shallow sided roasting pan.

2. The other thing you need to ensure is to pour your potatoes into a very hot fat. If it is not hot enough it will just end up boiling the potatoes in the fat. 
Is it better to boil potatoes before roasting?

Yes! Using a par-boiled potato will provide you with a lovely crispy potato as you'll get that roughed up surface to sizzle in the fat, whilst giving you a fluffy potato inside. Just throwing them in raw will create a flat surface and I find a firmer potato without such fluffy insides. 
How long does it take to par-boil potatoes?

If you are bringing the potatoes to boil from cold, once boiling, simmer for 2 minutes and they're done. If you are parboiling in boiling hot water, return to the boil and simmer for 8-10 minutes until a knife penetrates about ¼ inch into the potato.
What to serve these with...
I hope you love these crispy rosemary roasted potatoes as much as we do. If you make them, be sure to leave a comment, rate the recipe and tag #eatloveeats on Instagram! I love to see your creations!