The ultimate chicken and gravy, so good you'll be licking your plate! Simple to make and full of flavor to drizzle over your Thanksgiving or festive roasts. An unmissable chicken gravy to smother your perfectly roasted chicken with.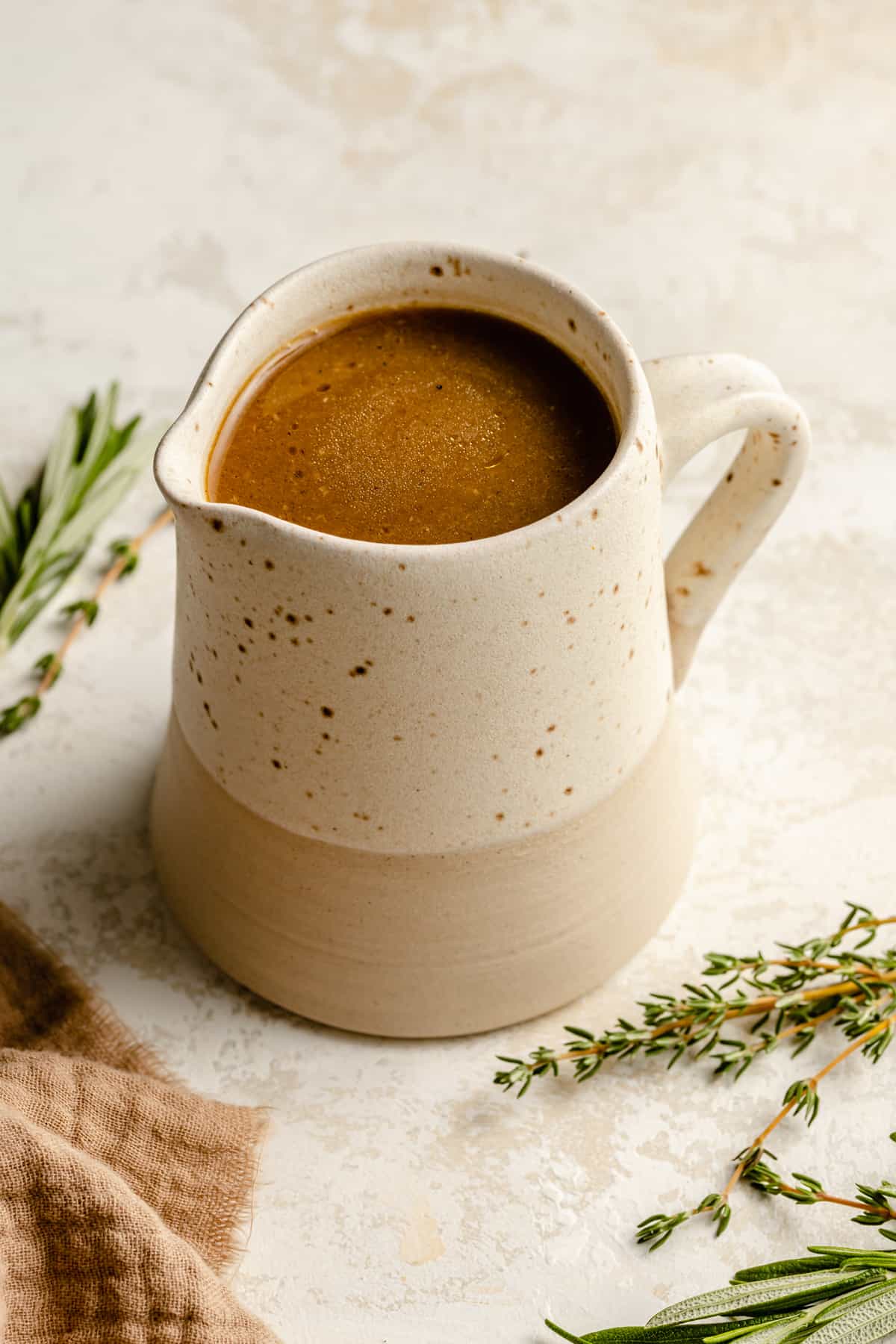 This is our ultimate chicken and gravy, it's so good we just had to share it with you all. It's adaptable and scalable for any sized gathering. Think of all the goodness and nutrition you'll get from the ingredients in this chicken gravy - it's not just delicious! In our opinion it's always better to make more, as you'll definitely be going back for more. Trust us.
This chicken gravy is the best accompaniment to our perfect crispy roast chicken and rosemary roasted potatoes. Whether this is for a traditional English Sunday roast or a scaled back version of your Thanksgiving roast, it doesn't matter. We love how adjustable this gravy is to your needs and we'll give you all the tips for how to make the most of it. Don't forget your appetizers like these brown butter ricotta crostini with prosciutto.
We know you'll love this chicken and gravy recipe as it's exactly what your roast is screaming out for. You'll love it so much that you'll always want to make your gravy this way going forward. Don't forget to leave some love in the comments and rate the recipe!
Jump to:
⭐ Why you'll love this recipe
Here are some reasons why you need this chicken and gravy recipe in your life:
Flavor - we promise there will be so much flavor in this chicken gravy you'll be licking the plate to savor it all! Well, at least that's what happens here!
Easy - gravy doesn't need to be complicated. This is a simple recipe with simple rules and you'll get the best results by following those simple tips.
Tried & tested - we've been making gravy like this for many years. There's a time and place for store bought gravy, we get it, life is busy. But this recipe is great for when you want to turn things up to another level!
Turkey - this recipe is perfect to adapt and use for turkey too. Simply follow the same steps but for a roasted turkey.
Make ahead - we show you tips and tricks on how to make this amazing gravy ahead of time to save you time on the day.
📋 Ingredients
You only need simple ingredients for this chicken gravy recipe, this is what you'll need: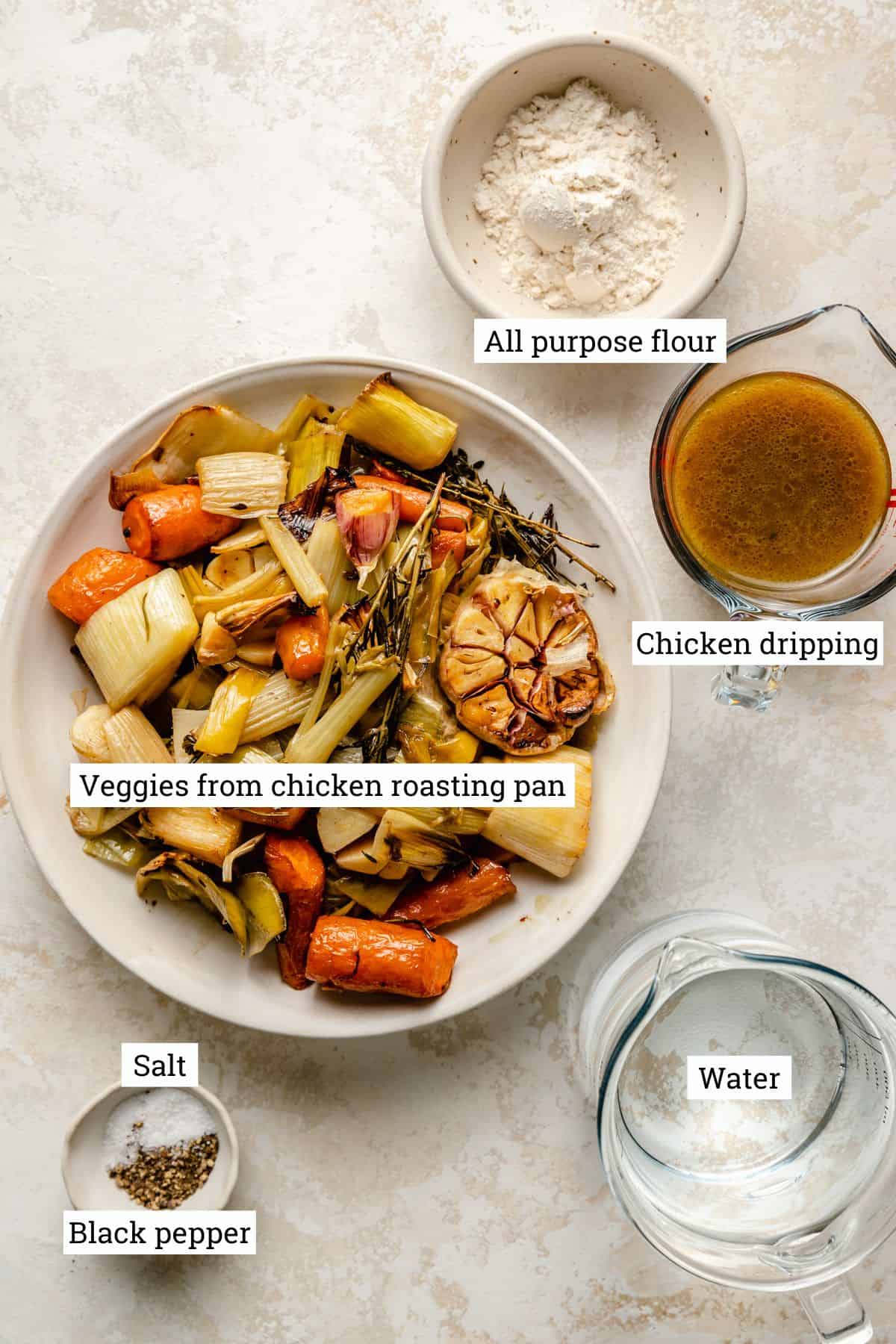 Roast chicken tray leftovers - you'll be using roasted veggies that form the base of the gravy along with spare bones. These are from our perfect crispy roast chicken.
Chicken dripping - the juices that accumulate from a roasted chicken in the bottom of the pan are saved. These add the best flavor, don't throw them away!
Thickener - we use all purpose flour as a thickener as it's reliable and doesn't turn the chicken gravy into glue. Feel free to try alternatives if you need it to be gluten free.
📖 Customizations
We know you love to mix things up with customizations so here are some of our recommendations for our chicken gravy recipe:
Turkey - apply the same principles to roasting your turkey for Thanksgiving or Christmas and use the same ratios for the juices and thickener in the making of the chicken gravy.
Chicken wings - follow the tips below to make this exact same gravy ahead of time using chicken wings and roasted veggies instead!
Spices - if you wish to add a unique flare to your chicken gravy, you could use a star anise or some whole black peppercorns to add some aromatic notes.
Thickener - we haven't tested it with the same ratios but are fairly confident you can make this gluten free by using gluten free all purpose flour.
🔪 How to make chicken gravy
Follow these simple step by step guides to success for this ultimate chicken and gravy recipe: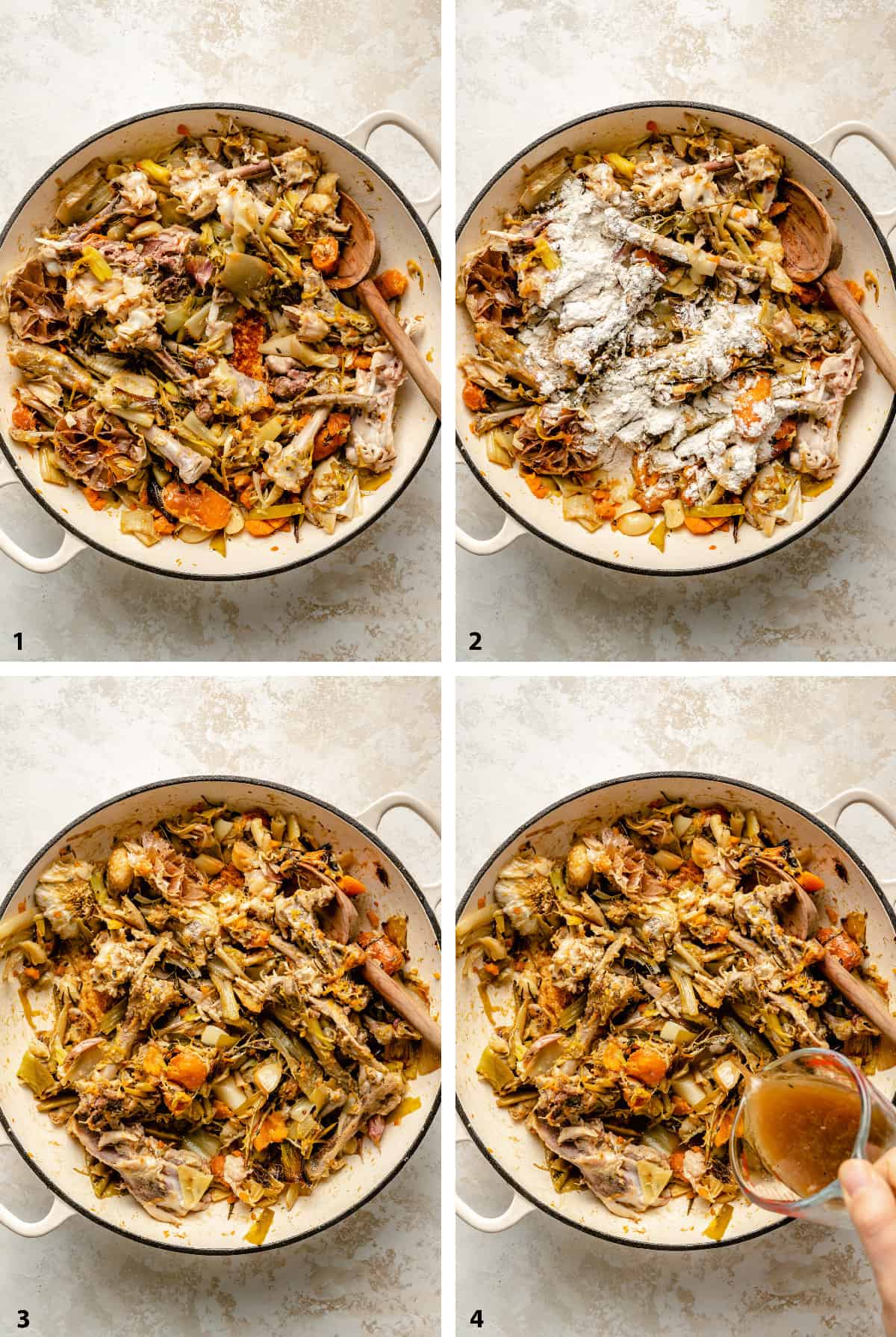 Add the roasted veggies to a large skillet and crush with a masher to create smaller pieces. Add any chicken bones you have available and brown in the skillet until deeper in color, about 5-10 minutes.
Add the all purpose flour.
Cook out the raw flour and ensure all the veggies and bones are coated and browned.
Add the chicken dripping to the pan and stir together.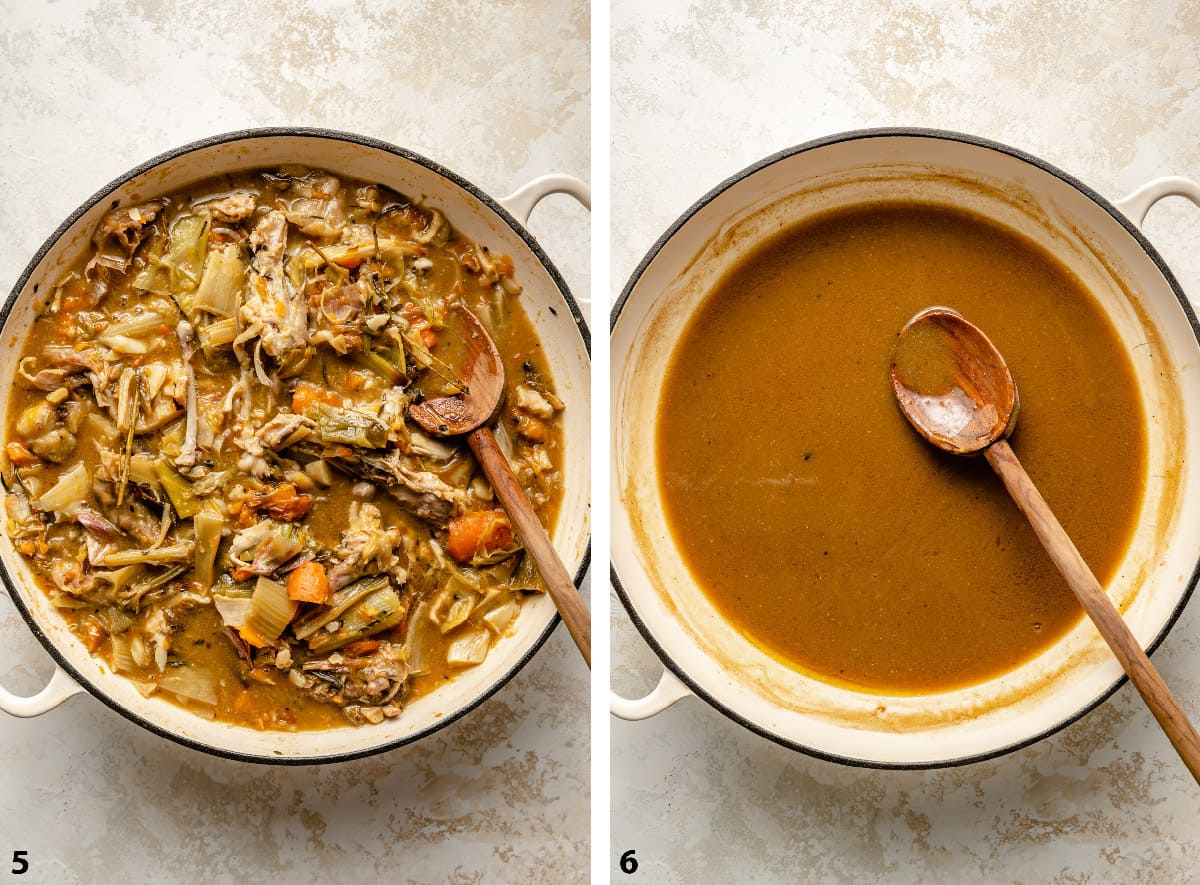 Pour in the water, season with salt and pepper and simmer the chicken gravy for 20-30 minutes until rich and thickened.
⏲️ Making it ahead of time
This chicken gravy recipe is reliant on having roasted a chicken following our roasted chicken recipe so if you wish to make it ahead of time here is the way to do it:
In a roasting pan throw in all the veggies listed in the roast chicken recipe, then add in 6-8 chicken wings which have broken with a knife. Roast for 1 hour at 180oC/350oF until brown, crispy and all the juices are flowing.
Place the large roasting pan over the heat on the stove (or transfer to a skillet if your roasting pan can't go on the stovetop) and smash all the veggies and wings up with a potato masher as best you can.
Add the flour and cook the flour out for a few minutes.
Pour in the water and cook until rich and thickened.
Strain, season and simmer further for a thicker gravy or serve as is.
🥄 Scaling up for more gravy
This chicken and gravy recipe uses a smaller chicken and produces a smaller volume of chicken gravy, so follow these approximate ratios to scale up to the yield you desire.
| Bones & veggies | Dripping volume | Water Volume | Thickener | Approx. Yield |
| --- | --- | --- | --- | --- |
| ~ 3 - 4 cups | ¼ - ⅓ cup | 2 ¼ - 3 cups | ¼ - ⅓ cup | ~ 2 cups |
| ~ 3 - 4 cups | ½ - 1 cup | 4 ½ - 6 cups | ½ - ¾ cup | ~ 4 - 5 cups |
| ~ 5 - 6 cups | 1 ½ - 2 cups | 6 - 8 cups | ¾ - 1 cup | ~ 6 - 7 cups |
| ~ 5 - 6 cups | 2 - 3 cups | 8 - 10 cups | 1 - 1 ½ cups | ~ 8 - 9 cups |
The above ratios are approximate and to be used as a guide. Everyone has their own preference when it comes to chicken gravy thickness so you get to choose if you want to reduce the final gravy to make it thicker or not. Or, if you want the chicken gravy thinner, simply add some more water.
👩‍🍳 Expert tips
Make sure to read and follow these expert tips to ensure complete success with this chicken gravy recipe:
Browning - browning = flavor and color. If you wish for a nice rich brown chicken gravy you will need to brown the veggies and bones for a bit first. It's worth a little effort!
Roast the bones - if you'd like a super rich brown chicken gravy, roast the bones with the veggies in a hot oven for 15 minutes to darken everything before continuing with the recipe.
Leftover bones - don't throw chicken bones away after you finish your roast dinner, save them and put them in the freezer to use again at a later date. It's handy to have them on hand if you don't have any from the current roast chicken to use! If using from the current roast, use the wings and drumsticks, you can always reheat the chicken or keep it warm until you're ready to serve everything.
Thicken - you can always add a little more water whilst the chicken gravy is simmering with the veggies and bones and reduce it down to thicken your gravy more after straining.
💭 Recipe FAQs
Should gravy be thick or runny?

The ultimate question. Gravy should have a pourable consistency that is as thick as you desire. Most preferences fall in to an unctuous thickness that will coat the back of a spoon, but not too thick as to be like glue. On the other hand, watery thin gravy is not ideal either. It should not be too thick or too thin.
Why does my gravy taste like flour?

This will be because you didn't cook the roux or flour on the bones and veggies long enough. This time is for cooking out that raw flavor but also to help deepen the flavor and colour of the gravy. Don't forget not to burn the roux too!
How do you make gravy darker?

A couple of ways. Ensure your bones are veggies are thoroughly browned. This can be enhanced in a skillet or by simply roasting them for longer in the oven. We also recommend breaking the bones. The marrow from the insides will help deepen the flavor and color of the gravy. Alternatively, you can add a few drops of gravy browning which can be bought from the store.
What is the best gravy thickener?

We love using all purpose flour as it's simple, easily accessible and works very well when making a roux. However, you can use cornstarch, arrowroot strach, tapioca flour, or gluten free all purpose flour instead if you prefer. Some will have a very different effect to all purpose flour, so you may need to adjust as necessary for the desirable results. They are not directly interchangeable at the ratios listed.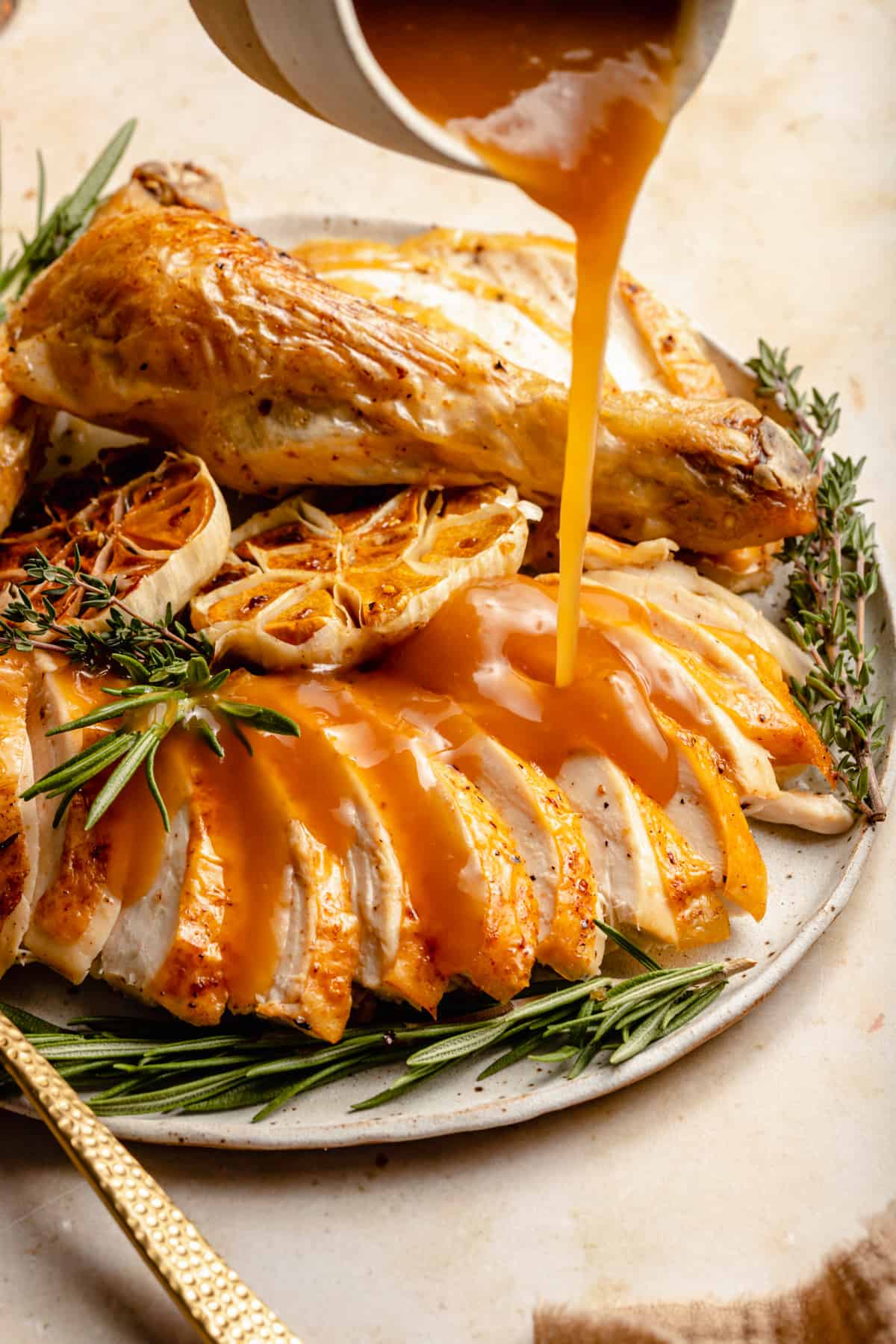 😋 Related recipes
Love this chicken and gravy recipe? Then you may want more of our side dish recipes. Here are some suggestions to get you started:
Love this recipe? Leave us a 5-star ⭐️⭐️⭐️⭐️⭐️ rating in the recipe below and don't forget to leave a review in the comments section underneath the recipe. We love hearing from you!
Why not follow along with us on our social media channels @Instagram @Facebook and @Pinterest and tag us with #eatloveeats when you've tried one of our recipes!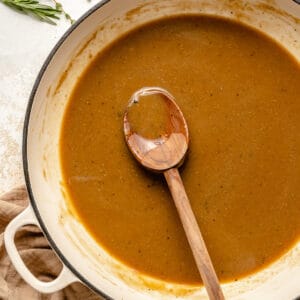 The Ultimate Chicken and Gravy
The best plate licking worth roast chicken and gravy recipe, perfect for any roast dinner or special occasion like Thanksgiving or Christmas.
Print Recipe
Pin Recipe
⭐️ Rate Recipe
Ingredients
For the Roast Chicken
For the Ultimate Gravy
3-4

cups

veggie and bone remnants from roast chicken recipe

3-4

tablespoons

all purpose flour,

depending on how thick you like your gravy

¼

cup

chicken dripping

,

from juices in bottom of pan

2 ¼ - 3

cups

water

1

teaspoon

kosher salt

¼

teaspoon

black pepper
Instructions
Ultimate Chicken Gravy
Drain the veggies and juices from the chicken roasting pan in a fat separator and keep the veggies aside. Allow the juices and fat to separate. Strain off the dripping, leaving the fat in the fat separator. For a 3-4 pound chicken you should get at least ¼ cup. Set aside.

In a large skillet over a medium high heat, crush the veggies with a potato masher into smaller bits, adding any bones, wings and additional non edible carcass parts to the pan too.

3-4 cups veggie and bone remnants from roast chicken recipe

Fry the crushed veggies for 5-10 minutes until the color darkens. Add the all purpose flour and coat the veggies with it. Fry for an additional 2-3 minutes until browned and deeper in color.

3-4 tablespoons all purpose flour

Pour the dripping and 2 ¼ cup of water into the pan with the veggies and stir well to combine.

¼ cup chicken dripping,

2 ¼ - 3 cups water

Season with salt and pepper, tasting and adding more as desired. Simmer for at least 20-30 minutes for the deepest flavor and color, or as long as you want, adding more water as needed.

1 teaspoon kosher salt,

¼ teaspoon black pepper

Strain the gravy through a sieve into a clean pan to simmer until it reaches your desired consistency. Serve with your roast dinner.
Notes
The longer you fry the veggies and the flour, the deeper and darker colored your gravy will be. If you want a darker gravy, you can also add a few drops of gravy browning.
The gravy yield will be about 2 cups. If you want more gravy, scale up the flour and liquid using the table in the post. 
Nutrition is estimated and will vary based on the fat content of the chicken and how much fat is removed before adding the dripping to the gravy pan.
If you find you still want to thicken the gravy then make a 1:1 mixture of cornstarch and water and add in 1 teaspoon at a time, cooking it until it thickens. 
If you don't have a fat separator, just do your best to skim as much fat from the pan as you can. A fat separator is such a useful tool in the kitchen though, so we highly recommend!
Nutrition
Serving:
0.25
cups
|
Calories:
137
kcal
|
Carbohydrates:
4.6
g
|
Protein:
0.6
g
|
Fat:
12.8
g
|
Saturated Fat:
2.7
g
|
Polyunsaturated Fat:
3.8
g
|
Monounsaturated Fat:
5.7
g
|
Cholesterol:
11
mg
|
Sodium:
315.5
mg
|
Potassium:
8.2
mg
|
Fiber:
0.2
g
|
Calcium:
5.5
mg
|
Iron:
0.3
mg
Did you make this recipe?
Leave a comment below with how you got on and don't forget to give the recipe a rating ⭐️⭐️⭐️⭐️⭐️. You can also tag @eatloveeats on Instagram - we love to see your creations!