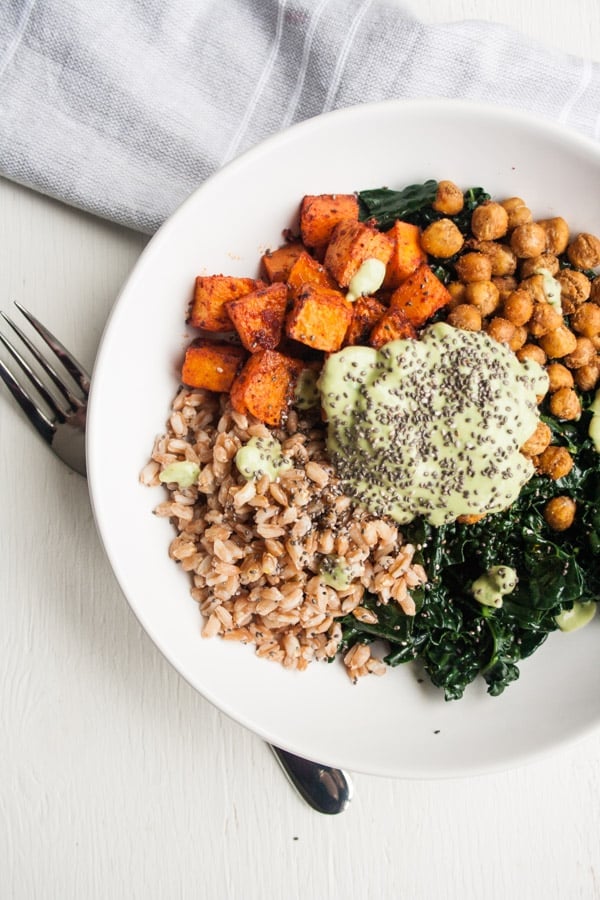 Can we still call this autumn? I think we can. The leaves may be all but gone, but the temperature is still relatively mild. I'm going with autumn. It's definitely not winter yet. I find myself in a dilemma at this time of year and not just because I don't know what season it is. I want to eat healthily but I also want to eat all types of comfort food. I can't be the only person to experience this? I want pies and stews and gnocchi and creamy things and basically everything that is unhealthy. I think I might be preparing for hibernation?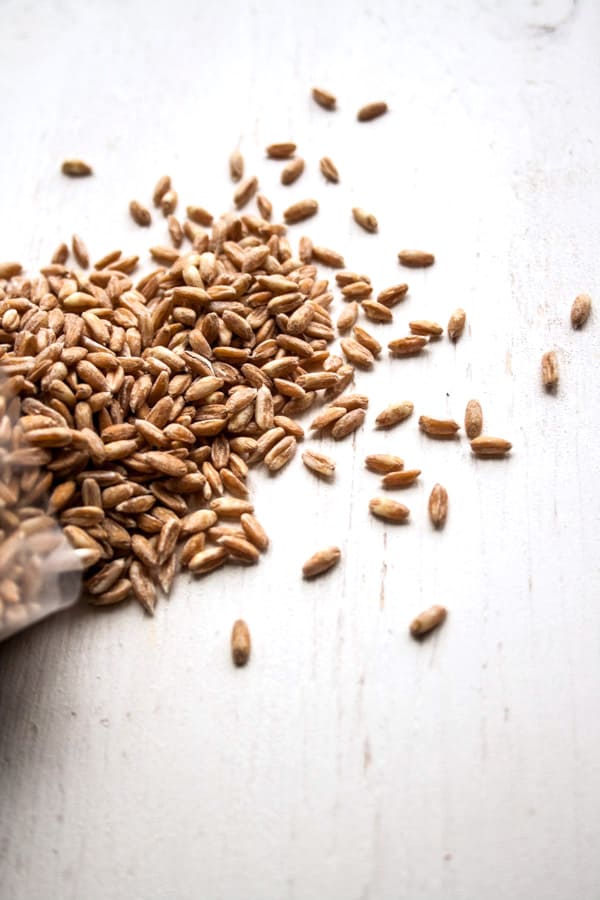 At this time of year I have to be more deliberate with my meal choices to ensure I'm feeding myself well and not just feeding a craving. It's at these times that I challenge myself to come up with a plant-based option for dinner, full of good, healthy protein. This bowl fits that bill and then some! Starting with my favourite winter green, cavolo nero, I then pile on smoky roasted cubes of swede, crunchy roasted chickpeas, chewy farro and a deliciously creamy avocado-tahini sauce to bind it all together. I then top with chia seeds for extra goodness, but any kinds of seeds or nuts work here. The result? A super satisfying comforting bowlful that makes you feel good inside. Win!
So...swede (or rutabaga if you're in the US). Now that's an underused vegetable if ever I saw one. Most frequently served up as a pile of orange slop, it's no surprise we don't cook with it more often. I decided to try roasting it - seeing as roasting seems only to serve to exponentially increase the flavour of vegetables, I thought I couldn't go far wrong. I wasn't wrong. Boosted simply by some smoky paprika, a touch of garlic and some herbal thyme I was rewarded with sweet and chewy nuggets of deliciousness. It's definitely worth a try if you have a pesky swede, bought with the best of intentions, lurking at the back of your fridge. And if you don't, go and buy one!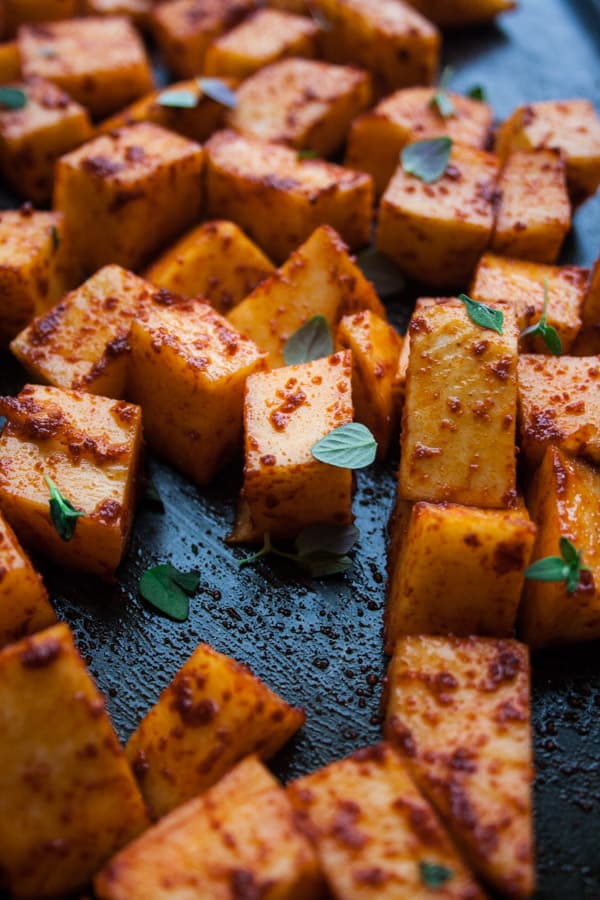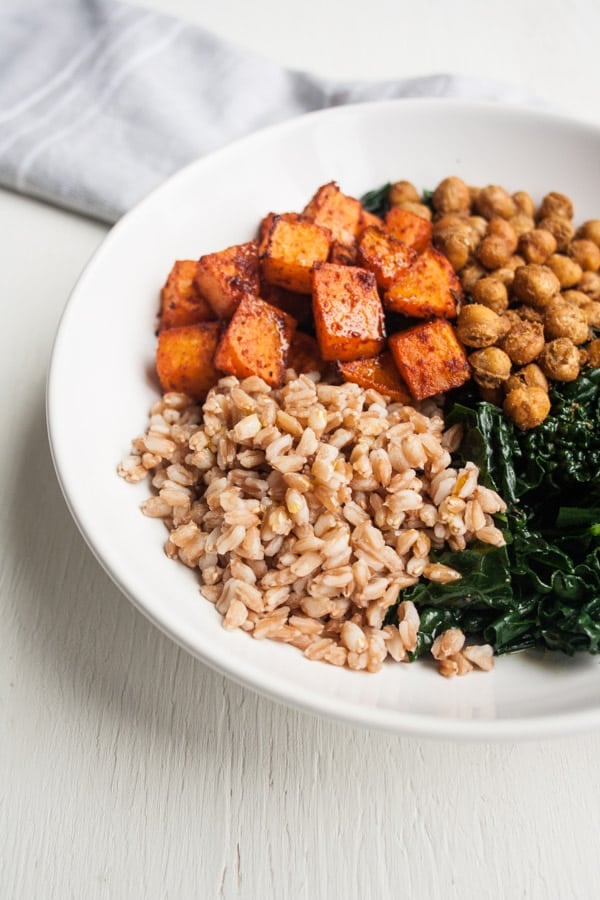 All told, this autumn nourish bowl takes very little time to prep and then it's all just a matter of waiting for the component parts to roast in the oven. From start to finish, it only takes as long as the swede takes to roast. And it's definitely worth the wait.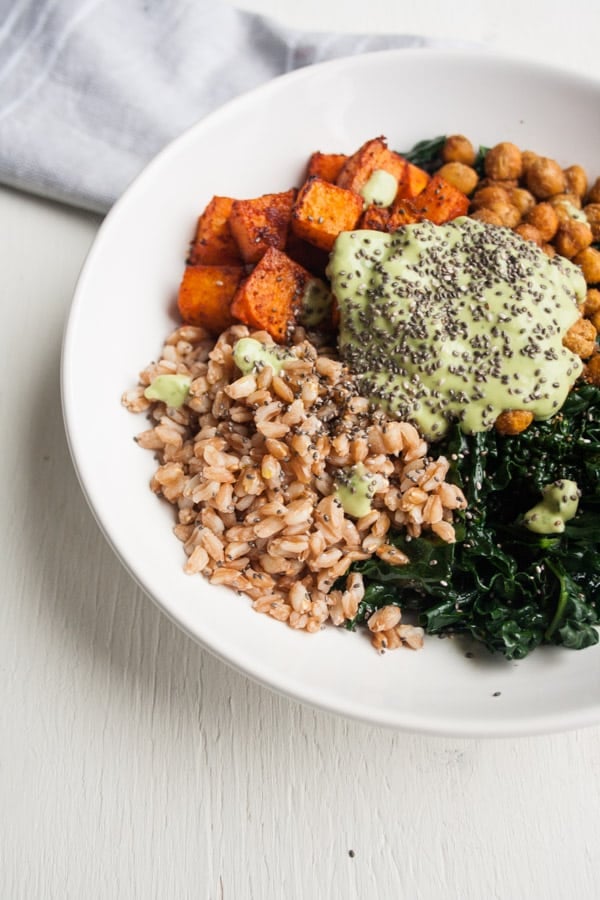 Inspired by A Couple Cooks.