This roasted swede (rutabaga) recipe is super simple and makes for a perfect side dish for any Sunday roast dinner or even Thanksgiving or Christmas. You can prepare it in under five minutes as the rest is hands off in the oven.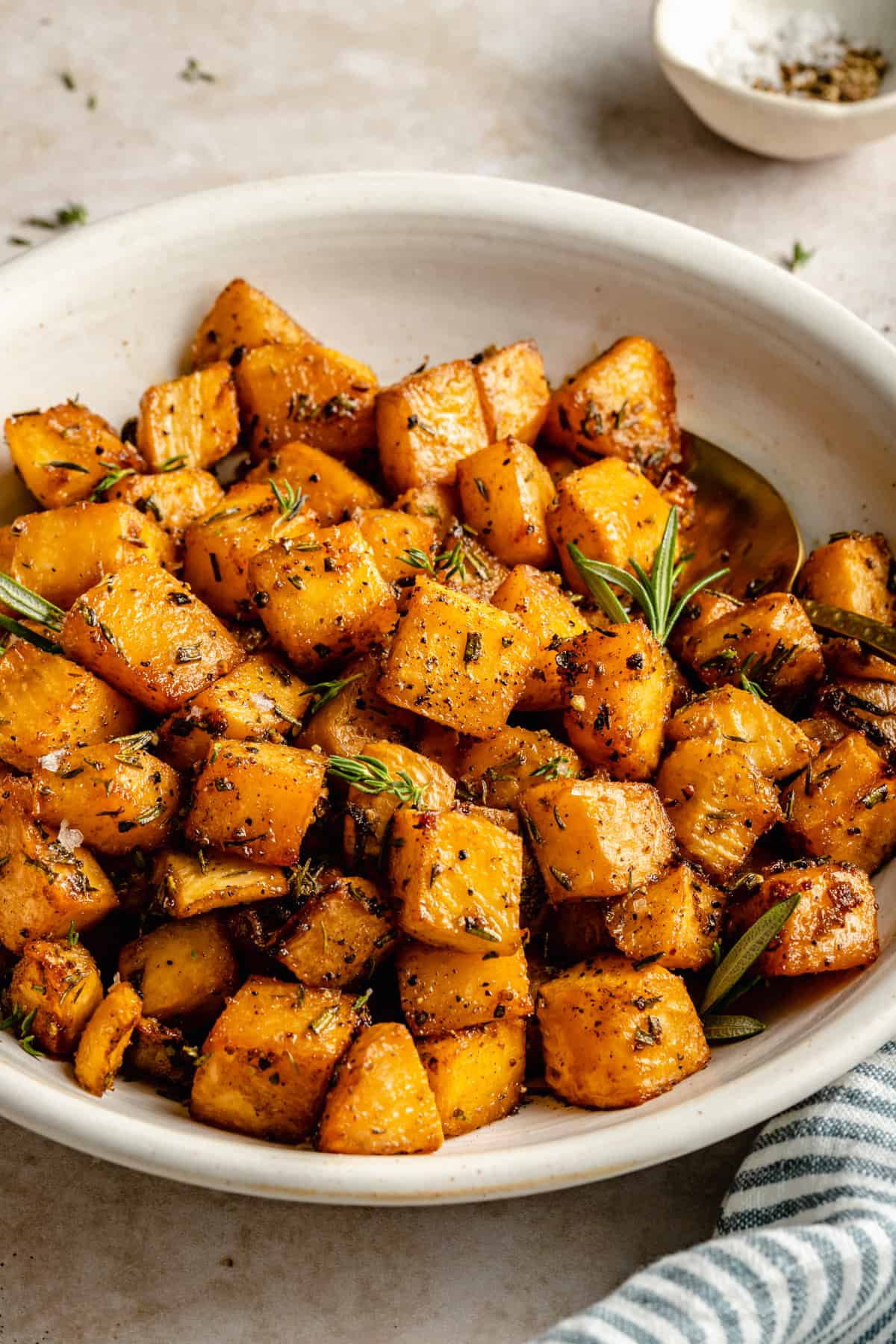 If you're looking for a new side dish for your roast dinner, look no further. This roasted swede (rutabaga) recipe is easy to throw together and a delicious way to use an under-utilized root vegetable. If you're unsure about the flavor of swede (rutabaga) this will be a great recipe to introduce your tastebuds to it.
We all love a good side dish and this roasted swede is a delicious, light and healthy option. Alternatively, you may like our indulgent hasselback butternut squash with bacon brown butter. Or if you're in the market for a spicier option, try our honey sriracha brussels sprouts.
We know you'll love this roasted swede (rutabaga) recipe, whether for your roast chicken or as a side for Thanksgiving or Christmas. Don't forget to leave us a comment and a rating on the recipe, we love hearing from you. Follow the links below to get to where you need.
Jump to:
🥕 What is swede (rutabaga)?
The swede (in the UK) or rutabaga (North America) is a root vegetable. Although it is called various things in many parts of the world, it is a Swedish turnip, a relative of the white turnip but not the same. It is often roasted, boiled or steamed and often mashed.
In some countries swede is eaten raw and can be served thinly sliced in salads. Swedes or rutabagas are even used instead of pumpkins in some areas of Europe for carving for Halloween, but to a lesser extent since the rise of the availability of pumpkins.
Swede is often served on the side of a roast dinner in the UK or with haggis as neeps in Scotland.
⭐ Why you'll love this recipe
Here are some reasons why you need this roasted swede (rutabaga) recipe in your life:
Easy - this recipe is very easy to make, a few simple preparations and then it's hands off!
Healthy - simple, healthy and nutrient dense ingredients make this a great option for a side dish. If you want something a bit more indulgent try our hasselback butternut squash with bacon brown butter.
Herby - we use some beautiful rustic herbs that compliment the flavor of the swede. They work perfectly with the balsamic vinegar and maple syrup too!
Versatile - you can easily mix it up by changing the seasonings to whatever you fancy, we give you some recommendations below.
Vegetable side dish - no more boring vegetable side dishes, we love this as an option on the side of a roast dinner. You could try our caramelized brussels sprouts too!
📋 Ingredients
You only need simple ingredients for this roasted swede recipe, this is what you'll need: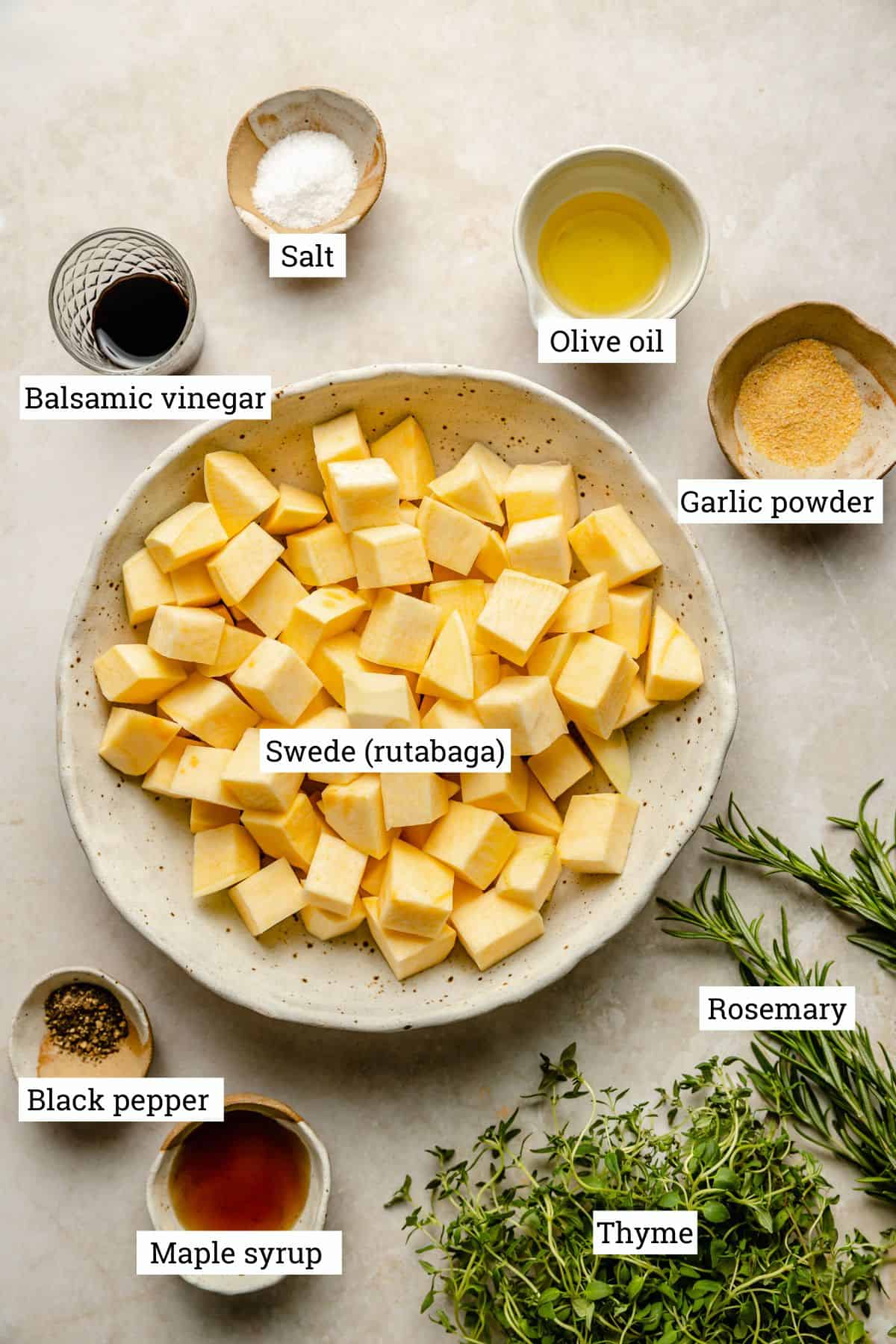 Swede - swede or rutabaga can vary, try to get a smaller, young swede to ensure that it cooks evenly and nicely. Make sure that you buy a nice fresh one, with no wrinkling on the skin and make sure it's firm with no soft bits.
Aromatics - you'll need some fresh herbs along with garlic powder. These are a great combination anyway, but especially with swede.
Acid - for a bit of tang and sweetness we use a bit of balsamic vinegar, it really adds a lovely note and helps with caramelization too.
Sweetness - we used maple syrup, it ensures this side dish is vegan friendly but also it caramelizes nicely without burning too quickly like honey would.
📖 Customizations
We know you love to mix things up with customizations so here are some of our recommendations for our roasted swede recipe:
Spices - mix it up by using some spices instead, we recommend smoked paprika and cumin or ras el hanout. Or you can go simple with just salt and pepper.
Fennel - another option for spicing is to use some fennel seeds and crushed red pepper flakes for an Italian feel.
Sweetener - you can easily switch out the maple syrup with agave syrup or honey if you prefer. Just keep an eye on them if you use honey as honey can burn easily.
🔪 How to make roasted swede (rutabaga)
Follow these simple step by step guides to success for this roasted swede (rutabaga) recipe: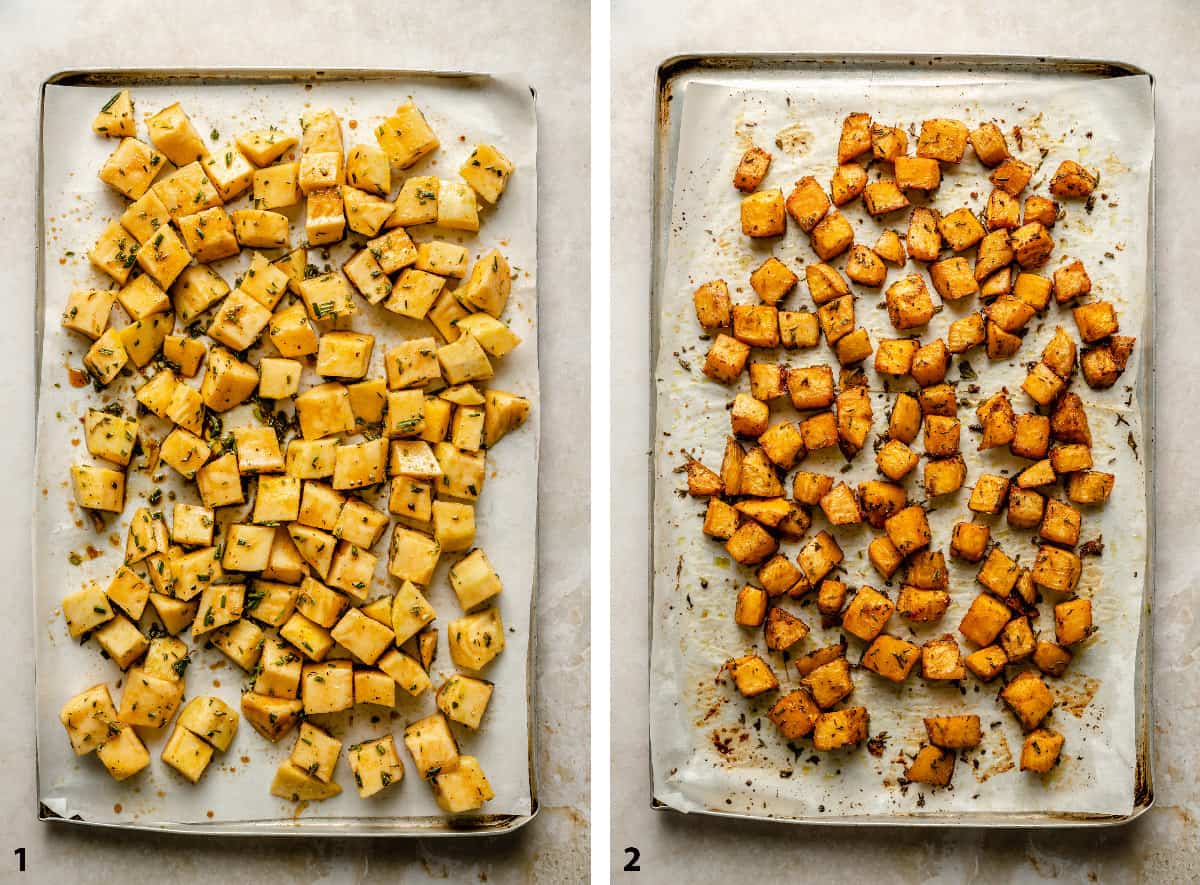 Toss the cubed swede with the glaze ingredients and spread out on a parchment lined baking sheet.
Roast the swede for 20 minutes then toss them and roast again for another 20-30 minutes. Keep the roasted swede warm or serve immediately.
👩‍🍳 Expert tips
Make sure to read and follow these expert tips to ensure complete success with this roasted swede recipe:
Flipping - toss the swede every so often ensuring it gets an even roasting and caramelization and charring.
Parchment - using parchment paper on the baking sheet helps with the clean up process.
Even sized - make sure to cut the swede into evenly sized cubes as it will ensure they all roast evenly and cook through at the same rate.
Fork tender - to check the roasted swede is cooked use a fork or a knife to check they are tender.
🥣 How to store
Follow the following information for how to store your leftover roasted swede:
Fridge - if you have leftovers after dinner, store them in an airtight container for up to 3-4 days.
Freezer - we don't recommend freezing swede as the texture is affected on freezing and defrosting.
🌡️ How to reheat
Microwave - place your swede in a microwave safe container and reheat on full powder for 2-3 minutes, stirring halfway through.
Oven - place the swede on a lined baking sheet in a preheated oven at 180oC/350oF for 15-20 minutes until hot through.
💭 Recipe FAQs
Do you need to peel swede?

Not necessarily. We recommend doing it for this recipe but make sure you get yourself a young swede as some older swedes can get a bit tough.
How do you cook swede fast?

Cut the swede smaller, the same goes for any form of cooking, boiling, steaming or roasting. Smaller chunks mean it will take less time for it to be cooked through.
How do you chop and cook swede?

Peel the swede with a sharp speed peeler and using a large chefs knife, slice vertical slices through the swede. Once you have slices, cut them into lengths and then into cubes. You can then boil, steam or roast your swede.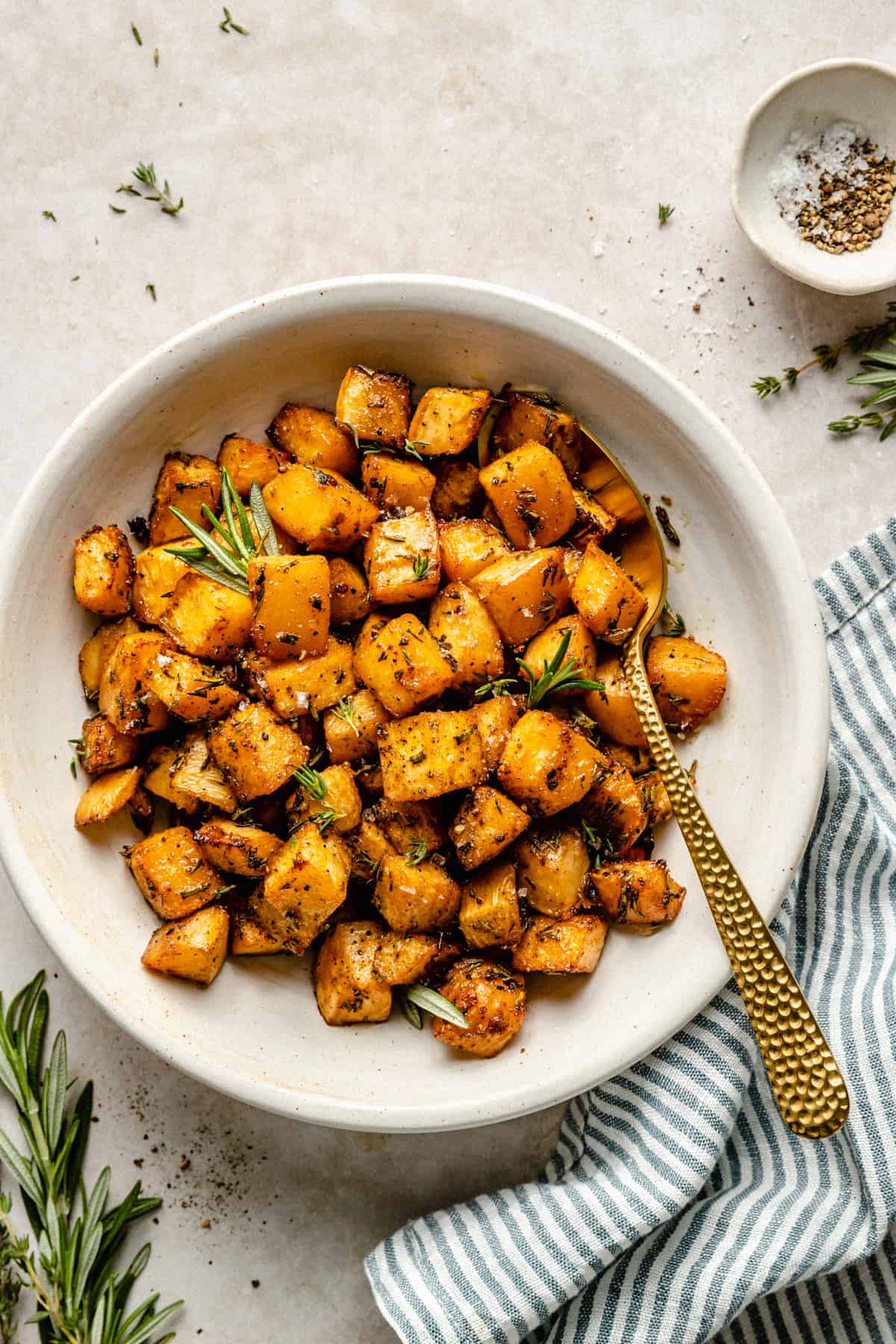 🥗 Related recipes
Love this roasted swede (rutabaga) recipe? Then you may want more of our side dish recipes here are some suggestions to get you started:
Love this recipe? Leave us a 5-star ⭐️⭐️⭐️⭐️⭐️ rating in the recipe below and don't forget to leave a review in the comments section underneath the recipe. We love hearing from you!
Why not follow along with us on our social media channels @Instagram @Facebook and @Pinterest and tag us with #eatloveeats when you've tried one of our recipes!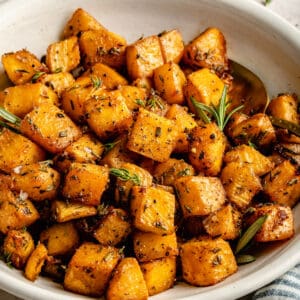 Roasted Swede (Rutabaga) with Herbs
A simple roasted swede (rutabaga) side dish that will complement any roast dinner or celebration, especially Thanksgiving and Christmas.
Print Recipe
Pin Recipe
⭐️ Rate Recipe
Instructions
Preheat the oven to 180°C/350°F for fan/convection or 200°C/400°F for conventional. Line a baking sheet with parchment paper.

Peel the swede (rutabaga) and cut into 1 inch thick slices. Then cut into 1 inch cubes. Place into a large bowl.

Add the olive oil, maple syrup, balsamic vinegar, thyme, rosemary, garlic powder, salt and pepper and toss together until everything is fully coated.

2 tablespoons olive oil,

1 teaspoons kosher salt,

¼ teaspoon black pepper,

1 tablespoon fresh thyme leaves,

1 tablespoon chopped fresh rosemary,

¾ teaspoon garlic powder,

1 tablespoon maple syrup,

2 teaspoons balsamic vinegar

Roast in the preheated oven for 20 minutes then toss and roast for a further 20-30 minutes until golden brown and tender.
Notes
Make sure you cut the swede into evenly sized cubes to ensure even cooking.
Toss the cubes every so often to ensure they don't burn and dry up. 
Line the baking sheet with parchment to help with clean up.
Nutrition
Calories:
123
kcal
|
Carbohydrates:
14.8
g
|
Protein:
1.4
g
|
Fat:
7.3
g
|
Saturated Fat:
1.1
g
|
Polyunsaturated Fat:
0.9
g
|
Monounsaturated Fat:
5.1
g
|
Sodium:
325.7
mg
|
Potassium:
380.5
mg
|
Fiber:
3.2
g
|
Sugar:
8.5
g
|
Vitamin A:
2.9
IU
|
Vitamin C:
29.9
mg
|
Calcium:
69.6
mg
|
Iron:
0.9
mg
Did you make this recipe?
Leave a comment below with how you got on and don't forget to give the recipe a rating ⭐️⭐️⭐️⭐️⭐️. You can also tag @eatloveeats on Instagram - we love to see your creations!