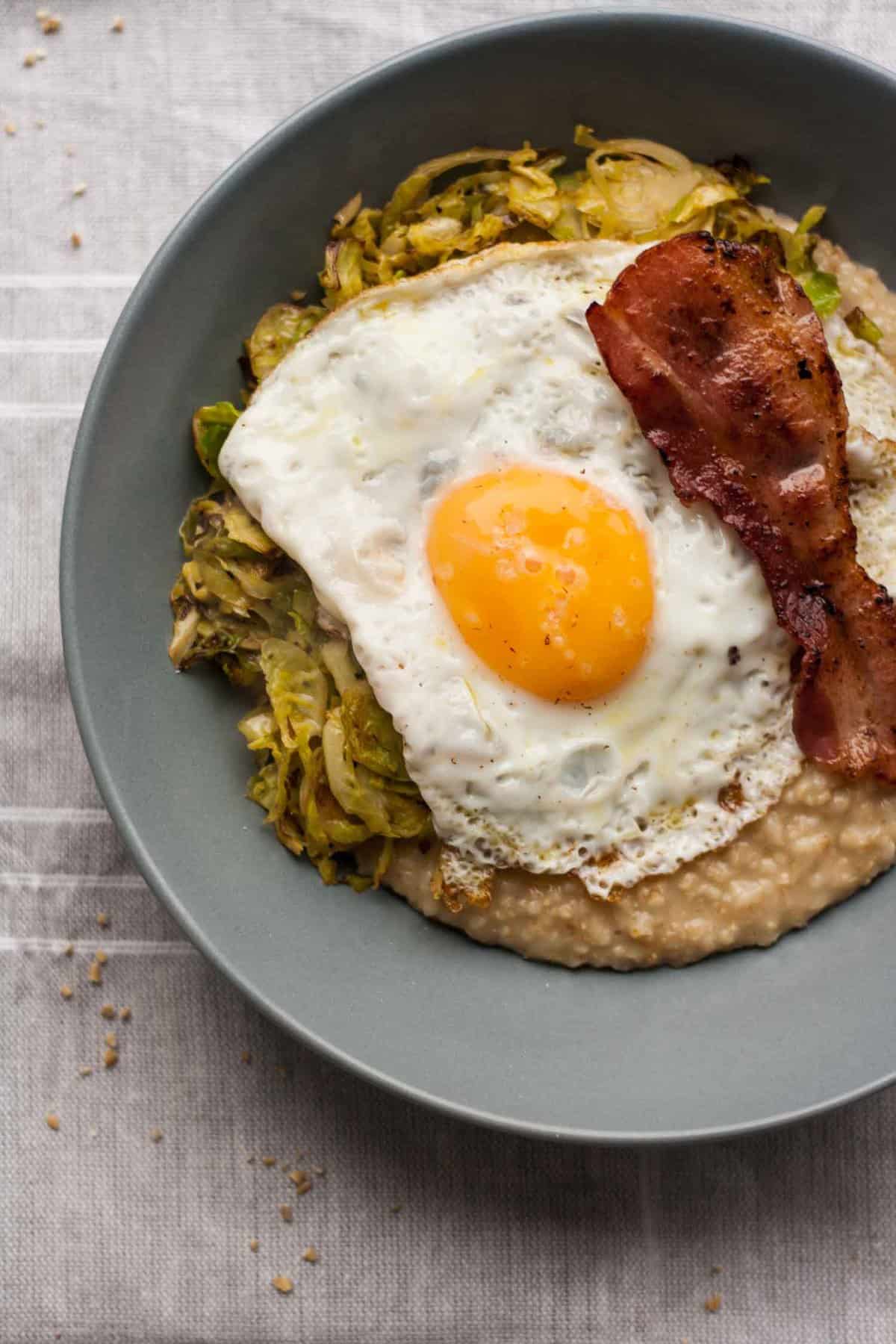 Now THIS is my idea of a heavenly breakfast. Savoury porridge with brussels sprouts!? If I could get away with eating this every morning, then I'd be pretty chuffed. But I must admit, I've never actually eaten this for breakfast because if anything is better than breakfast for breakfast, it's breakfast for dinner. We all know it's true.
So it's a weird concept, I get it, but this is so, so awesome. Cosy, creamy oatmeal but not at all sweet? It sounds so wrong but if you think about it, it's basically like a risotto, just using oats instead. Genius. It's comforting, super savoury and is ready in less than half an hour. Plus, it requires barely any ingredients and they're all likely to be things that you have on hand anyway, so you can make this at the drop of a hat. Like on those days when you look at your meal planner after work and it's a cold salad for dinner and you just can't. Eurgh, why do we even do that to ourselves?
But no matter! Because you can just raid your cupboards, make yourself a bowl of hot steaming goodness in the form of savoury porridge with brussels sprouts and settle in for some Netflix instead of going online to order an emergency takeaway. (That surely doesn't just happen in my house..?)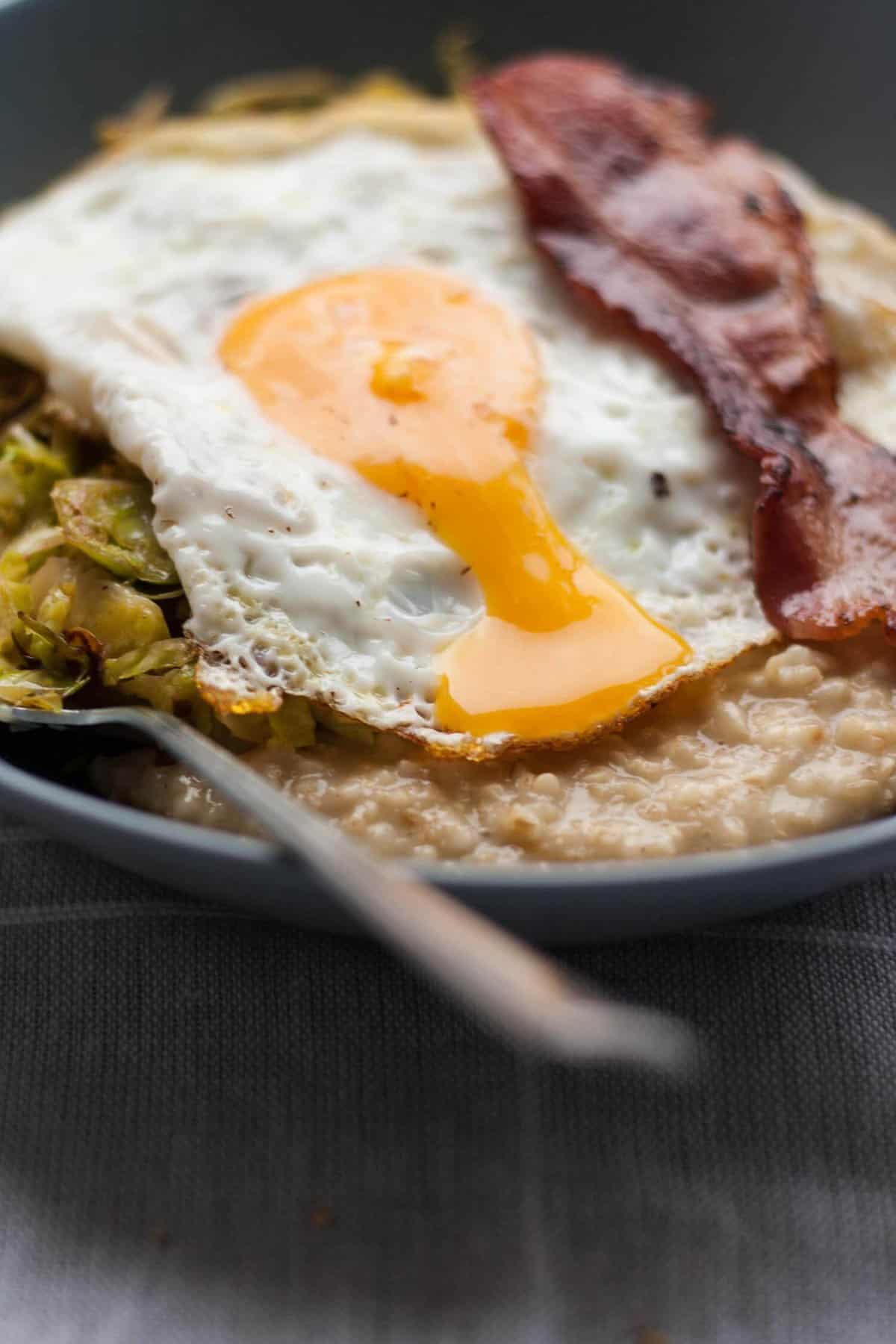 Speaking of Netflix, is anybody out there watching Better Call Saul?
Sidenote: I can't say that out loud anymore without cringing at my super British accent. My brother-in-law is American and loves his TV shows and once, we were discussing which shows we liked and I asked him if he'd seen bet-ter kawl sawl and he was like 'whaaaat?'
Anyhoo. I just can't get enough. I hate that it's like the only Netflix show that you actually have to wait a week to see the next episode of. I mean, I kind of love it, because it means that I can ration it out and not just binge on it. But it's just so good! I know that lots of people think it's really slow and gave up with it just a couple of episodes into season one but I love that! I love how it builds up really slowly and then bam! It gets amazingly exciting just like that. And come on, I love Jimmy McGill, but it's all about Mike, isn't it? Ah, those dead mackerel eyes. I can't wait to see Jimmy transition into Saul though. And I so hope Gus makes an appearance! Ok, I'll stop.
Shall we talk some more about this amazing bowlful? It really is the easiest dinner ever. It goes like this: chop and sauté a shallot > add oats > add stock > simmer > eat. And then you just need to slice up some brussels sprouts (or any greens you like!) and sauté them in some garlicky butter and pile them on top along with a runny yolked egg.
The egg, btw, is non-negotiable.
The bit where the golden yolk mixes in with the porridge? That is the best bit and it is liquid gold.
The bacon is totally optional but if you are anything like me then you believe that bacon makes (almost) everything better. But unlike the egg, I won't mind if you leave it out. Also - don't skip the nutmeg. It adds an aromatic sweetness, just a little additional depth of flavour, that really makes this.
This is one of those dinners that is almost too simple to be true. Believe me that just a few basic, inexpensive ingredients can combine to make something utterly delicious and soul-warming. That you simply must make!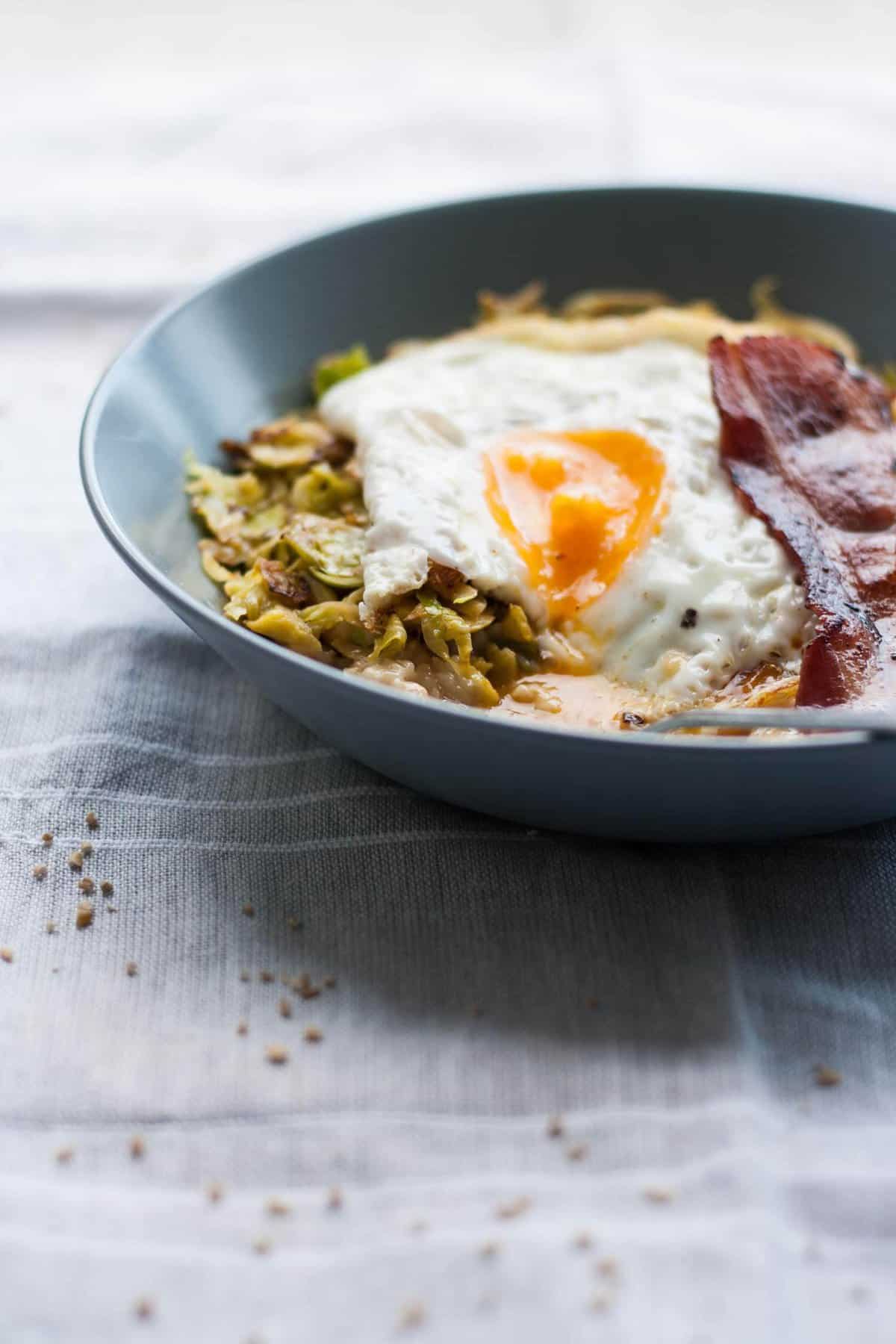 I can't get over that egg. It's a golden river of pure joy.