This post contains affiliate links from which we could earn a small commission. Please read our Privacy Policy for more information.
These caramelized brussels sprouts with bacon and maple syrup are super quick and easy to throw together (in under 30 minutes!). They make the perfect side dish for your holiday meals, especially at Thanksgiving and Christmas. They are so versatile though, you can enjoy them at any time of the year!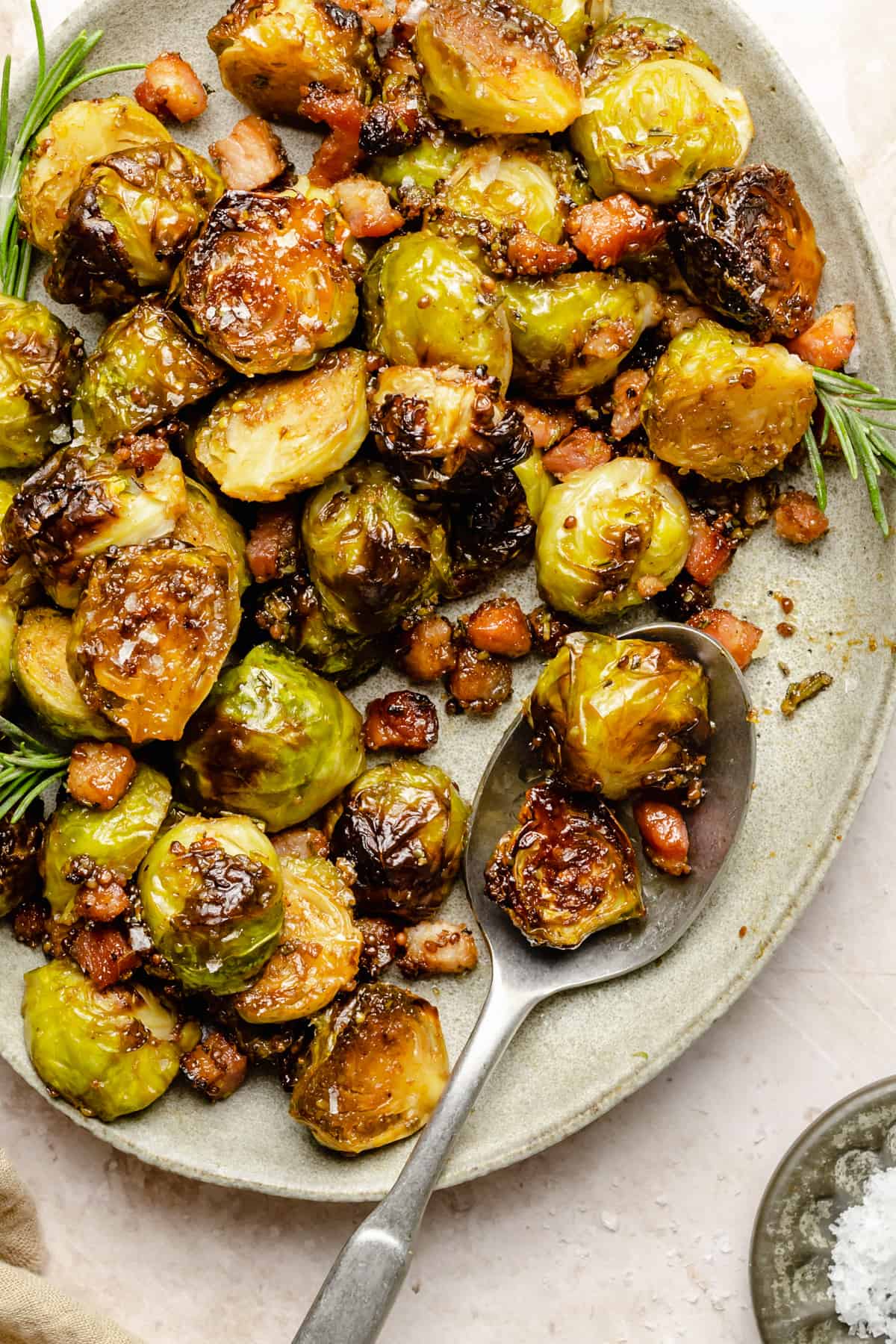 Brussels sprouts have always been a controversial vegetable. Well, not to me! I love them and always have done and I know more people that do than don't! BUT for those who struggle with them, this side dish will convert you completely and those who love them will love them even more! These caramelized brussels sprouts are perfectly balanced with salty smoked bacon, acid from balsamic vinegar and wholegrain mustard and sweetness from maple syrup. They are totally addictive!
You'll want to have this side dish with the perfect roast chicken and the ultimate crispy rosemary roasted potatoes to enjoy for Thanksgiving or Christmas. We love a good roast dinner and think you should have the best recipes to celebrate with family and friends during the holiday season. And I just want to reiterate how quick and simple these brussels sprouts are to cook, too! Oh and by the way you absolutely must make this Roasted Hasselback Butternut Squash with Bacon Brown Butter too!
I love hearing from you guys so please leave a comment with how you got on and how much you love these caramelized brussels sprouts with bacon and maple syrup. Also don't forget to rate the recipe!
Follow the links below to get to where you want to on this page.
Jump to: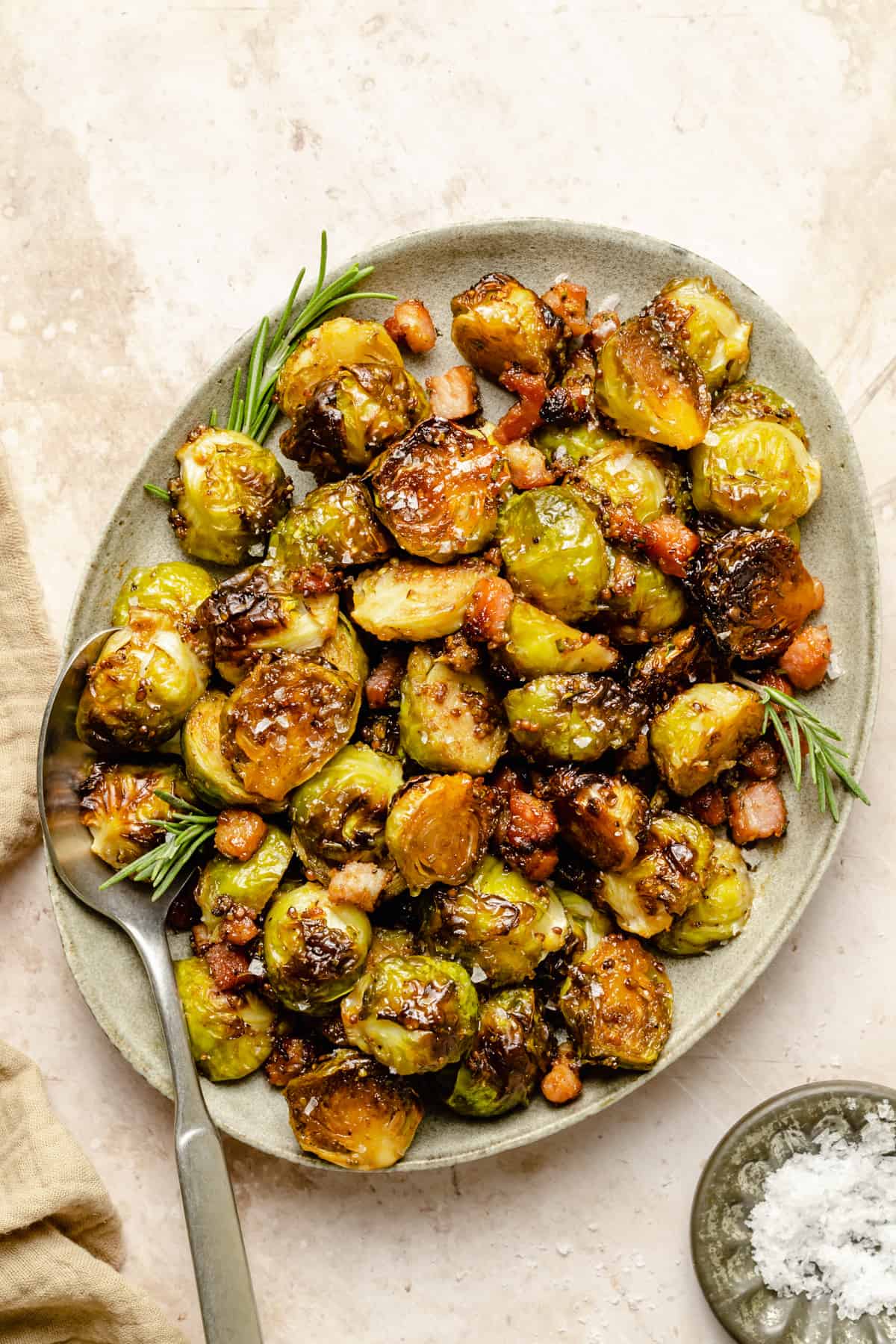 What makes these the best?
These are the reasons you need these caramelized brussels sprouts in your life:
Quick & easy - this recipe will take barely any time to put together; either buy pre-peeled sprouts or whip the darker or marked outer leaves off the unprepared ones. Mix up the marinade and stir it all together. Roast them and you'll be enjoying caramelized brussels sprouts in no time!
Flavour - I think we've nailed the balance on this recipe. The sauce is perfectly sweet, salty and acidic which complements the natural flavours of the brussels sprouts nicely. It satisfies all those taste bud senses. Yum!
Sprout haters - I often think we've all grown up with a poor experience of overcooked boiled bland or bitter brussels sprouts, which is why people learn to hate them early on. But saying that, if you know how to cook them and do it right you'll be converting the haters in no time. I mean, adding bacon makes everything better right? But even without the bacon these are delicious!
Perfect side dish - Thanksgiving is around the corner for the US and Christmas is not too far behind too. Depending on where you are in the world, there are different food traditions for each of these festive holidays but these caramelized brussels sprouts make the perfect side dish for both occasions.
Ingredients
You only need very simple ingredients that are readily available for these caramelized brussels sprouts. This is what you'll need: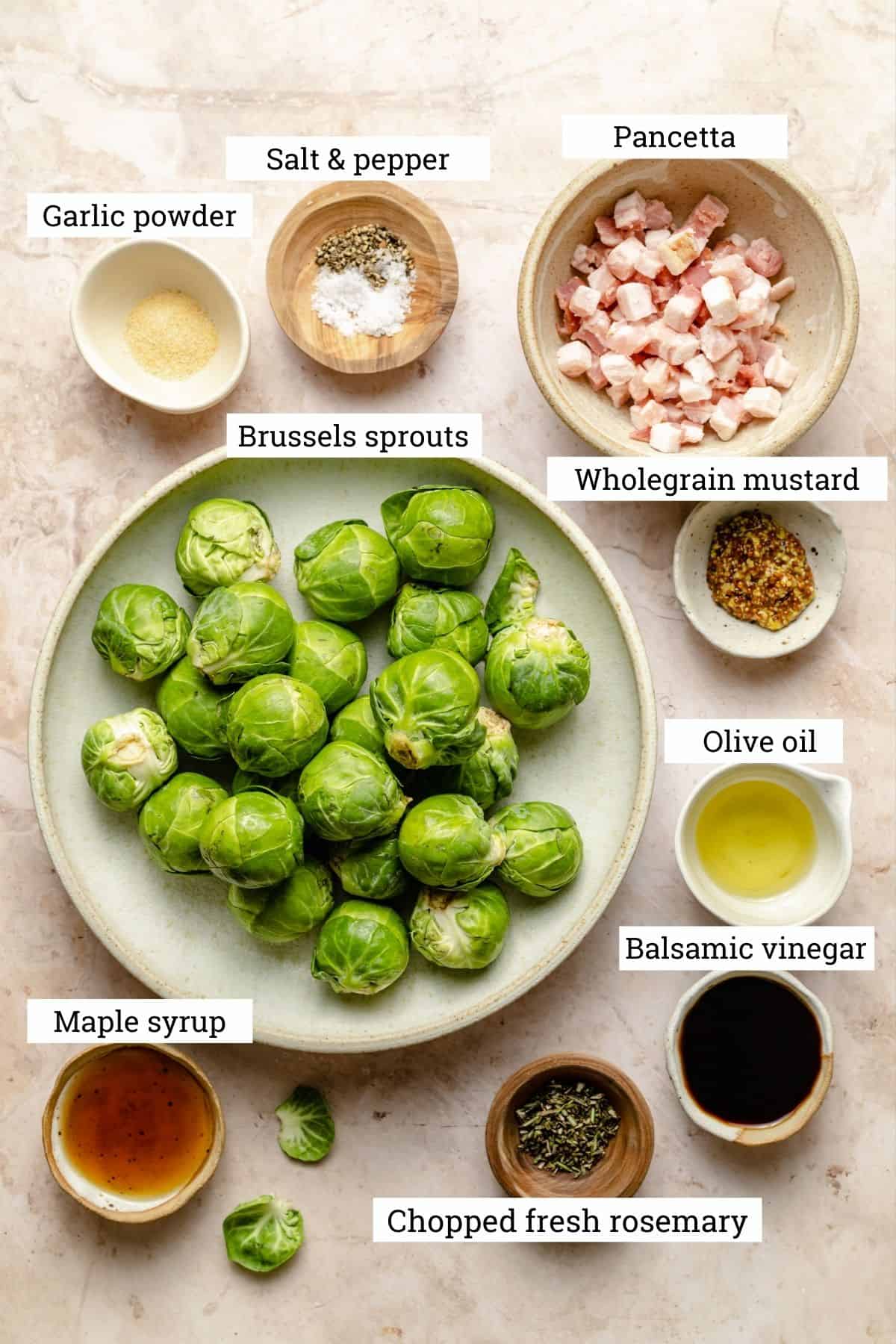 Brussels sprouts - you'll need a good bunch of these, the recipe can be multiplied up too to serve more. They're best after the first frost, but I recommend getting some which are fairly large so they don't shrivel to nothing on baking.
Salty - the saltiness obviously comes from seasoning with sea salt but also you get a lovely salty smoky flavour from the smoked pancetta (which is just the Italian word for bacon). You can use standard bacon lardons (cubes) or pancetta.
Sweetness - you'll need maple syrup to balance the bitterness of the brussels sprouts and add lots of yumminess whilst caramelizing these babies.
Acidity - you'll add acidity to these flavour bombs with balsamic vinegar and wholegrain mustard.
Aromatics - you'll add another level of aromatic flavour using garlic powder, freshly ground black pepper and fresh rosemary.
Olive oil - to aid the caramelization of the brussels sprouts you'll need a little olive oil to get things going.
Customisations/substitutions
Here are some recommendations for customisations and substitutions:
Sweetness - you could switch out with honey or agave syrup but just be sure to take into consideration the fact that their sweetness varies from maple syrup. Nothing says festive holiday season more than caramelized brussels sprouts with bacon and maple syrup though. MMM!
Mustard - if you don't have wholegrain mustard, you can use a smooth french dijon mustard instead if you prefer.
Vegetables - I mean this recipe is wholeheartedly made for brussels sprouts, but if you want to apply the same marinade to other vegetables like parsnips, butternut squash or carrots go for it!
How to make it
These caramelized brussels sprouts are very straightforward to make. Follow these steps to make them: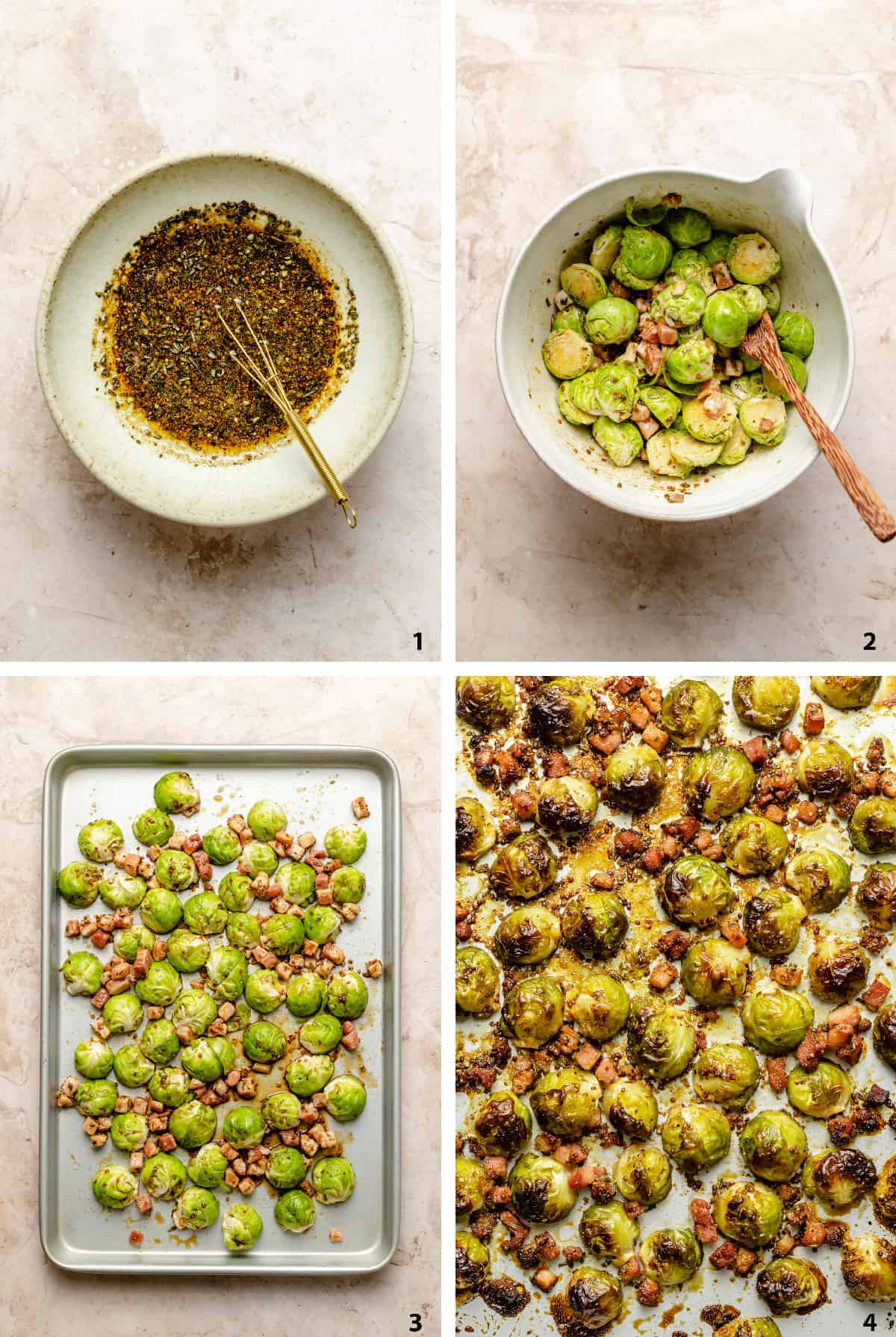 Mix the olive oil, maple syrup, balsamic vinegar, wholegrain mustard, garlic powder, chopped fresh rosemary, salt and freshly ground black pepper in a small bowl with a whisk.
Gently toss the brussels sprouts and pancetta in a large bowl with the marinade until fully coated. (Gently does it, you don't want to break off more leaves).
Pour onto a shallow sided baking sheet.
Bake in a preheated oven at 200C/400F for 20-25 minutes until golden and crispy at the edges.
Recipe tips
Here are some tips that will help you successfully make this recipe:
Peeling - trim only a little from the base of the sprout and peel and remove the darker or damaged leaves from the outside. When you slice the sprout in half be careful not to cut it in a way that it will release leaves as it roasts. Otherwise you'll end up with lots of easily burned loose leaves.
Baking sheet - I recommend using a shallow sided baking sheet and not lining the baking sheet with anything as contact with the sheet will allow better caramelization. As much as I think it's helpful to have a liner for cleaning purposes, the burned on mix washes off easily with just a little soaking in soapy water for 5-10 minutes.
Prepare ahead - this recipe is perfect for prepping ahead of time and roasting just before you need it. Simply prepare the sprouts and store in a ziploc bag for later (you can do this the day before or up to 2 days in advance). You can also prepare the marinade in advance and store in a jar until needed.
Cut side down - placing the brussels sprouts cut side down on the baking sheet aids caramelisation as it means you have greater surface contact between the sprouts and baking sheet.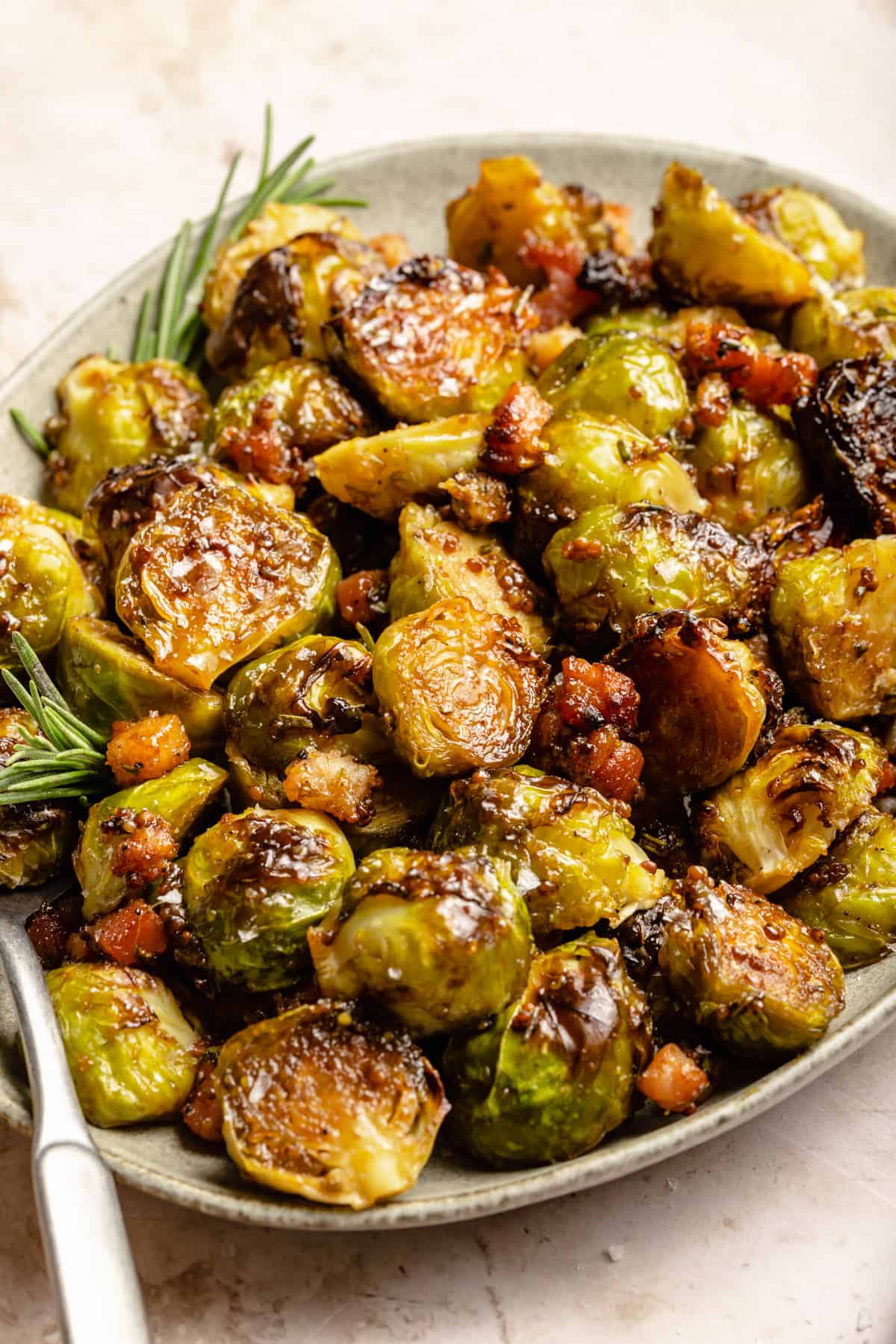 FAQs
How do you get the bitterness out of brussels sprouts?

My best recommendation is not to boil them, if you do, don't cut a cross into the bottom of them as this leads to overcooking and soggy brussels sprouts. If boiling, just leave them whole or halve them. Instead of boiling; fry them, sauté them or roast them. I also suggest following the trick of balancing the taste profile of what you add to the brussels sprouts, like this recipe. By this I mean balancing the salt, acidity, sweetness and obviously bitterness with seasoning; you could also play with the fifth flavour profile of adding umami as that will help too. 
Can I prep brussels sprouts in advance?

Yes! I would recommend peeling and preparing them up to 1-2 days in advance and storing them in a ziploc bag in the fridge until you need them. 
How do I know brussels sprouts have gone bad?

Fresh brussels sprouts should have bright green outer leaves and gradually get paler green to yellow in the centre. As they go off they will brown and the outer leaves will turn yellow and even slimy if you leave them for too long. 
Can I reheat leftovers?

Yes, if you have leftovers, they keep in the fridge for 2-3 days in an airtight container. You can reheat in the microwave for 1-2 minutes or the oven for 5-10 minutes at 180C/350F until hot. 
More tasty dishes...
I hope you love these caramelized brussels sprouts with bacon and maple syrup as much as we do. If you make them, be sure to leave a comment, rate the recipe and tag #eatloveeats on Instagram! I love to see your creations!