This post contains affiliate links from which we could earn a small commission. Please read our Privacy Policy for more information.
This hasselback butternut squash is taken to the next level with bacon brown butter and makes the perfect side dish during autumn. A great addition to any roast or special dinner, especially during the festive season.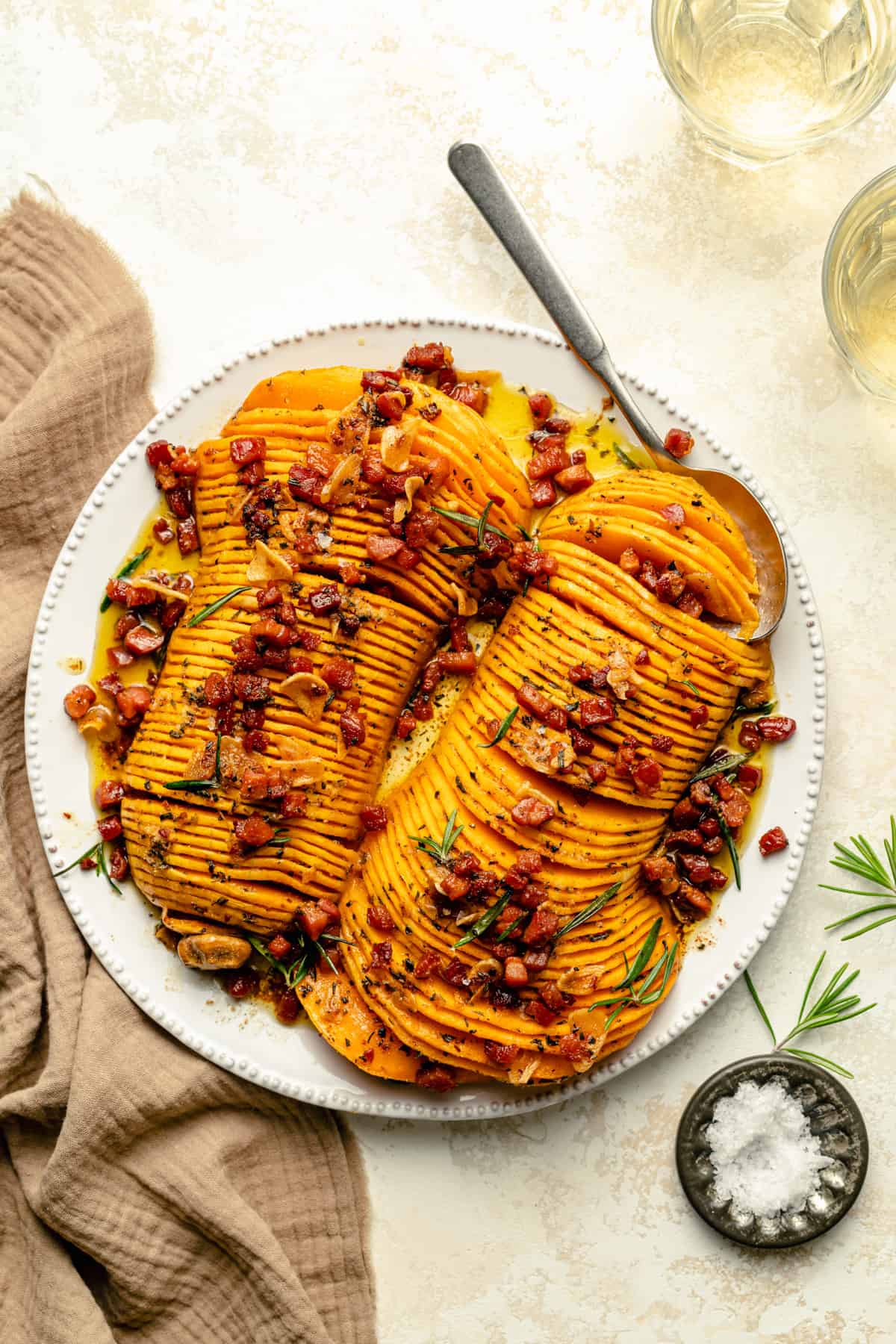 Whether you're looking for an alternative centerpiece for a Sunday roast or an indulgent side dish for your festive Thanksgiving or Christmas meals, look no further. This hasselback butternut squash with bacon brown butter is certainly going to impress during the festivities. It's succulent, full of goodness and drizzled with a bacon brown butter that you won't be able to get enough of! It may seem daunting to hasselback something but with a little careful knife work you can impress your friends and family by making this delicious and beautiful dish. Fear not, we'll show you how with all the tips and tricks in the post below. And if you love butternut squash as much as we do, check out this Wholesome Fall Grain Salad with Harissa Dressing.
This recipe is one sure way of amping up a butternut squash to really get those taste buds buzzing. It's the perfect way to complete your spread this festive season. Don't forget your perfect roasted chicken, caramelized brussels sprouts and crispy rosemary roasted potatoes too! Make sure to use the links below to get to where you need on this page to get all the information you need. 
Jump to:
I love hearing from you so please leave a comment with how you got on and how much you love this super tasty side dish. Also don't forget to rate the recipe!
Ingredients
You only need very simple ingredients that are readily available for this recipe. This is what you'll need: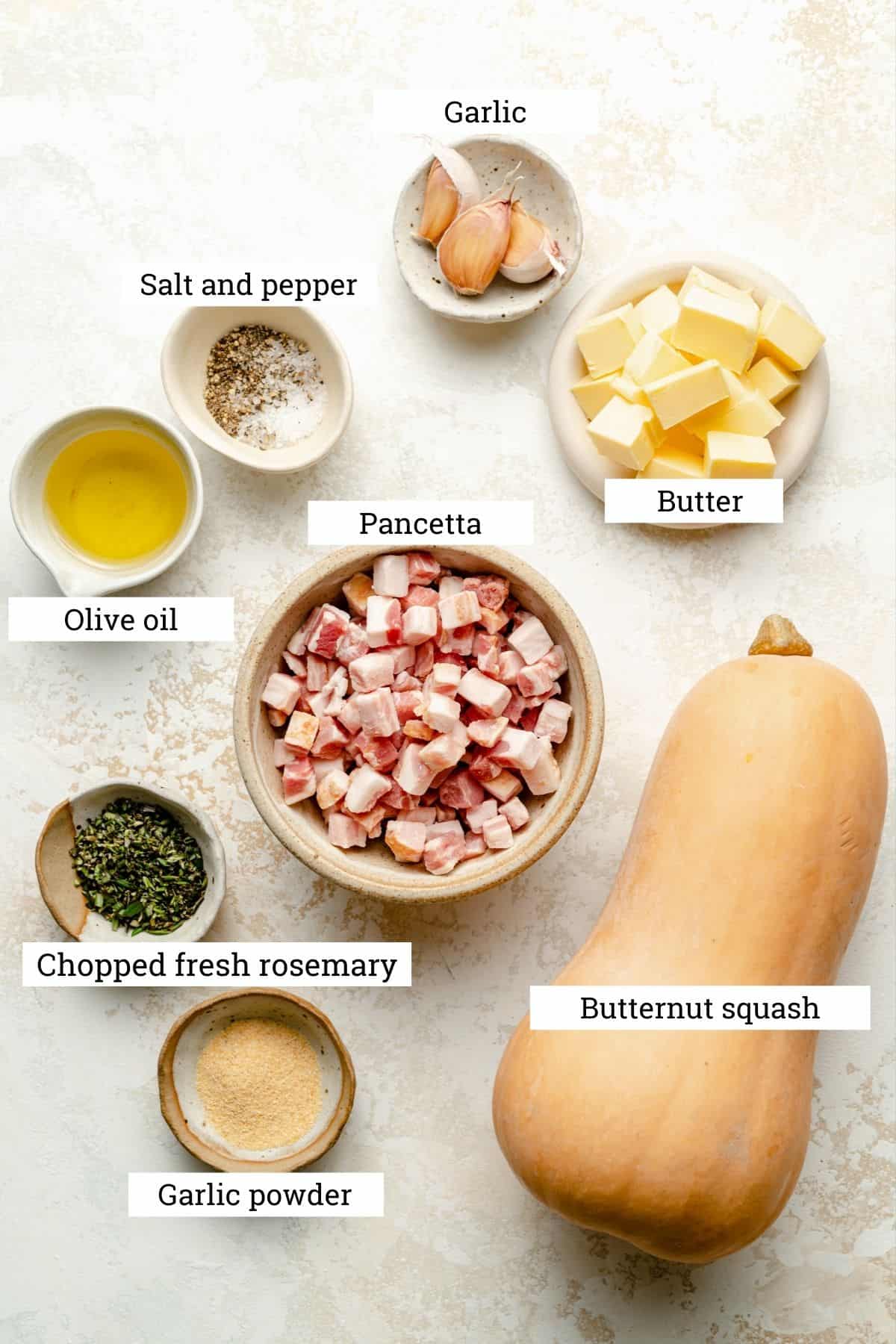 Butternut squash - The trick with butternut squash is to ensure you get one that feels heavy, otherwise it may have a holey, mealy texture. You'll need a medium-large squash that's roughly 2-3 pounds in weight.
Smoked pancetta - pancetta is a wonderful thing and adds a wonderful flavour to this dish. You can easily get smoked cubetti di pancetta where I live. It's basically just cubed smoked bacon, but you can substitute for standard bacon if you prefer.
Aromatics/seasonings - You'll only need a few of these to just enhance everything; make sure you have garlic powder, garlic cloves, fresh rosemary, salt and pepper.
Salted butter - brown butter is integral to making this a special dish for the festive season; you'll need salted butter for this. The brown butter imparts such a wonderful nutty flavour to the hasselback butternut squash. Don't miss it.
Customisations/substitutions
Here are some recommendations for customisations and substitutions:
Vegetable - here we use butternut squash, but you can use another type of squash if you prefer. Just make sure they are smooth and easy to peel. I don't recommend spaghetti squash. I would definitely suggest doing this with potatoes or sweet potatoes but the cooking times will vary.
Bacon - I use smoked cubetti di pancetta, basically just cubes of smoked bacon. You can switch it out with smoked bacon lardons if you prefer or even use just sliced streaky bacon. The pancetta brown butter is not cooked in the oven so you still control how far the bacon goes in crispiness.
Herbs - I highly recommend rosemary in this recipe as it pairs perfectly with the hasselback butternut squash and the pancetta. You can absolutely use sage instead though.
Glaze - You can make the bacon brown butter drizzle into more of a glaze if you prefer by adding in maple syrup or honey whilst mixing together the brown butter and pancetta.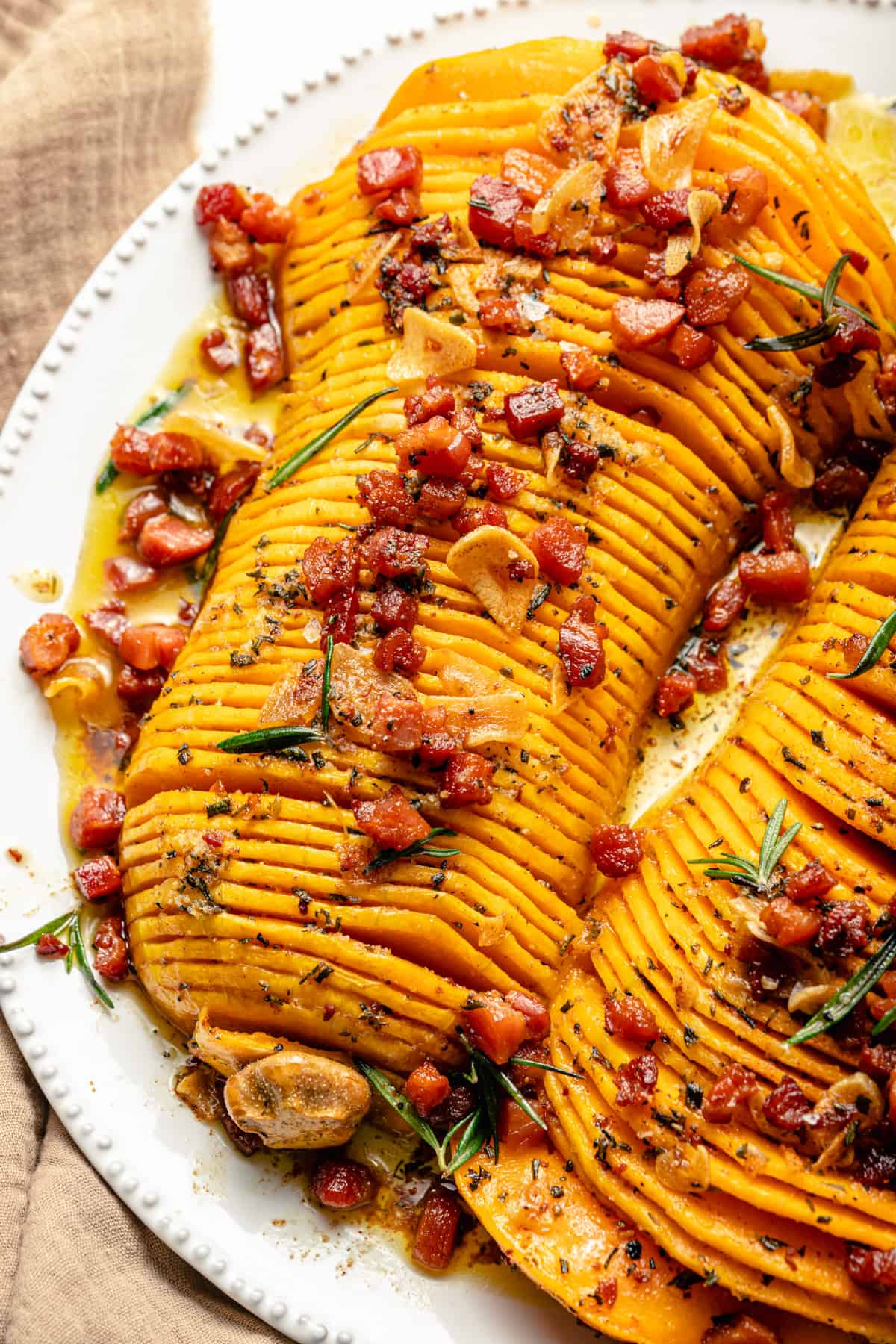 Tools you'll need to successfully hasselback any vegetable
A sharp knife - you'll need a sharp knife to cut perfect slices into your squash. Depending on how firm and hard your vegetable is, you might use one of a variety of knives but I would recommend a chef's knife for butternut squash as they can be quite tough.
Chopsticks - Chopsticks help you to get perfect slices without cutting all the way through your squash. I don't recommend using any fancy ones you may have kicking around, as the chopsticks will get knife marks all along them.
Chopping board - I highly recommend getting a slightly damp tea towel and placing it underneath a large wooden chopping board to ensure it won't slip or move. The last thing you want is to lose any fingers!
How to hasselback
These are the key steps to preparing your hasselback butternut squash: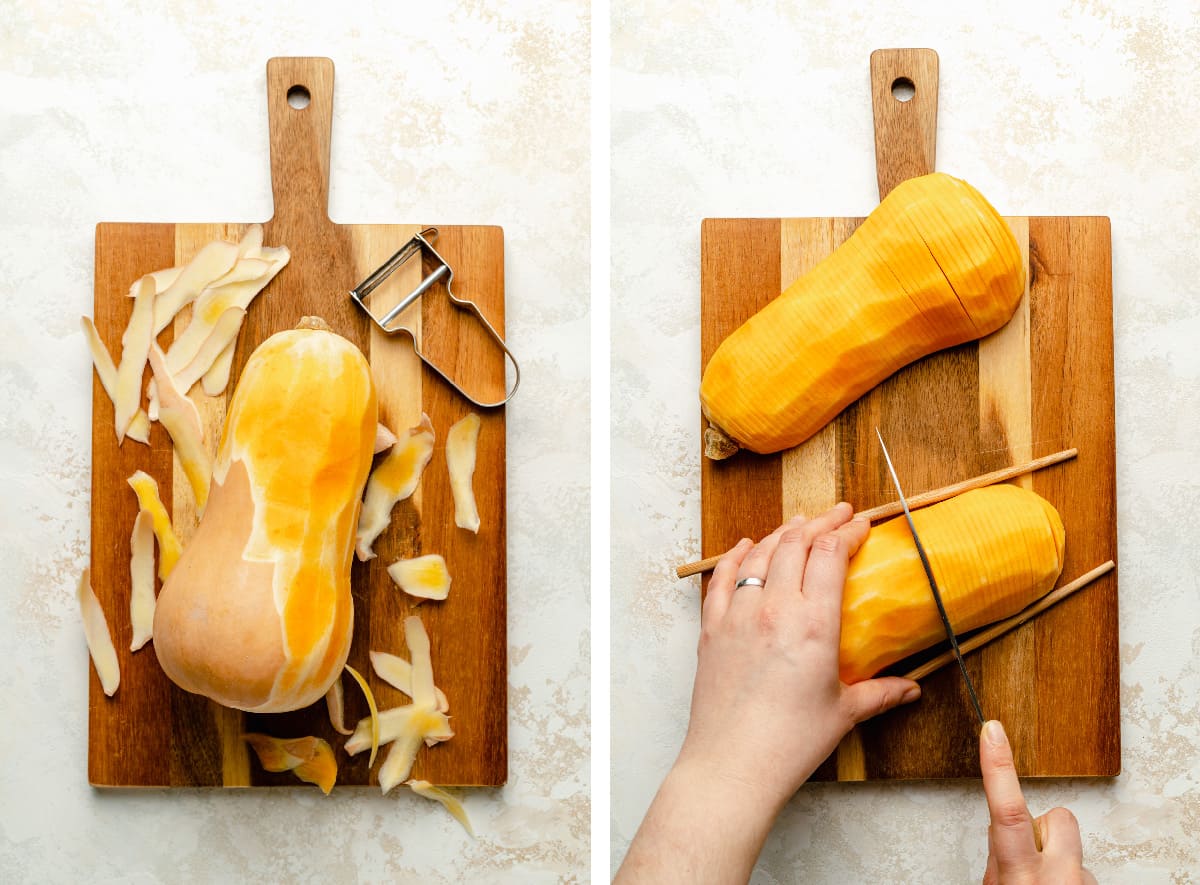 Secure your chopping board safely on the work surface and ensure you have removed all the skin of the butternut squash. I highly recommend a speed peeler for this task.
Cut your butternut squash in half lengthwise and remove the seeds from inside with a spoon.
Lay your squash half flat side down on your chopping board and place the chopsticks either side ensuring they are tight to the squash so you can hold them in place with your non knife holding hand.
Using your sharp chef's knife make incisions ⅛th of an inch apart along the width of the butternut squash half. It's best to hold the knife level and just slice down in one movement. The chopsticks will prevent you from cutting all the way through the squash.
The slices you make will need to be as vertical to each slice as possible as if not you will cut wedges out of your squash instead. Repeat all the way along the squash to create your hasselback.
How to make it
This side dish is very straightforward to make and will definitely impress. Follow these steps to make it:
Roasted hasselback squash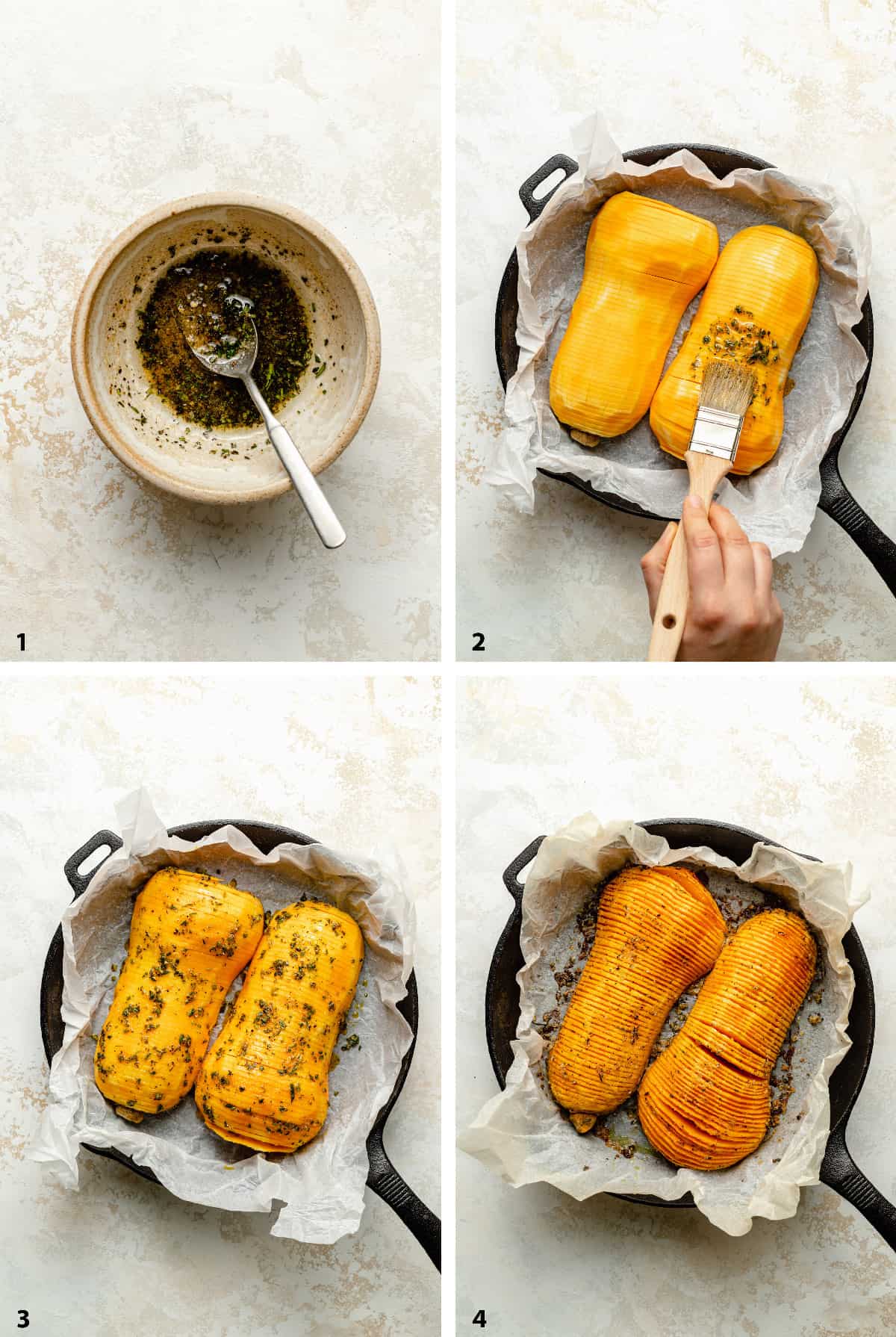 Mix together the olive oil with the freshly chopped rosemary, garlic powder, salt and pepper in a small bowl.
Place your prepared hasselback butternut squash top to tail in a large cast iron skillet or on a baking sheet lined with parchment paper. Brush the marinade on to the squash.
Ensure you brush the whole surface of the squash including the underside (flat side).
Roast the hasselback butternut squash in a preheated oven at 200C/400F for 45 minutes until tender enough to easily insert a cake tester or knife into the squash.
Making the bacon brown butter
Saute your cubetti di pancetta or bacon chunks in a small skillet until golden and crispy, about 6-8 minutes over a medium heat. About 2-3 minutes before you get the perfect crispiness add in the sliced garlic cloves and sauté until the bacon is perfect and the garlic is golden (not burnt). Remove into a bowl and set aside.
In the same skillet, brown your salted butter over a medium heat for 5-7 minutes, whisking constantly until it foams and darkens in colour. It will smell nutty. You can add the bacon and garlic back into the browned butter and stir through the finely chopped rosemary. This is now ready to serve.
Serve immediately at the table by pouring over the bacon brown butter and garnish with extra rosemary then enjoy!
Recipe tips
Here are some tips that will make this recipe the most successful.
Picking your squash - Make sure you get a heavy squash as sometimes they can be holey or mealy. The best way to avoid this is to ensure your squash is as dense as possible.
Hasselback - if it's your first time attempting a hasselback, make sure to take your time, you want to be careful and deliberate. It isn't a difficult technique but you don't want to hurt yourself either. Make sure your slices are as vertical as possible to prevent wedges being cut out, if this happens don't worry just place the wedge back in. Cutting at ⅛th inch between slices ensures uniform cooking but also means that your squash will be flexible to the touch when cooked which can help for serving and making it look pretty during the holidays.
Cake tester - use a cake tester or a knife and it should penetrate with ease when cooked, if there is some resistance, cook the hasselback butternut squash for a bit longer.
Preparing ahead - you can prepare most of this recipe ahead of time. Make the brown butter and let it cool in a bowl, when ready to use just heat in a skillet then add in the pre cooked bacon, garlic and chopped rosemary before serving. The actual butternut squash can be cut in half and hasselback prepared ahead of time (2-3 days in advance) just ensure you place it in a ziploc/reusable bag or wrap it in clingfilm to stop it drying out in the fridge.
What to do with leftovers?
If you have leftovers or have made a bit too much of this wonderful side than is consumed, this makes the most flavoursome soup! Blend it all (including the bacon - trust me!) in a jug blender with some water or stock and you'll make the best soup which you can have for lunches during the week or put in the freezer in portions! Or you could use it in our Roasted Butternut Squash and Red Pepper Soup instead.
FAQs
Do you need to peel butternut squash when roasting?

Some say you don't need to peel them but I personally prefer to do so as butternut squash skin tends to go leathery on roasting and I am not fond of that texture. Peeling a butternut squash is so easy with a speed peeler (check out the equipment in the recipe card).
Can I prepare this ahead of time?

Yes you absolutely can, prepare the hasselback butternut squash and store in the fridge for 2-3 days in advance and you can do the same with the pancetta brown butter. Just roast the squash when needed and reheat the pancetta butter just before serving. 
Can I freeze leftovers? 

No, I wouldn't recommend freezing the hasselback butternut squash as leftovers. However I would recommend repurposing the leftovers into a soup and then freezing the soup for another day.
What to serve this with
Other tasty warming meals...
I hope you love this hasselback butternut squash with bacon brown butter as much as we do. If you make it, be sure to leave a comment, rate the recipe and tag #eatloveeats on Instagram! I love to see your creations!