Meet your new favourite breakfast. Maple Pecan Oatmeal Bowls!!!!!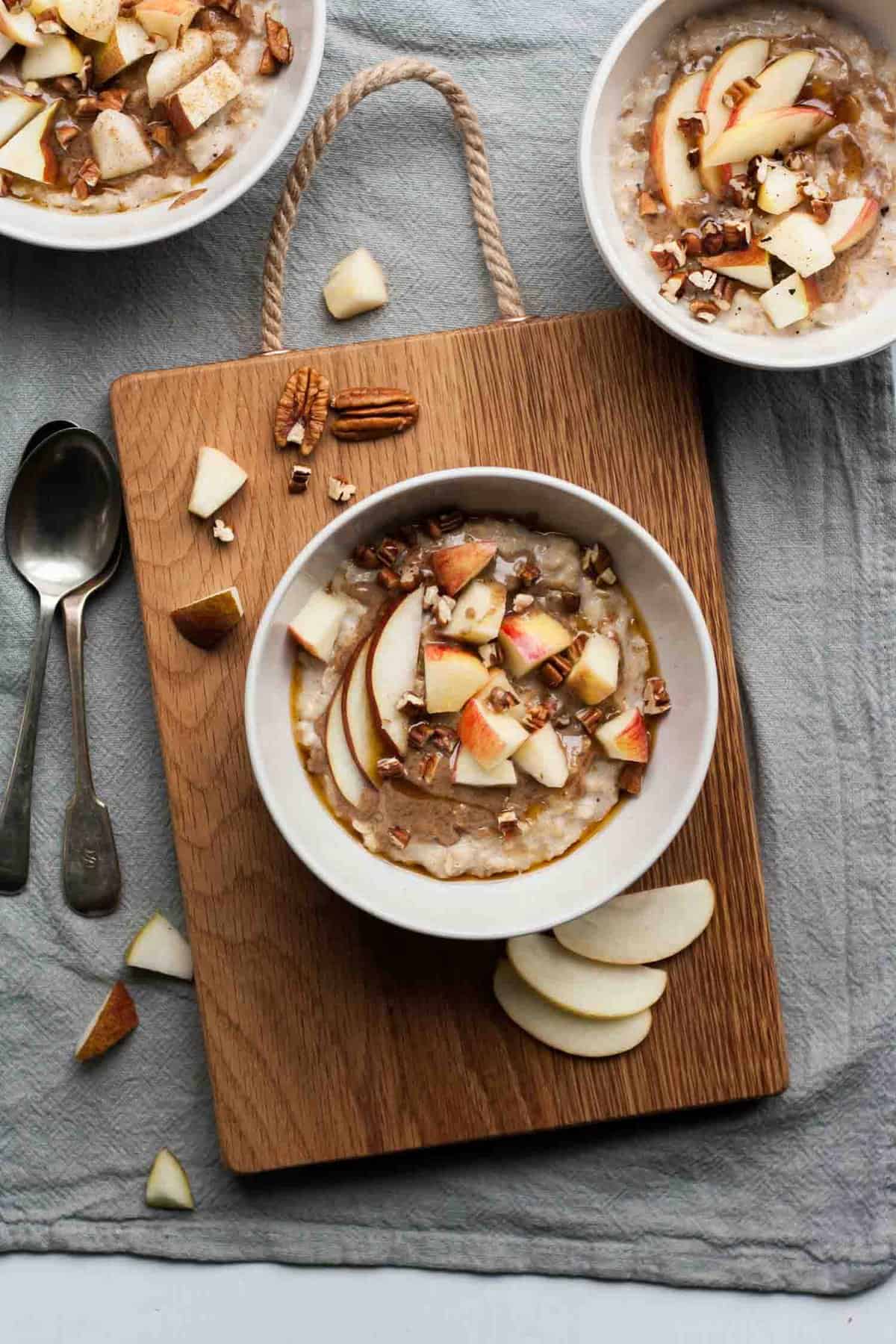 Ok, so I mentioned these when I shared my Maple Pecan Butter Cups, but in the end I decided that they were deserving of a blog post all their own! This 'recipe' is so super simple, it's barely deserving of the title. We're talking about making some porridge/oatmeal and piling on some toppings. Done. But I get the feeling that the world enjoys non-recipe recipes sometimes, more than I would imagine, since I tend to reside on the upper end of the bell curve in terms of time spent thinking about/cooking food. I get that a lot of you just wanna eat though, right? So, I figured that these Maple Pecan Oatmeal Bowls weren't too basic to put on the blog after all. And here we are. Let me know if my assumption was wrong - I really am interested in what kind of recipes you would like to see here.
A giant hug in a bowl, that's what this is. It's so cosy! And downright delicious. And super nourishing too as it happens - not by design but by happy accident. I love it when that happens. Simply put, these Maple Pecan Oatmeal Bowls are just the perfect way to start the day. And that's coming from me, the savoury breakfast die-hard!
Here's the details: a big bowl of steaming oatmeal (heavenly scented with cinnamon and vanilla) gets topped with a huge dollop of the smoothest, most delicious maple pecan butter, chopped apples and pears, crunchy pecans and a generous drizzle of maple syrup to tie it all together. Could there be a more warming, more autumnal breakfast than this? I don't think so!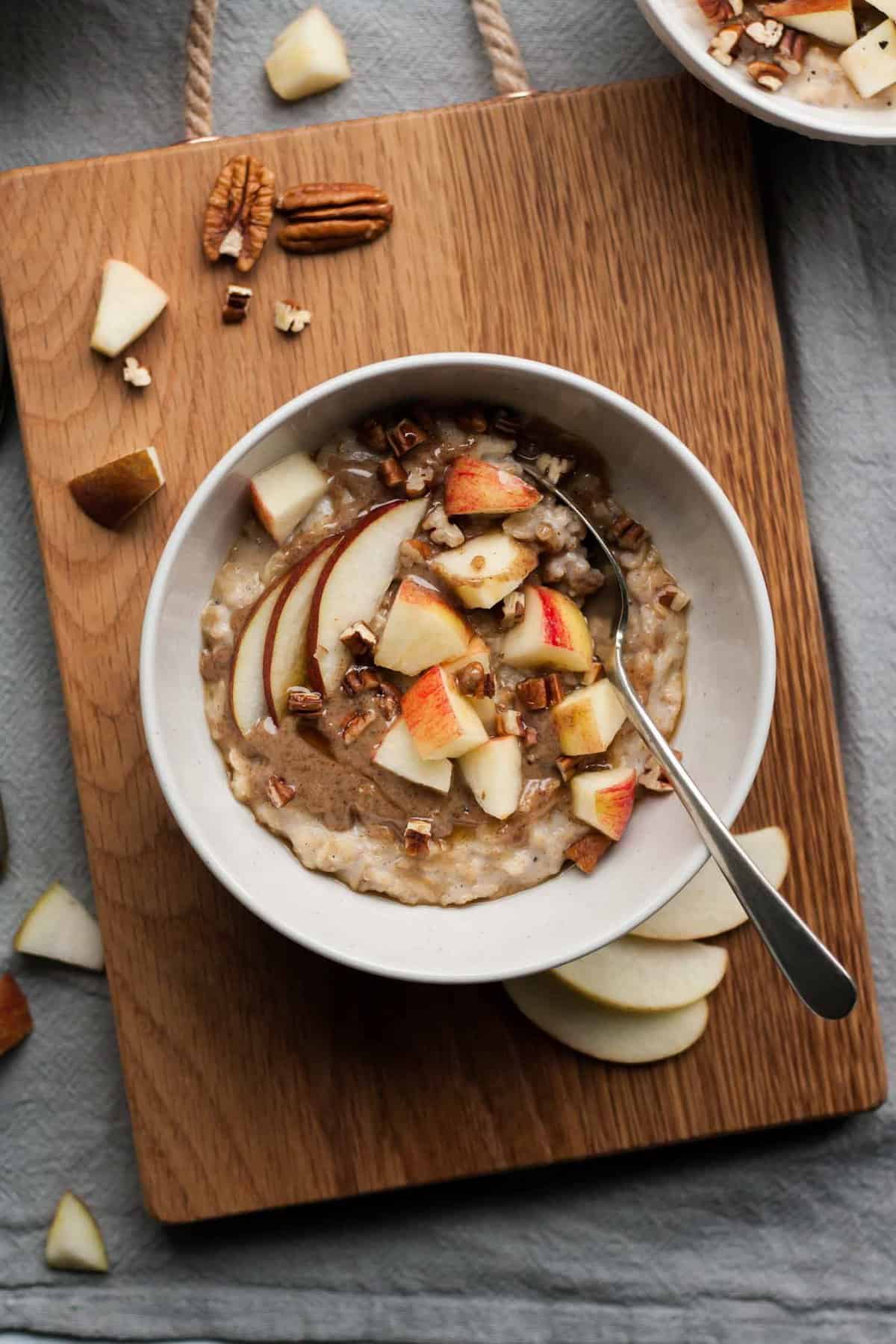 I wanted to say a few words about photography today, too. One of the most exciting things for me as a food blogger is the journey I am taking in exploring my own creativity. A little back-story about me: I grew up being taught, as I think that most of us are, that the only way to have a worthwhile existence in life was to forge a great career for myself. For me personally, that lesson went along the lines of 'science - good, creativity - bad'. I believed that to have a career in a scientific pursuit, especially as a woman, was how I would make it in life. So I neglected the more creative subjects and studied science in school. And then off I went to university to study pharmacology with the view to study medicine afterwards. I had it all mapped out. But then, one day, post-pharmacology but pre-medicine, I decided that none of that was for me after all. I had exposed the lie that I had been believing and I was done with it.
Fast forward a few years and I'm here. I'm still trying to figure it all out but most importantly, I'm happy. Happy with my decision, happily married, happy with my life. Of course, there are things that I would like to be different, but I have faith that everything will work out. And I'm having fun trying things out along the way. Like my photography.
I'm still trying to figure out my style but I guess these things take time. I'm never fully content with what I create and frequently, that stops me from publishing it here. But I'm going to practice resisting that little voice in my head that tells me to only put my best foot forward here, because that's impeding my growth. And hey, growth can be painful sometimes but it's worth it in the end.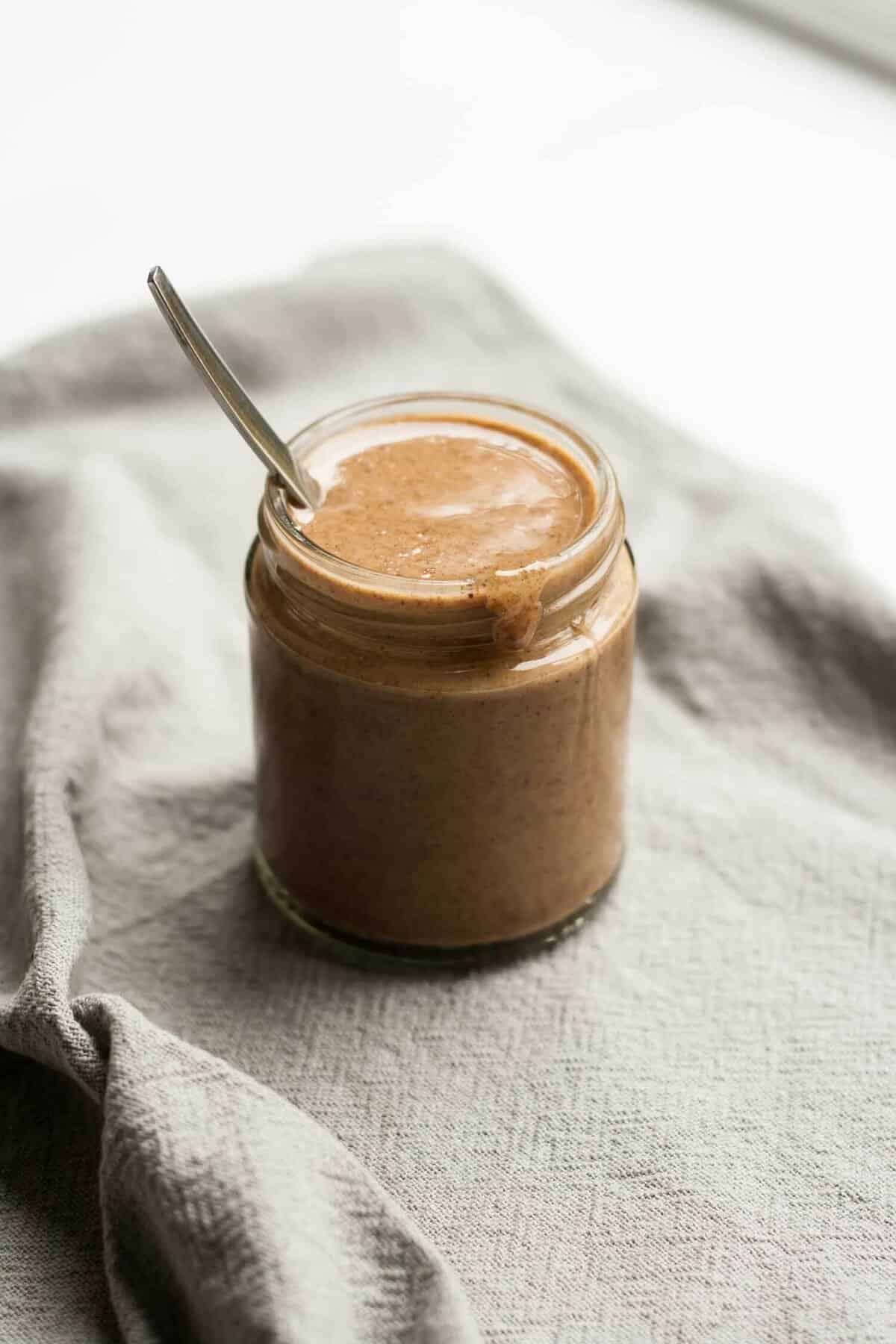 One final thing. You might remember that when I posted my recipe for Maple Pecan Butter Cups I mentioned having some difficulty making the maple pecan butter. Whilst that recipe does indeed work well and the consistency of that maple pecan butter is ideal for making maple pecan butter cups, I wanted to see if I could achieve a looser consistency for topping the oatmeal. And I did and IT IS GOOD. So good. It takes a little longer to make but the results are absolutely worth it. The secret, it turns out, is to coat the pecans in maple syrup and THEN toast them in the oven, resulting in the most addictive, salted maple caramel pecans that you better tip into your food processor quick before you eat them all. Proceed as normal, adding just a pinch of vanilla powder if you fancy it and bingo - the runniest maple pecan butter to drizzle all over your porridge. Heaven.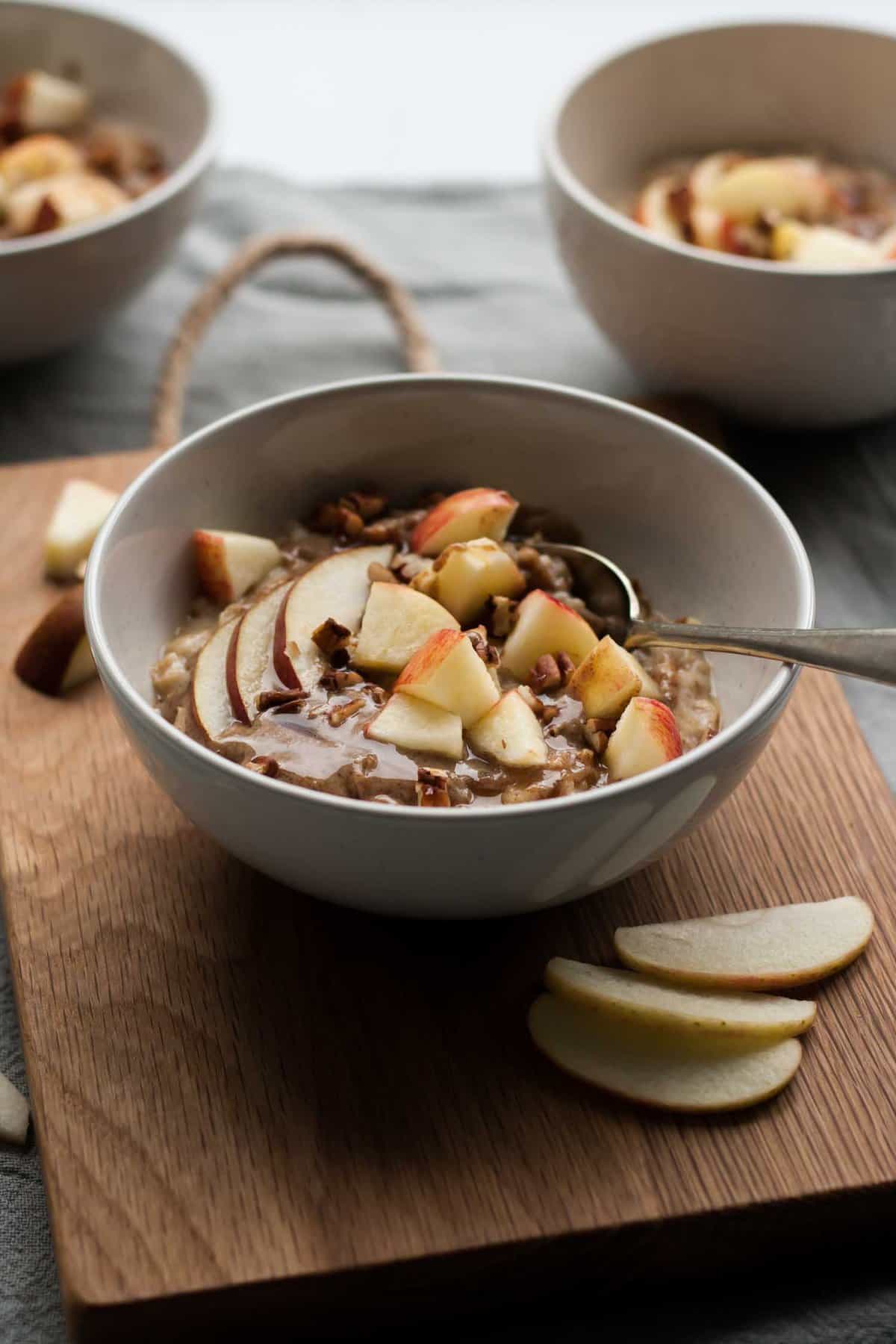 Ingredients
1

cup

rolled oats

1

cup

milk

,

of choice

1

cup

water

pinch of salt

¼

teaspoon

cinnamon

¼

teaspoon

vanilla powder

,

or use a splash of extract

1

apple

,

chopped

1

pear

,

chopped

a handful of pecans

,

roughly chopped

maple syrup to drizzle
For the maple pecan butter
Instructions
Make the oatmeal according to the package instructions. I tend to use half milk and half water and add ¼ teaspoon each of vanilla powder and cinnamon and a good pinch of salt.

1 cup rolled oats,

1 cup milk,

1 cup water,

pinch of salt,

¼ teaspoon cinnamon,

¼ teaspoon vanilla powder

Top with the maple pecan butter, apples and pears, pecans and a good drizzle of maple syrup.

1 apple,

1 pear,

a handful of pecans,

maple syrup to drizzle
To make the maple pecan butter
Preheat oven to 150°C (300°F).

Mix together the pecans, salt, maple syrup and melted coconut oil. Spread out on a lined baking sheet and bake for 12-15 minutes until the maple syrup has coated the pecans.

200 g pecans,

¼ teaspoon flaky sea salt,

3 tablespoons maple syrup,

1 teaspoon coconut oil,

¼ teaspoon vanilla powder

Leave to cool for 10 minutes until set. Try not to eat them all!

Tip into the bowl of your food processor and process until finely ground. Scrape down the sides of the bowl and continue to process until a smooth nut butter forms. For pecans this takes around 5 minutes.

Transfer to a clean jar.
Nutrition
Calories:
411
kcal
|
Carbohydrates:
66
g
|
Protein:
12.1
g
|
Fat:
9.9
g
|
Saturated Fat:
1.9
g
|
Polyunsaturated Fat:
2.7
g
|
Monounsaturated Fat:
5.2
g
|
Cholesterol:
2.5
mg
|
Sodium:
1255.9
mg
|
Potassium:
983.2
mg
|
Fiber:
9.6
g
|
Sugar:
29.7
g
|
Vitamin A:
6.2
IU
|
Vitamin C:
7.4
mg
|
Calcium:
208.2
mg
|
Iron:
2.1
mg
Did you make this recipe?
Leave a comment below with how you got on and don't forget to give the recipe a rating ⭐️⭐️⭐️⭐️⭐️. You can also tag @eatloveeats on Instagram - we love to see your creations!