This maple brown sugar oatmeal is the best way to start the day in the cooler fall months. Quick and easy to make in under 20 minutes, you'll soon be enjoying a steaming bowl of this oatmeal to warm yourself through.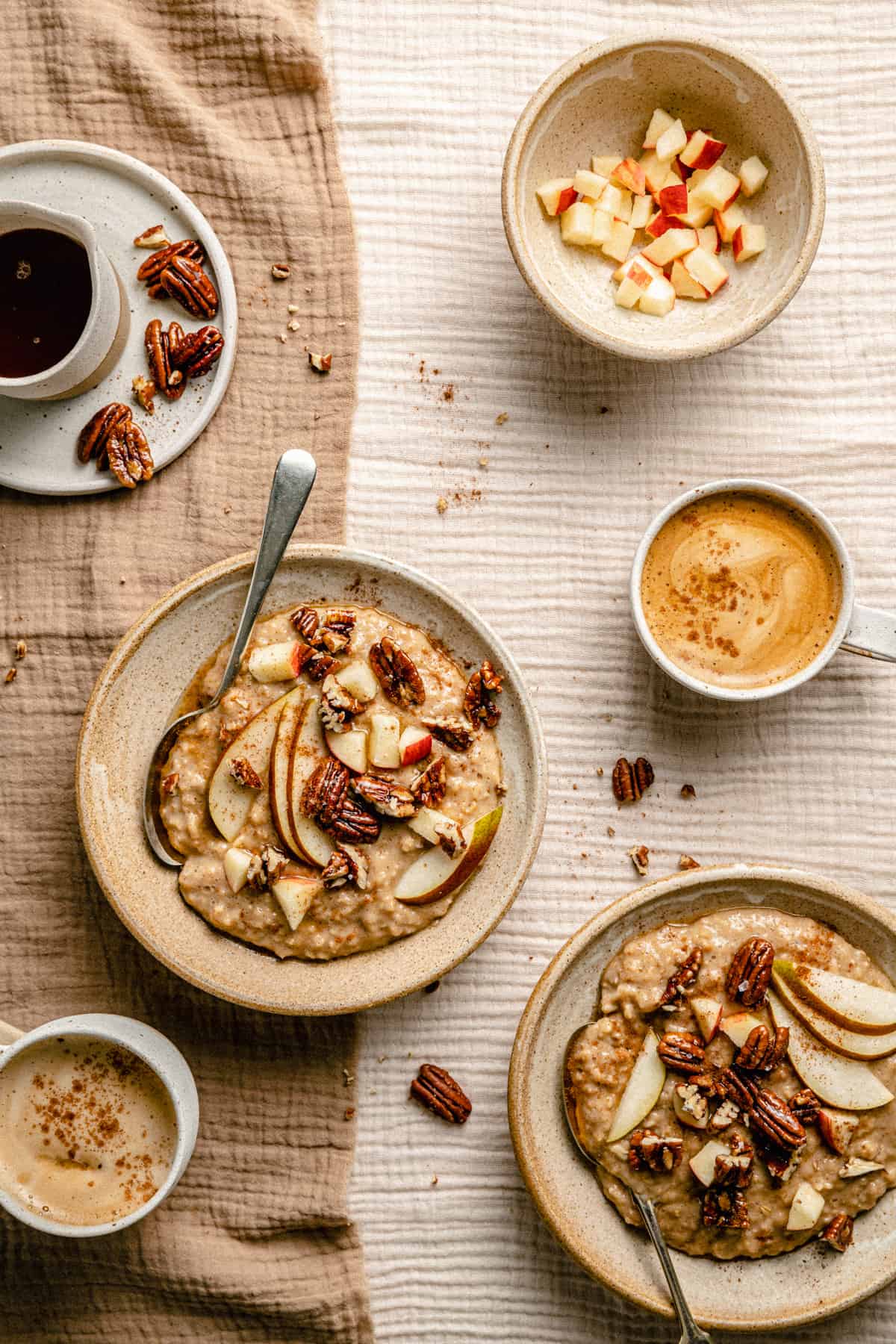 Oats are a wonderfully nutritious ingredient to use and this maple brown sugar oatmeal certainly makes good use of them. We're definitely getting into the cooler months now and fall is truly setting in. This oatmeal is quick to make and has all those autumnal feels and aromas about it.
We love oats for breakfast if you haven't noticed, like our Apple Baked Oatmeal which is just perfect for the season. Or our Double Chocolate Peanut Butter Baked Oatmeal if you want to go all out peanut butter style. They're all simple to make and use easy to find ingredients.
We know you'll love this brown sugar oatmeal, it's not as sweet as you might think! And it's perfect served with our quick maple glazed pecans, chopped apples and pears on top.
Make sure you leave some love in the comments and rate the recipe after you've enjoyed a bowl of this easy oatmeal. Just follow the links below to get exactly where you need.
Jump to:
Why you'll love this recipe
Here are some reasons why you need this maple brown sugar oatmeal recipe in your life:
Quick - quick breakfasts are the best and this beautifully sweetened and spiced oatmeal hits the mark here. Nice and simple.
Tasty - we've got all those caramel notes from brown sugar and maple syrup mixed with cosy cinnamon and then topped with some seasonal toppings. The best flavours right there.
Toppings - we're a big fan of all the toppings on oatmeal, here make maple glazed pecans and sprinkle them on top with some diced apple and pear. Mmmmm!
Satisfying - oats are full of fibre, protein and fat giving us a well rounded and filling breakfast to start the day. We all want to be fuller for longer in the cooler months don't we?
Ingredients
You only need simple ingredients for this maple brown sugar oatmeal recipe, this is what you'll need: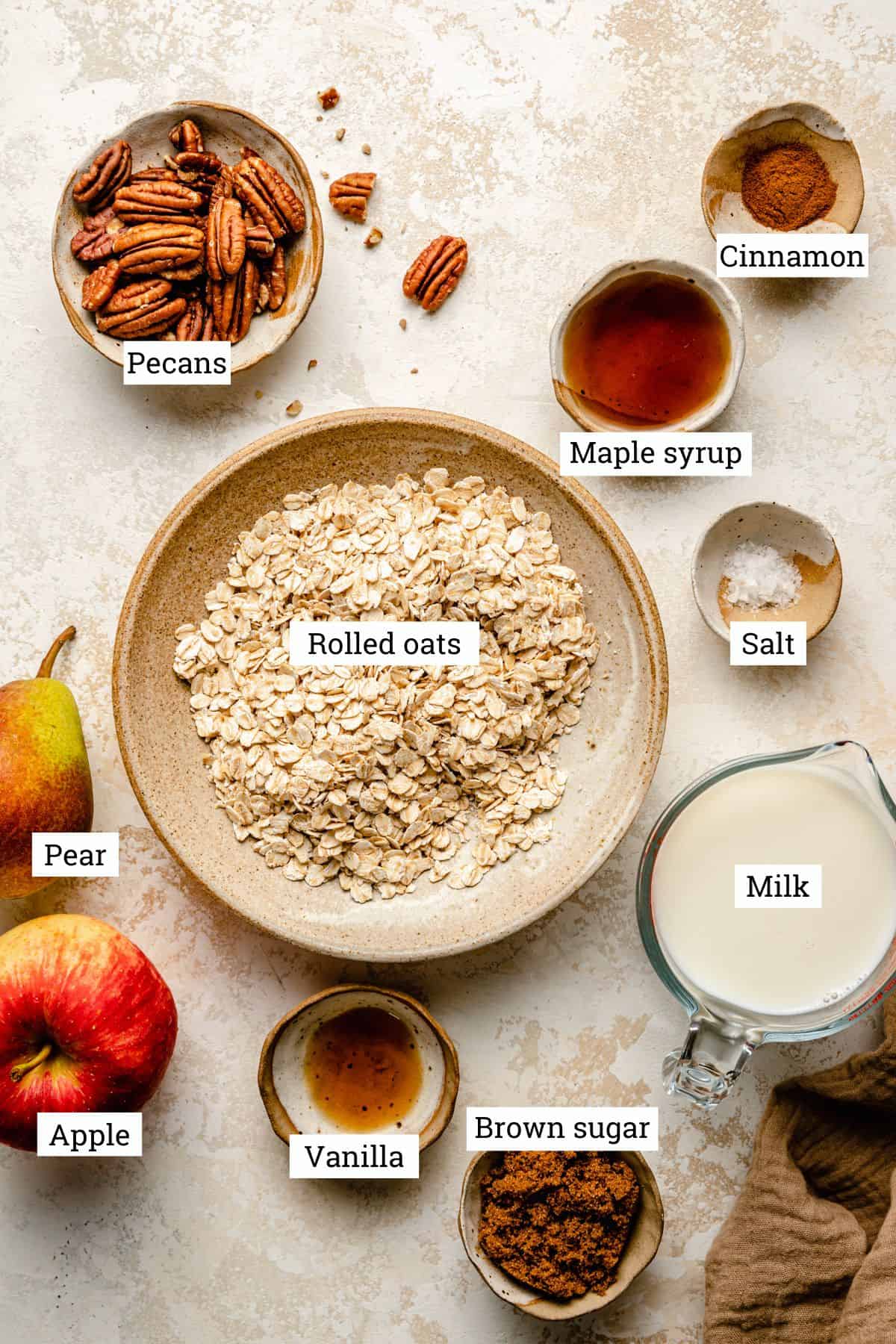 Rolled oats - we use rolled old fashioned jumbo oats for this oatmeal, it gives a better texture in the final result, though you could use quick oats for a finer oatmeal if you prefer.
Sweetness - you'll be using maple syrup and dark brown sugar for this oatmeal, both add their own characteristic caramel, nutty flavours. You can always substitute the dark brown with light brown sugar if that is what you have.
Cinnamon - for the light touch of autumnal spice, this makes for the best combination of flavours with the sweetness for the oatmeal.
Milk - we like to use milk for our oatmeal, it adds a lovely creaminess to the breakfast. You can use any milk you like, or you can split it 50/50 with water, or go full traditional Scottish with just water.
Customisations
We know you love to mix things up with customisations and substitutions so here are some of our recommendations for this brown sugar oatmeal recipe:
Dairy free - make this completely dairy free with any alternative milk you like or simply use water in place of the milk.
Quick oats - switching the rolled oats with quick oats will give your oatmeal a finer texture and it will be faster to cook.
Toppings - Mix it up with the toppings: use different nuts, raisins, chop up some plums or finish with some of your favourite nut butter.
Spices - we love the good note of cinnamon in this oatmeal, but feel free to throw in some nutmeg and a pinch of allspice. Or go all out and use a pinch of apple pie or pumpkin pie spice mix.
How to make maple brown sugar oatmeal
Follow these simple step by step guides to success for this sweetened oatmeal recipe: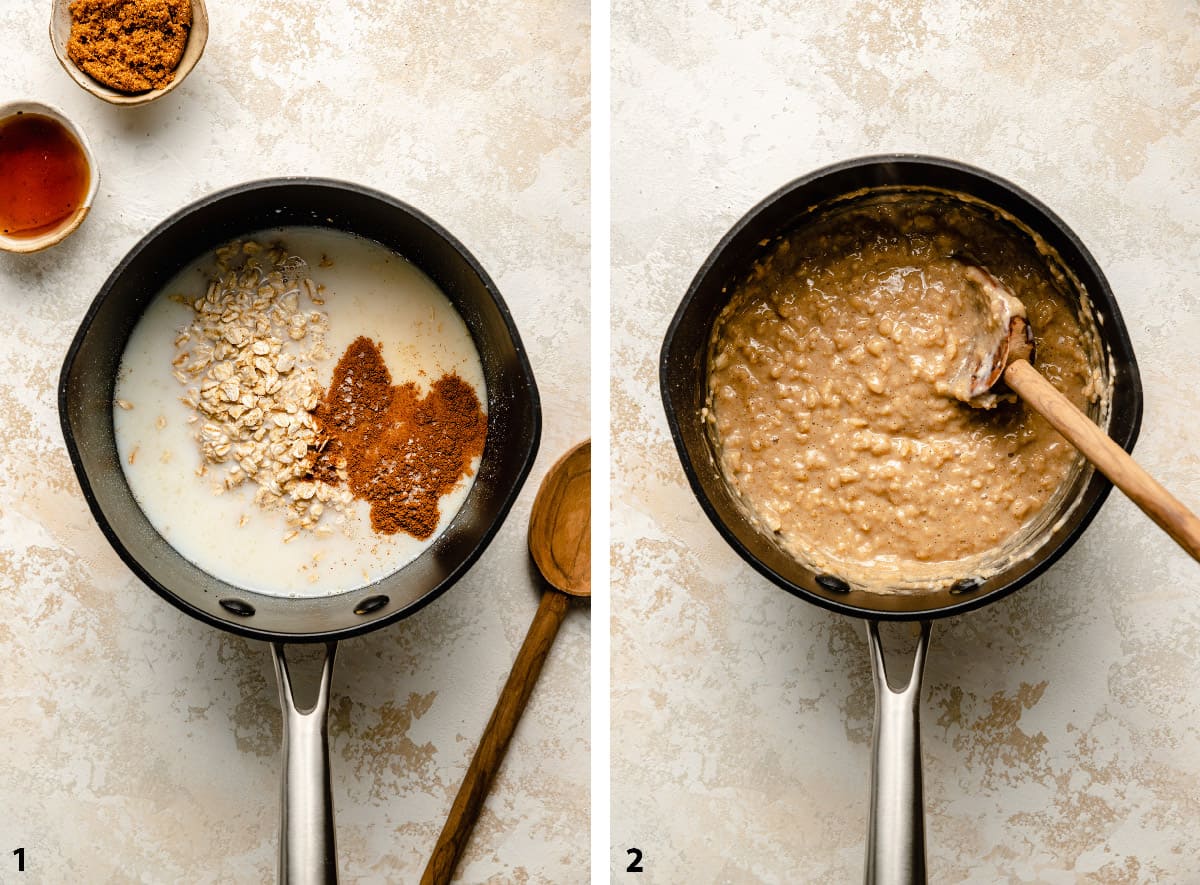 Place the oats, milk (or liquid of choice), salt and cinnamon into a saucepan. Stir to combine.
Heat over a medium heat for 5-10 minutes, constantly stirring until the desired consistency is reached. Stir through the vanilla extract, maple syrup and brown sugar.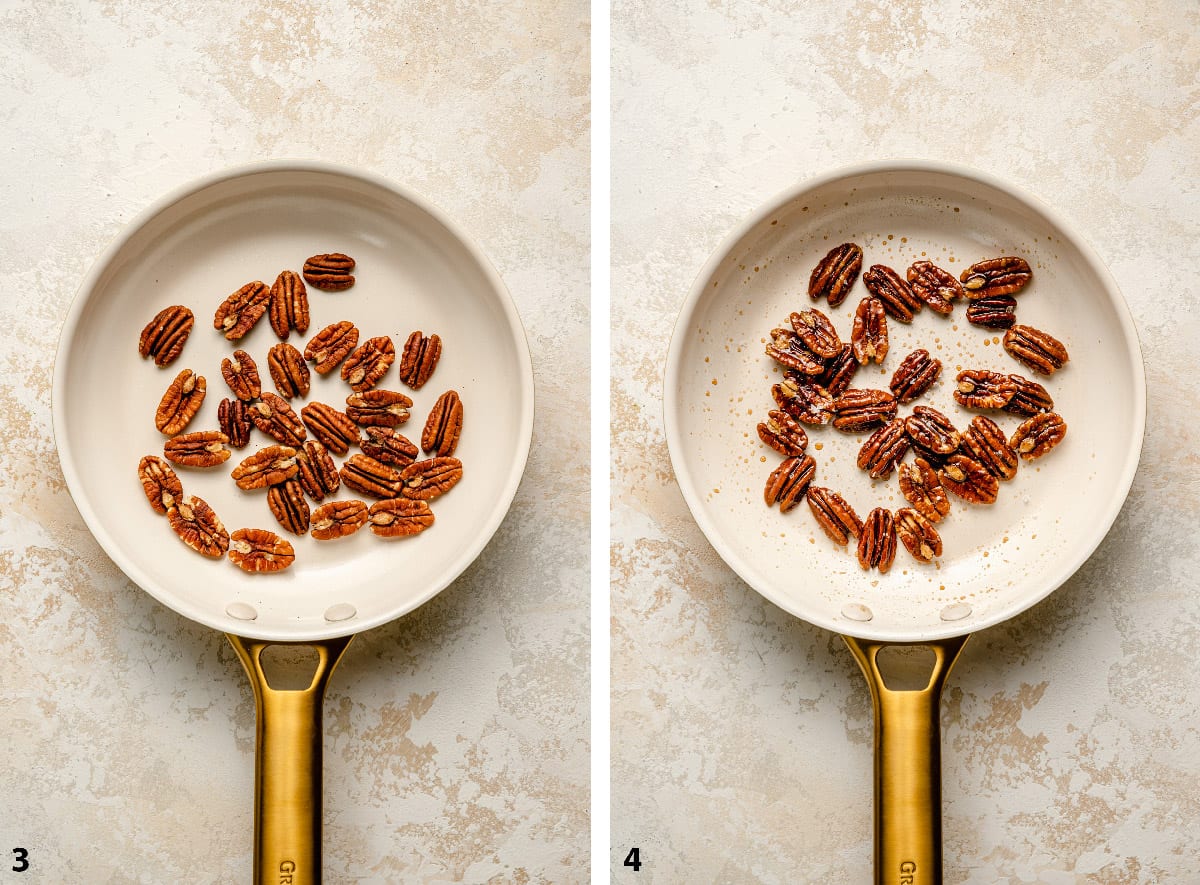 Add some pecans to a small skillet and toast for 3-4 minutes until fragrant.
Add the vanilla extract, maple syrup and salt and stir to coat the nuts. Set aside on parchment to cool.
Expert tips
Make sure to read and follow these expert tips to ensure complete success with this maple brown sugar oatmeal recipe:
Stir - be sure to stir the oatmeal regularly whilst making it. It helps make the oatmeal extra creamy and keeps it from sticking to the bottom. You can simply use a wooden spoon or a traditional Scottish implement, a spurtle.
Sugars - make sure you add these towards the end of cooking. We don't want to run the risk of burning the sugars. Especially if forgotten about and not stirred all the time.
Thickness - thickness of oatmeal/porridge is a personal preference in our opinion. If you want it thicker, cook it for longer or add a little extra milk to thin it out a little.
Ratios - to make oatmeal, the ratio is always 2:1 for liquid to oats. So that means 2 cups of liquid per 1 cup of oats. It's a simple rule, but it is always the correct ratio for the best oatmeal. This recipe is sufficient for two servings. Scale up for more.
Recipe FAQs
Is maple brown sugar oatmeal healthy?

As we always say, health is relative to our whole lifestyle. Here we have a lovely oatmeal that is full of protein, fibre, good fats and carbohydrates. The additional sugars are less refined than white sugar, this doesn't make them good or bad. Sugar is sugar at the end of the day. This oatmeal is definitely healthy when eaten in line with a balanced lifestyle.
How often should I eat oatmeal?

As often as you wish. Some eat it all year round, we tend to eat it more often during the cooler months. Enjoy it with a mug of your favourite hot drink, you can absorb the nutritional benefits of the oats every morning. Try it in various ways with one of our baked oatmeal recipes too.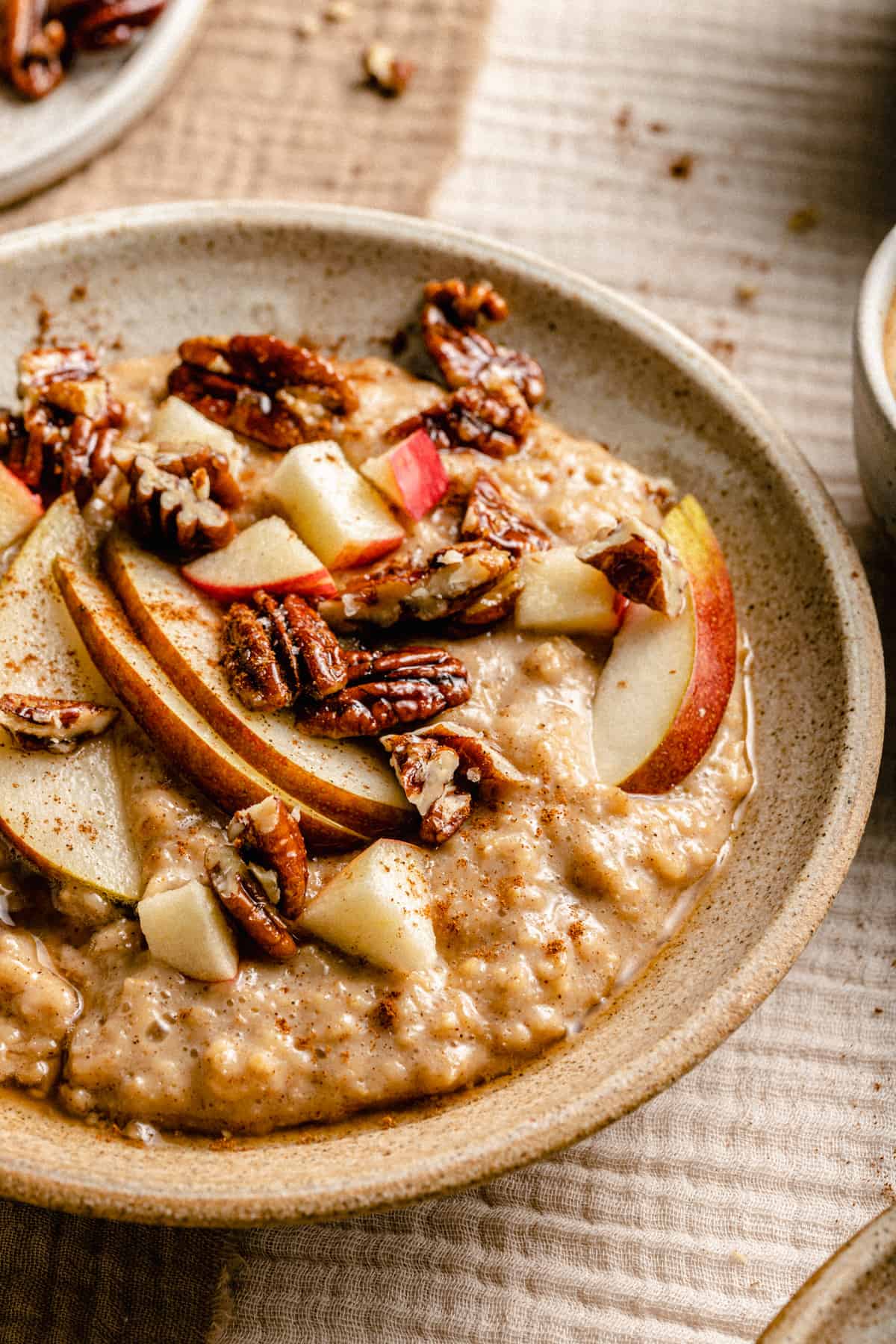 Related recipes
Love this maple brown sugar oatmeal recipe? Then you definitely want to check out more of our breakfast recipes. Here are some suggestions to get you started:
Love this recipe? Leave us a 5-star ⭐️⭐️⭐️⭐️⭐️ rating in the recipe below and don't forget to leave a review in the comments section underneath the recipe. We love hearing from you!
Why not follow along with us on our social media channels @Instagram @Facebook and @Pinterest and tag us with #eatloveeats when you've tried one of our recipes!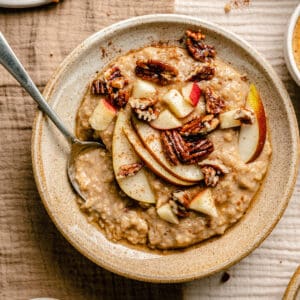 Maple Brown Sugar Oatmeal with Maple Pecans
The perfect warming bowl of oatmeal to start the day, flavoured with maple syrup, brown sugar and topped with seasonal fresh fruit. It only takes 15 minutes to whip up.
Print Recipe
Pin Recipe
⭐️ Rate Recipe
Ingredients
Toppings
1

apple

,

chopped

1

pear

,

chopped

maple pecans

,

roughly chopped

nut butter

,

to drizzle

maple syrup ,

to drizzle
Instructions
For the maple pecans
Add the pecans to a skillet heated over a medium heat and toast for 3-4 minutes until fragrant. Add the vanilla extract and maple syrup and stir until pecans are coated in bubbling maple syrup. Set aside on parchment paper and let cool.

⅓ cup pecans,

1 tablespoon maple syrup,

¼ teaspoon vanilla extract,

pinch of sea salt flakes
For the oatmeal
Add the oats, cinnamon, salt and milk to a medium saucepan and bring to a simmer over a medium heat. Cook until the desired consistency, about 5-10 minutes. Once thickened, add the vanilla extract, brown sugar and maple syrup and stir to combine.

1 cup rolled oats,

2 cups milk of choice,

pinch of salt,

½ teaspoon cinnamon,

1 teaspoon vanilla extract,

2 tablespoons maple syrup,

2 tablespoons dark brown sugar

Top the oatmeal with your chosen toppings and enjoy!

1 apple,

1 pear,

maple pecans,

nut butter,

maple syrup
Notes
Nutrition includes maple pecans but not the additional toppings.
Stir constantly to create a super creamy oatmeal and prevent it from burning.
Add the maple syrup and brown sugar later on to avoid burning. 
Cook longer for a thicker oatmeal. 
Nutrition
Calories:
491
kcal
|
Carbohydrates:
74.6
g
|
Protein:
15
g
|
Fat:
13.3
g
|
Saturated Fat:
1.8
g
|
Polyunsaturated Fat:
3.9
g
|
Monounsaturated Fat:
7.5
g
|
Cholesterol:
4.9
mg
|
Sodium:
261.8
mg
|
Potassium:
1051.9
mg
|
Fiber:
6.1
g
|
Sugar:
43.7
g
|
Vitamin A:
5.5
IU
|
Vitamin C:
0.2
mg
|
Calcium:
369.1
mg
|
Iron:
2.1
mg
Did you make this recipe?
Leave a comment below with how you got on and don't forget to give the recipe a rating ⭐️⭐️⭐️⭐️⭐️. You can also tag @eatloveeats on Instagram - we love to see your creations!