This roast pumpkin salad with chorizo is the best wholesome salad you'll want to make all the fall season long. Super cozy and simply roasted on one tray in the oven to create a satisfying balance of rustic flavors.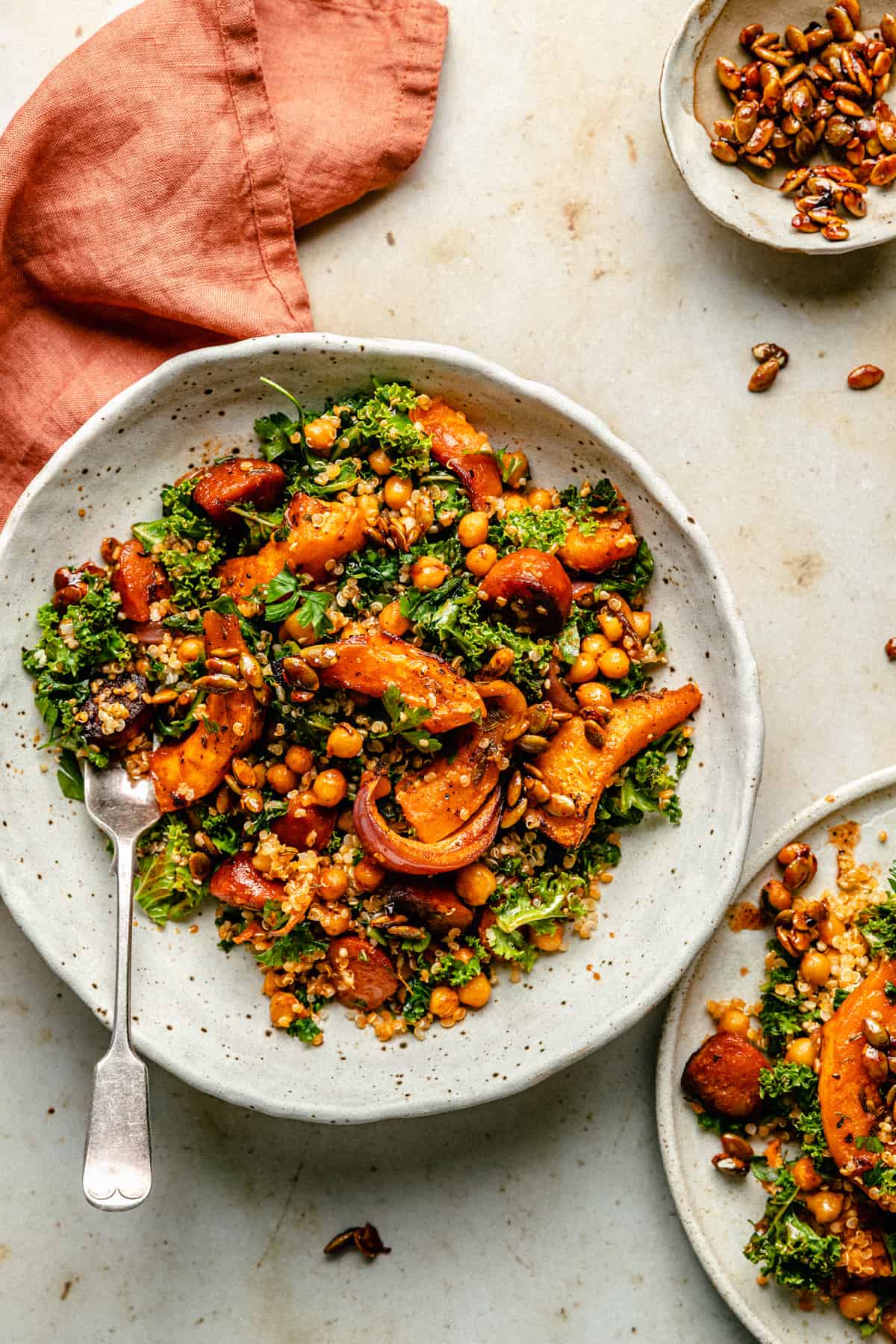 Say hello to your new love, this incredible roast pumpkin salad with chorizo and quinoa. This salad is like no other, giving you all the comforting, fall/winter feels and leaving you feeling super satisfied. We all want to eat the best for our bodies and this salad is a great option, well rounded and full of nutritious ingredients. Your tastebuds will wake up from the depths as you tuck into this flavor sensation.
This roast pumpkin salad is taken to new levels with a smoky dressing and crunchy caramelized pumpkin seeds to top it off. You really will be popular if you make this for dinner and the leftovers are perfect for lunch the next day. You'd definitely love our Easy Nduja Pasta, Sweet Potato Kale Salad or Roasted Butternut Squash Curry to warm up with too.
We love to celebrate all the best from the seasonal produce available. Make the most of pumpkin in this salad that will transform your lunch or dinners! Don't forget to try our butternut squash and red pepper soup for more seasonal tasty meals.
We know you'll love this pumpkin salad recipe so don't forget to leave a comment and rate our recipe by clicking on the stars in the recipe card. Don't forget to get to where you need to by following the links below.
Jump to:
Why you'll love this recipe
Here are some reasons why you need this roast pumpkin salad with chorizo recipe in your life:
Pumpkin salad - why not celebrate the season with a pinnacle vegetable and roast your pumpkin for this salad with style!
Adaptable - this recipe is easily adaptable if you need it to be. Vegan or vegetarian? No problem, simply follow the customizations below.
Easy - we've got one pan roasted veggies and the rest is mixed together in bowls or jars. It may have a couple of extra things to prepare, but they are totally worth it as this salad will blow your mind.
Flavor town - did we mention flavor? This pumpkin salad is other-worldly good. It'll even convert the staunch salad haters!
Warming - we love this salad served warm, but with all the spices and cozy ingredients, this salad has a warming effect that is perfect for the season, served warm or cold.
Ingredients
You only need simple ingredients for this roast pumpkin salad with chorizo recipe, this is what you'll need: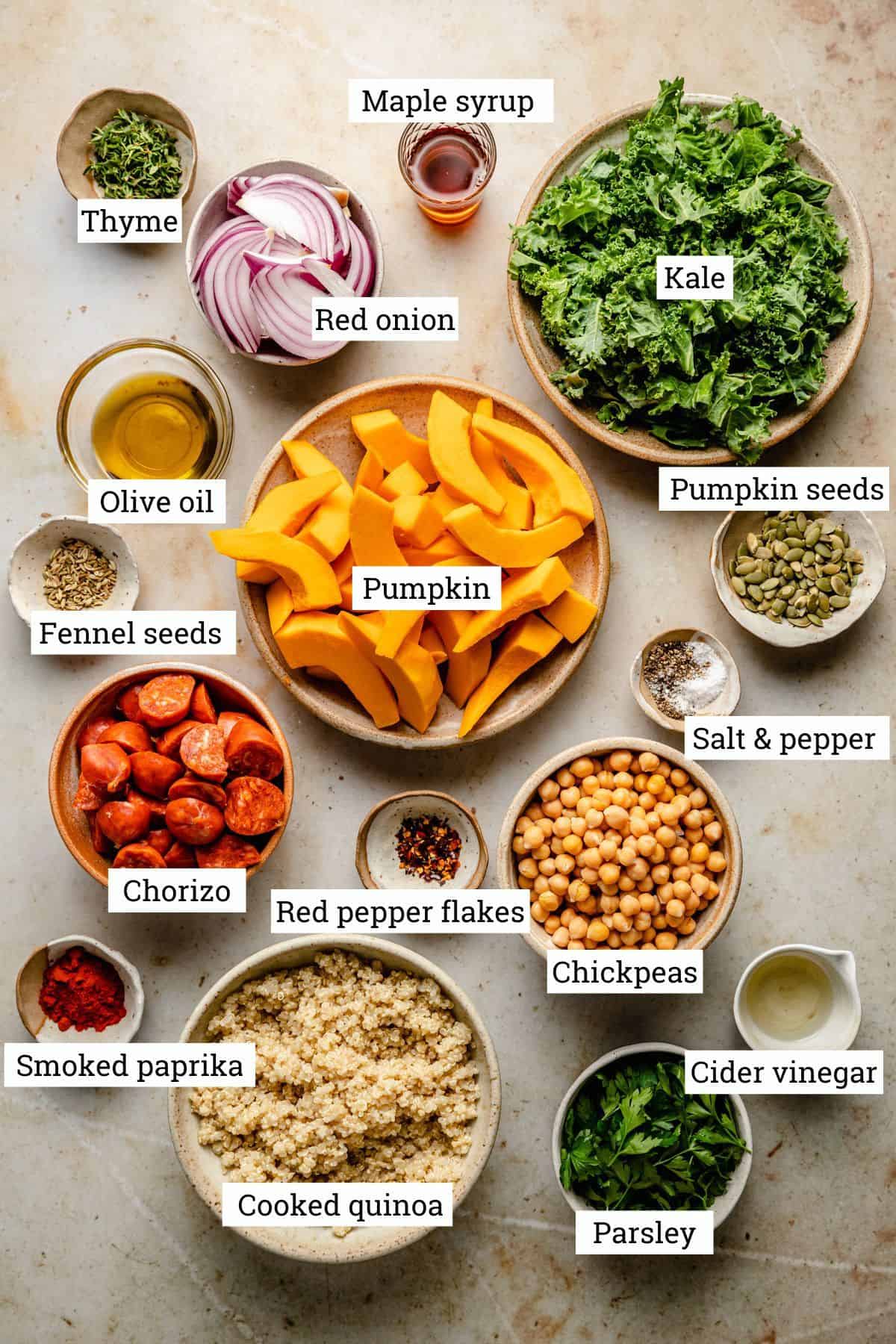 Pumpkin - the best squashes for roasting are butternut squash (butternut pumpkin), acorn or delicata. You can also use a regular orange cooking pumpkin; a sugar or pie pumpkin. Just be aware that some squashes and pumpkins roast up softer and are better suited for soups; you can use them but they will easily break up when assembling and won't have the ideal texture for this salad.
Chorizo - we use cooking chorizo which is a semi dried cured sausage specifically for cooking. If you have a fully cured and dried chorizo it won't take as long to roast with the veggies.
Kale - we use curly kale in this recipe as it offers a nice color and texture to the salad. You can also use cavolo nero or Tuscan kale, whatever you can get your hands on.
Quinoa - we prefer using store-bought pre-cooked quinoa as it's really convenient. If you want to cook your own, go for it.
Customizations
We know you love to mix things up with customizations and substitutions so here are some of our recommendations for this roast pumpkin salad with chorizo recipe:
Vegan - if you require the recipe to be vegetarian or vegan, simply omit the chorizo from the recipe.
Squash - try your pick of various varieties of pumpkin or squash, you could even use sweet potato if you wanted to.
Cheese - if you want to add a pop of creaminess, you can top the roast pumpkin salad with burrata or lumps of creamy goat's cheese.
Kale - switch out the kale with baby spinach, just roughly chop it or keep whole rather than massaging it like you would with the kale.
How to make roast pumpkin salad
Follow these simple step by step guides to success for this roast pumpkin salad with chorizo recipe: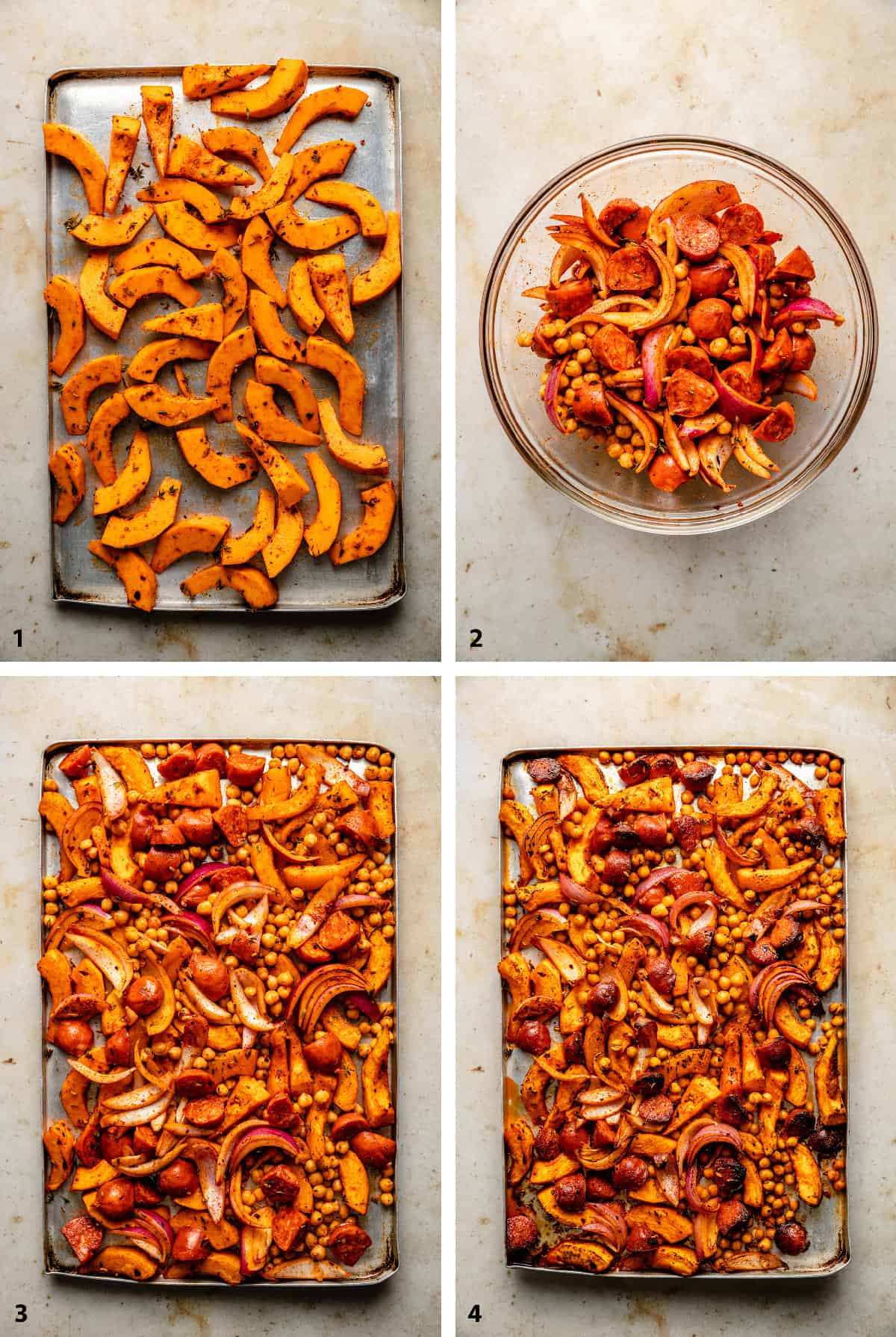 Mix the spices together for the roast pumpkin salad and toss the prepared pumpkin with half the spice mixture and 1 tablespoon of olive oil. Lay on a baking sheet and roast for 20 minutes.
Toss the remaining spices with the onion petals, chorizo and chickpeas in a bowl with the remaining oil.
Once the pumpkin has roasted for 20 minutes, add the chorizo, onion and chickpea mixture on top and mix together.
Roast the whole tray of veggies and chorizo for an additional 20 minutes until golden, tender and charred in places.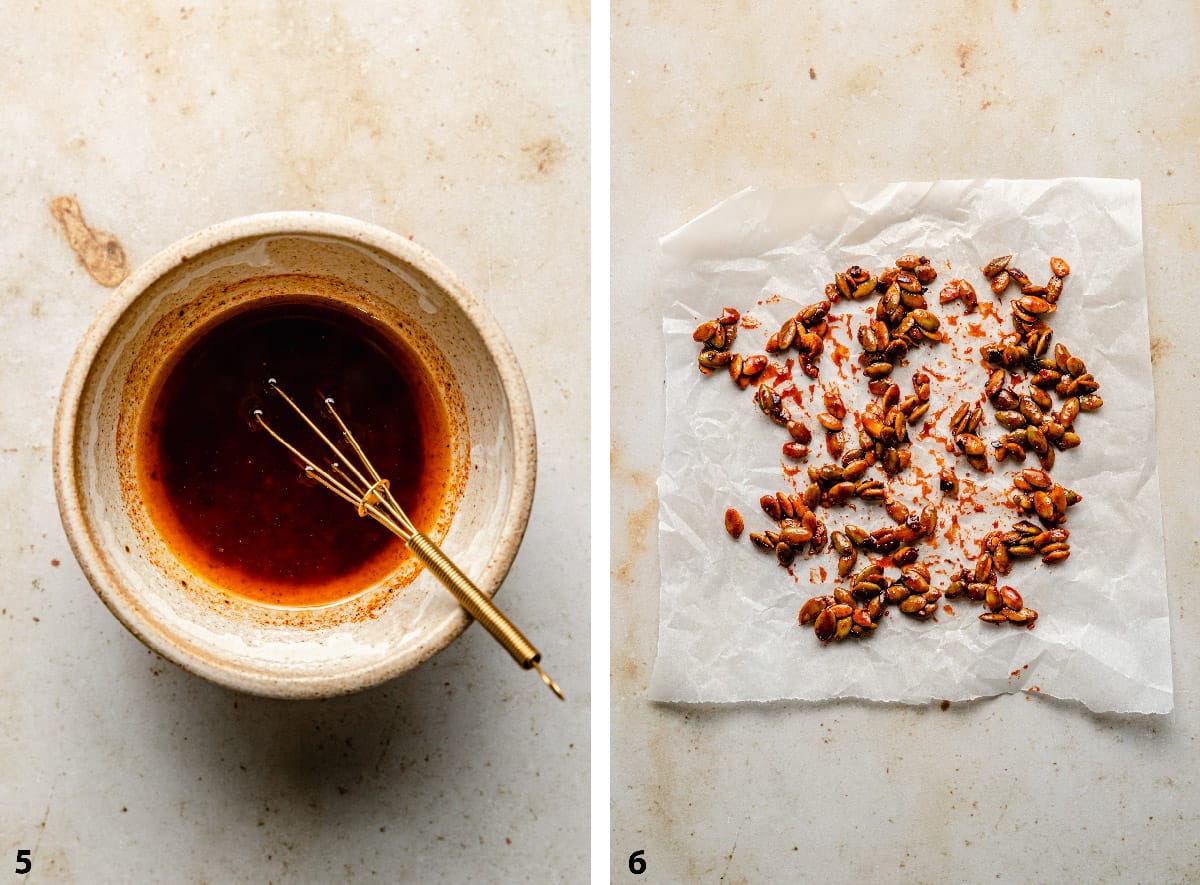 Stir together the dressing ingredients in a bowl and set aside for later.
Toast the pumpkin seeds in a skillet. Once popping and toasted, add the spices and maple syrup, stir together until sticky. Pour onto parchment and leave to cool.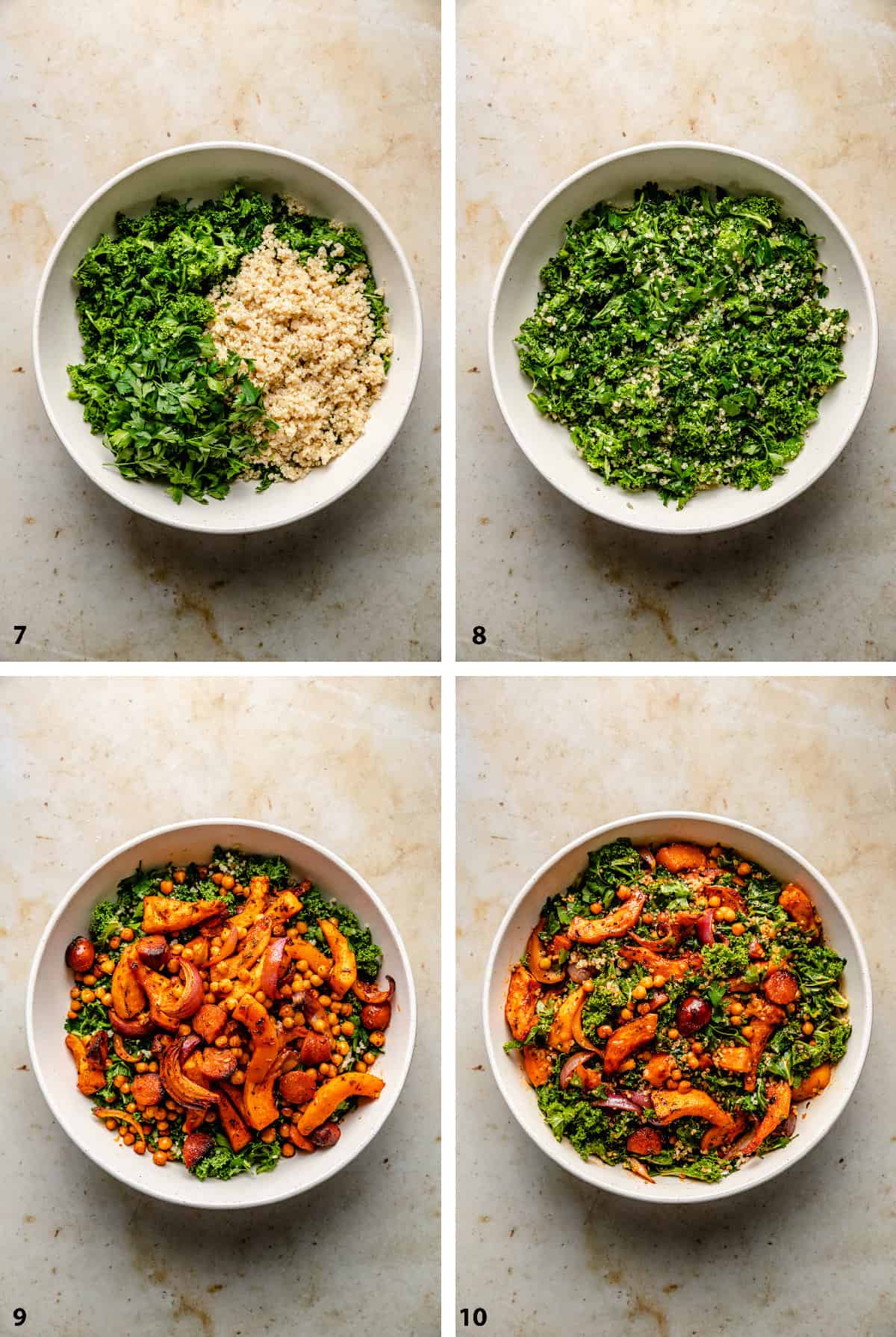 Massage the kale with some salt until wilted. Add the chopped parsley and cooked quinoa to the bowl.
Toss the kale, parsley and quinoa together until well mixed.
Add the roast pumpkin and chorizo mixture to the bowl along with the dressing.
Toss the pumpkin salad together gently so as not to break up the pumpkin until everything is coated in dressing. Serve with the caramelized maple pumpkin seeds on top.
Expert tips
Make sure to read and follow these expert tips to ensure complete success with this roast pumpkin salad with chorizo recipe:
Onions - when preparing the red onion, trim the roots off but leave the white base of the root as it makes it easier to petal them. If you don't, you'll end up with only single petals which easily burn. 2-3 layers in a petal roast really well in this recipe.
Chickpeas - make sure to dry your chickpeas in a paper towel before roasting. It'll help them crisp up better and also let the marinade stick to the surface more.
Pumpkin - pumpkins can either be good for soup or good for roasting. Be sure to get a butternut squash, delicata squash, acorn squash or standard cooking pumpkin to roast for this recipe. Soup ones get very soft on roasting and break up easily.
Massaging kale - massaging the kale aids our digestive system to be able to handle it. It also makes it more pleasant and less bitter to eat and enjoy.
Recipe FAQs
What pumpkin is best for roasting?

We recommend a fresh butternut squash, delicata squash, acorn squash or sugar pumpkin for roasting. They all belong to the pumpkin family and have a lovely flavor and firmer texture.
Do I need to peel a pumpkin before roasting?

No, you don't. It's depends on its application. If scraping out the roasted flesh for a purée or mash then leave it on. If, like in this recipe, you want roasted cubes/chunks, we prefer to peel it but you don't have to in most cases. We recommend a quality speed peeler to do the job.
How do you tell when roasted pumpkin is cooked?

Use a fork, knife or cake tester to check for tenderness. You shouldn't feel a resistance, it'll be cooked when tender. "Fork tender" is the common term for this.
How to store it?

This roast pumpkin salad keeps well and is still delicious cold. Store in an air tight container in the fridge for up to 3 days. You could always microwave it to warm it through too.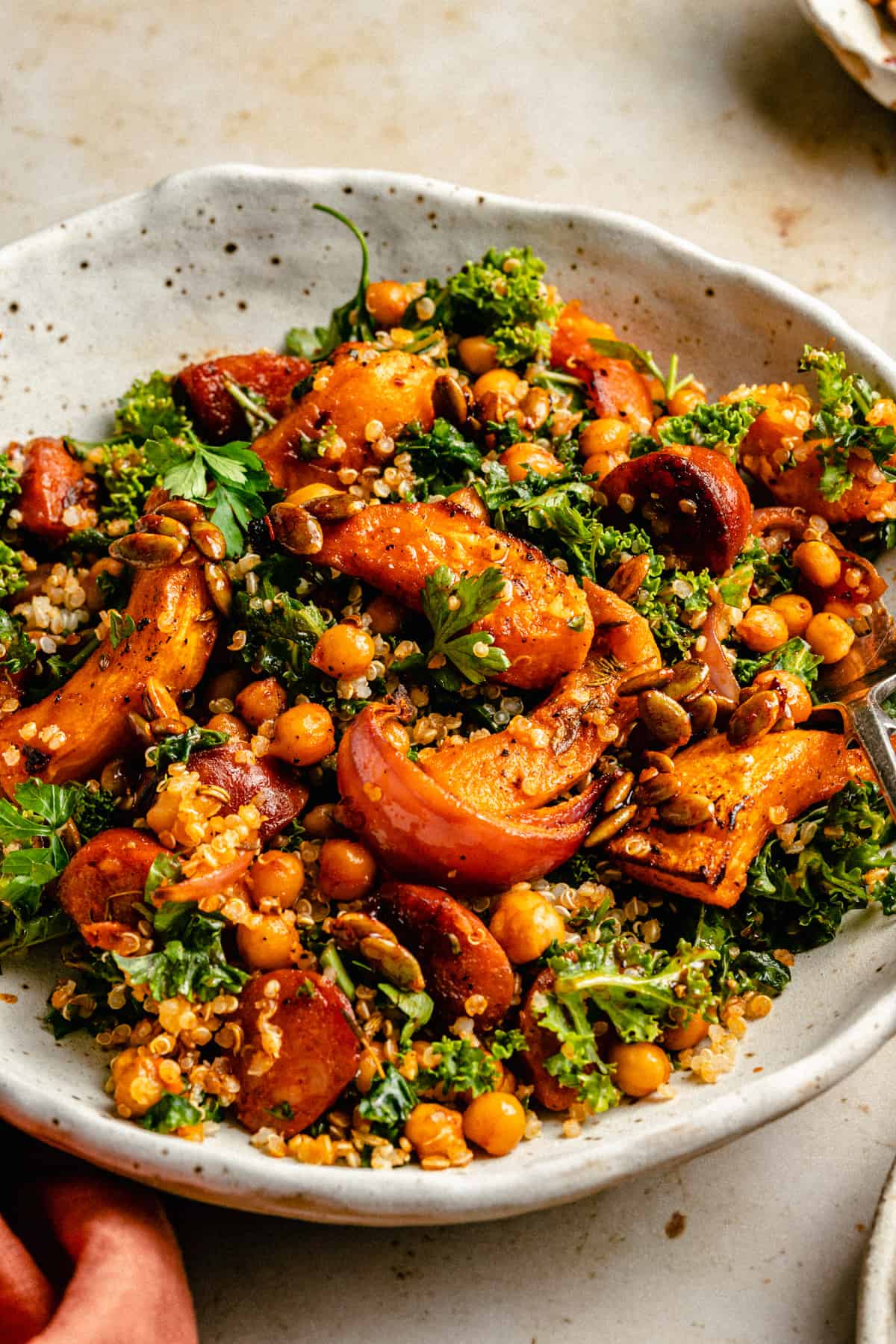 Related recipes
Love this roast pumpkin salad with chorizo recipe? Then you may want more of our fall recipes. Here are some suggestions to get you started:
Love this recipe? Leave us a 5-star ⭐️⭐️⭐️⭐️⭐️ rating in the recipe below and don't forget to leave a review in the comments section underneath the recipe. We love hearing from you!
Why not follow along with us on our social media channels @Instagram @Facebook and @Pinterest and tag us with #eatloveeats when you've tried one of our recipes!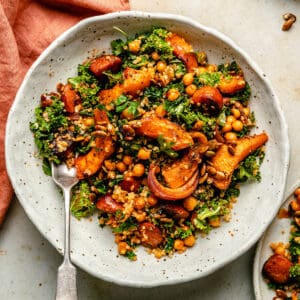 Roast Pumpkin Salad with Chorizo
This flavor sensation roast pumpkin salad is perfect tossed with quinoa, chorizo and kale and dressed in a delicious smoky dressing. The best salad for fall and winter and great served warm or cold!
Print Recipe
Pin Recipe
⭐️ Rate Recipe
Ingredients
Instructions
Preheat the oven to 200°C/400°F.
For the spice mix:
In a small bowl, mix together the smoked paprika, fennel seeds, red pepper flakes, fresh thyme leaves, salt and pepper.

1 teaspoon smoked paprika,

½ teaspoon fennel seeds,

½ teaspoon red pepper flakes,

2 tablespoons fresh thyme leaves,

1 teaspoon kosher salt,

½ teaspoon black pepper
Roast the pumpkin:
In a large mixing bowl, toss the prepared pumpkin with 1 tablespoon of the oil and half of the prepared spice mixture. Spread out on a large baking sheet lined with parchment and roast for 20 minutes.

1 ½ pounds pumpkin or winter squash,

2 tablespoons olive oil
Roast the remaining veggies and chorizo:
To the bowl you mixed the pumpkin in, add the red onion, chickpeas and chorizo, followed by the remaining 1 tablespoon oil and the remaining half of the spice mixture. Toss well to combine. Add this to the baking sheet with the pumpkin and return to the oven for a further 20 minutes until the pumpkin is tender and everything is nicely golden and a little charred at the edges.

1 large red onion,

1 15 ounce can chickpeas,

250 g cooking chorizo
Make the dressing:
In a small bowl or jar with a lid, add the olive oil, apple cider vinegar, maple syrup, smoked paprika, salt and pepper. Whisk or shake well to combine. Taste and adjust seasoning if desired. Set aside.

¼ cup extra virgin olive oil,

2 tablespoons apple cider vinegar,

4 teaspoons maple syrup,

1 teaspoon smoked paprika,

½ teaspoon kosher salt,

½ teaspoon black pepper
Make the smoky maple pumpkin seeds:
Add the pumpkin seeds to a small skillet and place over medium heat. Toast the seeds until they begin to pop, about 3-5 minutes, tossing regularly. Next, add the maple syrup, smoked paprika, red pepper flakes and salt and stir together. Pour onto a piece of parchment paper and leave to cool.

¼ cup pumpkin seeds,

1 tablespoon maple syrup,

½ teaspoon smoked paprika,

¼ teaspoon red pepper flakes,

¼ teaspoon flaky sea salt
Assemble the salad:
Add the roughly chopped kale to a large bowl with a pinch of salt and massage well with your hands for a minute or two until it begins to wilt. Toss through the chopped parsley and cooked quinoa.

4 cups roughly chopped curly kale,

½ cup fresh parsley,

2 cups cooked quinoa
Dress the salad:
Once the veggies and chorizo have finished roasting, add these to the bowl with the kale and quinoa. Pour over the dressing and toss well to coat. Break up the cooled pumpkin seeds and sprinkle on top of the salad. Serve and enjoy!
Notes
Keep an eye on the chorizo and pumpkin as it roasts as it can char quickly, toss if needed. 
This salad stores well and tastes great cold for lunches throughout the week, store in the fridge in an airtight container for 3 days. 
Nutrition
Calories:
574
kcal
|
Carbohydrates:
47.8
g
|
Protein:
20.3
g
|
Fat:
35.7
g
|
Saturated Fat:
8.8
g
|
Polyunsaturated Fat:
5.6
g
|
Monounsaturated Fat:
19.3
g
|
Cholesterol:
36.7
mg
|
Sodium:
1116.4
mg
|
Potassium:
997.9
mg
|
Fiber:
9.2
g
|
Sugar:
9.3
g
|
Vitamin A:
708.8
IU
|
Vitamin C:
46.8
mg
|
Calcium:
143.2
mg
|
Iron:
4.7
mg
Did you make this recipe?
Leave a comment below with how you got on and don't forget to give the recipe a rating ⭐️⭐️⭐️⭐️⭐️. You can also tag @eatloveeats on Instagram - we love to see your creations!