Happy FRYday (oh, did you see what I did there?)! I'm so happy that it's the weekend! I've been working hard these past few days to get some delicious recipes ready for the blog and I'm so excited to share them with you over the next few weeks! I think I've mentioned here before that I'm not the most organised of people. I certainly desire to be and trust me, I have the best of intentions, but frequently things don't quite go as planned. For example, my house is quite literally littered with pieces of paper with ideas scrawled all over them (seriously, just ask my husband). That's what the inside of my brain looks like too and honestly, I am desperate to figure out a way to get them all lined up in a row. To get them displayed here on the blog instead of clogging up every available surface in my home! So that's what I've been working on this past few days and it ain't been pretty but I believe I'm finally getting somewhere so yay! But like I said, I'm thrilled that it's the weekend and that we have plans to go and see my sister-in-law otherwise I'd probably be spending all weekend working too. But that's just it, there are plenty of hours in the week and I just need to get better at using them all effectively. It's a work in progress 🙂
First up, these Loaded Sweet Potato Fries! Oh man, do I love a sweet potato. I don't know what it is about them, they're just perfect! Despite being a sweet vegetable, they taste totally balanced to me so I can happily snaffle one for dinner and not think I've just eaten dessert. Oh and the fact that they're a nutritional powerhouse isn't lost on me either. Healthy comfort food is a much appreciated bonus in this house!
I've tried making crispy sweet potato fries before and I've not had much luck. Short of getting out a vat of oil (a luxury reserved for churros and churros alone in my kitchen) they're just not getting crispy by any domestic culinary means, I'm sorry. Nope, I don't believe it can be done, no matter what claims are made to the contrary. Cornflour, I'm looking at you. If I wanted to eat cotton wool I'd have gone straight to my bathroom. No amount of baking can make that taste good. No, I decided to go a much tastier route. I mean, who really expects to get a mouthful of crispy sweet potato fries from beneath a blanket of rich, smoky beans? No one, that's who. But what they do expect is to get a mouthful of deliciousness and these Loaded Sweet Potato Fries, I'm happy to report, deliver in abundance.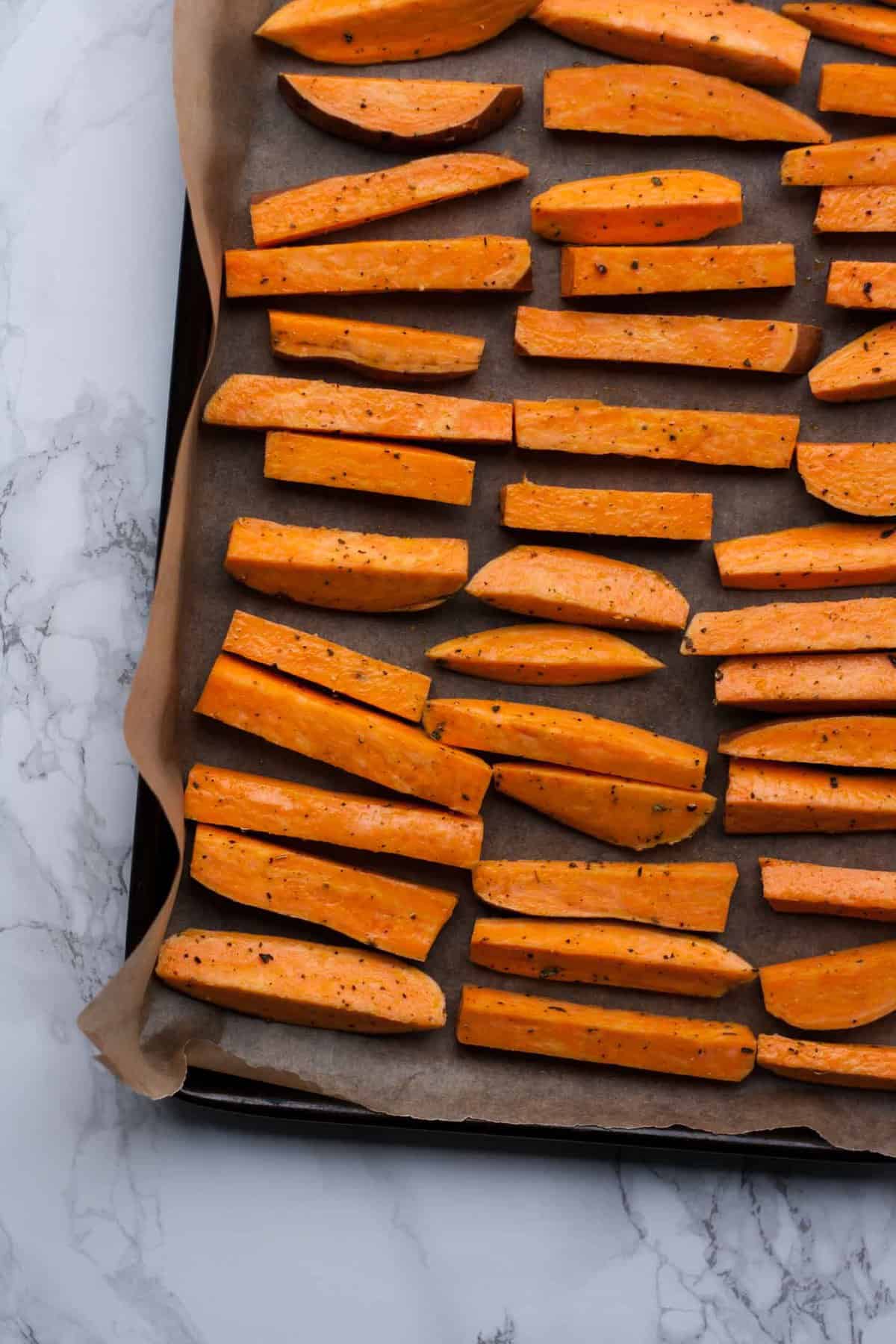 So, be sensible and put away your boiling oil (and your flipping cornflour) and turn on your oven instead. Slice up your sweet potatoes, toss them casually in oil and some seasoning, lay them out on a tray and let them do their thing. This way, they'll get nice and soft on the inside and just barely crisp on the outside and we're good with that. Treat yourself to some crunchy sweet potato fries at your favourite restaurant another day.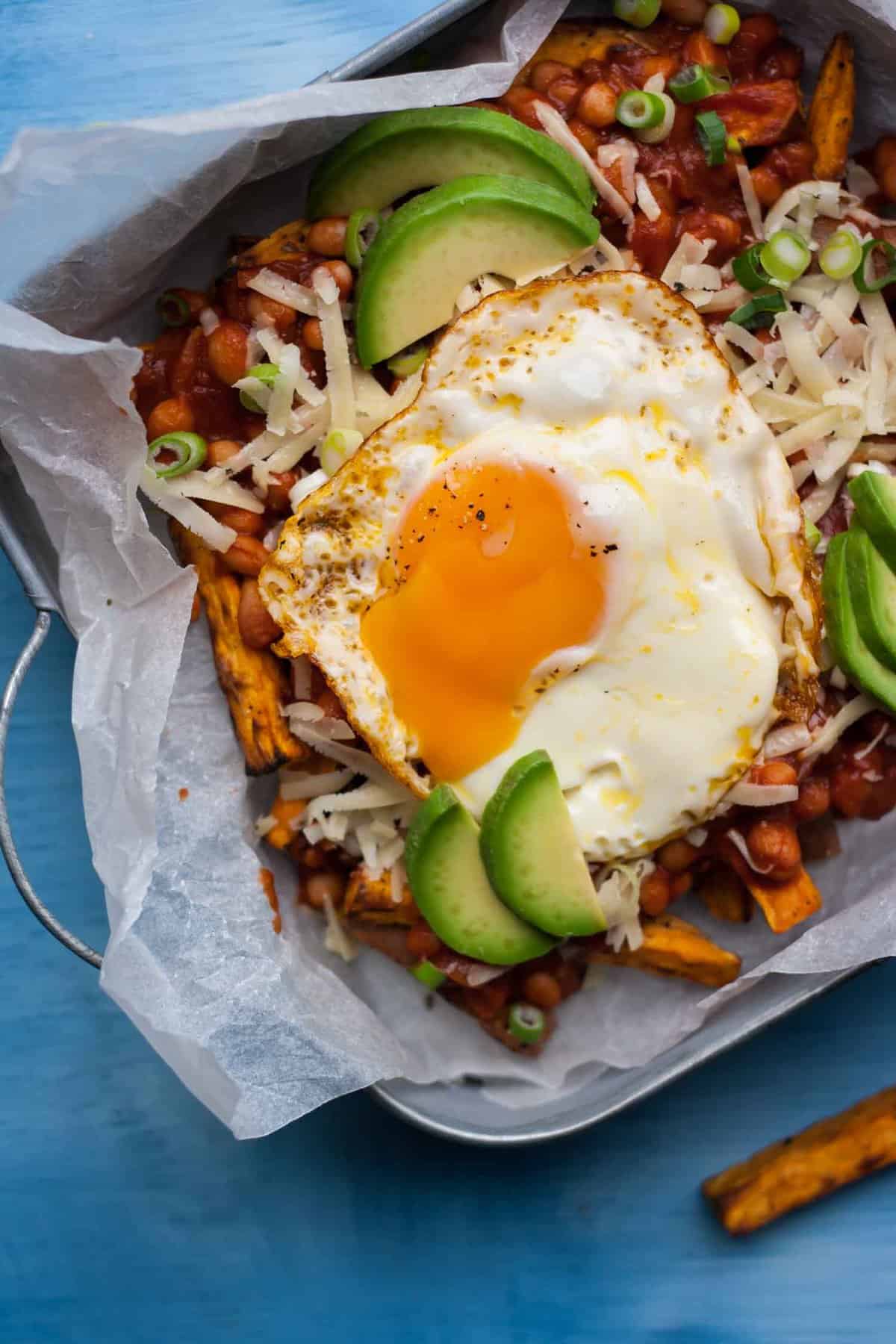 Whilst your sweet potatoes bake, whip up some quick smoky beans to top them with. Seriously, these are epic. And they take less than 10 minutes to make. What more could you want for a mid-week meal (or game day snack)?! Instead of baking in the oven for hours, these quick smoky beans come together in no time on the hob, by combining a few store cupboard ingredients. They're pretty wholesome too! Once everything is ready, pile up your sweet potato fries, slather with smoky beans and top with whatever you fancy. My favourite toppings are cheddar cheese, spring onions, avocado and a runny fried egg but you could add whatever you like. Jalapeños! Fresh herbs! Guacamole! Load them up and enjoy!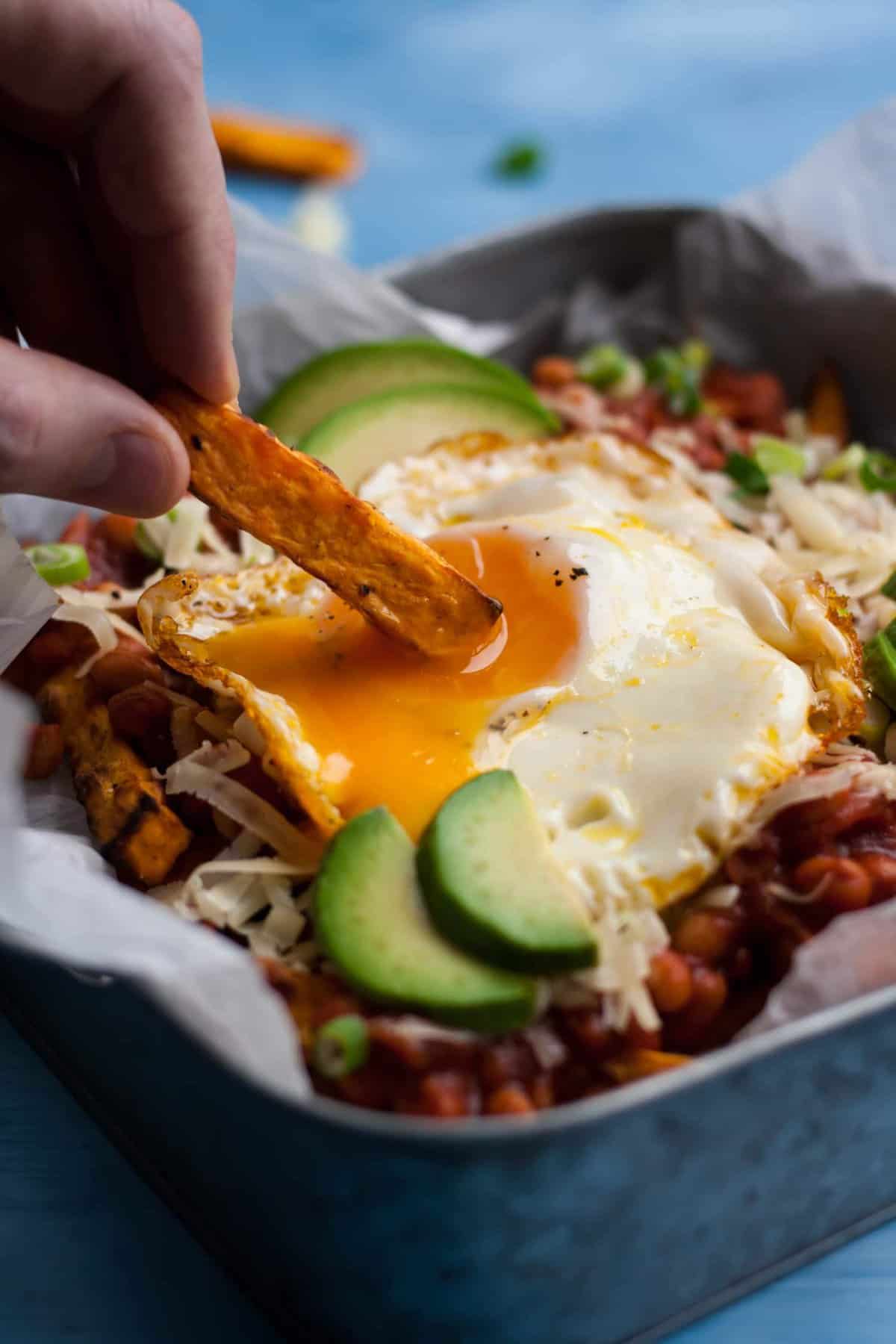 We've been living off these for the past few days in our house. As much as I adore cooking up a feast in my kitchen, the truth is, after I've spent the entire day cooking and taking photos, come dinner time I just want something fast. These Loaded Sweet Potato Fries definitely hit the spot. And bonus - they make the most awesome quesadillas for brunch the following day too 🙂 oh I forgot to mention - the egg is non-negotiable! Just look at the yolk drip!