This post contains affiliate links from which we could earn a small commission. Please read our Privacy Policy for more information.
This is the ultimate microwave sticky toffee pudding mug cake that you can whip together in well under 10 minutes. This self saucing mug cake is easy and totally decadent, perfect for when you want a quick dessert!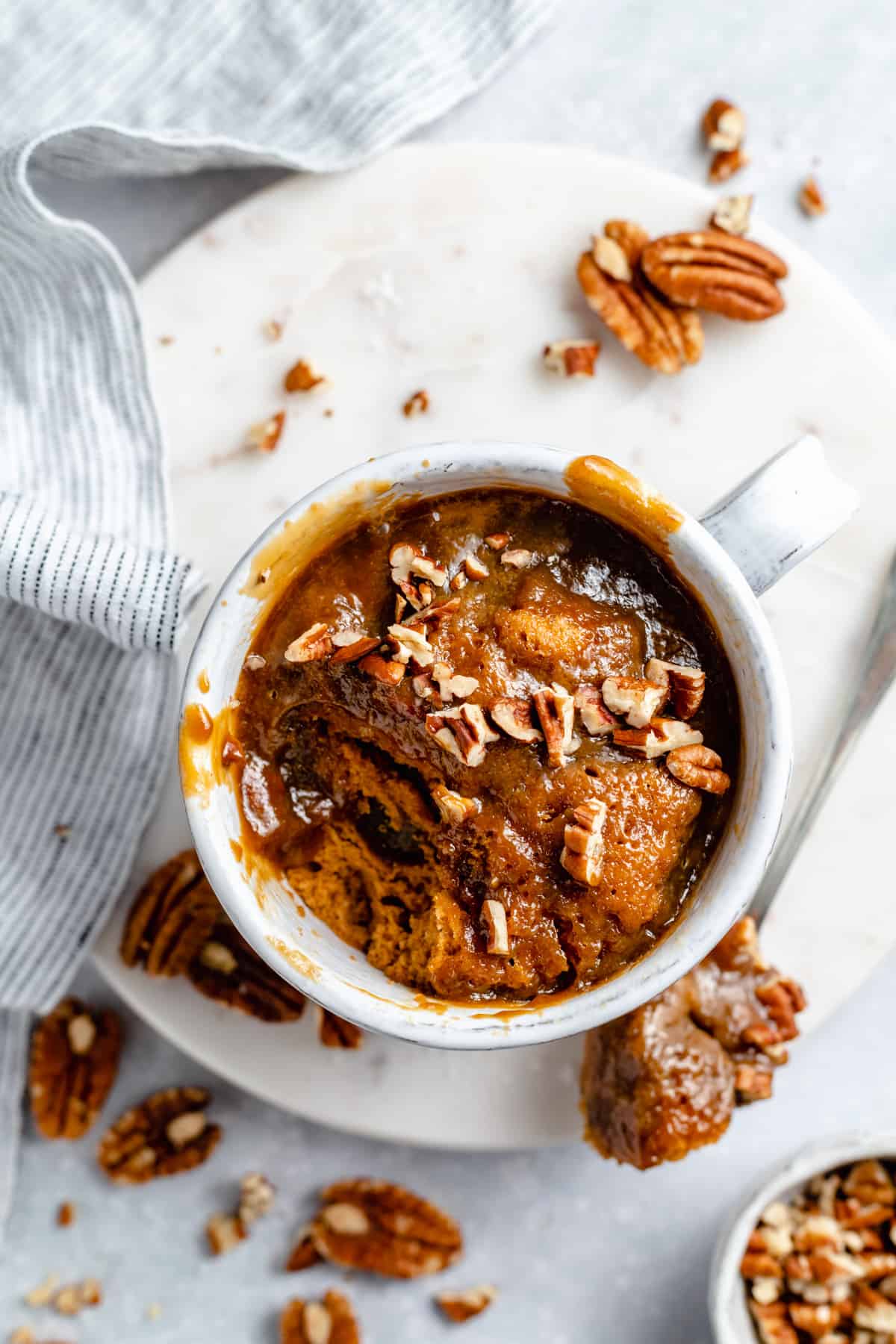 I introduce to you to the most dangerously satisfying QUICK dessert you can make in the microwave. This sticky toffee mug cake is THE best thing you'll have all fall and winter or to be honest any time of year. I warn you it is dangerously good! It's got the most delectable self saucing toffee sauce that coats the top of the dense but also light sponge.
My husband worked on getting this recipe just right and it is spot on. I love the caramel notes that come from the molasses sugar in the sponge. It's dotted with medjool dates so if you are worried about your 5 a day, there it is, HA! This is all about quick indulgence and I don't apologise for that; sometimes you need something to comfort you or cosy up with and this is just for that. And if you love caramel flavours, why not give this Maple Pecan Banana Bread with Maple Cream Cheese Frosting a go too!
I KNOW you'll love this, when you make it don't forget to leave a comment and rating to share the love, we love hearing from you!
Jump to:
What makes this the best mug cake?
Here's all the reasons you need this microwave sticky toffee mug cake in your life!
Easy - uses simple ingredients available at all stores. There are substitutions provided in case you don't have a specific ingredient.
Quick - It takes less than 10 minutes to whip this together. Which is far less time consuming than making an oven based sticky toffee pudding… which takes nearly an hour.
Self saucing - Who wouldn't love a self saucing mug cake? Just pour the sauce mix on top and microwave it! Voilà!
Sticky toffee - The flavours of a traditional sticky toffee pudding in this speedy microwave friendly version are just perfect for when you want a dessert with minimal effort.
Ingredients
For this quick and easy microwave mug cake you only need simple ingredients. This is what you need: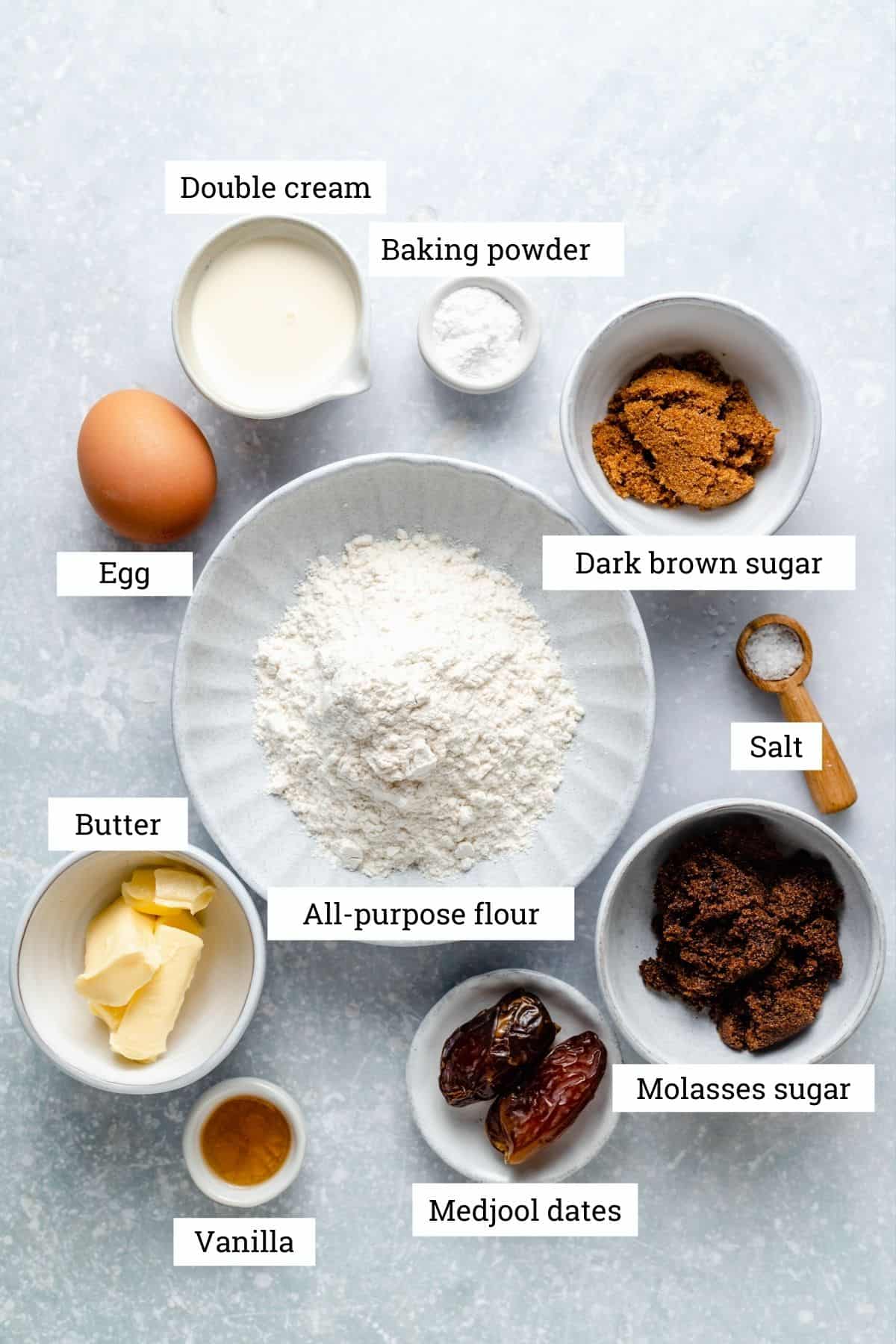 Dairy - you'll need butter for the sponge and double/heavy cream for the cake and creating the mix for the self saucing toffee sauce.
Egg - I use an egg in this mug cake as I feel it creates a better texture. For this sticky toffee mug cake, I feel it's best to have a slightly more dense sponge texture. It's still light and fluffy though. Without egg the texture is not right.
Sugar - I love to use molasses sugar for this quick dessert, it really gives a deeper caramel flavour to the final result. You'll use dark brown sugar for the toffee sauce.
Baking essentials - You'll need these simple baking essentials: all purpose flour, baking powder, vanilla extract and a pinch of salt.
Dates - Sticky toffee pudding traditionally contains dates. I love using medjool dates for their sticky jammy texture, but you can use any dates you prefer.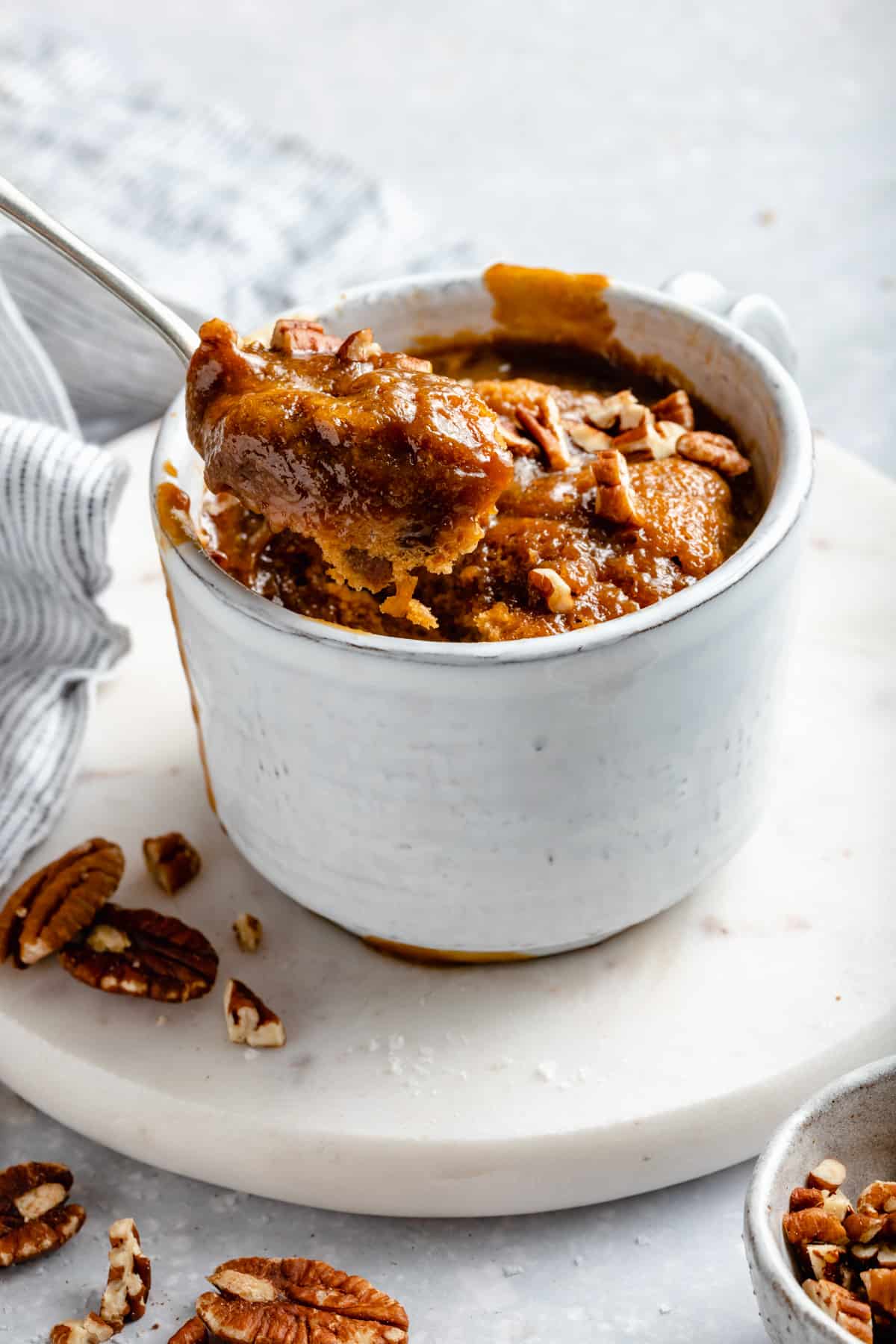 Customisations
This is quite a customisable recipe so here are some substitutions and customisations I recommend:
Sugar - Molasses sugar is the best sugar to use for the sponge for this mug cake as it is quintessential for the sticky toffee pudding flavour. BUT if you don't have this on hand you can easily substitute for dark muscovado sugar or dark brown sugar. I would recommend only using dark brown sugar for the sauce though.
Switch out the fruit - I know some people aren't a fan of dates so you can switch out the medjool dates with raisins. I like nice big california raisins, but use whatever you have on hand, dried cherries, apricots or omit the fruit all together.
Other mix-ins - Traditionally sticky toffee pudding has dates, but feel free to throw in some dark chocolate chips, chopped walnuts or pecans to mix it up!
Go gluten free - Switch out your all purpose flour with gluten free all purpose flour and ensure your baking powder is gluten free friendly. Interestingly, on testing the gluten free version the sauce goes to the bottom of the mug cake, this is likely due to the density of the batter being different. Still just as tasty though!
Dairy free - For dairy free, substitute the butter for dairy free butter and switch out the cream for oat cream. The only difference will be that the oat cream will make the sauce thinner, which can be absorbed more easily by the sponge.
How to make it
This sticky toffee mug cake recipe is easy to follow and quick to throw together. You'll be sitting back and devouring the best self saucing sticky toffee pudding in minutes. Here's how: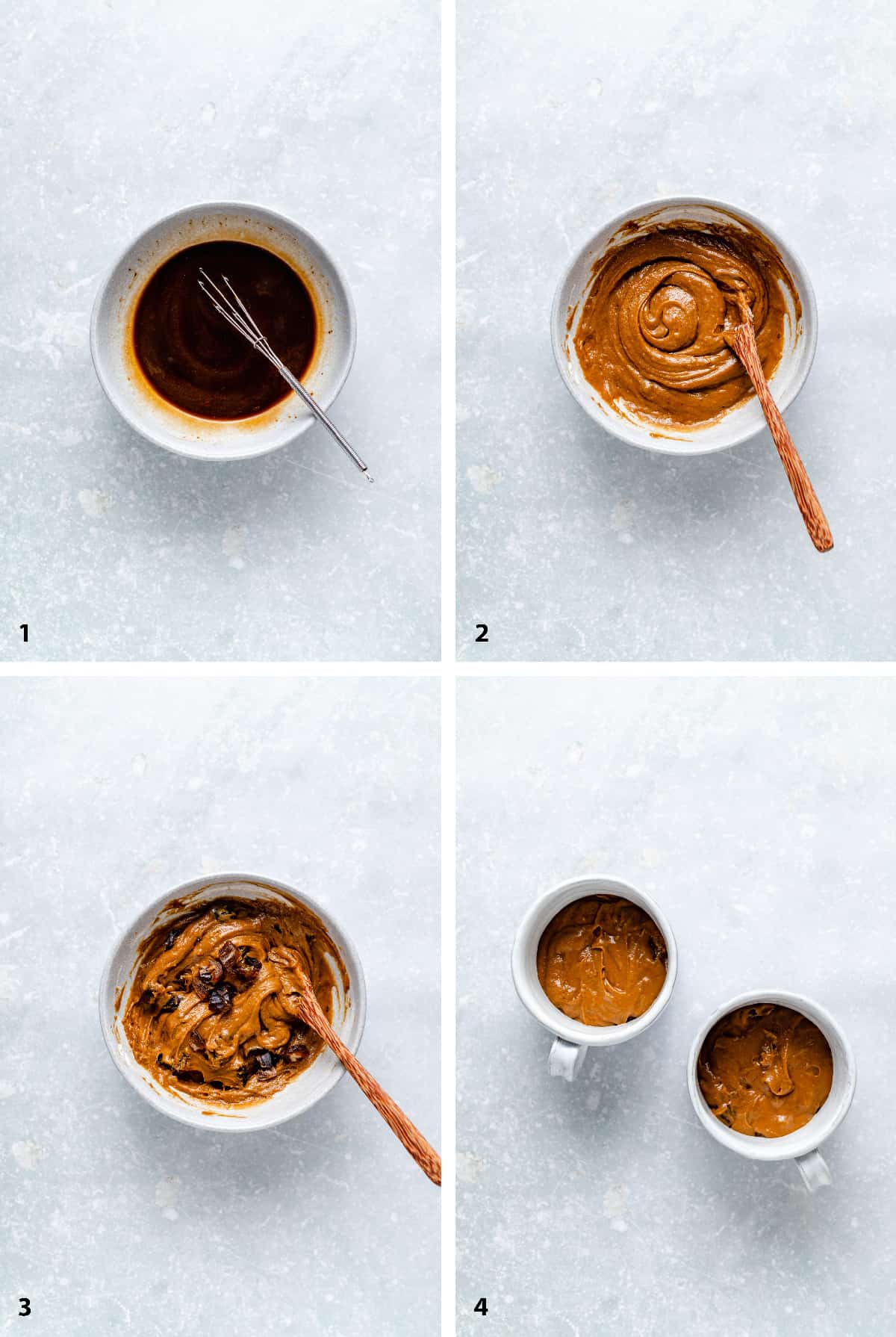 In a bowl whisk together the egg, molasses sugar and vanilla extract. Once the butter has melted and cooled slightly, whisk it in. You'll have a dark base to the sponge.
Once you've mixed the dry ingredients together you can stir them into the wet mixture created in step 1. You'll be left with a thick caramel coloured cake batter.
Add the chopped dates and fold throughout the batter.
Divide the batter evenly between two lightly greased mugs and level out the top with a spoon or spatula.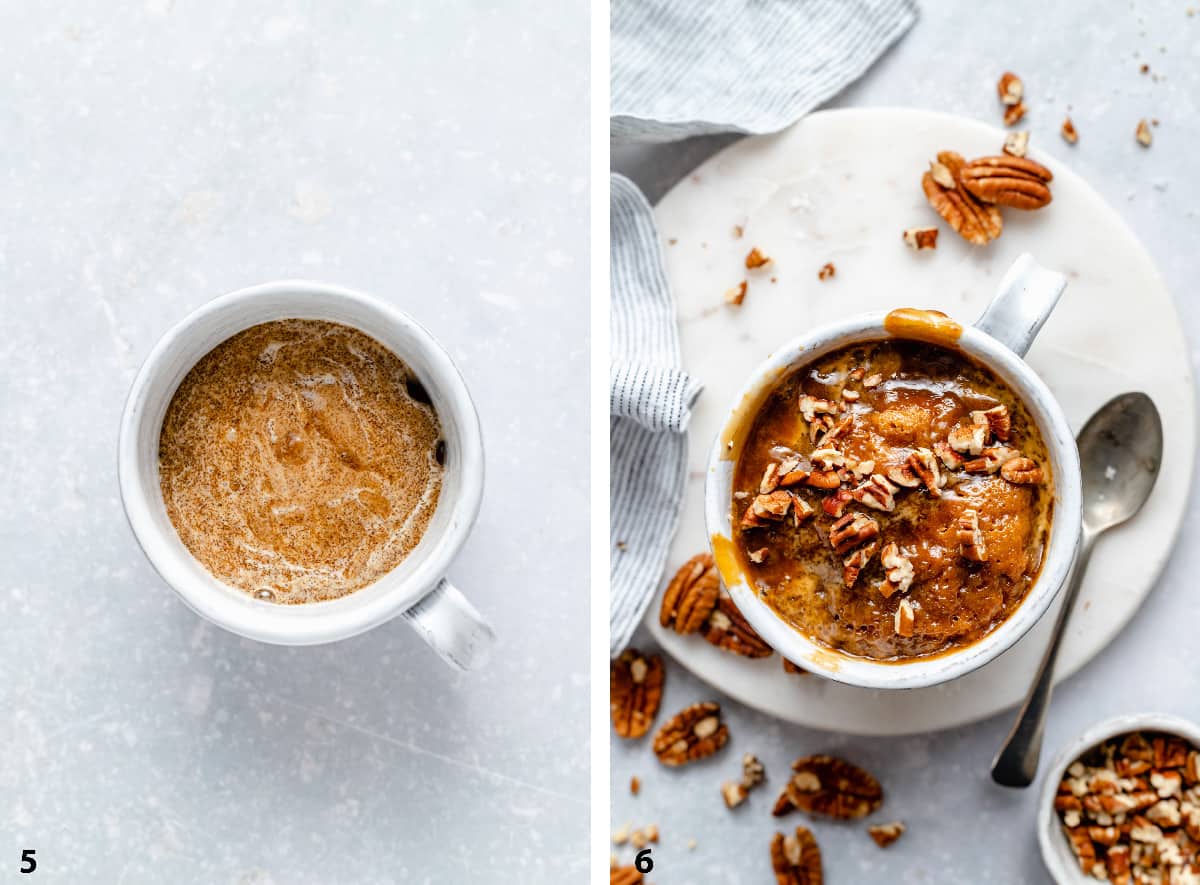 Create the sauce mixture by stirring together the sugar and cream briefly in a small bowl. It SHOULD look marbled. If it's uniform in colour you've over mixed it. Pour the cream sugar mix on top of your sticky toffee mug cake mixture, it should easily pour over.
Place in the microwave for 1 minute 20 seconds and you'll have the perfect self saucing sticky toffee pudding dessert!
Recipe tips
Here are some essential tips and tricks to guarantee success for your self saucing mug cake adventures:
Mug size - You can use any sized mug; the larger the mug the smaller the mug cake will be within it. In the photos I have used a 300ml (1 ⅓ cup) volume mug as I wanted to capture the sauce overflowing. I recommend using a 350-375ml volume mug (1 ½ - 1 ⅔ cups) to avoid spillage. Also make sure your mug is microwave safe.
Sauce (IMPORTANT) - I suggest making the sauce mix separately for each mug cake as it's easier to know how much is for each. I recommend adding the cream to a small bowl/cup/container first then add the sugar. Stir once or twice and that's it. It'll look marbled and that's the point. in the microwave this will melt and create the self saucing toffee sauce we want. If you overmix the sauce, the result won't be the same.
Timings - This recipe has been thoroughly tested in an 800W microwave and will only take 1 minute 20 seconds to cook and ensure the sauce is still saucy and not absorbed into the sponge. If you have a more powerful microwave take this into consideration, it may need a few seconds less to be cooked.
Making the mix - I suggest using one bowl to mix the wet ingredients together then add the dry ingredients on top and stir in, it'll save you time and extra washing up.
Only want one? - You can either weigh and whisk the egg and use only half of it, which isn't my preference as you'll need to find another use for the other half. I recommend making the two but putting one in the fridge and having it at a later time. I suggest making the sauce mix when you are ready to microwave it though.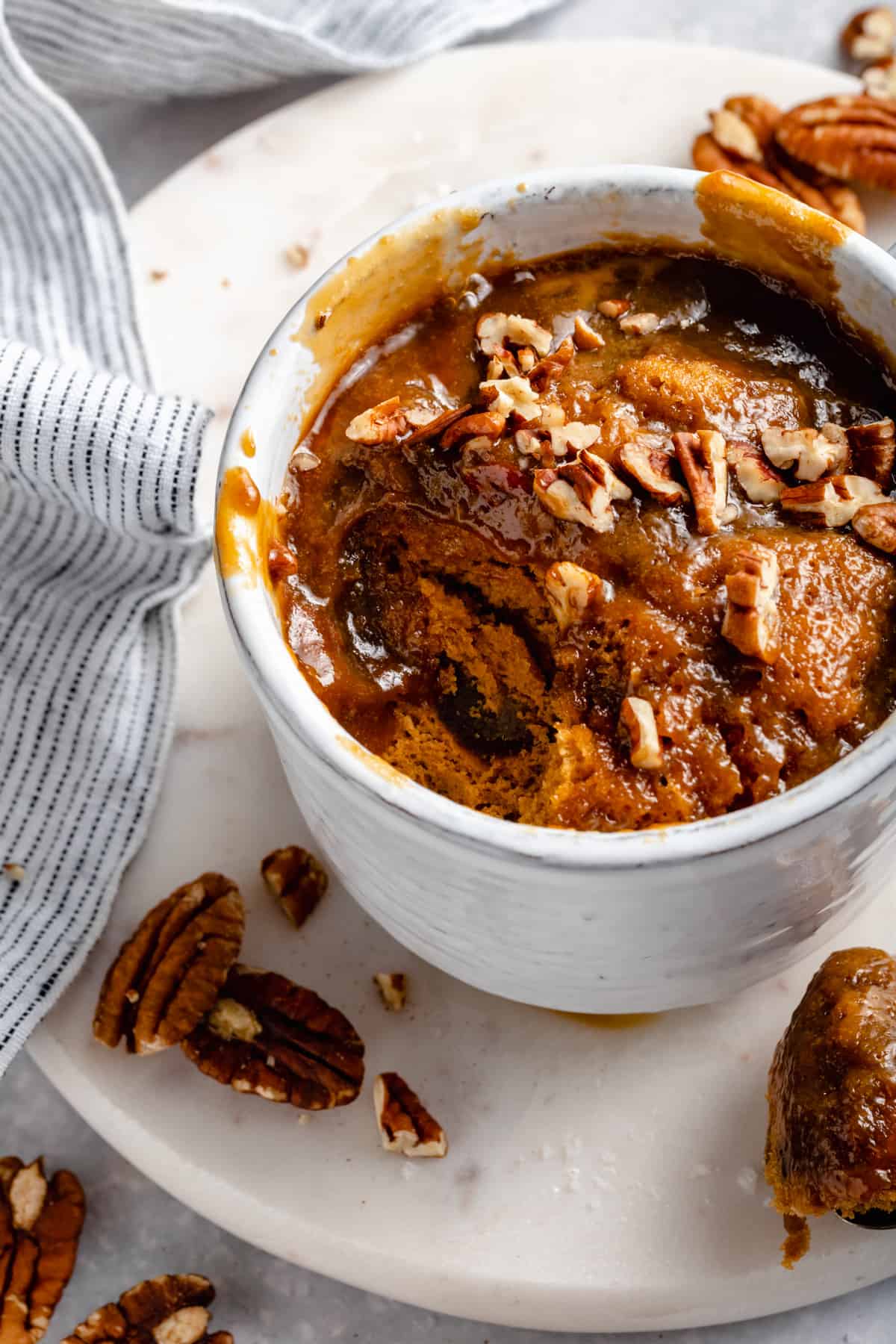 How to serve it
This easy sticky toffee mug cake is absolutely perfect on it's own but if you are looking to impress, here are some suggestions:
Chopped nuts - Sprinkle your favourite chopped nuts on top of the sauce, I like using walnuts or pecans.
Ice cream - Traditionally, the British sticky toffee pudding is often served with vanilla ice cream. This mug cake is definitely extra special with a scoop on top.
Cream/custard - whatever your preference is, enjoy with cold custard or heat it up in the microwave, pour over some extra cream or use spray cream. You won't regret it! Clotted cream would be extra indulgent and delicious!
FAQs
Can I make a mug cake in the oven? 

No, this recipe was specifically made and tested thoroughly for the microwave. It wouldn't act the same in the oven as the cooking process of the oven is different to the microwave.
Why is my mug cake so spongy?

The most common cause for a chewy, spongy mug cake is overcooking it. Try reducing the cooking time if you have this issue. For the recipe above, stick to 1 minute 20 seconds. If you are using gluten free flour the texture will be even lighter and fluffier than the original recipe. 
Other dessert recipes
I hope you love this sticky toffee pudding mug cake as much as we do. If you make it, be sure to leave a comment, rate the recipe and tag #eatloveeats on Instagram! I love to see your creations!