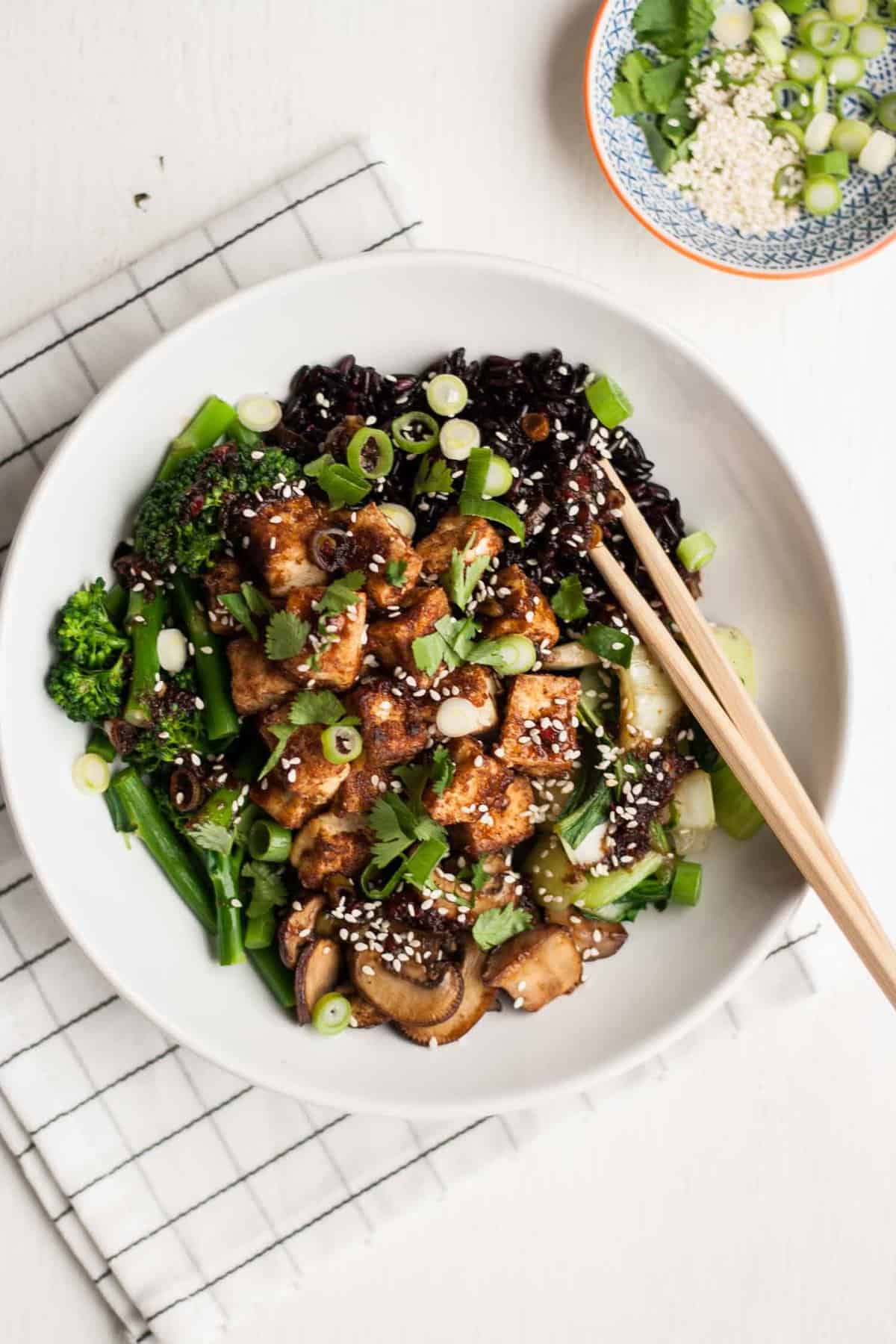 Tofu and I didn't get off to the best start. I mean, I was dubious about eating what I had already deemed to be a (barely) edible sponge anyway and then the first time I cooked it, it actually lived up to that title. I diligently avoided it for another couple of years.
But tofu, I pre-judged you. And what's more, I blamed your sponge-like qualities on YOU, completely disregarding my blatant lack of tofu-cooking finesse. Tofu, I hang my head in shame.
But I gave you another chance!
You see, you just needed a bit of love, didn't you? You do inherently taste of nothing, it's true, but that's not your fault! And you are very open to new flavours and textures. And you didn't complain one bit when I tossed you into a screaming hot wok. No, YOU JUST GOT BETTER. And crispy! I didn't believe it was possible.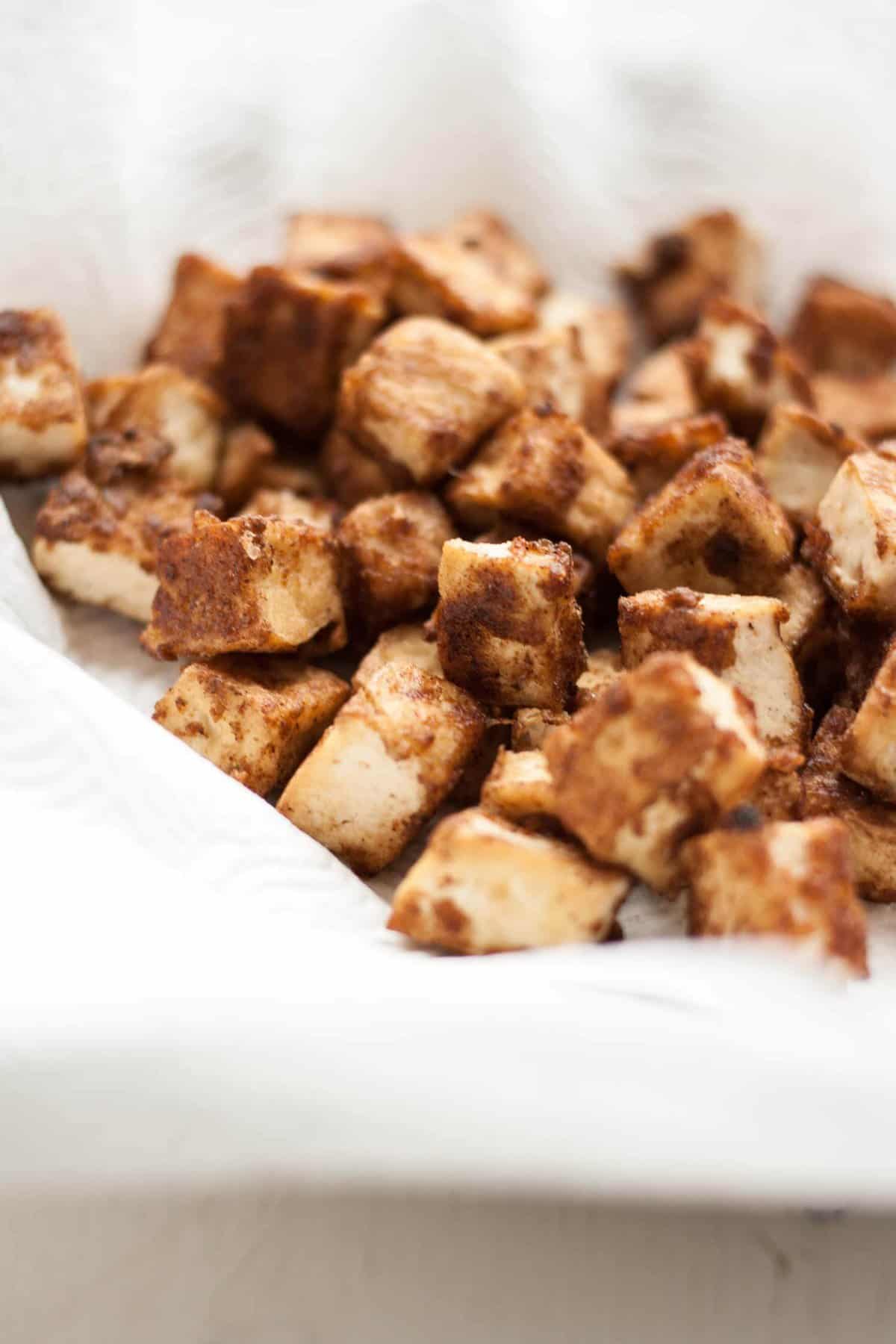 But it is. Just look at those crispy tasty nuggets!!! Yum! 😎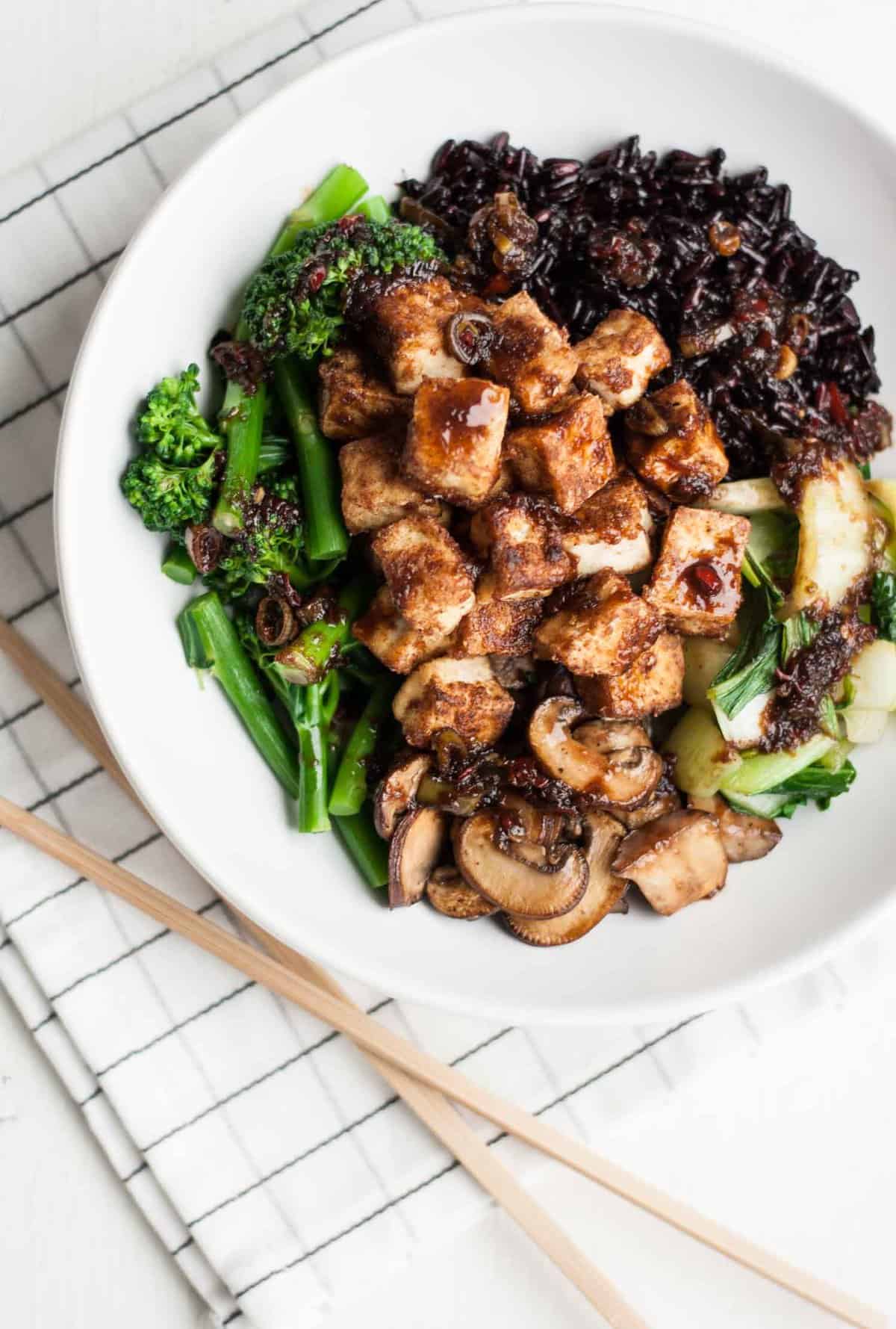 I dredged the tofu pieces (cut small so that the crispy edge to squidgy middle ratio was more favourable) in a mixture of cornflour and Chinese 5-spice powder before giving them a good old frying. Then they got all cosy in a bowl with some sticky black rice and stir-fried mushrooms, with tenderstem broccoli and pak choi providing some happy green balance. And then I bathed it all in a super flavoursome sauce, filled with Asian flavours. And willingly ate it all. The tofu was the best bit!
I know! I couldn't believe it either. But it's true.
But that rice, though. If you haven't tried black rice before - you must! Even though I spent like, a whole £2 on a tiny little bag of it - it's so worth it! (And you don't need much for this recipe so it's all good). Black rice is nutty and chewy and apparently it's a nutritional powerhouse too. Which is always a plus in my book. I like to get my nutrients in where I can! You can totally sub brown rice if you want to but I urge you to get some of the black stuff. However extortionate it may be. You're worth it.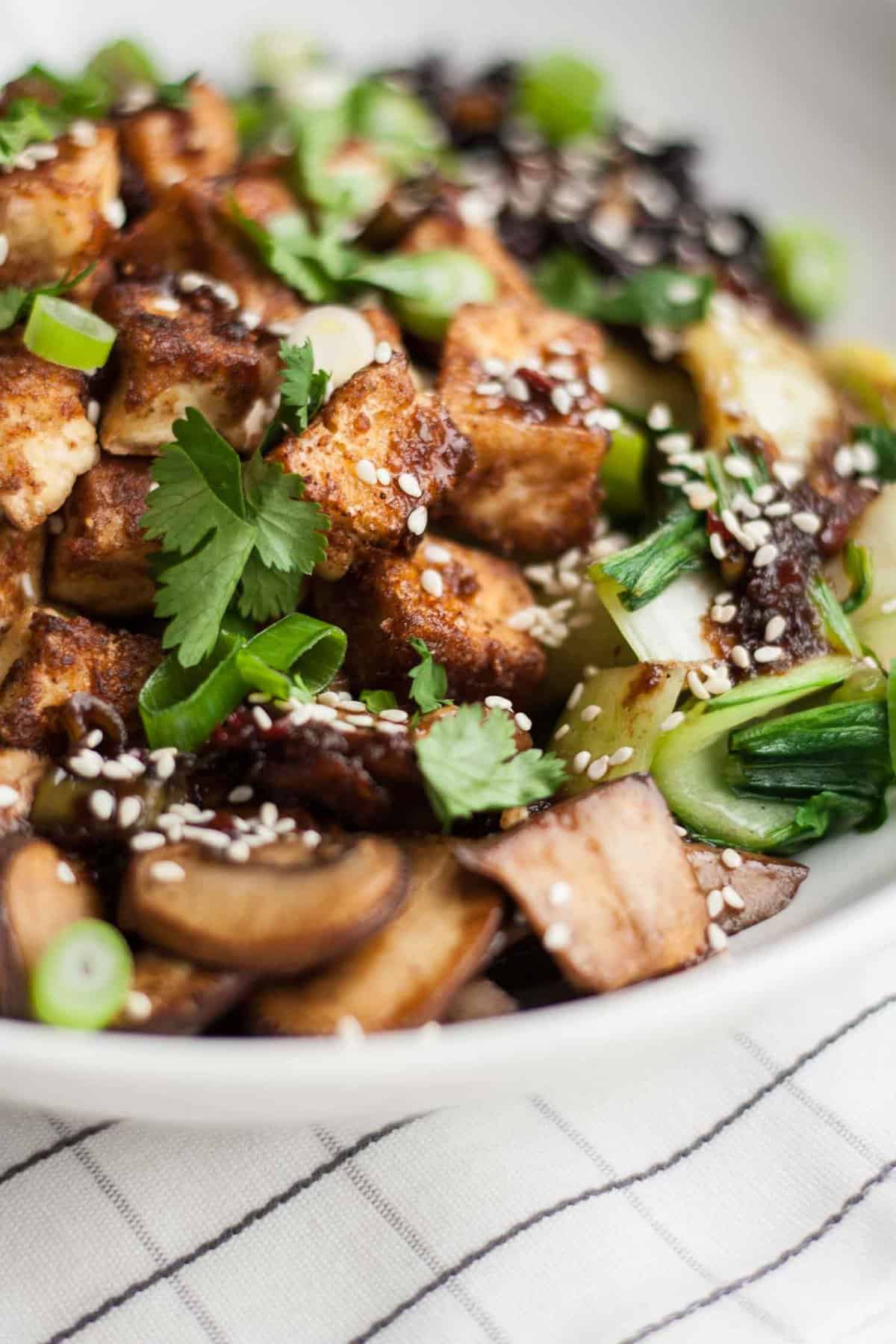 Just have a closer look at that tofu. It's so golden and delicious and just begging for you to dig right in! Give this recipe a go and give tofu the love it deserves.
And if you needed anymore convincing, this crispy tofu black rice bowl is completely vegan whilst tasting decidedly meaty and umami and just generally awesome. What more could you possibly need?
Behold! The recipe to convert even the most zealous tofu-sceptic in your life. You're welcome.
📖 Recipe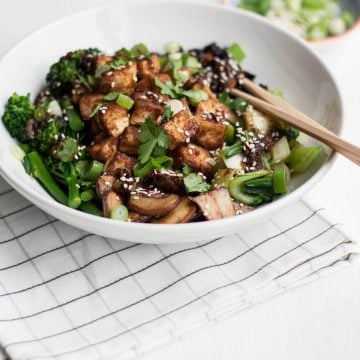 Crispy Tofu Black Rice Bowl
A lovely bowl of vegan crispy tofu served with black rice and veggies, a satisfying bowl of food for lunch or dinner.
Print Recipe
Pin Recipe
⭐️ Rate Recipe
Ingredients
225

g

extra-firm tofu

,

(8 ounces)

1

tablespoon

cornflour

½

teaspoon

Chinese 5-spice powder

¼

teaspoon

chilli powder

pinch

sea salt

3

tablespoons

groundnut oil

100

g

black rice

,

(½ cup)

100

g

tenderstem broccoli

,

(a small bunch)

150

g

chestnut mushrooms

,

(2 cups) sliced

1-2

pak choi

,

sliced

sliced spring onions

,

to garnish

chopped coriander

,

to garnish

sesame seeds,

to garnish
For the sauce
1

tablespoon

dark soy sauce

1

tablespoon

mirin

1

tablespoon

toasted sesame oil

1

teaspoon

maple syrup

1

garlic clove

,

grated

1

cm

piece of ginger

,

grated

½

red chilli

,

finely chopped

1

spring onion

,

finely sliced

squeeze of lime juice
Instructions
First prepare the tofu. Cut into 1 cm thick slices. Line a plate with a few pieces of kitchen paper and place the tofu slices on top. Cover with a few more pieces of kitchen paper, another plate and place something heavy (a couple of cans will do) on top. Leave to press whilst you prepare the other ingredients, at least 10 minutes or so. You may need to change the paper halfway through.

Cook the black rice. Rinse and place in a small saucepan with a pinch of salt and a cup (250 ml) of cold water. Bring to the boil, stir once and place a lid on the pan. Turn the heat down low and cook for about 25 minutes, until tender. You can rinse it once cooked, but I like it when it's a bit sticky.

Once the tofu is dry, cut into 1 cm dice. Sprinkle with the cornflour, 5-spice powder, chilli powder and a good pinch of salt and toss well. Heat the oil in a wok or large frying pan. Add the tofu (I did this is two batches) and fry until golden brown and crispy - this took 2-3 minutes for me. Transfer to some more kitchen paper to drain.

1 tablespoon cornflour,

½ teaspoon Chinese 5-spice powder,

¼ teaspoon chilli powder,

pinch sea salt,

3 tablespoons groundnut oil

Stir fry the mushrooms, broccoli and pak choi, adding more oil if needed. Place in a bowl along with some rice and crispy tofu pieces.

100 g tenderstem broccoli,

1-2 pak choi,

150 g chestnut mushrooms

Place all ingredients for the sauce in your empty wok or frying pan and bring to the boil. Cook for a minute until slightly thickened and pour over the rice, veggies and tofu. Garnish with the spring onions, coriander and sesame seeds, if liked and serve.

sliced spring onions,

chopped coriander,

sesame seeds,

1 tablespoon dark soy sauce,

1 tablespoon mirin,

1 tablespoon toasted sesame oil,

1 teaspoon maple syrup,

1 garlic clove,

1 cm piece of ginger,

½ red chilli,

squeeze of lime juice,

1 spring onion
Notes
Make sure to press your tofu well, removing the moisture helps it crisp up nicely along with using cornstarch to help this.
Nutrition
Calories:
711
kcal
|
Carbohydrates:
77.5
g
|
Protein:
24.7
g
|
Fat:
38.7
g
|
Saturated Fat:
5.2
g
|
Polyunsaturated Fat:
10
g
|
Monounsaturated Fat:
20.3
g
|
Sodium:
740.7
mg
|
Potassium:
1084.7
mg
|
Fiber:
9.6
g
|
Sugar:
13.7
g
|
Vitamin A:
186.1
IU
|
Vitamin C:
135.9
mg
|
Calcium:
300.6
mg
|
Iron:
6.8
mg
Did you make this recipe?
Leave a comment below with how you got on and don't forget to give the recipe a rating ⭐️⭐️⭐️⭐️⭐️. You can also tag @eatloveeats on Instagram - we love to see your creations!
PS. Let's not talk about the fact that those chopsticks were nothing but a prop and most definitely were not used to transport any tofu cubes towards my face. I am desperately incapable of using them - I just can't figure out how to hold them properly! Once, I was sat in a teppanyaki restaurant in Paris (I know, who eats Japanese food in France?) and the couple sat next to us were openly laughing and staring at my dire lack of chopstick skills and they had to give me a pair that were taped together so that I could use them like pincers. Oh, the shame!