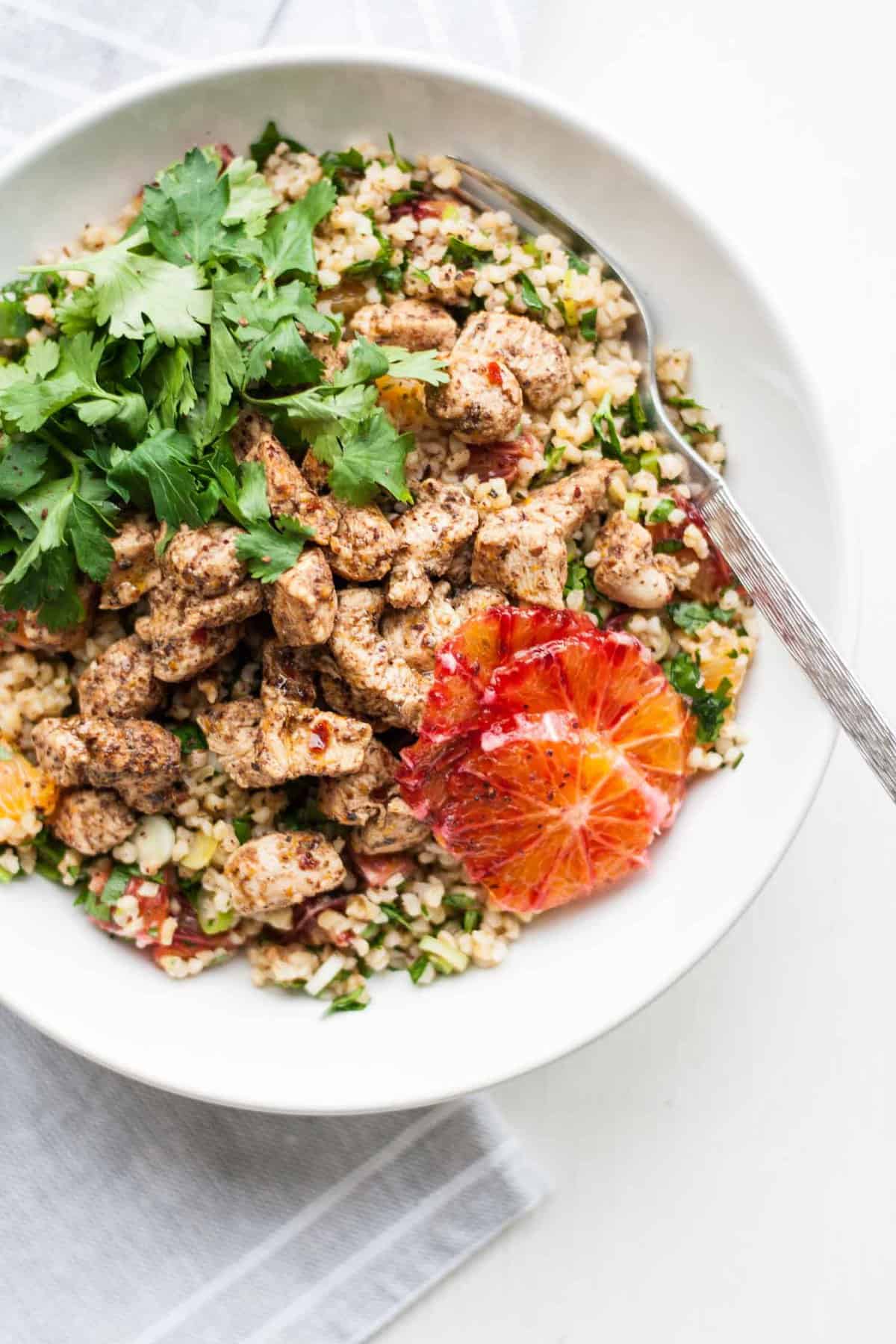 Do you ever have those days where you feel completely and utterly demotivated? Who am I kidding - of course you do. We all do. It's part of the human condition, unfortunately.
I woke up this morning feeling exactly like that. I had a blog post to write and yet I had no words. Not one. And what's worse is that once you start your day in this vein, it's pretty much a downward spiral from there. Unless we choose differently. We really can choose differently.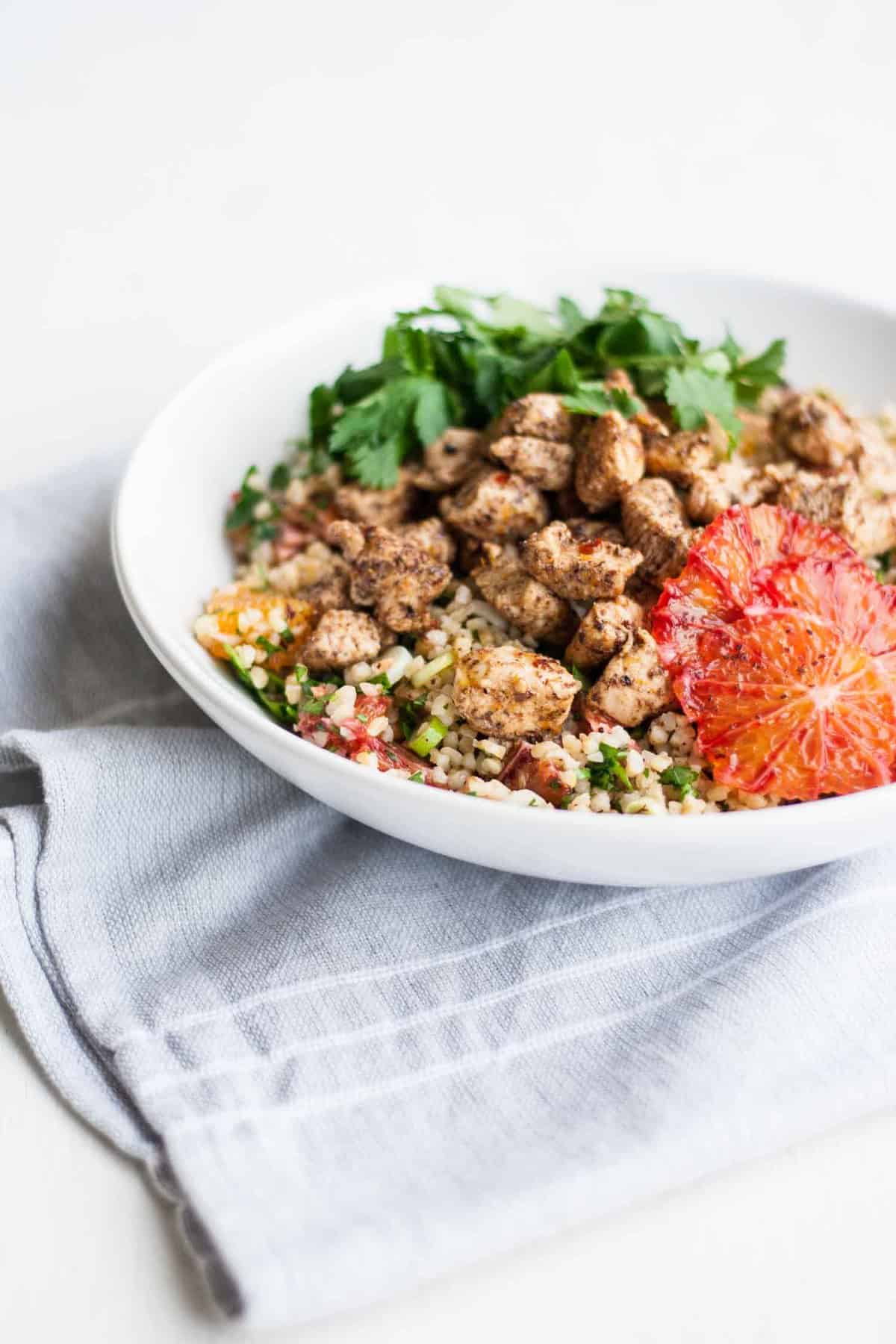 I am incredibly lucky in that I have a husband who will tell it to me straight when I get myself into a stink like that. He'll fearlessly tell me what I need to hear, instead of what I want to hear. That's a miracle and I am truly grateful for it.
So, he told me that I was stuck in my head (NEVER a good place to be) and that I should stop what I was doing and get out for a walk. Trust me, that is not what I wanted to hear. "You mean I have to change out of my trackie bottoms and actually leave the warm cosy house? You already told me this morning that it's -1ºC out there."
But deep down, I knew he was right. So I pulled on my jeans, put on my boots and coat and scarf and ventured out into the world. It was a beautiful morning - the fields next to my house were blanketed in frost and there was not a cloud in the sky.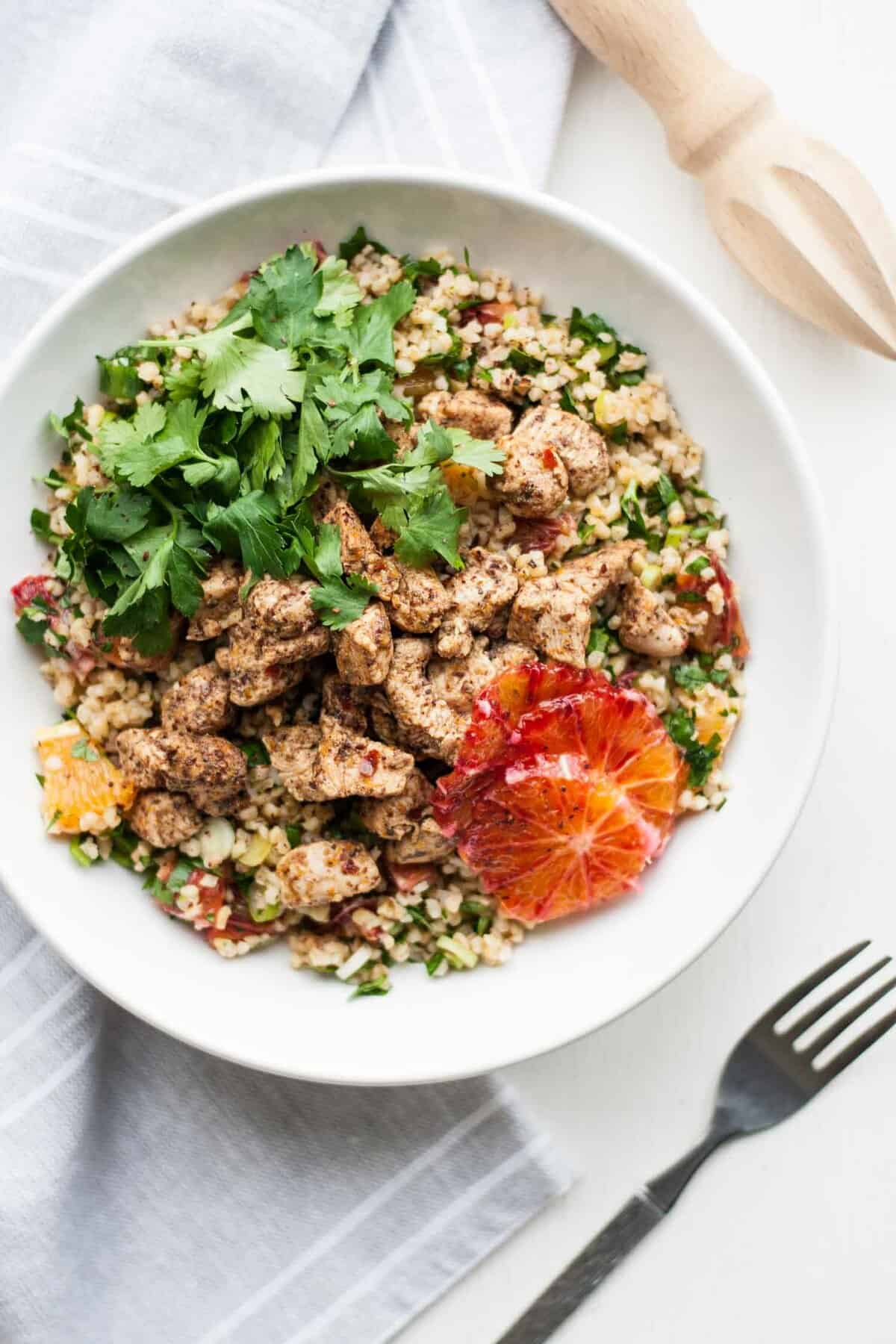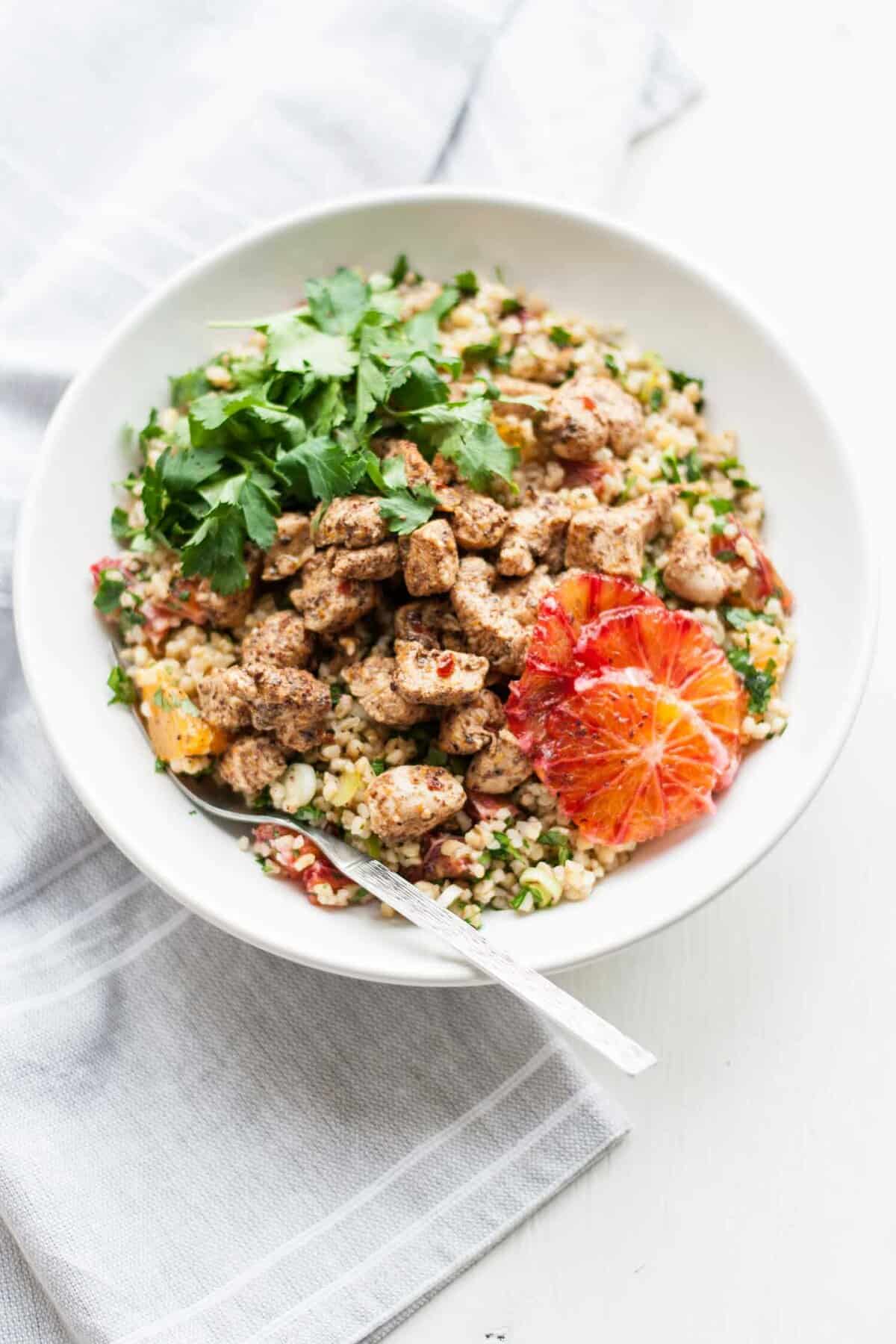 I walked peacefully to the spot I go to gather my thoughts. Just a simple bridge over a small river, it's where I always go to reconnect. And it was like I was just meant to be there in that precise moment. As I arrived, a group of buzzards flew low above my head. I counted five of the mesmerizing birds swooping and calling to each other. What a majestic sight. I'm so grateful I was there in that moment.
Paying attention to my surroundings brings me back to the moment everytime - birds tweeting, buzzards calling, the river rushing, church bells ringing, sunshine glinting - peace was restored. I was reminded that I had everything I needed. All this, just a five minute walk from my house. In that moment, I had no need to be anywhere other than where I was. And what's more, I knew what I was going to write about. This is my blog after all - a place to write about my experiences, about whatever is in my heart.
I came home and got straight in the kitchen to test some recipes. Got back into the flow. Regained perspective. Took the pressure off. And I feel all the better for it.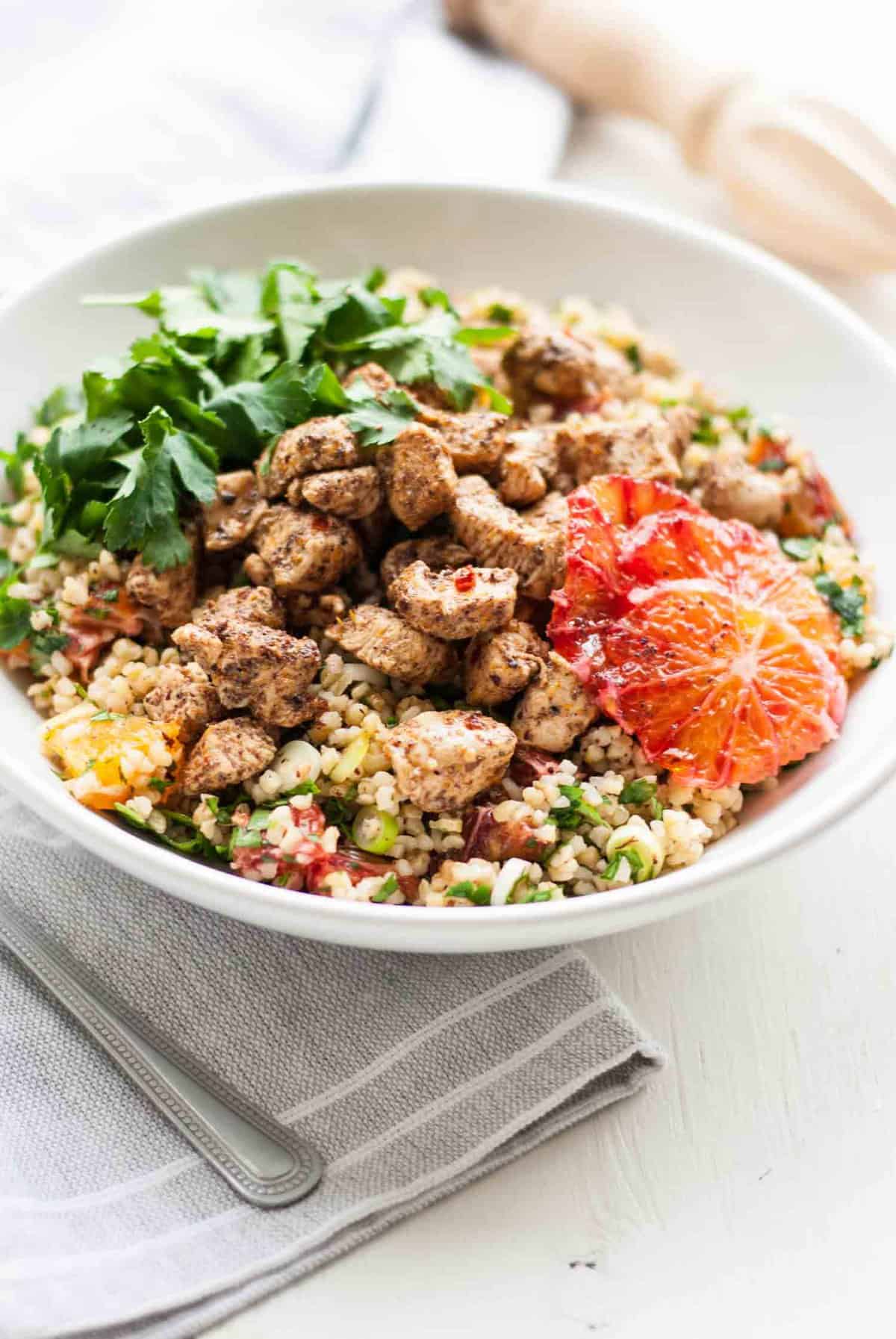 And so to the food! This blood orange sumac chicken tabbouleh is fresh and vibrant. It is the perfect dish to pack for lunch, especially as it is so quick and easy to put together. I just can't stop using blood oranges - their flavour is both sweet and sour and so much more complex than a regular orange. I love 'em.
The chicken is so simple and yet packed full of flavour - the blood orange zest combined with the citrussy sumac really packs a punch. (If you haven't tried sumac yet, what are you waiting for?!) The succulent chicken combined with the sweetly spiced, nutty bulgur wheat, the grassy herbs and the bright pops of juicy blood orange makes for a delicious dish indeed. This would be great not only for lunch, but also as part of a Middle Eastern mezze. Or, you could serve up the chicken on the side and throw some toasted nuts into the salad. I'm willing to bet the spice mix would be great on fish too, if you prefer. And of course, try some different herbs in there too. The possibilities are endless!