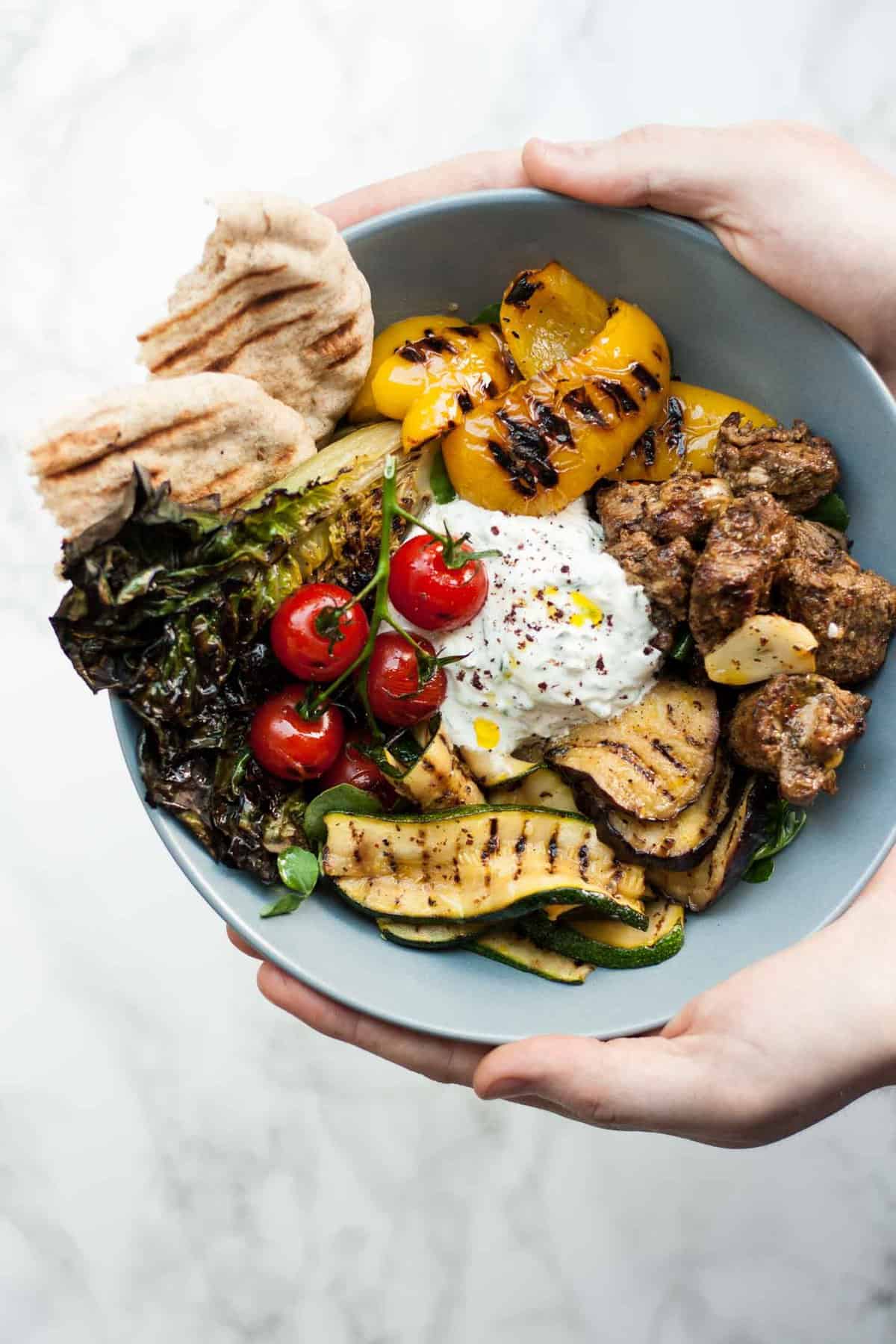 I'm totally getting in the mood for summer with this Lamb Souvlaki with Sumac Tzatziki! And for us Brits, who knows how much 'summer' we'll get. We had a couple of days in the mid-twenties earlier this month and naturally, we've already had two barbecue dinners. We have to make the most of it over here! Anyway...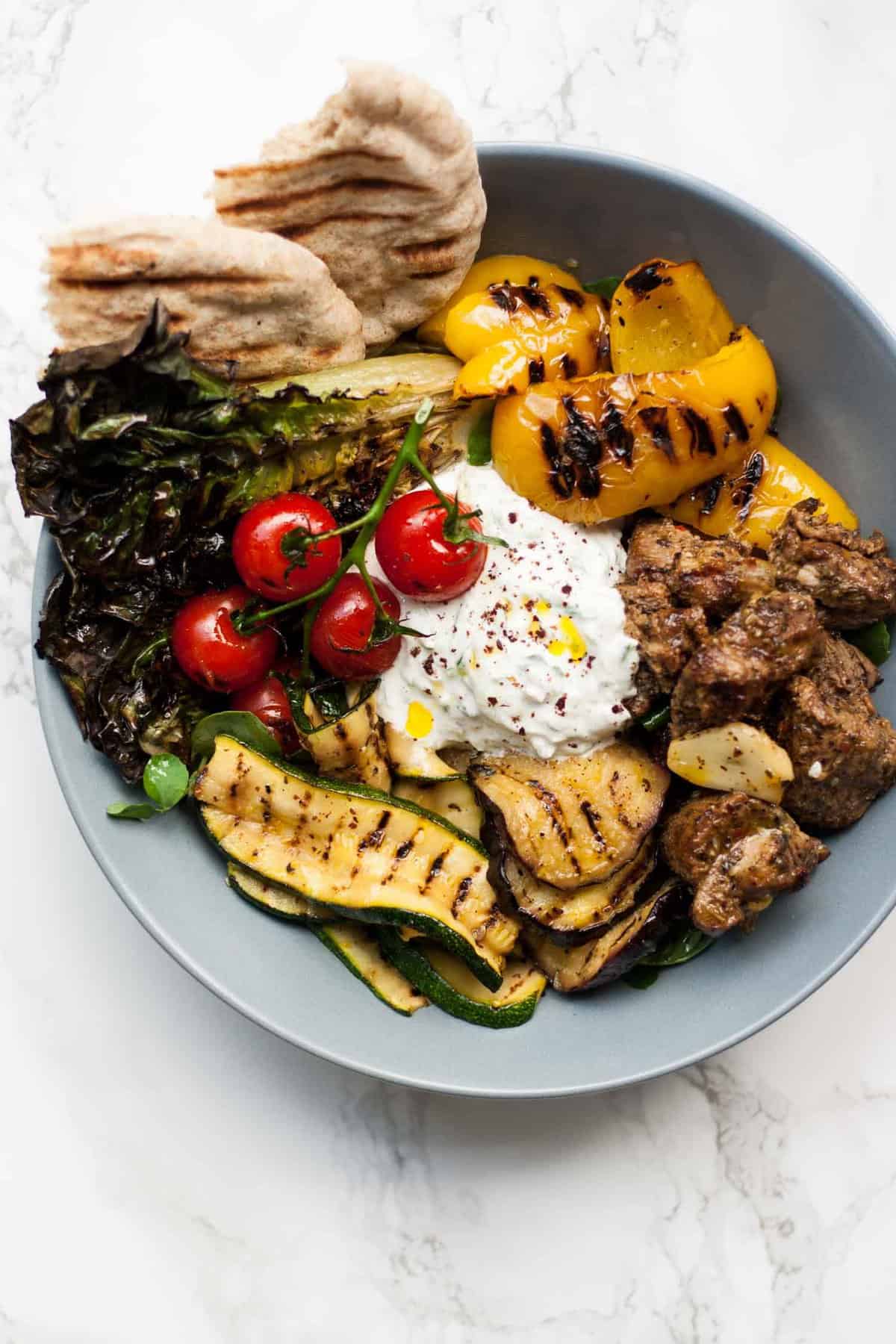 We're eating solid food again! Hallelujah. I feel a million times better for doing the juice cleanse - lighter, clearer, appetite reduced - but boy, was I hungry throughout the four days. The juices satiate my hunger, for sure, but in the afternoon and evening especially, I'm feeling hungry again just 20 minutes later. A lot of people who do these juice cleanses say they don't feel hungry during...maybe they're lying? A marketing ploy? Do I have a tapeworm? Who knows, it's not that important at the end of the day. I mean, I didn't die or anything. In fact, I'm incredibly grateful to be in a position where I have ready access to the ingredients and equipment required to do such a thing. It's quite a privilege.
But yeah, it was a struggle at times for sure! I always make sure I'm at work when I'm juicing because there is nothing worse than sitting at home thinking about all the things you could be eating, but are currently choosing not to. At work, too, people talk about food, eat food on their lunch break and bring in home-baked goodies to share. Fair enough, I can deal with that. I keep myself busy and when I am physically working I have no access to food anyway. The most difficult thing? Every time I opened up Instagram on my phone over the weekend I would find a direct message from my wonderful husband with a drool-worthy image of some super cheesy, dripping burger. Oh I just love him, I do.
But we're eating again now so YAY! Lamb Souvlaki with Sumac Tzatziki for dinner, anyone?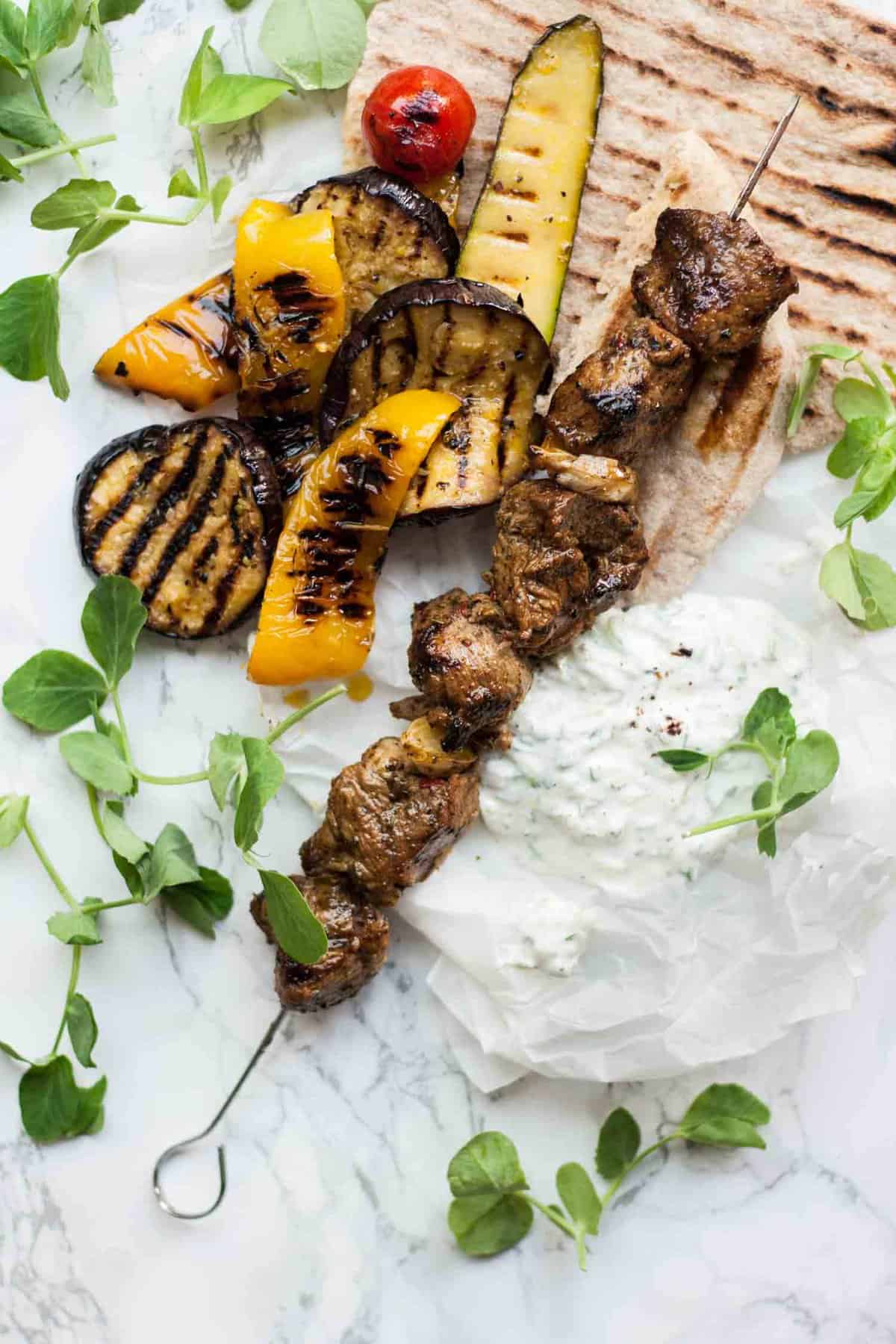 This is one seriously simple dinner I have for you right here so don't be alarmed by the ingredients list! It's mainly store cupboard ingredients you'll use for the marinade. And ok, so it might take a little time to griddle all of the veggies, but if you've got your barbecue fired up, you're laughing. Set the lamb to marinate the night before, whip up some tzatziki and slice some veggies and you have yourself one insanely flavoursome meal. You know I wouldn't tell you about a recipe unless it was insanely flavoursome, right? Ain't nobody got time for bland food. (Unless of course, you happen to be Captain Holt from Brooklyn Nine Nine, in which case, go eat your nutrition bricks elsewhere.) (Pleeeeeeease tell me you watch that show?)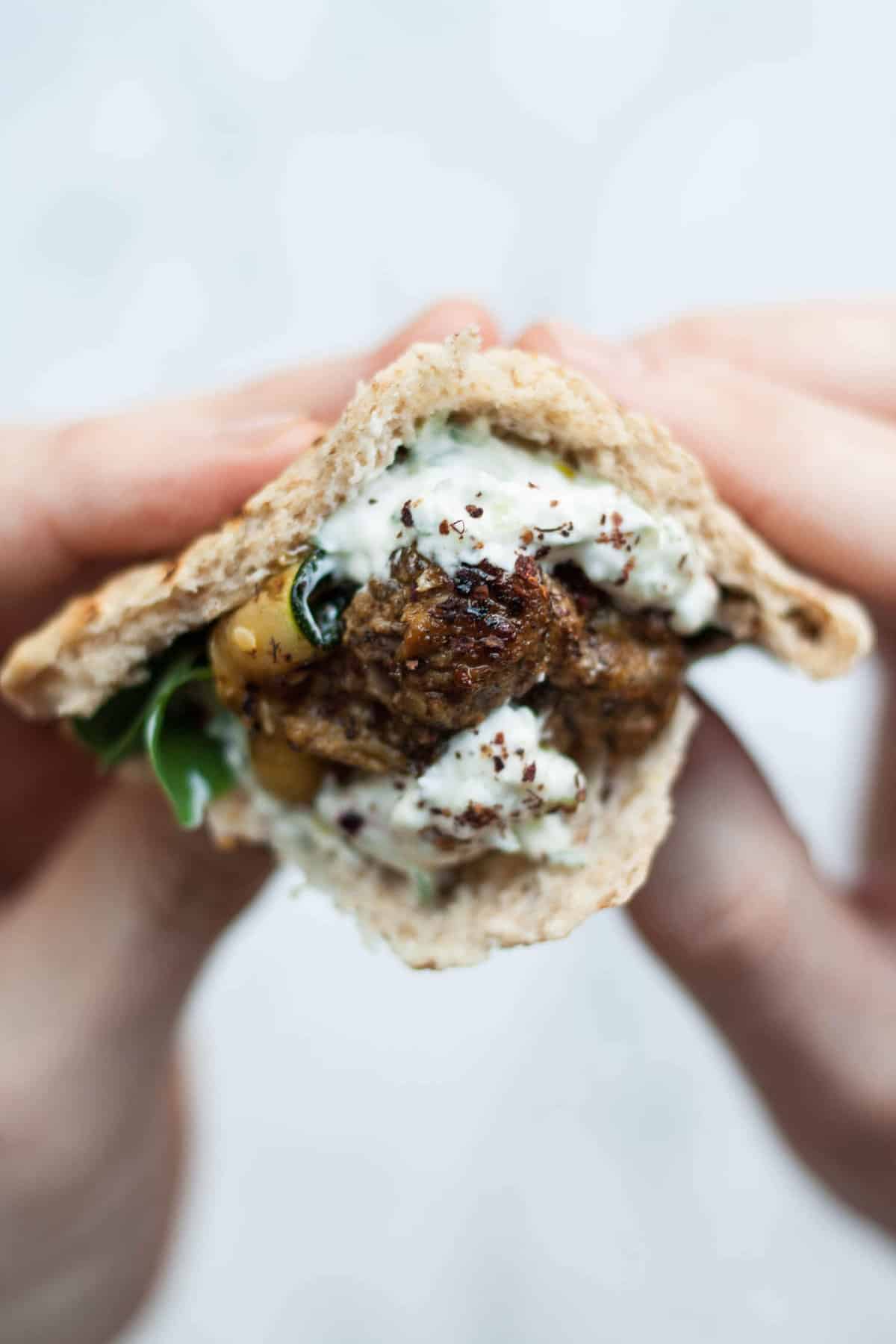 So it's really that simple! Marinated lamb and simple chargrilled veggies, with that characteristic smoky flavour, rounded off with a punchy tzatziki. Stuff it all inside a pitta bread and you're done. It occurs to me just now that this is the first actual meat recipe on the blog (not counting chicken). We don't eat an awful lot of red meat at home, regarding it more as an occasional treat, so it's fun to make a recipe using something different. What kind of recipes would you like to see more of on Eat Love Eat?
Ingredients
1

lb

boneless lamb shoulder

,

cubed

juice of half a lemon

1

teaspoon

cumin

1

teaspoon

dried oregano

½

teaspoon

sumac

¼

teaspoon

chilli flakes

½

teaspoon

sea salt flakes

1

tablespoon

rapeseed or olive oil

,

plus more for brushing veggies

4

cloves

garlic

,

skin on, bashed

1

medium courgette

,

cut into strips

1

small aubergine

,

sliced into rounds

1

bell pepper

,

cut into strips

1

lettuce

,

little gem, sweet gem or romaine, halved lengthways

tomatoes on the vine

pitta bread

,

to serve
For the sumac tzatziki
½

cucumber

125

g

Greek yoghurt

,

(½ cup)

clove

small of garlic

,

finely grated

1

tablespoon

lemon juice

¼

teaspoon

sumac
For the lemon dressing
juice and zest of ½ lemon

2

tablespoons

rapeseed or olive oil

½

teaspoon

maple syrup
Instructions
Place the lamb pieces, lemon juice, cumin, oregano, sumac, chilli flakes, sea salt and 1 tablespoon oil into a large bowl or resealable bag along with the bashed garlic cloves. Mix well so that the lamb is thoroughly coated. Leave in the fridge to marinate for a few hours, preferably overnight.

1 lb boneless lamb shoulder,

juice of half a lemon,

1 teaspoon cumin,

1 teaspoon dried oregano,

½ teaspoon sumac,

¼ teaspoon chilli flakes,

½ teaspoon sea salt flakes,

1 tablespoon rapeseed or olive oil,

4 cloves garlic

Brush the courgette, aubergine, pepper, lettuce and tomatoes with a little oil. Sprinkle with salt and pepper. Heat a griddle pan (ideally cast iron) over medium high heat and griddle the vegetables in batches until they are nice and soft and charred. This should take a couple of minutes per side, depending on how well your pan conducts the heat. Place the cooked veggies into a bowl and pour over the lemon dressing. Mix well.

1 medium courgette,

1 small aubergine,

1 bell pepper,

1 lettuce

Place the lamb cubes onto skewers along with the garlic cloves, if liked, and griddle for a few minutes per side until cooked to your liking.

Served the cooked lamb and vegetables with warm pitta bread and sumac tzatziki.

1 lettuce,

tomatoes on the vine,

pitta bread
For the tzatziki
Deseed the cucumber and grate using a coarse grater. Place into a sieve with a pinch of salt and set over a bowl for 5 minutes to allow the salt to leach out any excess water. Squeeze to get the cucumber as dry as possible.

In a small bowl, mix the cucumber with the Greek yoghurt, garlic, lemon juice, sumac and a pinch of salt. Taste and adjust lemon juice and salt as desired.

125 g Greek yoghurt,

clove small of garlic,

1 tablespoon lemon juice,

¼ teaspoon sumac
For the lemon dressing
Mix together the lemon zest and juice, oil and maple syrup and season to taste with salt and pepper.

juice and zest of ½ lemon,

2 tablespoons rapeseed or olive oil,

½ teaspoon maple syrup
Notes
You could cook the meat and veggies on an outdoor barbecue, if desired.
The recipe as written serves 2-3, possibly more depending on appetite. It would be easy to multiply up the quantities to serve more people if needed.
I made my own pitta using this recipe from Paul Hollywood as it's really easy to do - I actually used my KitchenAid mixer and cooked the pitta on my griddle pan to get some nice bar marks. They don't puff up as much this way, but they're delicious! Store bought is great too if you don't fancy making your own.
Nutrition
Calories:
500
kcal
|
Carbohydrates:
45.1
g
|
Protein:
25
g
|
Fat:
27.9
g
|
Saturated Fat:
5.4
g
|
Polyunsaturated Fat:
3.4
g
|
Monounsaturated Fat:
17.4
g
|
Cholesterol:
45.8
mg
|
Sodium:
839.4
mg
|
Potassium:
1083
mg
|
Fiber:
7.3
g
|
Sugar:
14.5
g
|
Vitamin A:
291.3
IU
|
Vitamin C:
143.4
mg
|
Calcium:
144.3
mg
|
Iron:
3.8
mg
Did you make this recipe?
Leave a comment below with how you got on and don't forget to give the recipe a rating ⭐️⭐️⭐️⭐️⭐️. You can also tag @eatloveeats on Instagram - we love to see your creations!