This lamb souvlaki recipe is a great way to celebrate Greek cuisine and it grills up in no time! Super versatile, these lamb souvlaki skewers are juicy and packed full of flavour. Don't forget to serve with pita and tzatziki!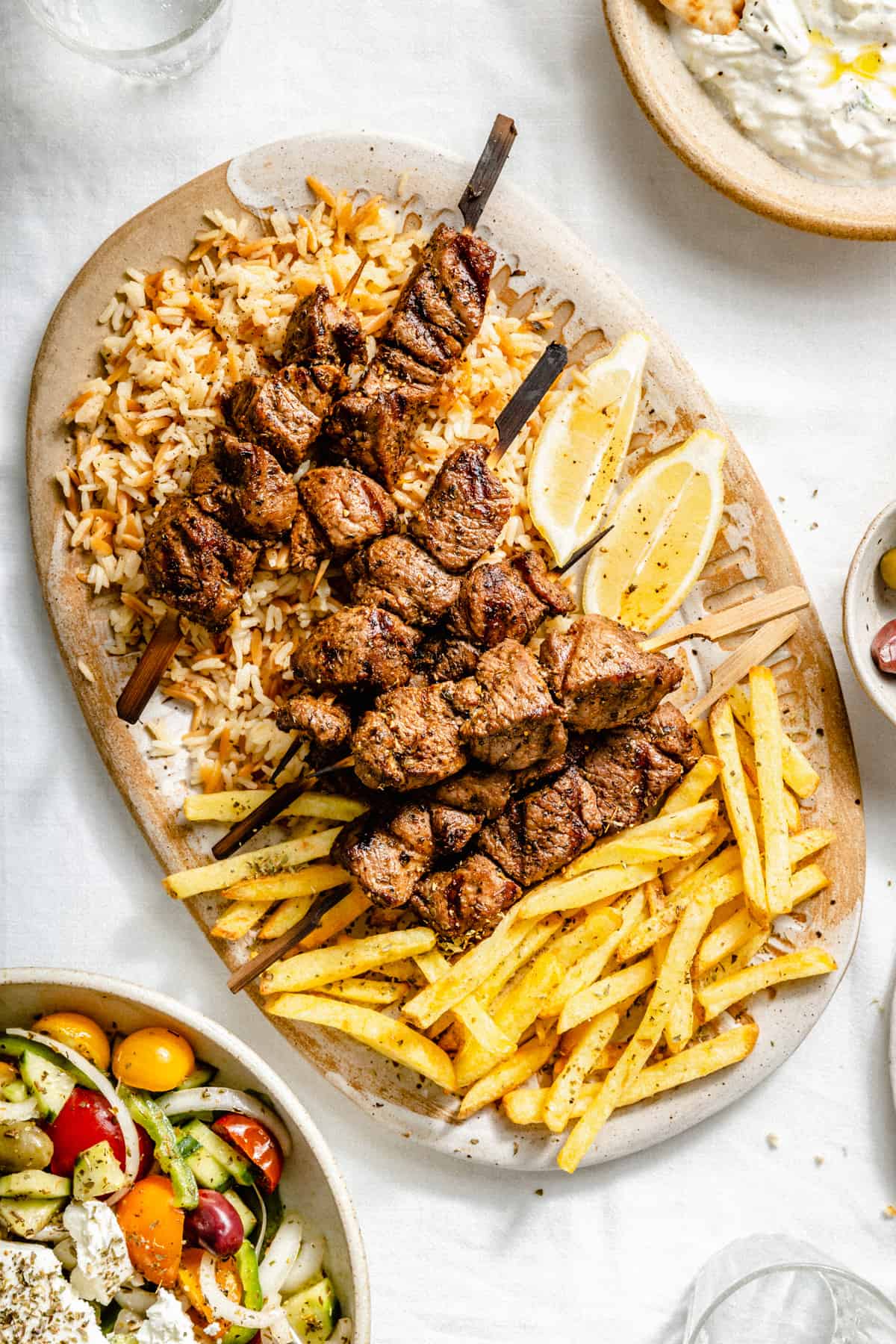 We LOVE Greek food! And our love has only increased since we visited the beautiful island of Rhodes recently. Now, we aren't claiming to be authentic or even have the best recipe. This lamb souvlaki recipe is to celebrate the wonderful food and culture we've experienced and all credit goes to the Greeks!
You can't go far down the road in Rhodes and not bump into some local with a big smile and greeting of καλημέρα (kalimera) or kαλησπέρα (kalispera) - good morning/evening. The culture is super friendly and inviting and so is the food. We hope you can enjoy our lamb souvlaki with tzatziki as much as we do. And in doing so absorb some of the wonderful Greek culture too. And if you're after something a little less Greek then you need to try our Pineapple Chicken Kabobs or our Loaded Sweet Potato Fries.
We know you'll love this lamb souvlaki recipe, just imagine sitting in a Greek taverna as you tuck into this delight. Leave us a comment and rating below as we love hearing from you. Γεια μας (yamas)! Cheers!
Jump to:
Why you'll love this recipe
If you're not yet convinced, here are some simple reasons you'll love this lamb souvlaki recipe:
Easy - these skewers are really simple to whip up. They can easily be made ahead of time to avoid prep on the day of your grilling session.
Satisfying - you'll definitely be satisfied after tucking into these. Especially if served with the suggested sides.
Flavourful - the spice and herb blend is really simple which is important to a good lamb souvlaki. Secondly, cooking on a grill, preferably a charcoal one, really adds that extra special flavour.
What is souvlaki?
Souvlaki (σουβλάκι), pronounced su'vlaci, is a traditional Greek street food which is made from meat threaded on to skewers and grilled. It literally means, small skewer. The most common and traditional Greek souvlaki is created with pork and chicken but lamb is also used or even beef in some areas.
The meat is marinated in a blend of herbs and spices which varies on location, but at its heart is most simply is oregano and garlic. It will often include cumin and paprika too.
Souvlaki can be eaten most often with pita, tzatziki, some form of fried potatoes such as fries and/or rice (often with orzo throughout).
Ingredients
You'll only need simple ingredients to create this Greek delicacy, this is what you'll need to make lamb souvlaki: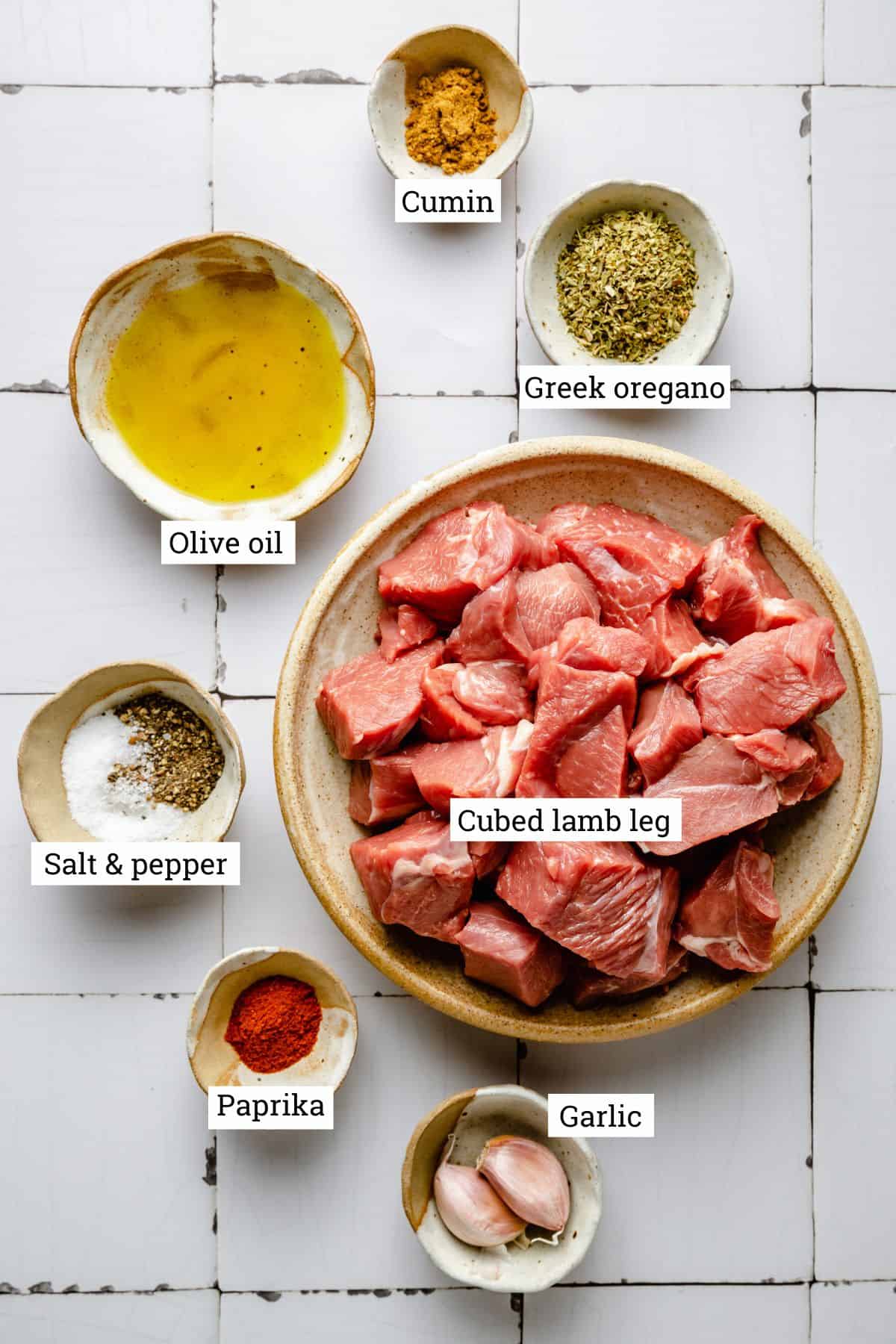 Lamb - we love using lamb leg or shoulder cut into 1 ½ inch cubes for our souvlaki. Trim any excess hard fat off that will not render in the time you are grilling.
Flavourings - we went with the blend of oregano, a touch of cumin and paprika, as we found it came closest to the flavour for the souvlaki we experienced in Rhodes. The most important herb though is oregano; Greek oregano if you can get it!
Garlic - garlic is prevalent in many Greek dishes, but we found that it isn't over-powering, so adding just a couple of smashed garlic cloves to the marinade to bring in that dimension goes a long way.
Variations
Here's some variations if you want to mix this lamb souvlaki recipe up a bit:
Souvlaki pita - serve your lamb souvlaki in an opened out warm pita with tomatoes, onions, fries and tzatziki if you want a meal to grab rather than a platter.
Meat - change up the meat with some lovely chunks of pork shoulder or chicken thigh which will make a tasty meal if you aren't keen on lamb.
Spices - if you want to simplify the flavourings even more, omit the cumin and paprika and just go with the oregano, salt and pepper.
Veggies - if you fancy some vegetables you can add a piece of bell pepper or onion between the chunks of lamb on the skewer if you like.
How to make lamb souvlaki
Follow these steps for the most succulent Greek lamb souvlaki with tzatziki: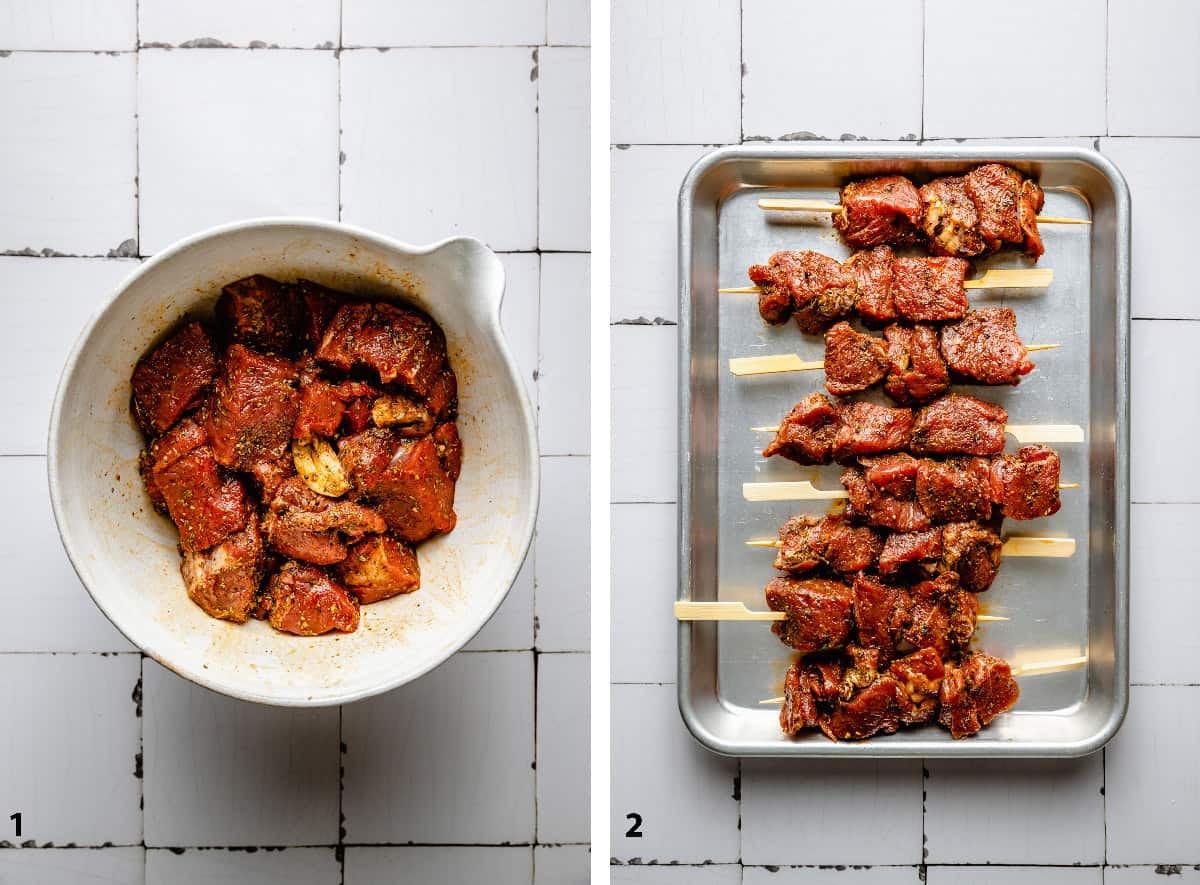 Add the cubed lamb into a large bowl with the olive oil, salt, pepper, oregano, cumin, paprika and the bashed garlic cloves, stir to combine and ensure all the meat is covered evenly. Leave to marinate for a minimum of 4 hours or preferably overnight.
Thread the cubes of lamb on some soaked bamboo skewers ready for you to cook on the grill. Cook for 4 minutes on each side on a preheated grill at 200°C/400°F until the internal temperature reaches 145°F. Leave to rest for 5-10 minutes before eating.
How to make tzatziki
Follow these quick and easy steps to whip up a delicious tzatziki to serve with your lamb souvlaki: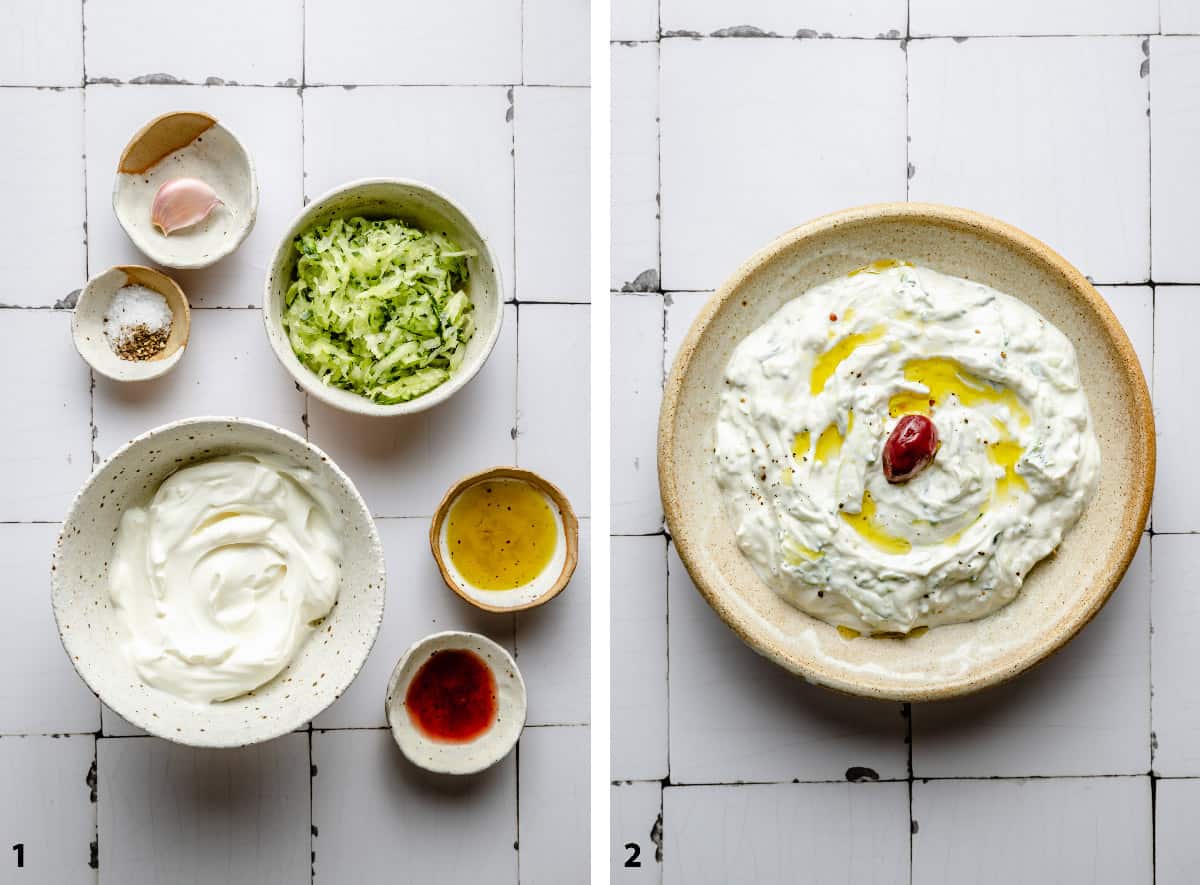 Get all your ingredients prepared. Grate your cucumber and place it into kitchen paper and squeeze as much as liquid out as you can, you don't want it leaching into the yogurt.
Add the squeezed out cucumber to the Greek yogurt along with the garlic, red wine vinegar, olive oil and some salt and finely ground black pepper. Stir together and serve with an olive and a drizzle of EVOO on top.
Cooking times and temperatures
This is a simple guide to cook your lamb to the desired result every time:
Preheat your grill to 200°C/400°F for 10 minutes before placing any meat on the grates. Dab some kitchen paper with olive oil and using tongs lightly oil the grates before you start cooking.
Rare - 120°F (49°C)
Medium rare - 125°F (52°C)
Medium - 130°F (54.4°C)
Medium well - 145°F (63°C)
Well done - 150°F (66°C)
Cook your lamb souvlaki for 4 minutes with the lid closed until you have strong grill marks, turn your skewers over and cook for another 4 minutes. After this time check your internal temperature with a digital thermometer. Cook to a few degrees below the desired results and then leave to rest to finish cooking the rest of the way.
What to serve with it
We love to serve lamb souvlaki with a myriad of options for everyone to dig in meze style. Here are some suggestions:
Pita - lovely grilled fluffy and soft Greek pita are the perfect vehicle to enjoy your lamb souvlaki on.
Rice - Greeks are after our own heart serving many dishes with carbs on carbs, serving orzo rice alongside the pita and fries too.
Fries - most places will throw a handful of oregano seasoned fries along with your souvlaki skewer to enjoy. If you love fries as much as us, try out our Loaded Sweet Potato Fries.
Greek salad - there's a lovely freshness that goes along with this grilled platter and that's a lovely Greek salad with tomatoes, onions, pepper and feta.
Tzatziki - oh and don't forget the famous Greek yogurt dip tzatziki. Our experience in Greece so far is that it has a gentle garlic note rather than a blow your head off raw garlic flavour, so half a small garlic clove grated finely should be more than enough. Add more if you prefer.
Expert tips
Get the best out of your lamb souvlaki with these tips:
Marinade - to let the meat absorb the flavours as much as you can, be sure to marinate it for at least 4 hours but overnight is better. It will allow the salt to penetrate the meat and tenderises it too.
Digital probe - use a digital thermometer to get accurate results as to how the meat is cooking. The worst thing would be to overcook the lamb as it will be dry. Do yourself a favour and invest in this little gadget to help you.
Herbs and spices - when you buy dried herbs and spices, don't buy more than you'll use in a short period of time. They go stale after a while and you want to give the best flavour to your lamb souvlaki, this will really help you with that.
Recipe FAQs
What is the difference between a gyro and a souvlaki?

A souvlaki is marinated cubed meat, usually pork, chicken or lamb and is cooked over a grill or charcoals on a skewer. It is served this way too, unless you order it in a pita.

A gyro is made from a giant kebab of layered meats, such as chicken thighs or pork and is cooked over a rotisserie and shaved with a knife. It is served in a pita with tzatziki, onion, fries and some form of salad.
What is the best cut of lamb to use?

Lamb souvlaki/kebabs/skewers are best made with boneless lamb shoulder or leg. Just be sure to trim any excess hard fat away as this doesn't render away on such a short cook time on the grill.
Related recipes
If you love this Greek lamb souvlaki recipe you'll find more inspiration in our grilling section. Here are some other suggestions to get you started during summer:
Love this recipe? Leave us a 5-star ⭐️⭐️⭐️⭐️⭐️ rating in the recipe below and don't forget to leave a review in the comments section underneath the recipe. We love hearing from you!
Why not follow along with us on our social media channels @Instagram @Facebook and @Pinterest and tag us with #eatloveeats when you've tried one of our recipes!
📖 Recipe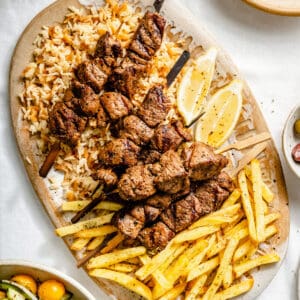 Lamb Souvlaki with Tzatziki
Celebrating Greek cuisine with a chargrilled Greek lamb souvlaki platter that will satisfy anyone during grilling season.
Print Recipe
Pin Recipe
⭐️ Rate Recipe
Ingredients
To serve (optional)
Greek salad

fries

,

seasoned with oregano salt

pita

orzo rice

tzatziki
Instructions
For the tzatziki
Grate the cucumber using a coarse grater. Place the grated cucumber in a double layer of kitchen paper and wrap up. Squeeze to get the cucumber as dry as possible.

In a small bowl, mix the cucumber with the Greek yoghurt, garlic, red wine vinegar, olive oil and season with salt and pepper. Taste and adjust seasoning if desired.

¼ cucumber,

1 cup Greek yoghurt,

1 small of garlic clove,

1 tablespoon red wine vinegar,

1 tablespoon extra virgin olive oil,

½ teaspoon kosher salt,

⅛ teaspoon freshly ground black pepper
For the lamb souvlaki
Place the lamb cubes, olive oil, cumin, oregano, paprika, kosher salt and black pepper into a large bowl or resealable bag along with the bashed garlic cloves. Mix well so that the lamb is thoroughly coated. Leave in the fridge to marinate for at least 4 hours, preferably overnight.

1 ½ lb boneless lamb leg or shoulder,

1 ½ teaspoon dried oregano,

¾ teaspoon cumin,

¾ teaspoon paprika,

1 ½ teaspoon kosher salt,

4 tablespoon extra virgin olive oil,

3 cloves garlic,

¾ teaspoon freshly ground black pepper

Whilst the lamb is marinating, soak the skewers in water. Place the lamb cubes onto skewers along with the garlic cloves, if liked.

Preheat your grill to 200°C/400°F for 10 minutes. Lightly brush the grates with oiled kitchen paper. Grill the lamb for 4 minutes with the lid closed and turn them over when they have good grill marks. Cook for another 4 minutes and then check the internal temperature with a probe. We like ours at 145°F. If you cook them much further than that they start to dry out. Leave to rest off the heat for 5 minutes before serving.

Served the cooked lamb with warm pita, tzatziki, rice and fries if you wish.

Greek salad,

fries,

pita,

orzo rice,

tzatziki
Notes
Nutrition is for the lamb souvlaki and tzatziki only, served between four. Additional sides are not included.
Be sure to marinate the lamb beforehand to ensure maximum flavour, at least 4 hours in the fridge will do.
Cooking the lamb to the internal temperature of 145°F will still leave you with a succulent skewer but check out the post above for temperatures on how you like your lamb.
Our experience in Greece so far is that tzatziki has a gentle garlic note rather than a blow your head off raw garlic flavour, so half a small garlic clove grated finely should be more than enough.
Nutrition
Serving:
1
g
|
Calories:
589
kcal
|
Carbohydrates:
5.1
g
|
Protein:
39.8
g
|
Fat:
45.7
g
|
Saturated Fat:
16.8
g
|
Polyunsaturated Fat:
3.3
g
|
Monounsaturated Fat:
23
g
|
Cholesterol:
120
mg
|
Sodium:
675.1
mg
|
Potassium:
713.3
mg
|
Fiber:
0.5
g
|
Sugar:
3
g
|
Vitamin A:
12.7
IU
|
Vitamin C:
1.1
mg
|
Calcium:
108.7
mg
|
Iron:
4.1
mg
Did you make this recipe?
Leave a comment below with how you got on and don't forget to give the recipe a rating ⭐️⭐️⭐️⭐️⭐️. You can also tag @eatloveeats on Instagram - we love to see your creations!