Dark Chocolate Almond butter cups are the perfect snack to have on hand and you only need 5 ingredients to make them! They're so easy to make and far superior than your store bought favourites.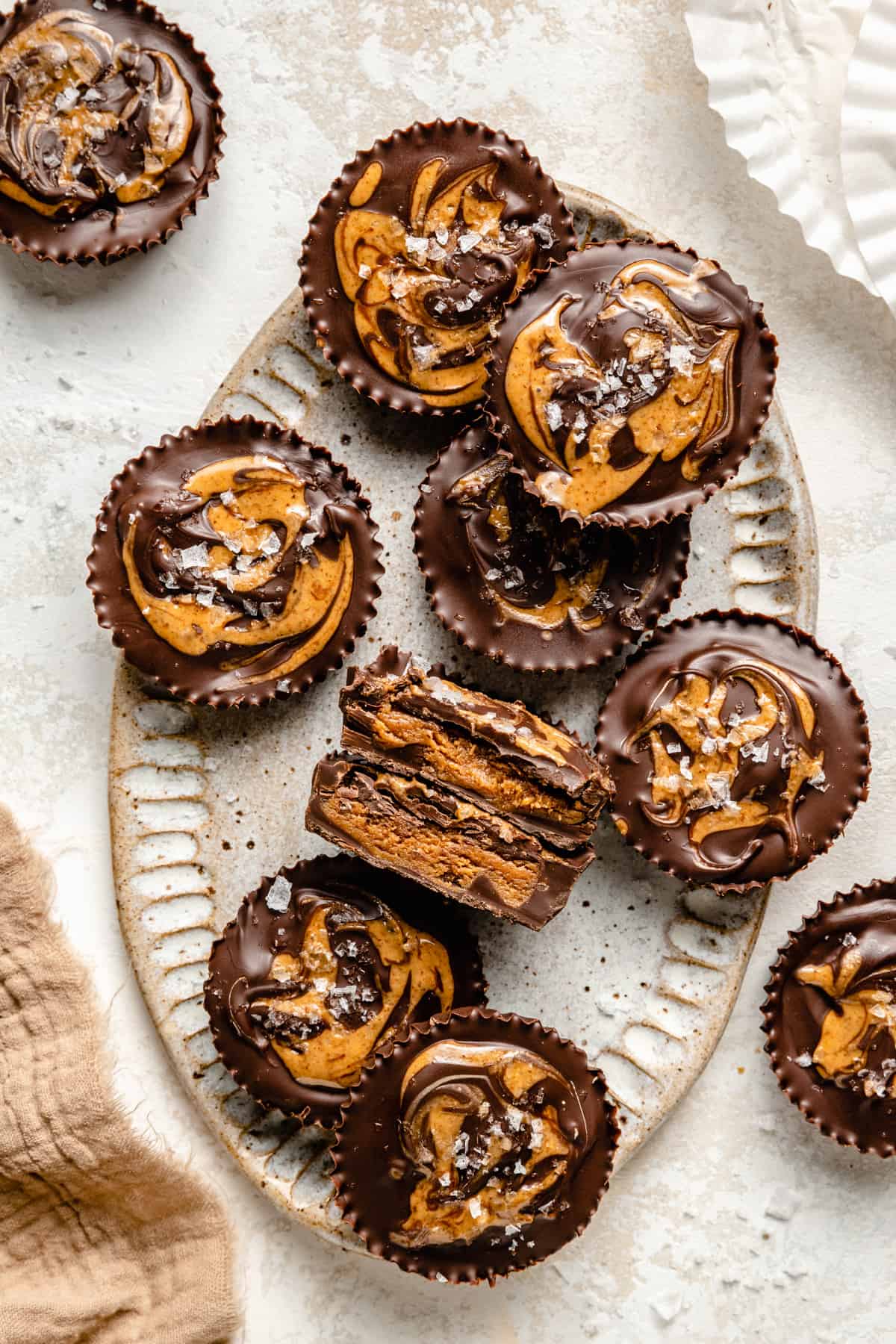 In our house, snacks or some variation of a snack need to be on hand at all times and these dark chocolate almond butter cups are perfect for that. They're so easy to make this is almost not even a recipe. If you're already a fan of these sweet treats and often purchase them to meet your chocolate cravings, trust us when we say that these are far superior!
We love using nut butters in our house, whether that's in Strawberry Peach Pie Smoothie or this Maple Almond Butter Snack Mix. We love them so much that we even love to make this Cashew Butter Cups variation.
Packed with natural creamy almond butter lightly sweetened with maple syrup these are a great option to stock up the fridge or freezer to have on hand. You'll absolutely love these, so be sure to leave us a comment and rate the recipe too!
Jump to:
Why this recipe works
Not that you need any excuses to make these awesome almond butter cups, but here's why this recipe works:
Easy - these little chocolate cups are so easy to make they're almost not even a recipe. It takes minutes to create them and they store very well.
Mess free - our method for making these chocolate cups is easy to clean as we make an almond butter paste instead of simply using runny almond butter in the centre of the cups.
Scale up - If you're in need of a lot of these snacks, you can create mini ones to go further or easily scale the recipe up to make more.
5 ingredients - you only need 5 ingredients, 4 if you don't count the salt. What's better than that? Super simple.
Kid friendly - this recipe is simple enough to get the kids involved, they will just need a little assistance in melting the chocolate with a microwave.
Ingredients
Simple ingredients for this simply delicious dark chocolate cup recipe, this is what you'll need: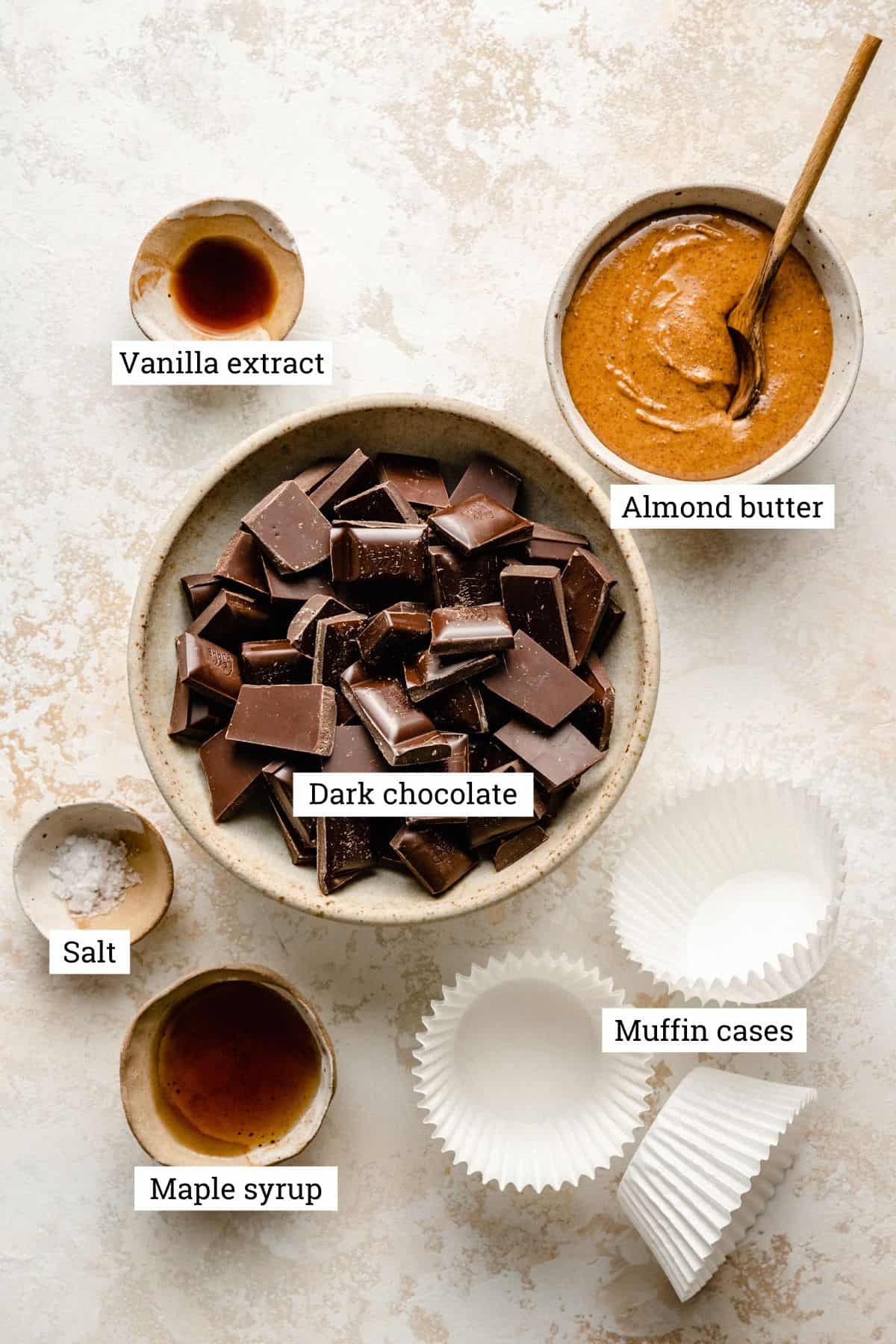 Chocolate - we recommend a mid to high level cocoa dark chocolate, at least 50% but we quite enjoy the snap of a 75% dark chocolate, the perfect match with almond butter.
Maple syrup - we use maple syrup to add a touch of sweetness and to create a paste with almond butter, it helps keep things together and makes the centres of these dark chocolate almond butter cups perfect.
Almond butter - use a natural runny almond butter, for an extra creamy filling. It also creates the most satisfying paste when mixed with maple syrup.
Flavour variations
If you fancy mixing it up with this recipe, here are some flavour variations we recommend:
White chocolate - although some say white chocolate isn't chocolate, substituting this makes beautiful white almond butter cups that are sweeter but oh so delicious!
Almond extract - if you want to amp up the almond flavour even more in these chocolate nut butter cups, add a few drops of almond extract to the paste.
Nut butter - switch up the nut butter. We've made Cashew Butter Cups, but highly recommend other nut butters like, peanut, pecan, pistachio or hazelnut.
Vegan - if you want to make these vegan just be sure to use dairy free chocolate.
How to make almond butter cups
Follow these straight forward steps to create these epic dark chocolate almond butter cups that are just to die for!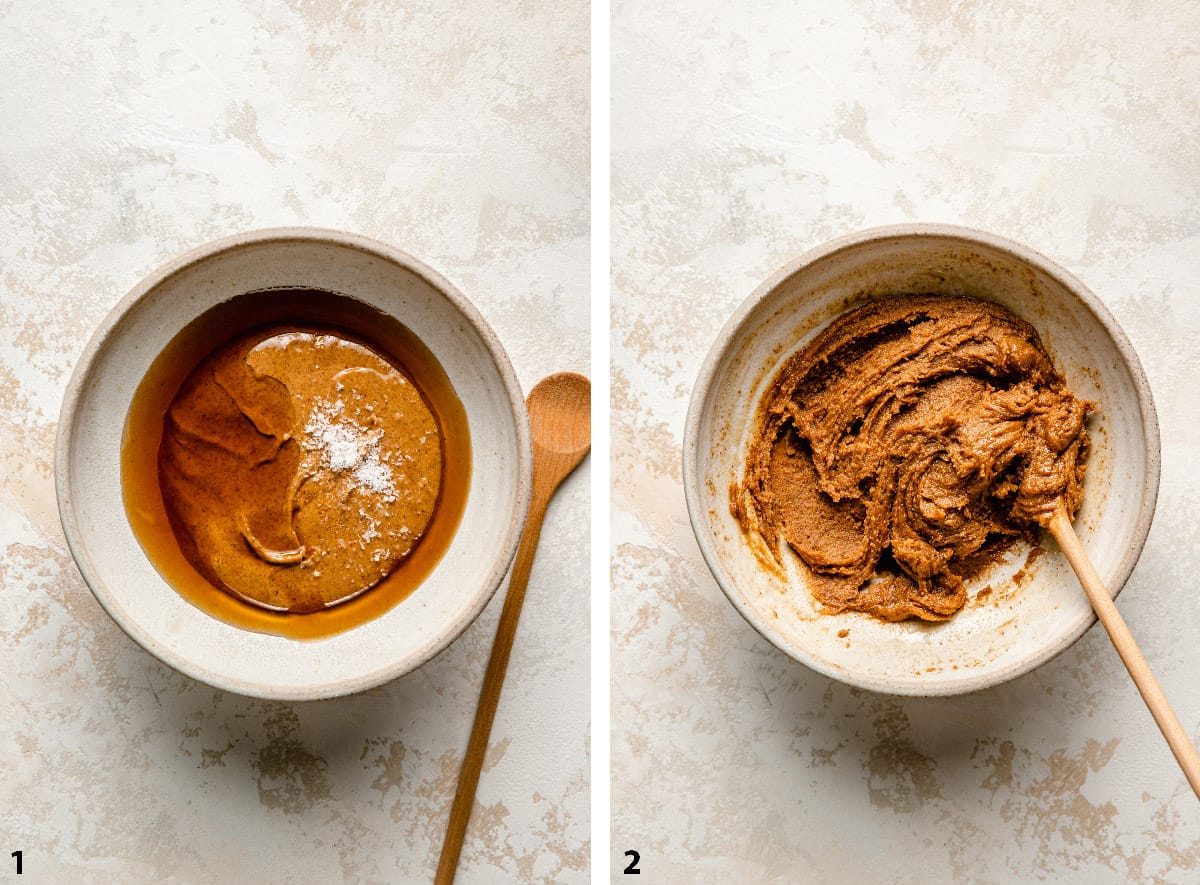 Add the almond butter, vanilla extract, maple syrup and salt into a medium bowl.
Stir together the almond butter ingredients until it forms a paste.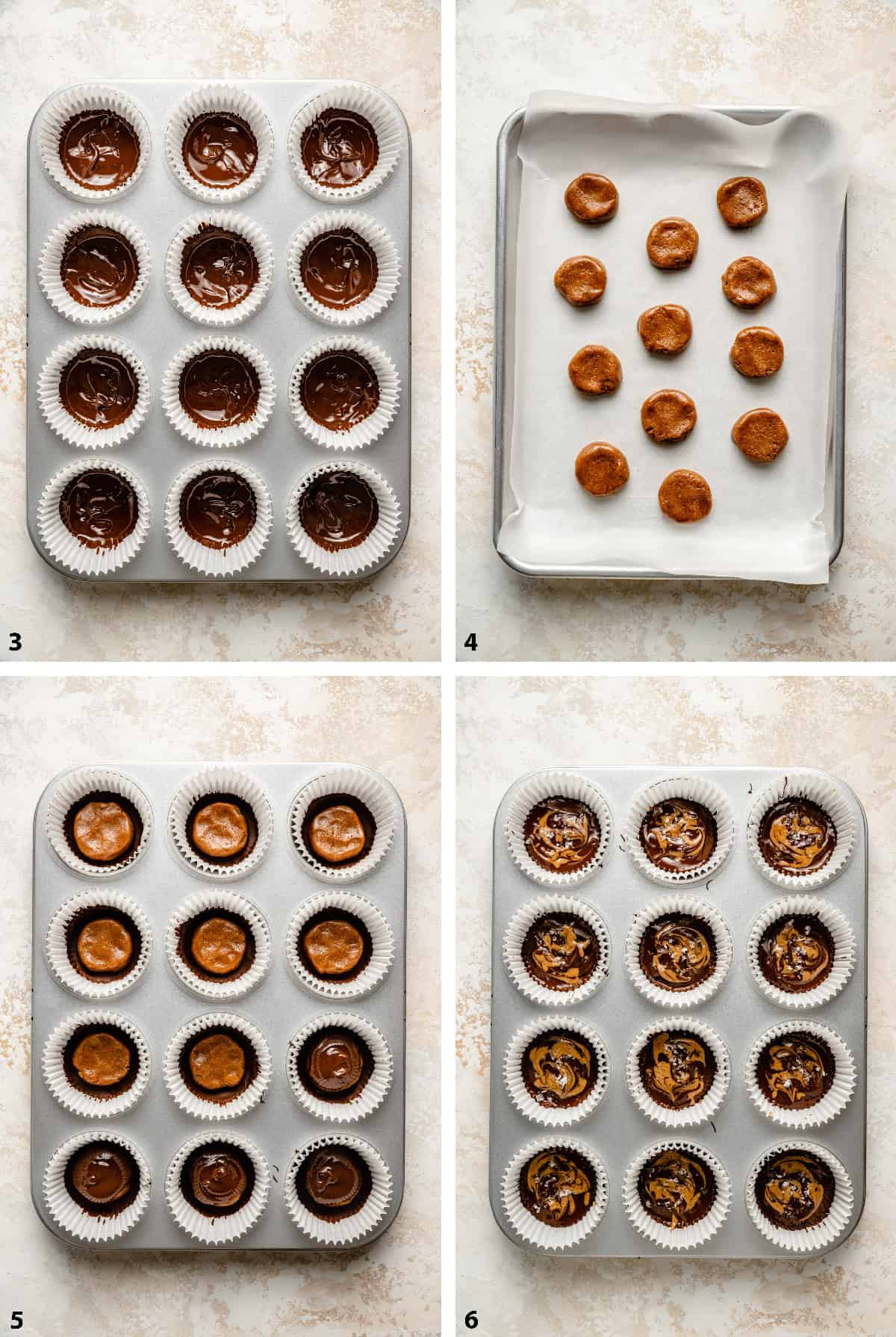 Place two teaspoons of melted chocolate into the bottom of twelve muffin cases and spread out and up the sides slightly with the back of a spoon. Place into the freezer to let them set quickly.
Roll the almond paste into a sausage shape and cut into 12 equal pieces, roll into balls and flatten into discs.
Place the discs of almond butter into the centre of the muffin case on top of the set base of chocolate and add another two teaspoons of melted chocolate to the top and spread out to seal in the disc, with the back of a spoon.
Loosen a little almond butter with a neutral oil and swirl it into the tops of the dark chocolate almond butter cups, top with flaky salt.
Expert tips
Follow these expert tips to ensure success every time!
Microwave - you can melt chocolate over a water bath or simply melt the chocolate in a microwave safe bowl in 30 second increments, stirring between each burst, which is even easier!
Almond butter paste - you could just simply put a spoon of almond butter in the middle, but creating a paste first is the best way to replicate the perfect centre for these.
Minis - you can use the exact same method of assembly with miniature cases to create a variety of sizes.
Chocolate - if your chocolate goes a bit thick whilst you are creating your dark chocolate almond butter cups, just reheat the chocolate again to loosen it.
No paste? - if for whatever reason your almond butter doesn't turn into a paste, just spoon it into the cases leaving an edge for chocolate to fall around it and ensure the top is smooth. However, we've tested this method with several nut butters and it always creates a paste for us.
Recipe FAQs
How do you store them?

You can store these treats in the fridge or freezer, either works well. We love to have them on hand in the fridge and they last all week. After a while you may find your chocolate starting to bloom. This doesn't make them inedible it just affects the finished look. If you'd like to keep them longer, we'd suggest storing them in the freezer, they don't take long to defrost ready to eat!
More snack recipes
Love these dark chocolate almond butter cups? Find all the snack recipes you need to give you that boost, here are some ideas to get you started:
Love this recipe? Leave us a 5-star ⭐️⭐️⭐️⭐️⭐️ rating in the recipe below and don't forget to leave a review in the comments section underneath the recipe. We love hearing from you!
Why not follow along with us on our social media channels @Instagram @Facebook and @Pinterest and tag us with #eatloveeats when you've tried one of our recipes!
Dark Chocolate Almond Butter Cups
These Almond Butter Cups are the perfect alternative to peanut butter cups. Quick and easy to make and significantly more delicious than shop bought!
Print Recipe
Pin Recipe
⭐️ Rate Recipe
Instructions
Line a muffin tin with 12 paper liners. Melt the chocolate by placing in a heatproof bowl set over a pan of gently simmering water, stirring occasionally until melted. Alternatively, microwave at 30 second intervals, stirring between each one, until melted.

Spoon 2 teaspoons of melted chocolate into the bottom of each muffin liner. Using the back of a small spoon, carefully spread the chocolate up the sides of the liner about 1cm/½ inch or so. Place the muffin tray in the freezer to set the chocolate.

Meanwhile, place the almond butter, maple syrup, vanilla extract and salt into a small bowl and stir together until a paste forms. Divide the paste into 12 portions (roughly 2 teaspoons each) and flatten into patties slightly smaller than the base of your muffin liners.

½ cup almond butter,

¼ teaspoon flaky sea salt,

1 teaspoon vanilla extract,

2 tablespoons pure maple syrup

Place the patties on the top of the set chocolate in the bottom of the muffin liner, pour 2 teaspoons of melted chocolate on top and cover the patty evenly and seal it inside the chocolate. Top with a swirl of almond butter (loosen with a drop of neutral oil if it's not very runny) and flaky sea salt. Leave to set in the fridge or freezer and store in an air tight container in the fridge or freezer.
Notes
Be sure to use natural runny almond butter as this works with the maple syrup to make a paste. 
Microwave the chocolate in bursts of 30 seconds, don't do longer as you risk burning and overheating the chocolate.
If the almond butter mixture doesn't quite form a paste, you can still use it by spooning and smoothing over, just leave an edge for the chocolate to run around the outside. 
To make these vegan, just make sure you use vegan chocolate.
Nutrition
Serving:
12
g
|
Calories:
218
kcal
|
Carbohydrates:
17.3
g
|
Protein:
3.7
g
|
Fat:
15.4
g
|
Saturated Fat:
5.9
g
|
Polyunsaturated Fat:
1.7
g
|
Monounsaturated Fat:
6.3
g
|
Cholesterol:
1.5
mg
|
Sodium:
36.2
mg
|
Potassium:
227.3
mg
|
Fiber:
3.1
g
|
Sugar:
11.7
g
|
Vitamin A:
0.8
IU
|
Calcium:
55.1
mg
|
Iron:
1.9
mg
Did you make this recipe?
Leave a comment below with how you got on and don't forget to give the recipe a rating ⭐️⭐️⭐️⭐️⭐️. You can also tag @eatloveeats on Instagram - we love to see your creations!