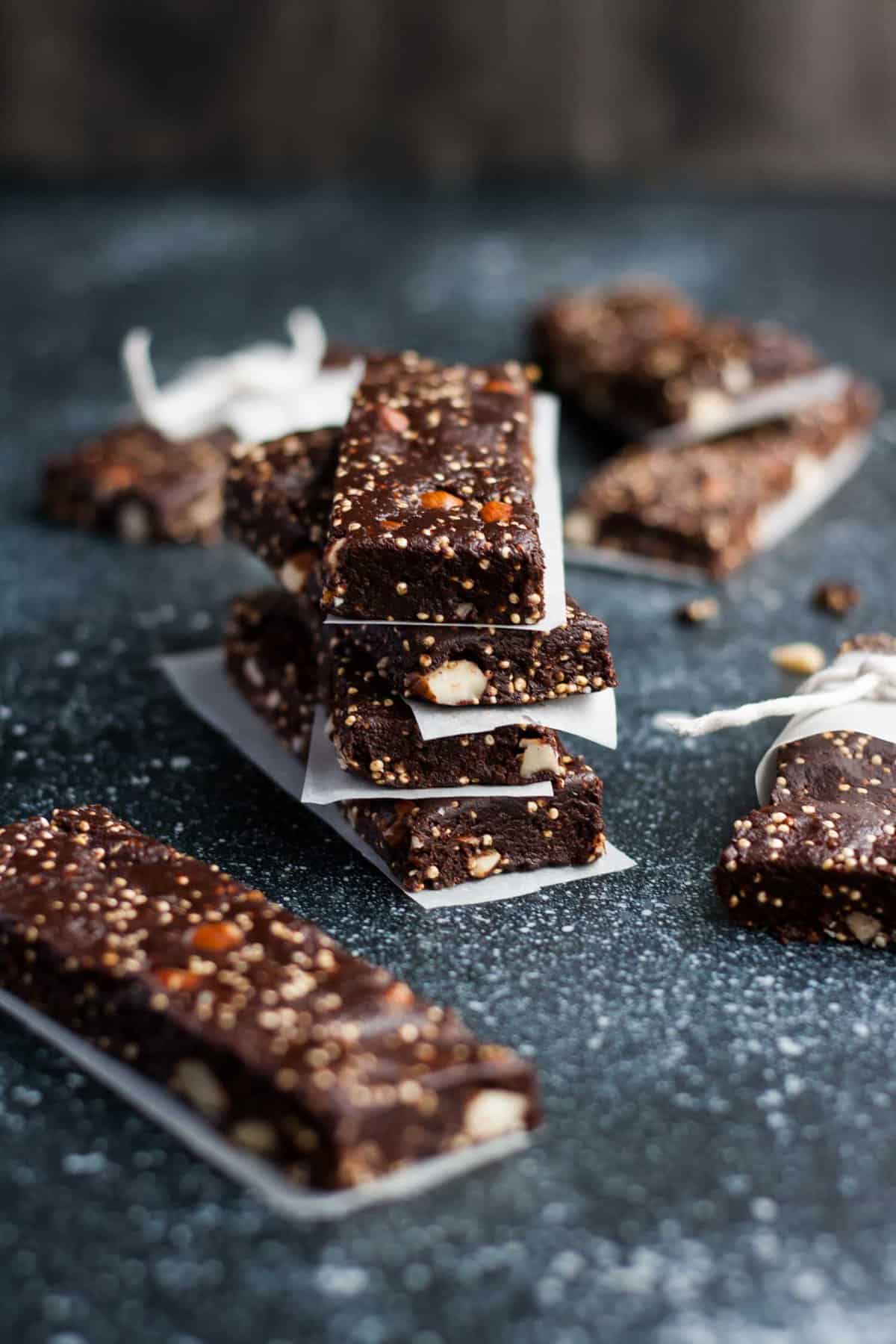 Hey! How was your week? Gosh, I'm tired. I've had an unproductive week to say the least! I'm absolutely a morning person - I love to get up early in the mornings and come 10pm I am DONE. Probably earlier than that, actually. I'm not always best at managing my time though and so frequently I go to bed a little later than I should and then struggle to get up in the morning. This week I chose to go and see one of my favourite bands play and ended up going to bed waaay too late. The next day I slept in until about 9am (a mega lie in for me!) and spent the rest of the day in a fog. The knock-on effect of that is that I've done very little meaningful work since then. Totally worth it though. Fresh start on Monday?! I think so.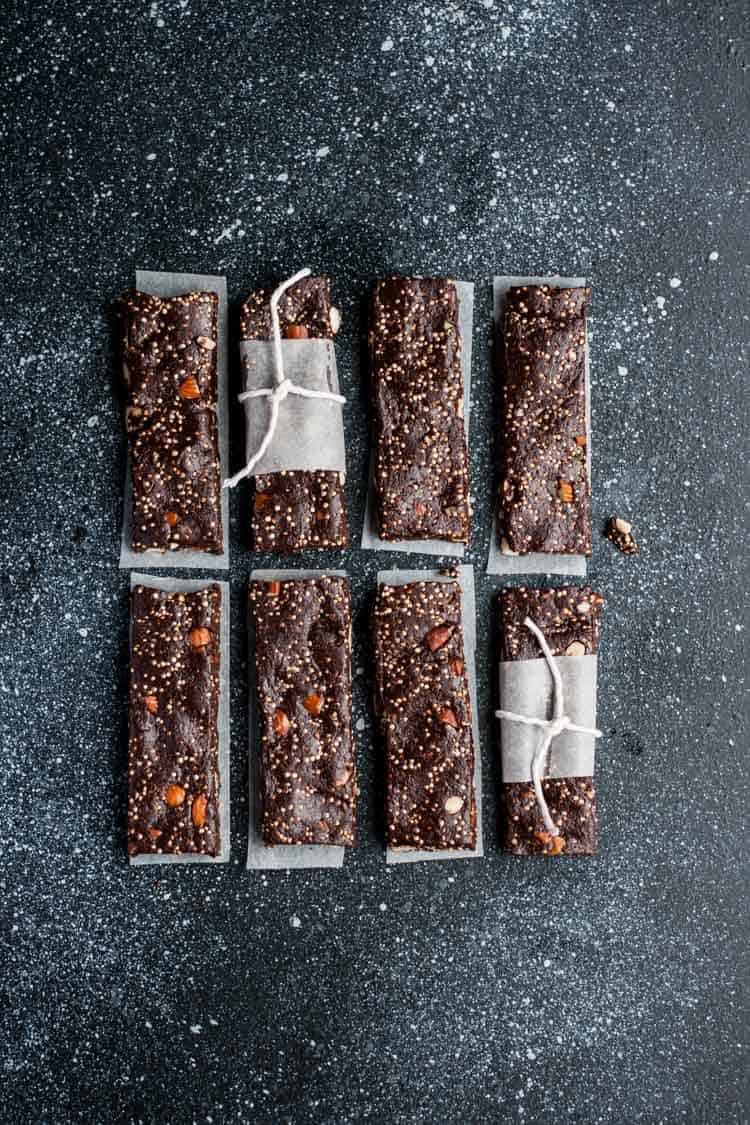 So, I don't know about you, but I'm definitely in need of a little pick-me-up! I really like to have a little snack after my evening meal (and often during the day too, especially during weeks like this!). Usually I like to have something sweet, though not always! I'm especially partial to chocolatey things but then again, who isn't?!
Sometimes though, I find that the sugar in chocolate can send me a bit (more) loopy and whilst there may be a time and a place for a sugar rush, days where I'm already low on energy are certainly not it. That's where these Raw Mexican Chocolate Energy Bars come in! Now, I'm no nutritionist and I'm certainly aware that these are far from sugar-free, but there really is a difference between eating one of these and eating a regular chocolate bar or baked good. I'm not sure if it's all the fibre in the medjool dates or how it's combined with the protein in the nuts but the sugar in these has a far gentler effect on me. Which is good when I'm just looking for a little boost, without the big crash afterwards!
So let's talk the details of these Raw Mexican Chocolate Energy Bars! Firstly, I should admit, I don't think I can technically call these 'raw'. I've toasted the nuts and quinoa and used roasted almond butter. Plus, I don't think maple syrup is a raw product. However, I don't actually care. I called these raw bars in the sense that they're not cooked and that's good enough for me. You can call them what you like! I'm mostly just urging you to make them.
These are SO GOOD. I'm a big fan of raw brownies anyway, but I wanted to take these a little further so I added toasted quinoa and almonds for crunch. Also, I like to mix things up, so I spiced these up to taste like Mexican chocolate! Such a good idea. Cinnamon, nutmeg and cayenne pepper make these rich and warming and totally addictive! I'd advise keeping these in the freezer - out of sight, out of mind, right?! Plus, they taste really good straight from the freezer. Too good.
I'm totally inspired to come up with some more flavour combinations now! Let me know any suggestions in the comments!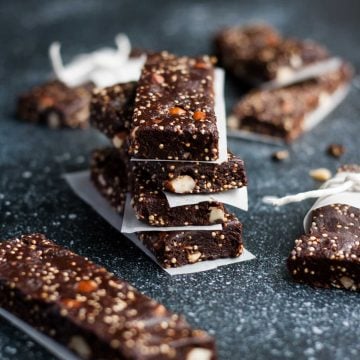 Instructions
Add the walnuts to the bowl of a food processor. Process until finely ground.

Add the cacao, cinnamon, nutmeg, cayenne pepper, vanilla powder (if using) and salt. Pulse to combine.

75 g raw cacao or cocoa powder,

2 teaspoons ground cinnamon,

½ teaspoon freshly grated nutmeg,

⅛-1/4 teaspoon cayenne pepper,

¼ teaspoon vanilla powder,

pinch of sea salt

With the processor running, add in the dates one by one until you have a sticky paste. Add in the almond butter and maple syrup and process again until combined.

16 medjool dates,

2 tablespoons almond butter,

2 tablespoons pure maple syrup

Place a frying pan over medium heat. Add the rinsed quinoa and cook, stirring frequently, until dried out, fragrant and starting to pop. This should take around 5 minutes. Remove to a bowl.

Add the almonds to the frying pan and toast for a couple of minutes. Remove and chop roughly.

Add the cooled quinoa and chopped almonds to the date and cacao mixture and knead well with your hands to combine.

Press into a lined 20cm (8") square tin. Place in the freezer to set for about an hour. Cut into 12 bars and store in the freezer.
Notes
I used ¼ teaspoon cayenne pepper as I like spice but they are a little pokey so reduce to an ⅛ teaspoon if you're sensitive to spice.
Nutrition
Calories:
187
kcal
|
Carbohydrates:
34
g
|
Protein:
4.2
g
|
Fat:
6.8
g
|
Saturated Fat:
1.1
g
|
Polyunsaturated Fat:
4.2
g
|
Monounsaturated Fat:
1.2
g
|
Sodium:
196
mg
|
Potassium:
399.6
mg
|
Fiber:
5.8
g
|
Sugar:
21.6
g
|
Vitamin A:
2.9
IU
|
Vitamin C:
0.1
mg
|
Calcium:
44.8
mg
|
Iron:
1.8
mg
Did you make this recipe?
Leave a comment below with how you got on and don't forget to give the recipe a rating ⭐️⭐️⭐️⭐️⭐️. You can also tag @eatloveeats on Instagram - we love to see your creations!