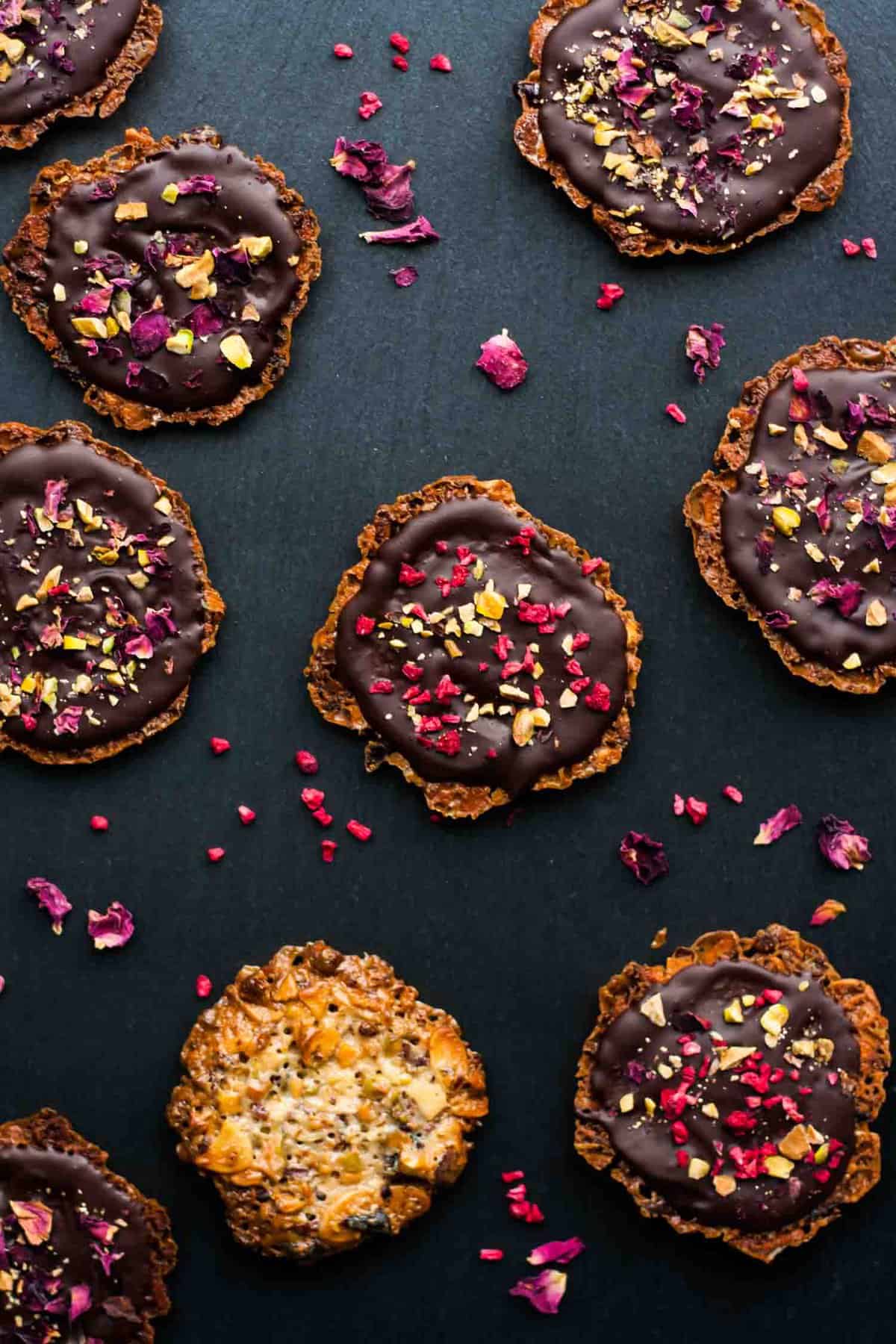 I've got another Valentine's Day recipe for you! Last week, I shared my Rhubarb Rose Dark Chocolate Parfaits with you and if you're on the lookout for a quick, simple and totally delicious Valentine's dessert for two, you should totally check those out! But if you fancy a spot of baking instead, I have just the thing! These Raspberry Pistachio Almond Florentines are the perfect afternoon baking project. This recipe is a little more involved, but the results are so worth it! Just look at them! Florentines aren't an everyday bake, so they're ideal for Valentine's Day when you might be looking to make something a little more special. Or if you are after simple for Easter why not try out our Chocolate Cornflake Cakes.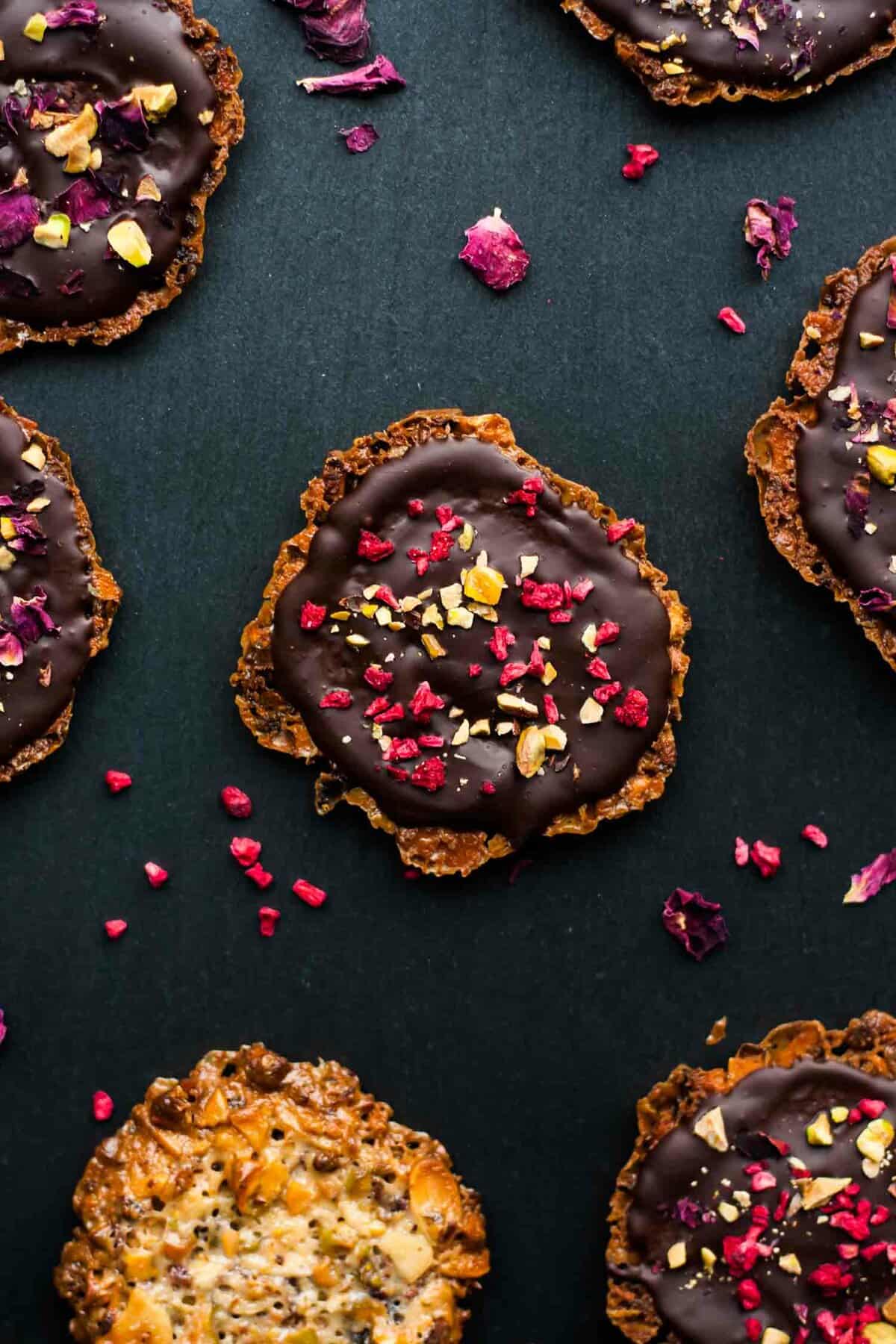 Not that my mind is even remotely on Valentine's Day right now. I'm so sick. We both are. In this house, we rarely get struck down by colds and the like, so when we do, well, I'm like a dog with it's tail between it's legs. I just can't deal with it. I LOVE to be comfortable and so when I find myself decidedly UNcomfortable, I'm useless. Utterly useless.
I could lie and say that I'm one of these people who just picks up and carries on but nope, I've spent the afternoon sprawled out on the sofa watching Netflix. It's all I can muster. And it's ok! I can't tell you how good it feels to just let my body be sick, to relinquish all expectations of my being productive and just focus on healing. So no, I definitely didn't make any Raspberry Pistachio Almond Florentines today. Nor will I tomorrow. I've drunk so much golden milk though - gosh, how good is that stuff?! Pretty sure I need one of those Homer Simpson-esque drinks helmets full of the stuff to save me from having to drag myself off the sofa. Needless to say, that's about as exciting as my life gets right now, i.e. not even remotely. *violins play mournfully*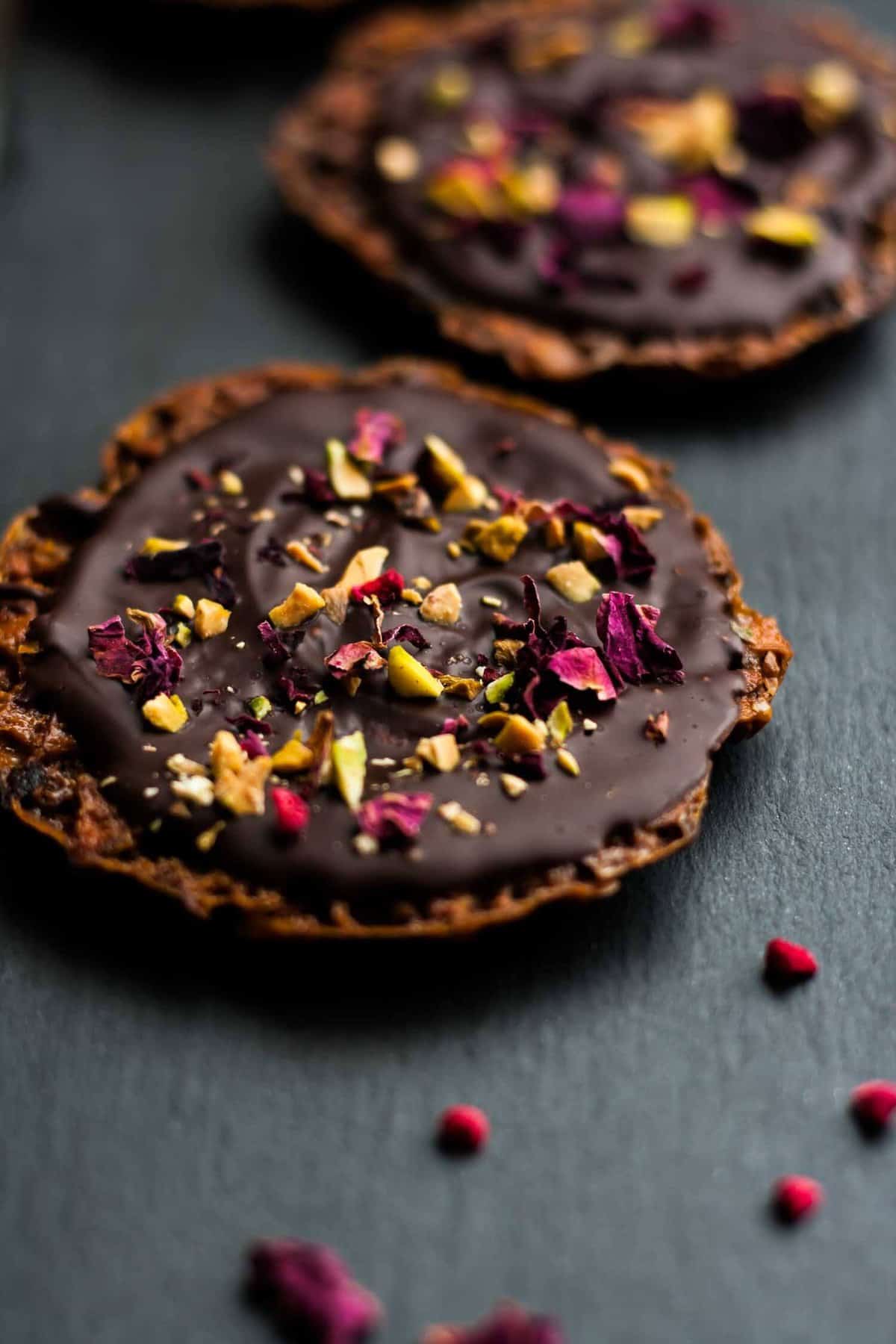 Let's just focus on how incredibly pretty these florentines are shall we? And how addictive they are. I could not stop munching on these when I made them. If you've never had florentines before, you need to change that right now! They're so buttery and caramely and crisp and chewy all at the same time. And in this version, you have the tang of the raspberries, the sweetness of the cranberries and the irresistible nuttiness of the almonds and pistachios. And duh, DARK CHOCOLATE. That makes everything 10x better, right?
Like I said before, these are a little fiddly to make, but so worth it. This was my first time making florentines, so I consulted the trusty Nigella for the basis of this recipe. Just make sure to read the recipe fully before beginning, take it slowly and have all of your ingredients ready to go! You can do it. Signing off now - Netflix beckons.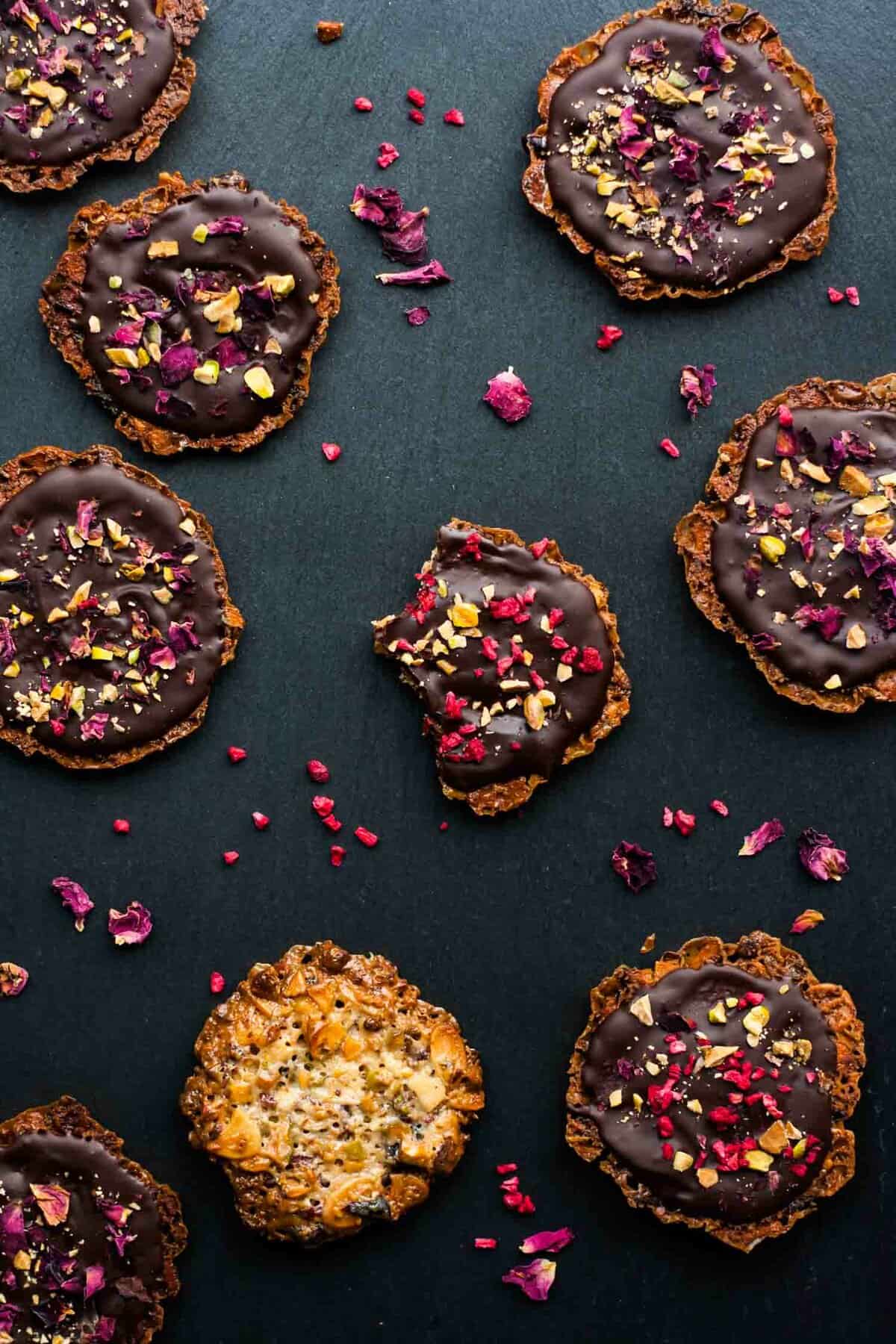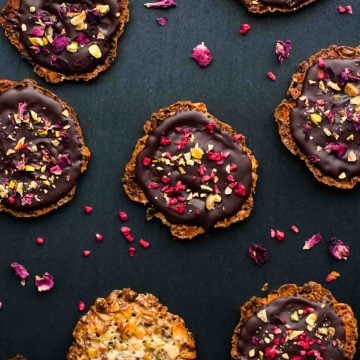 Instructions
Preheat oven to 190C (375F).

Lightly crush the flaked almonds and chop the pistachios. Roughly chop the cranberries. Place in a small bowl along with the freeze dried raspberries.


125 g flaked almonds,

75 g pistachios,

50 g dried cranberries,

3 tablespoons freeze dried raspberries

Melt the butter and sugar together in a heavy-based saucepan - don't take this too far, you don't want browned butter here! Add the flour and stir together to form a kind of roux.

25 g unsalted butter,

90 g caster sugar,

15 g plain flour

Add the cream and beat with a whisk until you have a smooth consistency.

Stir in the nuts, cranberries, freeze dried raspberries and a big pinch of salt (if liked).

Place teaspoonfuls of the mixture onto lined baking sheets - ideally using a non-stick baking mat. I'd reckon on about 6-8 max per sheet.

Bake for 10-12 minutes until just golden brown. The florentines should have flattened out. Let them cool briefly on the baking sheet before transferring to a cooling rack to cool completely.

Melt the dark chocolate and spoon some over the back of each florentine so that you have a nice thick coating. Finish by sprinkling with more freeze dried raspberries or edible rose petals and leave to set.

200 g dark chocolate,

freeze dried raspberries and edible rose petals
Nutrition
Calories:
110
kcal
|
Carbohydrates:
9.9
g
|
Protein:
1.9
g
|
Fat:
7.4
g
|
Saturated Fat:
2.8
g
|
Polyunsaturated Fat:
1
g
|
Monounsaturated Fat:
3.1
g
|
Cholesterol:
5.1
mg
|
Sodium:
1.7
mg
|
Potassium:
98
mg
|
Fiber:
1.4
g
|
Sugar:
7
g
|
Vitamin A:
17
IU
|
Vitamin C:
0.2
mg
|
Calcium:
20.1
mg
|
Iron:
0.1
mg
Did you make this recipe?
Leave a comment below with how you got on and don't forget to give the recipe a rating ⭐️⭐️⭐️⭐️⭐️. You can also tag @eatloveeats on Instagram - we love to see your creations!