These blueberry sourdough muffins are the best blueberry muffins you'll ever have! Light and fluffy, not overly sweet and packed with blueberries. Plus, you only need one bowl to whip them up.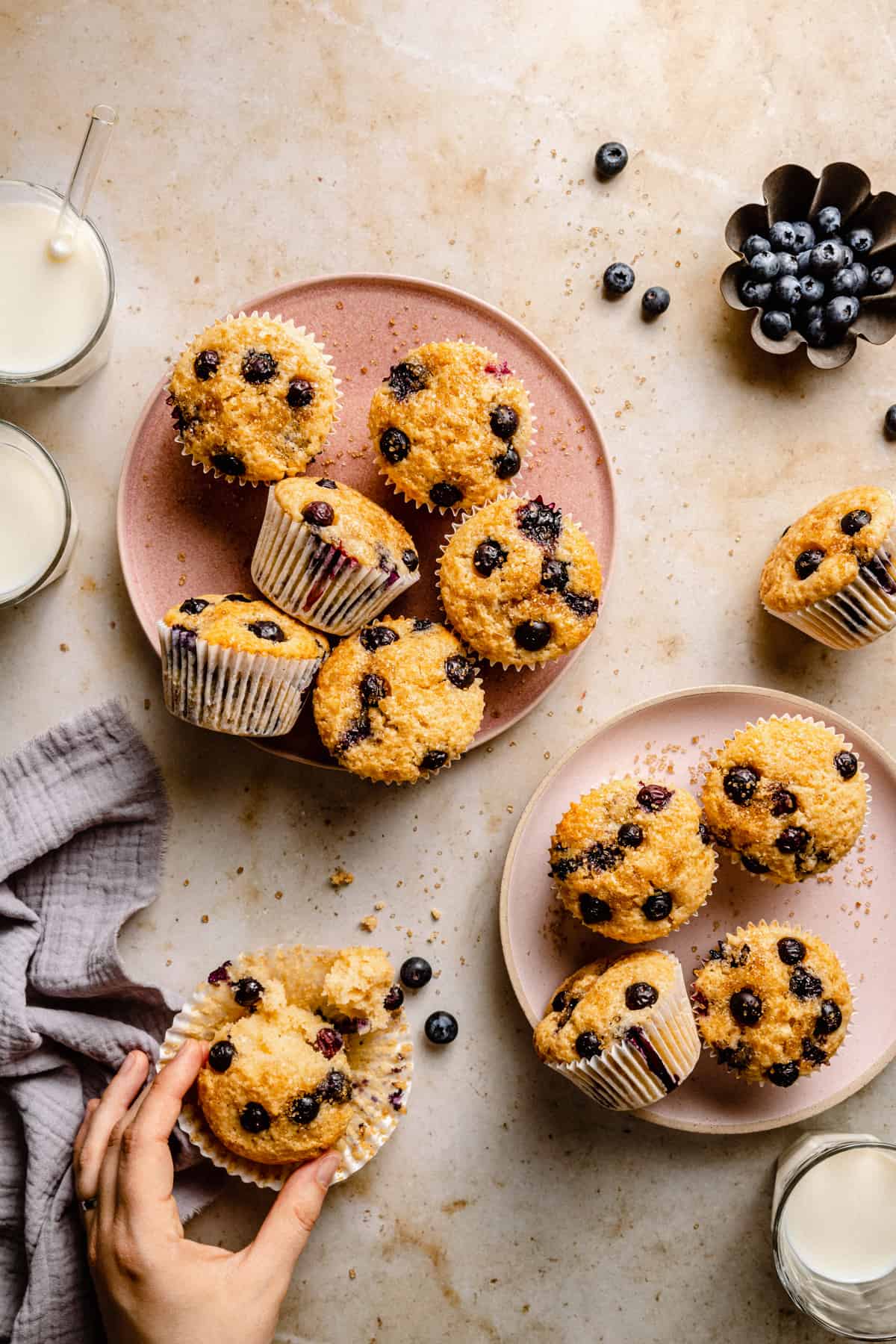 We're suckers for a good muffin and these blueberry sourdough muffins exhibit all the best qualities of a muffin you need. They're super quick and easy to whip up whilst having the most delicate, light and fluffy texture. And they have an unmistakeable undertone of sourdough from the starter which isn't overpowering, it just works perfectly!
You may have noticed we have made sourdough muffins before with these Cherry Sourdough Muffins. We love these so much we just had to make the perfect blueberry version. We can promise you they'll taste far superior to any shop bought muffins - the thing we like about these is that they aren't overly sweet. Just yum!
Even if you don't need a muffin or a snack, you do need these in your life right now. We know you'll love these blueberry sourdough muffins as much as we do. So be sure to leave us a comment or rating as we love hearing from you.
Make sure you use the links below to get to where you need in the post. And if you love baking as much as us why not check out our other baking recipes.
Jump to:
Why you'll love this recipe
Here are some more reasons why you need these blueberry sourdough muffins in your life:
Sourdough discard - this recipe uses up your sourdough discard and gives you a boost with those extra probiotics too!
Healthy - these muffins come in WAY under the calories of what a traditional coffee shop blueberry muffin. Also because of the sourdough we believe they're practically a health food - ha!
Almonds - we double up on the almond front, using almond flour in the mix as well as almond extract. This gives you the MOST delicious muffin, you won't be able to resist having a second one.
Quick - these muffins take 15 minutes to whip together and only 25 minutes to bake. The hardest bit is not eating them straight from the oven as they smell so good!
True, tried & tested - as always we strive to provide the best recipes that have been thoroughly tested to give you the best experience.
Ingredients
You only need simple ingredients for this blueberry sourdough muffins recipe, here's what you'll need: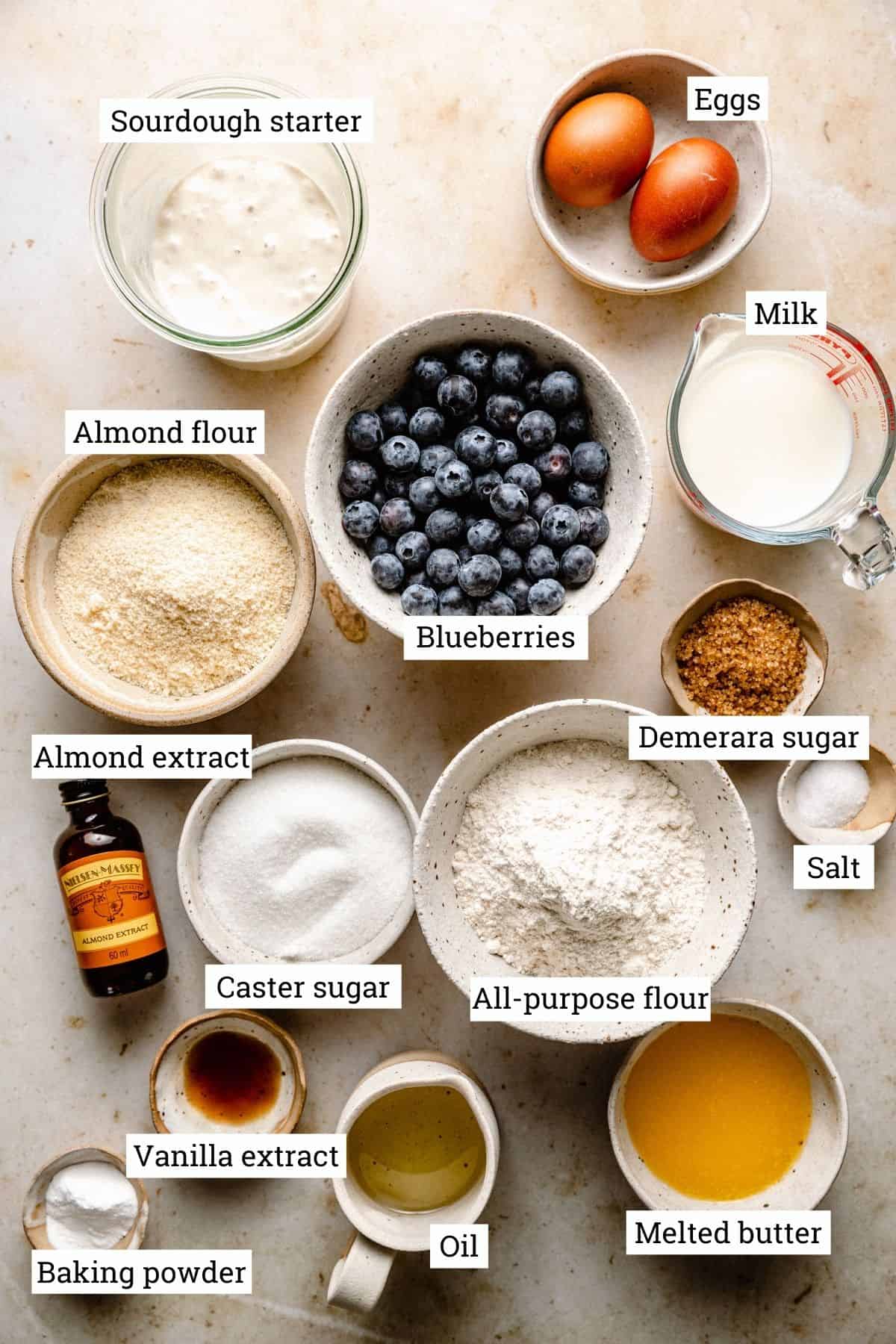 Sourdough starter discard - if you're an avid baker, this won't be hard to come by as it will be a by product in feeding your starter. We use 100% hydration (50:50 white bread flour:water) in our starter.
Almond extract - to create the best blueberry sourdough muffins you need almond extract. It brings out the blueberry flavour so much and this is what we're all about, flavour!
Blueberries - we recommend using fresh blueberries for this recipe. You can use frozen but as they cook they can often leach more liquid into the batter.
Demerara sugar - We've chosen a crisp demerara sugar topping to these muffins which makes them irresistible. We have also tested a quick streusel which works well, so you can choose whatever you like.
Customisations
We know you love to mix things up with customisations and substitutions so here are some of our recommendations for our blueberry sourdough muffins:
No starter discard - If you don't have sourdough starter, you could instead use 250g all-purpose flour and 225ml milk. Though we haven't tested the recipe this way. If you do try this, let use know how it goes in the comments!
Extract - we absolutely love the almond extract in these muffins, but if you don't want to use it, just stick to vanilla or add in some lemon extract for a different zing.
Optional mix ins - if you want to add in a touch of lemon zest or a tablespoon of poppy seeds you can.
Streusel topping - If you fancy a bakery style topping on these blueberry sourdough muffins use this mixture. Rub together 1 tablespoon of softened butter with 2 tablespoons all purpose flour and 2 tablespoons brown sugar until a crumb forms. Sprinkle on top before baking as directed below.
How to make blueberry sourdough muffins
Follow these simple step by step guides to success for this muffin recipe:
In a medium mixing bowl mix together the all purpose flour, almond flour, baking powder, granulated sugar and fine sea salt until combined.
In a large mixing bowl whisk together the sourdough starter discard, eggs, milk, sunflower oil, melted butter and vanilla extract until well combined.
Pour the dry ingredients mixture on top of of the wet ingredients in the large mixing bowl.
Gently fold together the two until just combined, the mixture can have a little of the dry showing as it will be finished mixing in later.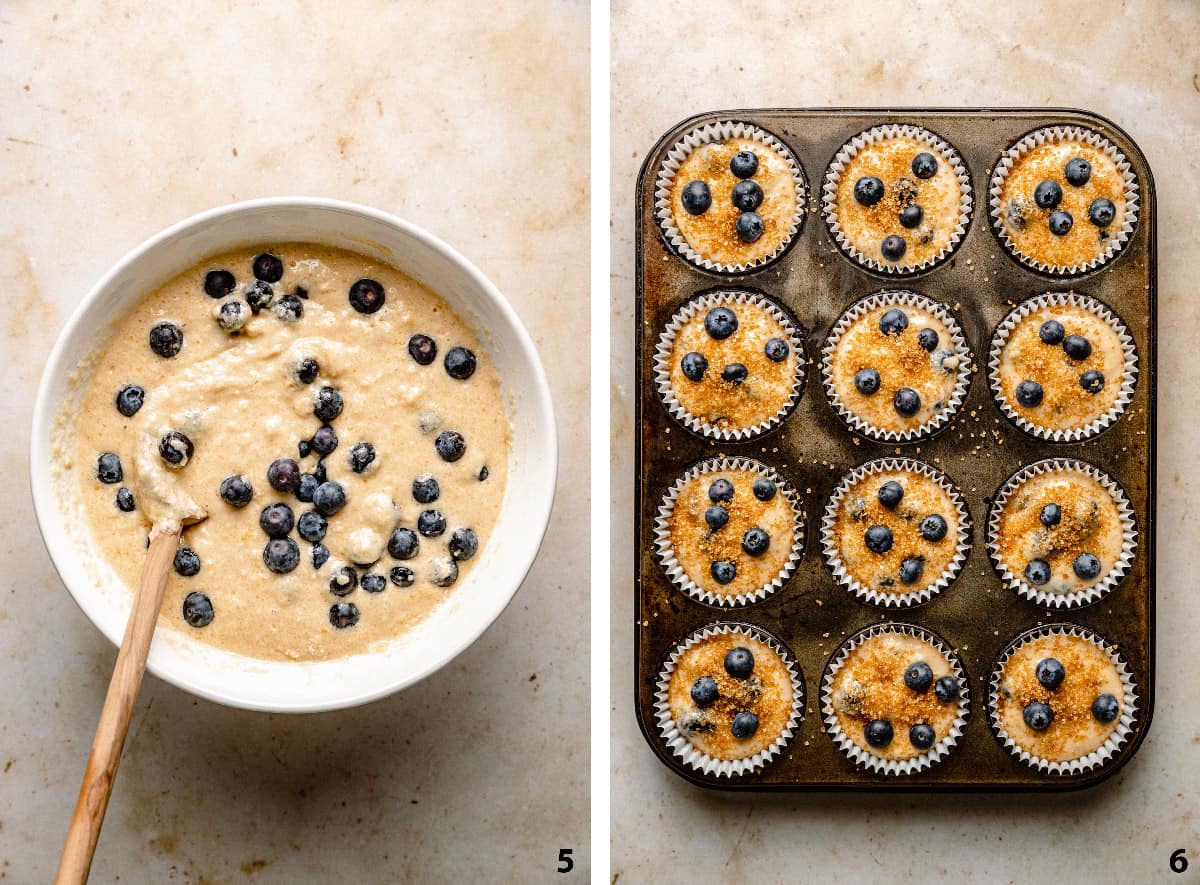 Gently fold the blueberries into the sourdough muffin batter.
Divide the muffin mixture between the paper liners and top with additional blueberries and demerara sugar. Bake in a preheated oven at 180C/350F for 25 minutes until a skewer comes out clean.
Expert tips
Make sure to read and follow these expert tips to ensure complete success with these blueberry sourdough muffins:
No rest time - depending on how active your sourdough starter discard is, do NOT let the batter sit on the side for long before baking. With the extra flour and sugar it will grow too much and your cases will overflow. This recipe works, simply mix it, divide it, and bake.
Mixing - as with all muffin recipes you really don't want to over mix the batter. Stir gently until it is all combined and then divide into cases and bake. It's that easy!
Cookie scoop - a medium cookie scoop is your friend for measuring out the batter into the muffin cases. Just be careful not to cut the blueberries in half as you scoop.
Floured blueberries - We've tested both ways and there is literally no difference between flouring them before stirring in and not. It's simply not needed and we don't recommend it with this recipe as the batter is nice and thick, so your blueberries won't sink.
Recipe FAQs
Why is sourdough so special?

Sourdough is a marvel of microbiology, with lactobacillus bacteria consuming carbohydrates to produce lactic acid and acetic acid and alcohol. Working with natural yeasts this produces a delicate and complex flavour that is like none other. This miracle of microbiology is why sourdough is so special.
Does sourdough discard spoil?

Sourdough discard lasts a long time. It will store in the fridge for week at a time without being fed with more flour and water. However, the longer it sits there, it starts to produce a liquid on the surface called hooch. This isn't spoilage, it's alcohol and is simply a sign that the starter needs feeding.
How long does sourdough starter last in the fridge?

A long time. It doesn't really go off. After a while the sourdough starter will show signs of needing to be fed. Just remove it from the fridge, give it a feed and replace it in the fridge.
How do I store these muffins?

These blueberry sourdough muffins will keep at room temperature for 2 days, though best eaten on the day they're baked. You can freeze the baked muffins in an airtight container or freezer bag for up to a month.
Related recipes
Love this blueberry sourdough muffins recipe? Then you definitely want more of our baking recipes, here are some suggestions to get you started:
Love this recipe? Leave us a 5-star ⭐️⭐️⭐️⭐️⭐️ rating in the recipe below and don't forget to leave a review in the comments section underneath the recipe. We love hearing from you!
Why not follow along with us on our social media channels @Instagram @Facebook and @Pinterest and tag us with #eatloveeats when you've tried one of our recipes!
📖 Recipe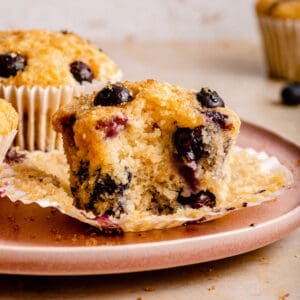 Blueberry Sourdough Muffins
The perfect blueberry sourdough muffin to start your day with, lightly sweetened and oh so fluffy - these will rock your world.
Print Recipe
Pin Recipe
⭐️ Rate Recipe
Ingredients
1 ¼

cups

all-purpose flour,

150g

1

cup

almond flour,

not packed, 100g

2

teaspoons

baking powder

½

teaspoon

fine sea salt

½

cup

granulated sugar,

100g

7

ounces

sourdough discard

,

200g, ⅞ cup

2

medium eggs,

US large eggs

½

cup

milk

,

120ml

¼

cup

vegetable oil

,

60ml

¼

cup

butter

,

melted and slightly cooled (60g)

1

teaspoon

vanilla extract

1

teaspoon

almond extract

1 ½

cups

blueberries

,

225g plus extra for the tops

demerara sugar,

for sprinkling on top
Instructions
Preheat the oven to 180°C (350°F). Line a muffin tin with 12 paper liners.

In a medium mixing bowl, whisk together the plain flour, almond flour, baking powder, sea salt and granulated sugar. Set aside.

1 ¼ cups all-purpose flour,

1 cup almond flour,

2 teaspoons baking powder,

½ teaspoon fine sea salt,

½ cup granulated sugar

In a large mixing bowl, whisk together the sourdough discard, eggs and milk until smooth. Next, whisk in the oil, melted butter, vanilla and almond extract until well combined.

7 ounces sourdough discard,

2 medium eggs,

½ cup milk,

¼ cup vegetable oil,

¼ cup butter,

1 teaspoon vanilla extract,

1 teaspoon almond extract

Add the dry ingredients to the bowl with the wet ingredients and fold in using a wooden spoon until just combined. If you have some streaks of flour left behind that's good.

Gently fold in the blueberries. Divide the mixture between the muffin liners in your prepared tin. They should be almost but not quite full, top with a few additional blueberries and sprinkle over the Demerara sugar.

1 ½ cups blueberries,

demerara sugar

Bake in the preheated oven for about 25 minutes until golden brown and an inserted cake tester comes out almost clean.

Leave to cool in the muffin tin for 5 minutes before transferring to a cooling rack to cool completely.
Notes
Make sure you're quick when you make these muffins and don't leave the batter hanging around too long before baking. You don't want the sourdough starter to become too active otherwise your muffins might overflow!
Take care to use medium (US large) eggs as large eggs are a little too big. If you must use large eggs it's not the end of the world, the muffins might just overflow a little.
You can use all sunflower oil (or any neutral oil) or all butter if you prefer.
If you don't have sourdough starter, you could instead use 250g plain flour and 225ml milk - though I haven't tested the recipe this way.
Nutrition
Serving:
1
Muffins
|
Calories:
258
kcal
|
Carbohydrates:
30.1
g
|
Protein:
4.9
g
|
Fat:
10.9
g
|
Saturated Fat:
6.4
g
|
Polyunsaturated Fat:
0.5
g
|
Monounsaturated Fat:
1.9
g
|
Cholesterol:
37.7
mg
|
Sodium:
114.7
mg
|
Potassium:
250.5
mg
|
Fiber:
1.7
g
|
Sugar:
11.5
g
|
Vitamin A:
44.9
IU
|
Vitamin C:
1.8
mg
|
Calcium:
95.5
mg
|
Iron:
1.3
mg
Did you make this recipe?
Leave a comment below with how you got on and don't forget to give the recipe a rating ⭐️⭐️⭐️⭐️⭐️. You can also tag @eatloveeats on Instagram - we love to see your creations!